EXTRA-EXTRA! BOTTLE SHOW SPECIAL EDITION
---
By the time you get this newsletter, who knows what will have happened! If it shows up on Friday, grab that bag of Fritos and get down to the Hospitality Suite at at the Clarion Inn, located at 3640 East Cork Street, Kalamazoo, MI. Members report at 6:30, and for the show dealers and workers the Suite is open at 7:00.

<>

On the other hand, if it is Saturday. . . it is Show time!




The show opens for club setup at 7:15 (for the club set-up crew.) For the dealers the doors open at 8:00.

The Kalamazoo Antique Bottle Show is from 10:00 am to 3:00 pm on Saturday, April 11th at the Kalamazoo County Fairgrounds & Expo Center, 2900 Lake Street, Kalamazoo MI 49048.

Name Tags must be worn in a visible location in order to gain entry at 8:00 am.Please note: you must furnish your own table covers.

Table covers are no longer provided by the fairgrounds. You must have a table cover!

So, if this newsletter reached you right after all of the big Hullabaloo, then don't feel too bad, we still have an April club meeting planned!

This has been a busy month for me. The spring-thaw usually brings out eager new treasure hunters which makes me get out of my chair and start slinging hash. Also, with the Federal and State taxes due that really adds to the burden!

What I am trying to say is this; If you are a member of the club, only for the sake of getting a newsletter, you may be a little disappointed this month.
---
We had another great turnout at the last meeting! You have heard the saying "This much fun must be illegal!" Well, I guess we are outgrowing certain aspects of the old club. It really is great to see the club get larger, but as our President Chuck Parker pointed out, it is also getting louder!
That is normal for a larger group. At the Metal Detecting Club that I belong to, the on-going average attendance at our meetings is around 70 people! With a group that big, the item that gets the most use is President Mike Walker's gavel!
President Parker just asked me to mention that we need to hold down the talking when he, or one of the members has the floor. I can understand that. Chuck went home very frustrated from the last meeting because of all the constant background chatter, but he only pointed the accusing finger at one person . . . me!
Of course, ever since growing up at home, the oldest of eight children, I learned how to handle this sort of problem . . . I blamed you!
Of course I am making light of a serious situation. Because of the club's website, and the business that I am in, I do a great deal of recruiting for both clubs. When someone does visit our meetings, we can only hope they leave with a good impression. So, we do need to call ourselves to order. If you don't have the go-ahead from our President to speak, please wait your turn.
I told Chuck that this problem is all his fault! He is the Ring-Leader, the big Cohuna! So next time if you see him removing his shoe, you better be prepared for some serious odor. . . I mean order! That, or get ready to duck! I think the old General still wears a boot pistol!
---
We had a great group of diggers and collectors out for our last meeting! Here are the names from the sign-up sheet.
Tim Hayes, Kathleen Hurd, Bob Sloman, Mary Hamilton, Chuck Parker, John Winkler, Jim Bennett, Ron Smith, Kevin Siegfried, Scott Hendrichsen, Vincent Grossi, Ed Nickerson, Al Holden.
The Meeting theme was Dairy Bottles and we had a huge number of them on display!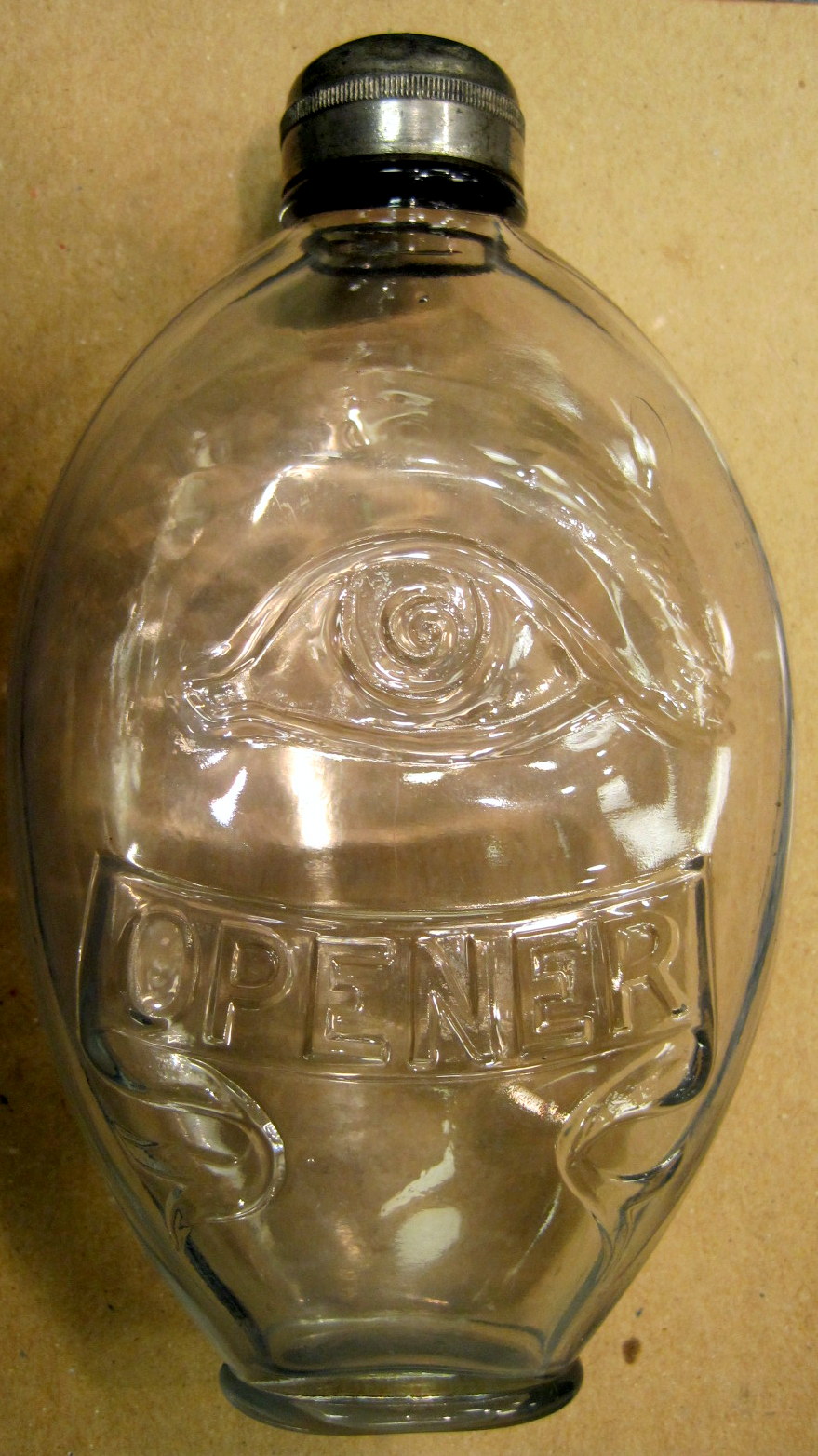 First let me mention two very nice whiskey flasks that Tim Hayes brought in. One was a clear half-pint flask with the image of a large human eye, crowned with an bushy eyebrow. Under the eye image is the framed-in word "OPENER." I'm thinking in the mean time, they have found that coffee works better? The neat old flask has a ground-lip and a perfect zinc screw-cap.
Another beautiful flask that Tim Hayes displayed was a deep honey amber "M. Shaughnessy Co." whiskey flask in a one- pint size. It also has a ground lip with a screw-on zinc cap.
I did a little checking and found that M. Shaughnessy was located in Saint Louis, MO, from 1883 to 1913. Some of the different product names they bottled and promoted were "Club House, Coal Port, Grandee, LeRoy, San Bois, Shaughnessy Rye Malt, and Shaughnessy's Special."
I think the name 'Leroy' or 'Coal Port' is interesting. "Bartender I'll have LeRoy on the rocks."
Vince brought in some nice dairy bottles from his collection. One was a very nice 1-quart GARNER DAIRY in a deep amber color. On one side it reads "This amber bottle protects, from damage, the light- sensitive vitamins contained in milk." Than in bold letters it is printed "INSIST ON GLASS!"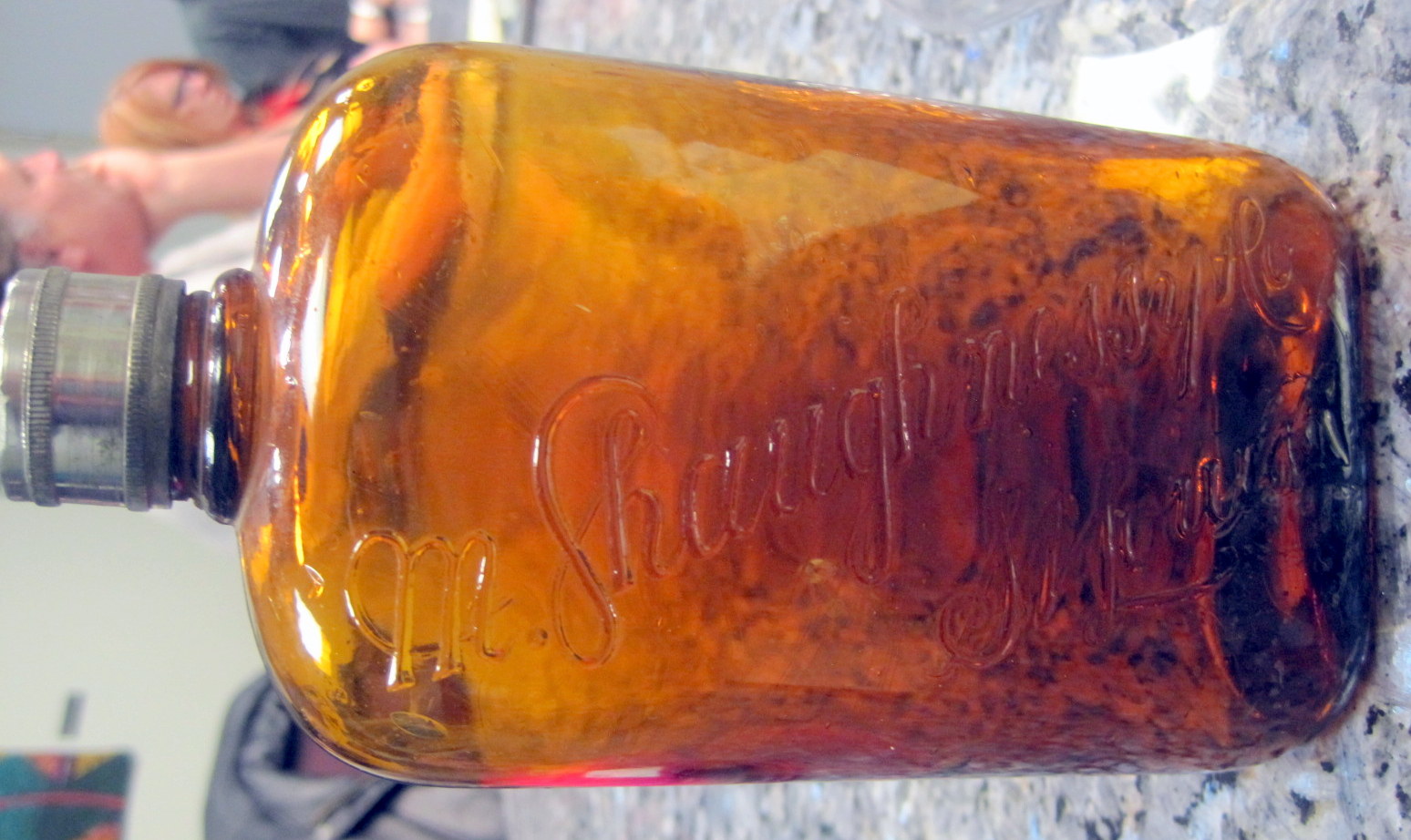 From time to time I see glass soda bottles, but you never see glass dairy bottles anymore . . . at least not in my little world.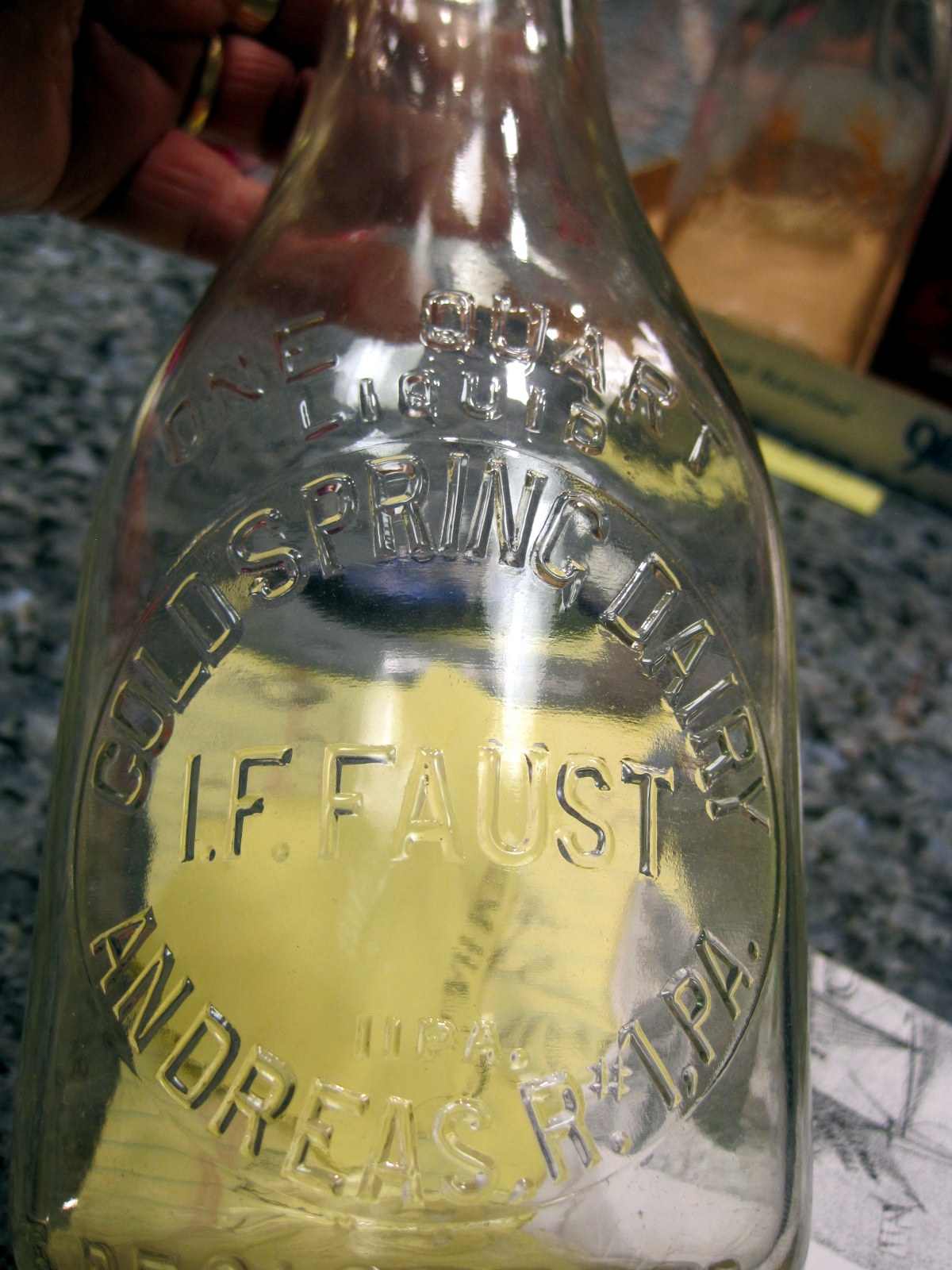 Another 1-quart dairy bottle that Vince displayed was a early 1900's I.F. Faust Cold Spring Dairy bottle from Route # 1, Andreas, PA.
Another nice bottle from Emmas, PA was E.G. Trexler, Meadow Brook Farm Dairy in a orange painted color label (A.C.L.)
Another very interesting bottle to an old screen printer like me, was a 1-quart, applied color-label bottle in 4 colors! The top letters, circling the neck in red said; "POTOMAC FARMS QUALITY DAIRY PRODUCTS."
It is a typical square 4-sided 1 quart bottle. On one panel in 'orange' color it advertised FRESH CREAM FOR COFFEE "There is no substitute"
Another panel, in 'green' color advertises "FRESH BUTTERMILK" and pictures a Dutch maid standing near her milk cow with her butter churn.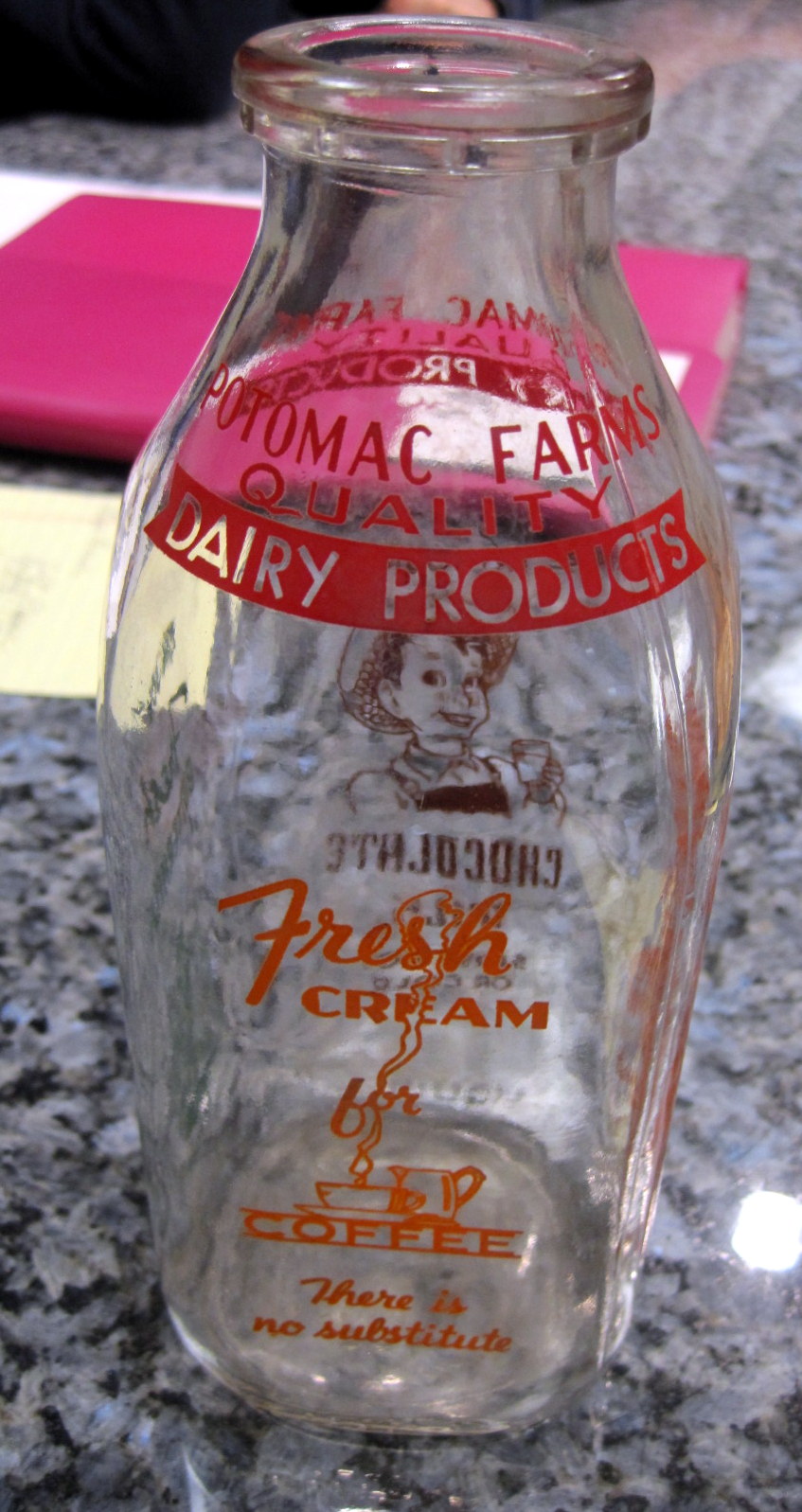 Another panel done in brown color, advertises (want to guess?) "CHOCOLATE MILK!"
On yet another side it advertised "Cottage Cheese!" Pretty neat! I am not well versed on Dairy Bottles, but I have to wonder how many 4 color A.C.L. bottles they made?
Kathleen Hurd brought in some of her favorite dairy bottles. One of the bottles she had made me regret I didn't have time to grab some. So, I was happy to see she had a nice 1-quart cream-top bottle.
She also had a nice 1- pint Borden's Cottage Cheese clear glass jar. At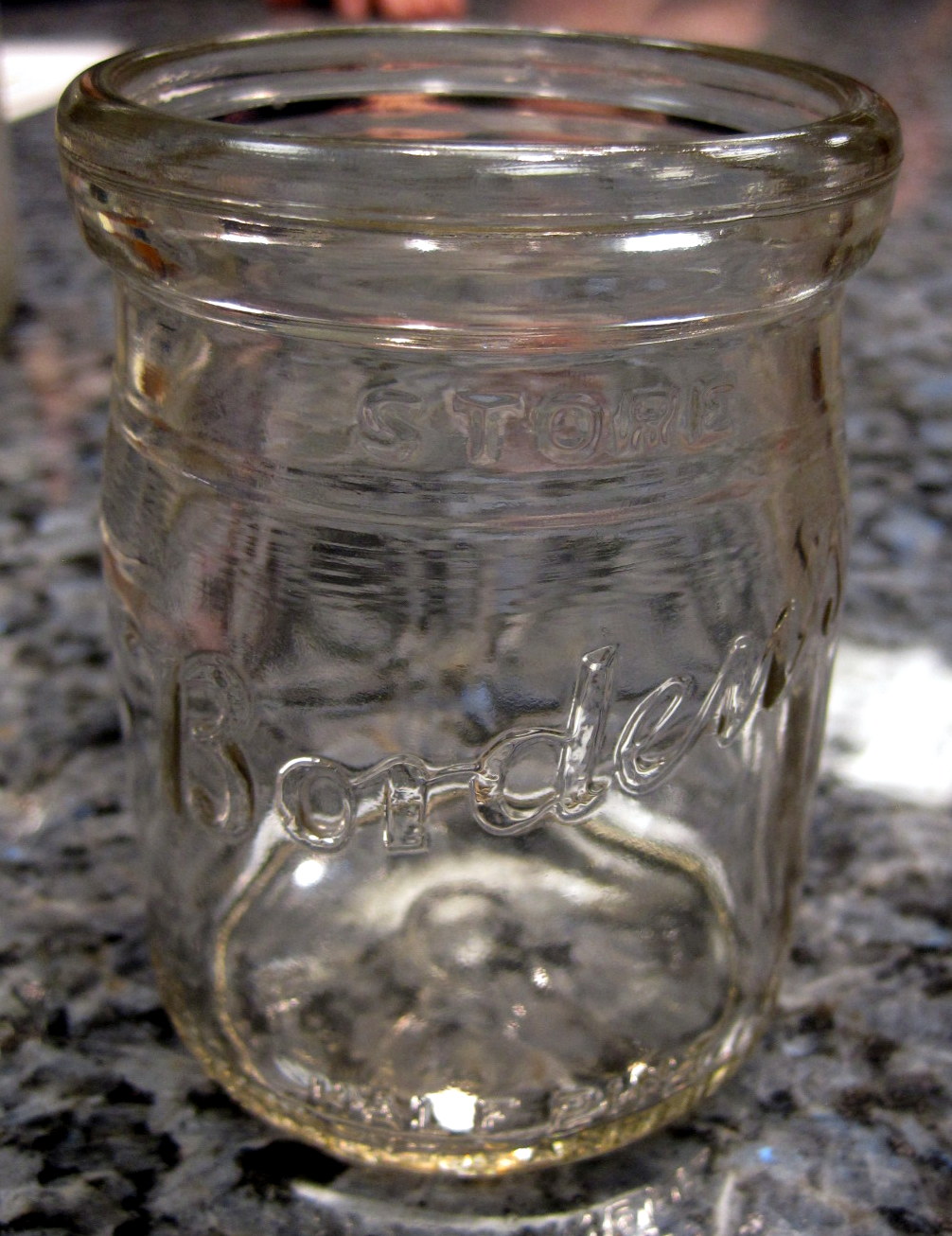 my grandfather's Michigan Cottage Cheese Company, they went in the 1930's, from stoneware crocks right into waxed cartons.
Kathleen also had a Horlick's Malted Milk bottle, which the local club diggers were very familiar with. Another item that brought smiles to many faces was a small, single-serving glass restaurant coffee creamer. Oh my! Lots of memories there!
Ron Smith brought in a very cool 8-bottle delivery man's basket filled with a nice assortment of local dairy bottles. This basket was what caught my eye! It is made from 3/8 inch metal straps riveted together with cross ribs on 3 inch centers. The center divider supports the handle which has a wound wire grip. It was built for a hard life and comfort! I don't know how many dairy collectors look for rare carriers, but it would be interesting to find out.
This is the point where I became overwhelmed, and somehow my pictures and notes get shuffled around. I know others brought in some cool bottles and I want to say some of these belonged to John Winkler.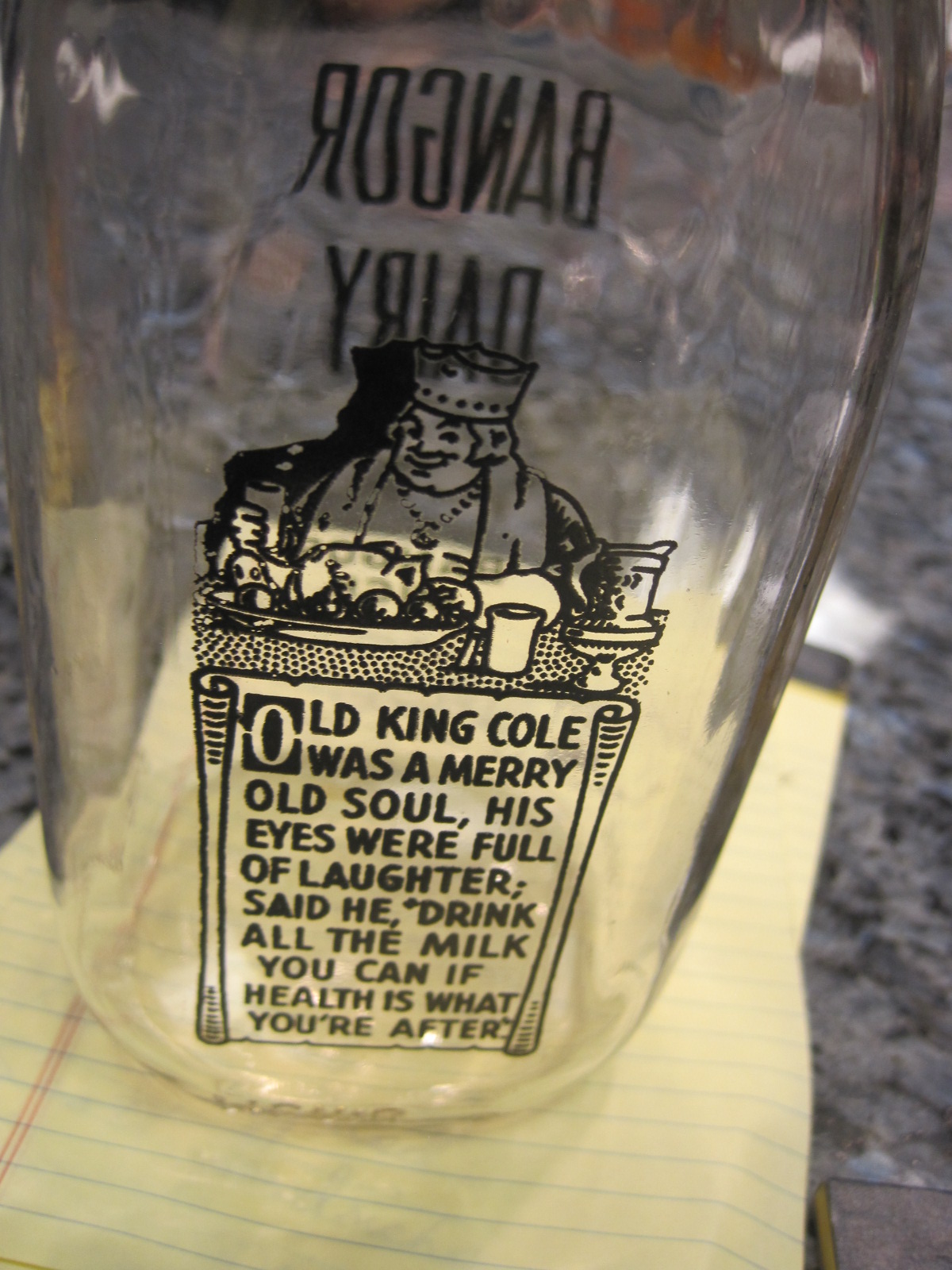 We saw a nice Dowagiac Dairy half pint, a South Haven Dairy half pint.
Another great one was a 1-quart Bangor Dairy bottle which had a little verse printed on it. Old King Cole is pictured a his table spread out with a feast fit for a king. He is shown holding a glass of milk. Within a open scroll it reads;
"Old King Cole was a merry old soul, his eyes were full of laughter; Said he "Drink all the milk you can if health is what you're after."
Frankly I just scratched the surface here, we had a bunch of bottles at the last meeting. I apologize if I missed anyone.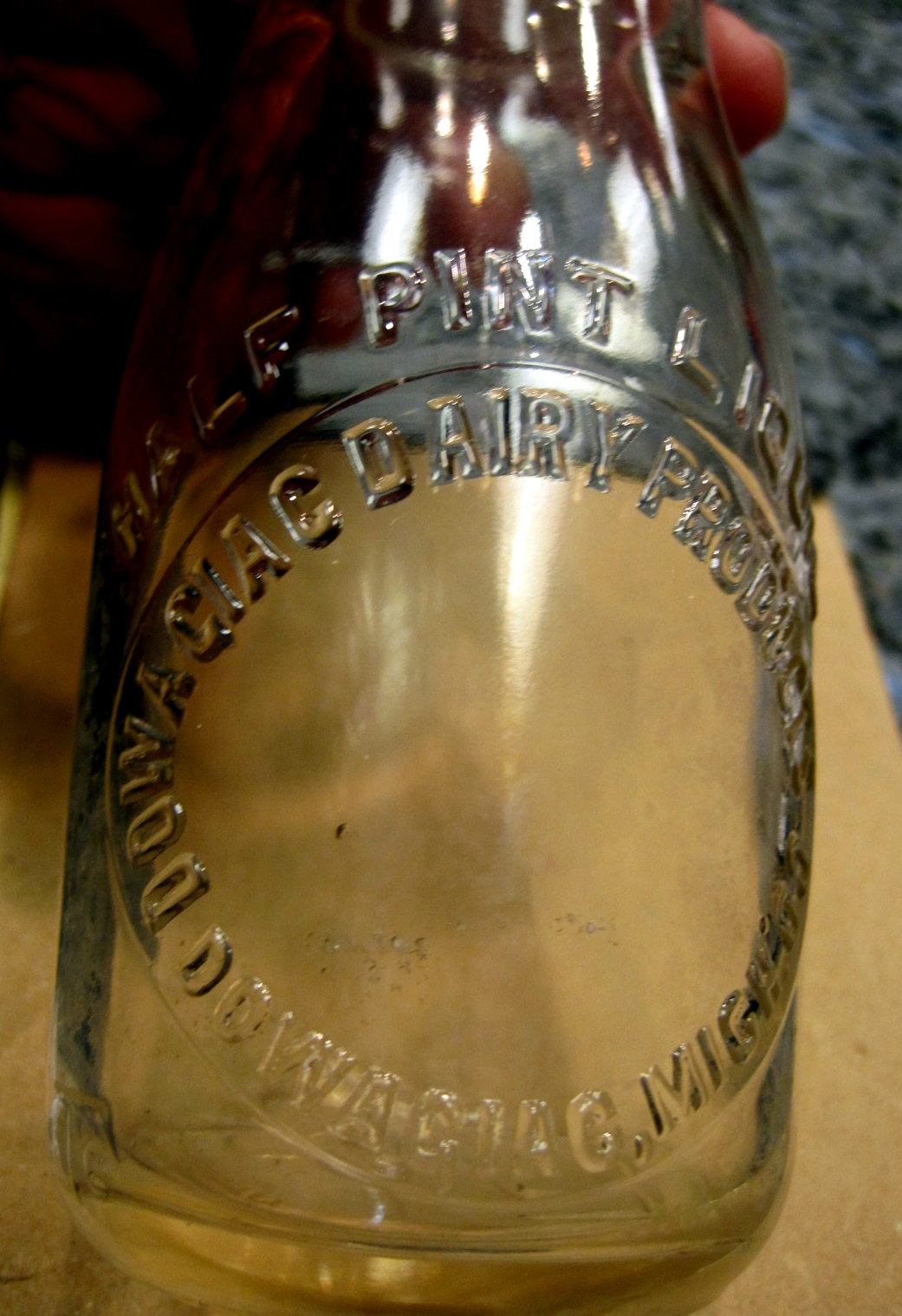 Very neat heavy duty dairyman's delivery basket!