Spring, Teeming With New Life!

New Beginnings

I am starting this newsletter on Easter Sunday 2013. My wife had to work this weekend and my granddaughter spent the day with her mother and siblings. I started out the day at church where we had a tremendous Easter Service. Sunday is a day of family fellowship around here. That has changed recently because now my wife works every other Sunday so sometimes I spend it alone. At least that is the case when my mother and stepfather are in Florida for the whole winter.

As much as I hate the painfully cold Michigan winters, I love to take in every precious moment of early spring that I possibly can. My store is in a building that is built in the back yard of what was, for many years, a private family home. When that house was originally built, highway West Michigan'89' was just a two-lane road and the location was considered "out in the country" by many standards. My father had the little ranch style house converted into a small retail space. After my store building went up, we put blacktop around both buildings.

On the east and north side of the old house are two original flower beds. Perhaps one of us had plans for those flowerbeds, because they were spared from being covered by asphalt. Otherwise, the blacktop runs right up to the building. Every year without fail, I always wonder why we didn't pave those awful flower beds. We are all to busy to maintain much of a flower garden so the area just fills up with weeds.

My youngest brother, Mark, takes care of the mowing and trimming and he pretty much clear cuts the weeds right down to the stubble. To keep the place looking like something other than "abandoned," I hit all the edges and seams with a strong weed and grass killer. I especially hit the old flowerbeds hard with the toxic spray. In fact, one year my mother pulled up most everything she could see. Then mom filled the area with a reddish brown lava rock which made it look much better.

I remember after the lot was blacktopped it really looked very nice, as blacktop goes. Everything was uniform and smooth. I had parked my father's old tractor beside my building and the tractor tires left their tread print in the surface which made me sick! It was almost like getting that first scratch on the new car.

It was just a few days after that new blacktop had been put down, when the building inspector gave us the OK to move into the new building. That was on Friday, March 31, 1989. The following day on April 1st, 1989, we started moving my store from a temporary location into the new building. What should have been one of the happiest days of my life turned into one of the darkest. My father and mother were helping me when dad fell from a ladder and passed away just a few hours later.

Despite all of the efforts to kill off the vegetation in those flowerbeds, every spring clusters of little white flowers pop up. For the last 24 years, I have enjoyed seeing them each spring, and very likely they had been coming up for 24 years before that. They have tiny, very delicate little flowers. Amazing to me is they don't much mind if they have to share their space with snow. Three times this spring, while in bloom, they were covered in snow. This year I wanted to share the beauty of these tiny white flowers with some of my friends so I posted a picture on Facebook. That is where I learned they are called "Snow Drops."

When I think of all my efforts to kill those weeds, these little spring flowers are not deterred. I have thought about transplanting some of these beautiful little plants to my own yard. After learning what they are named, I was able to do some research about them. I learned that several varieties of the Snow Drop are considered endangered. In a few European countries, you cannot even transport a dead plant legally!

<>

It is only fitting that Easter is in the springtime. Spring is like God's reminder that there is life after death. Jesus said in the 12th chapter of Matthew:

" Except a grain of wheat fall into the ground and die, it abideth alone: but if it die, it bringeth forth much fruit.




25: He that loveth his life shall lose it; and he that hateth his life in this world shall keep it unto life eternal."

>

Spring and the little Snowdrop flowers are a reminder that one day I will see both my earthly father again and my Heavenly Father. Not because I (or dad) deserved newness of life. It is all because of the Lord's great victory over death, hell and the grave which we call Easter.

On Easter Sunday we sang one of my favorite songs which goes: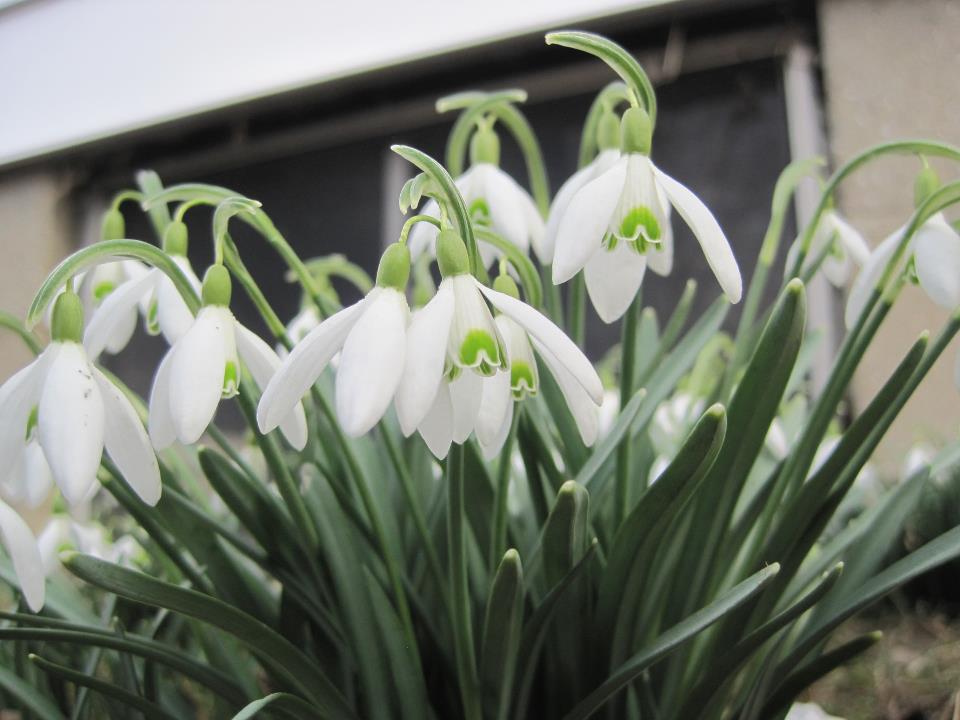 For nothing good have I,
whereby Thy grace to claim;
I'll wash my garments white,
in the blood of Calvary's Lamb.
Jesus paid it all,
All to Him I owe; Sin had left a crimson stain, He washed it white as snow.
---
Last Meeting

Our last meeting was a memorable event for sure! Somehow the library over- booked the Conference Room, so we were promoted to the Children's Castle Story Room. I have to admit the surroundings seemed better suited to our little group. If you have ever visited the Haunted Castle at Disney World, the artwork they display is much the same. On the wall behind where Chuck was seated, were portraits from Alice in Wonderland. I was certain the Mad Hatter's eyes were moving but nobody else seemed to catch it.

Some other storybook- like faces in the room were: Dee Cole, Vincent Grossi, Scott Hendrichsen, Tim Hayes, Bill Drake, Chuck Parker, Mary Hamilton, John Winkler, Ethan May, Kelly Bobbitt, Kevin Seigfried and Al Holden.

Hey! I'm rejoicing at this great turnout just before the big show! Also, I am pleased to announce that we had several people step forward and sign up to help out at this year's show!

I have more good news! I know of at least two, maybe three, people who are planning on joining up with our group at the next meeting! One of the guys is Steve VanGemert from Kalamazoo and Greg Ketchum, also a Kalamazoo collector.

At the last meeting Chuck passed out some copies of the West Michigan Spark magazine which had an article which featured our club. He had several extra copies which Kevin is bringing to the show if you would like to have one.

Also, the Editor of the West Michigan Spark is doing a sort of coupon book promotion. The coupon book is good for big savings at many Kalamazoo area hot spots. The coupon savings booklet is $20.00 and $5.00 of each purchase goes to the club. Chuck will have some at this meeting. What a great way to support your club!

Chuck gave us the treasurer's report at the last meeting, and has since told me that the Kalamazoo County Fairgrounds have been paid for. So for at least this year, we can leave our ski masks at home.

Kevin had some great items to display at the last meeting. While several of us discover antique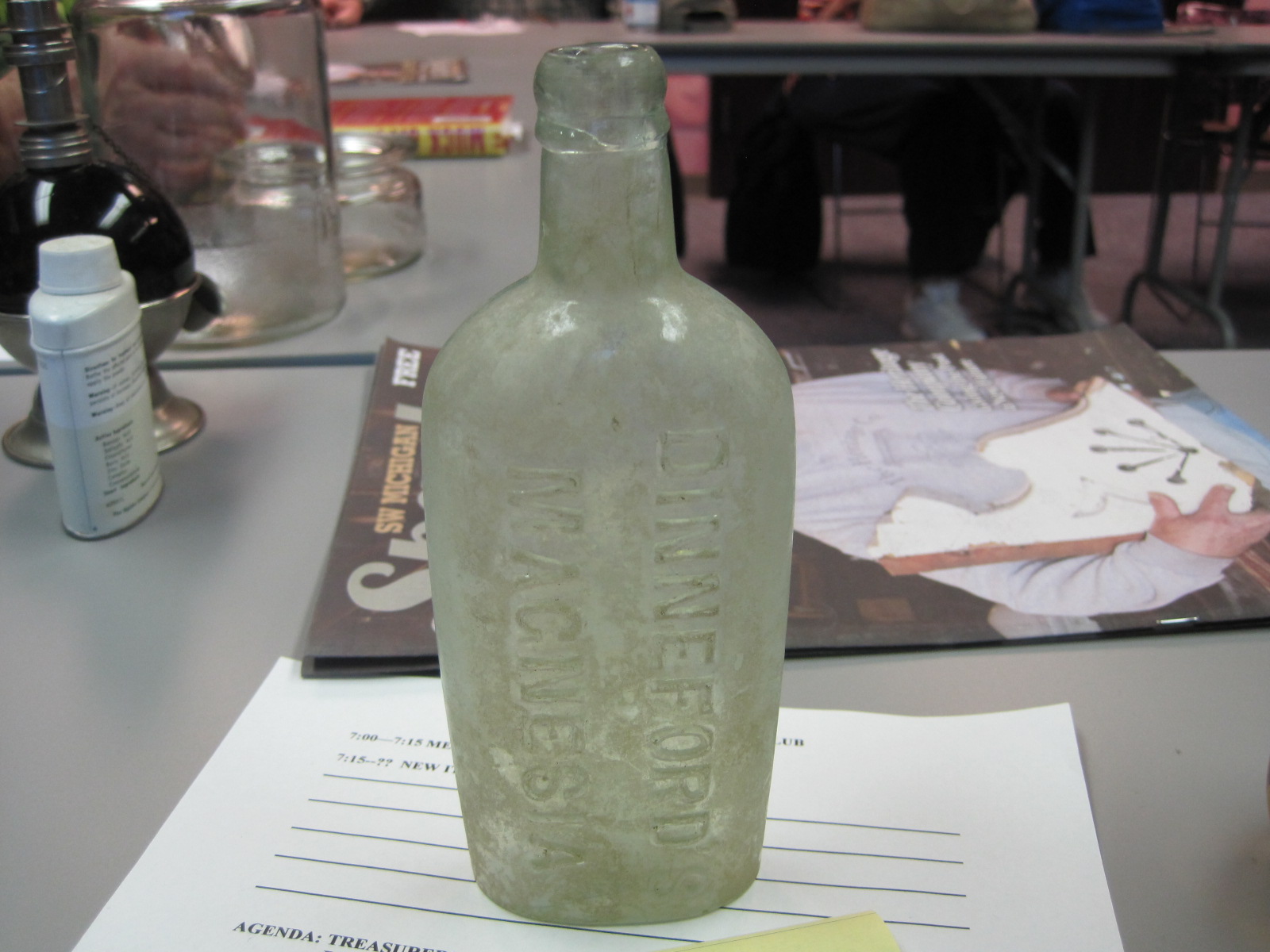 bottles when digging large holes in the ground, Kevin found a sweet DINNEFORD'S MAGNESIA bottle when digging on top of his desk! It really is a beautiful 1860's or 70's bottle with sharp embossing and a droopy applied top. It is a classic old medicine bottle and I love it!
Also Kevin had a really cool Bunson Burner with a dark-glass ball-shaped oil font. The Bunson Burner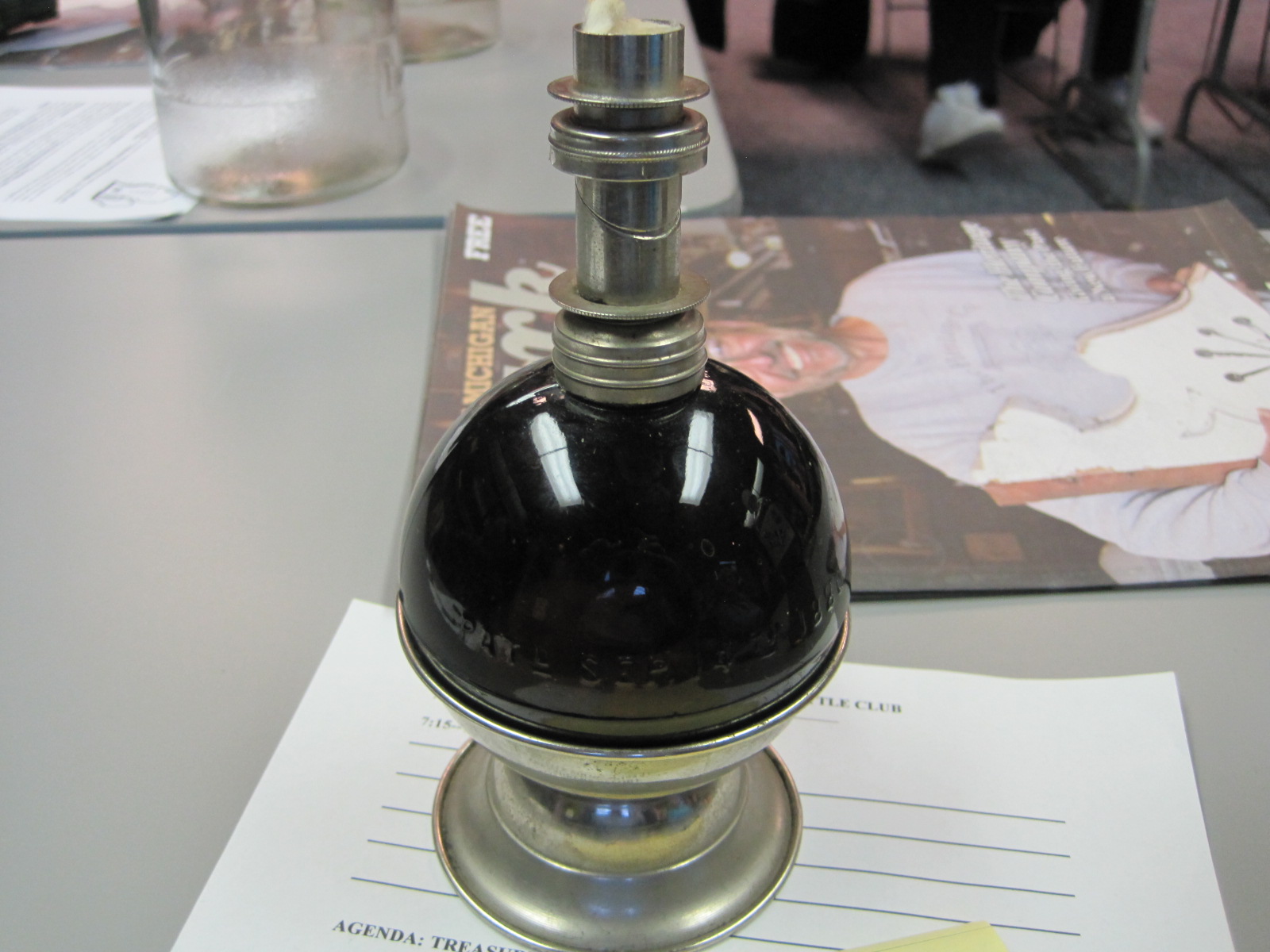 was invented in 1855 and it used gas so this burner may have been used for some other purpose?
Kevin wasn't sure of the item's age, but I really like it!

The item Kevin had that I thought was as cool as it gets, was a hand painted German beer stein with a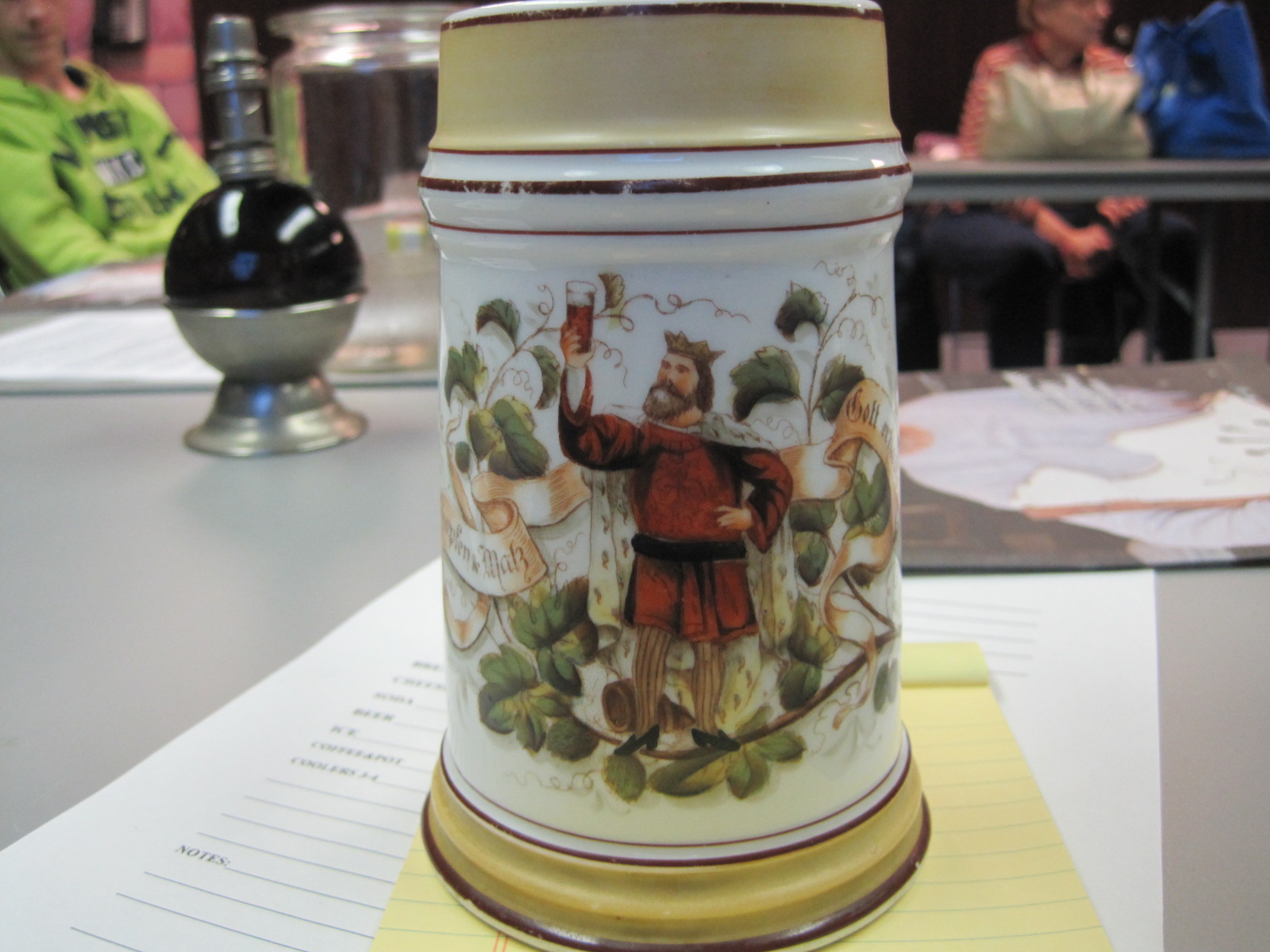 lithopane base. I had not seen one of these even with my German heritage, until Kevin brought his into the meeting. I have only spent a few minutes looking for information on the Internet and in that amount of time I learned that these mugs are a serious collectable, some bringing in big bucks! But, buyer beware! There are modern fakes made to look like the original 1800's stein and they are very hard to spot unless you know what to look for.
So let me explain; What you do is hold the empty mug up to a light and look inside at the base, you will see an image appear. Like many of the fantasy metal coin-like tokens advertising Old Western brothels, the fantasy reproduction mugs often have a naked woman or something of sexual nature depicted.
Kevin's stein did not have that sort of image. As I recall, his shows a man seated at a table with a mug of beer. It sounds like many of these have been made to cheat the uninformed. I should have tried for a picture of the image.
The lithopane German mugs can date back to the 1880's. They were originally made for the Imperial German soldiers. They would be awarded a "Reservist" beer stein when they were leaving active duty and would then become reservists. Keeping the reservists sober was not a concern, I guess.
As a result of the popularity of the American GIs collecting the original "Imperial Era" Reservist steins in Germany after WWII, and during our occupation of that country, various German stein manufacturers started to produce reproduction "Regimental" steins.
Reproductions are flooding the Internet sites like e-Bay, advertised as being authentic and some do look a lot like the originals according to experts. And I might add, some of the reproductions are bringing from $500.00 to $5,000.00! There is always someone out there ready to cash in on the unsuspecting!
Regardless Kevin, you could have the real deal; it may be fun to research it further. I love that mug! I would have to keep it chilled and fill it with Vernors!
Kevin also had a heavy set of clear glass jars which reminded me of a glass canister set. The jars are marked "Fresherator" jars. We are thinking they may be from the transitional days when America was moving from the ice box to the refrigerator. Today we all use items that are 'cutting edge' technology like the I-Phone, but there was a time when that refrigerator was state-of-the-art!
Scott had some interesting items to display at the meeting. One of the items was a large stainless steel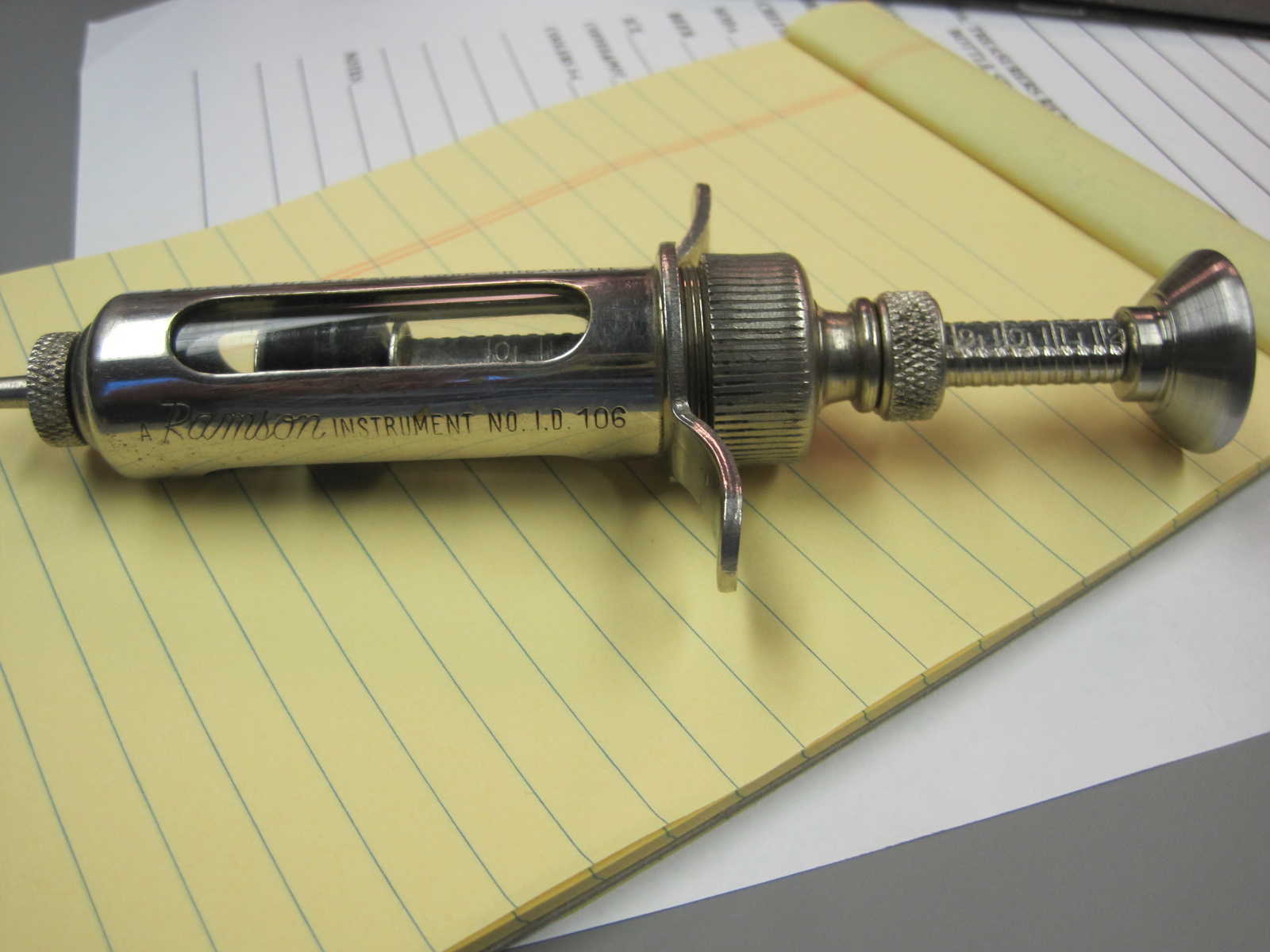 dose syringe. The syringe is marked RAMSOM INSTRUMENT We are guessing it would have been for animal care. Interestingly enough, I have 4 hand-blown glass syringes that we feel date to the 1860's! They were found in a privy on the property occupied by the veterinarian in Allegan, MI from right after the Civil War.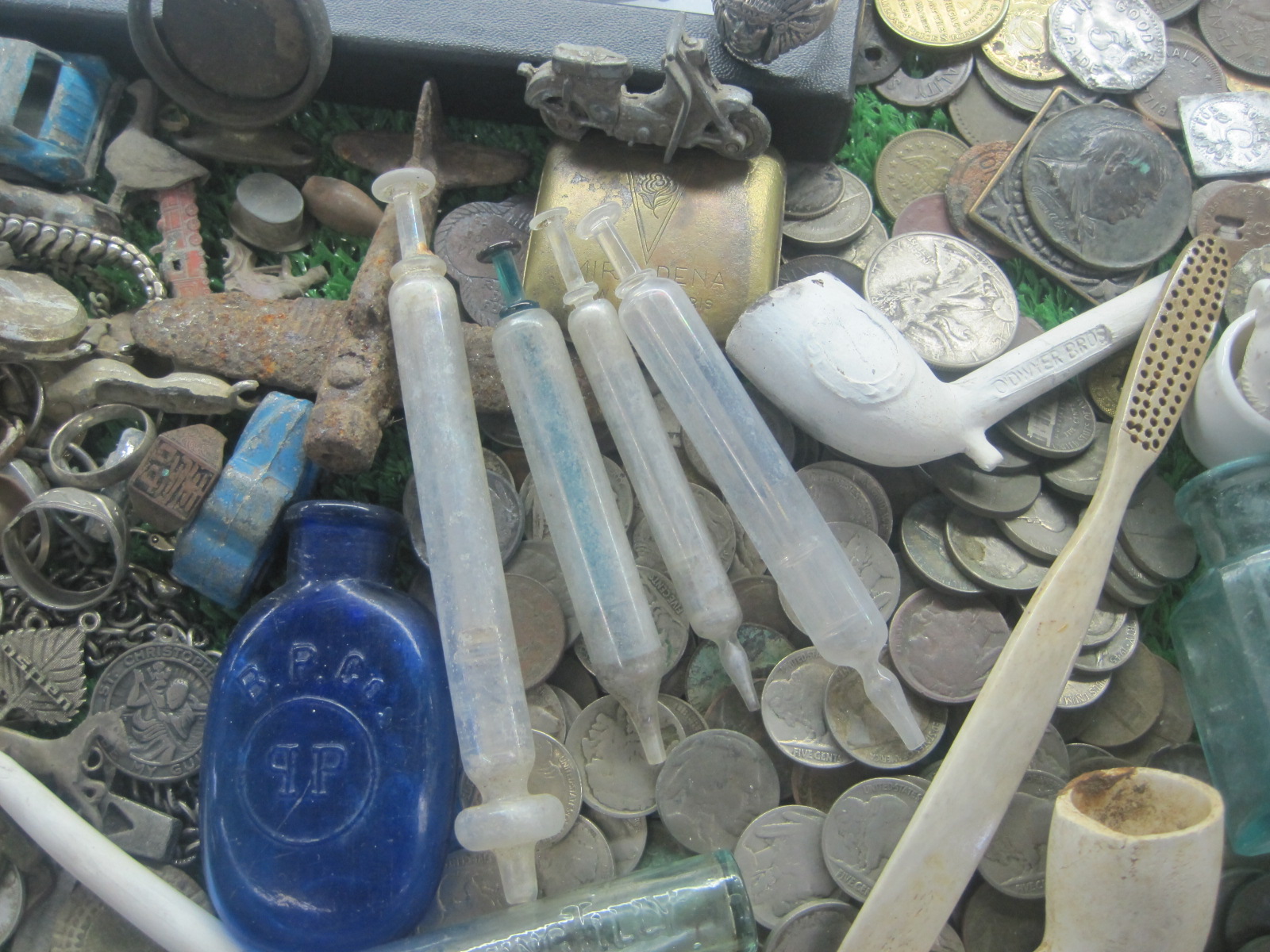 Scott also had a bronze letter opener that was pretty well corroded, but you could see that it was an advertising piece that was handed out by a Patent attorney. I wish I had inspected it with a jeweler's loupe. I think the information was still there, but a little hard to make out with the naked eye. We kidded young Ethan about the letter opener being manually operated and dating from before battery powered letter openers. Ethan is a good sport!
---



Last Chance
We have one last chance to get together and compare notes before the big show. I asked Chuck if he wanted me to publish our lists of "Who is bringing what." Chuck told me to just, "Remind everyone to remember what they signed up for."
In my case he is assuming that I can remember anything! I am grateful that we have one more meeting before everything starts rolling. Kevin has been doing a great job at keeping notes and he sent me a copy in time for the newsletter.
The problem I have is that my computer doesn't do well with Microsoft (Doc) type formats. I can open and read them but no cut-and-paste. I tried a couple different ideas and I nearly lost the whole newsletter! Well, we have one more chance to go over everything before the big fling! Take heart Kevin, your good work is not in vain. Sure hope you can all make it to this meeting.
---
Gold Ring
I was going to spin you a tale about a rich Yukon gold rush shipwreck that I had researched a few years ago but I didn't find my material. Please be patient, I will come through with it soon. If not, I can reassemble the story and I am sure you will enjoy it. In the mean time, here is something that happened as I finish the last of this newsletter.
A few months back one of my friends brought a big gold ring into my store to show me. His name is Rick and the ring is something he found. Rick is a metal detector owner but the discovery of this ring pre-dates Rick's first metal detector by decades! Come to think about it, this may be what started Rick to think about treasure hunting in the first place.
As a teenager Rick took an interest in the game of golf and eventually he started working as a caddy at one of the Southeast Michigan golf courses. As an employee, the caddy could play the course on their off duty time for free. Rick had just landed his shot on the green and was preparing to make a final putt shot.
As Rick was sizing up for his final putt, a slight reflection, from a beam of sunlight, which was just over his shoulder, caught his eye. He trained his eye on the source, but when he walked over for a better look he could see nothing at all. Well, there was no mistake, something was there! Rick got down on his hands and knees and started looking and feeling in the soft turf. To his surprise it wasn't just a foil wrapper as he suspected, but pressed into the ground was a sizeable gold ring!
The ring was in the form of a football and it had the owner's name inside the band. It was a 1953 Detroit Lions Championship Ring belonging to defensive tackle, Robert M. Miller! Wanting to do the right thing every effort was made to return the ring to Mr. Miller but it just never panned out. Rick came as close as speaking to the player's wife who promised to set up a meeting, but after three attempts it never panned out.
At the time, sports collectibles were not a big deal and gold was well under $30.00 per ounce. To Rick, the real prize would have been a chance to meet an All-Conference Defensive Tackle. When his plan to return the ring failed, he gifted the prize ring to his father who wore the ring up until his recent death.
Rick wanted me to sell the ring for him on e-Bay which I agreed to do. As a coin collector and antique bottle collector, well, this ring was worn very smooth and I wasn't sure there was much value other than the 14-K gold scrap value. At a big size 12-3/4 and
with a weight of 23.5 grams the scrap value was over $700.00!
Within hours of posting the ring for a 7 day auction I received a message from a potential buyer who said that if I would stop the auction, he was willing to pay $1,500. for the ring. At that time I had to remind the collector that I was selling it for someone else. The second message I received was from another collector who went on-and-on about a ring in such bad condition was only worth scrap.
Then, I received two more buy-it-now offers! That was when I decided we had better let the auction run its course. When the dust had settled the tired old championship ring sold for $2,469.00!!! And I must add, most of the bidding came in at the last minute!
---
The Kalamazoo Antique Bottle Club meets at the main downtown Kalamazoo Library, located at 315 South Rose Street. We meet on the third floor in the conference room. This meeting is Tuesday, April 9th. Meeting starts
at 7:00 pm.
For questions
Or call 269-685-1776