MERRY CHRISTMAS!
HAPPY NEW YEAR!
SPECIAL CHRISTMAS PIZZA PARTY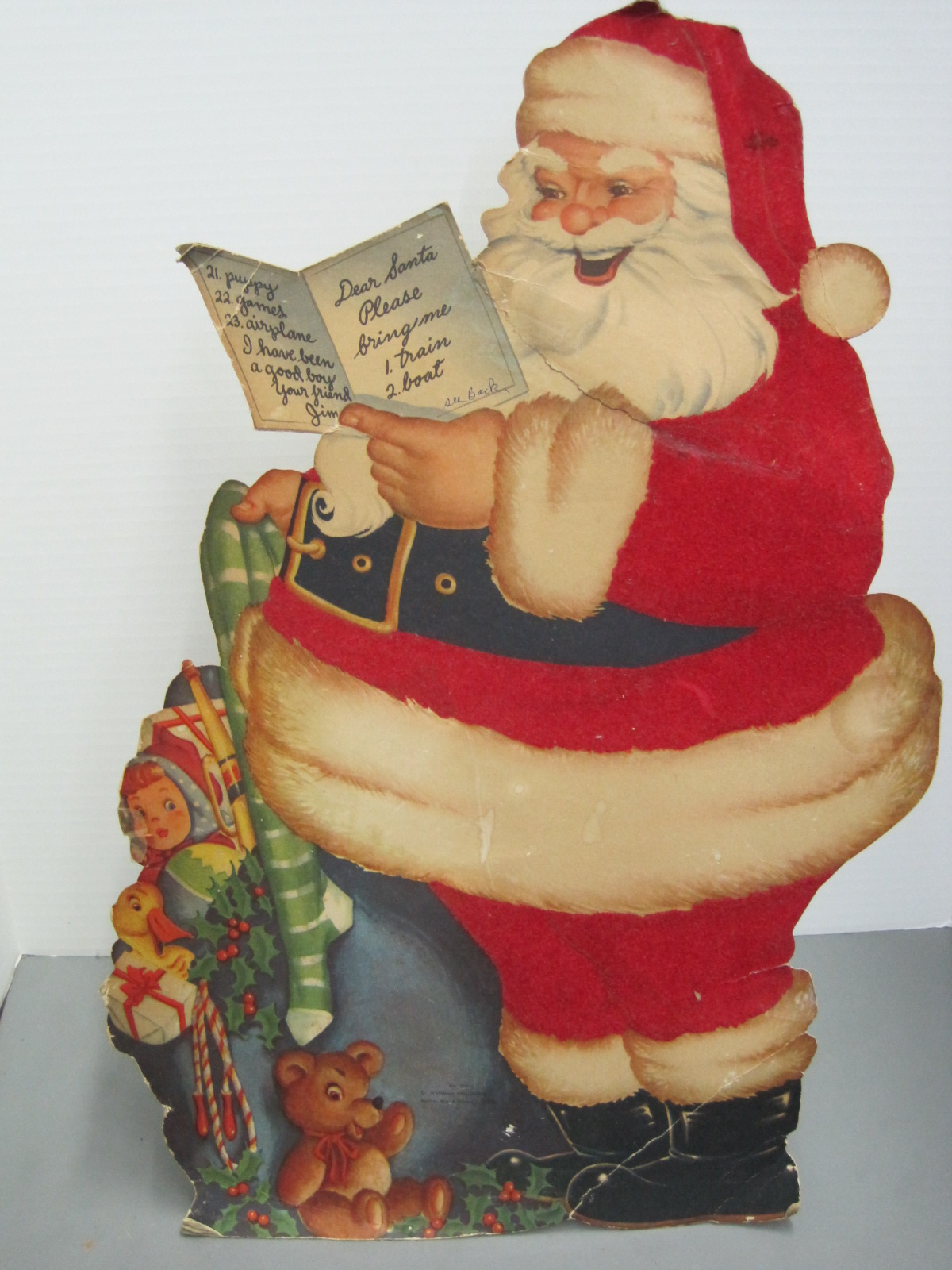 Last Month
Once again we had a great time at the last meeting and once again I have to rely on my picture taking for my notes. But I am serious when I say we had a great time. . . I was there!
Here is a list of everyone who signed in: Kelly Bobbitt, Jim Jesiek, Judy Jesiek, Chuck Parker, Mary Hamilton, Dee Cole, Kevin Siegfried, Edward Nickerson, Scott Hendrichsen and Al Holden.
Last month I failed to mention Kevin Siegfried was at the meeting in the newsletter and he was. And I counted Scott Hendrichsen as present and he was absent. And looking over the sign up sheet, I see where I have been spelling Jim and Judy's last name wrong! As near as I know they haven't complained one time! It is Jesiek, not Jesier. Clearly those two spellings are not pronounced the same. Glad this is a club newsletter and not "Double Jeopardy!"
Judy Jesiek brought in a plate of homemade cookies. They were just little cookies so I figured having one could not possibly do me any harm. My goodness, they were so good! I had at least two . . . maybe more! They were soft melt-in-your mouth, sweet and yummy! What a treat! Thank you, Judy!
Part of having a great time at a Kalamazoo Antique Bottle Club meeting is seeing some great bottles! At the November meeting we saw some really great bottles and Scott Hendrichson had some awesome stuff to show us! First, let me say that I hope I am giving credit to the proper members . . . this is where I really need help with note taking. The photos go a long way to jog my memory, but this system leaves too much to a very weak memory.
Our meeting theme was Kalamazoo "Go-with" items and Kelly Bobbitt brought in a beautiful assortment of Kalamazoo prescription bottles. And if you were not at the meeting, you missed some great photographs from around downtown Kalamazoo. They were professional pictures taken around town and we had fun trying to guess the locations. I would say they were all taken in the 40's or 50's and all about 8 X 10 size. Because they were all framed and behind glass, I didn't try to take pictures of them, but they would be fun to scan!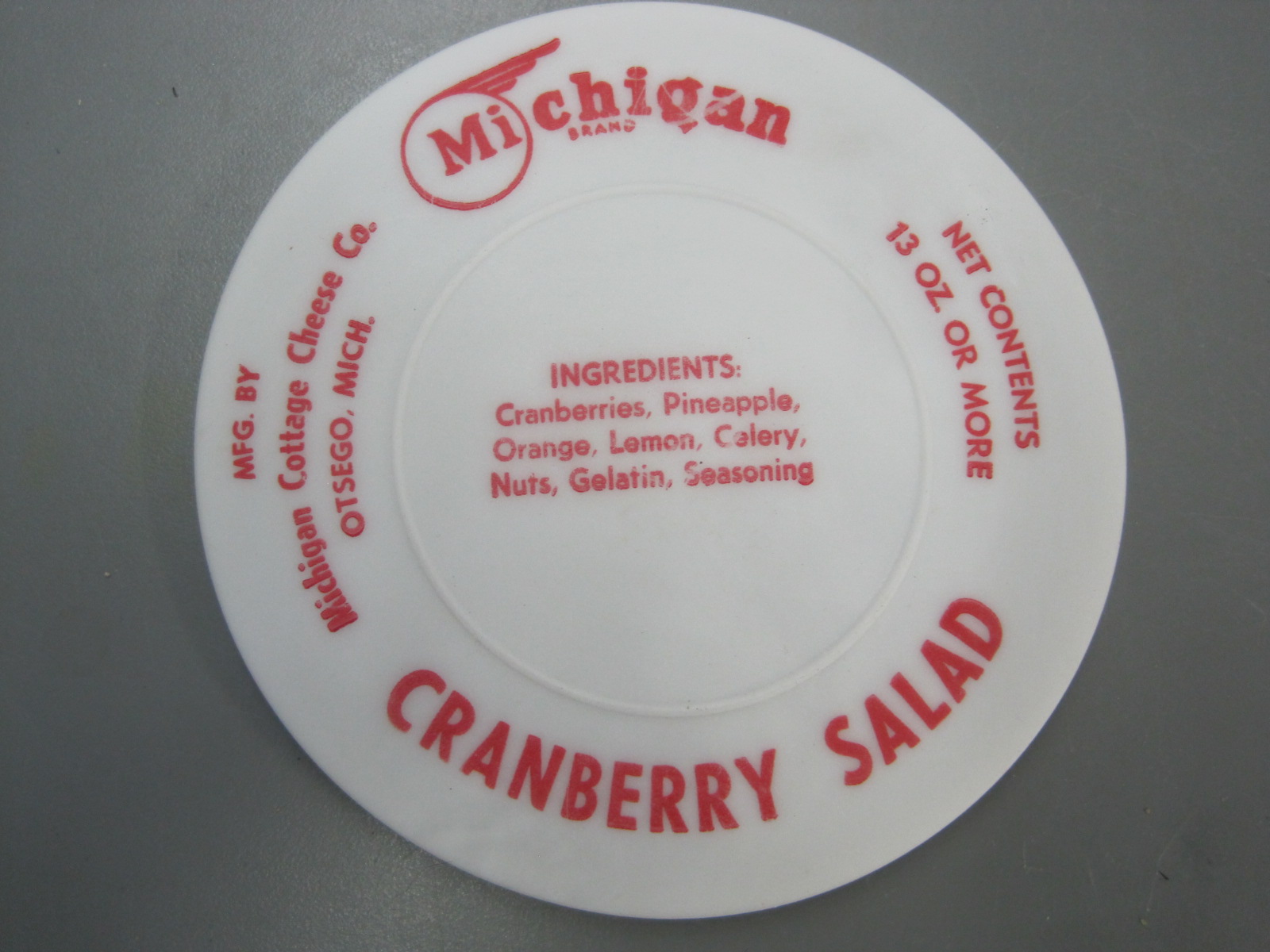 I brought in a plastic jello salad lid that was located in my grandmother's treasures. It was from one of the Michigan Cottage Cheese Company products from my grandfather's business. The lid was from the Cranberry Salad they made. What I found interesting about it was the product weight listed as: "NET CONTENTS 13 OZ. OR MORE" The ingredients listed are interesting as well: cranberries, pineapple, orange, lemon, celery, nuts, gelatin and seasoning.

I remember how good it tasted, and it had a certain light crunchiness which must have been the celery and nuts. I was telling the group how I remember as an 8 year old boy the terrible Cranberry Crisis of 1959. Rep. James Delaney, a Democrat from New York, suddenly announced that some cranberry products on sale for the holiday season were contaminated with Aminothiazole, and there existed evidence the herbicide caused cancer in rats. Of course, a 1 pound rat


had to consume enough of the chemical to fill a 55 gallon barrel.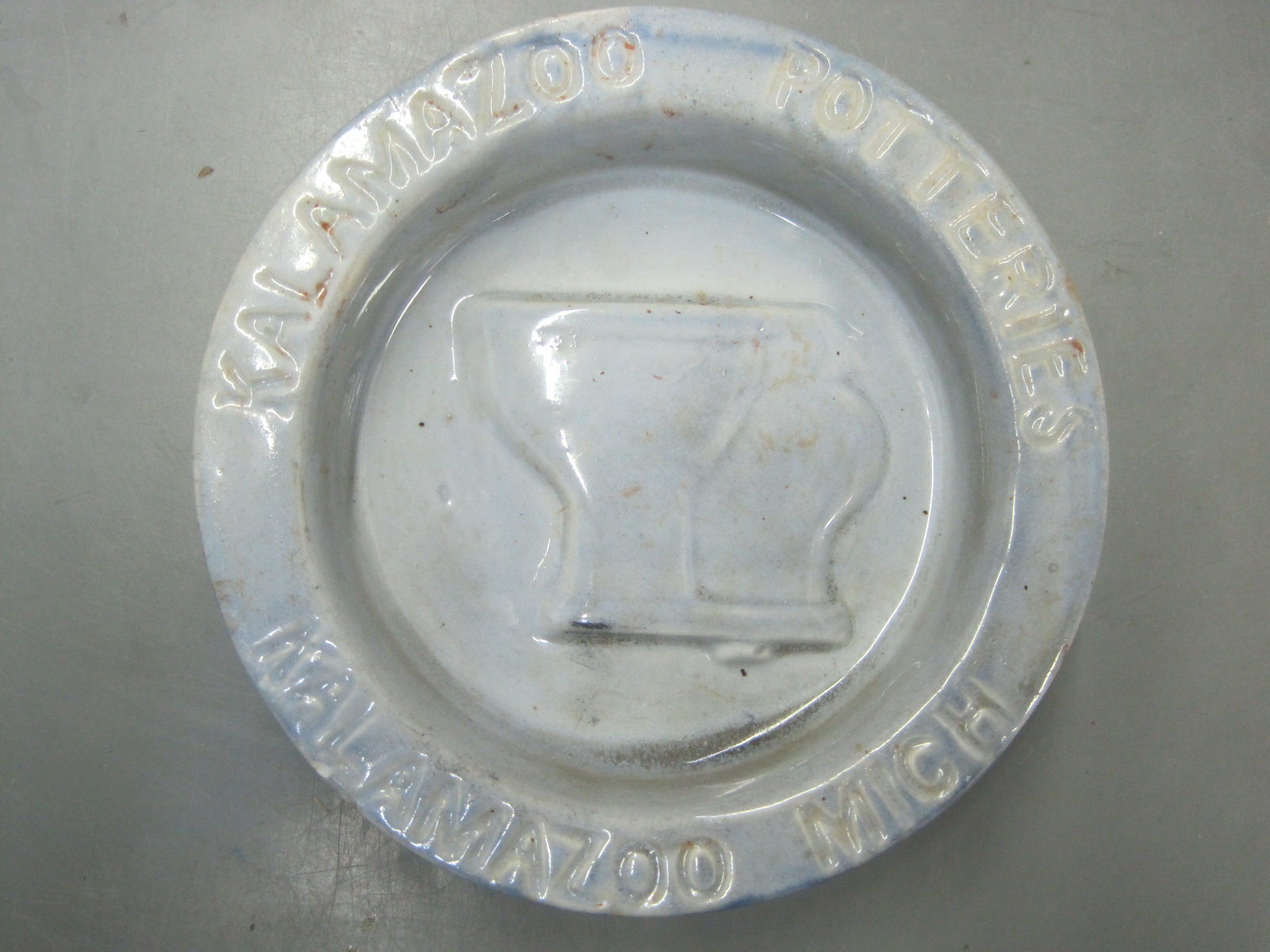 Well, as usual, it was all "bull" and, with a few words, cranberry farmers and product producers lost an estimated 20 million "1959" dollars.
I went with my grandfather out to his woods and watched them bury about 2 tons of perfectly good berries. Aren't you glad we have Father Government looking out for all of us? Apparently millions of Americans are. An interesting side note. I just read where the newest public school textbooks are teaching that the Boston Tea Party was carried on by a bunch of drunken terrorists.
When the truth came out about how the government had ruined so many lives with but a few words, they repaid the cranberry farmers 10 million dollars for the mistake. To put the public at ease both Vice President Richard Nixon and his future opponent for the Presidency John Kennedy ate generous portions of cranberries for the press.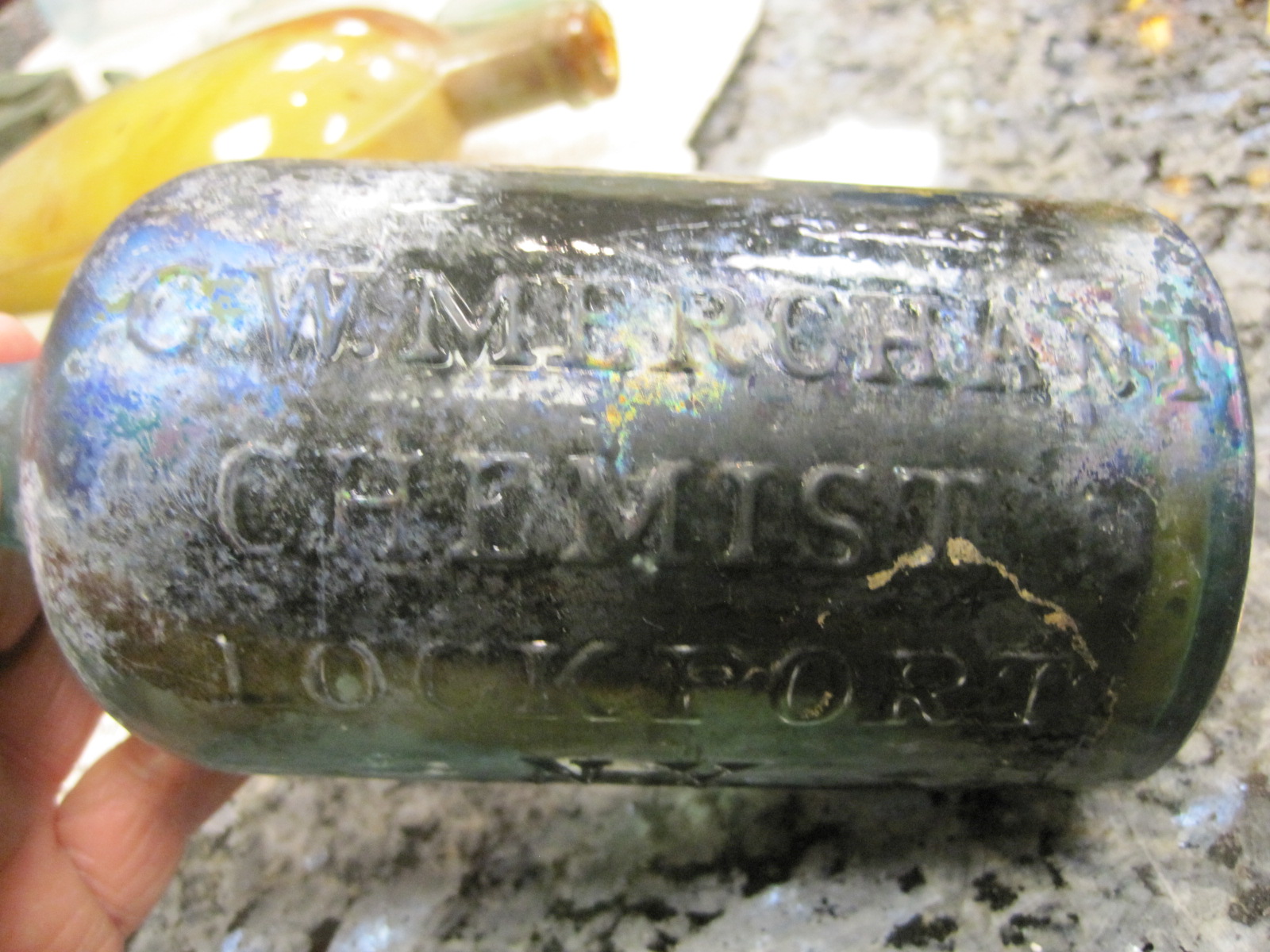 We were duped? It has happened thousands of time since and as long as we place our faith in man and his science, no living creature is entirely safe.
A botulism scare in the late 1960s also caused my grandfather to have another mass burial in his woods, only this time it was Michigan smoked chubs, not cranberries, that were dumped by the ton!
government crippled an industry by overreacting. The Michigan fishing industry never did bounce back to what it once was.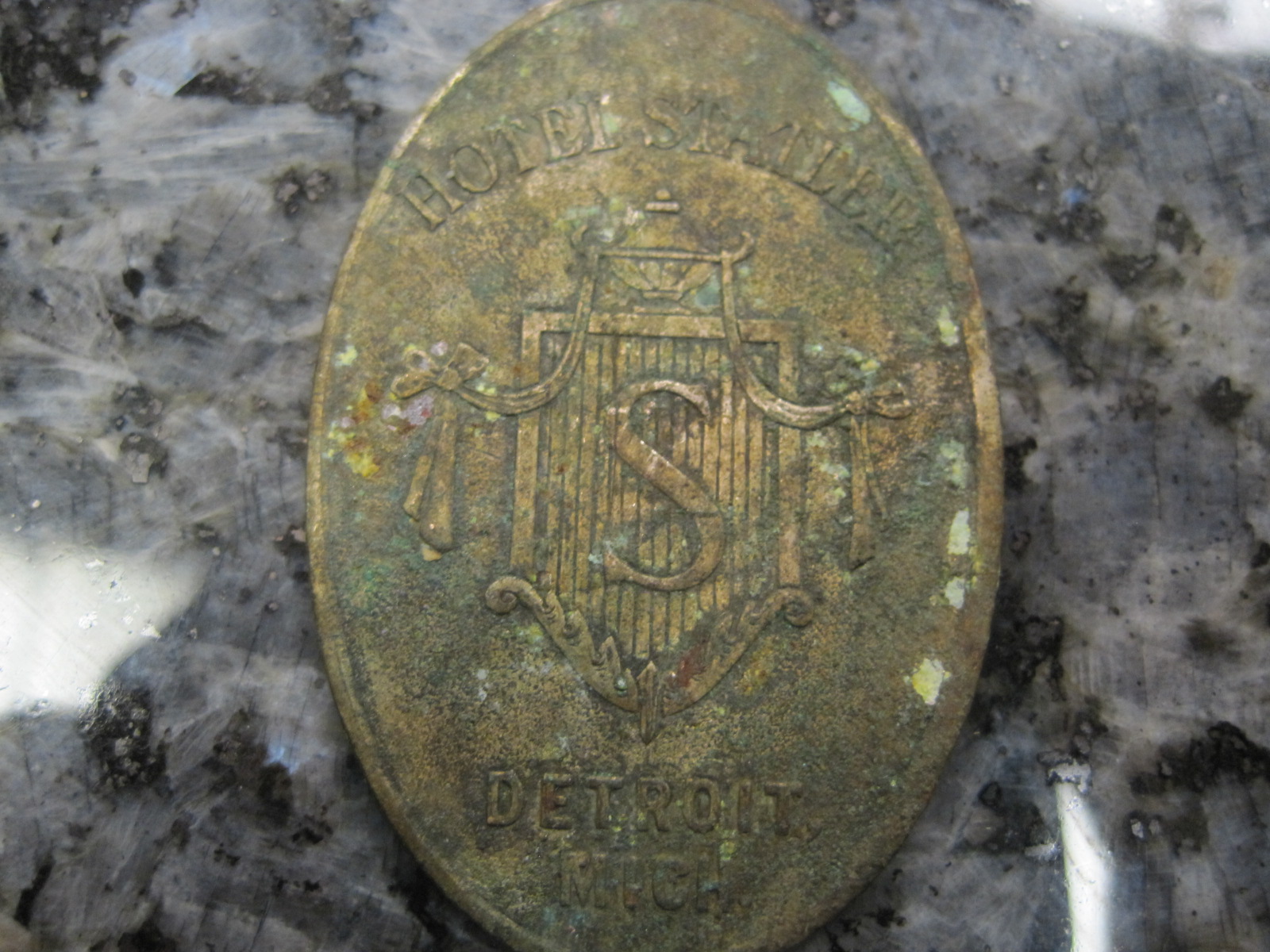 I also displayed a neat pottery ash tray that was dug from a old privy. The funny part is that it is from Kalamazoo Potteries Co. and the image embossed in the center is one of an early 1900's flush toilet! I have a friend who has a local Kalamazoo gazetteer library that is second to none and he was unable to find a Kalamazoo Potteries listed. What that would mean is they were in and out of business in the same year. It could also mean they were sold out, renamed, or moved. I am sure this item was a promotional piece and may have been passed out at a County Fair display.
OK, hang on now! Here are just a few of Scott's finds: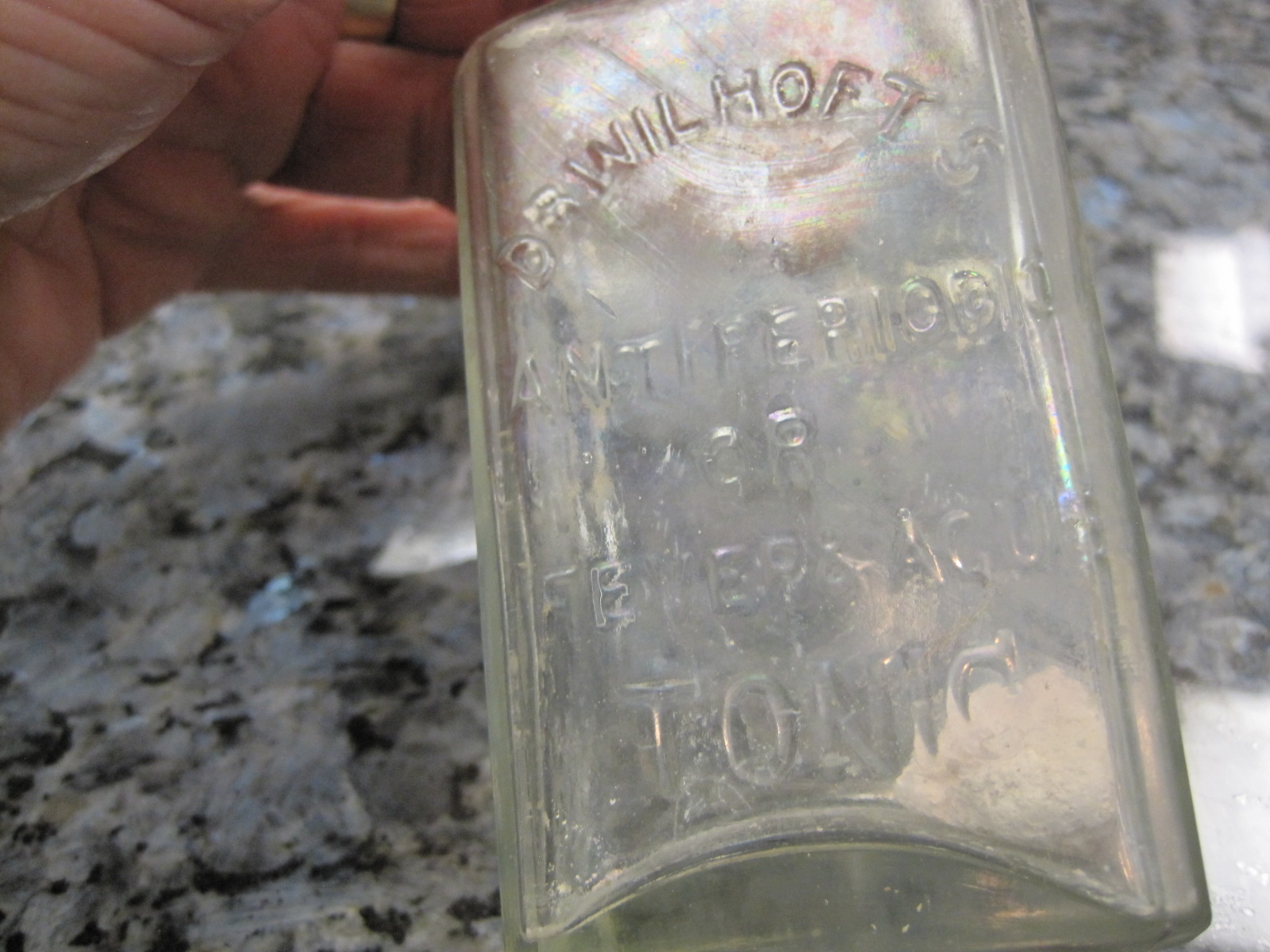 1. Dr. Wilhoft's Fever & Ague Tonic
2. C.W. Merchant Chemist, Lockport, NY
3. Hotel Statler Detroit Brass Room-"S" Key Fob
4. Cobalt Blue Squat "Steel Aston PA Mineral Water"
5. Olive Tar medicine bottle
6. Pittsburgh & Cincinnati & Saint Louis Rail Road Pad-lock
7. Beautiful long neck pepper sauce bottle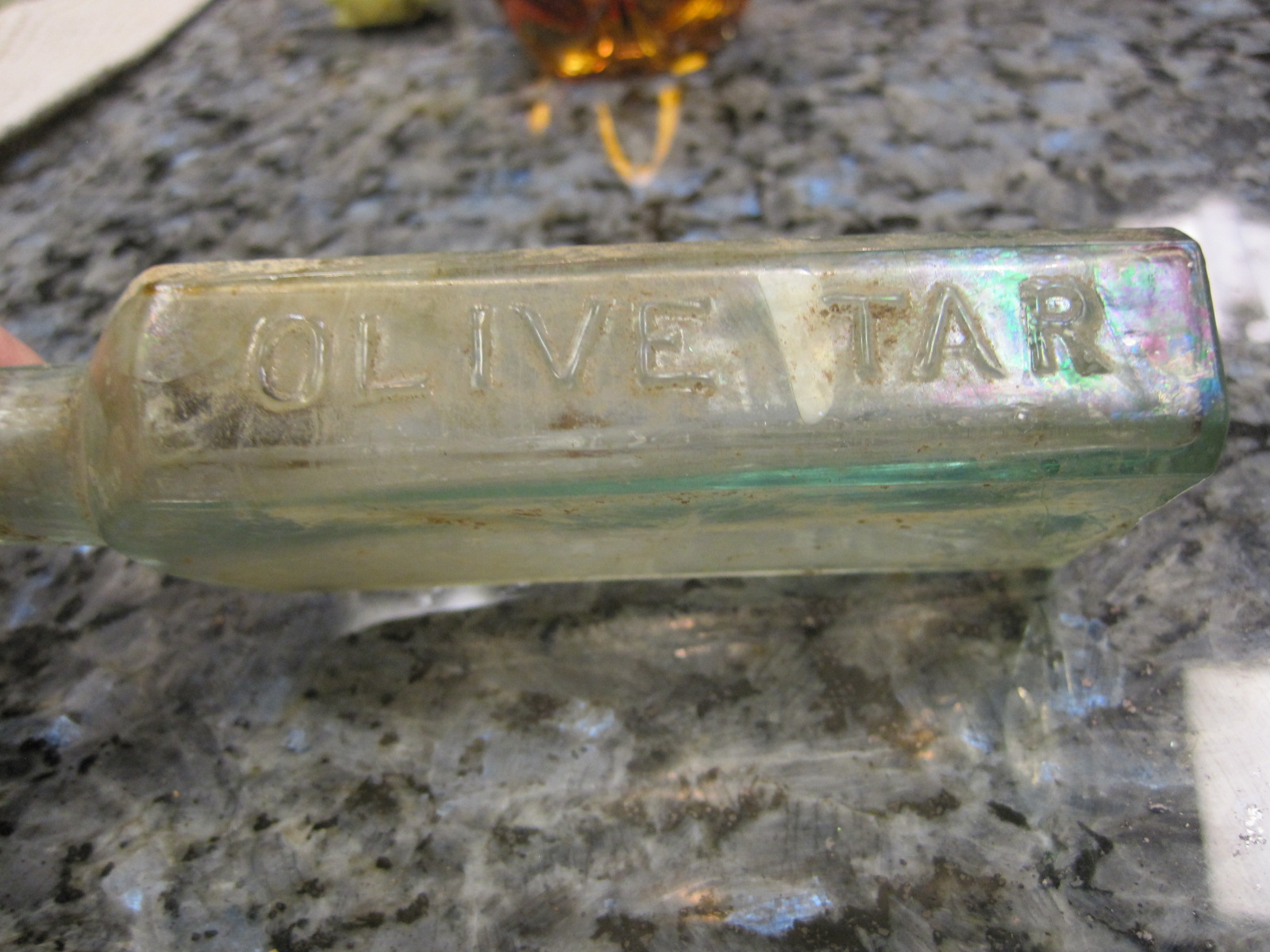 8. Rare "Professor Lennord's Celebrated Nectar Bitters
9. Small Baseball sized oil lamp with brass wick-cap.
10. W.W. Munger Druggist, Three Rivers, Mich.
I'm just scratching the surface! Looking at my pictures, I see many more great bottles that Scott had displayed.
On the W.W. Munger Druggist bottle, I found in a copy of Western Druggist News from 1902, "Briggs and Ulrich have sold their drug store to W.W. Munger and W.W. Reburn who where both from Grand Rapids."
Reading just a few lines down I saw where they reported that "Dr, W.H. Keys died in his drug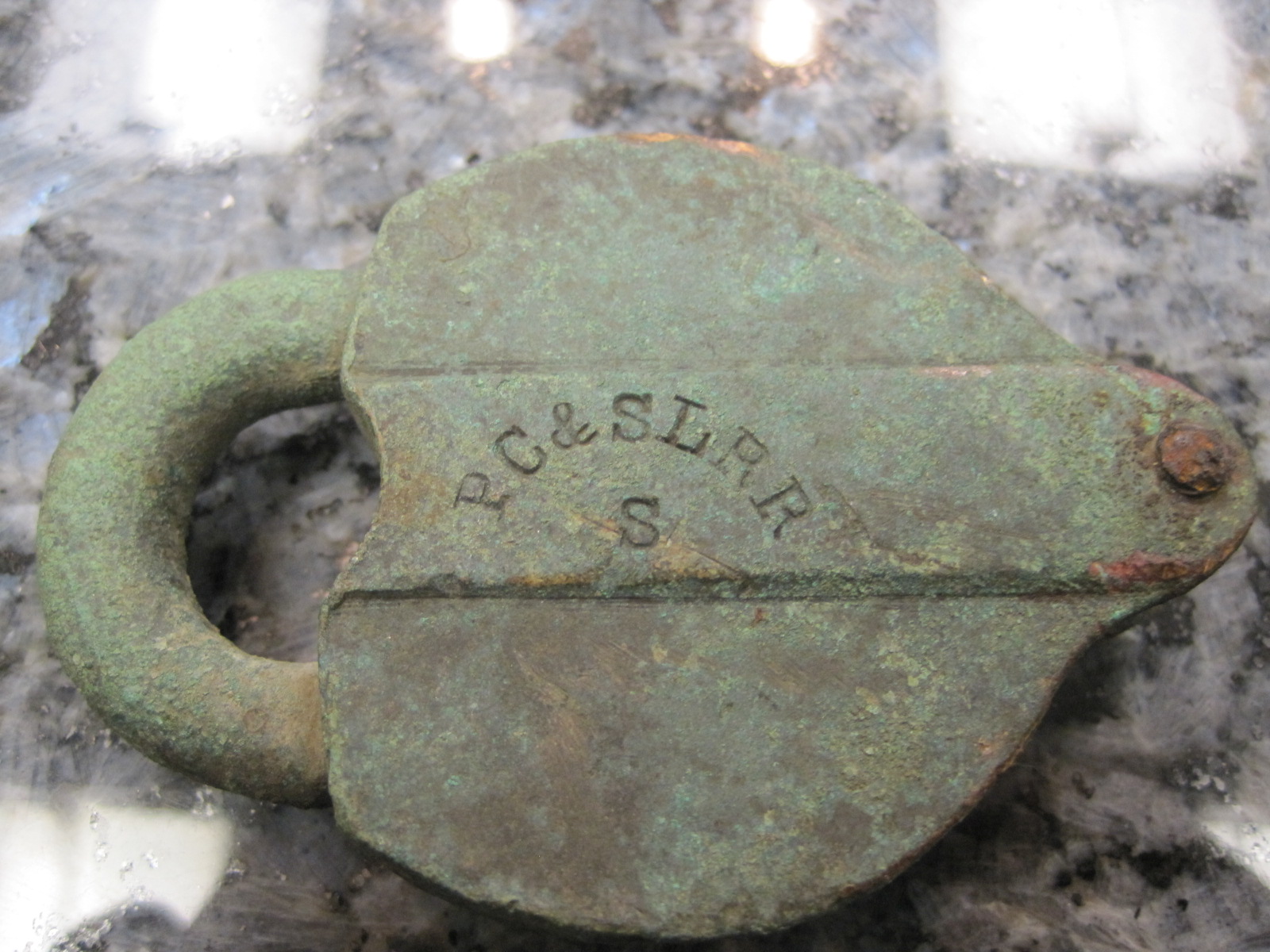 store in Bay City some weeks ago, his Mother survives him." Seems like back in those days they should have had a pill for that?

I gave Scott a call as I worked on the newsletter. He told me that he had been out digging this last weekend. After finding that awesome railroad padlock and hotel key fob while backfilling a pit, Scott was starting to wonder how many tiny treasures they have been missing. This last weekend, just sifting the dirt out of one pit, Scott found 1886 and 1869 Seated Liberty Dimes, an 1888 "V" Nickel and an Indian Head Penny! Scott told me that he found the 1860's railroad padlock when he was backfilling a privy! I am convinced many valuable marbles, coins and tokens have been tossed back into old pits because the focus was on bottles.

Back in 1998 when e-Bay had just got started, I was one of their charter members. At the time a very good friend of mine was heavy into shallow water hunting out at Gull Lake where he lives. I would buy all of his silver and gold items. In the first year, he had found 200 rings and tons of really neat toys and trinkets. At one spot, the lake bottom seemed all wobbly to him. When he started digging out what was beneath his feet, it was an entire case of Kalamazoo Hutchenson- type beer bottles. But, what I wanted to tell you about was the hotel key fob he found. When he was selling me some stuff he asked, "Al, what is this worth?"

<>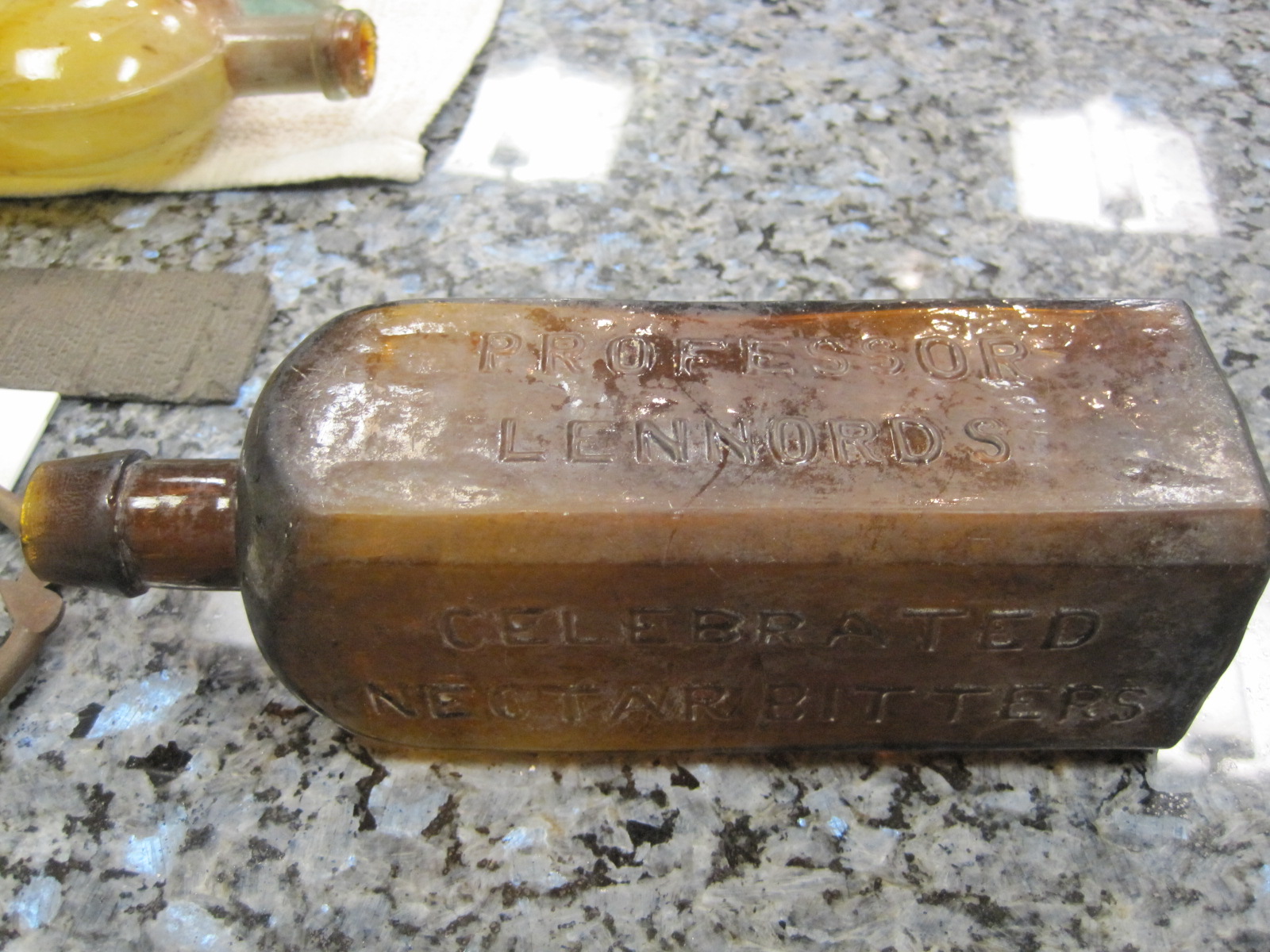 It was a brass key fob from the Père Marquette Hotel in downtown Peoria, Illinois. The fob still had a chain and the numbered room keys. My first reaction was to think, toss them out. What are old keys worth? I have a million of my own that will no longer fit anything. But, when I opened my mouth the words "Let me put them on e-Bay" came out. I built the listing as my wife watched over my shoulder and, when I put a starting price for the auction at $9.99, she asked, "Who would pay that much for old keys?"

We were all stunned at the results of the auction. The closing price was somewhere around $80.00!!! I just had to know why these keys were so valuable so I asked the auction winner "What is your interest in this?" He told me that he was probably bidding against the many local Peoria collectors. However he is part of a group who just restored the beautiful 14 story hotel. He told me that according to the records, the keys that Rob had found had been replaced in 1928 and he even knew who had not turned them in! Another neat part of the story is that Gull Lake was the top vacation spot for many, with trains running in from Detroit and Chicago! It was THE place to be! The Hotel is listed on the National Register of Historic Places.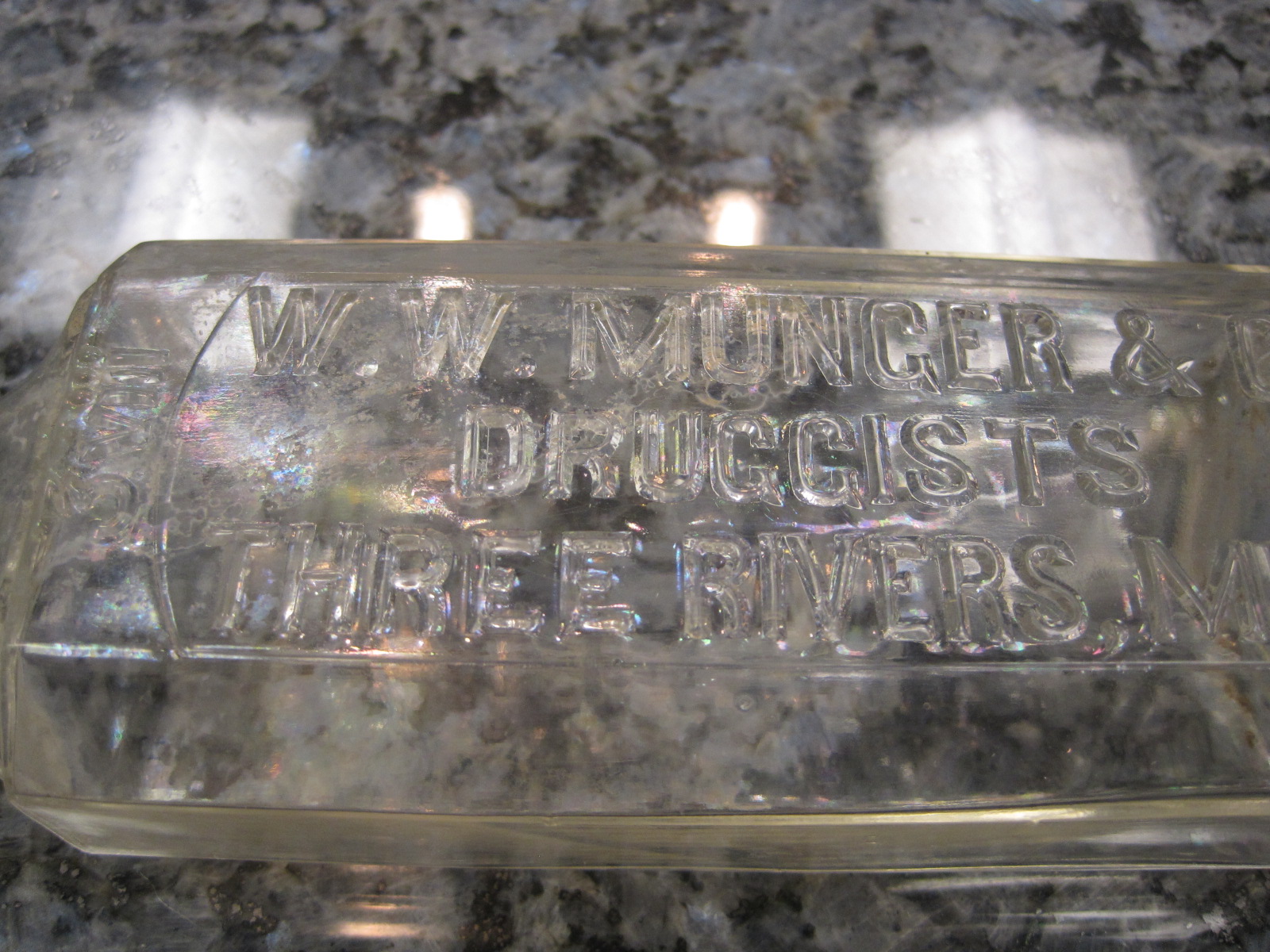 As always, Kevin had some great stuff to show us!

1. A really cool cylinder shaped PLANTISTA CIGAR BOX.
2. A 7-Up green Monarch Capers bottle with complete label.
3. Upjohn Cheracol Cough Syrup bottle
4. B. Desenberg Wholesale Grocer (small wooden box.)
Kevin also had other interesting stuff. Bernhard L. Desenberg, a successful local Kalamazoo grocer, was also the distributer of the rarest of the Kalamazoo antique bottles. "The Best Bitters In America."
Chuck told us that Kevin's amber full-label Cheracol bottle may have been a reproduction done by Upjohn for an employee reunion. I thought it was neat to read the label which read: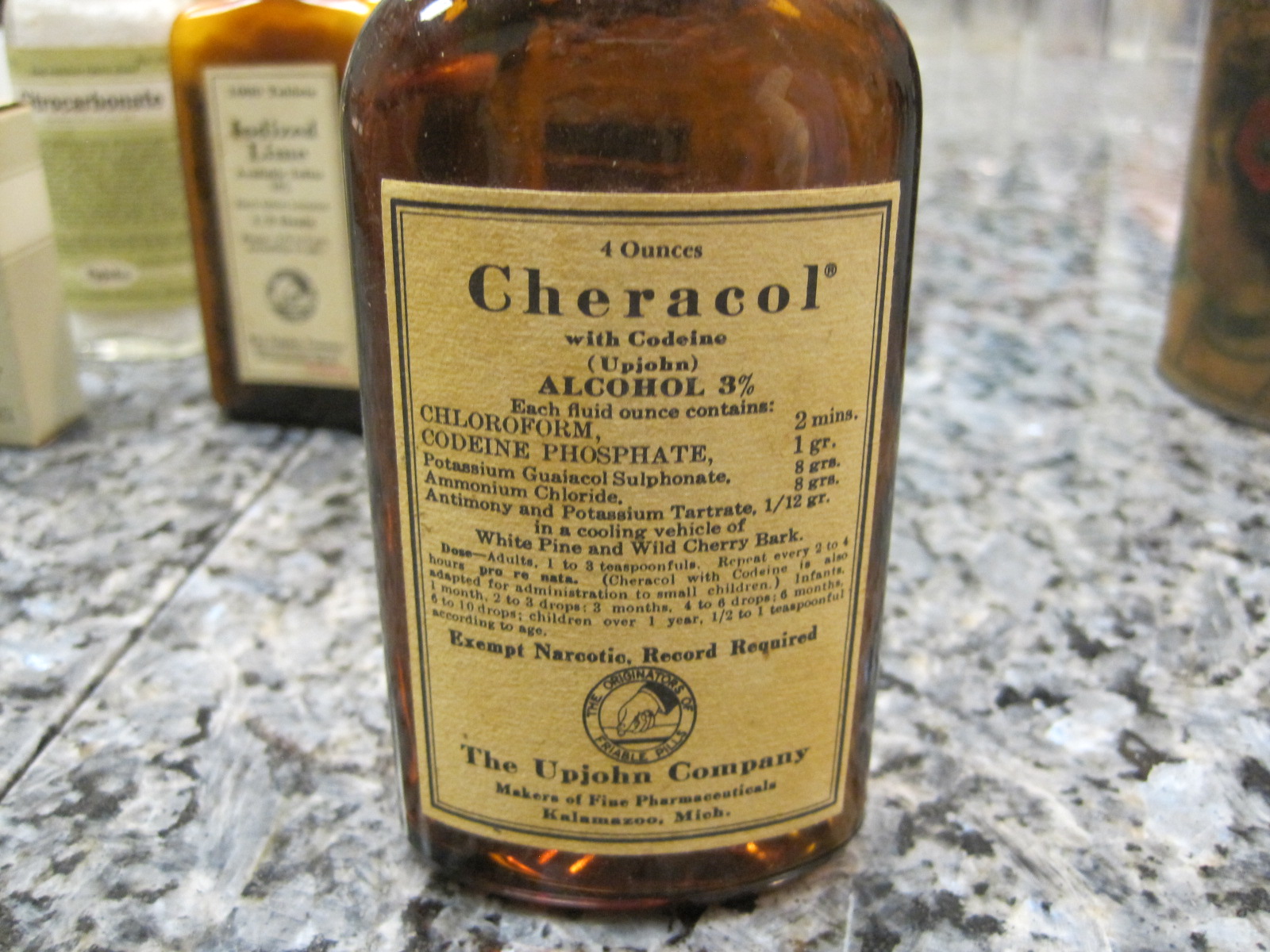 CHERACOL WITH CODEINE
3% ALCHOL, CHLOFORM, CODEINE PHOSPHATE, POTASSIUM GUAIACOL SULPHONATE, ANTIMOMY, POTASSIUM TARTRATE.
IN A COOLING VEHICLE OF WHITE PINE & WILD CHERRY BARK.
(Makes you thirsty, doesn't it?)






---
Chuck Parker's Goodies!

I love the old Victorian Trade Cards. I should have been collecting them all this time! Chuck has a beauty that depicts an old Victorian lady's shoe and it reads: <>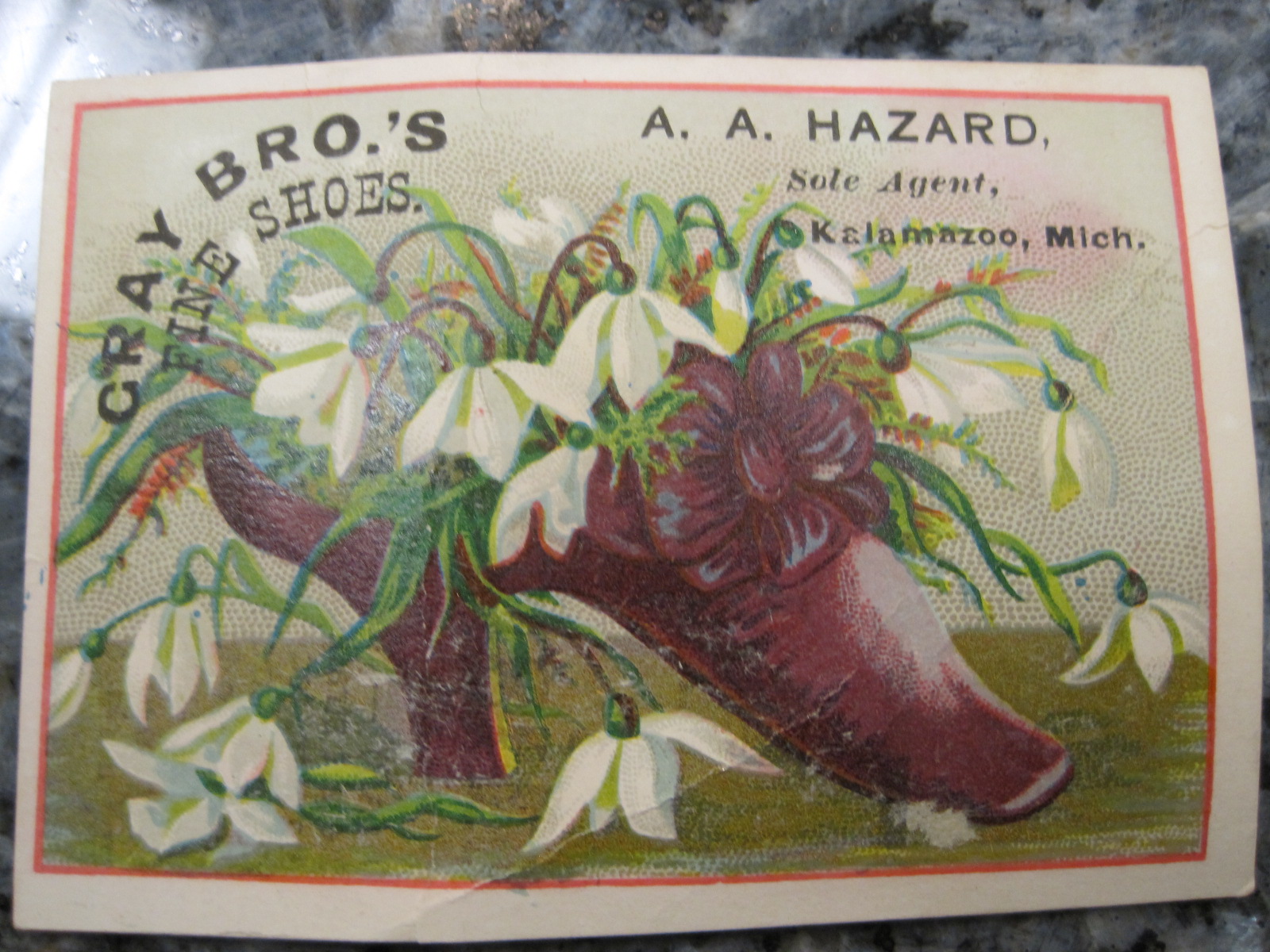 1. "Gray Brother's Fine Shoes, A.A. Hazard Sole Agent, Kalamazoo Michigan."
2. Hop Tonic Medicine Bottle (Semi Cabin Style dark amber)
3. Zoa Phora Anti Constipation Pills (Box is matchbox size!) Kalamazoo Michigan.
4. Kalamazoo Michigan Hand Held Candle Holder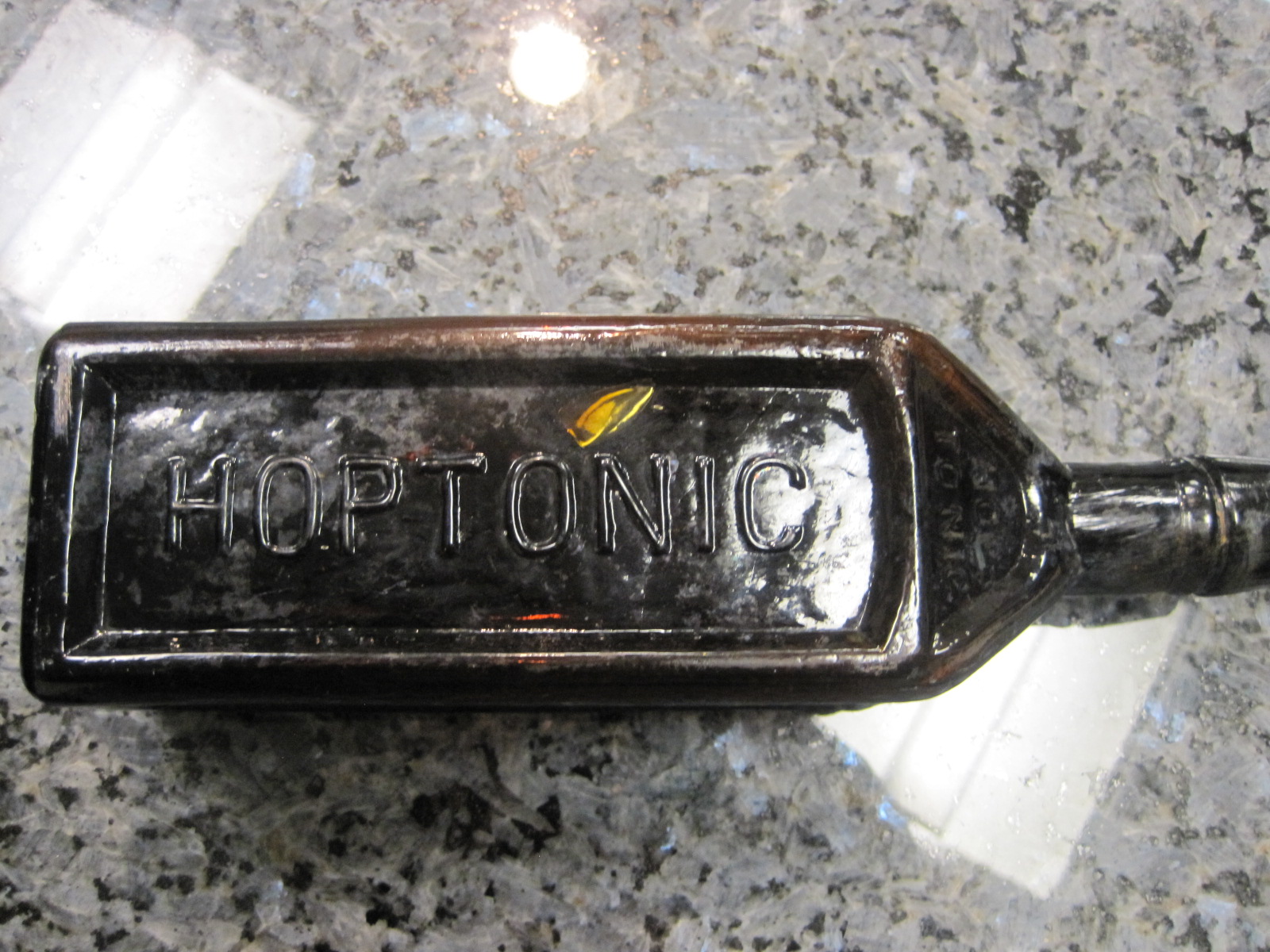 This month we will be doing our favorite club event, BIMBO'S PIZZA!


We will meet at the library at our usual time for a short meeting, then we will head over to Bimbo's Pizza for the best pizza on earth. This is a member's only event and it is being funded by one of our favorite members. Even though this is a members only party, I hope to see some

of you folks who have been somewhat scarce this year. If your membership is not up to date, Chuck says you can pay your $10.00 dues at this meeting, which will make you fully qualified for pizza.

Some of you guys make Chuck shake you down for that measly ten bucks and it drives him nuts! Chuck asked me, "It is only $10 for Pete sake. Why would it be so hard to get people to pay?" I told him that $10 means different things to different members. To a guy like me it means, "Will I eat this week?"

To most of the high rollers (as Scott calls them) they figure, "It is only $10," so they have a tendency to forget. Whichever group you find yourself in, if you haven't paid your dues, Chuck is making a list and is turning the names of you high rollers in to President Obama!
---
High Rollers

Speaking of big spenders, I have had a strong desire to buy a really nice antique bottle from one of the auctions. Even us tightwads need to spend money from time to time. The temptation comes in the form of those beautiful catalogs from Norm Heckler Auctions and John Pastor's American Glass Gallery auctions. I study these catalogs for days, then decide the bottles I would really love to have. Then, after thumbing through it for a week or so, and as the auction time approaches, my strategy changes to, "What bottle could I likely afford?"

I watched Norm Heckler's last auction and I couldn't help but think, "This is big league stuff and frankly I belong in the cheap bleacher seats."
Some of the flasks went for the cost of a single family home! I sent for one of John's American Glass Gallery catalogs and the auction estimates on many of those items were also out of my league, but I was happy to see a good number of items within reach of the average working man! I saw one bottle that I have wanted for a long time because I am a big time Great Lakes steamship lover. It is that Ravenna Glass Works flask with a large anchor embossed on it. It is a beauty! Well, I cast the winning bid! It is an iron pontiled beauty with an applied, tooled top. I have to show it to you! With the second bottle I won, I was the only bidder! Now you are really going to think I am nuts. It also had a Great Lakes Ship connection, well sort of! One of my favorite freighters on the Great Lakes, until she was scrapped a couple years back, was the William Clay Ford. She was built in 1953. During the storm on November 10, 1975 under the command of Capt. Don Erickson, the ship left safe anchorage to search for survivors of the EDMUND FITZGERALD.

OK, here is the connection-- the blob top New York root beer bottle I won is called Wm. S. Ford, 1878. I haven't found the connection yet. . . give me a while!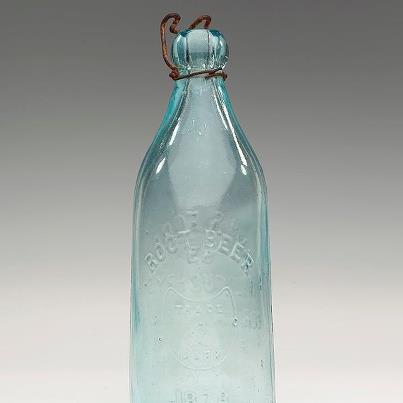 The Kalamazoo Antique Bottle Club meets at the main downtown Kalamazoo Library, located at 315 South Rose Street. We meet on the third floor in the conference room. This meeting is Tuesday, December 11th. Meeting starts at 7:00 pm.
For questions:
Or call 269-685-1776