Champ Ferguson

Sometime back, I started coming into possession of some family pictures from my mother's side of the family. Some were given to my sister, and she asked me to put them in safe keeping. More recently I obtained some from my grandmother's cousin, Donna Harter. My mother and my grandmother were both very good at labeling photographs, which can be very helpful, especially if they are photos of infants. Even if the photo's are not labled, but you go through them with someone who remembers, you are usually pretty safe.

Ernie Lawson is the one who got me interested in looking around in the old family tree. Ernie and his buddy Jack Short were interested in the Civil War and took part in a local Civil War Round Table group.

I guess those guys had quite an influence on my life! It was Ernie and Jack who got me hooked on antique bottles! If I wasn't already involved with Jesus, they would have pointed me in that direction too. In fact, Ernie did! I'm wandering off topic, but while I am here, I want to say that I have been so deeply blessed to have been permitted to share time in this life with so many of you, my friends.

It was Ernie and Jack who suggested that I may have had at least one Civil War soldier in my family tree. Up to that point, it had never occurred to me. Well, I did some digging and, to my complete surprise, I found one! His name was Martin Harter! I was so excited that I could not wait to tell my 85 year old grandmother about my discovery!

"I could have told you that." she told me. She went on to say, speaking of herself, "My great grandfathers Martin Harter and Cornelius Engles were in the Civil War!" Wow! How cool is that, I thought! Then I found out on my father's side of the family I had another Civil War veteran in my family tree. William Wetheral was in the war. ( Wetheral Lake east of Martin was named for William)


When I told Jack and Ernie, they were so excited for me! That is when they told me, "The fun is just started!" They gave me an address in Washington DC where I could obtain copies of their service records!

I found out that Cornelius Engles enlisted as a Sergeant on January 3, 1863, for 3 years of service at the age of 27. He served the remainder of the war in that capacity and was mustered out at Nashville, Tennessee, on September 22, 1865. He died on March 12, 1900, at Otsego and he is buried there.

Cornelius served in the U.S. Union Army, Company L, 1st Michigan Engineers. At the time he entered the war, he was living west of Otsego, near Trowbridge.

William Wetherall lived near Martin and he served in the same unit! They probably met each other in the service! Martin Harter served in Company A, 13th Michigan Infantry U.S. Union Army and was part of General Sherman's march to the sea!

Another thing I learned about myself is that Martin's Great Grandfather, Johann Martin Harter was one of the largest landowners in Luzerne County, Pennsylvania, which he received as payment for his service as a Revolutionary War Soldier. He served as a sergeant in the 8th Co. under Capt. Daniel Shnyder, 2nd Battalion of Northhampton Co. Pa., Militia, Col. George Breining. Johann was born in 1740 and came from Germany as a youth on September 25th, 1751, on the sailing ship Phoenix.

You know, I think this is amazing stuff! Why didn't my grandparents tell me all of this stuff? After I started asking questions, I was so thankful my grandmother was still available to answer my questions! Actually, she was so happy that I was interested! I never met my great grandfather George Anderson, my grandmother's father. She loved her father so very much! My grandmother was an only child and her father died at the very young age of 35 of pneumonia. He had been working for my grandfather, his son-in-law, at the Michigan Cottage Cheese Company.

I went to the court house in Allegan to get a copy of his death certificate. When the clerk found it and pulled it from the file she said, "Well, this is interesting! It lists his occupation as 'Cheese Maker!'

As much as my grandmother loved her father, she was happy to want him to be remembered as a cheese maker and not as cook for the Barnum And Bailey Circus! Oh the shame! He also owned two restaurants one in Constantine and one in Otsego (at two different times) called the White Kitchen. From my research I learned that the Otsego Restaurant was an excellent place to eat! When my grandmother got out of school, she would go down to the restaurant and there was a place under the serving counter where she would do her homework!

I also learned that my great great grandfather Charlie Harter collected Antique whiskey flasks! He was also one of the few in Otsego who had a big Packard automobile and a Michigan Chauffeurs license!

OK, what could be more boring than reading about somebody's family tree! When I found this stuff it was like striking gold! Every new piece of information was like finding treasure! I have five sisters and two brothers and they find almost anything else more interesting. I saw an episode of Pawn Stars where a guy had two Civil War Diaries he wanted to sell. Both of them belonged to his great, great, great grandfather. I thought, "How on earth can you sell something like that?" It turned out he was an only child and the only descendant and could not have children, so there was nobody to pass it down to.

I have a sword in my collection of stuff that I got from Mark Churchill, who got it from a guy in trade for a bottle. The sword was a family heirloom to the guy! Now that boggles my mind!

So, I get some photos passed from Donna Harter and many are early daguerreotype, ambrotype, and ferrotype (tintypes), but they were unmarked. I had some old pictures of Martin Harter and Cornelius Engles and some of Martin's wife Hester and their children Eudora and Lewis from 1865, so I thought maybe I may have more. And I was right! I had another great picture of Martin in his golden years and one with Hester posed with her great grandson, Merton.

Some of the pictures I was not so sure of, so I am afraid I started guessing, which is really not a good idea.. You could unwittingly start claiming a vicious criminal as a blood relative. I only had one picture of Corneilus and I really longed to have more. I was able to tell that he was a tall slender man.

Three of the old photos were posed for by soldiers, complete with uniforms and weapons! That is the type the Civil War collectors want! A photo with the soldier in uniforn is good. A photo with a couple of soldiers is much better. A photo with two soldiers with weapons included is hitting the jackpot!

One of the pictures showed a tall man standing with a smaller man in a Union Army uniform beside him. The smaller man is holding what looks like a Kentucky Long Rifle and he has one hand on the taller man's shoulder-- like they may have been long time friends. I thought that I had found my second picture of Cornelius!

I looked the picture over very carefully and compared it to the one I had. The facial features were similar, but in my known picture of Cornelius, he had long wavy hair (like I once had) and the tall man in the picture had shorter hair. Of course that tells you nothing--- they must have had barbers in 1865. Come to think of it, most of the barbers were surgeons! Lord knows there was not lack of surgeons during the war, just a shortage of bone saws!

I looked at the back of the photo and there was the signature of both men! One of the signatures was in a large fancy John Hancock type script that wasn't easy to read. It was beautiful, just not readable. If you looked at it and wanted it to, the fancy signature could say C.B. Engles. That was just the proof I needed. I showed the picture to my mother and stepfather telling them I thought it was Cornelius. They looked at the signature and agreed.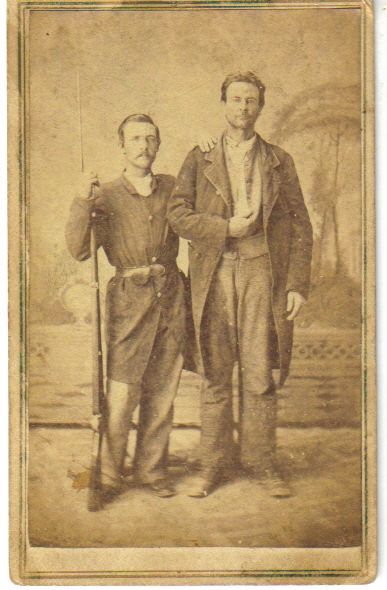 The next day I still had some doubt. I also wondered if I could find any information on the other subject in the picture. His signature was very plain, yet very readable. It almost looked like he had been looking at a signature someone had written down for him to copy. With all of the genealogy stuff finding its way onto the Internet,I thought, "Who knows maybe I will get lucky."
I typed "Champ Ferguson" into my Google Search bar and within a fraction of a second I was looking at the face of the men in my picture!
Champ Ferguson who along with Henry Wirtz, commandant of Andersonville, were the only two Confederates formally tried and executed for "war crimes!" This guy was as bad as they come! Before the war he was tried for murder, but was somehow allowed to join the Confederate Army. Ferguson joined as a private in Bledsoe's Cavalry Company and fought at Mill Springs, Kentucky. By April 1862, the 41 year-old had raised his own independent company.
While acting under the guise of a Confederate Partisan Ranger, Ferguson soon turned his energy to terrorizing the pro-Union population. He was said to have murdered anyone who may have had any link to the north, including women and children! Ferguson was known to sneak into hospitals and kill Union soldiers in their beds!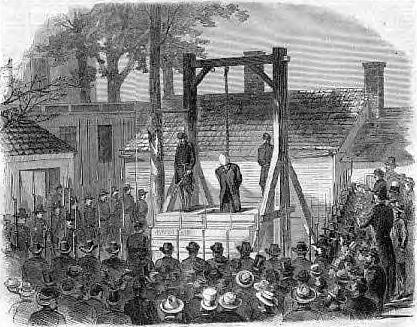 The first photo that I found was one of Ferguson standing with a group of several prison guards. Then I found an exact copy of the one I was holding. The photographer was who had signed the photo was C.B. Hughes, Artist. There is a letter that the Champ wrote to his wife just before his hanging. He claimed he regretted he would not be able to support her and their children. I haven't studied all of the detail, but it looks like the man with the flowing signature wrote the letter for him. I also think the photographs were agreed to before his execution and the signed show cards were used to raise funds for his widow.
The last time one of these cards was sold, that I could find, was at an auction in 2009. That one sold for $2,937.50! I found a little frame to protect it and I will show it to you at the meeting. I can't prove it, but my gr, gr,gr, gr, grandfather, Martin Harter, would have been passing through Nashville at the time all of this was unfolding. It is very likely he picked this up as a souvenir on the way home. In the day, the capture of Champ Ferguson was a very big deal!