HAPPY NEW YEAR FRIENDS!
"Happy New Year
you wonderful old Building and Loan!"
That line is from the 1946 movie "It's A Wonderful Life." Actually, George Bailey said, "Merry Christmas!"
This is the first time in a long, long time that I didn't watch that movie over the holidays. What an amazing concept that movie was! The line which best summed it up was spoken by Clarence, the angel working on getting his wings: "Strange, isn't it? Each man's life touches so many other lives. When he isn't around he leaves an awful hole, doesn't he?
Or here is another classic: "You've been given a great gift, George Bailey; A chance to see what the world would be like without you. You see George, you've really had a wonderful life. Don't you see what a mistake it would be to just throw it away?"
I'm sorry for being so distracted. On the first day of 2013 my father's eldest sister, my Aunt Beverly Watson, passed away. It is hard for me on many levels. My father's original family is now down to only two people, as you read this, the clock ticks on.
My Aunt Beverly and her husband, the late Amos Watson were two of the best people God has allowed me to share my time with in this life. There has been a few moments in my life, where God has clearly spoken to me through the love of others. Here is one time that really had an impact.
My father had been working three jobs, (1.) as a route salesman for my grandfather at the Michigan Cottage Cheese Company, (2.) selling Real Estate for the Don McLeod Agency and (3.) renting small utility trailers. The trailer aspect seemed to grow and grow into a successful business, but that growth required a change of address for our family, from the Plainwell school district to Otsego.
Changing school was not easy for me. We had gone to church in Otsego, so I knew some of the kids, but even so, as a new kid in school I was picked on by several people, even some I thought were my friends. After I had been bloodied on the playground a few times, I seemed to fit in better. I had gone through a few serious health issues which left me with very little physical strength, so I was very easy to push around, starting on the very first day.
My main health issue was serious allergy problems. There were very few items that I could safely eat. However at my age, I just didn't fully grasp the severity of the problems. For example, if I ate a banana or a tomato, it would land me in serious trouble. Frankly, I knew what I should steer clear of, but it seemed like I would find more stuff each day.
At the new school I was waiting in the hot lunch line when one of the kids behind me decided to see if he could kick me off the ground. From behind he kicked me between the legs as hard as he could and he did indeed raise me off the floor. I remember trying so hard not to cry as I lay on my side on the cold granite floor. I was trying to vomit and nothing would come up and the pain was incredible.
One of the teachers helped me up and led me into the cafeteria to sit at a table, when another lady rushed over to check on me. Right when I needed to have someone on my side, there was that warm and familiar face of my Aunt Beverly. I didn't know, up to that point, that she even worked at the school! And to my surprise, that was when I learned that I didn't have to stand in the hot lunch line again! This was because she was going to prepare me a special food tray each day made up of items that I could safely eat.
It just seems to me that this old world cannot afford to lose any more good people. Honestly, it seems to me they aren't making enough of them anymore.
My aunt was raised during the Great Depression and as terrible as that was, it seemed to be the time to raise some great people, people who learned the hard way about loving God and country.
You see, I believe people like Aunt Beverly are the one natural resource that we as a nation cannot survive without. Looking around at America today, this is indeed a cause for great concern. I sincerely believe that the difference in the lives of these rare and beautiful people was the reflection of God in their lives. God, please give us more who will follow you, America is in need!
---
LAST MONTH
We had a wonderful time again at our meeting. The members I saw were as follows:
Chuck Parker, Mary Hamilton, Tim Hayes, Melinda Hayes, Scott Hendrichsen, Dee Cole, Ethan May, Robert May, Kevin Seigfried, Ed Nickerson and Allan Holden.
Even though the meeting was to be our Club's Christmas Party, held at our favorite hang-out, Bimbo's Pizza, we did see some awesome bottles at the Library during the first half of the meeting.
Young Ethan May is still adding some great bottles to his collection! Ethan came to the meeting with his father Robert instead of Grandpa Kelly Bobbitt. We missed you, Kelly!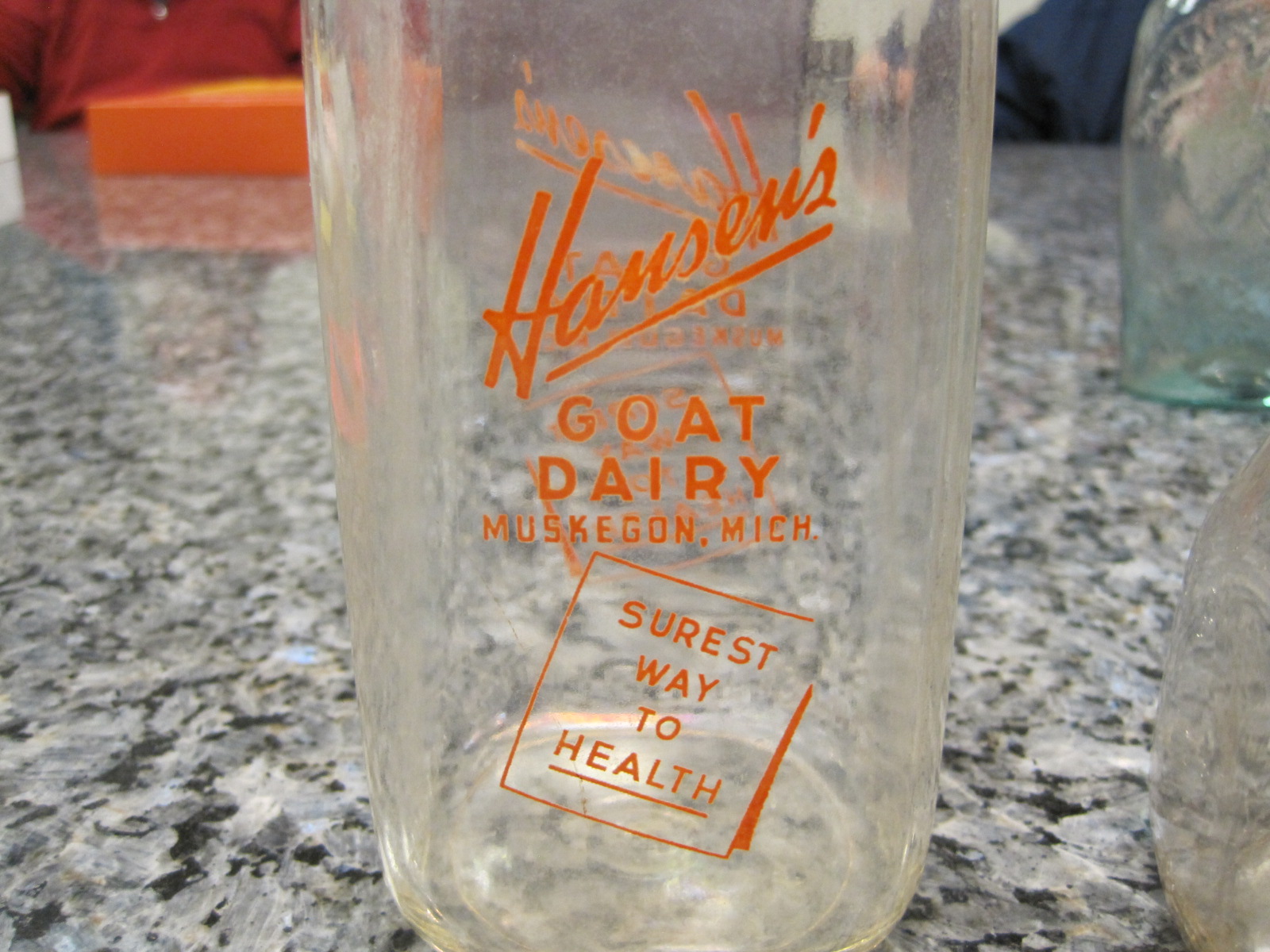 One bottle that I really liked was an old pyro-glazed, "HANSON'S GOAT DAIRY" from Muskegon, Michigan. It is a one-quart dairy bottle with the slogan "The Surest Way To Health!"
Also, Ethan had a nice half-quart "HARTFORD DAIRY" bottle that begged, "Visit Our Modern Dairy Bar."
Ethan also had found a beautiful little gem of a bottle, one that I feel is a pleasant bottle to own, to hold, and look upon, but sadly of little collectable value. (Doesn't that sound a whole bunch like our wives except for the 'little collectable value' that is?) My advice Ethan, "Keep looking for beauty in old bottles, not young women!" That little gem of a bottle is a purse-sized 8- sided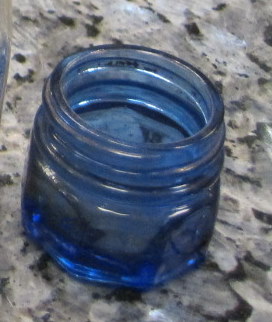 cobalt-blue Noxzema Cold Cream bottle. Great stuff there, Ethan!

Kevin or Ed had a treasure in an amber Kalamazoo Beer bottle. As I recall, a small number of these were dug at a construction site about a year ago. I was given one by an old friend, who I think was in on the discovery. It is "BERLINER & WEISS BEER" which made the claim "PURE AND WITHOUT DRUGS OR POISON!"
If you cannot trust the local brewery who can you trust?
As always, we look forward to is seeing what Scott and Chuck have dug lately. With Connie under the weather, Scott has been digging with Bill Riley and they have been finding some neat bottles. Scott displayed a bottle that I have always wanted to see in person. It is the rare Warner's Safe Cure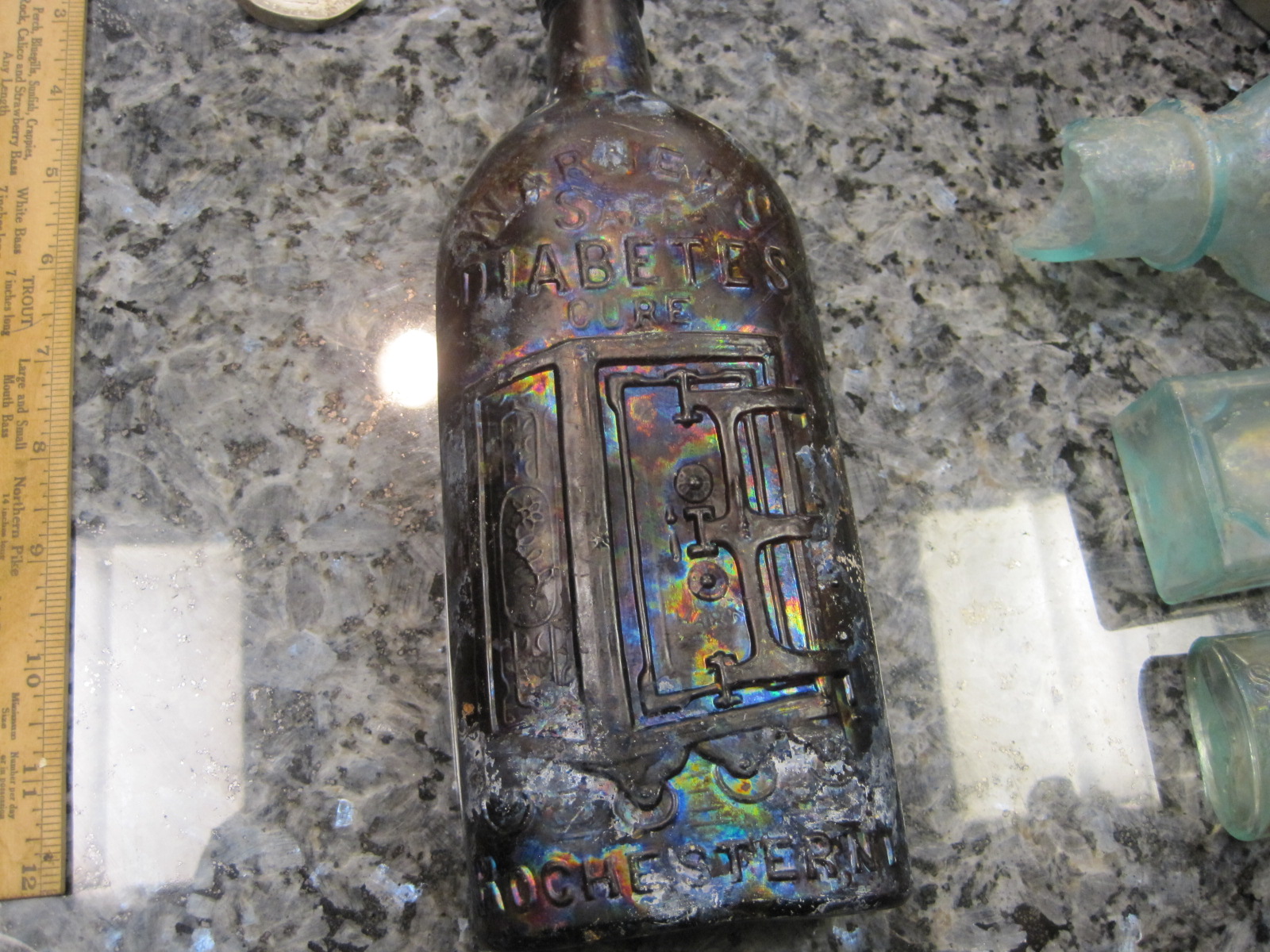 bottle . . .the "Warner's Diabetes Cure" from Rochester, New York. I could use some of that! The antique "Cure" bottles are just amazing, are they not? I have to wonder if any of the drug manufacturers believed they were selling a cure for anything? I guess they brought relief for anyone suffering from a fat wallet.
One of the other bottles on display by Scott was a "JAY BULLOCK" druggist bottle "The South Side Drug Store, Three Rivers, Mich."
Another of the many bottles was a "MAGEE'S EMULSION."
Another one was, "ANCHOR PICKLE AND VINEGAR WORKS."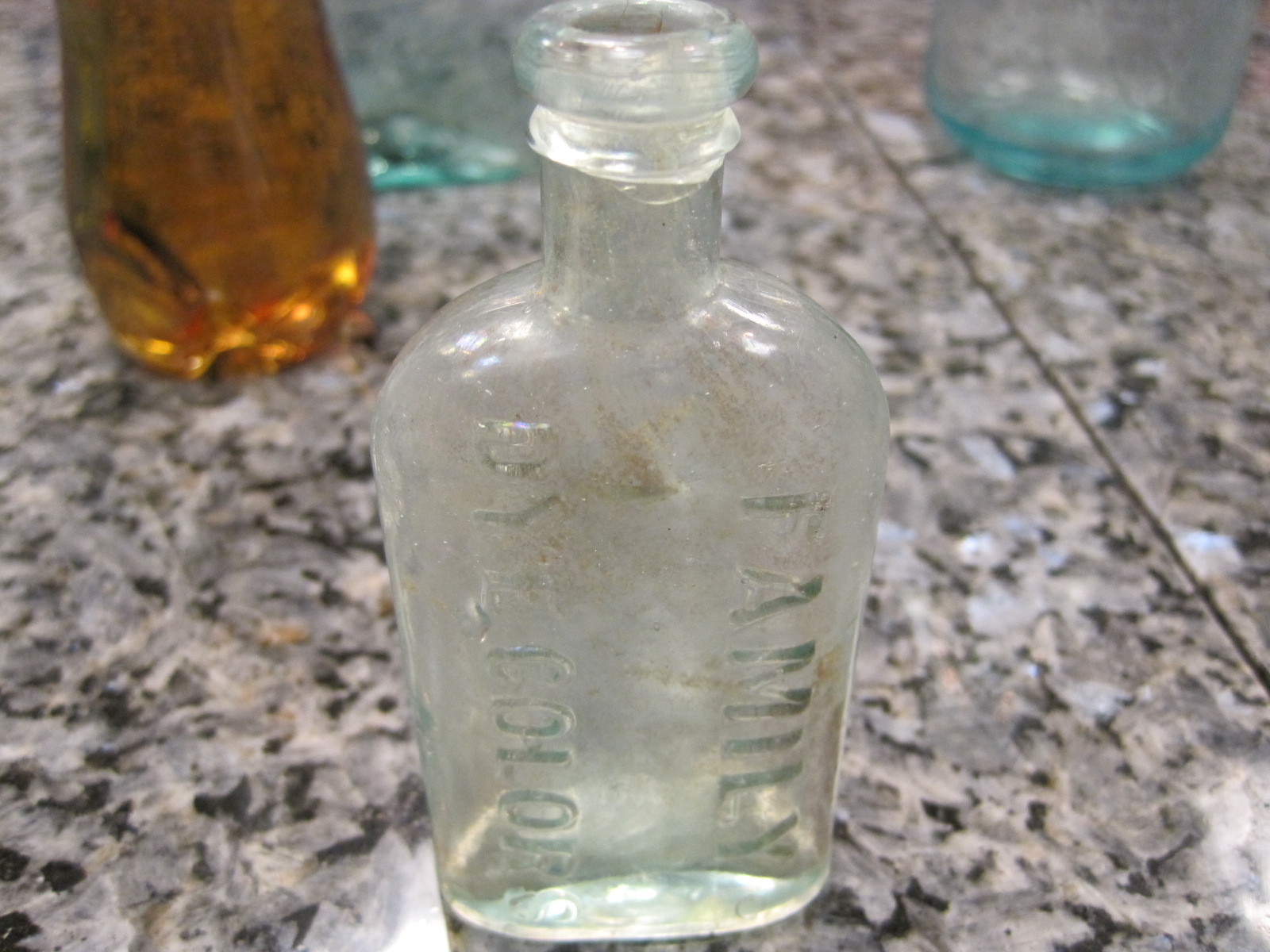 There was a very nice pontiled "HOWE & STEVEN'S FAMILY DIE COLORS."
And a Grand Rapid's beer bottle "GEORGE C. BRATT, Grand Rapids, MI."
And another interesting item, actually two, were some spring steel straps with Bakelite pads that remind me of door knobs. Tim Hayes identified them as early medical hardware used to apply pressure to a hernia. I can see where that may have provided some relief.
Back to Ethan's Goat Dairy bottle, I looked in the Dairy Department at our local grocer and sure enough you can buy Goat's Milk in the one pint cartons. In a way, I would like to taste some but, then again after my fight with cancer, I would love to taste anything again. I am getting good at associating the texture of certain foods with my memory of how they tasted. Also I can tell if something is salty.
This fall I had a man come into my shop to rent a metal detector. I try to rent people the best detector for their application. Sometimes people will try to use a detector without a good working knowledge of the detector. This results in complete failure.
A good example is the timber buyer or sawmill. A large number of the hobby detectors will have discrimination capabilities, which means they will ignore certain types of unwanted trash. In many cases this trash elimination is controlled by a knob that can be turned up or down. With the knob set at the lowest setting, supposedly any type of metal will be detected. Not always! Some detectors have a certain amount of discrimination built in and they are of very little use when trying to detect linear-shaped, iron-like nails and fence wire.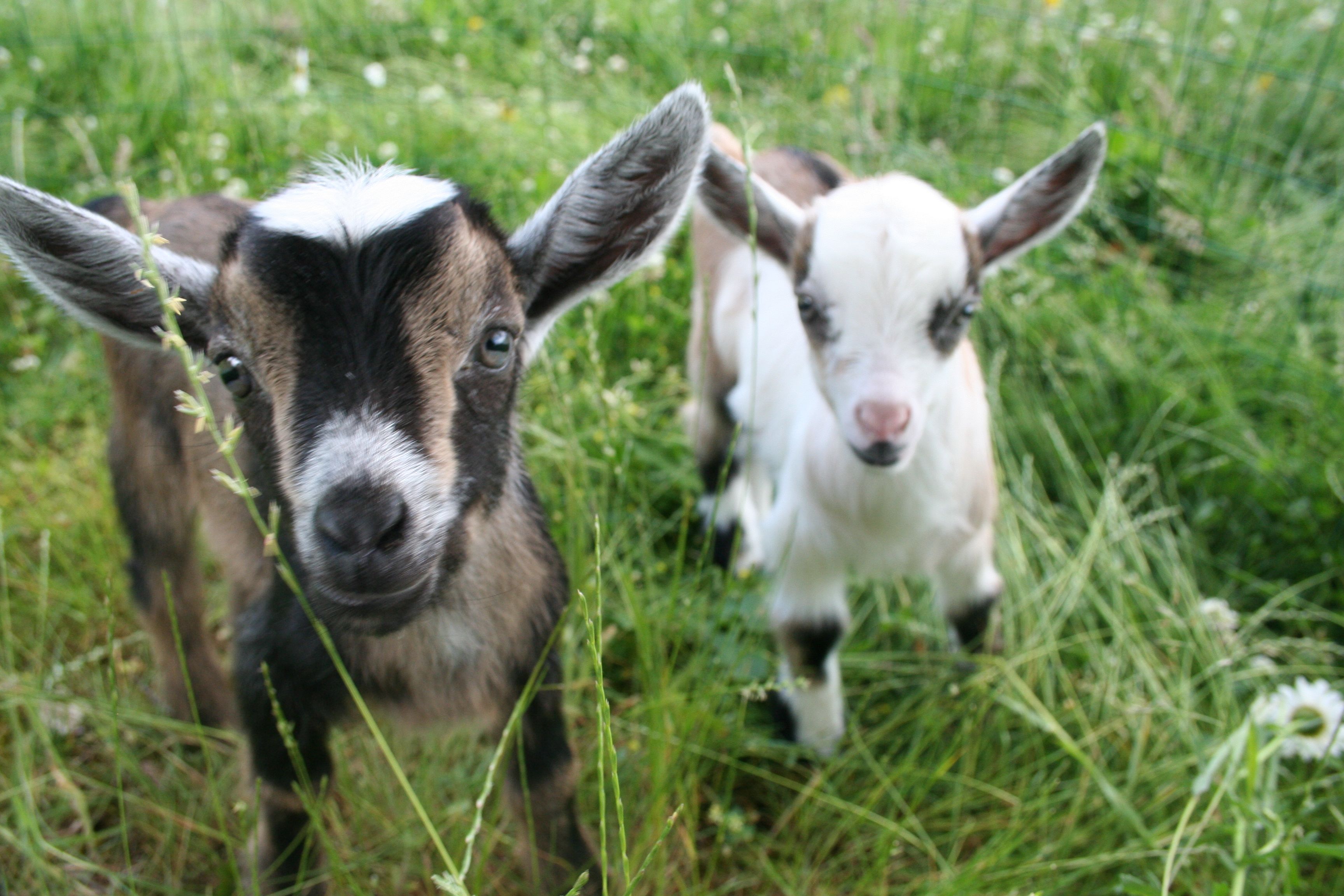 The fellow wanted to find rusted fence wire so I knew he needed a detector with a true all-metal mode. I learned that he raises goats and he just moved to a larger farm. Sadly, he learned the hard way there was rusted fence wire in his pasture. One of his goats ate some while grazing, and had to be put down.
In my business, we use magnets in our sand scoops to help trap nails, hair pins and bits of iron wire which would normally fall through the scoop's holes unnoticed. Many of the treasure hunters will use what we call a "Calf Magnet." These capsule-shaped magnets are very powerful! The farmer will force one of these magnets down the throat of a young calf when she is born. If she picks up some wire while grazing it will be trapped in its first stomach long enough for the strong stomach acids to disolve the iron items.
So, he came back a happy renter! They were able to trace the old fence and remove all the dangerous old wire! I asked him if he ever makes any goat cheese, and he replied, "Yes, and when the wife makes a batch, I will bring you some!"
That is what I got from my wife for Christmas! No, not goat cheese, everything I need to make cheese! She went shopping for all the stainless steel tools required for home cheese making! Now I just need the most important ingredient, TIME!
After seeing all of the treasures at the meeting, we headed over to Bimbo's Pizza where we did what we do best as a club, eat pizza! We had 11 people to eat 5 of the large Bimbo's pizzas! We even had some fragments left over that I gathered up to take home for the wife.
I was driving home after that wonderful time with a big smile on my face, when it hit me like a brick wall! I took my camera to the pizza party and forgot to take any pictures! Well, as long as we keep Chuck on this side of the grass, there will be another pizza night! Then again, the pizza he orders is called the Heart Stopper!