LAST MONTH

Last month we had a wonderful time at our meeting and we had a great group of happy faces! Here is the list from the February sign-in sheet: Tim Hayes, Vincent Grossi, Kevin Siegfried, Kathleen Hurd, Chuck Parker, Mary Hamilton, Scott Hendrichsen, Ron Monroe, Charlie Turner, John Winkler, Ron Smith, Ed Nickerson, Kelsey Ennis and Al Holden. Have you ever seen a nicer list of DIGnitaries?

Hey, do you get it! I can be so clever! I looked up dignitary in my new-age dictionary and it says "Privy or farm dump digger" "Collector of ancient discards" It's OK, I laughed enough for the rest of you.

So, I am seeing a couple new names on the list, three to be honest. Kathleen Hurd is a local collector who is fond of dairy bottles. Kathleen found out about the club by searching the Internet and she located our web-site! She found herself caught up in reading the very interesting newsletters! She just had to look upon the person with such unbridled talent.

And then we also saw two of my good friends from the metal detecting club, Charlie Turner and Ron Monroe. If you can think back to the January newsletter, I mentioned two guys who are digging.

"I have been following a day-by-day privy dig by some new diggers. The two fellows who are doing the digging, are in the local metal detecting club. It sounds to me like they are having a blast, even in the below freezing temps!

They have only dug about 3 feet deep as of now, and have already started finding early glass! The interesting part is to hear their observations up to this point."
---
"The house was built in 1836 and it looks like there were multiple privies side-by- side. Unfortunately, there is a huge tree with big roots over the best part of the hole. We are now digging under the tree and all the bottles seem to be corkers."
---
It is so much fun to watch the excitement of freshly hooked bottle diggers! It is just like seeing children who are just figuring out what a wonderful thing Christmas is!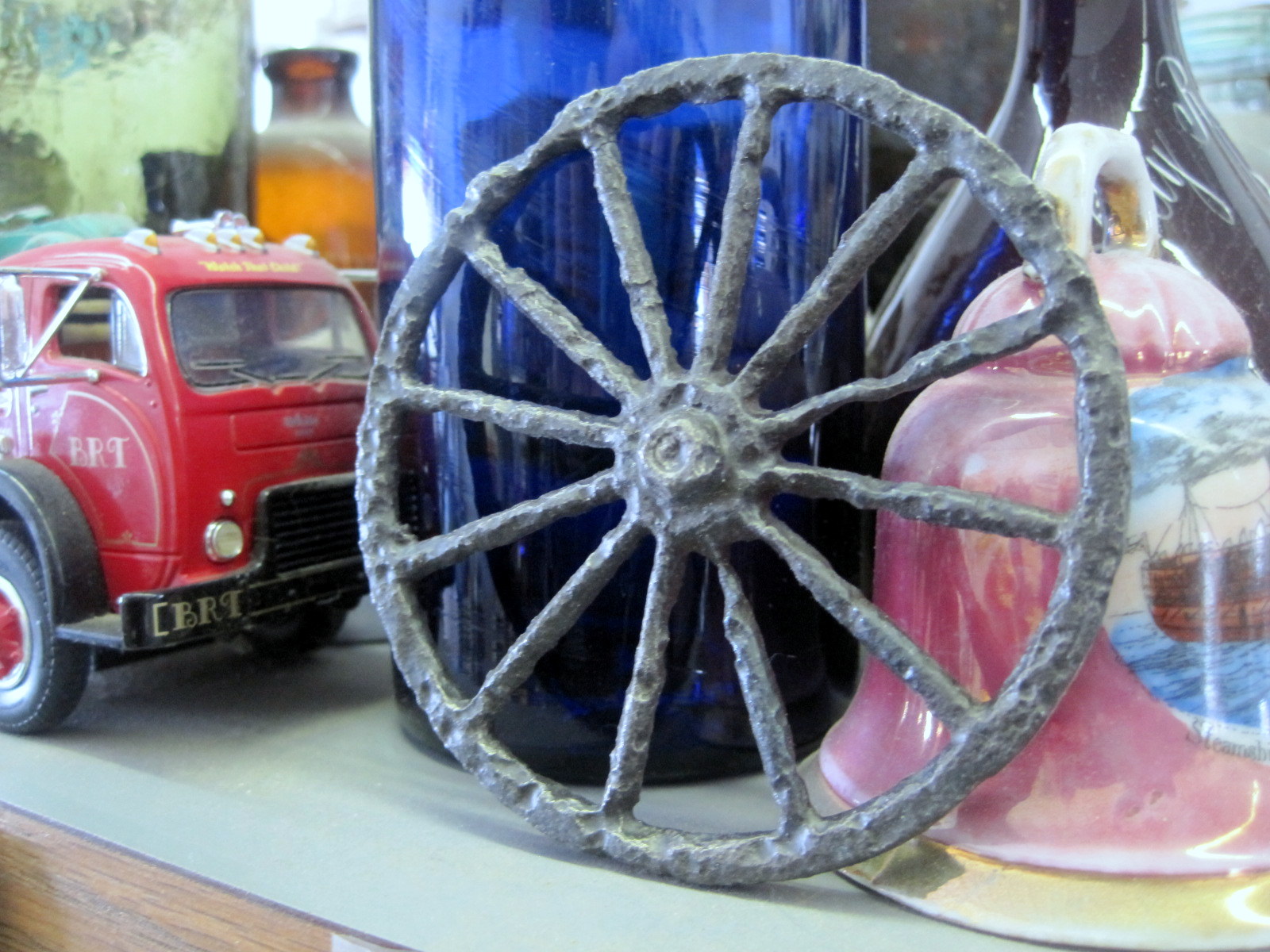 Charlie Turner is the guy who is really good at saving old rusty iron artifacts! Over a year ago I purchased an 1880's cast iron horse drawn delivery wagon from Ed Nickerson. I think the old toy was from a privy dig. It was basically a pile of rust and it was missing a few parts. Charlie went to work on it and as usual he did a beautiful job. Charlie uses a home-brew electrolysis process that will remove the rusty scales and save the parts that can be used for restoration.
I haven't finished the project yet, but Charlie wax- coated and wrapped the parts so that I can get the restoration finished as soon as I find some reproduction horses that are the proper scale. Charlie was able to save two of the back wagon wheels, but I have found perfect reproductions which I plan to use. The wheels that he saved are pretty much gone but in their own way, they are little works of nature art!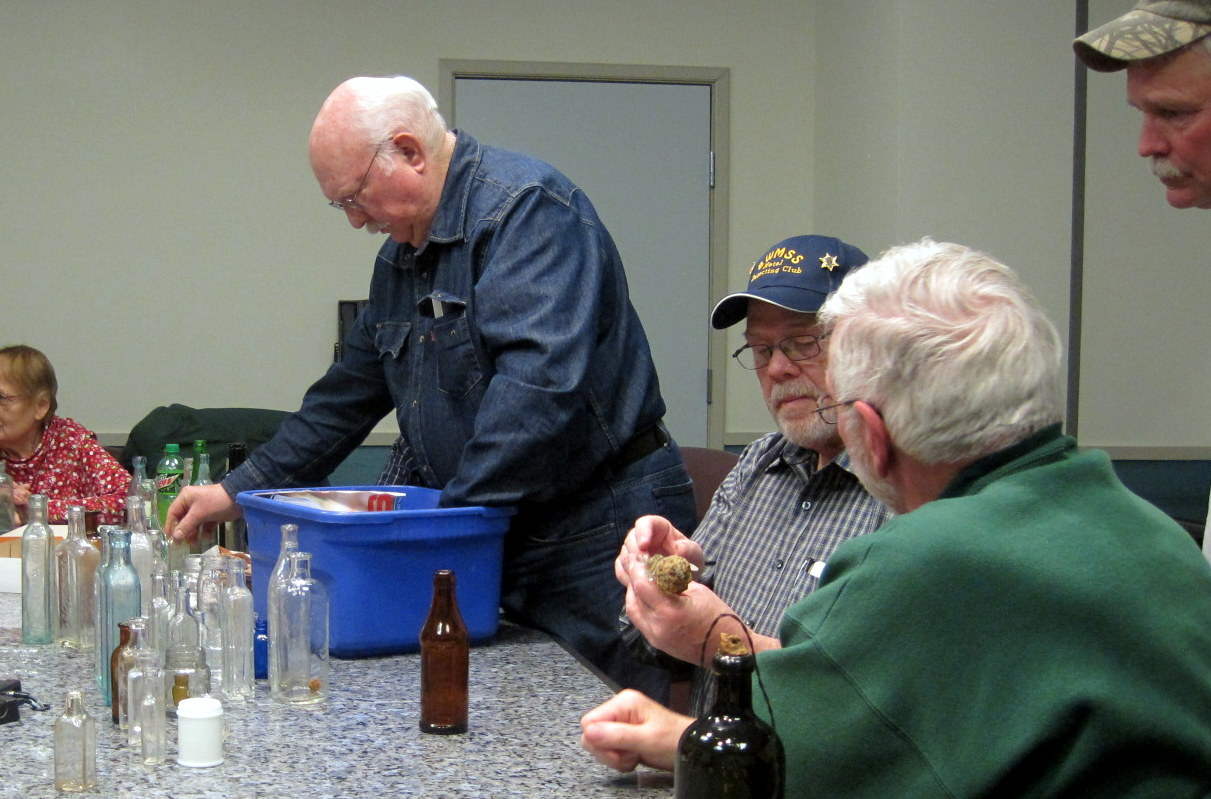 Charlie and Ron brought in a bunch of old bottles they dug at the old 1836 house, and we had fun going through them! Two of the unusual items were a rare airplane candy container and an old pistol! When the pistol was first found it was thought to be a real handgun! But Charlie worked his magic and it cleaned up enough to see that it has a chamber for a roll of caps! Goodness, how I love this stuff!
Charlie Turner unpacks treasure!

Ron Smith brought in an old, Vaseline-yellow beehive glass fly trap. I shared with the group that I purchased a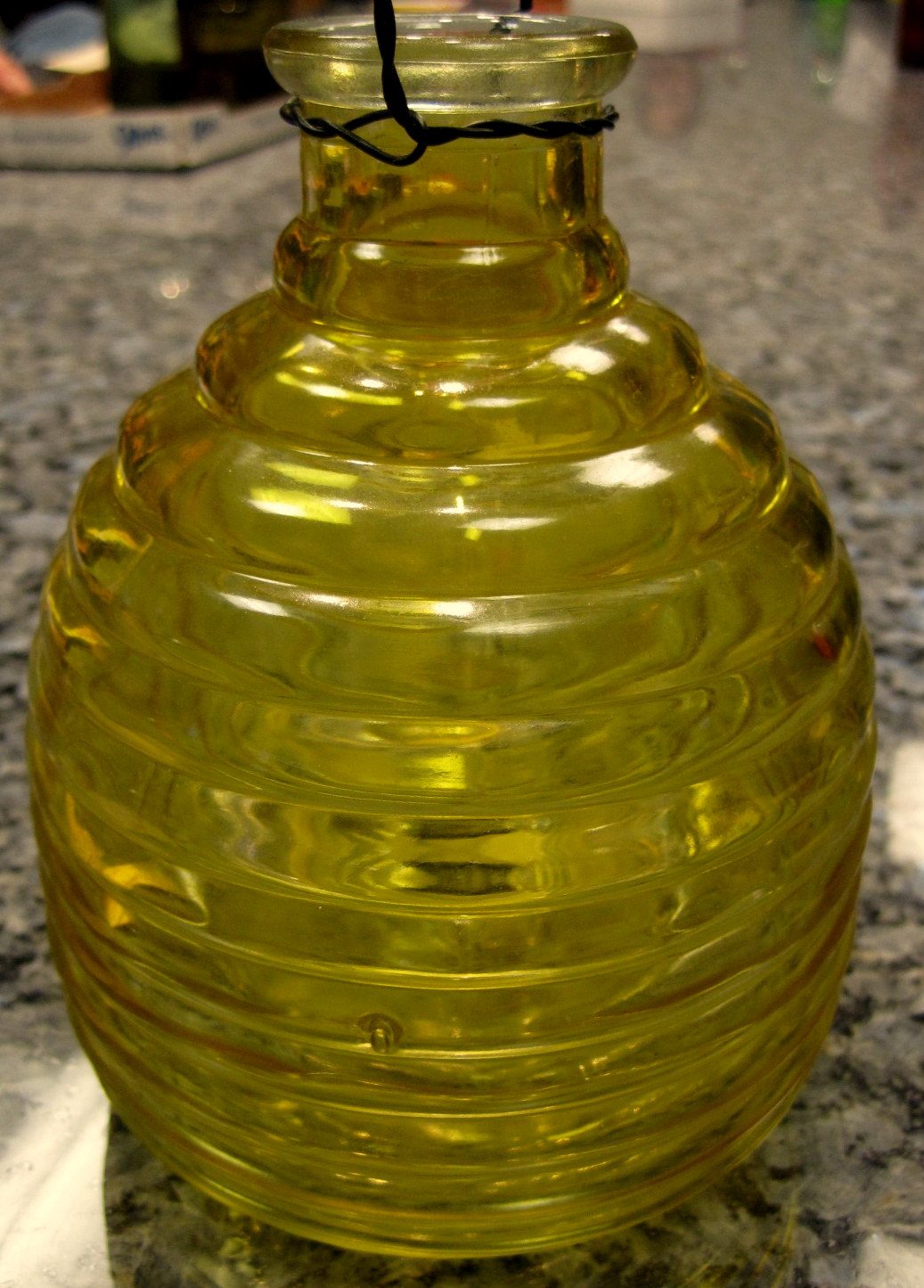 Japanese beetle trap one year when they were so bad. I learned the trick is to place the trap down the street from your house! The crazy things do trap bugs but first it attracts them! We had Japanese Beetles show up with 'See Ruby Falls' and 'Visit Wall Drugs' bumper stickers.
The traps I had came with replaceable collection bags. It was hot so I decided to dispose of a bag full of beetles in my waste container at work and I put them in the trunk of the car. A few days later they reminded me they were back there!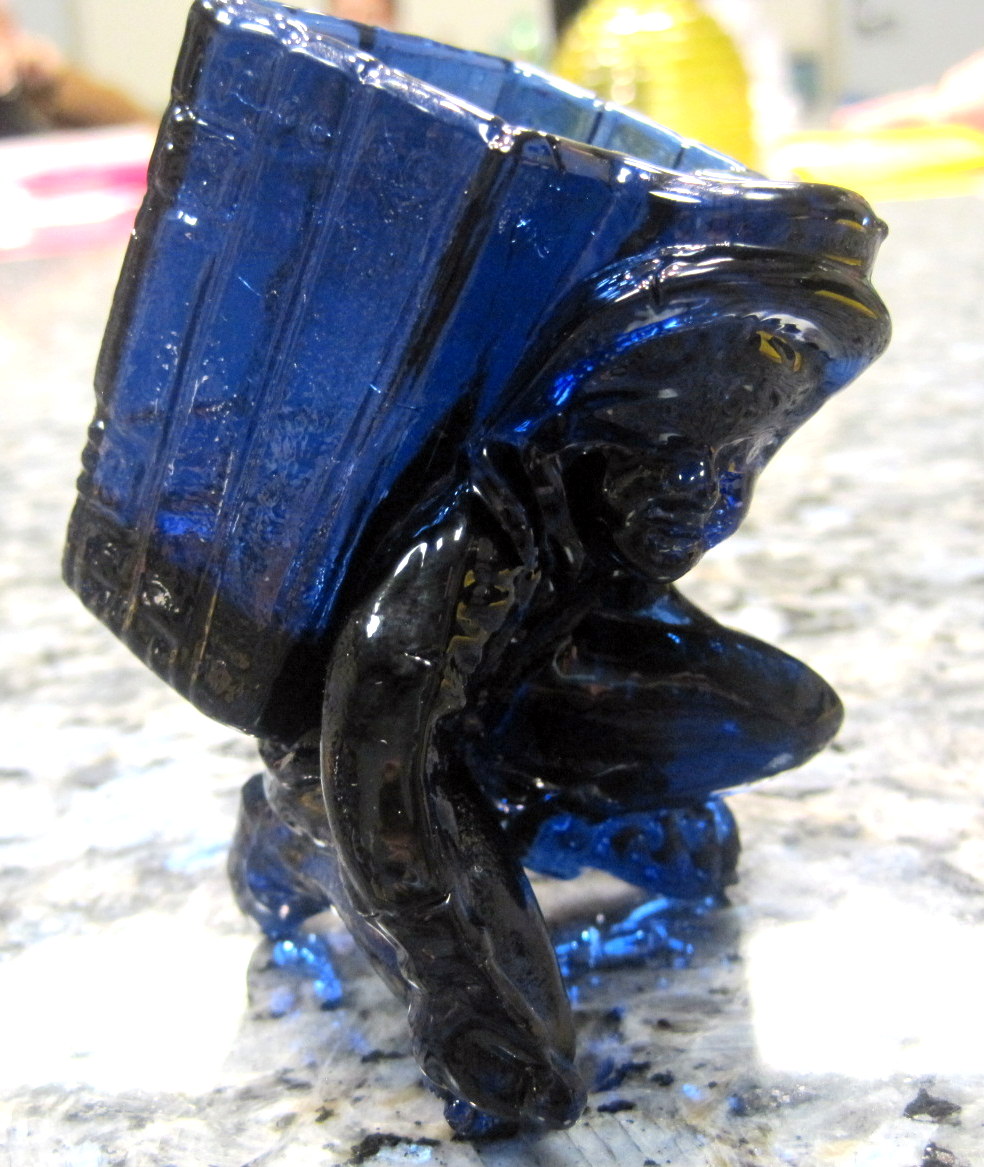 Ed Nickerson brought in a neat little cobalt blue figural toothpick holder. It was in the shape of a little field worker with a large basket on his back. He was kneeling down to pick some cotton is my guess. I don't know why I didn't try to buy it. If you still have it Ed, I'm your Huckleberry!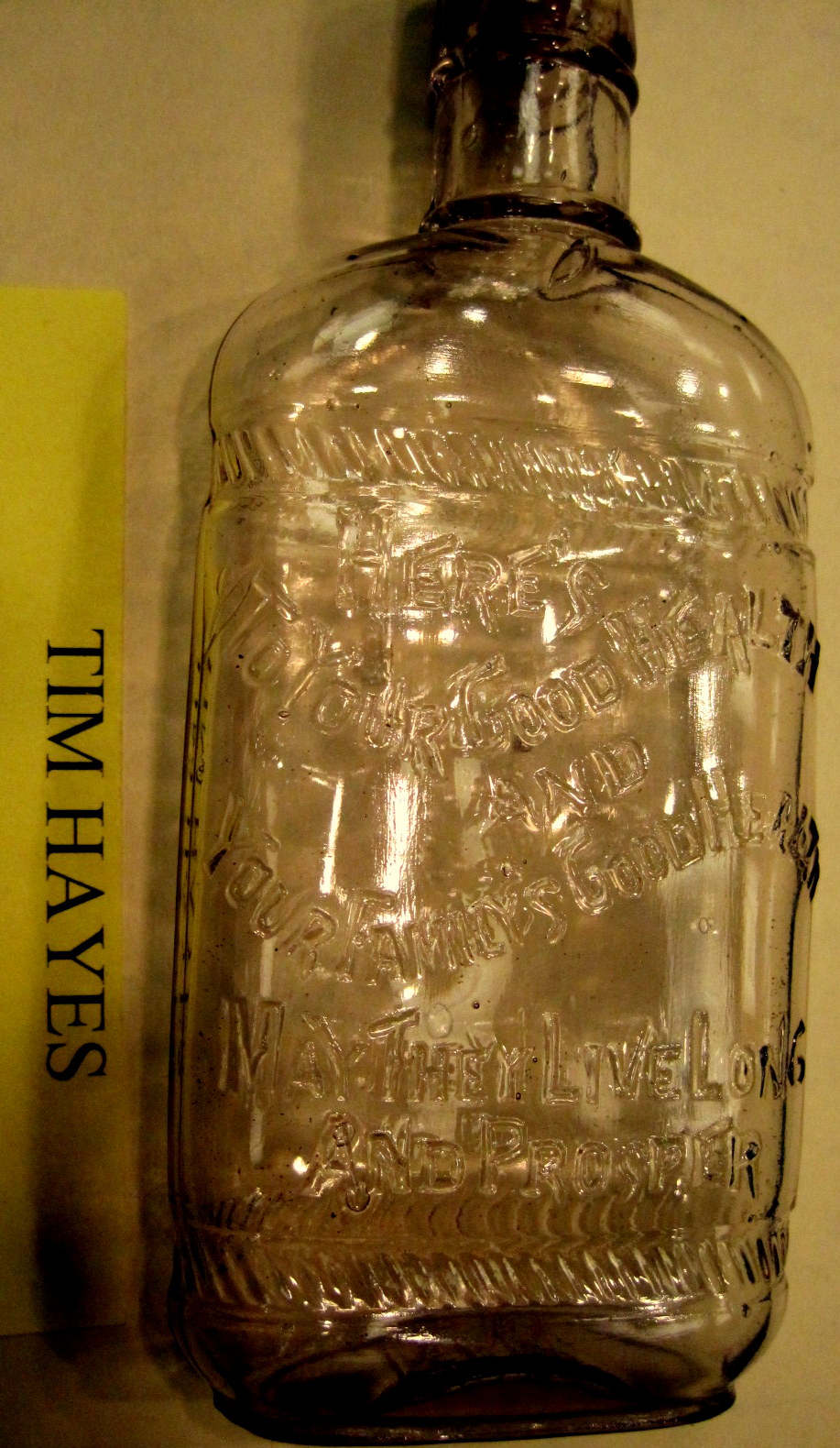 Tim Hayes brought along a sweet whiskey flask that he picked up recently. I think it was perfect timing with the recent death of the well known Vulcan, Mr Spock. The little flask is embossed:
"Here's to your Good Health, and your families good health! May they live long and prosper!"
OK, you're right, Mr. Spock wasn't even born until 2230 so it is "Highly Illogical."
Our theme for the February meeting was error bottles. Scott brought in several goodies as he always does. One was the rare Hutchinson Soda bottle from
Kalamazoo Bottling spelled "KALAMASOO."
And Scott had another one that I was not aware of existing from Kalamazoo Bottling. This one was a blob-top squat-soda that is spelled "KALAVAZOO!" (my error, the bottle is correct just a bad photo)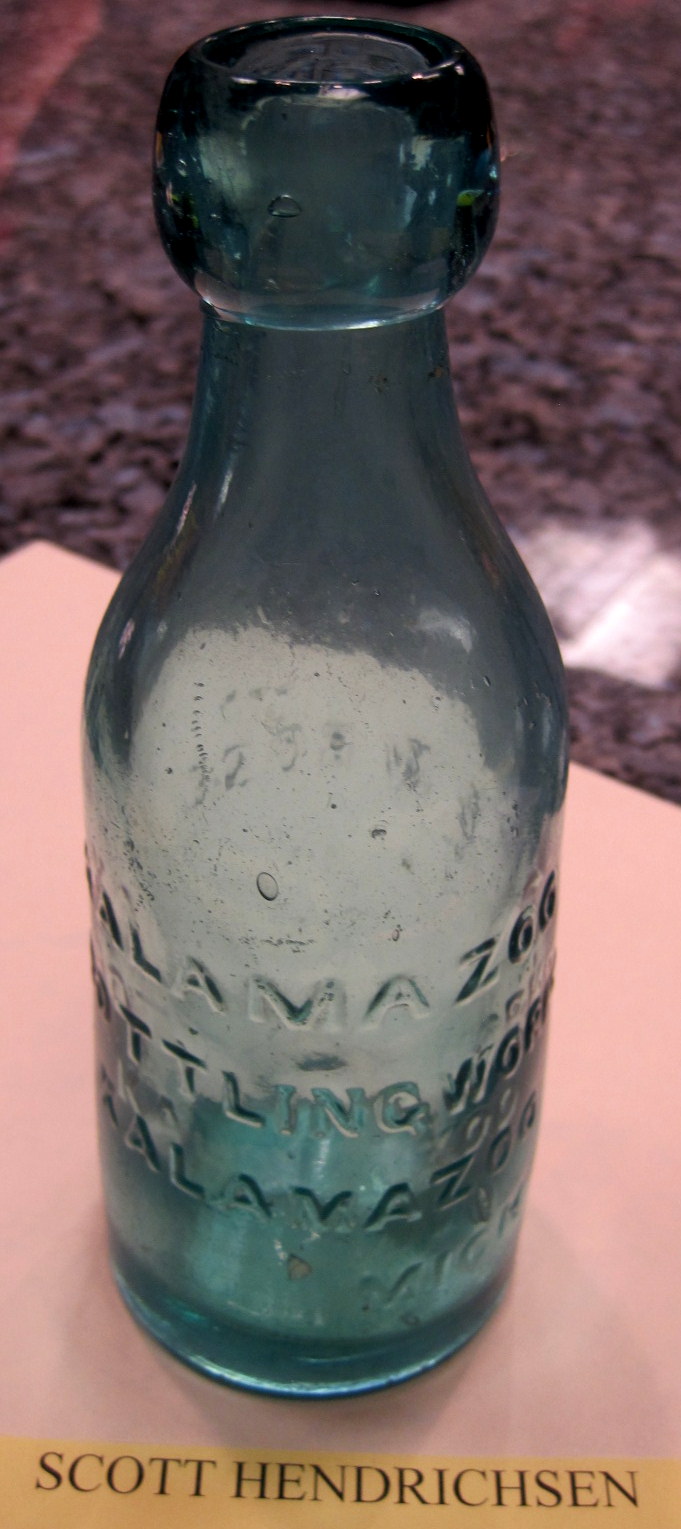 I just took my granddaughter home tonight and I noticed the "Kalamazoo Promise" schools are having "Literacy Night" I am hoping children are improving at a faster rate than I did!

Chuck displayed a rare blob-top Battle Creek beer bottle. It was an aqua colored bottle with the slug-plate style embossing. However, it was somewhat hard to read because the center of the slug plate must have been damaged in the mold and they just kept using it! At least we know it was used at least once.
Vince brought in some nice early green spirits bottles. One was an olive green color blown in a three piece mold with a lady's leg neck!
I have a nice aqua one- gallon 3-piece mold that I got from Duane Nickerson. I think he actually dug it in Plainwell on South Main Street. I have always wanted to build a ship model in it! Will I ever get at these projects?
Vince also had neat teal green turned-in-the-mold wine bottle with the kicked-up base and a thick applied lip!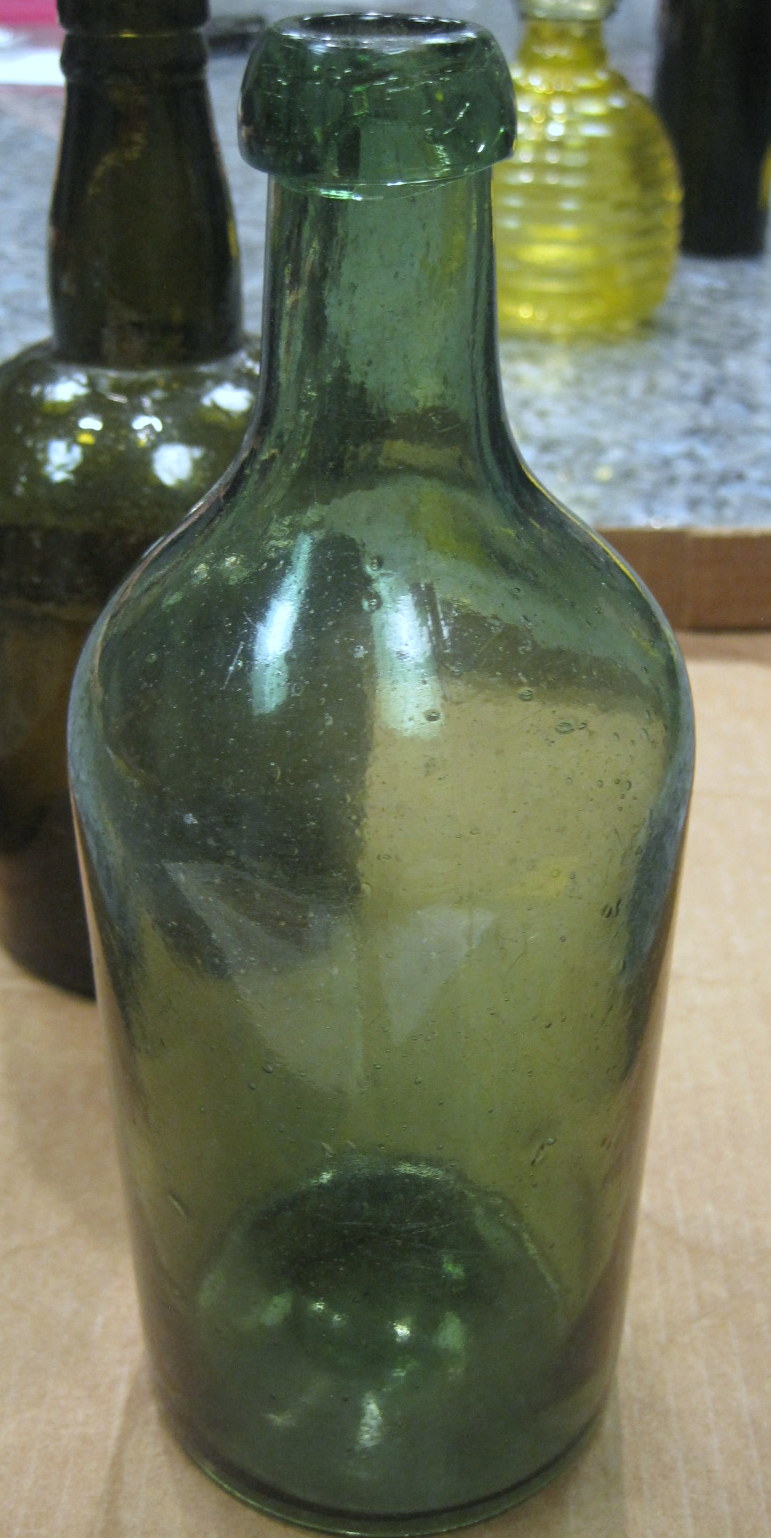 And, it was just loaded with seed bubbles! If that bottle doesn't get you loving antique bottles nothing will!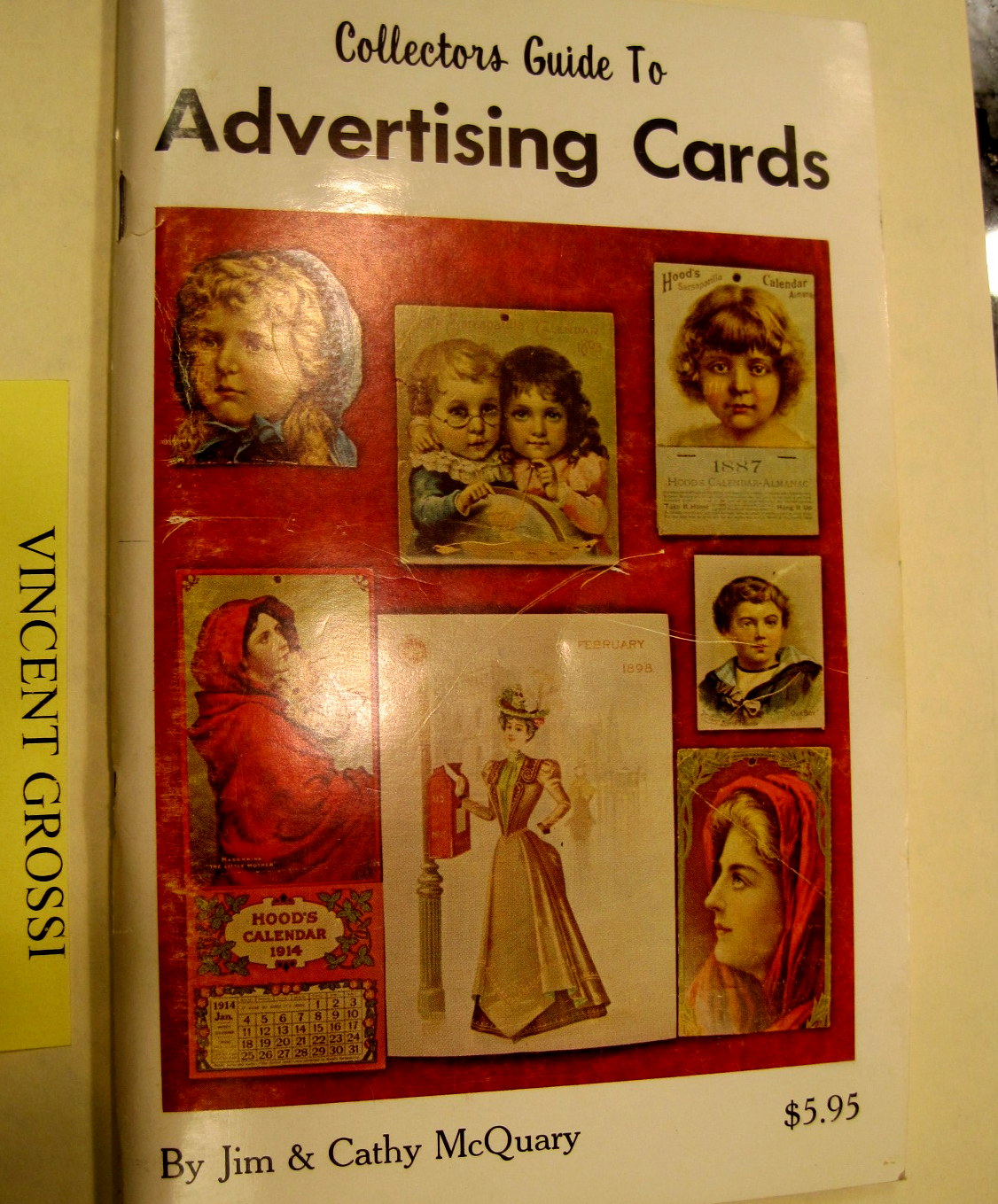 I brought in an old solar system savings bank that my grandmother gave me. She got it as a premium for starting a savings account in my name at Kalamazoo Fidelity Savings and Loan.
If you remember that bank, you will recall that it was on the downtown mall near Schensul's Cafeteria. We used to go to Kalamazoo weekly for my allergy shots. Inside that bank was a giant mural on the wall showing an Indian wigwam and the young Hiawatha. To a little boy, being with his grandmother and a beautiful painting like that . . priceless memory!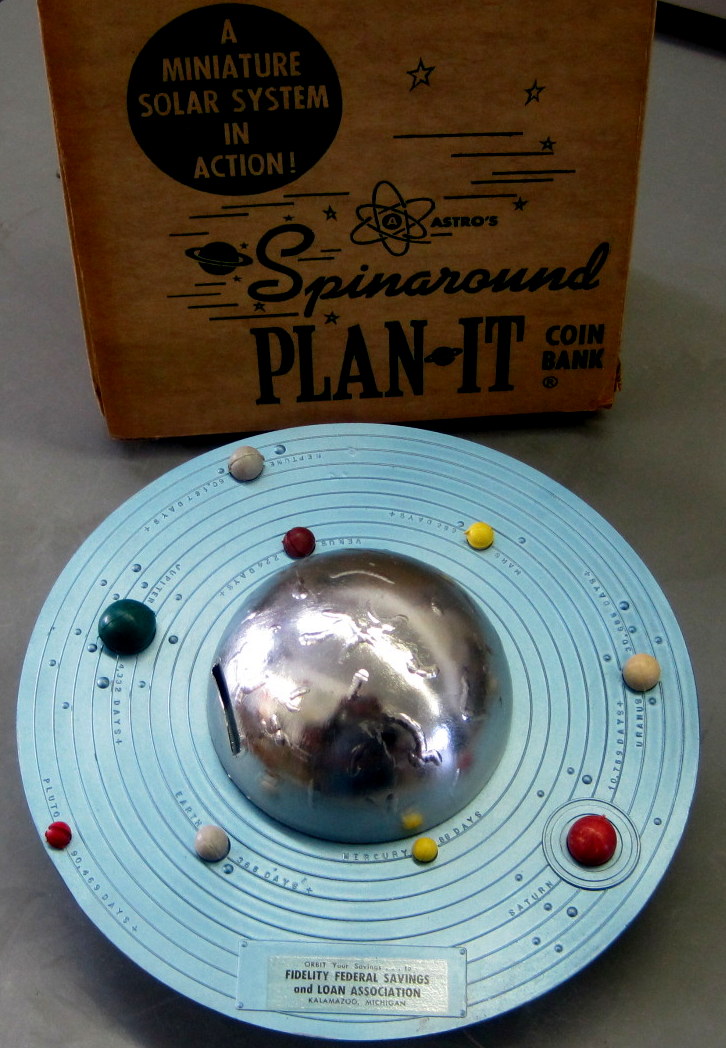 ---
THIS MONTH'S THEME IS DAIRY BOTTLES
---
The Kalamazoo Antique Bottle Club meets at the main downtown Kalamazoo Library, located at 315 South Rose Street. We meet on the third floor in the conference room.

This meeting is Tuesday, March 10th. Meeting starts at 7:00 pm.
For questions