Planning Ahead

I was almost caught off guard without a prize detector! Last month I had one in the store still in the shipping box and I set it in the back room and it is a good thing I did! There is time yet before the show to come up with the detector that we are selling the raffle tickets for under normal circumstances, but things are just not normal right now! Many in the metal detector industry really got blind sided!

If you get cable TV and watch the shows "American Diggers" or "Diggers," you already know what is going on. These shows are so corny that they actually embarrass me, but they sure do sell metal detectors! So if you are thinking, "I'll bet Al is making money hand over fist!". . . well, you would lose that bet!

It is not that I don't have buyers, and it is not that they don't have money, it is that Old Mother Hubbard has a bare cupboard! That is the problem in a nut shell. I can't get the products! Almost every spring getting metal detectors is touch and go. And, I always get upset because living in the frozen north, I feel like the manufacturers have all winter to get ready for spring. I fail to realize that not everyone has frozen ground and, when I am cooling my heels, the dealers in the south are keeping busy year around.

On the "Diggers" show, the two treasure hunters are running a popular model of Garrett metal detectors known as the AT Pro. This detector is a great detector for hunting on land for coins, jewelry, and relics but it can also go underwater! The A.T. stands for "All Terrain" and it is a very deep seeking (ground penetrating) metal detector. With the value of gold being so high, metal detecting in the shallow water has become a big deal and it is a blast!

Of my most dedicated water hunting customers, the best ring tally for 2012 that I heard about was 80. That number is down a little from years past. One summer, back around 2005, I had one friend recover 200 rings, all from one southwest Michigan lake alone! Back then you had to pay around $1,000.00 for a top-of-the-line submersible detector and even then it wasn't as good as an AT Pro!

So the list price on the AT Pro is $699.00 and I normally sell them for $599.00, and it is one of my best sellers. So, I have no idea why, but Garrett decided to have a spring sales promotion so they advertised that if you buy an AT Pro, you get a bunch of free accessories! So, forget about it, at least for now! Even without the extra goodies, you cannot get AT Pros from anywhere!

I was fairly lucky I guess, because I kept a good supply on hand and I was one of the last dealers to run out. I actually received phone calls from West Coast dealers asking if I wanted to sell them some . . . crazy!

Along comes this metal detector sales bonanza and I can't get product! I feel like one of those guys who were playing poker aboard that Klondike passenger ship back in 1901 when the vessel hit an iceberg. The guys playing high stakes poker fresh from the big Klondike gold rush started filling all their pockets with gold coins before they jumped overboard going straight down!

Many of the detector models were running out. One of my distributors keeps in hourly contact with me and I recall when I got the message that Fisher F-2's are "Out of Stock!" It gave me chills! I walked into the back room and there it is, still safe in its box. Better sell those raffle tickets and put a few aside with your own name!

That gold rush shipwreck story is one that I had a blast researching and writing about around 10 years ago, and it is a fascinating story. I'll try to find that and tell it again for next month's newsletter..
---
Last Meeting

At the last meeting we saw the following smiling faces. Dee Cole, Vincent Grossi, Mary Hamilton, Chuck Parker, Kevin Seigfried, John Pastor, Tim Hayes, Scott Hendrichsen, Ed Nickerson and Al Holden.

As usual we had a great meeting! It was so good to see John Pastor and we did get to hear a run down on the upcoming show. We also passed around sign up sheets for the security details and food items for the Friday night buffet. Chuck pointed out that with Connie's ongoing health issues he may not be able to carry as much of the load this year and that has me concerned! Chuck and Connie do so much stuff that it will take several people to fill the ranks!

I'm a little short of time to do the newsletter this month. I want to encourage each of you to make every effort to be at this meeting please!

One more thing I must mention. The show is always in need of display room entries. The winning display wins $75.00, $50.00 second place and $25.00 third place. I am also sure we will feature a display of local Kalamazoo and surrounding area bottles and go-with items. This is another reason we need to discuss some final details at this meeting.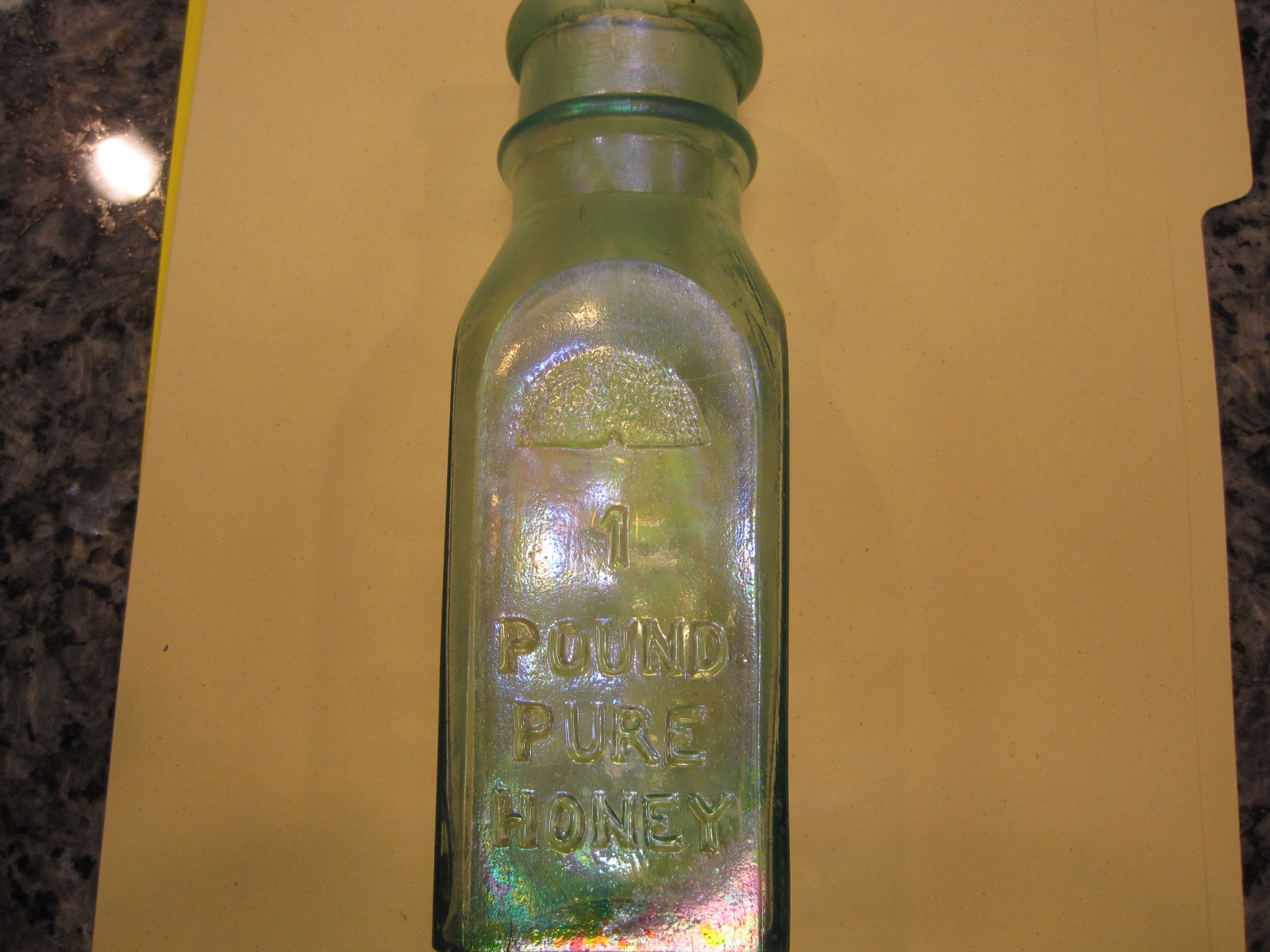 I'm sorry but I have to tell you that most of my pictures did not turn out well at the last meeting. The bottles all show up, but they are unreadable. I'm really glad that this 1860-70's Cathedral Honey Jar came out OK. I really love this beauty! This is one of Scott Henrichsen's amazing finds!

---
1997 Bottle Club Article.

I needed some space-filler when I came across this little piece from a 1997 newsletter. It just brought back some good memories for me.
---
The bottle club is made up of two types of hobbyist, the diggers and the buyers. In my opinion, the diggers are the ones who have all the fun. They are the ones who contribute many of the antique bottles to the hobby. They do this by finding old dump sites and outhouse pits to dig, then they obtain permission to dig them. That's when the hard work begins. Unless you have been in a six foot deep hole, carefully clawing at the sides, when suddenly a little piece of the past tumbles out like a precious gem, you can never understand the thrill!

Then there are also club members who are buyers. For the most part anymore, that is the category where I best fit. The buyer wants to collect, but does not have the time or perhaps the desire to dig. (I have the desire; it's the time that I lack). The digger needs the buyer, the buyer needs the digger. But in the case of this club, the diggers, who were in the majority, are slowly growing older. When your age makes it difficult to dig, the thrill is removed.

The digger is like the metal detectorist in many ways. He gets a great thrill in finding items of value that were lost or discarded many years ago. When you remove that thrill, you remove the interest. The real problem is, there are very few young diggers coming up in the ranks- no one to take the place of the older members. Senior diggers, for the most part, have moved into other interests, like metal detecting.

About two years ago, Jack Short had already found that metal detecting was taking the place of his bottle digging. This was true for his digging partner and best friend, Ernie Lawson. Well, for years they had been trying to get me interested in antique bottles. I guess they finally saw a spark of interest. Seizing on the opportunity, Jack offered me a deal on many of the bottles that he still had packed in boxes and stored in his barn.

At first I stopped at his house to pick out bottles as payment on a trade we agreed on. After I got home with my new treasures, I sorted through them-- admiring them and searching the bottle books mainly in an attempt to educate myself. Occasionally, I would see something in the book that I thought I had, only to discover that it was one that I didn't take. I would call Jack and tell him that there are some more that I want! After doing that three or more times I got disgusted with myself and called Jack.

"Hello, Jack. This is Al, How much for all the rest of your bottles?" Well, he gave me a deal I could not refuse! Adding the ones I got from Jack with some I purchased from Ernie, with a few that I dug, several acquired as gifts--what a collection! I started displaying them on my store walls, each one properly labeled with brand name and approximate manufacturing date. It's amazing the interest that it has created! Several new collectors have been launched! It has been neat helping several people to get started and to watch them fall in love with a fascinating hobby that blends together beautifully with metal detecting.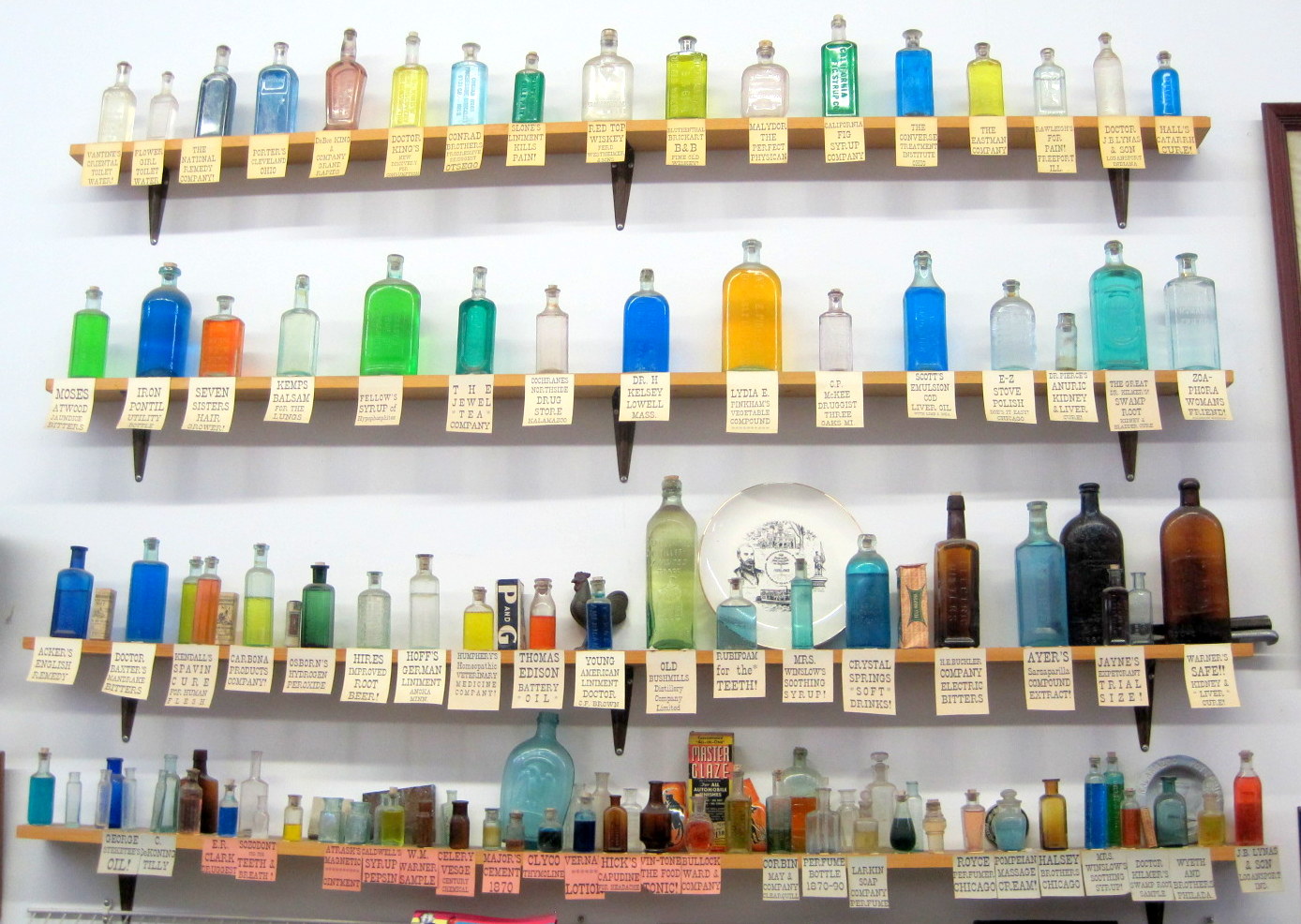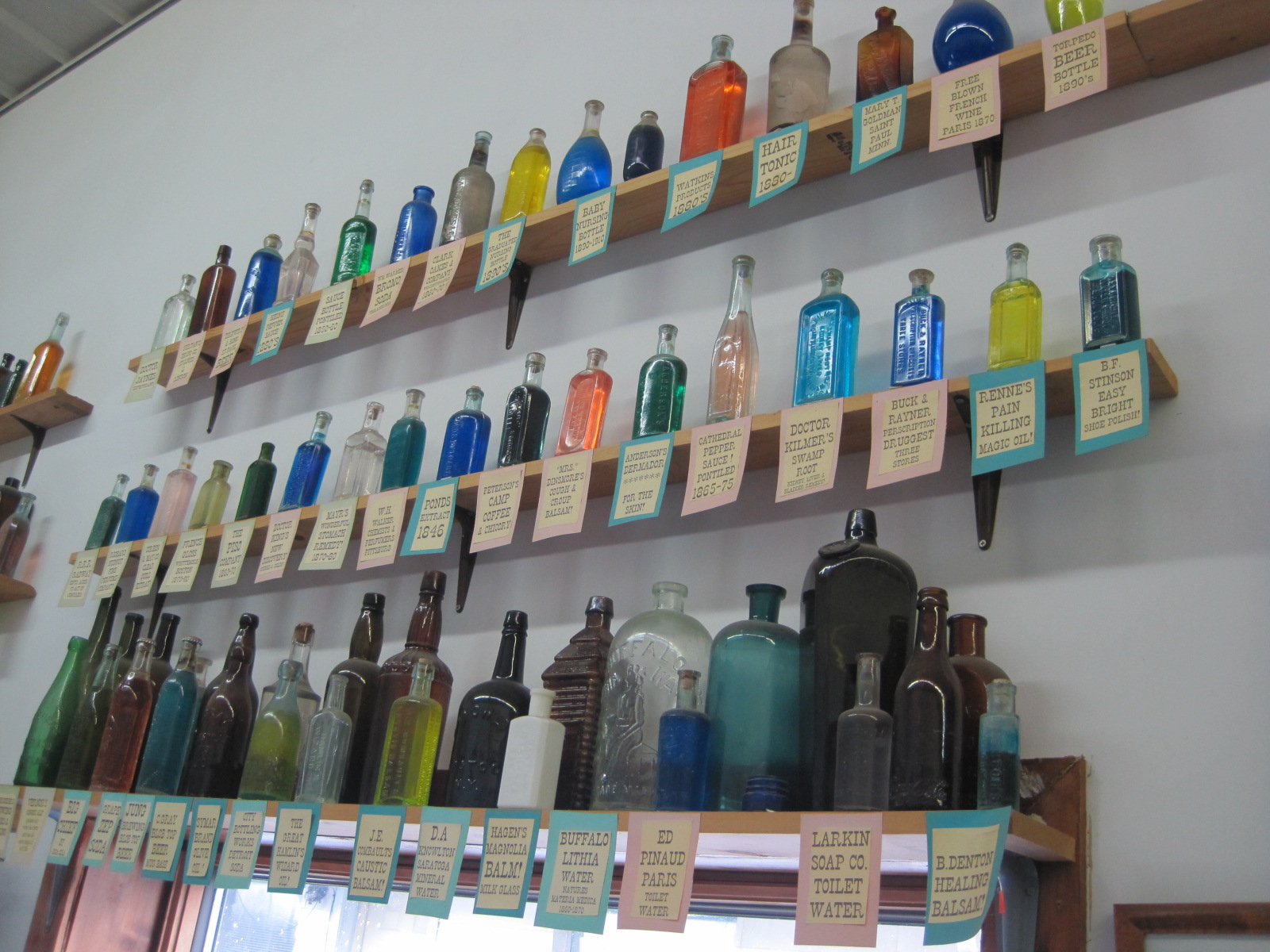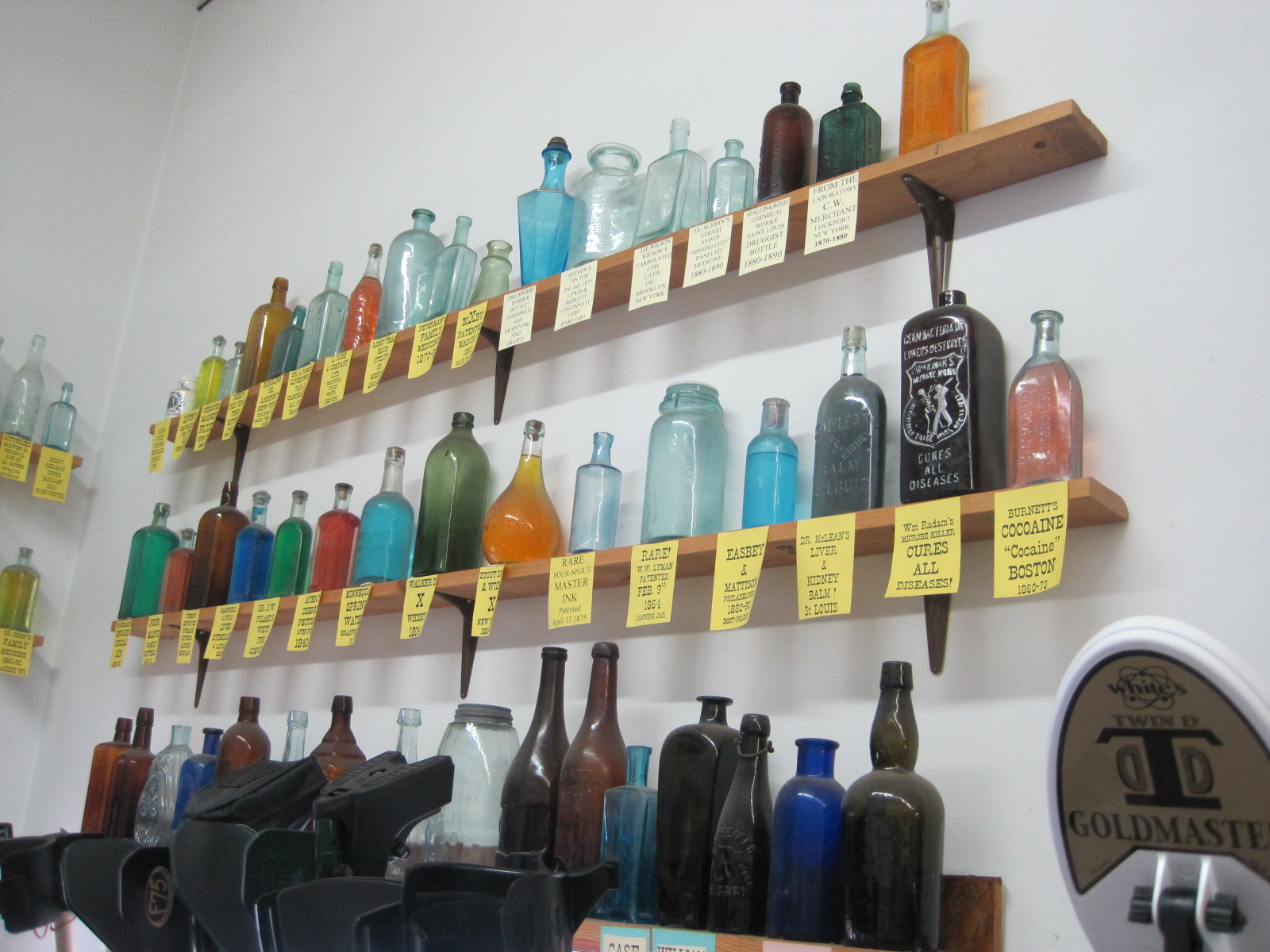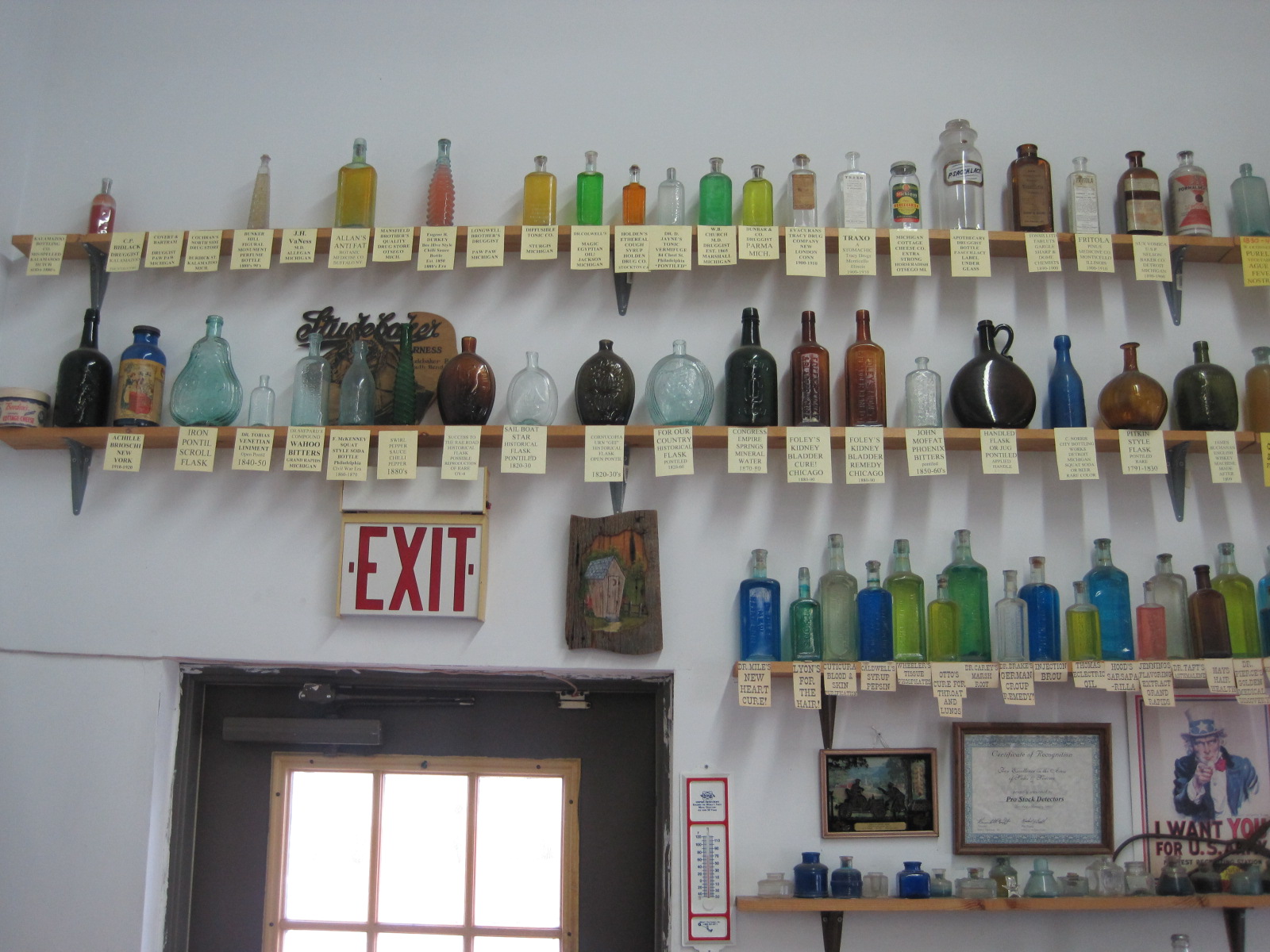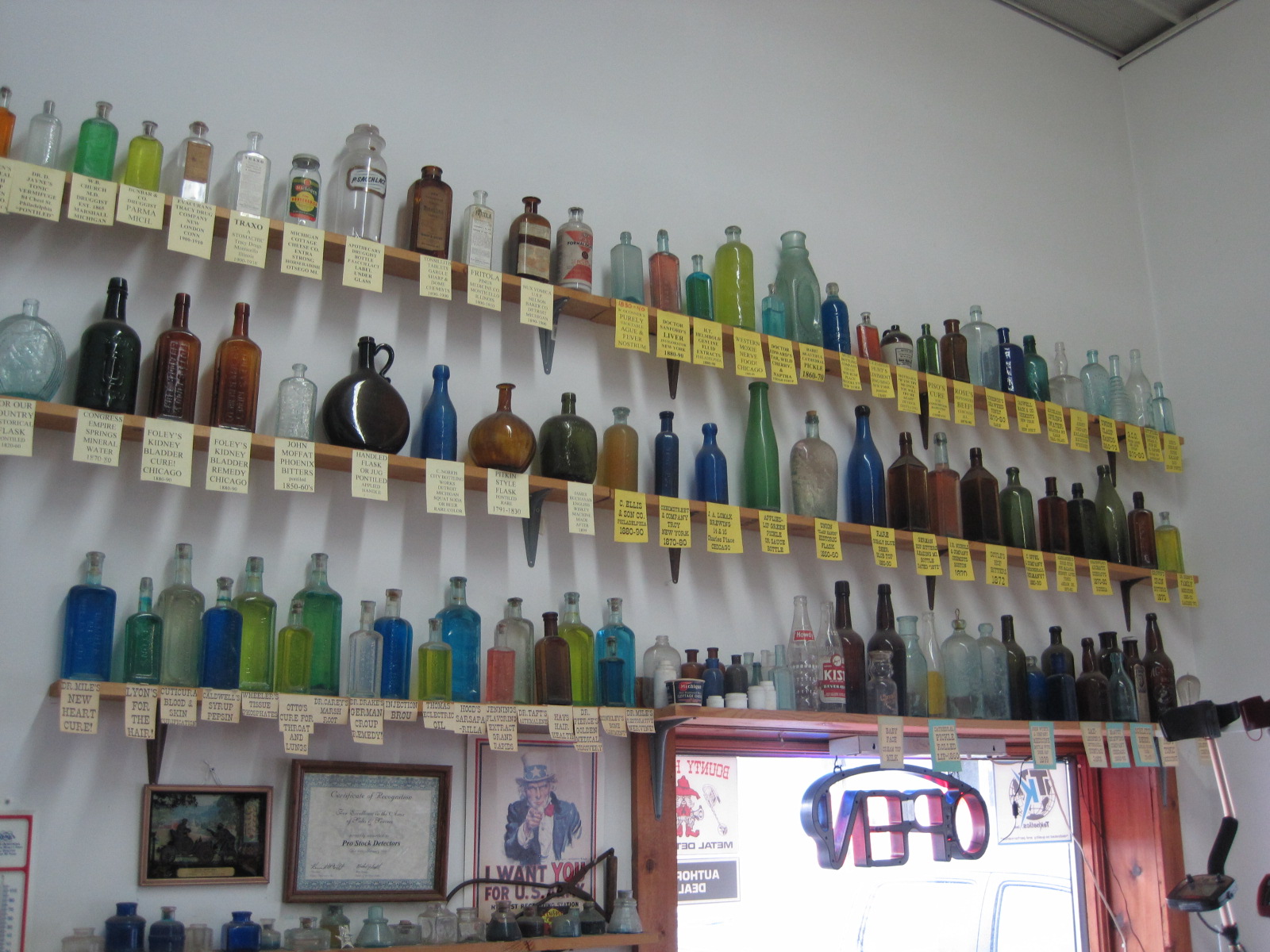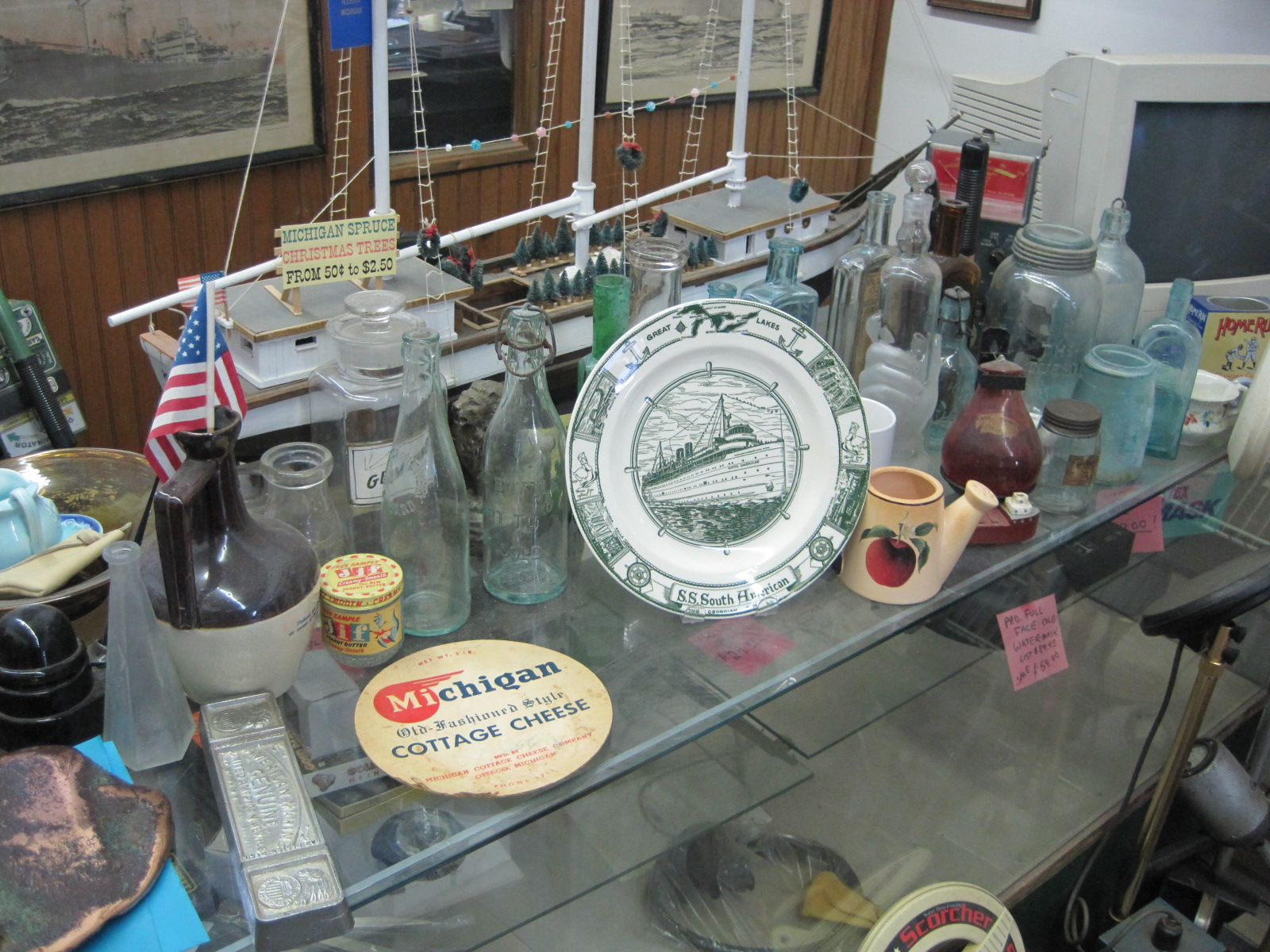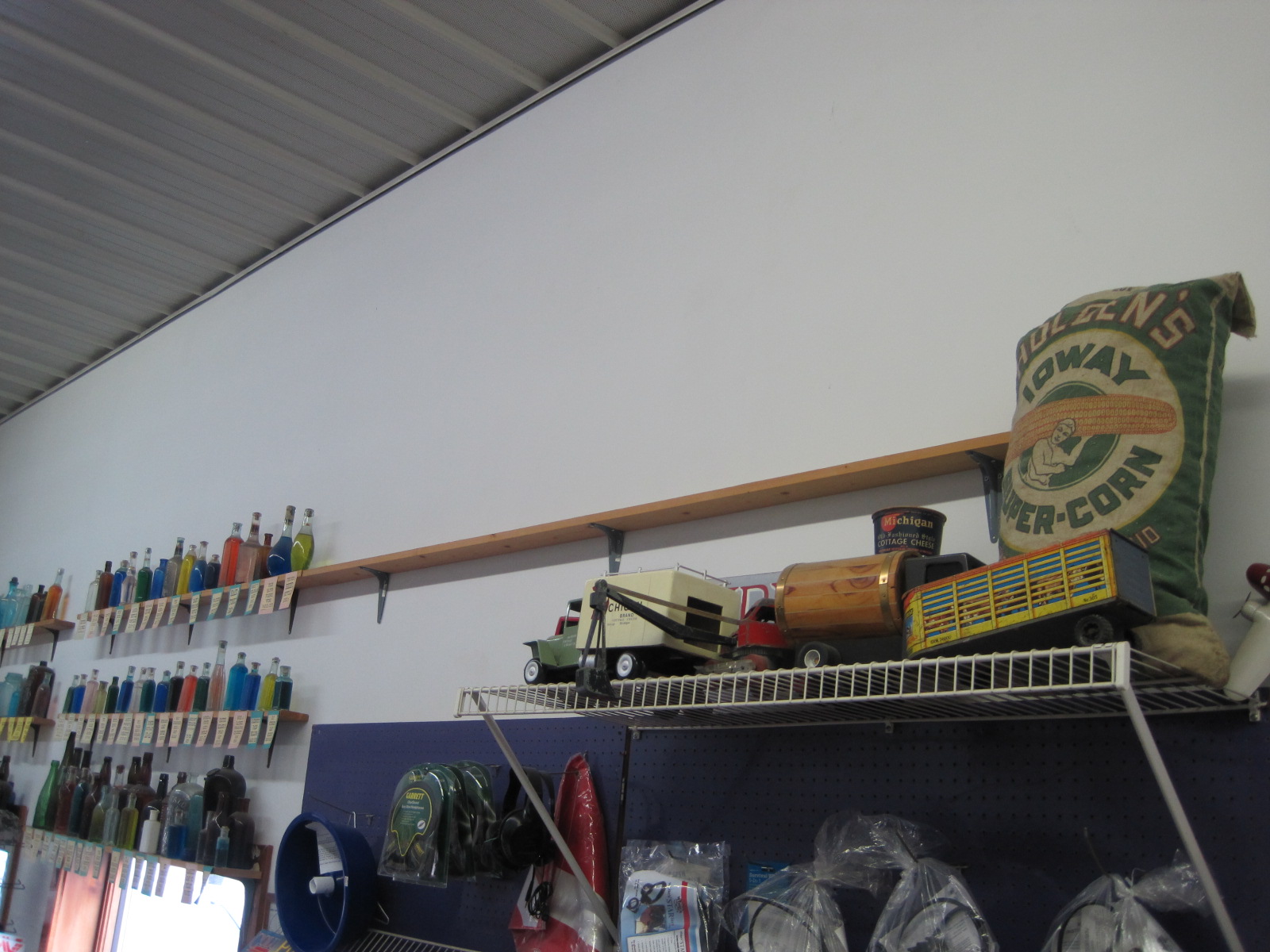 This picture is kind of haunting in a way. I had all the bottles cleaned and all the label cards made up, and I had mounted the shelf on the wall. This was on a Tuesday in February 2009. The next day, on Wednesday, I learned I had cancer and the job was never finished and is still waiting. Now, 4 years later I feel like I could finish the job. In the immortal words of Pa Kettle, "I'm going to get at that one of these days, Ma."


---
The Kalamazoo Antique Bottle Club meets at the main downtown Kalamazoo Library, located at 315 South Rose Street. We meet on the third floor in the conference room. This meeting is Tuesday, March 12th. Meeting starts
at 7:00 pm.
For questions
e-mail prostock@net-link.net
Or call 269-685-1776