MEMORIES OF THE UPJOHN COMPANY, THIS MONTH!
UPJOHN HISTORY

Kevin tells us that we have a special guest speaker lined up for this month. By the way, this will be our last meeting, before the club is off for three months for summer break, so I hope you can come out and take part in the fun!
Our speaker will be Jeremy Winkworth from Kalamazoo. Jeremy is a Quality and Operational Excellence "QO" Manager and Site Historian for Pfizer. Hey, I need a title like that!
Kevin supplied me with the "Memories of The Upjohn Website" address and he told me it is an interesting web site. Well, it is an amazing web site! I spent a lot of time there already, and I still have a newsletter to write!
That web address is ( www.upjohn.net ). Go there and you will find amazing history, starting out from day-one for a really great company! What a wonderful record of history that is so meaningful to so many families in the Kalamazoo area!
When you think about a local company and the impact it has had on the families who worked there, well, it really is so much bigger than that!
When my father started Curtis Trailer Sales, he employed a couple dozen people full time and I worked for years as sales manager. I cannot even count how many RV buyers from Upjohn came to us to buy everything from tent campers to large motor homes! This in turn created jobs all across the Midwest! That is how it works, folks! That is why we should encourage free enterprise and not try to stamp it down. Trickle down economics makes perfect sense unless you don't want to work.
To this day I still owe a great debt to Upjohn (Pfizer) employees who have supported my metal detector sales over the years . . and still do!
One of the best friends anyone could hope to be blessed knowing, and one of the Kalamazoo Antique Bottle Club founders, Ernie Lawson supported his wonderful family with employment at Upjohn, and I thank God for Ernie and Irene!
So that brings me to the perfect theme for this month's meeting!
Please bring your Upjohn items!
Also, after coming straight from the greatest Antique Bottles Show in Michigan, we would all like to see your :

Recent Bottle Show Acquisitions!
Kalamazoo was the hub for companies supplying Americans with snake-oil, back when Upjohn started out! The U.S. Government considered Kalamazoo a real snake pit! Upjohn was a start-up in those days, but they were playing a completely different role. They survived all that turmoil, when the others failed, because they supplied customers with an honest product! They were way ahead of the game, making good products far before the U.S. Government stepped in with the Pure Food & Drug Act!
All of this goes to prove part of my father's jingle for his RV business which started out,

"Honest fair dealing never, ever fails."
As the lion in the Wizard of Oz would say, "Ain't it the truth . . . ain't it the truth!"
---
Last Month

Here is the list of names I collected at the April 5th club meeting, and I sure hope it is complete. Well, already I see it isn't! Our fearless, all-knowing leader, Chuck Parker, didn't make the list . . . because he was late! Well Chuck, you get a tardy mark and one demerit! Oh, that's right, we are talking about Brigadier General Parker . . sorry, Sir !!

I think we had another member who might not have signed in, but here is the list I have: Charles Parker, Vincent Grossi, Kevin Seigfried, Ron Smith, Eddie Nickerson, Mary Hamilton, Bill Drake, Dan Hill, Libby Hill, Katie Osborn, Kelsey Ennis, Tim Hayes, Scott Hendrichsen and Allan Holden.

In truth, it was a landmark meeting! Our April meeting was only two days before several months of bottle show planning came together! As usual, I have a bad tendency to sweat the details. I guess that is just my nature. The biggest concern is for the dealer hospitality suite! I arrived just after Kevin and Eddie, which was about ½ hour early. We set up as much as was possible, and by 7:00 everything was in place.

I didn't see him come in, but Elmer brought in 2 large commercial-sized coffee makers. I kept a watchful eye on that, but I didn't see the coffee thing going much further. People had already started eating, and the big coffee makers were still packed in boxes! I started sweating it! I wandered over and asked Kevin, "Who brought in the coffee makers?"

He said, "Elmer."

So I walked over to Elmer and interrupted a conversation he was having asking, "Are you going to make coffee?"

Elmer looked at me sort of puzzled and said, "Heck, no."

I started unboxing the coffee makers when Kevin asked, "Al, what are you doing?"

"I am going to make 20 gallons of coffee even though I don't know how!" I responded.

Kevin said, "Put them away, they are for tomorrow!"

I could have kissed him!

The night went along smoothly, and the food was great! Kevin made a huge batch of barbequed pulled-pork that was a huge hit! Actually, Kevin made two large pots, one was saved for the show . . . and it disappeared fast! I mean folks polished the pot clean! I know that everyone pitched in to make this all work out so greatly, but Kevin really deserves a lot of our thanks! He really puts his heart into it!

Libby Hill made a large pan of peach cobbler that was so good that I thought I was in heaven! I think we can all be proud of a job well done! As for the 37th annual Antique Bottle Show itself, it was great as well!

I haven't heard any official show reports yet, and I suspect we may get some final show numbers at this month's meeting. About all I can tell you is my perspective, which is worth about as much as I charge.

I indeed thought the show was great! Of course, the best part was for me is seeing so many great old friends!

Many of our newer members are simply not aware of the many other club members who are out there. Those folks simply live too far away to attend our monthly meetings. For them, this crazy newsletter is their only club connection that they have between bottle shows.

Frankly, I often forget about that as well. It is so rewarding for me when different folks take the time at the show to say 'thanks' for the newsletter. I usually can use the encouragement . . . thank you!

The evening before the show, even before the big gala at the Clarion, it had started snowing a very heavy, wet, snow! Before morning, it had turned very cold. Forever the worry wart, I was thinking, "What will it be like unloading my truck if I am unable to back up to the door?' Thank you, Lord, for 4-wheel drive!

Every fall when we start talking about the spring show, I get pumped about it. The show comes in springtime, just like that first robin! We all look forward to that time when winter has finally passed us by! But, as the show time approaches, I go over it in my mind, loading, unloading, setting up, taking down, loading and unloading, then rebuilding my store after bringing everything back! I have one of my good friends, Mike Walker help me . . . but I still fret over stuff!

One fear that I have is that I am at the show, everything is in place, and someone walks up and asks for something that I forgot to bring! Every year, many of you know, I say that I am going to 'scale back' . . . I think about that, then I pack way too much . . again!

Back when I was in school, I had the same dream over and over. In my dream I am in the school hallway trying to open my locker when I realize that I forgot the combination! So, planning ahead just for that very situation, I kept the lock combination written on a slip of paper in my pants pocket. When I go to slip my hand in my pocket, I realized I forgot my pants! Embarrassed, I look up and the five cutest girls in school are all giggling at me!

OK, yes, that sounds like mental illness!

I made out pretty well at the show! Mark McNee noticed in the last newsletter my excitement over a large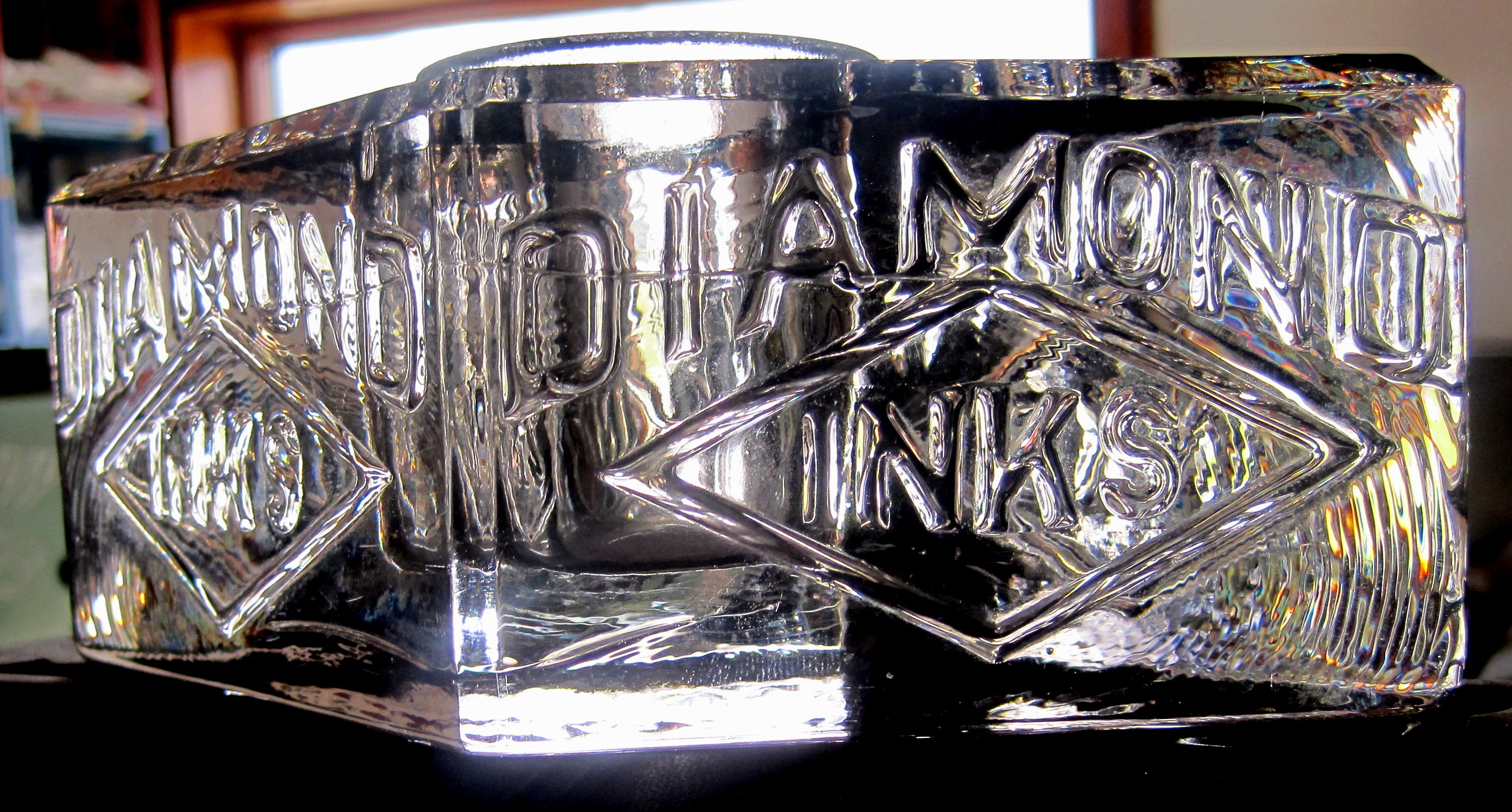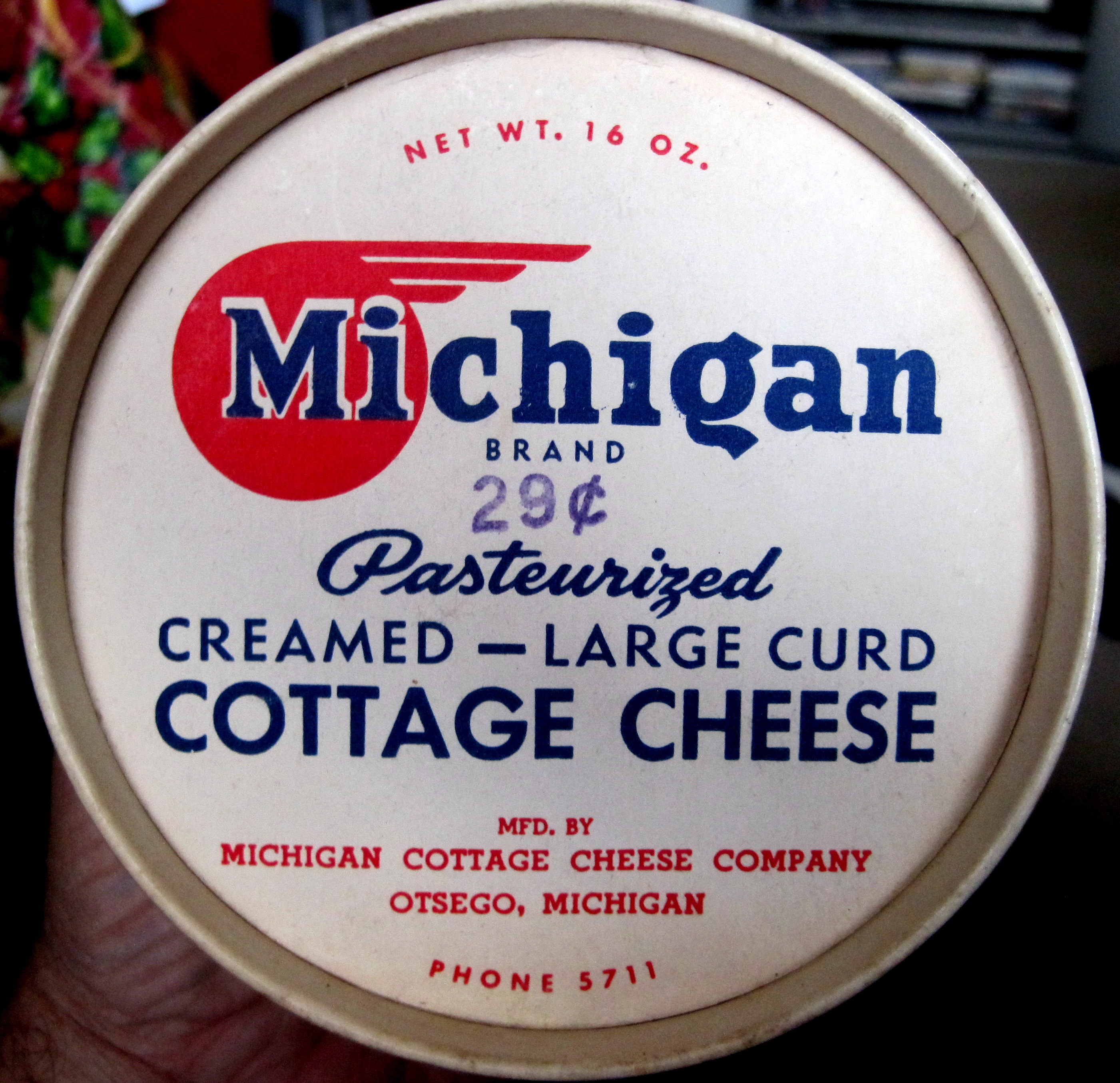 commercial advertising "Carter's Inkwell," so he saved me a beautiful gem- quality, Diamond advertising ink well! He made me a deal too good to pass up! I can't wait to show you!
Mark also gave me a beautiful large-curd Michigan Cottage Cheese carton! It is a carton from the 1950's and it was treasured by someone! It is not only in perfect condition, the driver hit the 29 price mark dead-center!
I rode on the cheese route with my father, and I can still see him as he dropped a wooden crate of cheese in front of the dairy cooler and popped his self-inking price stamper from its holster. He stamped the price on the top 12 cartons and stacked them in the cooler display faster than I could type one line! My stepfather, Howard Norton, also ran a cheese route back then, and he told me a usual "weekend special" was the 2-pound carton for .49 !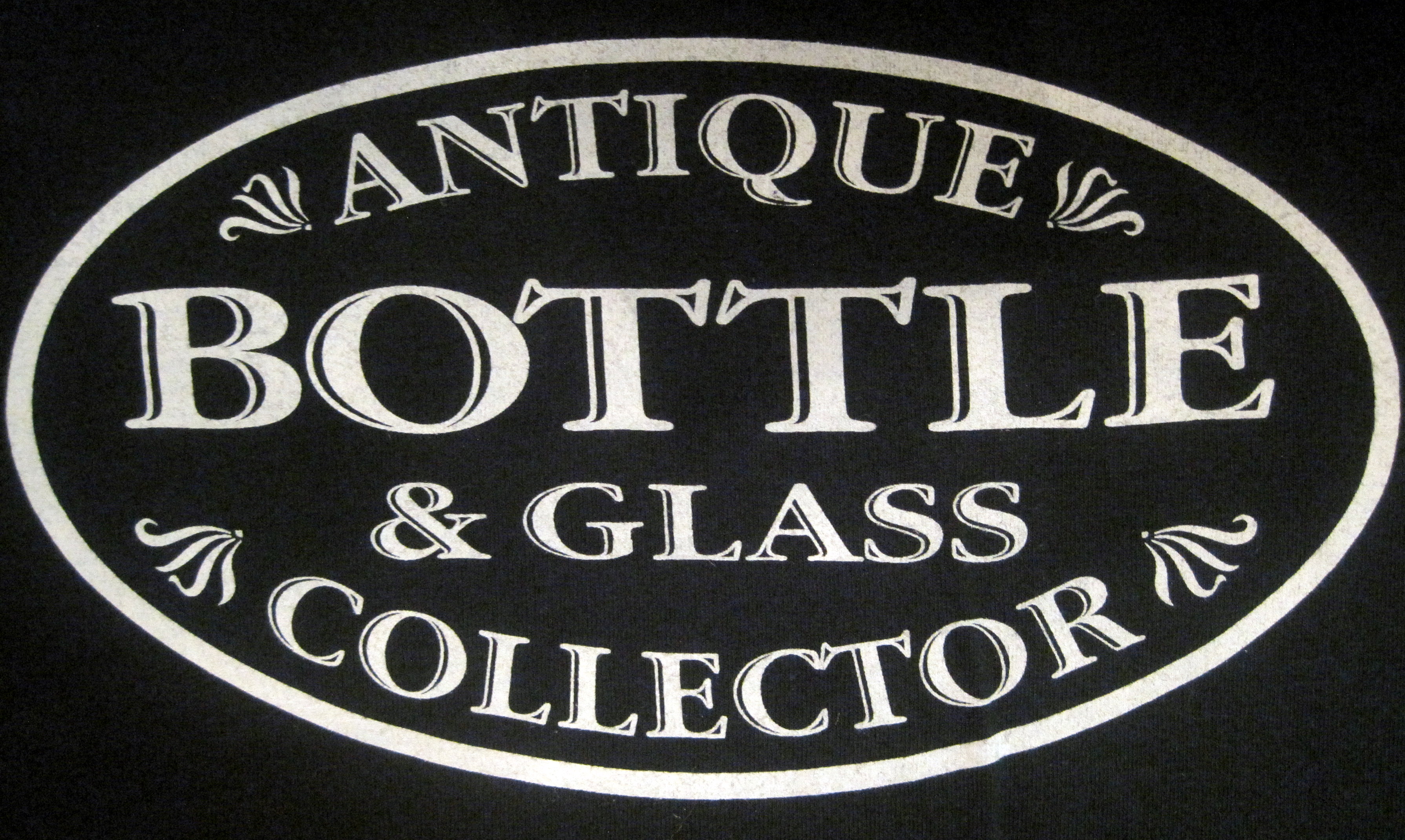 Another one, I wanted to buy it but John Pastor gave me another cool gift. It is a dark green Antique Bottle and Glass Collector T-Shirt! I am a big T-Shirt lover, and this one I will wear out! Thanks, John!
Wait, there is more! Eddie Nickerson, one of my favorite "picker friends" gave me a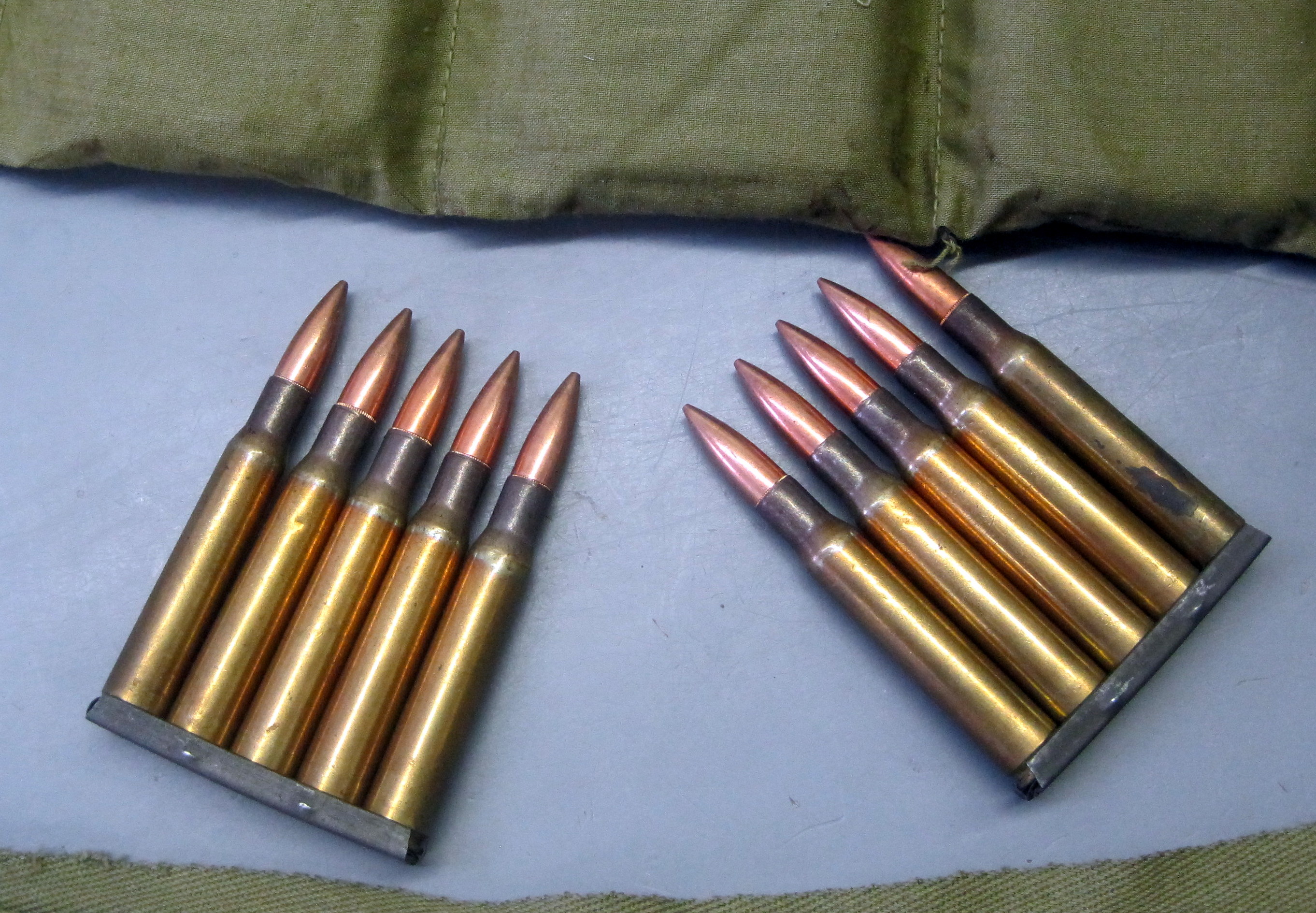 WWII, M-1 Infantry field issue cartridge belt loaded with full clips ready to go! I think they are very cool to look at, but when you stop to think; "they are made to take human life!" . . . wow!
I wasn't able to compile all the final results from the display room, but I can tell you it was the largest selection of amazing displays I think we have ever had at the Kalamazoo show! During the day, WWMT News 3 had a crew covering the events at the Expo Center. People were telling me the parking lot was packed! The Gun & Knife show was going on at the same time! That, along with the snow keeping folks inside, made for a huge turnout!
The news crew featured some of the amazing display room entries and it sure made me feel proud to be a part of the show!
I took some photos of the displays and I will try to post them on the club web site. I really do wish I could post them in the newsletter, but my old computer is a little behind the times.
Our theme bottle last month was pepper sauce bottles and we saw some beauties! Scott brought in every style and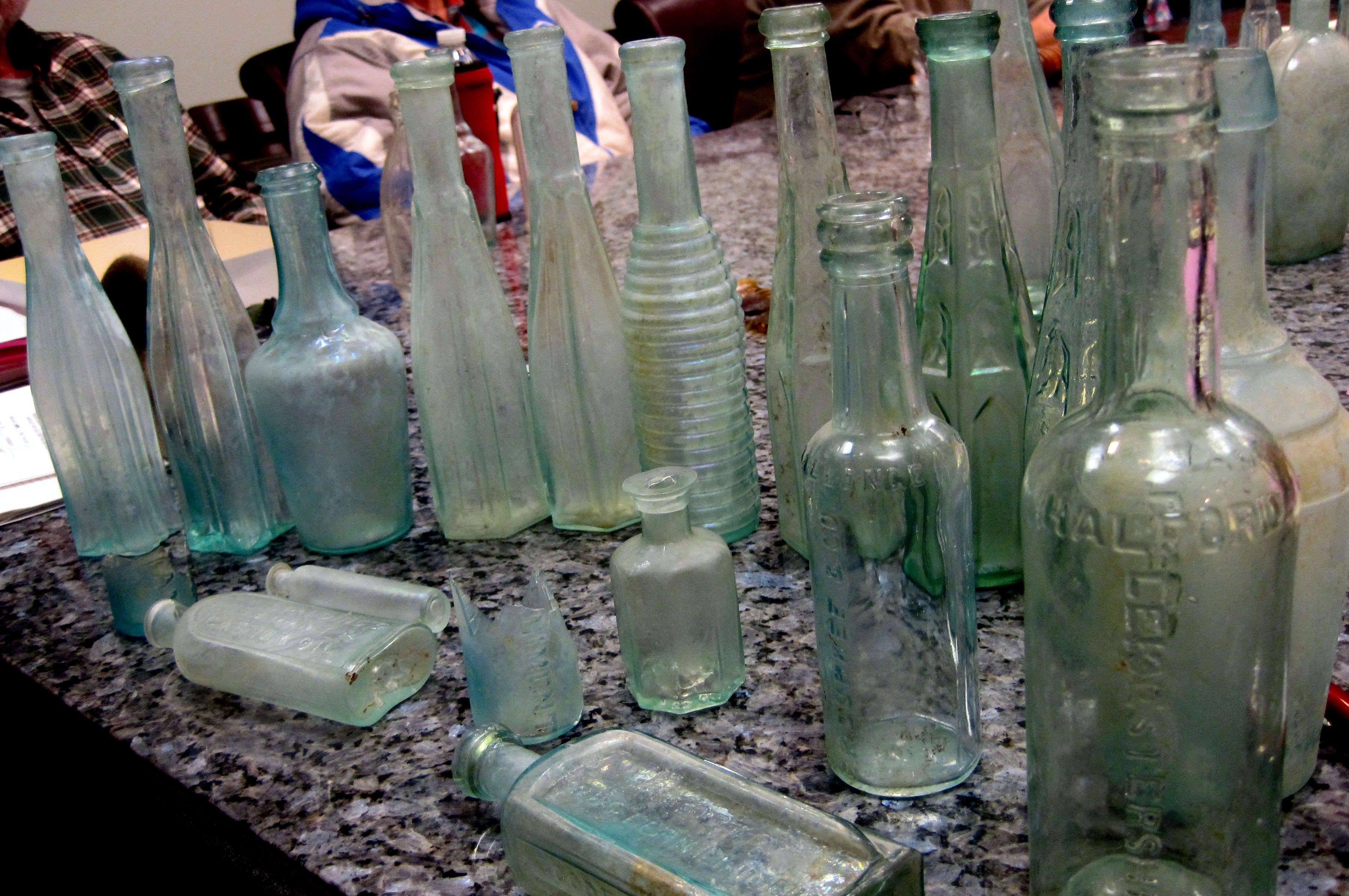 size! He showed some cathedral, bee-hive, fluted, short ones, tall ones, two piece mold, three piece mold, pontiled . . . man, I was in heaven!
We had some discussion about the popularity of pepper sauce in the 19th century, and clearly it was popular. My understanding always was that product was inexpensive to produce, it kept well (long shelf life) and it covered up the taste of tainted meat!
It seemed to me that my father really know how to pick out a good steak! I just recall that when dad grilled a steak, it was always tender and flavorful! I pieced it together in my mind, but I was only half right. I rode on the cheese truck several times and I knew that my father knew many of the store meat cutters.
The cottage cheese product was usually kept in the store refrigeration unit, which was near the butcher block. So, I figured the butcher just simply fixed him up with the good stuff!
I was sharing my thoughts with my stepfather, Howard, who also was a cheese peddler . . . he filled in the blanks. If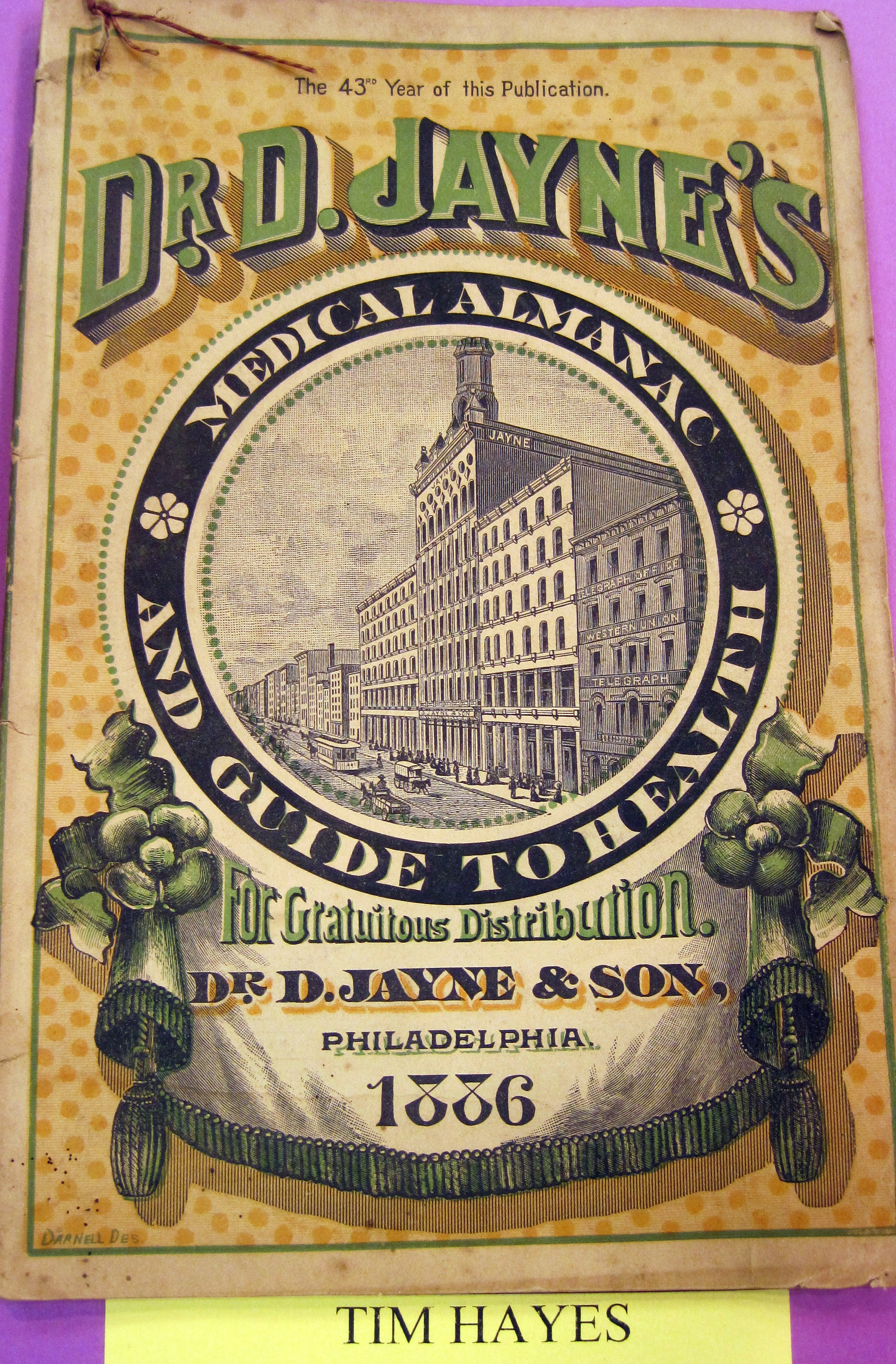 those big T-Bones didn't sell soon enough, they would take on a dark color as they started to show their age. So, those aged steaks were pulled from the meat case and their next stop was the meat grinder! So, these Michigan Cottage Cheese drivers were buying aged steaks for the price of hamburger! And that all worked our swell for me!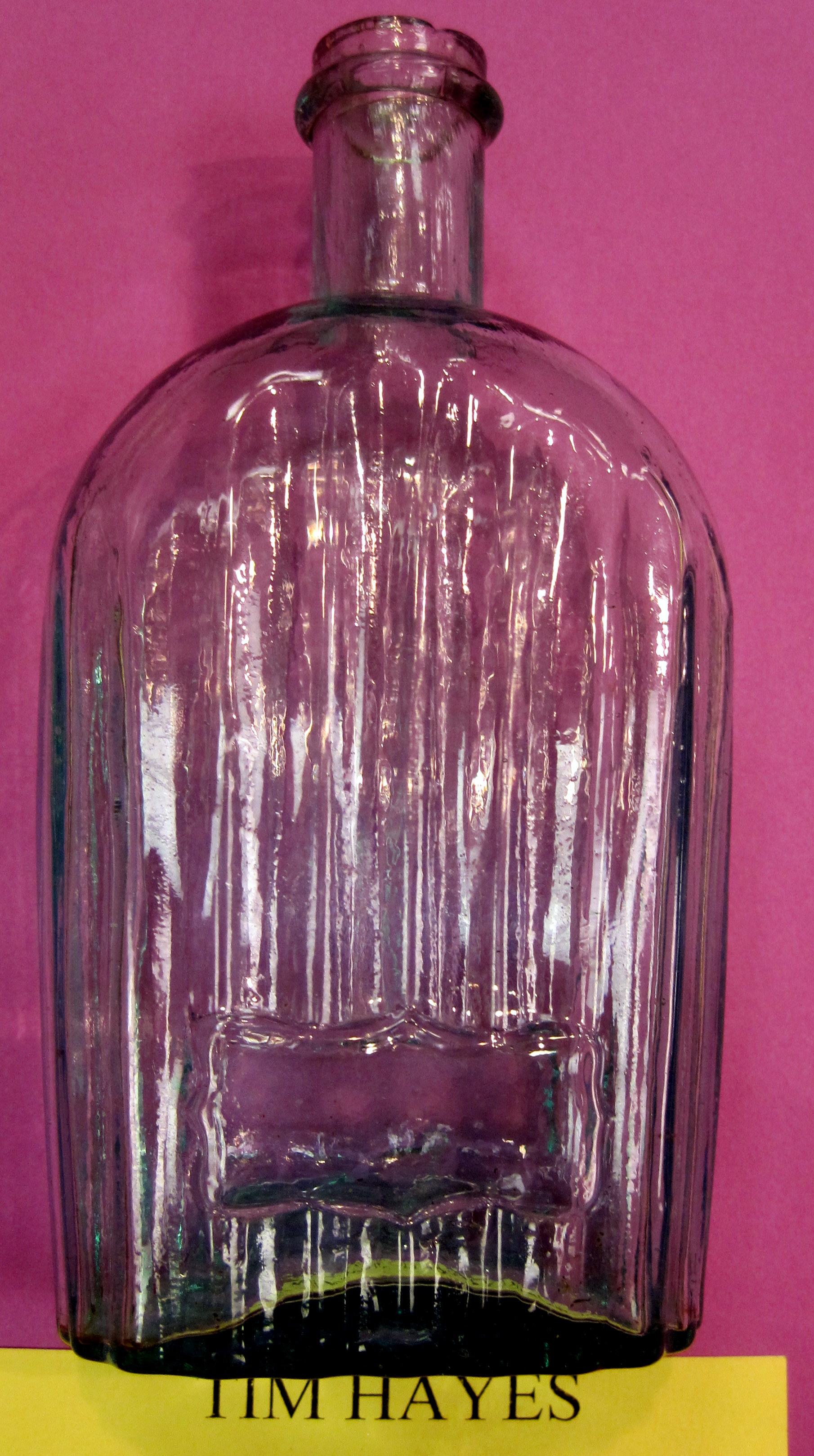 Overripe meat can be tainted meat! That was an issue back in that era when the best refrigeration was a block of ice! Nothing spruces up, or hides, the taste of anything like hot pepper sauce! Honestly, I love any cut of pork! My wife makes a seasoned pork roast that I love! For me, pepper sauce is like icing on the cake . . . I gotta to have it!
Tim Hayes brought in a beautiful 1886 Dr. D. Jayne's Medical Almanac! The cover boasts that 1886 was the 43rd printing! So that puts the Dr. D. Jayne's bottles back to 1843! Have you seen a sheared lip pontiled example? Tim also showed us a ribbed whiskey flask and I think he said it was from the Whitney Glassworks. . . very nice!
Ed Nickerson gave Kelsey Ennis a beautiful 1-pint dairy bottle from Midland, Michigan, which reads "5 Store Deposit." It has a brilliant red applied colored label! That brought me back to my childhood.

Eddie just set a local picking record! He spotted a car under a fabric car cover with just enough showing to peak his interest! He discovered it was a 1967 Rolls Royce Silver Shadow! It isn't currently a running car, but it is all there. I guess the owner lost interest and Ed got it for a good price. I wish I didn't have 3 old cars waiting for my attention!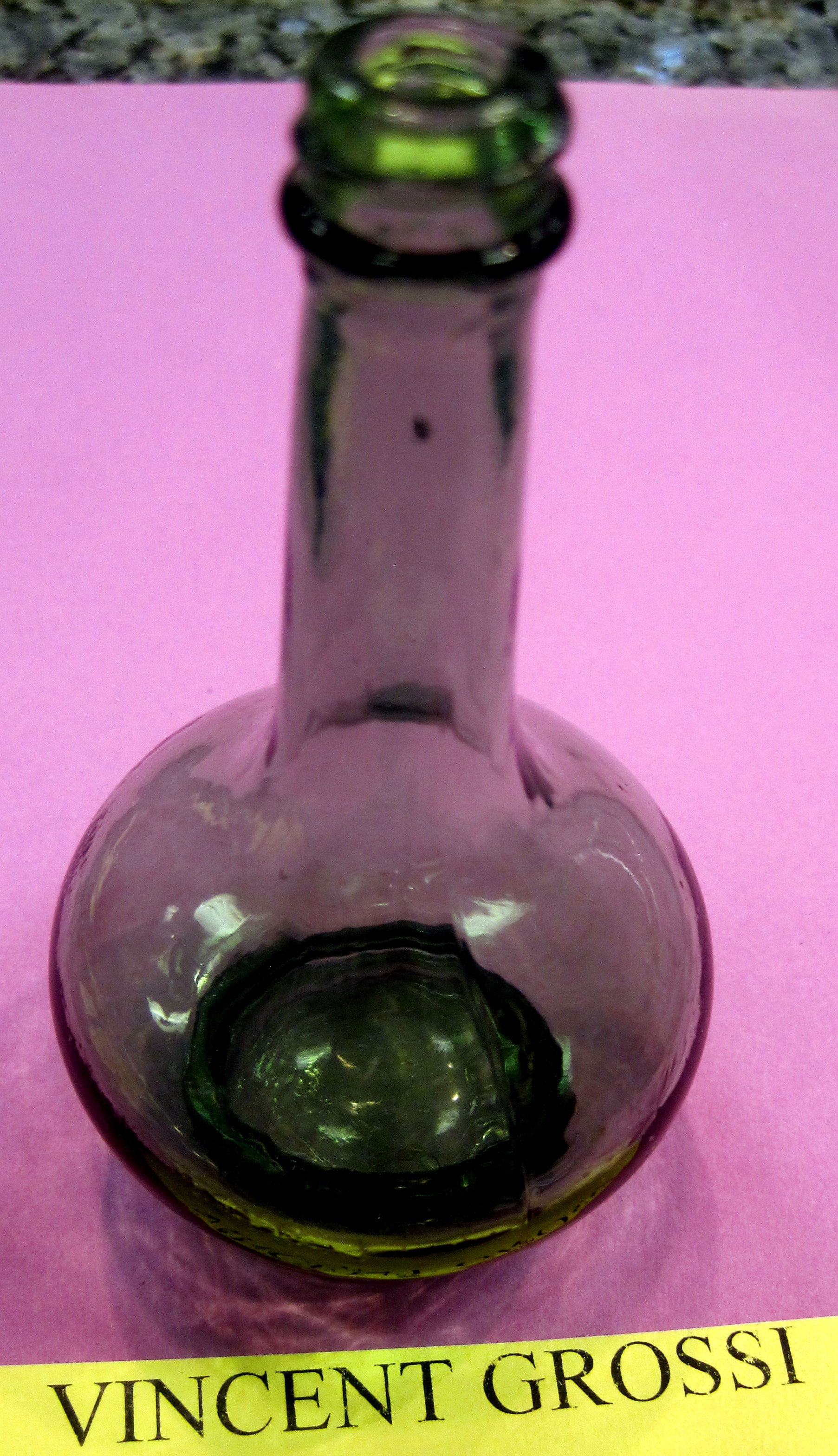 Vincent Grossi, Ron Smith and Kevin Seigfried also brought in some great bottles which I will picture online.
I also wanted to mention that it was Bill Drake who sold the winning raffle ticket for the new metal detector!
The winning display, at the Kalamazoo Antique Bottle Show, was the "Catsup Crock" display
by Ralph & Janet Finch