The Flood

As most of you know, I built a model of Noah's Ark. I have a friend who does an Old Fashioned Summertime Vacation- Bible-School Ministry. When he was getting everything together to tour churches as far away as New York, I built many of his back-drops. He used 7 different themes, and he would do a yearly rotation. For example he uses an Army Theme with the focus on being "In the Lord's Army. Then there is a Fishing Theme as in "I will make you fisher's of men." So, one of the last themes that we did was "The Flood" with a message of God's Mercy, Grace and Judgement.

So, I told Tim that I would build a large model of Noah's Ark but this was the only prop I put a condition on. I told him that that prop was only on loan, but always available for his use. I knew it was going to be a challenge to build and frankly I didn't even know where to start except as in ship building to lay the keel.

It was really a lot of fun to build. I thought about taking a picture of my table saw, sort of a before-&- after photo. I had purchased a stack of clean knot-free pine boards, then rip-sawed them into about 300 thin strips. The sawdust pile came up to the saw table!

Even though I knew the Bible account of the flood, and the Ark itself, from years of Sunday School, I still picked up some books on the subject. What did I learn? Nobody does a better account of the Ark than God did in the Bible! So I studied every detail and even cross referenced the text from the original Hebrew. What I found is, the King James Translation is very accurate to the original writings.

From that information I just started cutting and gluing until the image I had in my head started to appear. I do not consider myself a good woodworker, and I think that the crudeness of my build really makes the model stunning.

The first question I am asked is, "How long did it take to build?"

I never dreamed that question would come up. I wish I had kept track of the time! The second question always is, "Did you build it to scale?"

My answer was always a very honest "No."

So when the Ark is not on tour for the summer, every seven years, it ties up at dock in her home port, my shop. I don't think most people see it because I have it on a high shelf. I found out that with all the little animals inside, the kid's first thought is "Playhouse!"

My Aunt Beverly Watson was the biggest fan of the Ark, she would even bring her friends by to see it, sometimes by the car full. She was always a brillant craft person! She loved to enter her work at the Allegan County Fair. When she first asked me to enter the Ark at the fair, the thought had never crossed my mind, and frankly I had no interest in doing so.

Aunt Beverly never gave up! That really was a beautiful thing about her! When she set her mind to do something there was no turning back! That was very likely what made her such a great artist! So, her goal was to see the Ark at the fair no matter what! She not only got the entry form, she also filled it out! I finally decided to play-along when she tried to arrange to pick it up!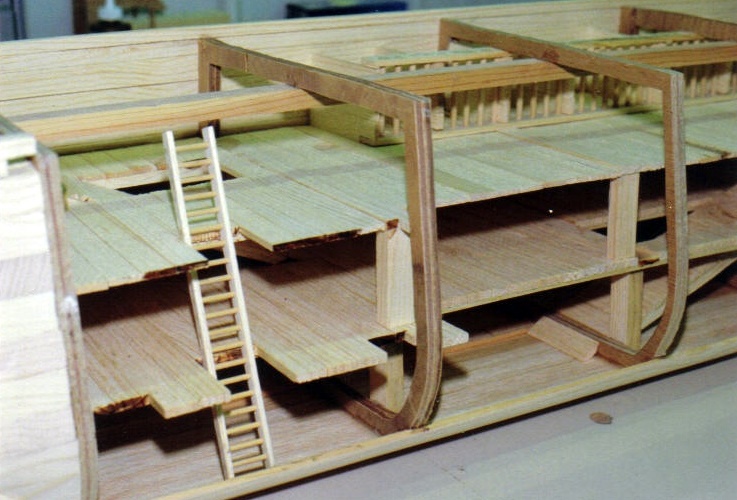 My wife and I toted the Ark over to the fair at the appointed time, and my thinking was "That is that!"
I clearly knew it was on display, but I never gave a thought to things like, "Judging and prize ribbons."
On the day that we set aside for the fair, I went over with my family and eventually we went into the craft area. I was totally blown away! It had a blue First Place ribbon and a royal- purple "Best of Show" ribbon!
I still didn't understand it all! The kicker was, my Aunt asked me, "Do you know what the Best of Show award means? it means you are qualified for the Michigan State Fair!"
Now I have something new to think about, but once again, it was about my chance to see the State Fair, was my interest was not winning anything. Frankly, the long drive up Woodward Avenue was enough to frighten this "Country" boy! Seeing buildings with every window barred- up for miles is kinda spooky!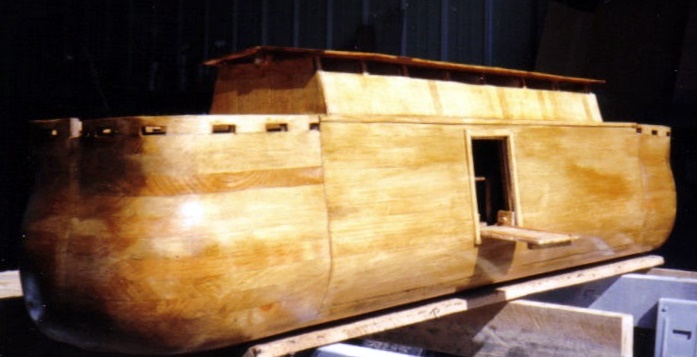 After dropping off the Ark I drove back home and we didn't go back until the following weekend. The Ark was a big hit! It won second place at the State level! A few of the fair volunteers told me that they felt it was the first place entry, but standing with them as they offered congradulations, they all agreed that it was impossible for a Bible theme entry to get a First Place blue ribbon because of the judges. They told me that the Ark was so nice, that the judges had to give it second place to avoid looking foolish! The day I dropped it off for the State Fair I was asked the question of 'Scale' once again. So I measure it up. Based on the Bible's measurements from

Genesis Chapter 6:13
6:13 And God said unto Noah, The end of all flesh is come before me; for the earth is filled with violence through them; and,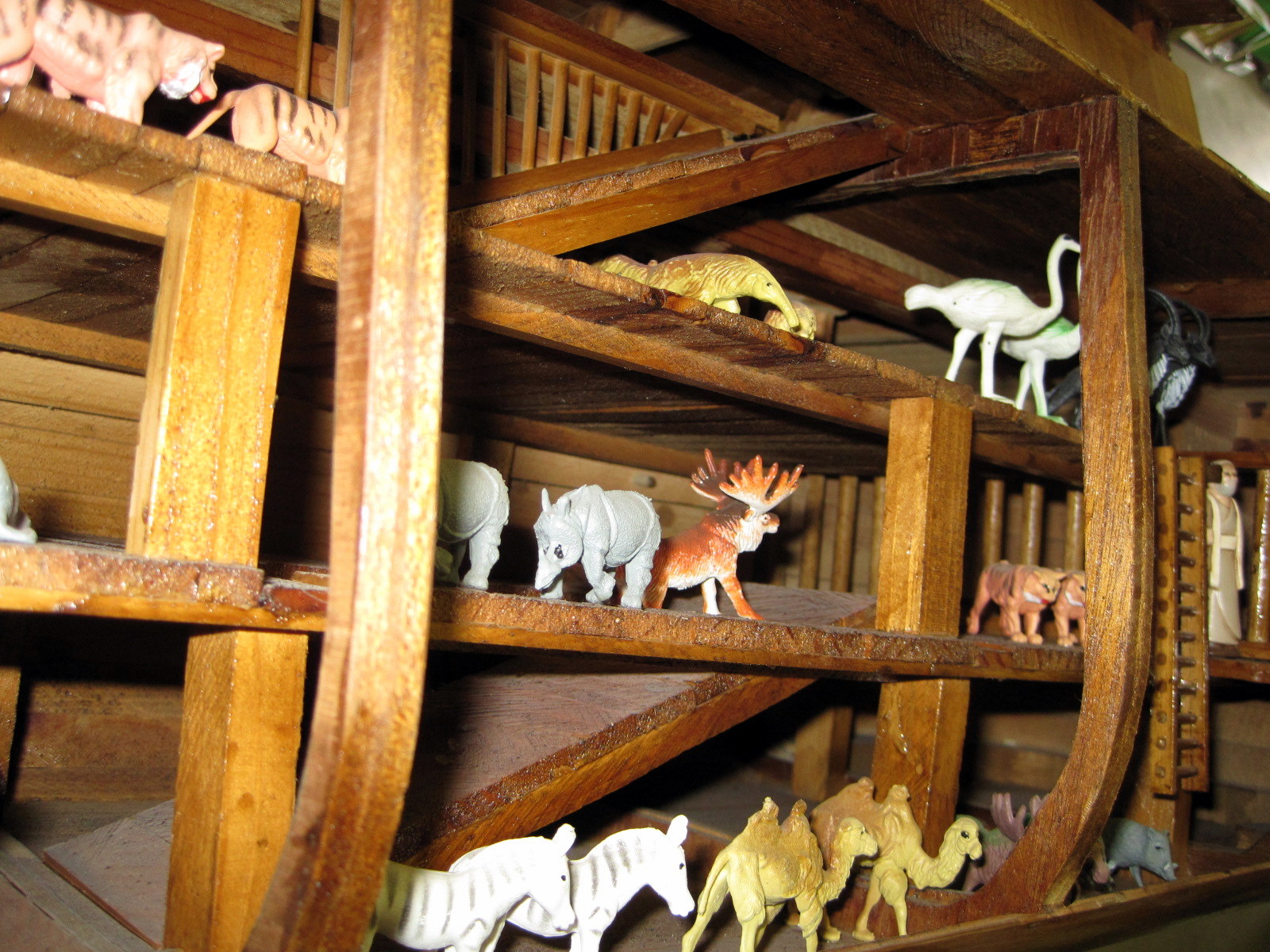 behold, I will destroy them with the earth.

14: Make thee an ark of gopher wood; rooms shalt thou make in the ark, and shalt pitch it within and without with pitch.

15: And this is the fashion which thou shalt make it of: The length of the ark shall be three hundred cubits, the breadth of it fifty cubits, and the height of it thirty cubits.

So, I based my math on a cubit being 18 inches, which is generally accepted, and the model is to the exact scale of 1 inch = 1 cubit.

Last year our dear friend and antique bottle club founder, Ernie Lawson asked me to show Noah's Ark at Friendship Village. So, how do you say no to Ernie? I contacted the activities director and she put me down for April 16th. I can tell you that Ernie was excited! Our plan was to show the Ark and answer some basic questions about the construction and to give a little background on the Bible account of the flood.

My buddy Ernie would check in with me from time to time to make sure everything was still a go. I started to sense a little concern it his voice. I already knew that many of the folks living are Friendship Village are highly educated retired professionals and Ernie warned that some of the people may not be in agreement with anything found within the pages of scripture. I assured Ernie that I am capable of handling opposing viewpoints, and after all I am just showing people a model of Noah's Ark!

About two weeks before the presentation somebody came up to me and said, "Hey, I read in the paper that you are giving a talk at Freindship Village about the flood of the Bible!"

That was when I decided that I may want to make some notes!

Well, we had a good turnout and I was very pleased with the entire event. I even picked up something new in my study of the Flood that I had missed for so many years. If you read the Bible account of the flood and start your reading in Chapter 5, you will see the name mentioned of the oldest man who ever lived, Methuselah. Methuselah lived to be 969 years old. The name Methuselah means, "When his is dead, it shall be sent."

Methuselah did not live as long as he did because of his healthy diet and lifestyle! His life was prolonged because of God's great mercy and long suffering.

Some little event which will seem fairly meaningless in the eyes of the world, will once again trigger God's judgement . . . I'm am so ready. Once God closes the door, there will be no coming on board.