November Meeting Election Day!


Last Month

I don't know about you, but the very mention of politics depresses me. It is especially hopeless when you live in Kalamazoo. We are suppose to be within the 'hub' of higher learning, yet they continue to elect the uneducated.

Well, that is why you collect bottles right? Digging and collecting takes your mind off the world's problems. I should hope so. Trust me, if the right guy finds out you are enjoying yourself digging around in that old dump, they will find a reason to put a stop to it.

On a brighter note, Election Day gives us a chance to let our voices be heard!

The club is still rolling forward somehow. Our meeting attendance was not quite as good without the Bimbo's Pizza however. The following people signed in at the last meeting.

Brent Heighton, Ed Nickerson, Kevin Seigfried, Mary Hamilton, Chuck Parker, Dee Cole and Al Holden.

Actually none of you signed the attendance sheet, I put your name down myself . . . I am proud of myself! Last month, I put the names in the newsletter as they were written down by you. When my wife looked at it she said, "LeRoy Otis Parker?" I told her that Chuck was sick so his butler came in his place.

Speaking of sick. It started out as a sore throat and by the third day I was flat on my back in bed. So far 12 days have gone by and I am still struggling. I sure hope you guys all can stay out of this bugs path! I told my wife, "At least now I won't need a flu shot."

She told me, "As soon as you get better you need to get a flu shot!"

Brent Heighton was at the last meeting with loads of treasure! And, if you missed it, it was all for sale! He had a couple of hand-finished liniment bottles with full contents and original labels. . . they were very cool! Of course, Chuck jumped on one of them pretty fast. It was a Spalding Liniment. Brent had several old 1880 medicine bottles and even some early newspaper advertising typeset. He seemed to be doing a brisk business.

He had one bottle that really seemed too good to be true. It was a dark-amber historic flask, which everyone immediately suggested was a reproduction, including me. Just one of the reasons given for the "doubt of its authenticity" was pointed out by Kevin Seigfried, and that was, no evidence of bottom wear. I have found that bottom wear is one true sign of age with these historic flasks. They were made to be refilled used over and over again. That is why many of them have survived!

Brent seemed to be anxious to raise some cash so I suggested if it is a more modern Wheaton or Clevenger bottle, it would still be worth $20.00 . . . so that is what I paid him. We agreed that if I found out the bottle had any real high-dollar value, as an actual antique flask, I would make it right with him.

I was looking in my copy of the Auction Price Report, which is really getting old from 1996, and found that there it is best described as GI-39b. It is a quart, amber, open pontil, sheared lip. One thing that made me think that it might not be a re-pop was because the embossing is a little weak. Not terrible weak, but it seems like a reproduction would have a stronger embossing. I do believe many of these bottles were blown in molds cast from a real, original, antique bottle. If it had weak embossing, so would it's offspring.

On one side it reads "THE FATHER OF HIS COUNTRY" above a bust of George Washington. On the opposite side, "GEN. TAYLOR NEVER SURRENDERS" above a bust of Taylor.

We were wishing John Pastor, or flask collector Tim Hayes were at the meeting to enlighten us.

The very next day I sent John Pastor an e-mail with some photos of the bottle. John got right back to me so fast the e-mail was still warm when I opened it. He replied:

"Hi Al,

Hope that you are doing well. I miss seeing you guys!

Yes, you are correct. Definitely a reproduction. And yes, a Clevenger mold. The flask was probably blown between the late 40's and the 1960's.

Hope this helps!

John"

As busy as this guy is, he sure dropped whatever he was doing to help out! Thanks, John!

I must tell you that I was hoping we were wrong on this one! It is a very cool bottle! There are people out there who are starting to collect Clevenger Flasks and the other glass art made by them. Actually, the Clevenger people had good tastes in what they copied. Also, they produced a wide assortment of items, and right now they are very affordable. Is this one area of glass collecting we will look back on one day and wish we would have stepped to the plate?

The interesting thing I found when doing a search on e-Bay for Clevenger stuff was a book. The book is called, Last Links to the Past, 20th Century, South Jersey Glass Volume 1 is about Clevenger Glass by, Tom Haunton.

It looks like a beautiful book and I would love to go through it. But, the copy that I found for sale is $110.00!!! The ad for the book says; "438 pages and over 800 photos & illustrations.

Catalogs, advertisements, glass formulas, employee bios, handle identification, molds, tools, glassmaking processes; Free-blown, mold-blown, & pressed glass, whimsies,

historical flasks, lilypad decoration, rarities & oddities, rarity index. Listings of over 1,000 commemorative bottles.

I know some of you purist are wondering, Has Al flipped his lid?

When you consider the availability and price of original, vintage bottles today, well, these items would get a young collector started with something that is still affordable. Of course you won't be digging any out of the ground for free! Did we have something in our show bylaws against buying and selling repos? I know beer cans, Avon bottles and Jim Beam stuff were banned. Maybe I should let this one alone?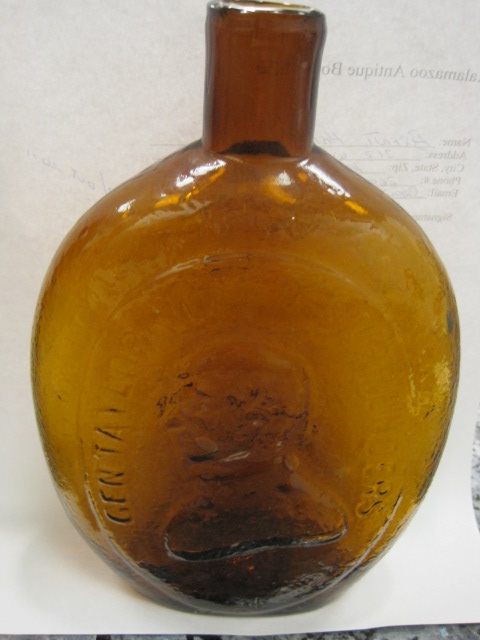 Another bottle we saw was "Liquid Opodeldoc," have you heard of that one? Brent had a nice example at the meeting and it was another one Chuck purchased. That name was familiar to me, but I am not sure why. A quick look at my personal collection on display and it doesn't show up. I had been polishing bottles and adding more display shelves at a rate of one shelf every-other month. But, all that came to a screeching halt in 2010 when I started cancer treatment. Half of my collection is still hidden away in boxes and I don't recall what all is there. I am pretty-darn-sure I have a pontiled Liquid Opodeloc somewhere.
They are a pretty cool little bottle. and we saw a beauty at the meeting. In a copy of the American Druggist, from 1893 they printed two formulas for Opodeldoc. The solid soap liniment version was:
2 lbs. White Castile soap chips
5 oz. Camphor
1 oz. Oil of Rosemary
1 oz Oil of Origanum (Oregano )
1 gal. Rectified Spirit
11 oz Water of Ammonia
Dissolve in corked bottle by the heat of a water bath and when quite cool strain; then add water of ammonia. Cork lightly and tie over with bladder. It will be very fine, solid and transparent when cold.
Liquid Opodeldoc
1 qt Alcohol
2 oz Castile Soap Shavings
1 oz Camphor
½ oz Oil of Rosemary
2 oz Ammonia Water
Dissolve the soap shavings in alcohol by the aid of gentle heat then add the other ingredients. Pretty cool I think! I made up a batch for the trick-or-treaters and it was a big hit!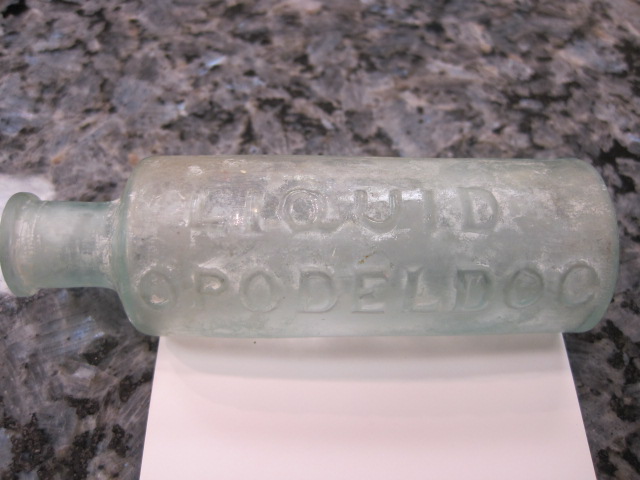 Joan Kaiser's book The Boston Glass Industry showed that Liquid Opodeldoc bottles were being sold for $9.00 a gross in 1813. That works out to a little over 6½¢ each. I was once told that in manufacturing a product like this, back then, the cost of the bottle far exceeded the cost of the contents! As near as I can tell, these bottles were pontiled up to 1850 and remained in production with a smooth base until the 1900's.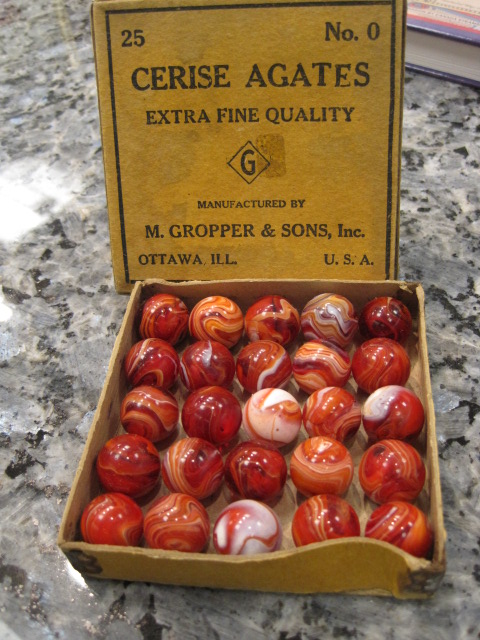 I forgot to put this in the hard-copy of the newsletter. Kevin posted this vintage box of red slag marbles on e-Bay and they closed at well over $300.00!

---
I Swear on God's Word it's true!

Having been raised in a good Baptist home, apparently gives you a whole different view of life in general. You will not see me posting my daily horoscope on my Facebook page, because we don't believe in it. As the years roll by our views soften, and some Baptist feel that can be a sign of backsliding. Sort of like, "The enemy is now in the camp."

We were taught to believe astrology was a work of the devil. I wonder if Webster was a Baptist? He says this about Astrology: " a pseudo science claiming that the moon, sun, and stars affect human affairs and can be used to for tell the future."

We used to think it was a work of Satan, and now I just think it is stupid. We believe that God is in charge of things that come and go in our lives and they are all part of his grand plan and many things are intended to be added to our life path to steer us in the right direction and strengthen our faith.

Back in the 1800's many children were taught to read using the Bible. Also, the leadership in our country demonstrated a respect for God and the Bible. As a result, even those folks who never darkened the door of a church still, deep down, had some fear of God.

The ministry of the American Sunday School Union goes back to nearly the beginning of our country, and they have published many articles about Christian workers going right onto the Civil War battlefields with the bullets flying to minister to the wounded and dying. One of the sayings that became popular during WW II was, "There are no atheists in fox holes."

Much of the patent medicine that was promoted during the 1800's used God, or His trusted earthly flock, for validity. I believe one advertisement for Duffy's Whiskey claimed it was "Endorsed by the clergy."

Baptist have been long considered tea-totalers. However when the privies at out church parsonage were dug someone had been tossing whiskey bottles in! Maybe it was a choir member?

I remember when Mark Churchill and Sanjit found a barrel load of Shaker Fluid Extract Valerian bottles. I understand the Shakers had nothing to do with the product. The con-artists who produced this product were simply trying to gain public trust by using the Shaker's good name and reputation.

The following are Shaker guidelines. The first one seems important during the cold an flu season.

1. "If you are obliged to sneeze or cough, don't bespatter the victuals."

2. Help one another.

3. Prepare well.

4. Pay careful attention to detail.

5. Be practical, organized, and efficient.

6. Work hard and conscientiously, and always strive for perfection.

7. Serve abundantly.

8. Waste little, including your own effort.

9. Heal gently.

10. Live humbly and simply.
---
Thanksgiving

As much as is dislike the cold and snow that is coming, I love Thanksgiving! I was raised to believe we should be thankful every day of our lives. We have been so blessed in America that we take being thankful in stride. America has been so richly blessed, and She remains to be the land of hope and opportunity and we can thank God for that!.

As I watch the news coverage on the Occupy Wall Street protests, it worries me greatly. We have failed to educate our people about the very things that have so enriched us as Americans.

No, I am not talking about Wall Street, I'm talking about independence and freedom to live in a way that is honoring to our Creator.

We not only have forgotten who has blessed America, we have allowed pagan thinking to remove the presence of God from our education, and the public square. That would break our forefather's hearts. It really, truly is unthinkable.

God's guidelines for living are hated and despised by far more people in America today, than by those who teach and respect them.

Can you remember when you naturally figured most places of business would be closed on Sunday? Sunday was a special day of the week throughout America. It was not only a day for worship, it was a day for family! The day started out with a call to worship. Do you remember the sound of church bells throughout the city on Sunday morning?

In Otsego that came to a screeching halt. It was stopped by all of the people who worshiped at the local bars on Saturday night! They didn't want to be awakened from their drunken stupor on Sunday morning by church bells!

On Sunday we take Ravine Road into Otsego which takes us past Memorial Park and all the municipal baseball diamonds. On Sunday morning. What do we see? Sunday morning is when they have all their league soft ball play scheduled. Used to be, they didn't plan any games on Sunday morning because they couldn't get a team together . . . the kids were all in Sunday School! No longer the case.

People from all walks of life recognize there is a problem in America but they just can't seem to put their finger on it. America is being passed-by on so many levels that it is staggering! It is hard for me to see America to not to be on-top! It is even harder to watch a downhill spiral when you know what the problem is and nobody will listen.

What we are seeing take place in America, is not new to Israel. Her whole history is one of being richly blessed by God, then next minute turning her back on him. America for so many years was like the launching pad for missionaries. We sent them all over the world. Today Christian churches across the world are dispatching missionaries to America. This Thanksgiving time we had better turn our hearts back toward God and thank Him for all that he has blessed us with and beg Him to forgive us for taking him for granted. Here is what God told King Solomon;

II Chronicles 7:14 If my people, which are called by my name, shall humble themselves, and pray, and seek my face, and turn from their wicked ways; then will I hear from heaven, and will forgive their sin, and will heal their land.

What if God had said that? He did!
---
This Month

Our meeting this month is Tuesday, November 8th. I didn't get a directive for any special theme, so let me suggest one from earlier years. How about anything that would be Thanksgiving related, bottles with a religious connection, or products promoted by a Godly connection.

Besides illness we have been very busy with everything under the sun. That is why my dear wife did not edit this newsletter . . . I'm very sorry about that. Thanks for your patience.
---
The Kalamazoo Antique Bottle Club meets at the main downtown Kalamazoo Library, located at 315 South Rose Street. We meet on the third floor in the conference room. This meeting is November 8th. Meeting starts at 7:00 pm.

For questions e-mail prostock@net-link.net
Or call 269-685-1776