Meeting night late this month! Oct. 14th!
Last Month
We had a great turnout for our last meeting, and seriously, I do not think it was all about the great pizza! I know, I say this all the time, "If you missed the last meeting, you missed a great one!" Despite knowing we were headed over for Pizza, many folks brought in a large number of neat bottles for display!
First I want to explain why this newsletter will be somewhat small. I have already started my e-Bay season. I am getting an early start simply because business at my store has slowed way down. It is really no surprise, with the costs of everything from gasoline to a loaf of bread, the local walk-in traffic has dried up. Thankfully I have accumulated a good number of nice used detectors for e-Bay trade.
Also, besides waiting too long to start this newsletter, my mother's only sibling, my Aunt, passed away. So, the time I have to devote to this letter is very limited.
Some of you with a quick eye will see that I am using the October 2013 newsletter as a template. I am doing that because, on top of everything else going wrong, I lost my first attempt at this letter when my Word Perfect program crashed!
Here is the list of important dignitaries that I have from the last meeting. Kelly Bobbitt, Chuck Parker, Mary Hamilton, Kevin Seigfried, Scott Hendrichsen, Eddie Nickerson, Kelsey Ennis, Katie Osborn and Al Holden.
The sign-in sheet always makes me smile. Someone has taught Chuck how to make a cute little Confederate flag.
I'm going to list some of the bottles that we saw at the meeting. I wasn't prepared for the number of cool bottles because of the planned pizza party, so I didn't take decent notes. Also I forgot to put my little name tags in my bottle photos! Someone needs to remind me to breath!
Confederate, Brigadier General, Beauregard "Chas" Parker, had a very nice "Double Eagle" 1-pint historic flask with a heavy applied lip. The story as I remember it was very interesting. The property where the bottle was found, looked very promising. The only problem was, it had been already dug!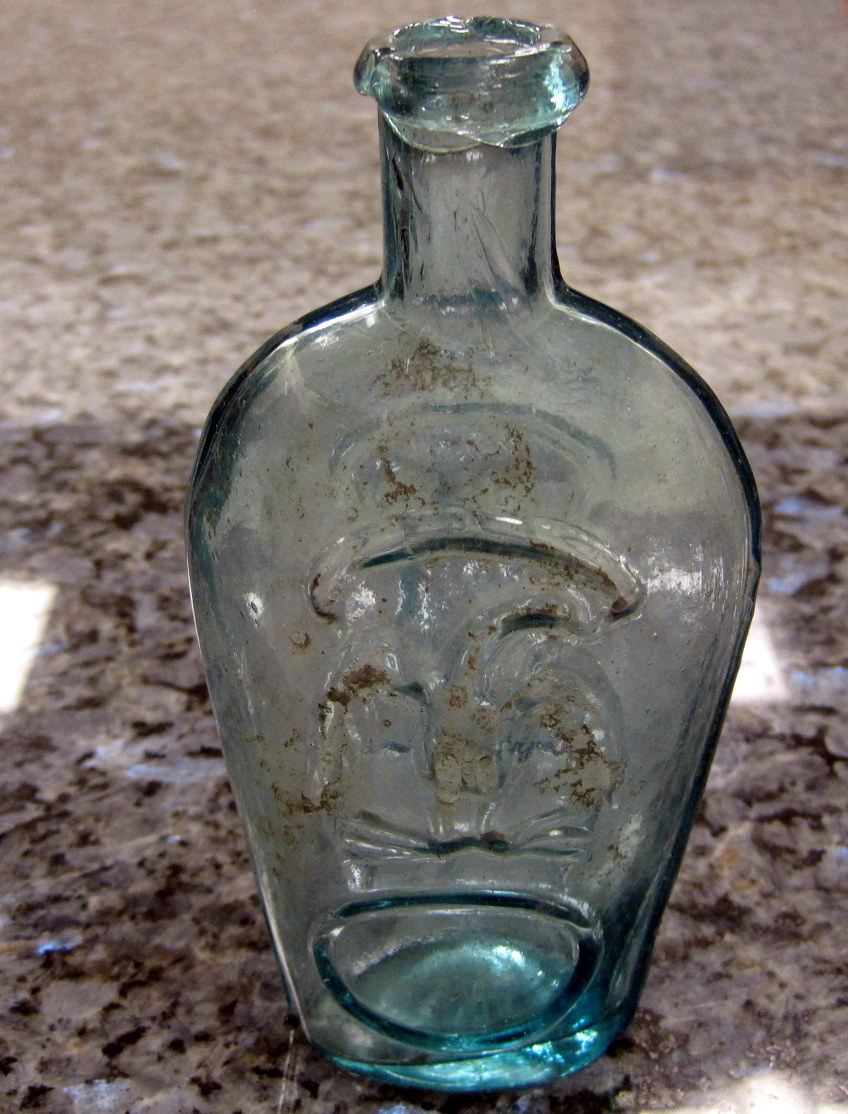 When the original diggers were at the site, (and we know who you are!) found a number of good hand finished 1800's bottles, as is so often the practice, they left the most valuable ones with the home owner . . . . or something like that??
Disappointed to learn that they had missed out, Chuck was told about a bottle the diggers had missed! Chuck learned that the landowner's young daughter was so fascinated with the antique bottle digging, that she went out and started digging at a random location in the yard! It wasn't a spot found with a bottle probe, it wasn't an indented spot hinting at a long forgotten privy, and there was no tell-tale lilac bush . . . she just started digging!
Well, with the luck of a child, she had only dug just under the depth of the top soil, when she hit gold! An aqua- colored nugget! When Chuck saw the little historic flask his jaw dropped wide open, and a substantial cash offer dropped prematurely from his lips. It wasn't until some time later that his offer was accepted. On closer inspection he found a couple small chips and it really isn't a super rare mold, but I think it is such a great treasure Chuck, and a really neat story!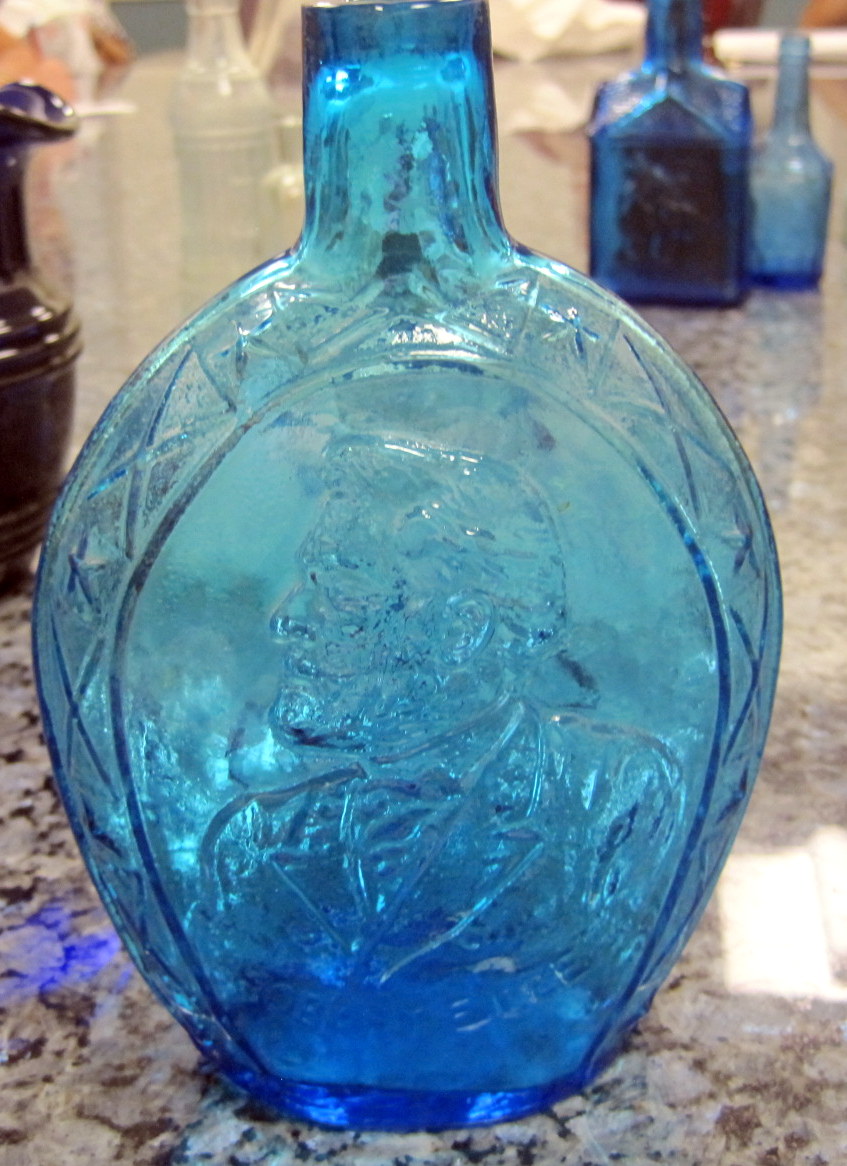 Kevin had a very collectable, more modern, reproduction historic flask in a cornflower-blue that has a sheared top and I believe it is pontiled. I should have made an offer. I know it is reproduction, but "collect what you like" I always say!
Scott found a bunch of old Clevenger or Wheaton flasks and he figured I was his man to sell to, but I resisted them as well!
Scott had a complete collection of colorful extract bottles from the Arctic Mfg. Company from Grand Rapids MI. The bottles are all full with complete labels!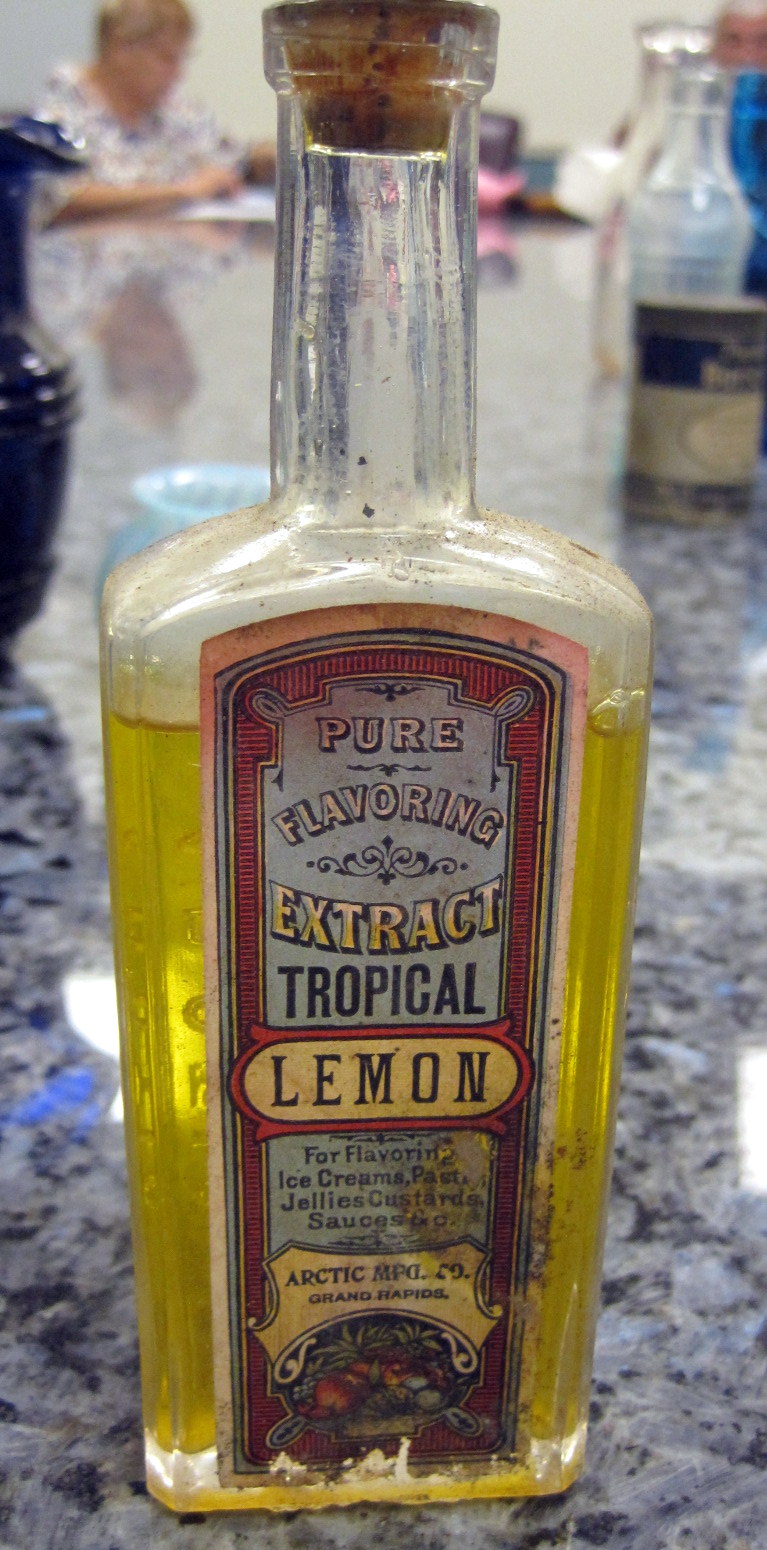 Eddie showed up with a reproduction bitters bottle that is statuesque to say the least. The bottle is a light root beer color. The design shows a baby holding a clock. I am sure it is a reproduction of a rare original design.
This is where I run into trouble. Someone, and it may have been Eddie, had a Red Key Mason Jar. Also, we saw a 1-quart Decatur Dairy bottle.
Kelly Bobbit showed us a neat Kalamazoo collectable! He has a 1905 Diploma from Michigan Business Institute. As I recall, Kelsey and Katie found out that, that school was the forerunner of Parson's Business School, and eventually it became Davenport College. The diploma was for "Telegraphy." Pretty cool!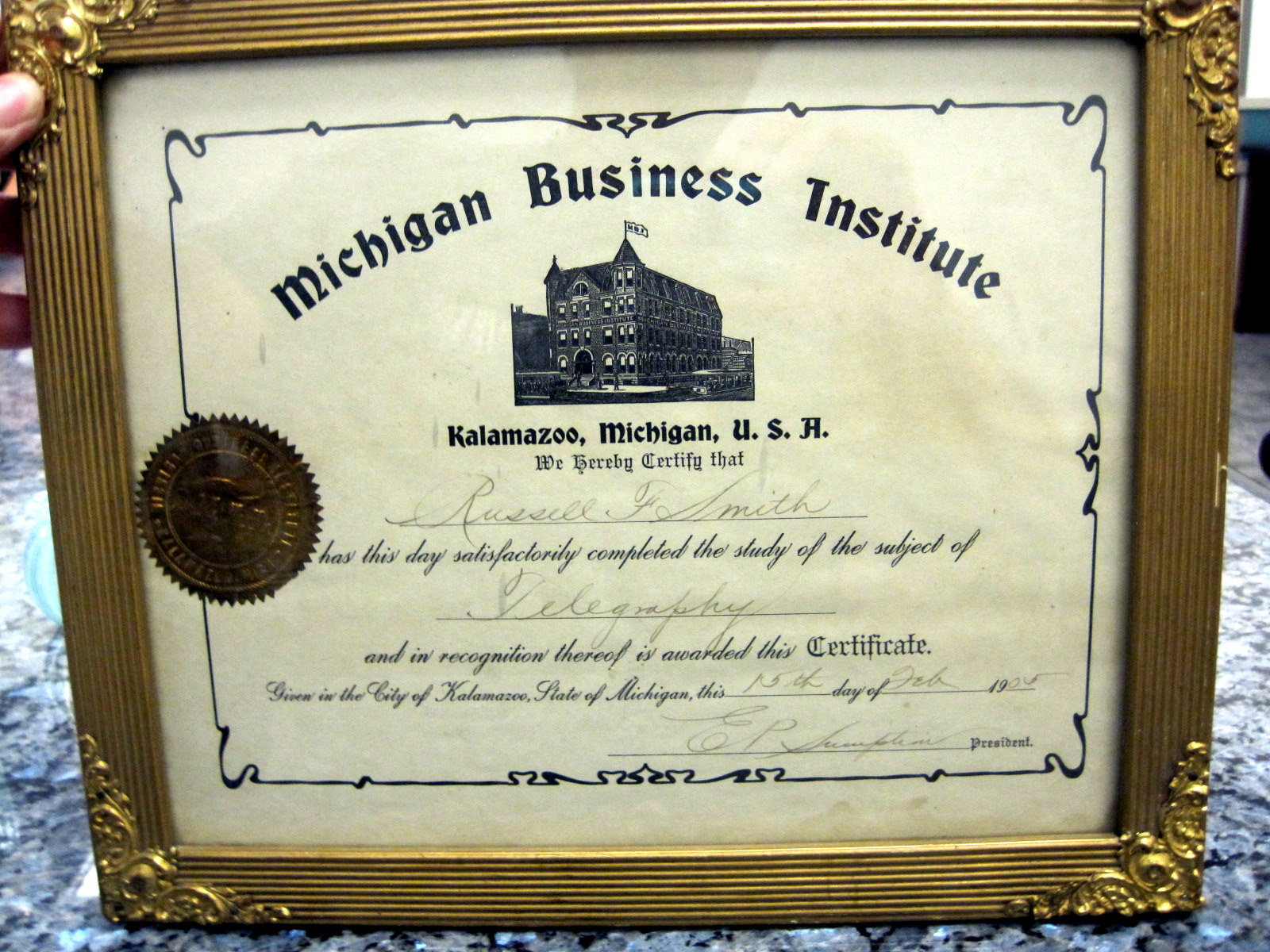 I brought in some nice bottles I picked up from the American Glass Gallery Auction # 12. I try to look everything over and decide what I like best. Then I lay back and watch those same items get bid through the roof! Oh well. The second part of my strategy is to watch the items that are not being bid on, then I snipe in at the last minutes. The last auction (#11) I missed out on a pretty little traveling-doctor's leech bowl. This time, a much prettier one popped up and I got it for much less!
The early pattern molded leech bowl is from the 1860's. It is the typical globular form with vertical ribs and a sheared outward flared flanged-lip. It is a open pontil bowl and I really love it.
Another bottle I picked up, for the minimum bid, was a Louisville Glassworks Double Eagle 1855-1865 ½ pint historic flask! It is known as GII-33. It has deep vertical ribs and strong embossing! It is a beauty!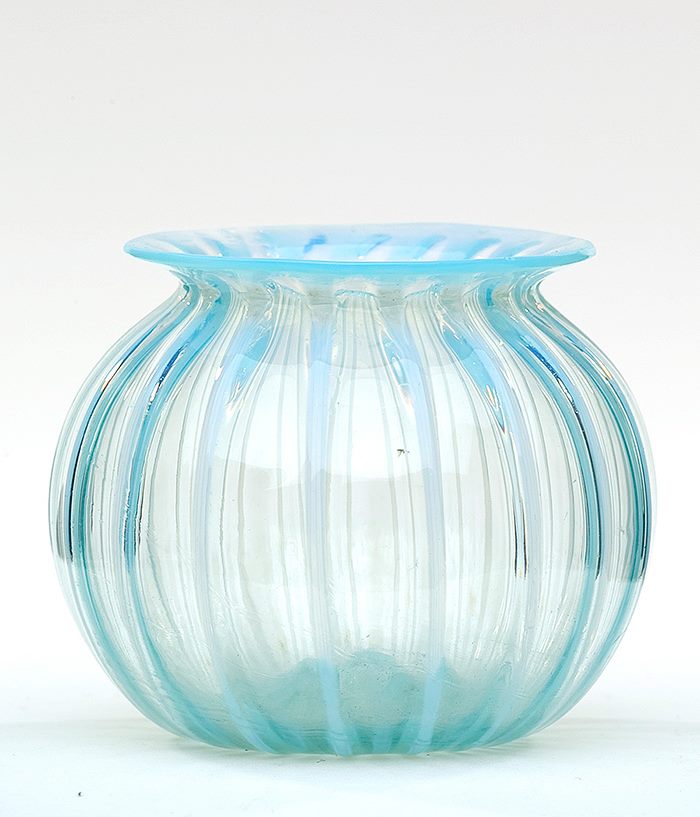 And my favorite, is a beautiful cobalt-blue large cream-jug or pitcher from 1820. The color is actually a deep-violet cobalt-blue and it is from the Jayne Dupont Lunger collection!
The American Glass Gallery Auction # 13 starts on Wednesday October 15th the day after this month's meeting.
www.americanglassgallery.com
We adjourned to Bimbo's pizza, and as always we made pigs of ourselves, some more than others. Perhaps I should just speak for myself! A couple weeks earlier I was coming across town on my way home from another meeting, when I called in a Bimbo's order for a large pizza.
My wife likes Italian sausage (Bimbo's blends their own sausage!) and mushrooms, but, I love olives on my pizza and she will not eat olives on her pizza. So, I make a unique order that Matt and the staff recognizes. I always instruct them to put the olives on top so we can see them.
So 20 minutes later, I show up for the pizza, and they tell me they baked it wrong. They forgot to put the olives on top. But, not to worry, they already had a replacement in the oven. And I was told for my additional wait, I could have the error pizza for free. By the time my pizza was ready to be rung-up, the big boss, Matthew Smilanich, walked to the cash register, handed me the boxes and tore up the invoice!
I told Matt that I wanted to pay for both pizzas! Matt said, "I can buy your pizza this time!"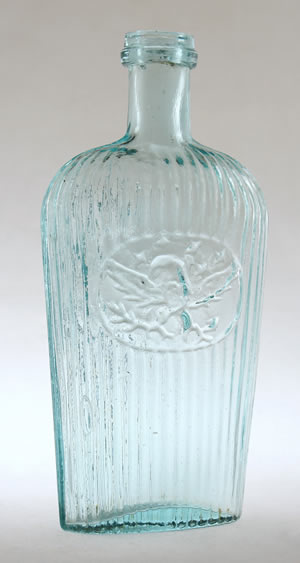 My daughter lives a few blocks south where she struggles with 5 little mouths to feed. I can assure you that pizza was like tossing raw meat into a school of perinaea! They were very happy campers!
On that trip to Bimbo's, we enjoyed super good pizza as usual! I then warned the Bimbo's crew that the bottle club was headed over the following Tuesday! They were ready for us! As usual we were treated as visiting royalty and the pizza was fantastic!
But the best part of all, was the great fellowship with all our wonderful friends talking about antique bottles!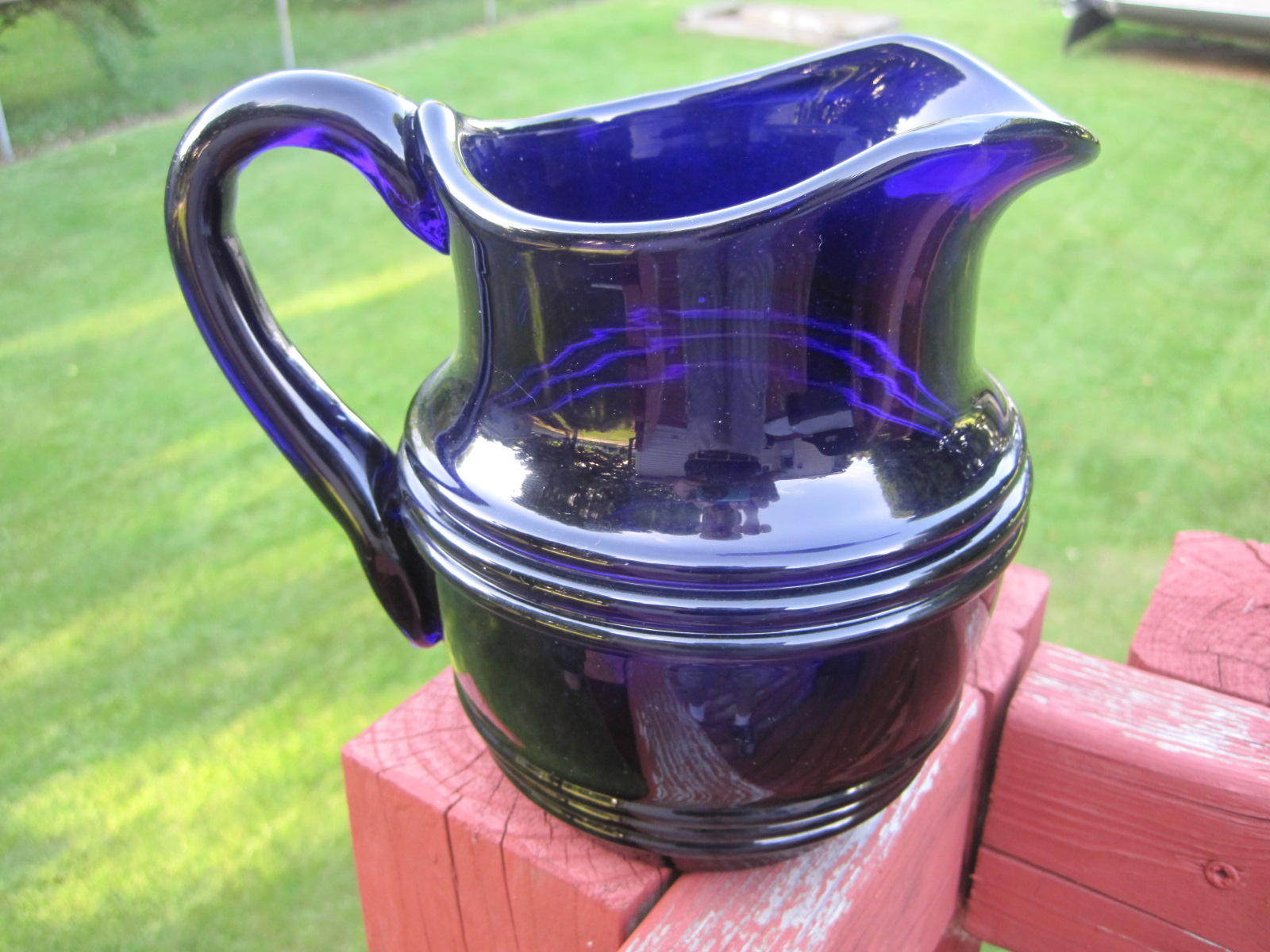 ---
This Month

You would think our last month's meeting theme was "Reproduction Bottles" well, actually, that was unplanned-- it just happened! It would be interesting to see where that idea would go if it were our theme sometime? The very thought would turn purist like John Pastor upside down. It's like getting your antique marble collection from Walmart!

Chuck and I struggled to find a theme for October, and we finally decided it will be all about those "MOST UNUSUAL" items you found, either digging or at a sale. It need not be glass. It can be a Halloween collectable as well. I know both Chuck and Eddie have a couple interesting items from ancient Egypt!
---
The following is information I took from a bottle Vince brought in with a full label to the last September 2013 meeting. (one year ago)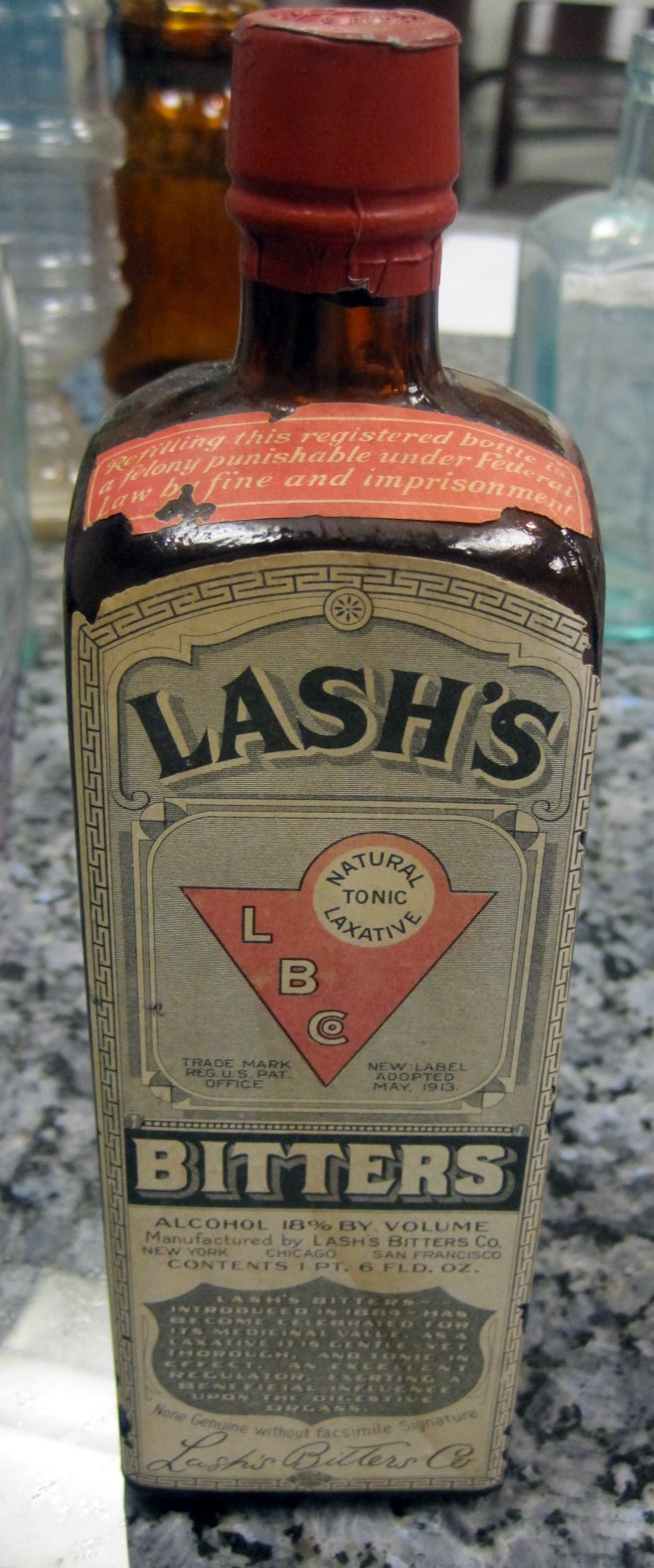 ---
LASH'S BITTERS
Introduced in 1884, has become celebrated for its medicinal value.
As a laxative it is gentle-- yet through. As a tonic in effect an excellent regulator, exerting a beneficial influence upon the digestive organs.
---
LASH'S
The ORIGINAL
Tonic Laxative
BITTERS
---
<>Known and used for over 30 years in Constipation, Biliousness, Indigestion, Headaches, and Loss of Appetite, arising from imperfect digestion or inactive liver or bowels.
<>

<>
CONSTIPATION: It is especially recommended in chronic constipation, because the system does not become habituated to its use. The most obstinate cases yield to its influence.

THE ACTION: of Lash's Bitters is gentle but sure, and its tonic properties prevent the disagreeable and weakening after effects which usually accompany the use of common physics and cathartics. A medicine - not a beverage. Women as well as men find it invaluable.

DIRECTIONS

A half small glassful

(three or 4 tablespoonfuls)

Increase or decrease as required.

NOTE- The best results are obtained if taken before meals, or upon retiring at night--- although it may be taken at any time.
---
---
THE SUCCESS AND POPULARITY OF LASH'S BITTERS HAS BROUGHT MANY IMITATIONS! TO PROTECT PURCHASERS THE LABEL OF THIS GENUINE LASH'S HAS A FACSIMILE SIGNATURE. TO COUNTERFEIT SIGNATURE IS A FELONY
---
---
---
Pier Cove Michigan
As many of you know one of my interests is Great Lakes History. That combined with my love for metal detecting, and bottle digging, has resulted in one of my favorite things to do, research!
Have you ever drove south of Saugatuck on Lakeshore Drive and seen the State Historic Plaque at Pier Cove? If you do stop to check it out, there is a long stairway down to the beach. Standing on top of the stairs, with the water cleared up, thanks to the Zebra Mussels (which were going to kill us all off) You can see the remains of the old giant pier in the lake bed.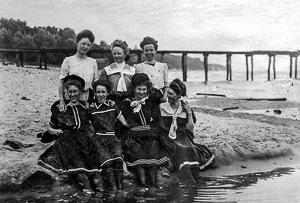 Pier Cove was originally called 'Cover,' and was built around an early pre-Civil War water wheel sawmill, erected in 1846. Two large loading piers were built out into the lake. These piers were huge! And they were strong enough to withstand the winter ice movement!
To give you some idea of the size of these piers. Two large teams of horses could haul large loads of lumber 200 yards out and have plenty of room to turn around with the heavy wagons! I would love to have seen that! Better still, I would have loved to work with the guys who built it!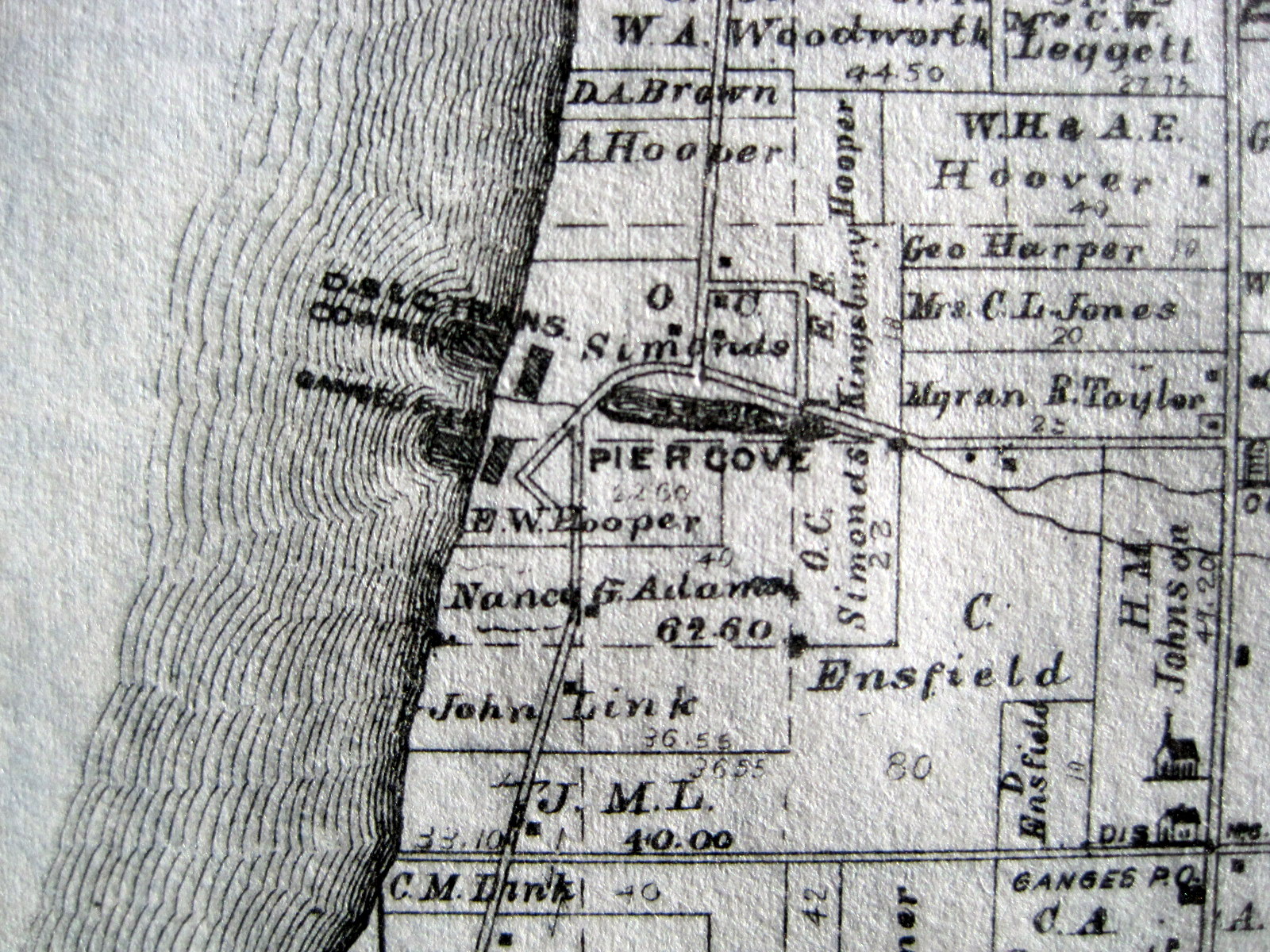 Pier Cove would have been the regular stop for those awesome old three- masted, Great Lakes Lumber Hookers. They were called lumber hookers because like some of the ladies, they followed the work . . . or the lumber jacks. (I'm just telling you) Much of the lumber was hauled into Chicago and shipped west by rail. That's right, cities like Tombstone were built with Allegan County Michigan lumber!
The only recorded accident that I could find at the pier was when a team of two horses backed off into the lake with the wagon. Somehow one horse was killed and the other horse was able to make it to shore dragging his mate and the wagon.
By the start of the Civil War, Pier Cove had 40 homes and their own post office. They had two churches, grist mill, school, general store, tannery, hotel, cabinet shop, and of course two saloons.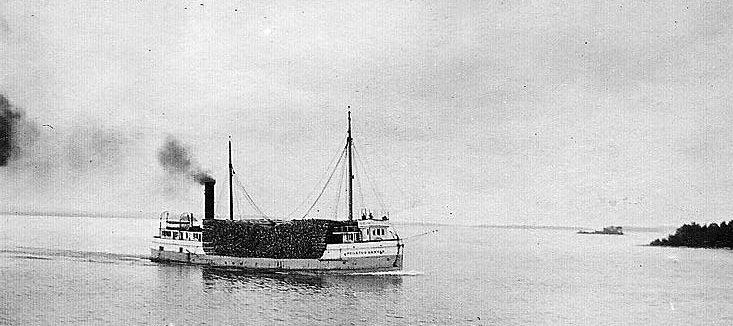 As late as World War I lake steamers out of Chicago stopped in with loads of tourists. The town actually ended before the lumber played out. The downfall was caused by the location of the new railroad which still runs through Fennville. Decisions made to locate rail tracks changed many lives across our country. All that remains today of the old town are three original houses. Of course my research dates back to the 1960's so that may have changed by now as well.
---
The Kalamazoo Antique Bottle Club
meets at:
The Kalamazoo Library
315 South Rose St.
Kalamazoo MI 49007

We meet on the third floor in the conference room.
This meeting is Tuesday, October 14th. Meeting starts at 7:00
For questions. . .

e-mail prostock@net-link.net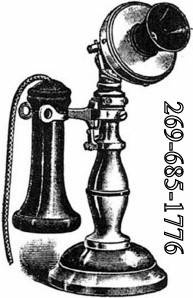 Or call 269-685-1776