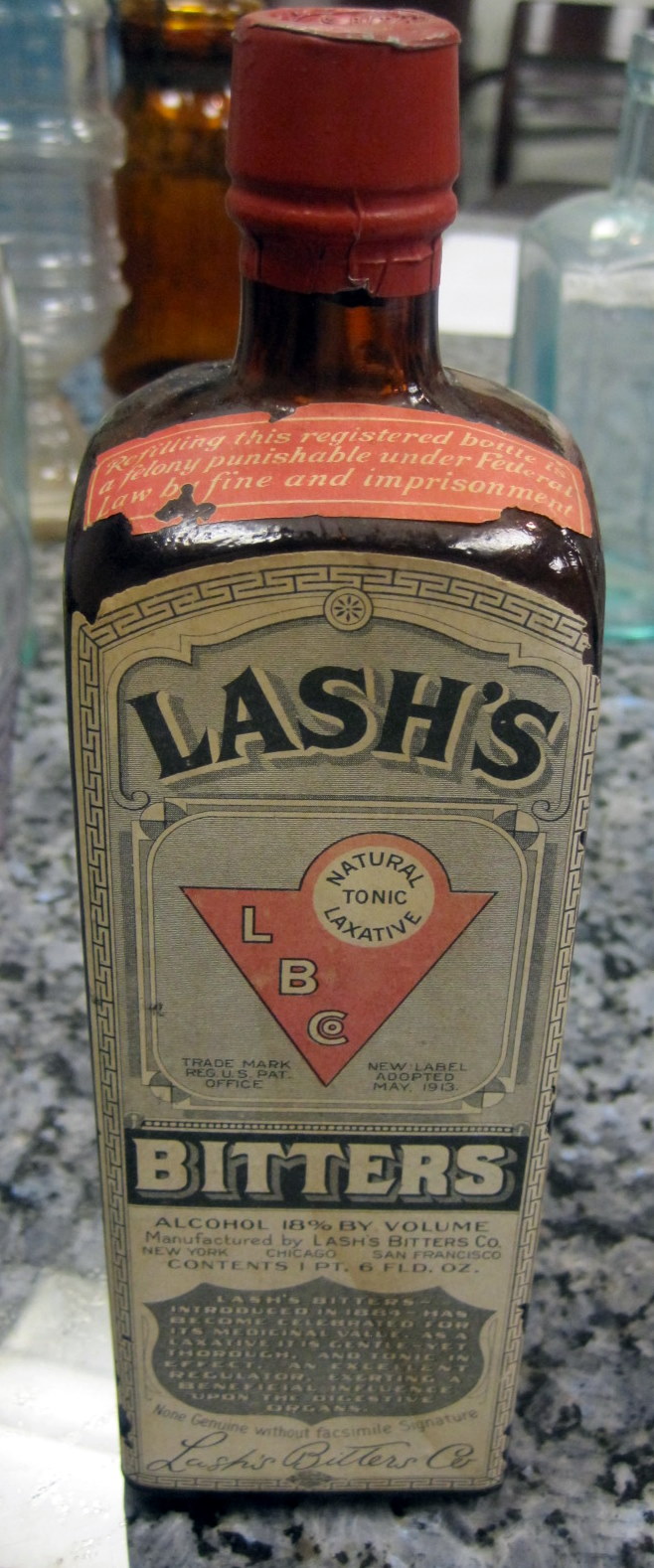 OK, moving right along, Vince was showing off a beautiful LASH'S BITTERS bottle with 99.0% full label, both front and back! It was complete, factory sealed, with full contents!
Here is some of the label information . . . .
---
LASH'S BITTERS
Introduced in 1884, has become celebrated for its medicinal value.
As a laxative it is gentle-- yet through. As a tonic in effect an excellent regulator, exerting a beneficial influence upon the digestive organs.
---
LASH'S
The ORIGINAL
Tonic Laxative
BITTERS
---
Known and used for over 30 years in Constipation, Biliousness, Indigestion, Headaches, and Loss of Appetite, arising from imperfect digestion or inactive liver or bowels.
CONSTIPATION: It is especially recommended in chronic constipation, because the system does not become habituated to its use. The most obstinate cases yield to its influence.
THE ACTION: of Lash's Bitters is gentle but sure, and its tonic properties prevent the disagreeable and weakening after effects which usually accompany the use of common physics and cathartics. A medicine - not a beverage. Women as well as men find it invaluable.
DIRECTIONS
A half small glassful
(three or 4 tablespoonfuls)
Increase or decrease as required.
NOTE- The best results are obtained if taken before meals, or upon retiring at night--- although it may be taken at any time.
---
My photo did not capture the text under

"Warning"

very well. But, it was not what we would expect to see today, not in this life where we have a lawyer under every rock! Instead of a long list of side effects, which one would expect to see, the warning is:
---
"Warning"
THE SUCCESS AND POPULARITY OF LASH'S BITTERS HAS BROUGHT MANY IMITATIONS! TO PROTECT PURCHASERS THE LABEL OF THIS GENUINE LASH'S HAS A FACSIMILE SIGNATURE. TO COUNTERFEIT SIGNATURE IS A FELONY
---

That wasn't everything that Vince showed us! The last bottle was a very beautiful
FIGURAL BEAR LIQUOR BOTTLE
in a deep amber nearly black glass. A little online research shows that the bottle is very likely German from around 1900 made by Carl Mampe from Berlin Germany. I also found that they were made in milk glass. I also learned that figural bear bottles have a big following! This version is no doubt the most detailed variety out there! I love the figural bottle category!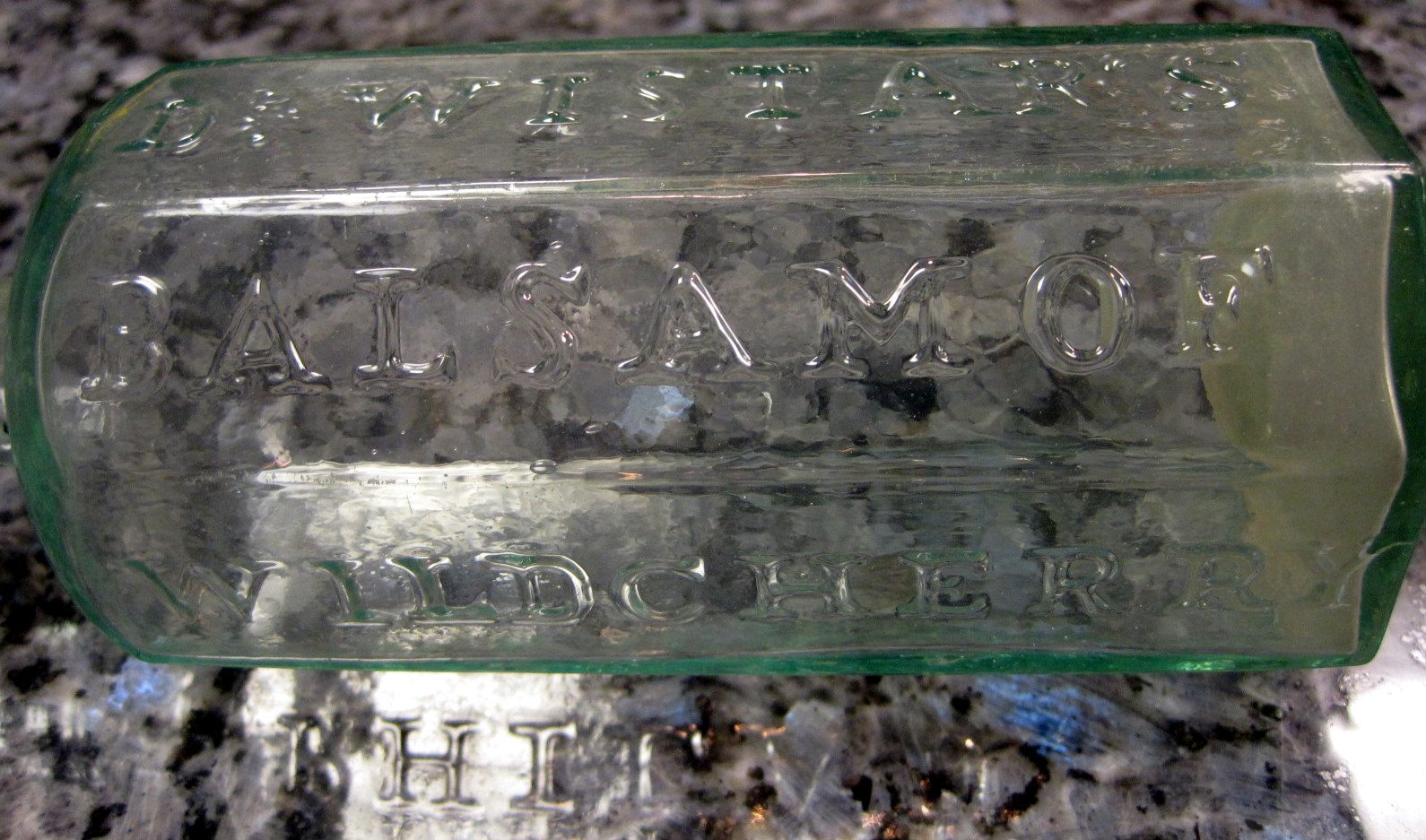 Of course Scott always shows up with some great recent digs! Here is where the ownership line gets blurred for me. The next bottle was an attic-mint open-pontiled bottle that could have belonged to Vince or Scott. It is a beautiful early DR. WISTAR'S BALSAM OF WILD CHERRY. It is in a soothing aqua color with just the amount of early hand-finished crudeness that is classic for the period!
Another bottle that Scott dug was an open-pontil six- panel, aqua, HUNT'S LINIMENT, from Sing Sing, New York! And we also saw an open-pontil C.E. STANTON aqua medicine bottle.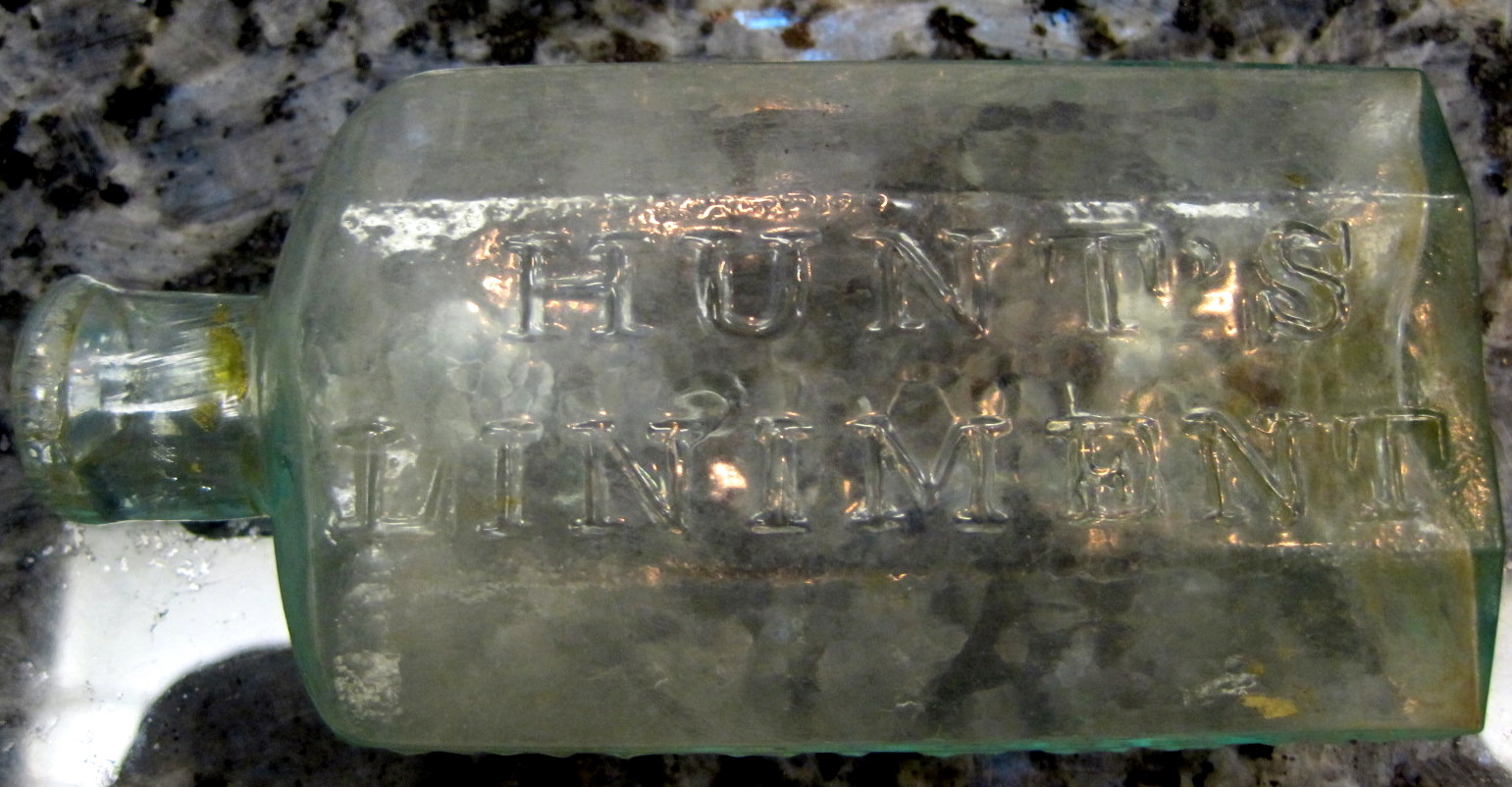 Next, Scott had a beautiful historic flask that he acquired from Mark McNee. As I recall Mark had Scott do some garage door repair for him and Scott was paid with a very cool bottle! Don't you just love old fashioned bartering!
The flask is an aqua "FOR PIKES PEAK" flask which depicts a gold seeker walking with a Bindle Stick. It is not often in the antique bottle hobby where I know a little something about the subject. Checking on the glass experts explanation of the image on this bottle,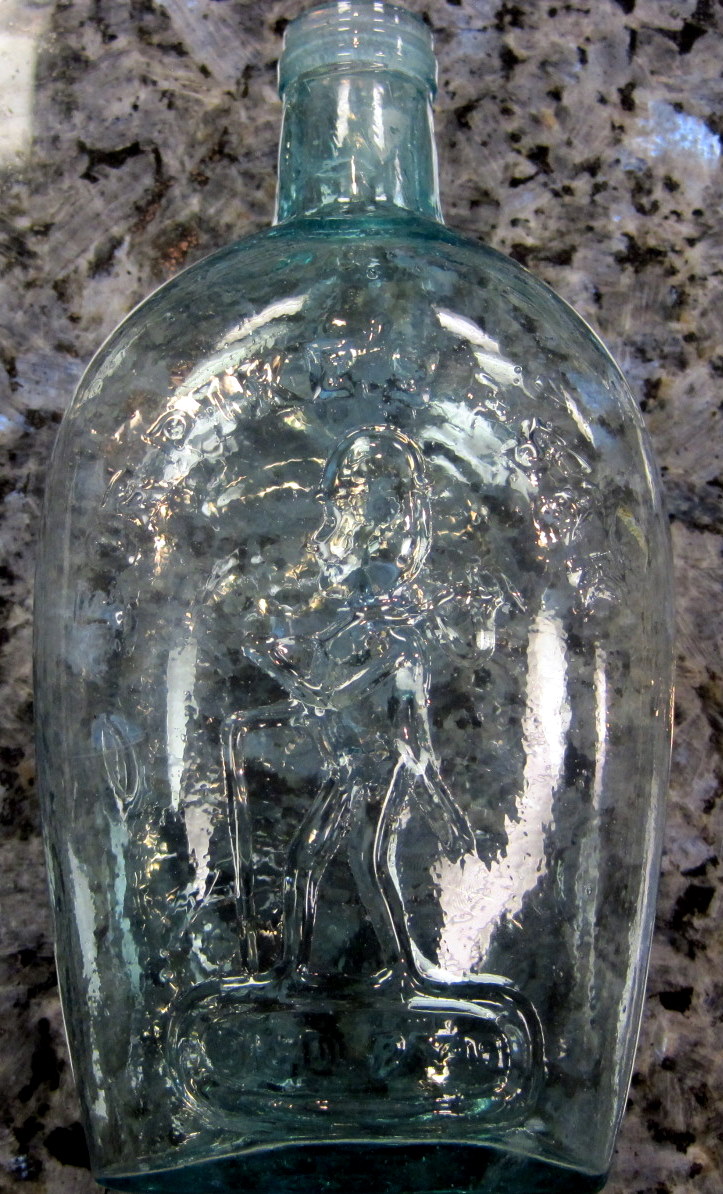 they very often missed the mark. Prospecting is part of my job! The bottle was designed to commemorate a very important time in our nations gold prospecting history.
Between the California gold rush of the "Miner 49'er" era, (from the era of " Oh my darling, oh my darling, Oh my darling, Clementine! Thou art lost and gone forever . . .dreadful sorry, Clementine) and, before the era of "Yukon Gold," was the boom in gold prospecting and mining in the Pike's Peak Country which began in July 1858 and lasted until roughly the creation of the Colorado Territory in 1861.
Nearly 100,000 gold seekers took part in one of the greatest gold rush in North American history. These gold rush participants were known as "Fifty-Niners," 1859 was the peak of the rush and the phrase of that day was "Pike's Peak or Bust!"
As a boy growing up in the 1960's, and a student of auto racing, Pike's Peak was the ultimate Hot Rodding challenge as well!
OK, we are not done with the cool list of bottles that Scott brought in to share with us. Scott had been on a dig earlier this summer when he unearthed an early wax-seal canning jar, that saddly came from the pit broken. He was very disappointed! Of all the different types of bottles he has dug, an early wax-sealer seemed to be alluding him.
Finally, and just before the meeting, he scored a beauty! This early free blown bottle has character from top to bottom! It has all the seed bubbles and a deep wax trough that is just shouting pre-Civil War!
Other bottles Scott had were two Kalamazoo drug store bottles. COLMAN'S DRUG STORE, KALAMAZOO, MICH. Also he dug a GEORGE MCDONALD DRUGGIST, KALAMAZOO, MICH. Another neat bottle was an early
L. PERRIGO CO. MANUFACTURING CHEMISTS, ALLEGAN,MICH.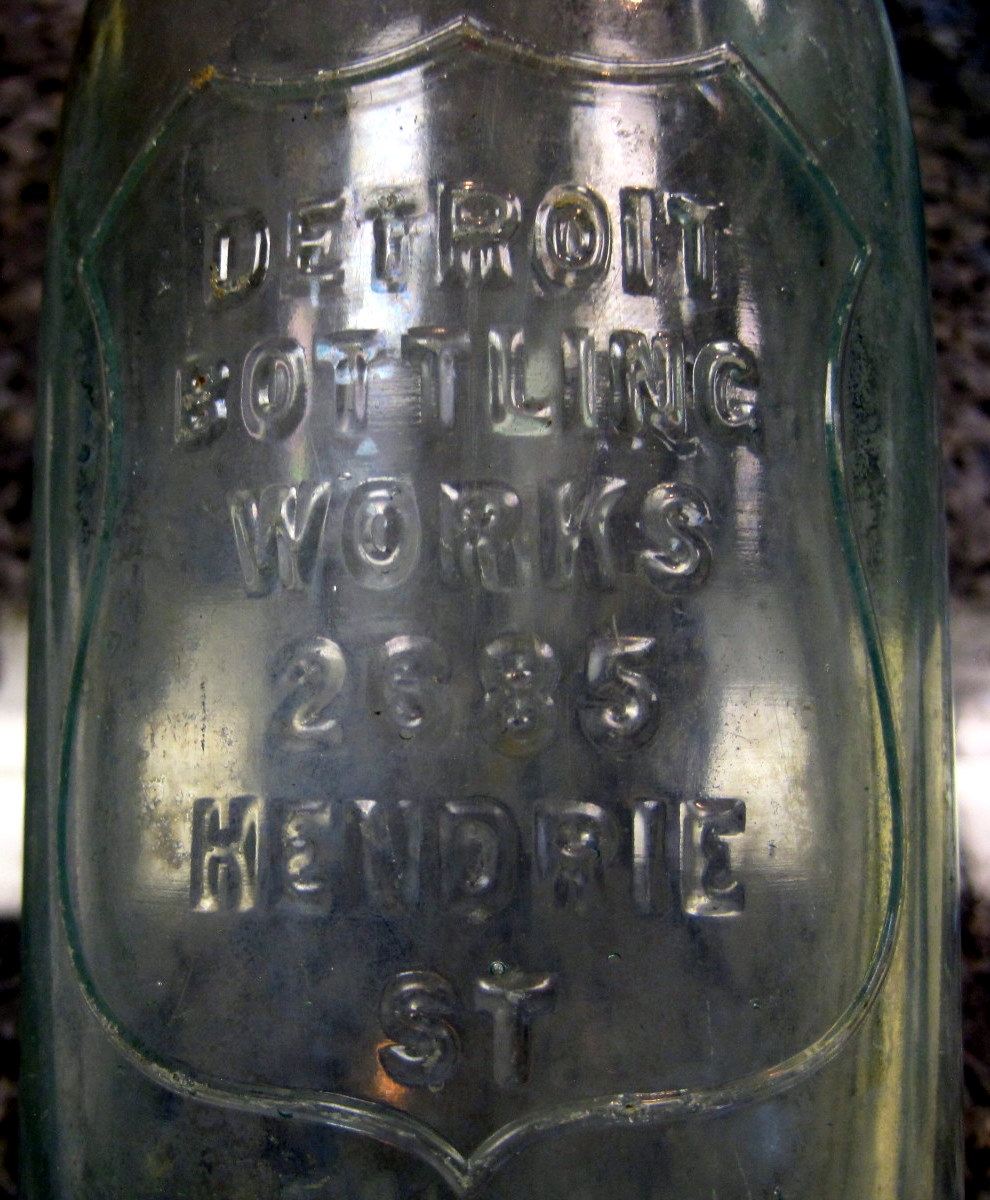 Another bottle Scott dug has a really cool old "Shield Design." I have a whale-oil lamp that I restored with a stars-and-bars design within a shield in the glass lamp-oil globe that is one of my most prized possessions! Scott dug a one-quart aqua blob-top beer bottle with a slug plate that is a shield design. The bottle is embossed DETROIT BOTTLING WORKS, 2685 HENDRIE STREET.
Just for fun I did a Google search on that Detroit address. Today it is an empty lot strewn with old tires and other trash. Right next to it is a vacant building that is falling apart. What a sad story is the city of Detroit today.
One of my favorite of all of Scott's bottles is a bottle that looks the exact same way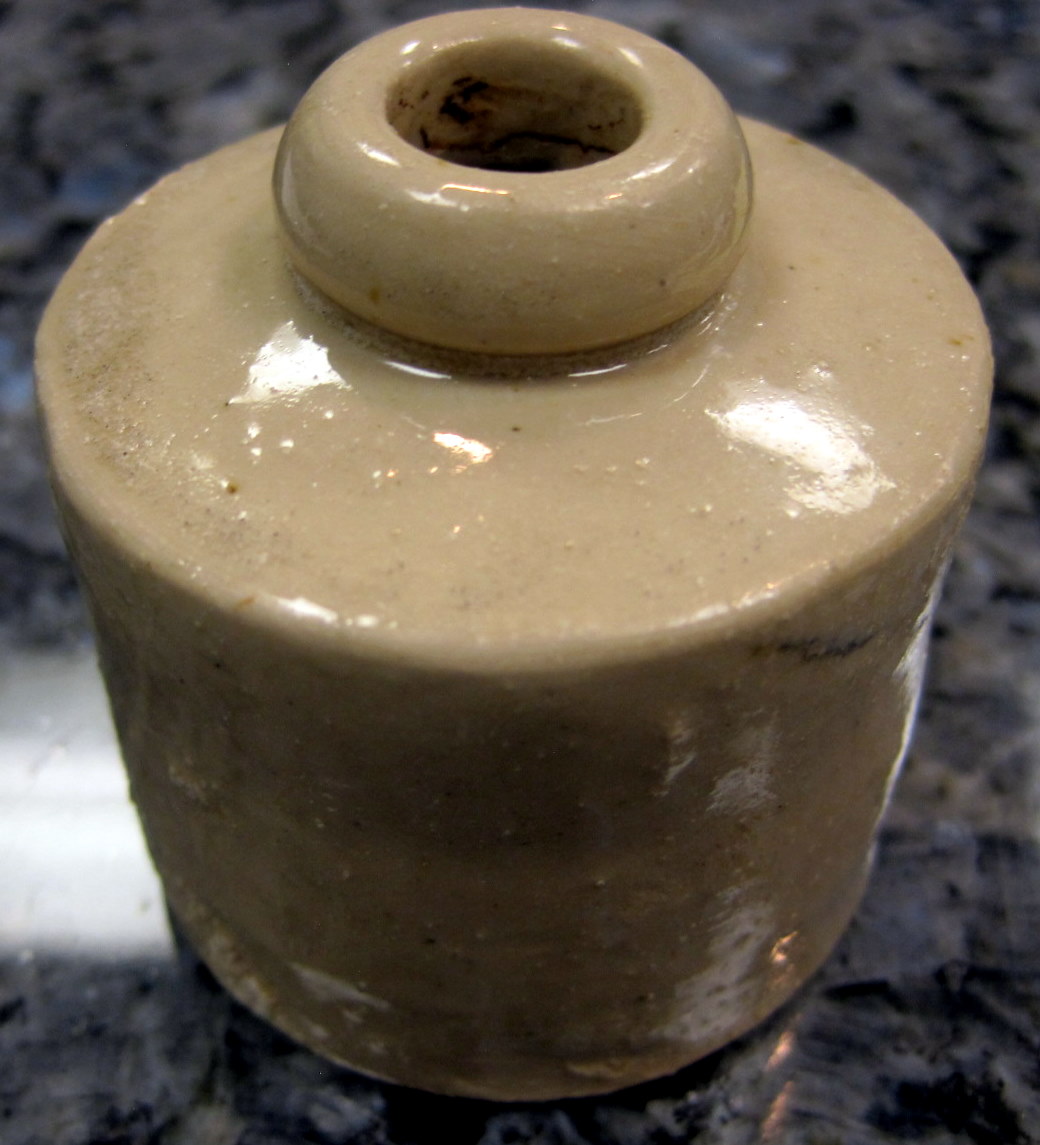 in all three of my photos! It is a light cream-color salt-glaze stoneware ink bottle. This little bottle is just as cute as it can be! It is only 2 inches tall and 2 inches in diameter. The top is a little tube-shaped ring, and the little clay ink is just as perfect as they come.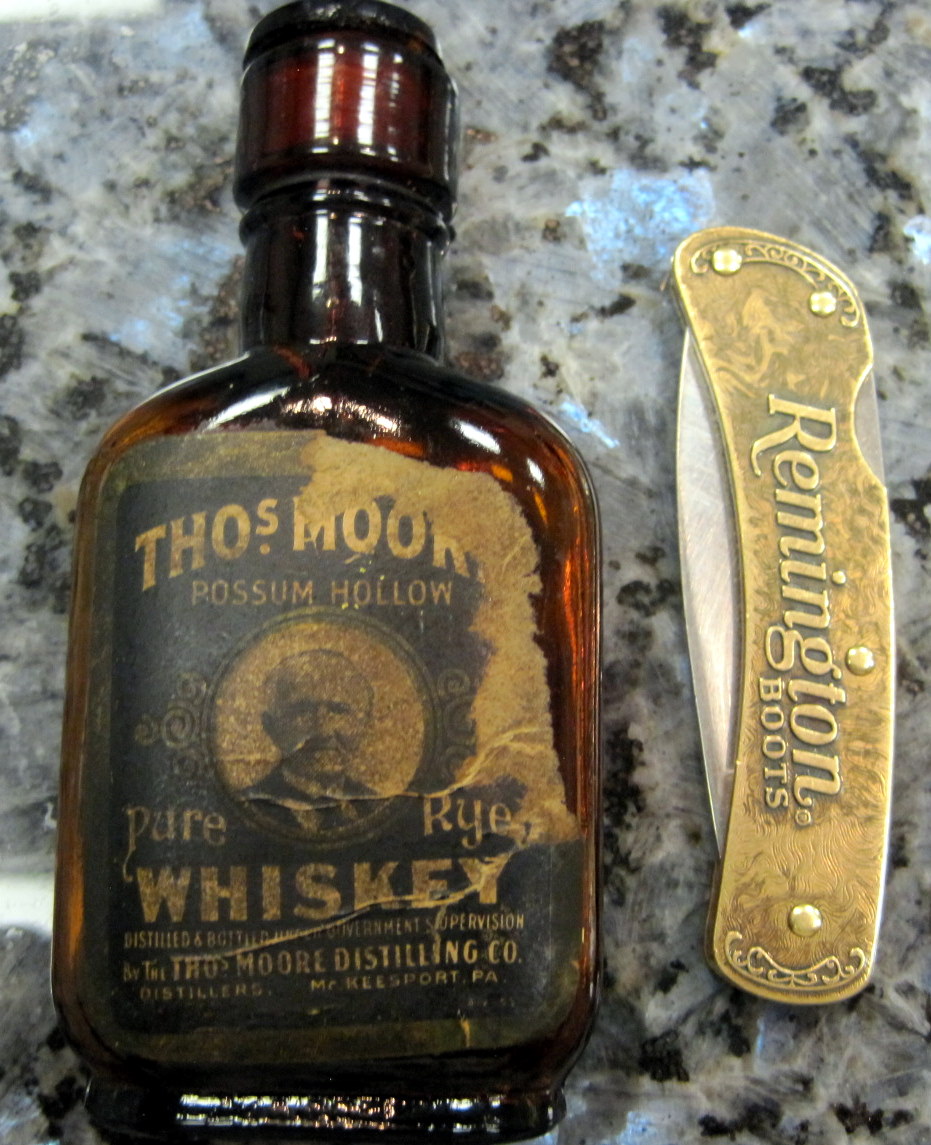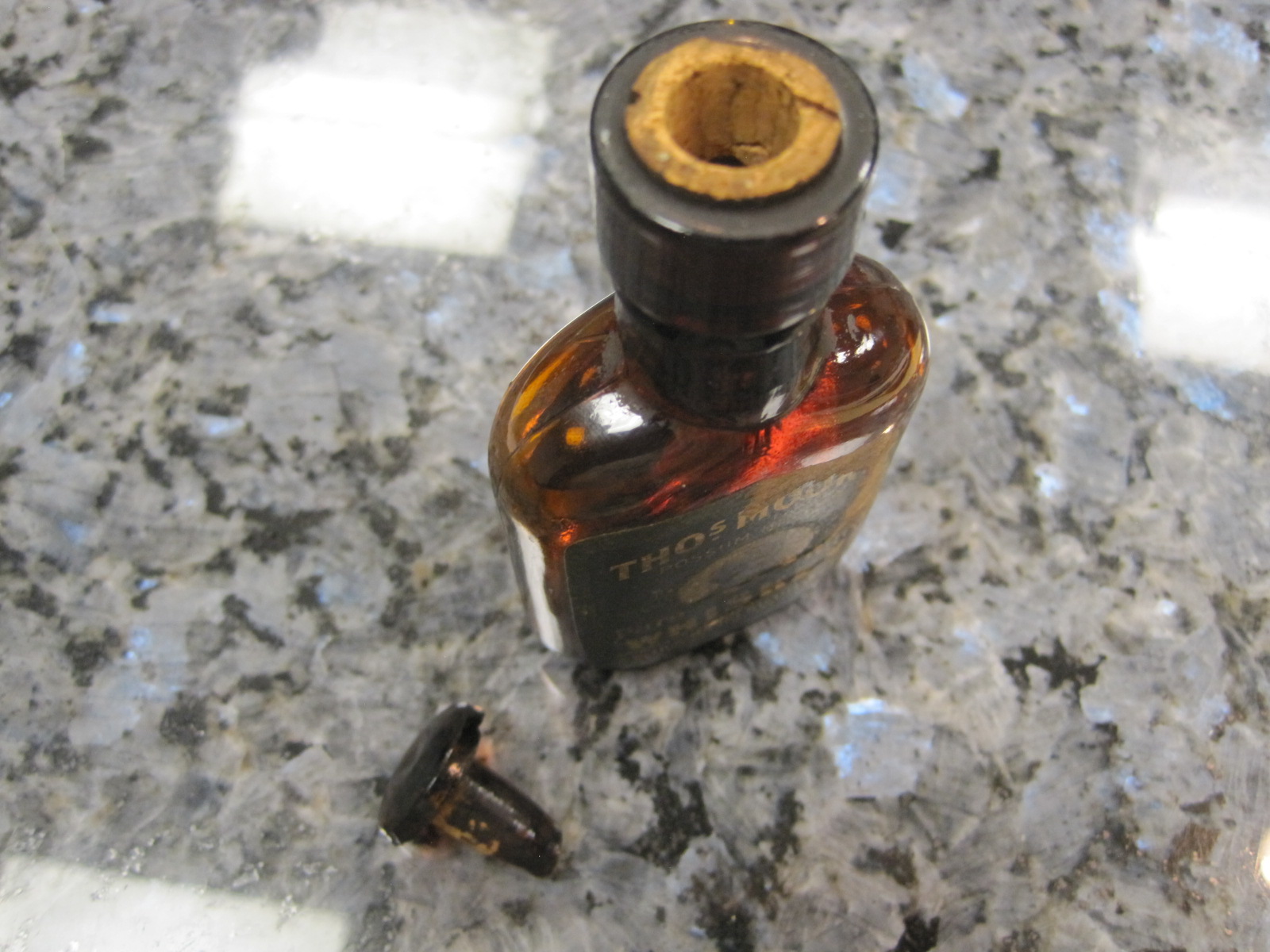 The next bottle was just- as-cool as any antique bottle can be if you ask me! I must have something Scott needs for his metal detector?
This bottle is a whiskey sampler bottle that is about 3-½ inches tall with full label, both front and back. The bottle is in a honey amber color with a glass stopper that fits into a little fitted cork sleeve in the neck. Very cool!
The bottle is from the:
---
THO's MOORE DISTILLING COMPANY.
POSSUM HOLLOW PURE RYE WHISKEY
DISTILLED AND BOTTLES UNDER GOVERNMENT SUPERVISION!.
---
Well, I guess that dates it, does it not! When was the last time people found government supervision to be reassuring?
The back of the bottle has a round label that reads:
---
This bottle has been filled and stamped under the provisions of the act of congress approved march, 3rd 1897 entittled "An Act To Allow the Bottling of Distilled Spirits in Bond."

CAUTION NOTICE
Any person who shall reuse this bottle for the purpose of containing distilled spirits without removing and distroying the stamp affixed to this bottle, or shall reuse the stamp affixed to this bottle, will be liable for each such offence to a fine of not less than one hundred nor more than one thousand dollars and to imprisonment for not more than 2 years.
---
This Month
UPDATE, not in the hard copy. Chuck suggested a contest for the largest antique bottle at the meeting! OK, not my idea! I have a Chicago Demijohn that I am not going to carry half-a-block or go up three flights of stairs! I think the prize is cash, but it is like the Democrat's Health-Care-Bill, if you want to know what's in it, you have to enter!
The word is out, the United States Postal Service is looking to get another 3 cents for a stamp . . . it makes me angry. In the private sector, if business is slow, you have a sale. In the government, if business is bad you raise the price. Then, you sit back and wonder, "why is business bad?" Without getting into the morbid details, the same policy that is killing the postal service is the thing that has left Detroit in crumbling ruins.
OK, it is only 3 cents. The problem is, it has reached the point where every 2 newsletters we mail out cost a dollar! Maybe I have to get with the times, I'm still living in the 19 cent per-gallon gas era. I need to go back to my grandfather's formula to figure the true value of the dollar which means the 49 cent stamp is still only 12 cents! Well, maybe we need to talk about this topic.
As near as I can recall nobody mentioned a theme for this month's meeting. How about anything with a fall or spooky Halloween theme? Be sure to bring in your latest treasures. See you Tuesday!
---
The Kalamazoo Antique Bottle Club meets at the Kalamazoo Library
315 South Rose Street.
We meet on the third floor in the conference room. This meeting is Tuesday, October 8th. Meeting starts at 7:00 pm.
For questions
Or call 269-685-1776

If you do enjoy reading the online newsletter, please click the e-mail link and let me know. It is a lot of work and sometimes I feel like I am shooting them into cyberspace never to be seen again. Thanks! Al