Last Meeting

We had a lot of fun at our last meeting! The following group of people are my key witnesses to that fact!

I call to the stand: Vince Grossi, Elmer Ogg, Roger Denslow, Mary Hamilton, Gordon Hubenet, Bill Drake, Ron Smith, John Winkler, Steve DeBoode, Kevin Seigfried, Scott Hendrichsen, Chuck Parker, Ed Nickerson, Paula Taylor and Al Holden.

Of course, our two lovely Western Students were out of town for the summer. Also, we all missed Dee Cole, who was under the weather on that night, but doing much better now.

The highlight of our meeting was a presentation by Gordon Hubenet about Hasting's Michigan's patent medicine founder and bottler, Dr. Mixer. The product was sold as Mixer's Cancer & Scrofula Syrup.

The amount of work Gordy has put into his research of the great Dr. Mixer is truly amazing!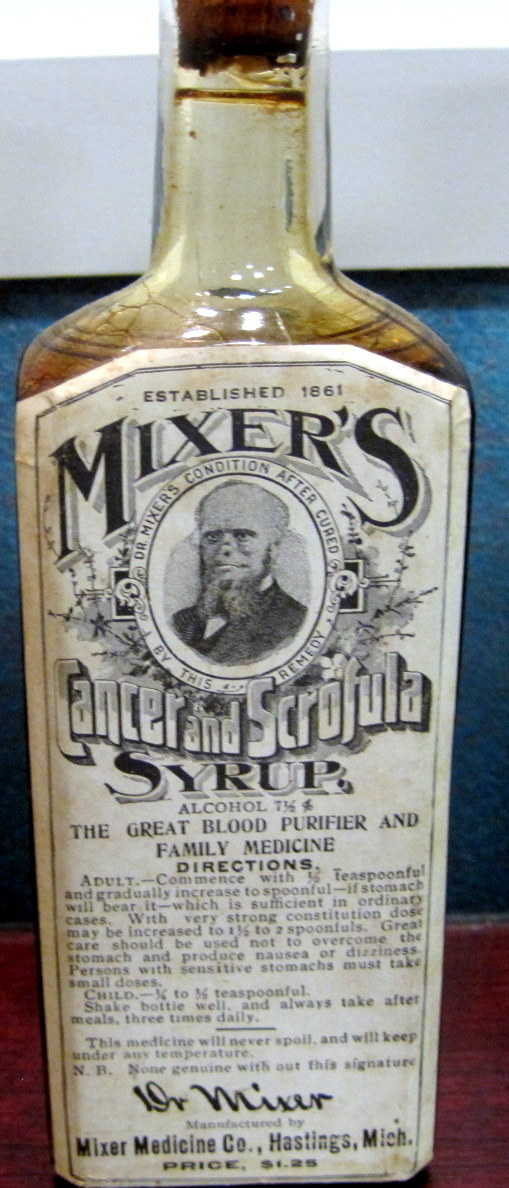 The whole idea of Gordy offering to present his program, and share his Dr. Mixer's collection, started when Chuck Parker brought in several of his beautiful collection of labeled bottles with contents, which included a Dr. Mixer bottle.
Gordy heard about Chuck's bottle, and at the West Michigan Antique Bottle Club meeting, he offered to make his presentation to our Kalamazoo Antique Bottle Club.
Gordy spent a good deal of time providing a most interesting presentation, and frankly everyone was glued to his every word. . . it was great!
As was usually the case, Dr. Mixer was a first class charlatan who was doing his best to capitalize on his own physical misfortunes.
Dr Mixer actually had a disfiguring disease and he built on that! That is when the lies started to pile up! First of all, he claimed that he was a doctor. Second; he claimed to have created a cure for his ailment. And lastly, he was busy trying to sell his "VERY SINCERE" desire help any poor soul would send in their dollar!
Gordy passed each club member copies of a collection of Dr. Mixer promotional ads. One of the booklets Dr Mixer would send, by request, was a collection of free testimonials. That booklet closed with the following plea:
"Do you wish to do a Christian act?
If so, after you have read this booklet and profited by it, send or give it to some person who is afflicted, that they too may be cured. Or send us their name and address so that we can write to them."
For the longest time I have wanted to put together a medicine show pitch. I think that would be an awesome thing to present on the stage at our Kalamazoo show! Gordy's program gives me some neat ideas! This whole Dr. Mixer program was pretty inspirational!
We had great fun at the last meeting and yes we saw some awesome bottles! Gordy displayed an amazing collection of Dr Mixer bottles, many with full labels and original contents!
We are talking about a real cancer cure here folks!
Steve DeBoode had a beautiful cobalt blue City Bottling Works Seltzer Bottle with the original nozzle.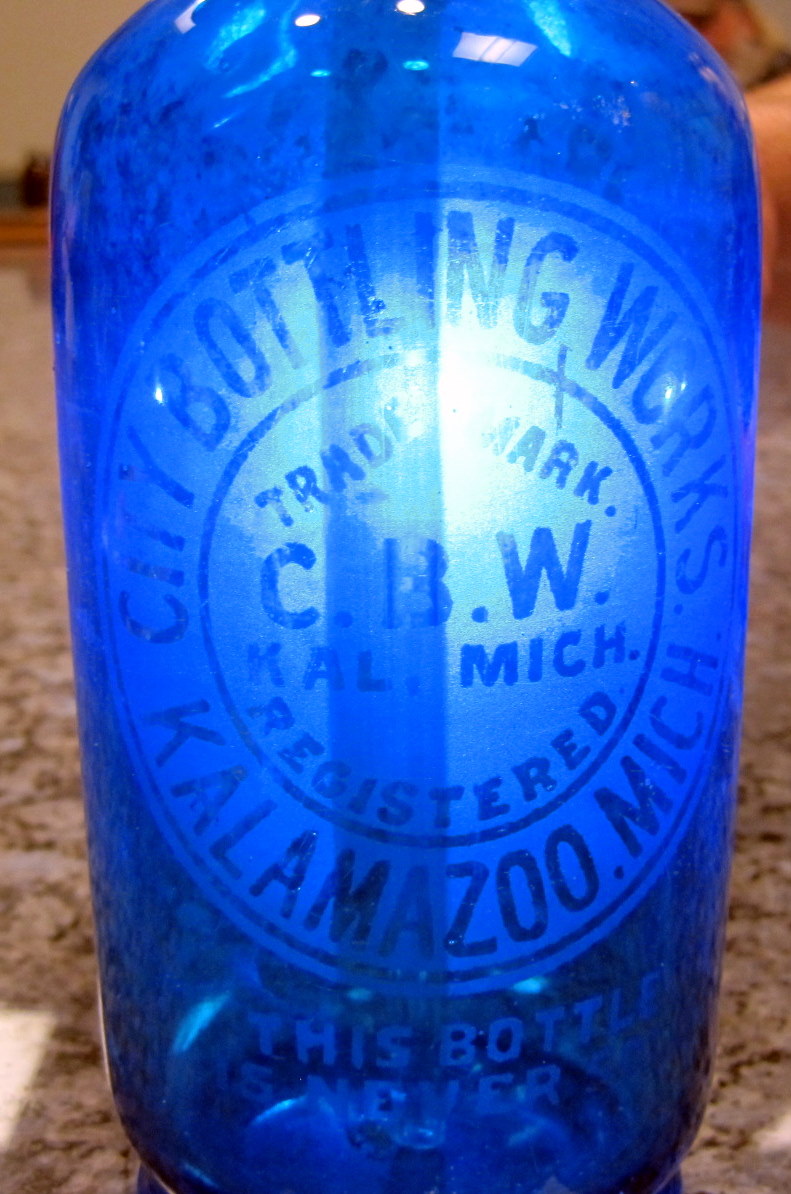 Siphon-style seltzer bottles are still used for dispensing carbonated or soda water and they actually date back as early as 1790! The concept of "aerosol propellent" was a French idea with self- pressurized carbonated beverages. Did you know that some mineral waters are naturally carbonated?
As far as this style of man-made carbonation, the modern syphon was created in 1829, when two Frenchmen patented a hollow corkscrew which could be inserted into a soda bottle and, by use of a valve, allowed a portion of the contents to be dispensed while maintaining the pressure on the inside of the bottle . . . preventing the remaining soda from going flat.
I love to drink seltzer water or club soda. It has 0 calories and no caffeine. It is great for settling your stomach and it is not unusual anymore to find it available as a beverage in many restaurants. At home, my wife gave me a Soda Stream system and I just use it to carbonate water without flavoring. I love it!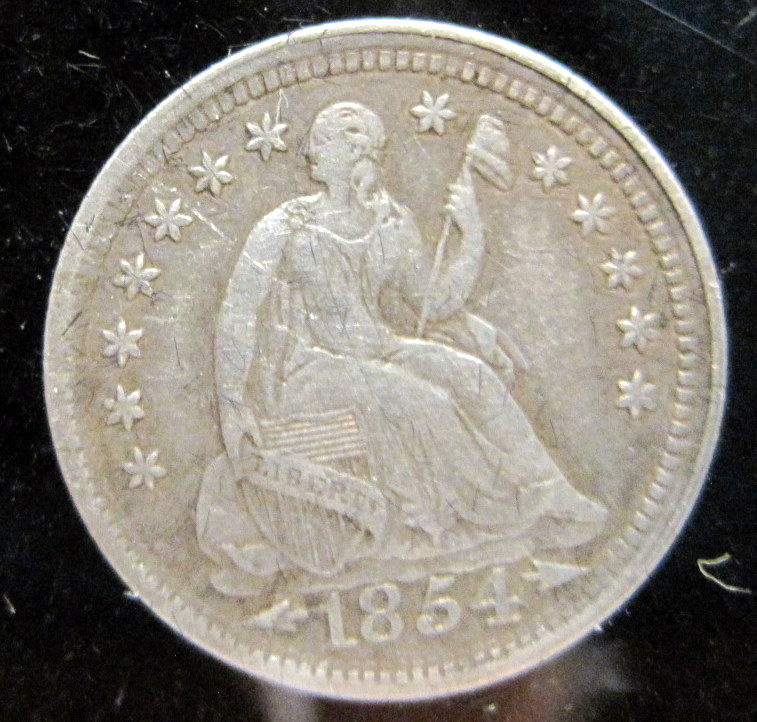 Scott Hendrichsen had an amazing collection of really cool stuff on display! The first item that I will mention was located with his new metal detector! It is a beautiful 1854 Seated Liberty Half Dime! That is about as cool as it gets for metal detecting if you ask me. It is not a super rare date but what a metal detecting trophy! Scott's coin is in at least VF condition . . . gotta love it! The U.S. Half Dime to dig is the 1802, in VF that tiny coin is about $80,000! That is the neat thing about digging treasure, be-it-bottles-or-coins! What will surface on the next dig?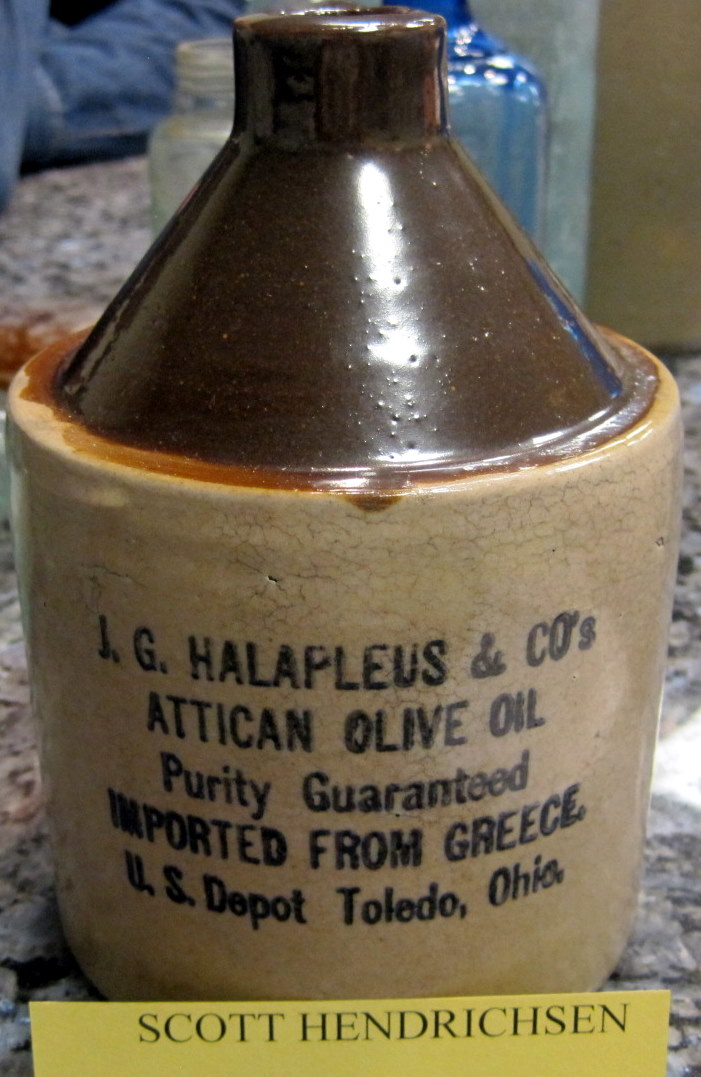 Scott had a number of cool bottles as well! One was a very sweet open pontil JOHN BULL'S KING OF PAIN, LOUISVILLE KY.
I found an advertising poster online for John Bull's where it was trumpeted:
"The Mighty Conqueror of That Fell Destroyer of Human Life,
Asiatic Cholera."
Most passengers sailing on ships arriving from Europe in the late 1850's were all ordered to take John Bull's great elixir!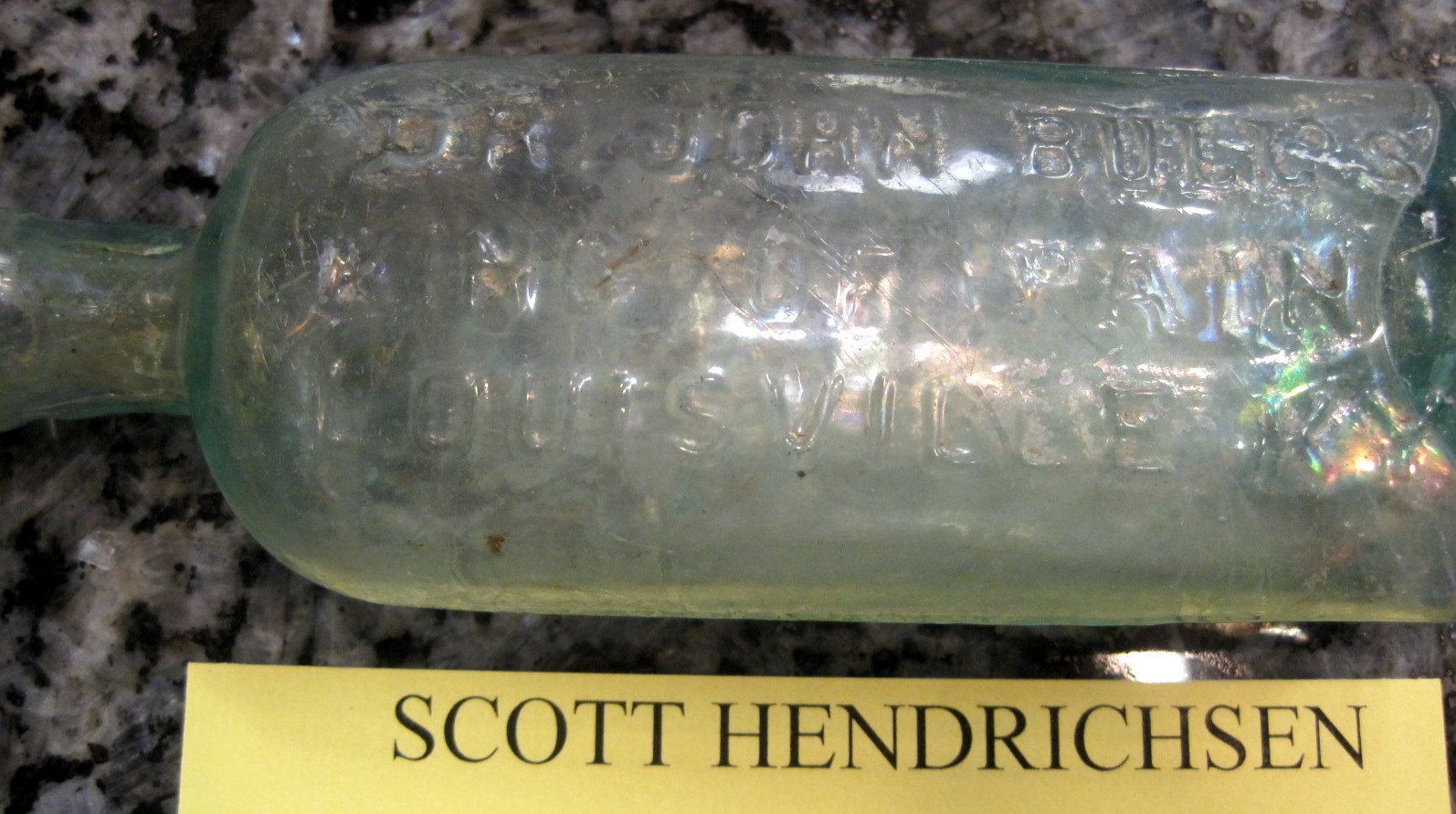 Another one of Scott's several bottles was an aqua whiskey flask "TRAVELER'S COMPANION."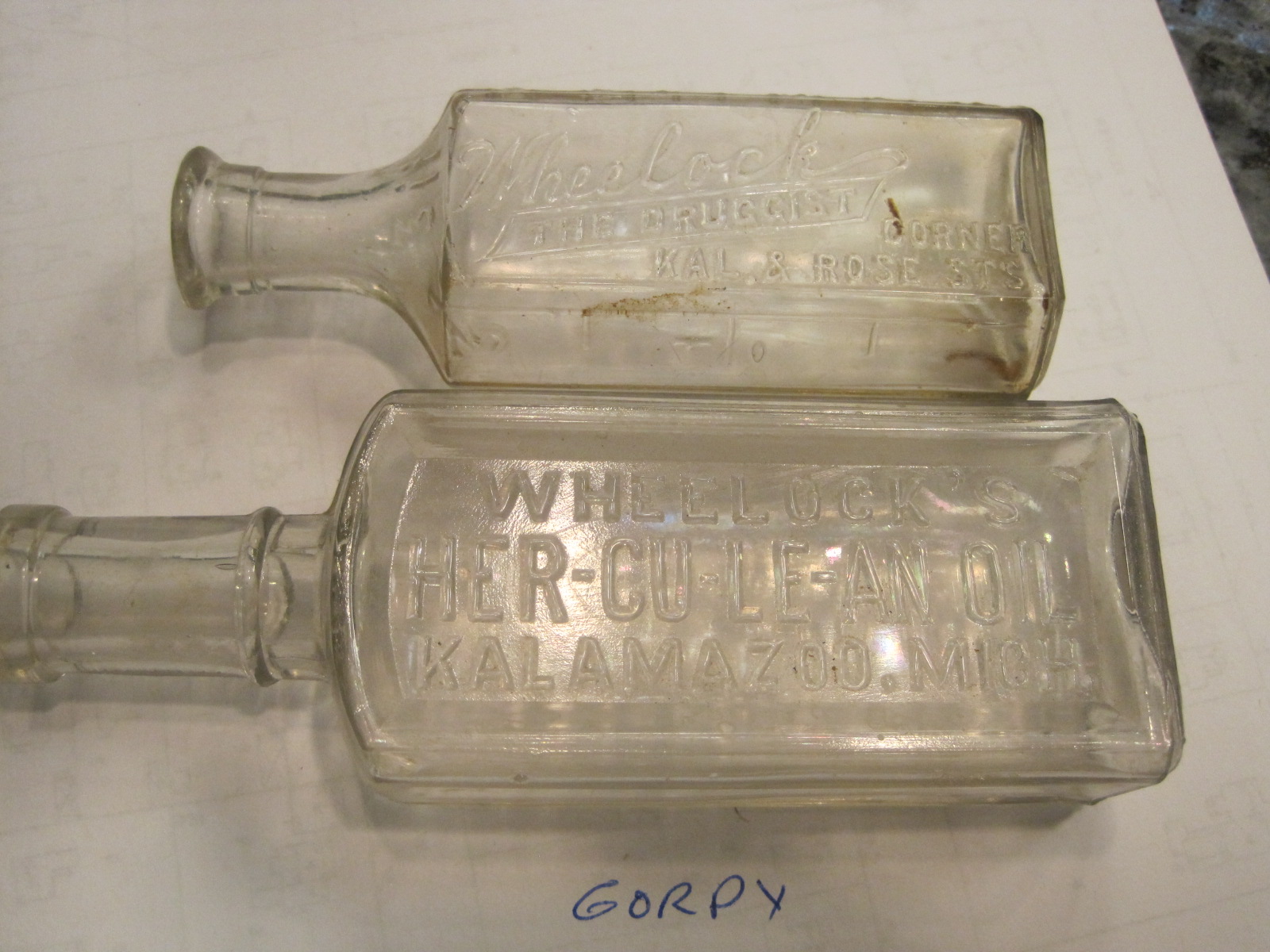 Gordy Hubenet had a very cool Kalamazoo bottle. It was a Wheelock's HER-CU-LE-AN OIL! He also had a Wheelock's Druggist bottle from Kalamazoo & Rose Street, Kalamazoo MI.

Paula Taylor was a guest at our meeting. Paula contacted me by e-mail through a link on the


club's web page. She asked about some dairy bottles she had recently picked up at a garage sale. Not knowing enough about dairy bottles myself, I put the question to the club expert Steve DeBoode. Steve seemed to think some of the bottles were good and one was at least borderline great!
So I reported back to Paula that she had at least a couple good of ones and she wanted to know if someone wanted to buy them? That is when I invited her to the meeting. After the group took turns explaining what each member brought to the meeting, I asked Steve to comment on Paula's bottles.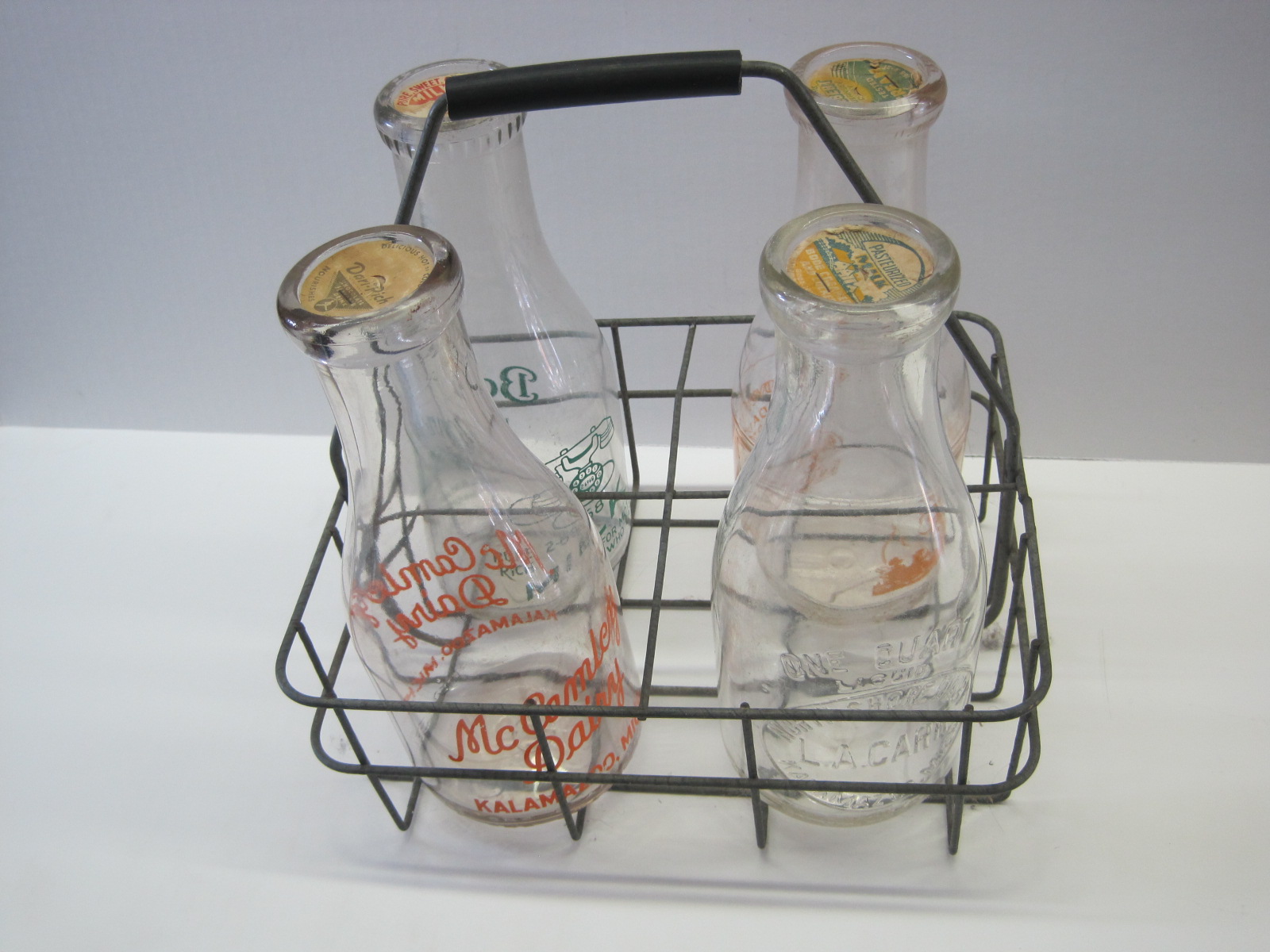 Steve spoke about each one and even explained that one of the bottles was a variety that is very rare! Then he spoke of the times when he could recall that one bottle would sell for hundreds of dollars!
Then came the rest of the story. Steve told us that the guys who made up that group of big spenders when it came to Kalamazoo (or even Michigan) dairy bottles had all passed on to the pearly gates! The big prices were no longer supported.
Not only did Paula have some super nice ACL dairy bottles from the 40's and 50's, but she even had them in a classic wire milkman's basket! I didn't see very much interest and it was looking like she was disappointed so I said, "Would you take $150.00 for everything?"
Steve spoke up and said he felt that was a very fair price in today's market, so we made a deal!
Well that was three month's ago and I have already forgotten which bottle is rare!
The dairy bottles are all 1-quart size. One has a green- colored label and it is a very familiar Bonnema Dairy bottle. It reads "Pure Rich Milk for Mothers Who Care" Phone 2-6968.
The next bottle has an orange-colored label and it is from the Kalamazoo Creamery and it is Klover Gold Buttermilk! It reads, "Sail to Health with Flake Gold Buttermilk Everyday!"
So, just what is "Flake Gold Buttermilk?" It is a rich buttermilk with tiny flakes of real butter blended in! I understand it was the cat's meow for making buttermilk biscuits and buttermilk pancakes! How about some real maple syrup with those?
How did our forefather's survive such rich and tasty foods? I put that question to my wife and she said, "They worked hard!"
The next bottle as an orange-labeled beauty, and it may be the rare one? It is a McCamley Dairy from Kalamazoo.
And the last one is an embossed slug plate-style which reads L.A. CARR, North Shore Dairy, Kalamazoo.
I checked in with Steve and he tells me the L.A. CARR bottle is the rare Kalamazoo Dairy.