Welcome Back Club Members!
Fresh Start!
Well, I suspect all of you missed me as much as I missed you? Well, maybe not. . . . .

I can tell you that you were all missed! Absence makes the heart grow fonder! Yes, summer break is over and the Kalamazoo Antique Bottle Club will soon be back in session! Schooling starts again September, 12th.
Personally, I never loved school. I didn't mind the work, even though I found most of it boring. I was very quick to raise a fuss when they were teaching something I was positive I would never, ever use in my entire life! Take for example "newsletter writing".
I remember complaining to my father about some meaningless class. Unable to defend the school for a stupid subject that I was forced to take, I can remember Dad said; "School isn't so much about teaching you a subject, it is about teaching you to think."
That is about the only thing I remember from 12 years of early education . . . and it was actually 107 seconds of home schooling!
As you can see, I didn't use the summer break to conjure up fresh newsletter ideas! I was pretty busy all summer. Unfortunately, I don't have many antique bottle experiences to share.
I do hope you had a good summer and that all is well with each of you!
As we do each year, we loaded up our classic, old, London Aire motor home and went off to the western U.P. to visit my wife's family. I so look forward to that trip each year! My mother and father-in-law are doing very well. They are approaching their 90's, as are my folks. I treasure every minute I can spend with each of them! I cannot tell you how much I hate pulling out of little Amasa to drive back home!
Our motor home is a 1984 model, built on a 1983 Ford one-ton chassis with a 460 V-8. It was a very high end motor home in 1984! I was working in the RV business back in those days. We sold similar size motor homes made by Yellowstone, Midas and Fleetwood's Jamboree.
I could sell you a fully loaded Yellowstone, which was our best line, loaded with "the works" for under $20,000.00 and a Midas fully loaded for under $14,000.00. At that time, Holland Motor Home Sales sold the 27 foot London Aire Princess for about $50,000.00 . . . that was a lot of money in 1984! Today, the same company, Newmar, still uses the "London Aire" as their flagship model, and the price range is around one million dollars!
Of course I own it by the grace of God, and as a hand-me-down, I might add! Like me, the motor home is aging.
This spring it occurred to me, 1983 is getting to be old for a Ford Chassis! So, for about 2 months before our trip, I started working hard on the old-girl! It is a good thing I did, because I found a number of items that were about ready to fail!
Usually we will drive as far as the Mackinaw Bridge on the first day, and spend that night at the Mackinac Mill Creek Campground. That is a long daytime drive in July, but the last couple years we got off to a very late start.
We got up to about Grayling when I would have to use my headlights. When the headlights come, on so do 14 clearance lights, 4 side-marker lights, two big tail lights and two big magnet-mount lights on the car that we are towing! That is a big power load on the 12 volt system!
I could drive for a half an hour with the lights on, then everything would start flashing. . . . and soon everything would go dark! Here we are, way up in the deep, dark, northwoods, miles from nowhere, when we lose "all of our lights!" Frankly, it is a frightening thing!
Upon returning from vacation after the first time that this happened, I checked all the fuses and connections . . . they were all fine. Then it occurred to me, all these lights should be hooked up in-line with a relay-type circuit breaker. Looking under the hood, and under the dash, I found six or more! Now what? Simple, I changed them all!
The next trip, in 2016, it happened again! Only this time it was during the darkest of nights, looking for our campsite! I ended up on a one-way trail, hauling a car dolly which cannot be backed up! It was so dark!!! What a mess!
I was completely puzzled by the entire problem and I didn't know where to turn.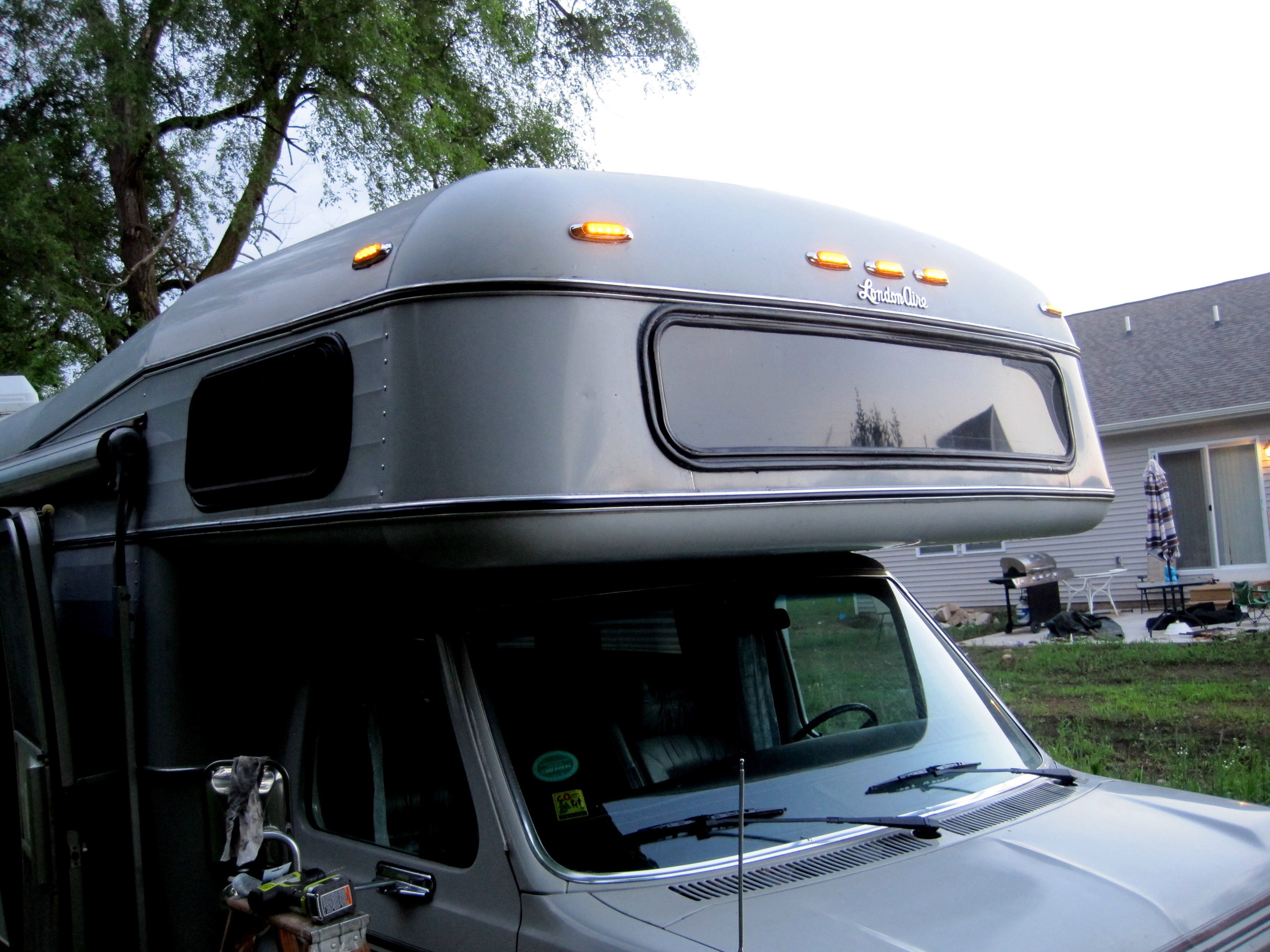 Knowing that the new L.E.D. technology has greatly advanced, and requires a fraction of the power to run, I replaced every exterior light except the headlights. I found red and amber marker lights that are a perfect match for my originals, even tail lights. I even found perfect replacements for my backup lights!
This is really a big accomplishment because London Aire (Newmar Corp) did not use conventional RV lights! Conventional RV lights are surface mount, our lights are all flush mount. The difference is that on the surface mount, the entire bulb socket assembly is recessed beneath the skin, so each light requires a large hole to cover. The new L.E.D. lights I found are for a Freightliner Truck!
They were not cheap! But I love working on the old camper almost as much as I do camping!
Before I was finished, I figured I would go all the way with the new low energy L.E.D. magnet mount towing lights to go on my little tow-behind car. I purchased them from Harbor Freight. When I plugged them in, of course they didn't work and in my head I am blaming Harbor Freight.
I got out my test light and I found I wasn't getting power to the old original trailer plug. Whenever you have a problem with a D.C. system, a good shortcut to finding a solution is making sure you have a good ground! The plug's ground looked corroded so I remounted it to clean bare metal, still no power!
Next, I started removing a mile of old, hardened electrical tape only to uncover a multitude of sins! The number of patches and splices, twist-tied wires, wire-nut splices with no matching colors . . . no question about it, I found my electrical problem. It was a total mess!
With a dozen poor connections, and nearly two dozen old incandescent bulbs, every last one of them generating heat, no wonder the breaker was popping! It was trying to save our lives!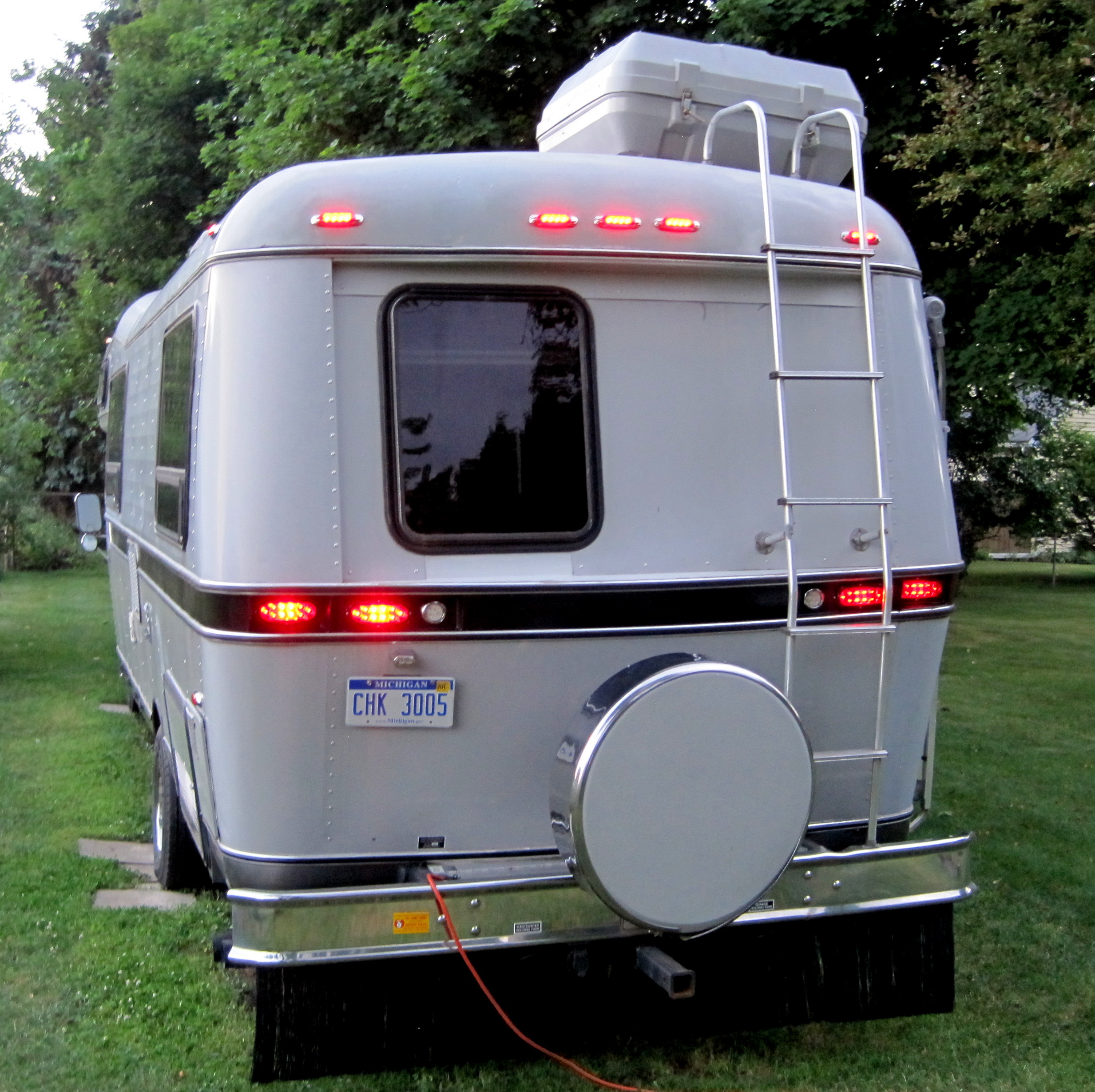 I unhooked the battery, took my wire cutters and lopped off the entire bird's nest and dropped it into the trash then started over! I went from 20 corroded splice connections to 4 clean solder connections. I am 100% sure that was my real problem all along.

When I was selling RV's, I remember one couple buying a motor home from me to use in their retirement years. They did some comparison shopping but after much effort I was able to get an order.

I wrote a very detailed special-order for a 31-foot Southwind motor home. It was one of those sales where the customer even traveled to the factory to see the construction first hand.

Details of their floor plan, their window treatment, carpet, flooring, color trim treatment . . . it was all to be exactly the way they wanted it. Even the floor plan request meant a special build, so it took a while for it to be finished.

Finally, the big day was at hand! I called the folks up and they were so excited! I do not recall a single mistake, the unit was done as they ordered it! All we had to do was prep it for delivery.
I was bolting the licence plate on when the folks rolled up for the final instructional session and they were excited!

They signed the final papers, we shook hands and off they went with their beautiful new motor home . . . off to a happy retirement! At least until they drove south on U.S.131 to the M-43 exit.

She was following in the car as he drove the motor home, when he saw smoke coming up from under the dash. As he slowed to a stop, his wife had a better view of how bad the situation actually was, she could see white-flames under the coach!

By the time he stepped outside of the unit, it was too late to do anything except stand back and watch it burn! And burn it did! When I saw it the chassis frame rails and a charred steel skeleton was all that remained. And yes, it was an electrical fire. The coach was built on a GM chassis, and in this case GM ran a heavy red #2 positive hot wire through the steel chassis without first installing a protective grommet. Needless to say, GM paid for another new motor home.

Back in Kalamazoo, I started off my maintenance frenzy with the attitude;

"What could go wrong?"

We have been taking this motor home on these long trips with just a spare-tire and lug-wrench, but no jack! Subconsciously I knew that, but for some reason I didn't sweat it. Now, I have a 10-ton jack on board!

This year for the very first time, I took the spare tire cover off to inspect the spare tire . . . it was shocking!

It was one of the original factory 1983 bias truck tires that Ford issued! It had never been on the road, but the sidewalls were badly dry-rotted! I can say for a fact that it would have never worked!

I called around to find a spare, one that would match the Cooper radials that I am running, with no luck. I was told Cooper hasn't made that tire for over ten years! But I purchased a new radial tire of matching size.

So, now I have something else to save-up for . . . 6 very expensive tires!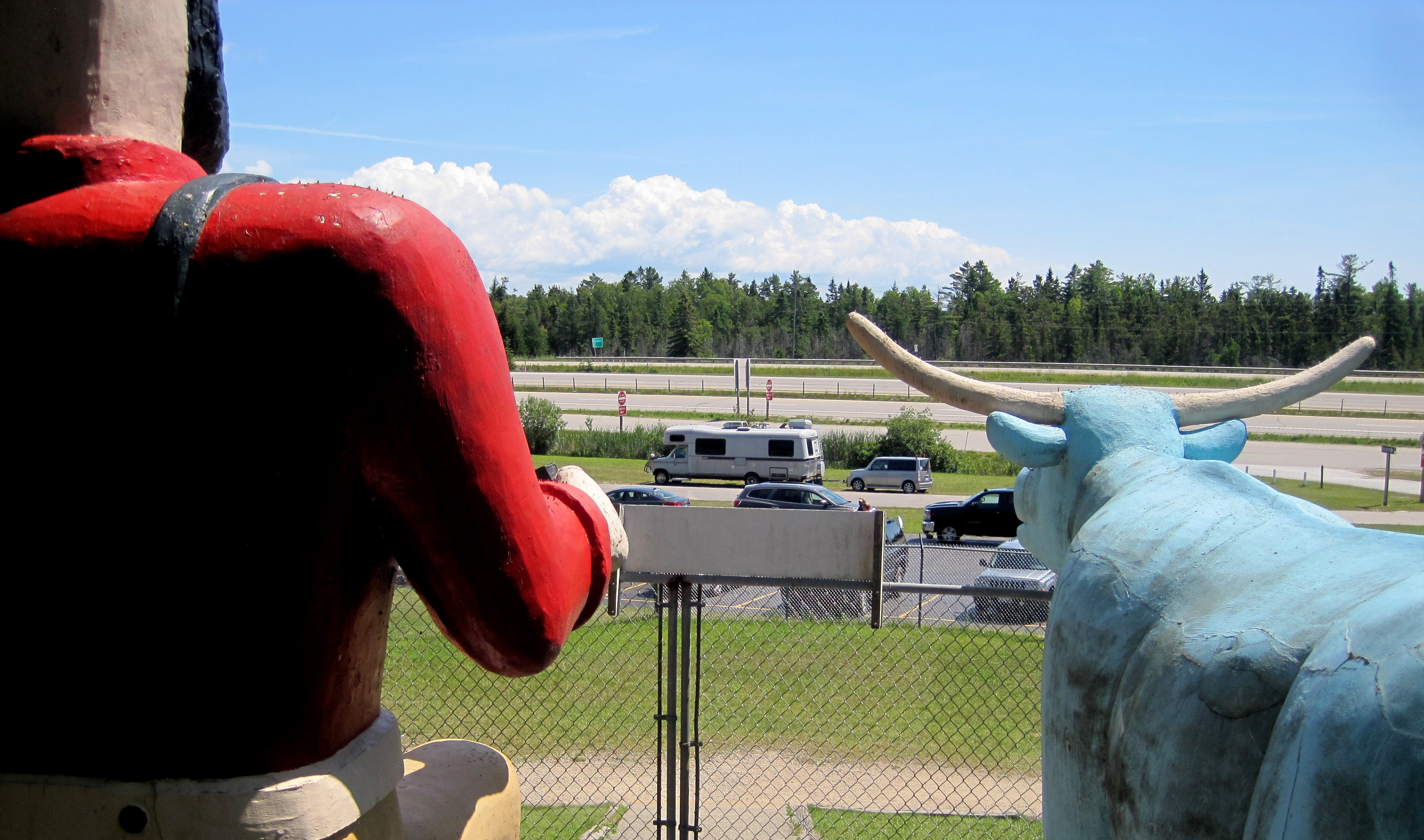 The summer of 2015, I had my buddy, Ron Schanz, put a Falcon Tow Bar on my Scion XB, that is the best money I have ever spent!
We tried using a tow dolly and that was like a bad dream! Honestly, I prayed for anyone who was following me!
This new system is like a 'good' dream! It easier to hook-up, unhook, and is worry-free going down the road. If it wasn't for mirrors I would forget the little car is back there!
We made it up to Old Mill Creek Campground with no problems at all! I really love that place! It isn't perfect. In the full hookup sites, the lots do seem a little crowded. In many sites you don't have that deep-woods wilderness campground feel, but it is all about location, location, location!
I have heard it said that Old Mill Creek Campground is built on some of the most valuable pieces of real-estate in Michigan!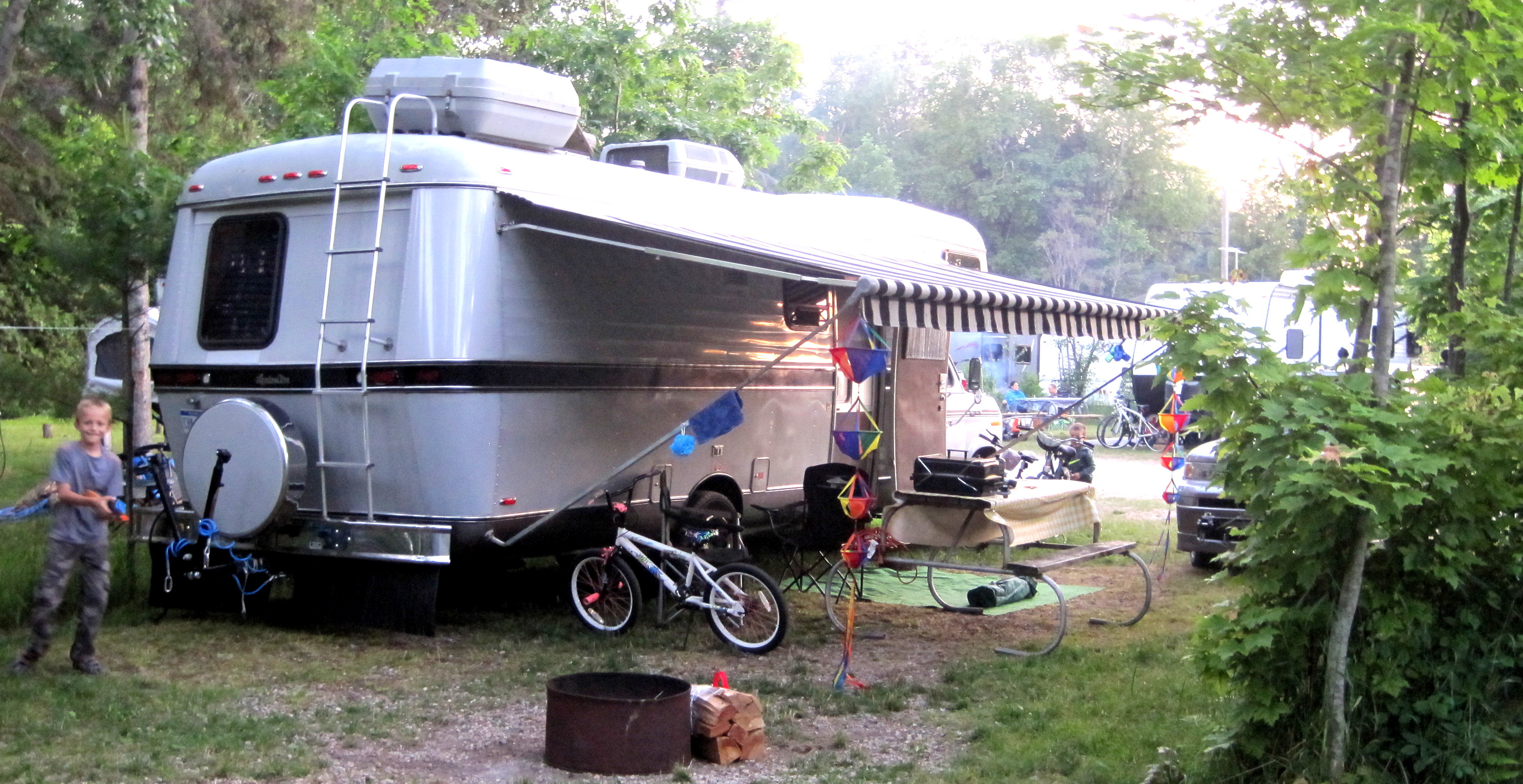 The campground is located on the shores of Lake Huron on the eastern side of the Straits of Mackinac. Mackinaw Mill Creek Camping stretches out over a mile of lakefront viewing the Straits of Mackinac. From the natural beaches you can view the Mackinac Bridge and Mackinac Island. You'll also be able to see Mackinaw City, St. Ignace, Round Island and Bois Blanc Island.
And of course for me the treat is the Great Lakes freighter activity! In the Straits, ship traffic it is coming from every direction! Some of the ships, especially the "Salties" do not travel up the Saint Mary's River into Lake Superior, but they do cross the straits.
We have been taking our granddaughter, Madison, with us ever since she was little. This year, in addition to Madison, we took her little brother Nathan.
For me that was a special treat. Nathan is 9 years old and for the most part, he has never traveled much further than to Grandpa's house. To take a long trip in the motor home, to see the Mackinac Bridge, the camping, to meet great-grandparents for the first time . . . it was neat to experience it all with him!
The little town of Amasa, in the western U.P. is itself a treat! On the Fourth of July they have special events planned to commemorate America's Independence Day.
The fun starts at the park with the raising of Old Glory. Yes, there are still places in this land where America is still beautiful.
After the opening ceremonies, they have a little kid's parade where the little folks are dressed up like Uncle Sam or Lady Liberty. Kids riding little bikes, or even riding in strollers, are all decorated in red, white, and blue, all hoping to win a best-of-show prize.
Right after the parade comes a sack race, next a penny scramble . . . so much fun! Nathan made out like a bandit in the penny scramble!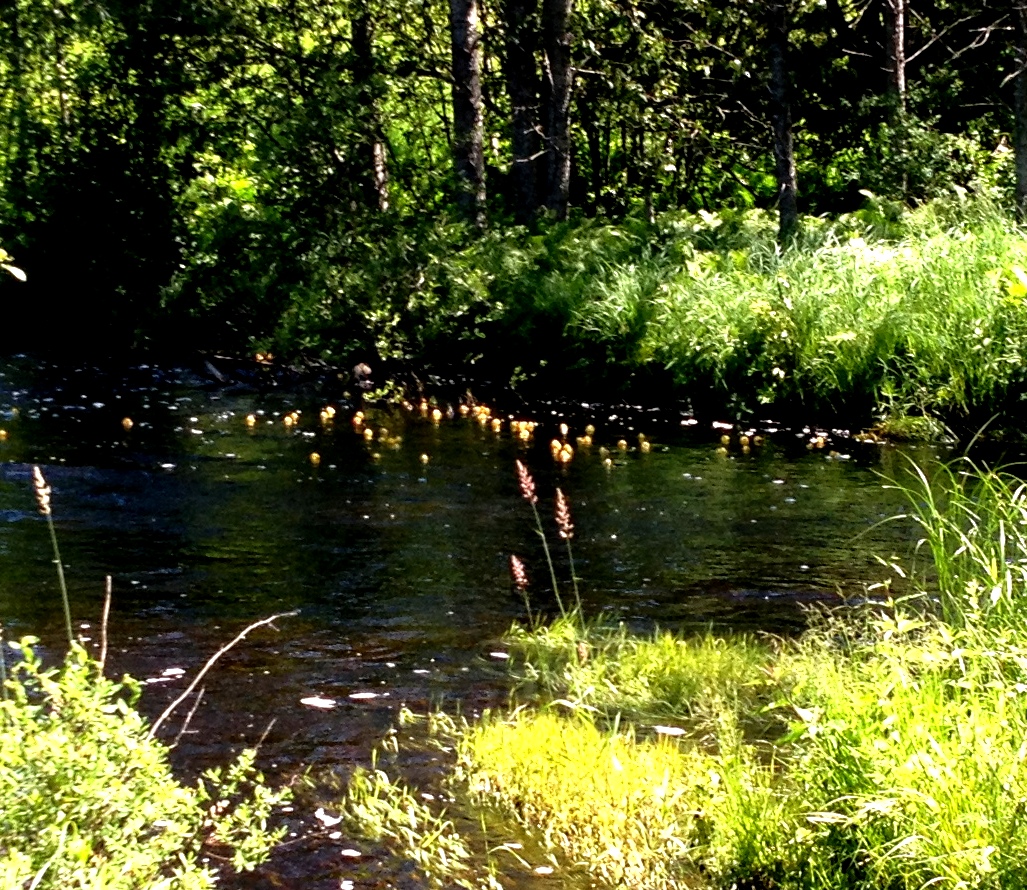 The beautiful little Hemlock River flows through town and winds through the park, so naturally, they have a rubber duck race! It works like a jackpot . . you buy chance on a numbered duck and hope he is the fastest! A couple of school-age kids stand on a little bridge and dump a big box of bright yellow ducks in the river and "They are off!"
The next event is the cross cut saw competition.
A day or two before the big event, the local volunteer firefighters, set up a green log that is about one foot across. Before the contestants start, a one to two inch starting-cut is made to set the teeth. Unless you are an experienced woodsman, it is best with a two man saw that each sawyer pull the blade in their direction and not push the blade toward their partner.
My mind started to wander, I started looking around at the beautiful scenery, loving the day . .
By the time I looked back, a "Jack & Jill" team were at the buck saw . . . Madison and her brother Nathan!
The woodsmen supervising the event had started with a slightly deeper cut . . . but not by much!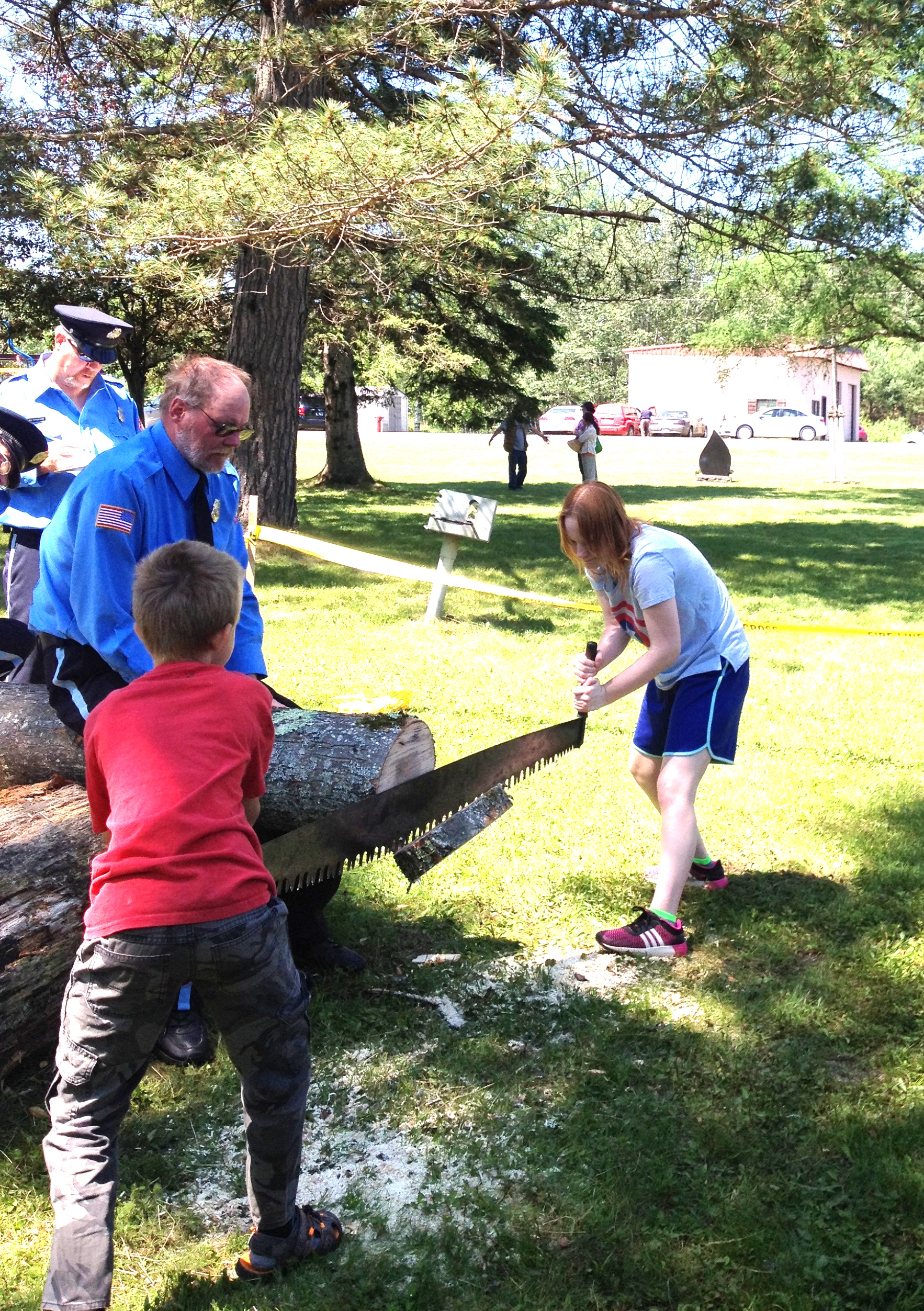 I was completely amazed by how well they did. However, for a day or two . . . maybe three, we heard about sore muscles.
Well, I have only reached day two of our adventure. We went over to the Soo Locks for a couple days. We like to stay at the City owned, Aune Osborn Campground. This campground is located at the south end of Soo Harbor at a historic site called Mission Point. A location, where in the 1600's, fur traders and French missionaries first settled in the oldest city on the Great Lakes.

Soo River traffic was pretty slow during the two days we were there, so we decided to head back to Old Mill Creek Campground for a couple days. As we were about to pull out, my favorite freighter slid silently by on her way to the Lower Lakes, Lee A. Tregurtha. What an incredible story behind this classic Laker! I will save that for another time.