2020 BOTTLE SHOW CANCELED

Hi, my friends! . . . . May I call you friends?

As you may have already heard, because of circumstances far beyond our control, a tiny microscopic germ has paralyzed the greatest Super Power on earth.

It has been decided by a higher authority (much higher), until further notice, the Kalamazoo County Fairgrounds is closed for all public events.

So, at least for now, the 41st annual Kalamazoo Antique Bottle Show is canceled.

There was some talk about rescheduling, but even that is uncertain at this point. I posted a notice about the show being canceled on the Vanished Kalamazoo Facebook page and it was rejected as being "Insensitive."
Oh my, how we are so easily shaken.
Here is what I tried to post.

"John Pastor and Chuck Parker asked me to contact folks about the Kalamazoo Antique Bottle Show on April, 11th.
Because of the insanity surrounding this virus scare, the Kalamazoo Bottle Show has to be canceled. The Fairgrounds has made this decision. We are not sure yet, but there is a possibility the show will be moved to the last Saturday in April . . . if they find any survivors.
Can you please help get the word out in your circle of bottle collector friends?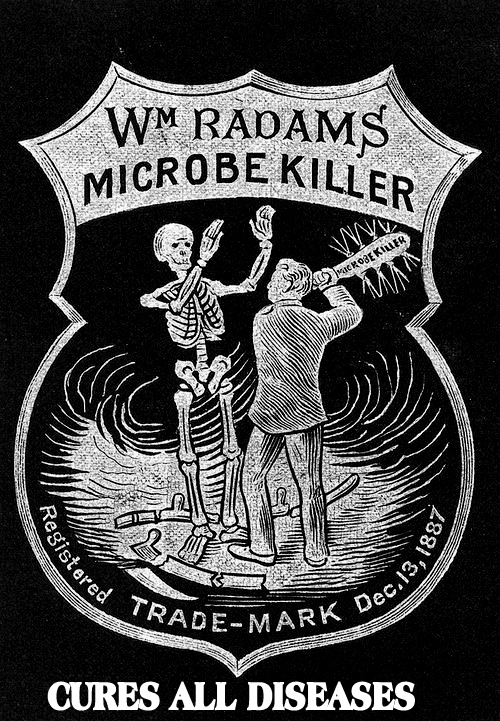 Thank you my friends!
Never lose sight of the fact; for the good of all humanity, William Radam's Microbe Killer, Cures All Diseases!"

I should have known, in " politically correct" Kalamazoo, folks would be so easily offended.
It brings to mind the night when President Obama had the White House all lighted up in rainbow colors and Mayor Bobby Hopewell had gay couples lined up 10 deep in Bronson Park mocking marriage.
Now, to me, that was really offensive and insensitive. But do I matter?

This sort of public fear and panic is nothing new. Why, when I was a boy we hunkered down for fear of contracting the dreaded Cooties. Then, in 1962, the greatest fear of all swept throughout the masses, the dreaded . . . . " Hee-bie-jee-bees!"
Now, dem-right-dar were some very bleak times!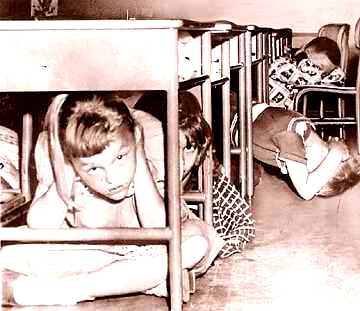 But even so, back then, . . . well, everything was different. Things were stronger, and everything was built right here in the good old U.S.A. . . not to mention it was built of the very highest quality! Why even a mere school room desk would protect children from a nuclear attack!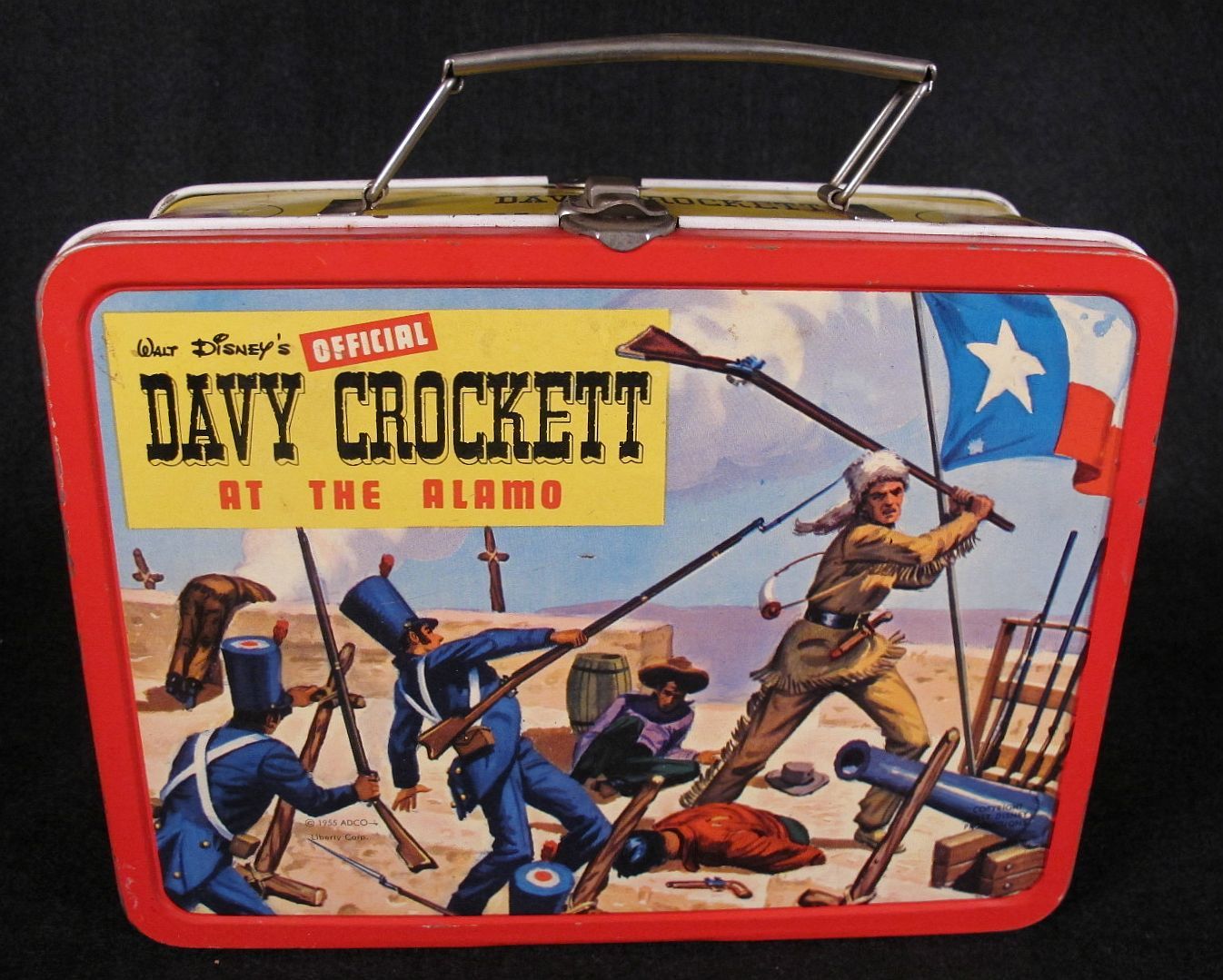 Back then, the hardest part was that 15 mile hike to school each day through waist deep snow! But we always showed up in time to say the pledge of allegiance and have our teacher ask God to bless our day. In my pocket were my knife and some marbles. The sling shot? That was in my Davy Crocket lunch box.

I had a dear pastor friend who said that one of his favorite Bible phrases was
"it came to pass."
I can assure you folks that this virus scare will also come-to-pass, and the sun still shines above this cloud.
In Hebrews 12:2 it reminds us to:
"Keep looking unto Jesus, the author and finisher of our faith."
Nothing slips by Him. May you come through this with a stronger faith than ever before. That is my prayer for each of you.

Looking Ahead
It is indeed very hard to plan. A difficult element in this virus scare is all of the uncertainty. I recalled President Parker saying something about us not having an April club meeting. So, I called him back to double- check on this.

I guess I wasn't thinking anything about this virus thing still being around by April 14th, but Chuck suggested that it may still be!
If so, the library could be still closed. . . . amazing!

There was some mention of rescheduling the bottle show to the last Saturday in April, but then again who knows?

And what about all those Treasure Master Metal Detector raffle tickets?

Keep selling them! We will honor the drawing for the new Whites Treasure Master metal detector package for sure!

We may be extending the drawing until the next meeting, or the show, but it will happen!
LAST MEETING
We had a great meeting last month!

Our meeting was moved back into the Conference Room, which was very nice.
The following smiling faces were present and accounted for:
Vincent Grossi, Ron Smith, Eddie Nickerson, John Winkler, Kelly Bobbitt, Kevin Siegfried, Tim Hayes, Rob Knolle, Chuck Parker, Scott Hendrichsen, Dale Roof, Susan Anspaugh, and little Jackson Clysdale, and little Allan Holden.

We dealt with some very serious club business! . . . . . for real!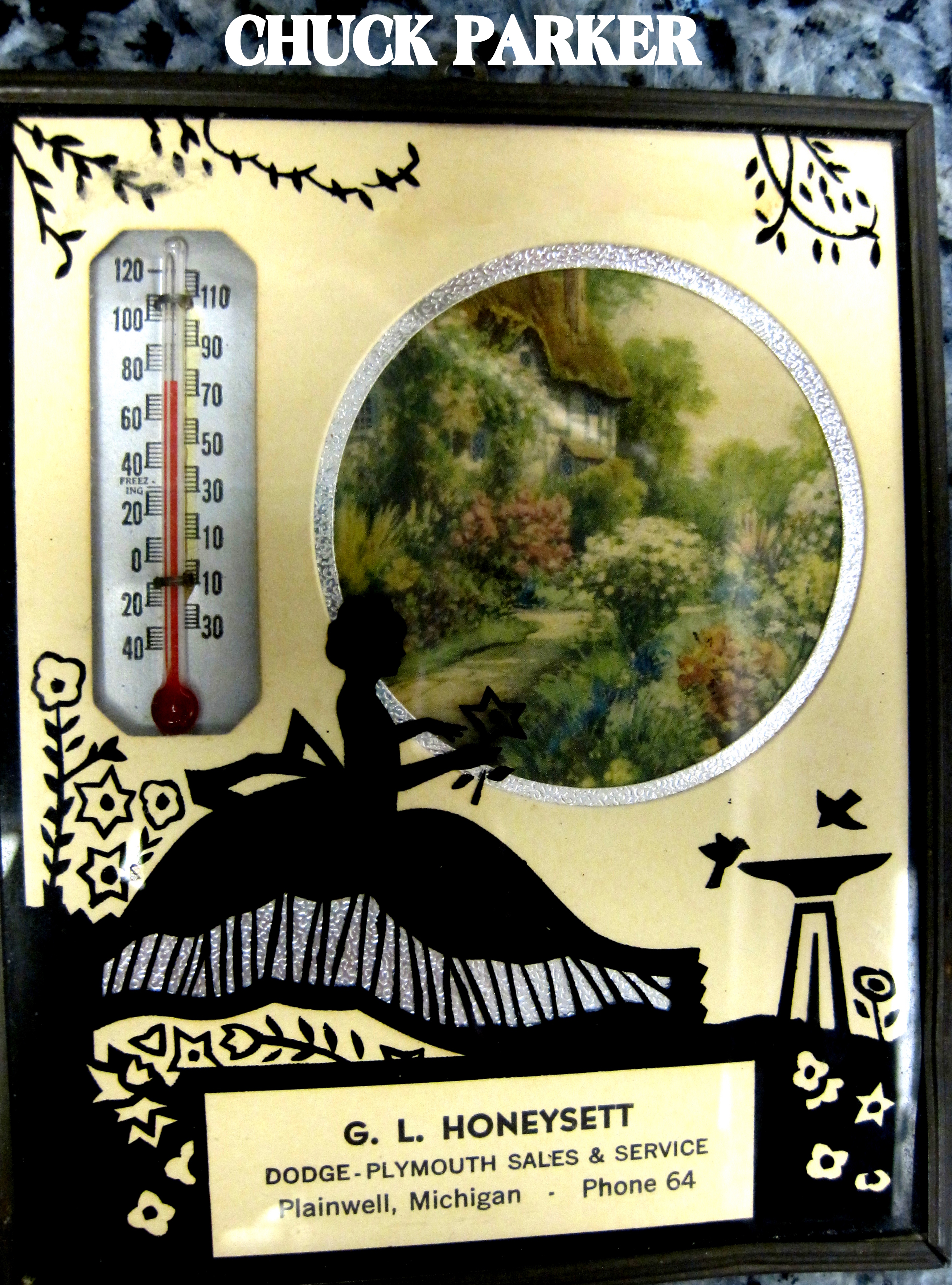 Thanks to each of you for helping us nail down several aspects connected to show business. However, please put off that order for 6 dozen donuts, at least for now!
If for some reason, I happen to buy the farm, I leave all my donuts to Eddie Nickerson.

Before I get started with the bottles that we saw at the meeting, I want to share with you a beautiful Plainwell historical treasure Chuck Parker gifted me! It is a beautiful example of early advertising and I love it! It advertises G.L. Honeysett's Dodge & Plymouth Sales.
Very often these early reverse paint-on-glass pieces from the early 1920s suffer from paint loss and flaking . . . not so here! I posted a photo of this jewel on the "You Know Your are from Plainwell" Facebook page and it had them all delighted! Thank You, Chuck!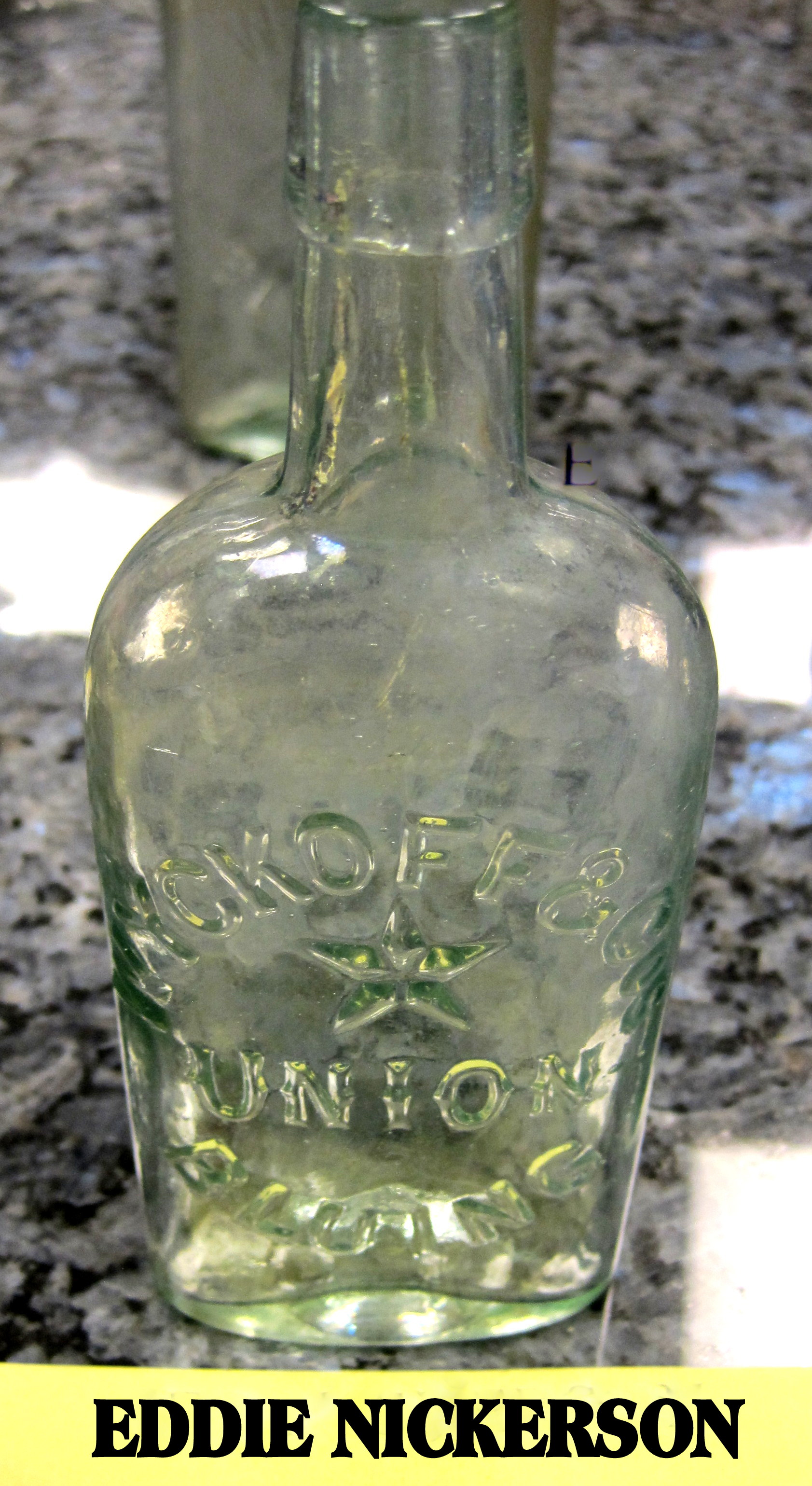 Speaking earlier of Eddie; He had a couple of beautiful, post Civil War era, bluing bottles! One was a Wyckoff & Co, Union Bluing.
This bottle is in beautiful shape! In fact I would call the Wyckoff bottle's condition "Attic Mint."

A company, founded by Joseph Kohnstamm in 1851, had long specialized in laundry supplies, particularly the vital "bluing" used in whitening fabric. His company made laundry bluing affordable to the masses. Until then, bluing used ultramarine pigments from expensive natural minerals to "cool" the tone of white linen cloth and papers.

Kohnstamm started producing less expensive bluing by using more affordable man-made synthetic ultramarines. He made it very affordable for everyone.
Laundry bluing was actually in wide use as early as the 1830's, but few could afford it.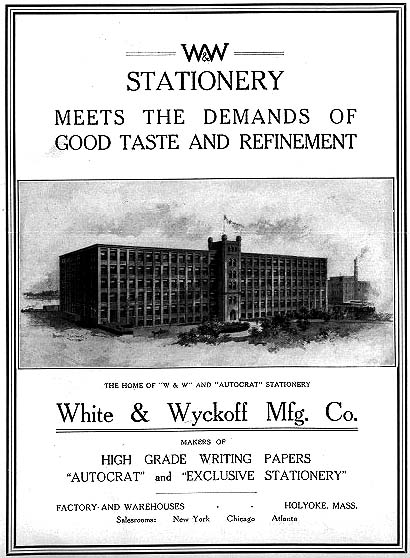 Ed displayed both a Wyckoff Star Union Bluing and a White Star Bluing bottle. In my research, I found a partnership in New Jersey of a Wyckoff & White.
There was no mention of laundry bluing products, but these guys were very successful, and heavily invested in many things!

The industry they were best known for was paper products, like greeting cards, stationery, trade cards and postcards. The paper industry was where bluing got its real start to brighten standard paper and deluxe linen paper.
In my research on bluing, I found an interesting article from about a 1920's, a sort of laundry mystery.

From the early days of manufacturing bluing, they usually promoted the product as "Adding that Fresh Outdoor Scent."
Hey, who wouldn't want that? (Apparently some people didn't because eventually they developed unscented bluing.)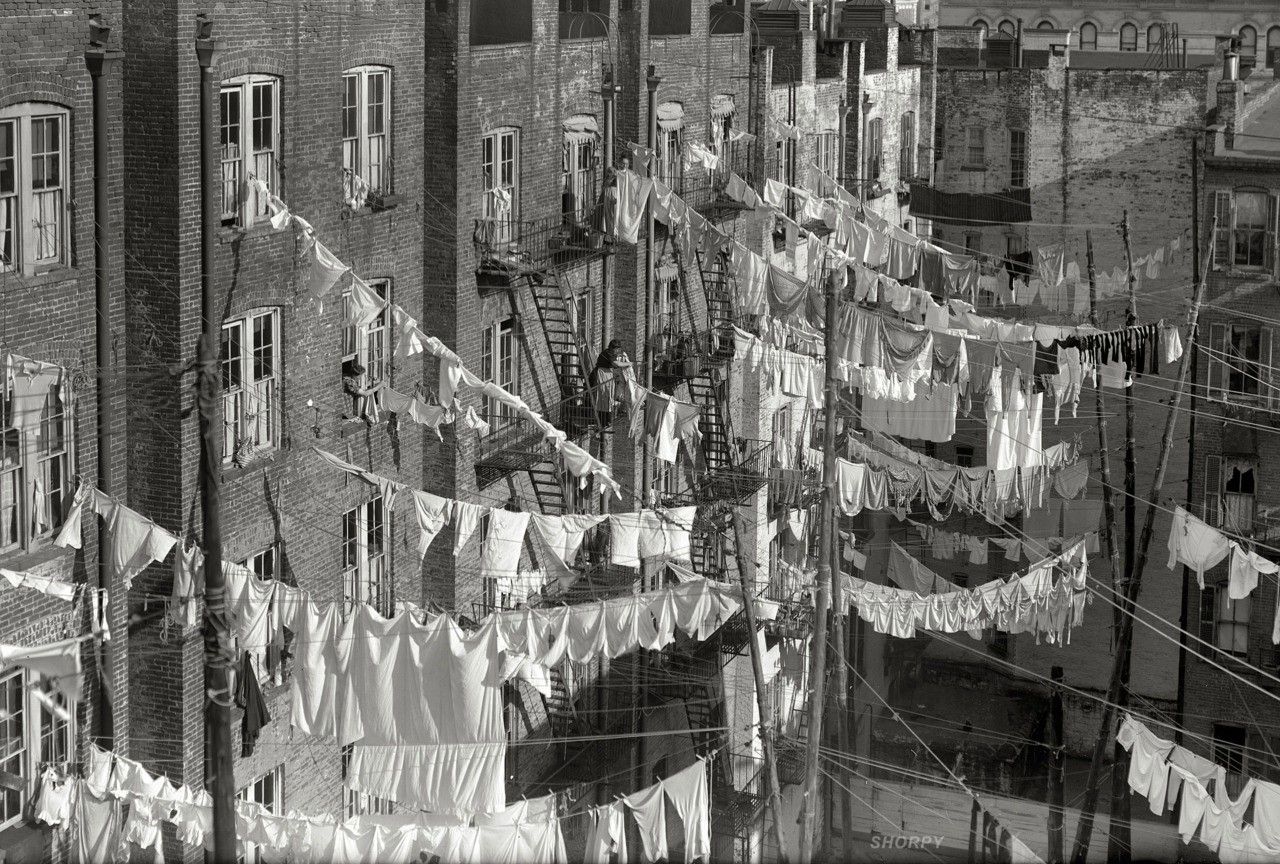 But seriously, nothing added that clean fresh air smell any better than drying clothes on the clothesline in the back yard, and it was free!

By the Roaring 20's, out on the east coast, laundry services became a big hit with housewives. The laundry service would offer a wet wash or a dry wash. (not to be confused with dry cleaning.) 'Wet Wash' meant the clothes were returned in a laundry bag, clean and fresh, but still damp.
In the 'Dry Wash' option, the clothes were dried at the laundry service with hot rollers and commercial mangles. This type of drying is a system that is still in use in hospitals and large hotel laundries today.

The 'Dry-Wash' would cost the customer extra money, so line-drying at home was the popular choice. But something strange started to happen . . . and those commercial laundries were blamed!

The freshly line-dried clothes, which then were mostly cotton, started falling apart! It wasn't just an isolated case in New York alone, it was happening over the entire industrial north!

Imagine gathering up a load of soft, sun-warmed cotton sheets and taking them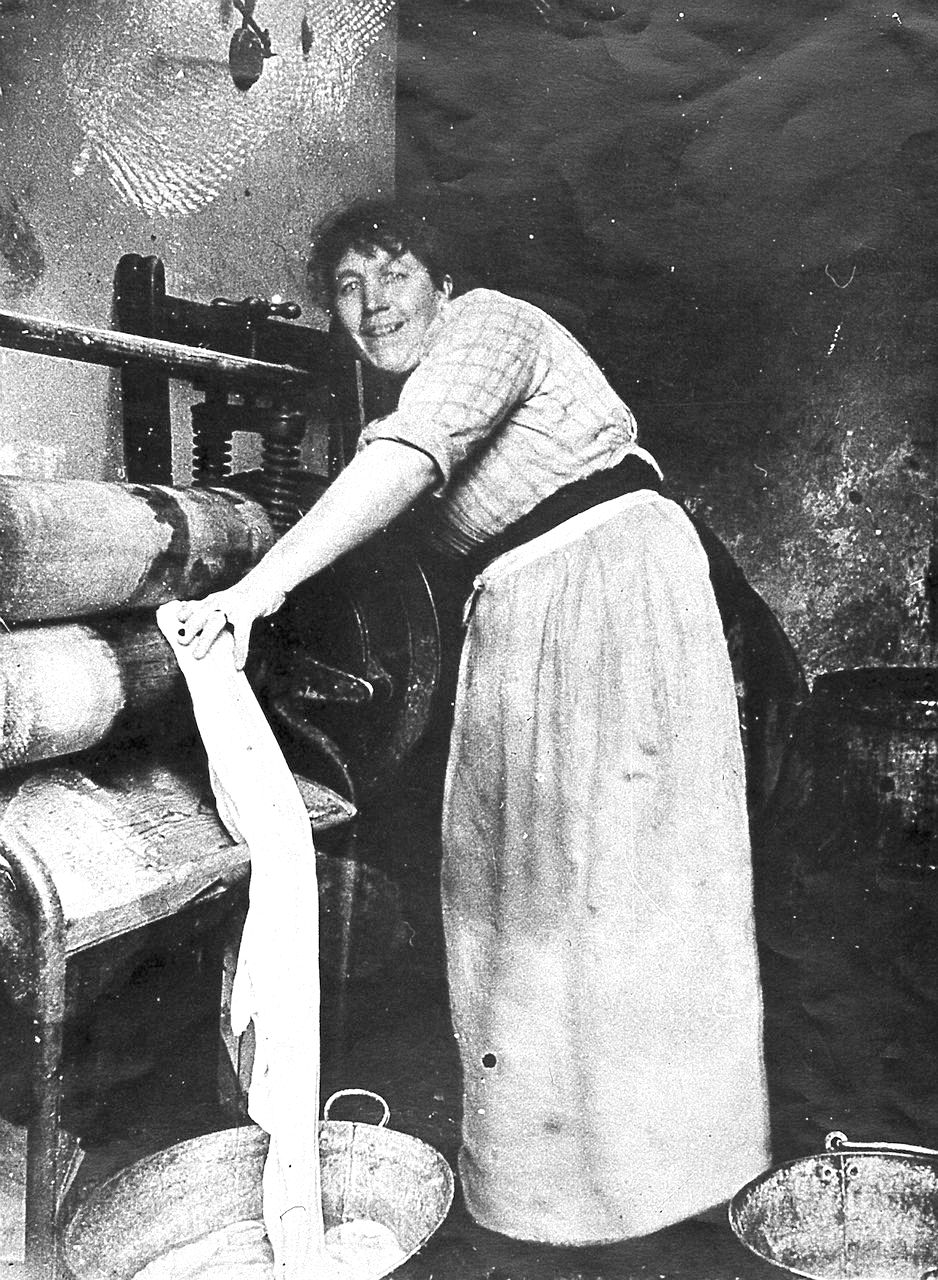 indoors to press with a hot iron. Now, imagine those same sheets suddenly falling to pieces between your fingers, disintegrating at a touch!

The chemists working for the soap companies went to work. What they found was that sulfuric acid was eating the clothes away!

It was the chemists from Wyckoff Bluing who started searching for answers.
They could not find any cleaning products in use with even the slightest trace of sulfuric acid. Also tested were dozens of commercial laundries, and nobody was adding corrosive sulfuric acids.

Finally, they stumbled onto a clue! The clothes delivered from the laundry dry and folded, were just fine.
By now you probably guessed where this was going. It was inner city air pollution, cause by the use of soft coal in nearly every industry.
Fortunately, we had some landmark breakthroughs in clean air technology in 1955 and again in 1963, making the use of coal much cleaner. But to this day, outside of the U.S., this is still a huge problem, especially in China.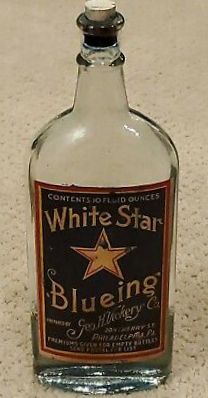 Ed displayed two interesting bluing bottles. Besides the Wyckoff Union Bluing, he has a White Star Bluing bottle. Both bottles are embossed with large stars. I love them both! I found them for sale online from $12.00 to $30.00.
The White Star Bottle pictured is one that I found online, it is a machine made bottle with a nice full label. Ed's is a much older embossed example.
Ed also displayed a tall whiskey bottle embossed with a horse's head. This bottle is likely from the 1960's and contained a Kentucky Whiskey. It is clear and had a glass stopper at one point like a decanter. I spotted one with a glass stopper on e-Bay with a $45.00 asking price.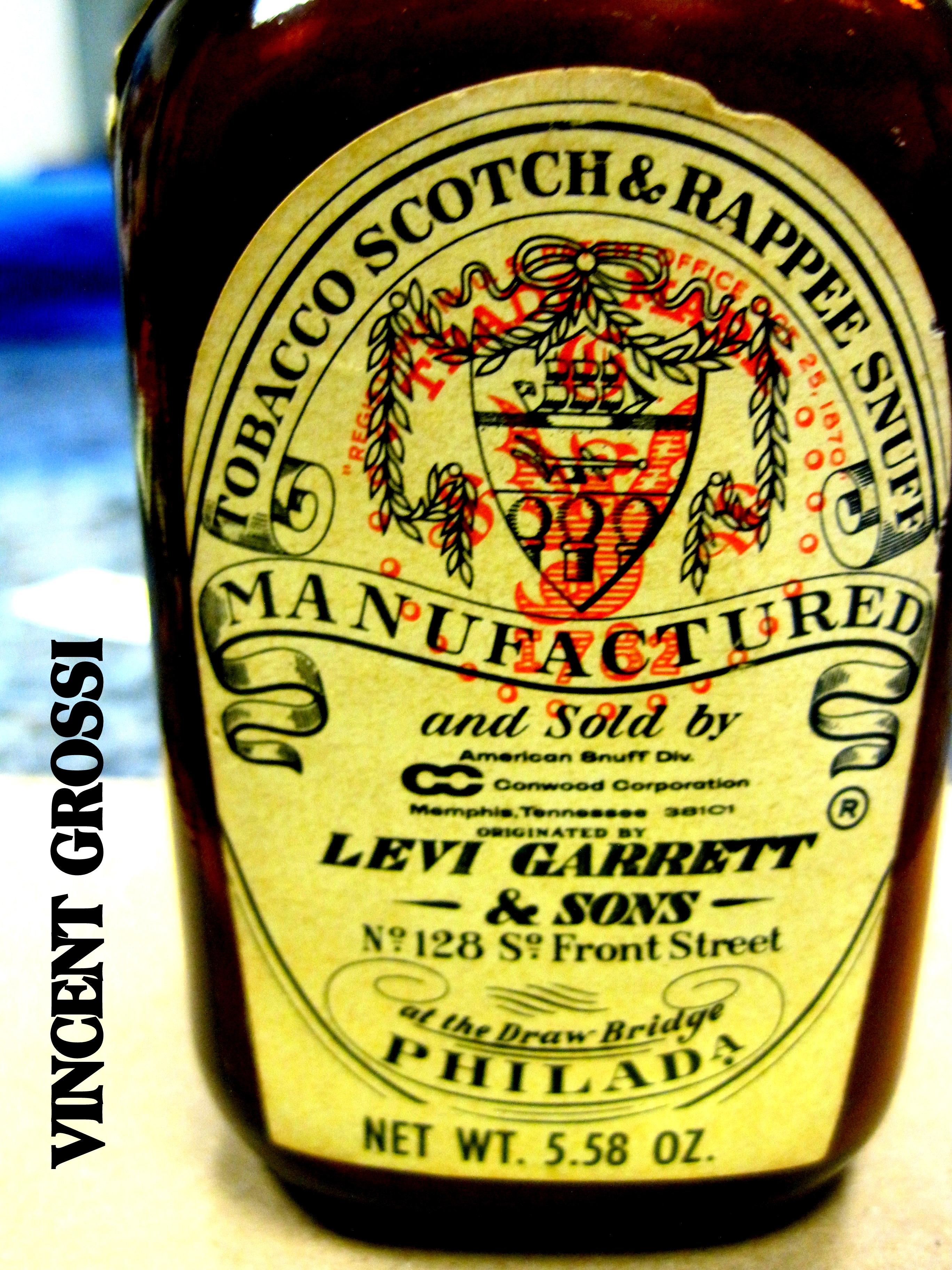 Vincent Grossi always has something interesting to show us! Vince has an amber, full-label, Levi Garrett , Tobacco Scotch Rappee Snuff bottle with a full label and top seal!

Toward the end of the Revolutionary War, John Garrett II returned to his home outside of Wilmington, Delaware, after serving as captain of the 6th Delaware Militia Company. In 1782 he built a snuff mill on Red Clay Creek and started to manufacture Garrett Scotch Snuff.



In 1795, Levi Garrett began running his father's business under the name Levi Garrett & Sons. He opened a store in Philadelphia to sell the family's dry snuff, kegs of twists (a form of chewing tobacco made from a twist of Virginian tobacco), rolls of plug tobacco and "segars."
Segars was an early form of "Cigar" which meant "to cut." It was cut from a rope twist of tobacco.

Snuff was packaged in bottles, beef bladders and containers made from animal gullets.

Vincent's snuff bottle is a modern commemorative bottle calling back to the early Philadelphia store days.
"Garrett Snuff" has one of the first ten trademarks ever issued by the newly formed U.S. Patent Office in 1870.

I don't want you to feel a bit nostalgic and go out and buy a plug of tobacco; the smokeless stuff is even more deadly than the smoking kind! Even an unlit cigar can cause oral cancer. That stuff is deadly!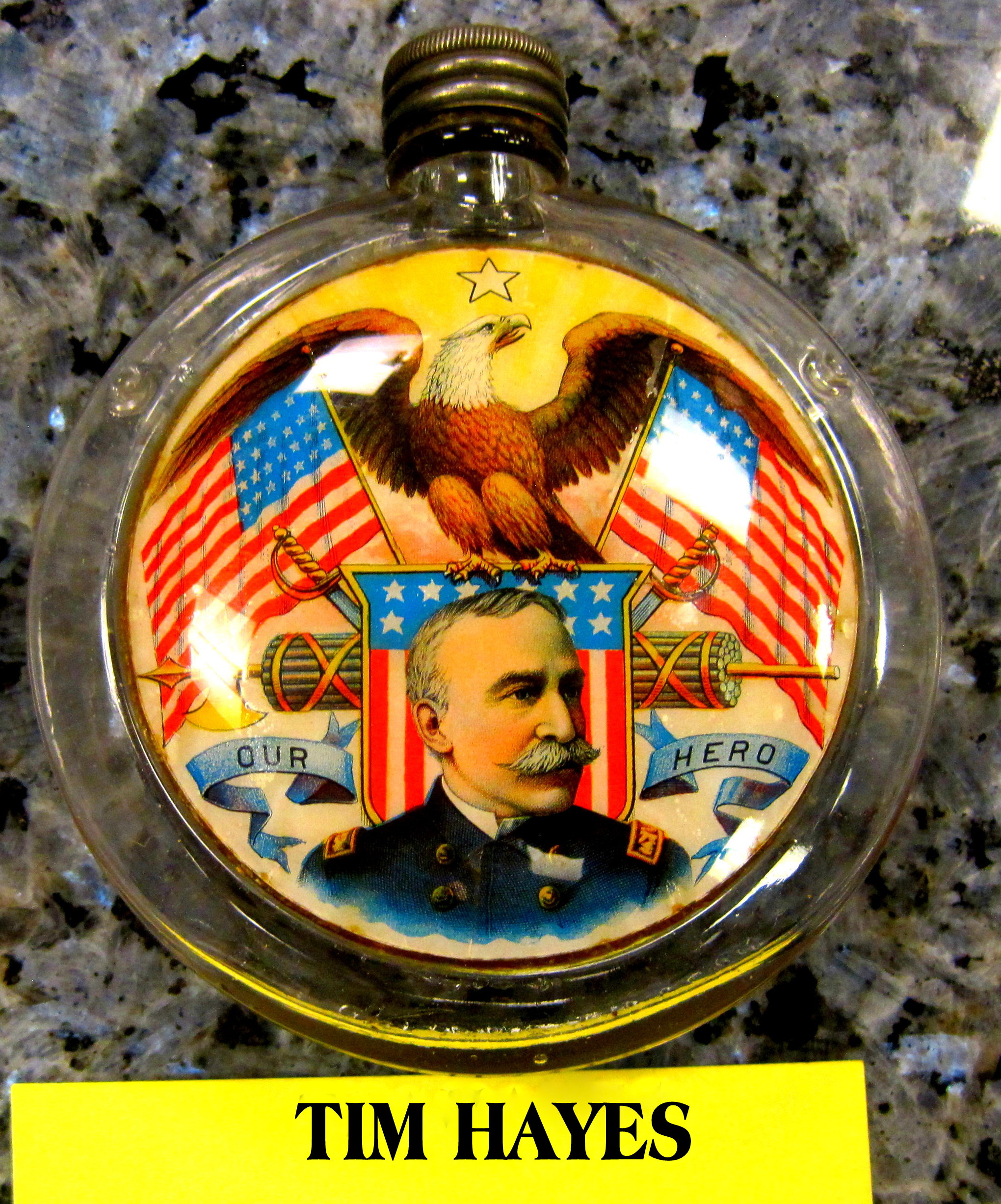 Tim Hayes recently picked up a treasure at the Grand Rapids Bottle Show!
It is a label-under-glass "Our Hero" showing Admiral of the Navy George Dewey with a patriotic bald eagle and 2 American flags.

This beauty is an early 1900s "Painted Label Under Glass Whisky flask." The flask is in the shape of a canvas Army canteen with holes for a strap to loop through. Such bottles were blown in a bottle mold, then the picture was inserted, and another layer of glass fit over the front.

This occurred during the the Spanish-American War and because it was a short one, they did not produce as much memorabilia as in other U.S. conflicts, before or since.

George Dewey was born on 12/ 26/1837 and he died on 1/16/ 1917. He was Admiral in the U.S. Navy. Admiral Dewey is best known for his victory at the Battle of Manila Bay during the Spanish American War.

Dale Roof and Scott Hendrichsen made a pilgrimage to the Grand Rapids Bottle Show, where they found "The Bottle Guy," aka Steve DeBoode, his-own-self peddling his fine wares! Dale found a beautiful 1- quart slug-plate dairy bottle embossed "Fred Roof Dairy, Climax Mich."
No matter what part of the building your name was derived from, Steve DeBoode is your cellar!
People ask, "Al why do you stuff like that?"
My reply is, "I am trying to support strong brain function in Chuck." We need him!

The whole purpose for this special edition of the club newsletter is to let everyone know about the canceled bottle show and to let each of you know that I am praying for each of you individually. I really mean that.

There are examples in the Bible where people went through very hard situations . . . not as a punishment, but to bring people back under God's loving wings. Don't push Him away, but draw near to Him and Trust him.
Nahum 1:7 The LORD is good, a strong hold in the day of trouble; and he knoweth them that trust in him.

Friends, if you think that I may not have an e-mail address for you, please send me one, or some way to contact you by phone when the next meeting is scheduled.