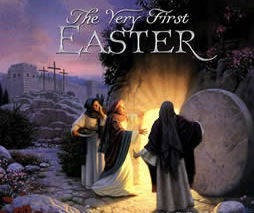 2022 Bottle Show Issue!

I am so sorry, I got the printed newsletter out well before the show, but I couldn't get this out any sooner.


It's Show time!

By the time you get this newsletter, who knows what will have happened! If it shows up on Friday, set your alarm for 6:00, or earlier, so you can get down to the fairgrounds in time for the big show.

On the other hand, if it is Saturday. . . it is already Show Time! Get down there we need you!

The show opens for club setup at 7:15 (for the club set-up crew.) For the dealers the doors open at 8:00.
For the public, the Kalamazoo Antique Bottle Show is from 10:00 am to 3:00 pm on Saturday, April 9th at the Kalamazoo County Fairgrounds & Expo Center, 2900 Lake Street, Kalamazoo MI 49048.

Name Tags must be worn in a visible location in order to gain entry at 8:00 am.Please note: you must furnish your own table covers.
Table covers are no longer provided by the fairgrounds. You must have a table cover!
So, if this newsletter reached you right after all of the big Hullabaloo, then don't feel too bad, we still have an April club meeting planned!
This has been a busy month for me. The spring thaw usually brings out eager new treasure hunters, which makes me get out of my easy chair and start slinging hash. Also, with the Federal and State taxes due that really adds to the burden!
What I am trying to say is this; "If you are a member of the club, only for the sake of getting a newsletter, you may be a little disappointed this month."

Last Meeting

We had a super meeting in March with the following dignitaries present and smiling like the cat that ate the canary!

Mr. Scott Hendrichsen, Rob Knolle, Kevin Siegfried, Vincent Grossi, Kelly Bobbitt, Ed Nickerson, Tim Hayes,
Melissa Hayes, Len Sheaffer, and little Al Holden.

We also had the pleasure of seeing some great bottles!
Kelly Bobbitt displayed a private label druggist bottle from Granger's Drug Store, Kalkaska, MI.


"Tincture Glyco-Heroin 12.5%."
This small bottle is clear glass in a tube shape. The label is one that the drugstore generated, meaning the product was dispensed from their bulk-stock on-hand. The bottle label is also labeled "Poison."

As most antique bottle collectors know, in the mid and late 1800's, elements we now consider "hard drugs," like Opium, Morphine and Cocaine were available, in many products, and available to anyone in the general store! However, by the turn of the century many of these drugs were tightly controlled . . . especially after 1907.

These drugs remained in use, but were dispensed only by a druggist.
Although heroin had been invented in 1874, the drug company Bayer decided to sell it as a morphine substitute between 1898 and 1910. It was used as both a pain reliever and a cure for coughs, asthma, and pneumonia. The name of the product – Glyco-Heroin – comes from its mixture of glycerin and heroin. The combination, often also mixed with sugar or spices and everything nice, sweetened the bitter taste of heroin and made it easier to swallow.
Some drugs were still using snips-and-snails with puppy dog tails.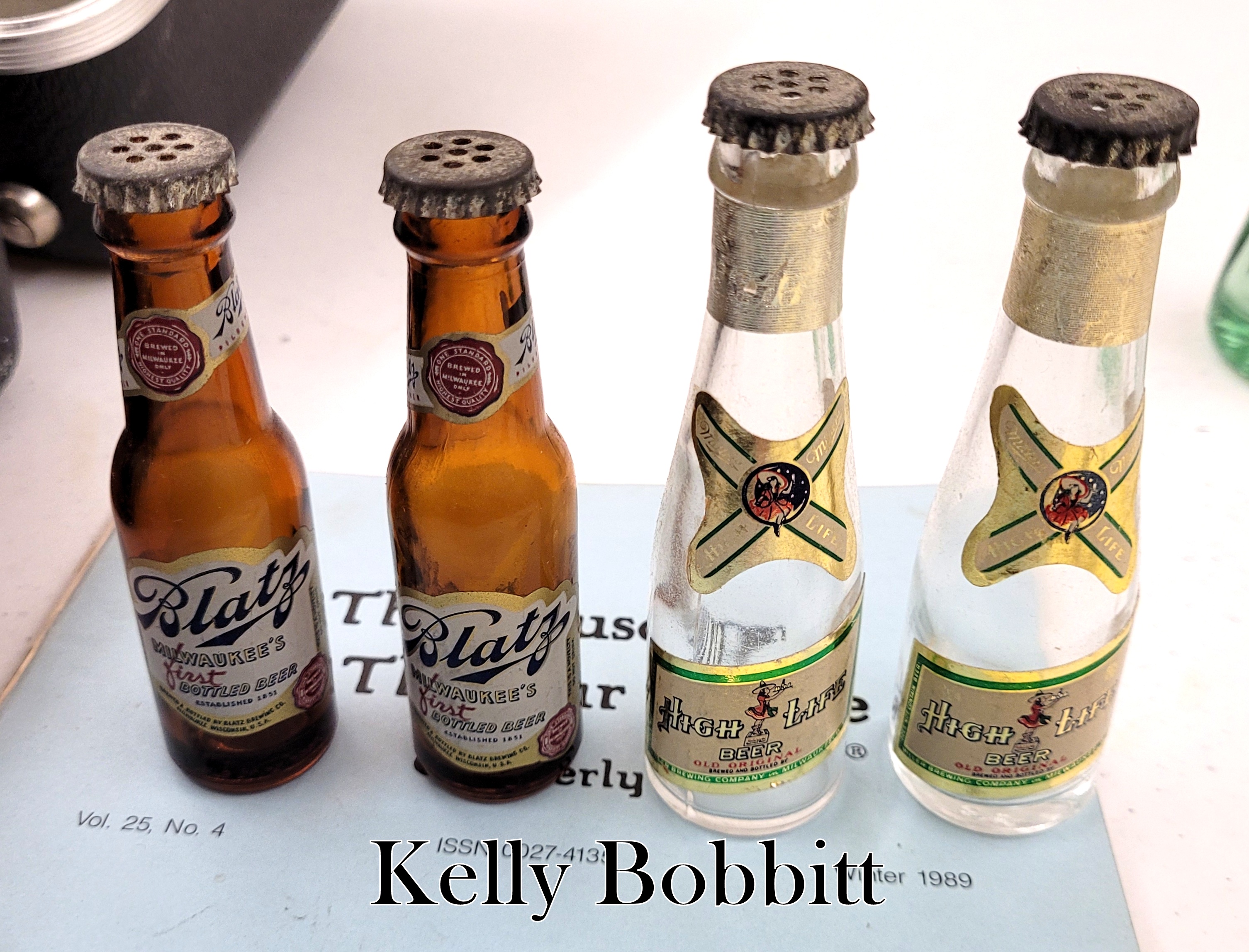 Kelly also displayed some neat advertising pieces in the form of beer bottles, little salt & pepper shakers made in the form of miniature beer bottles. Two were Blatz Beer and two were Miller High Life Beer. I went onto e-Bay to learn more. I found they came with many different brand names. They all range from $10.00 to $20.00 a pair, and even new ones are available! The perfect gift for your Sunday School teacher. (Baptist Joke)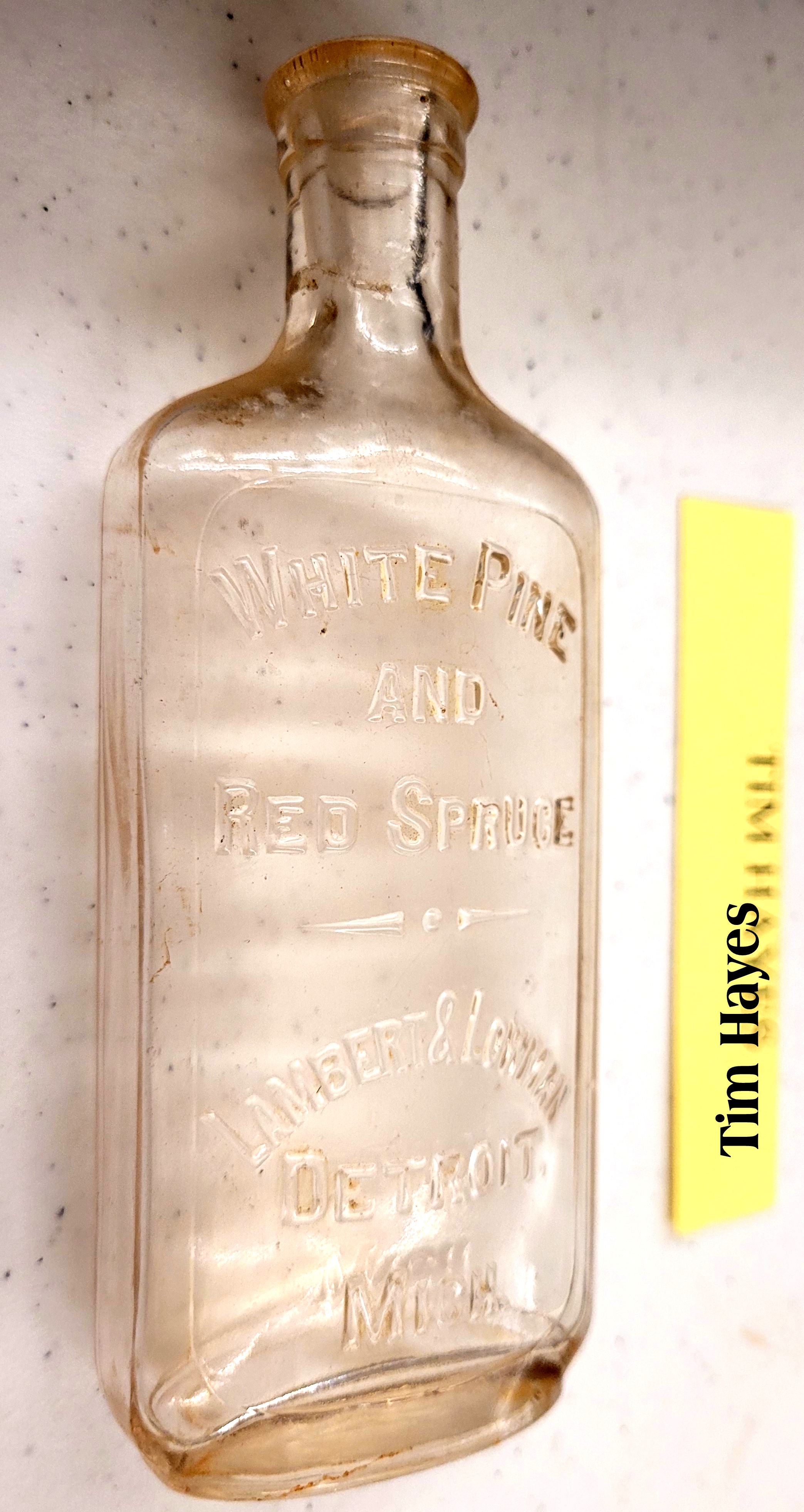 Tim Hayes, has a really neat Detroit, Mich. Cure bottle, "Lambert & Lowman, White Pine & Red Spruce, Detroit MI."
I found one of these bottles, which sold on Worth Point, but I don't have a subscription for that service and I am cheap.
I also found a photo of the large Lambert & Lowman Detroit factory on fire in 1952, but no record of the company after that date.
The company was started by Benjamin Lambert and Doctor Oscar Lowman. They were listed in a Detroit business directory in 1899 as wholesalers of a full line of drugs, chemicals, patent medicines and druggist sundries. The company started in Feb, 1st 1889.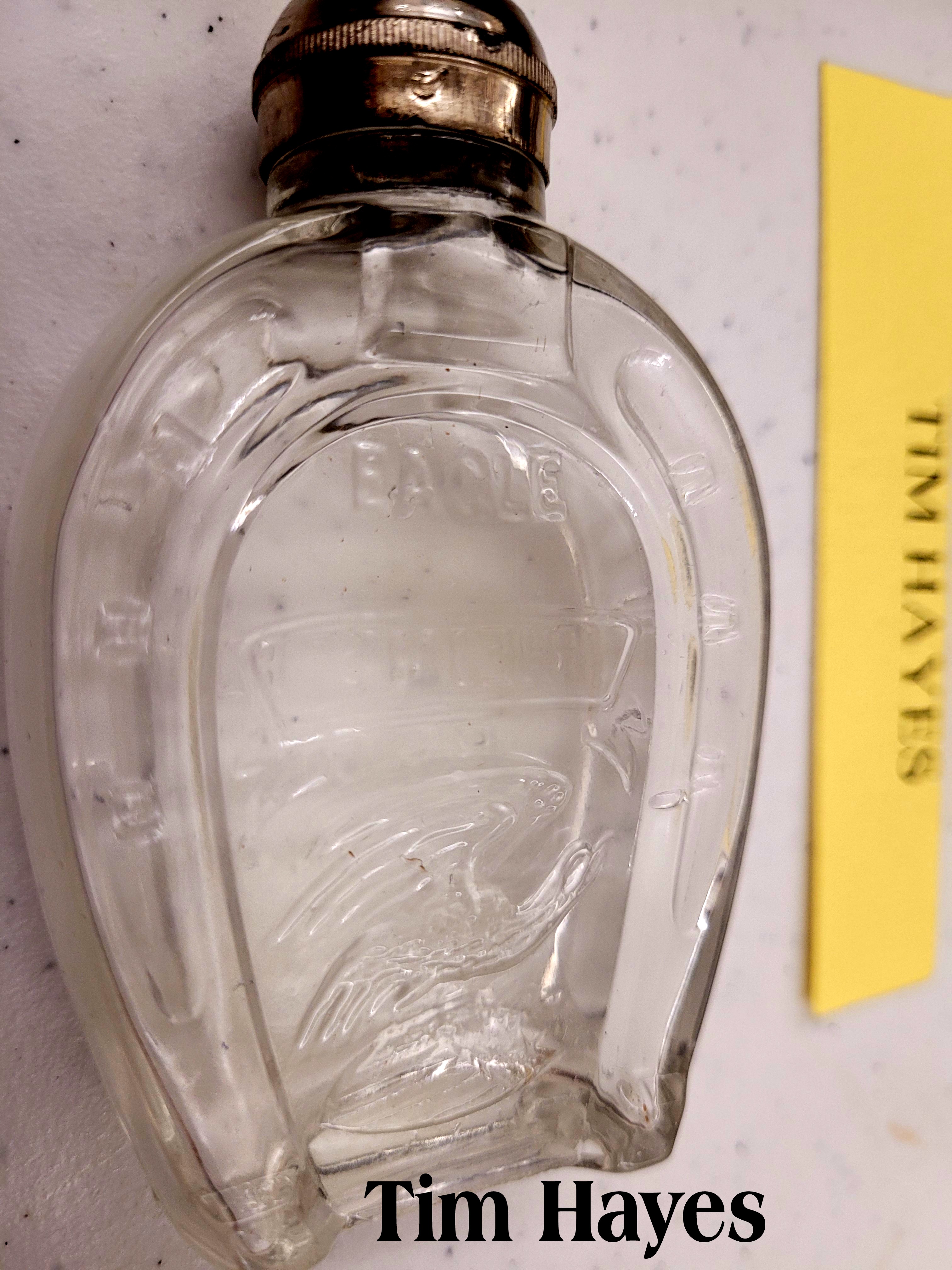 Tim Hayes also displayed a horseshoe pocket-nip with a screw-on zinc cap. On one side it is embossed with
"Eagle Liqueurs"
and with an Eagle in flight. The glass is clear. The opposite side is embossed "Rheinstrom Bros. Cincinnati, USA.
The Rheinstroms were immigrants from Bavaria, Abraham, born in 1845, and Isaac two years later. Abraham listed his immigration year as 1859, when he would have been about 14; Isaac likely came later.
Both moved to Cincinnati, Ohio. Most pre-prohibition liquor wholesalers at that time featured a few whiskey brands in their product line. The Rheinstrom Brothers featured "51" of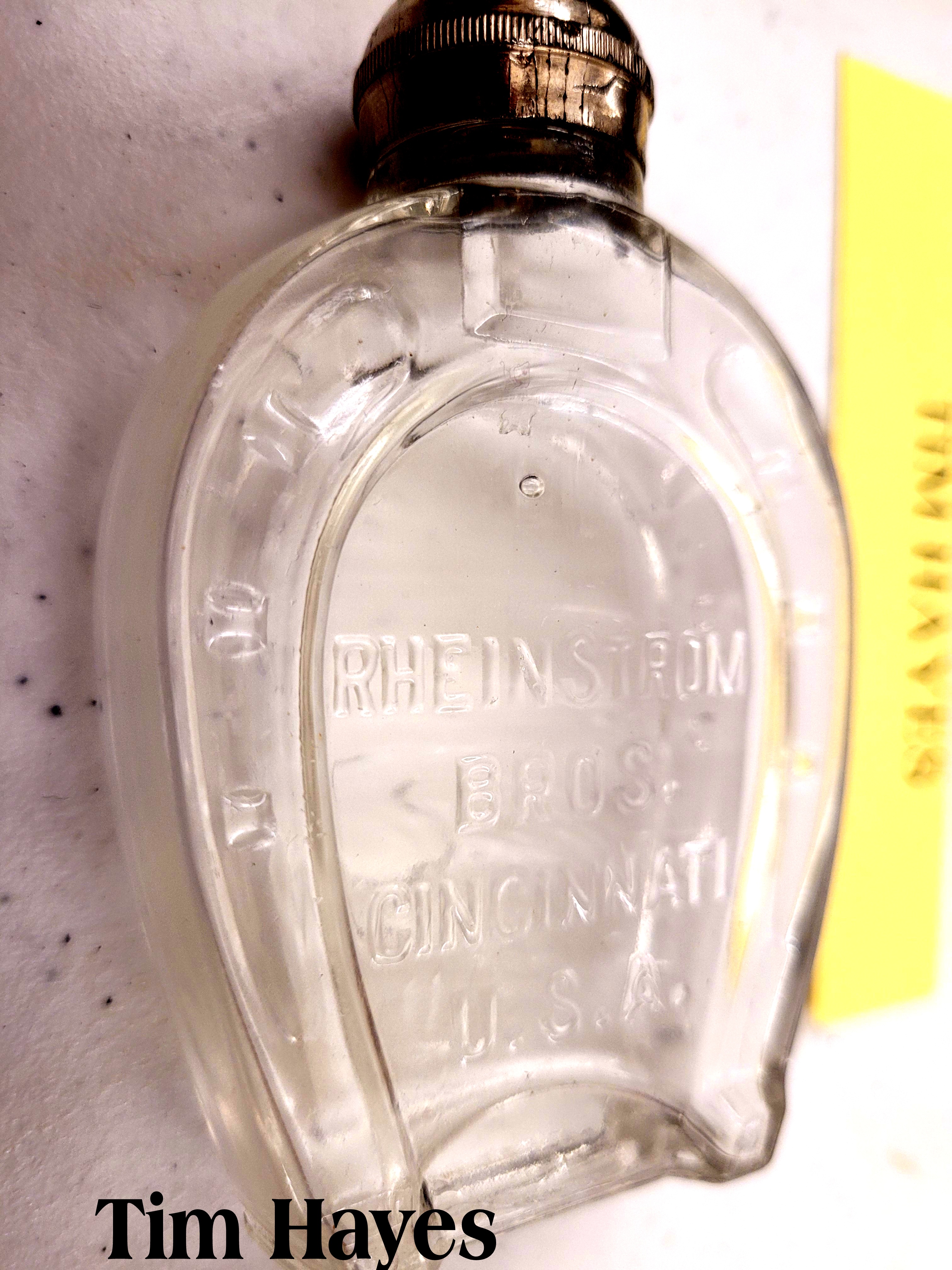 their own brands! And, they created their own advertising collectable category by producing a shot glass with nearly every brand named!
Mr Vincent Grossi contacted me saying that he has to work the Saturday of the show. We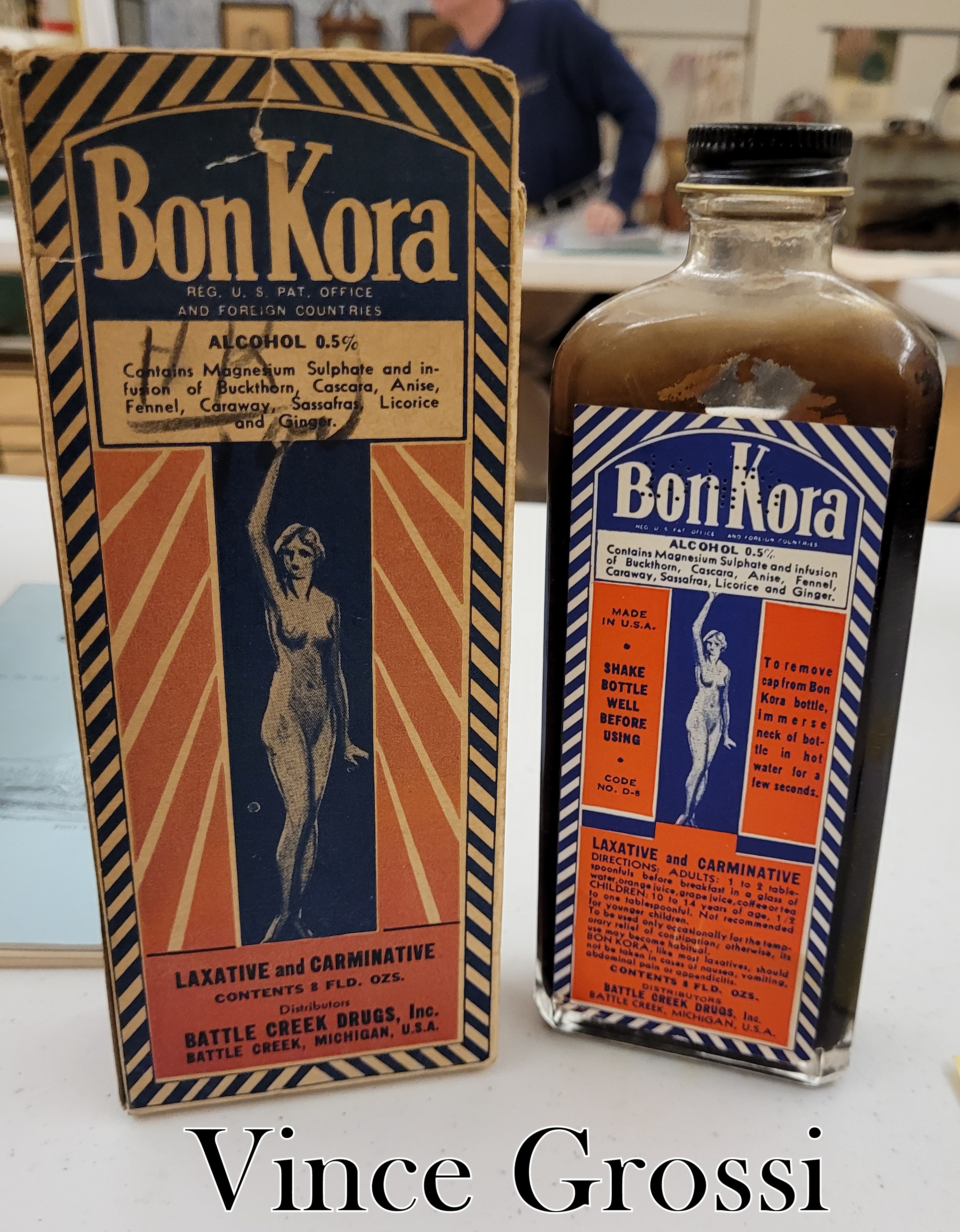 knew ahead of time, in the Greenhouse business this is his busy time. Vincent had a very sweet, "Bon Kora Laxative and Carminative" bottle with full label, full contents in original box!
Bon Lora was a product made up to 1939 in Battle Creek, MI. It was made up of alcohol, 0.5% , magnesium sulphate, buckthorn, cascara, anise, fennel, caraway, sassafras, licorice, ginger.
Hey this stuff sounds pretty good! It is suppose to relieve gas or improve the scent, or, your money back!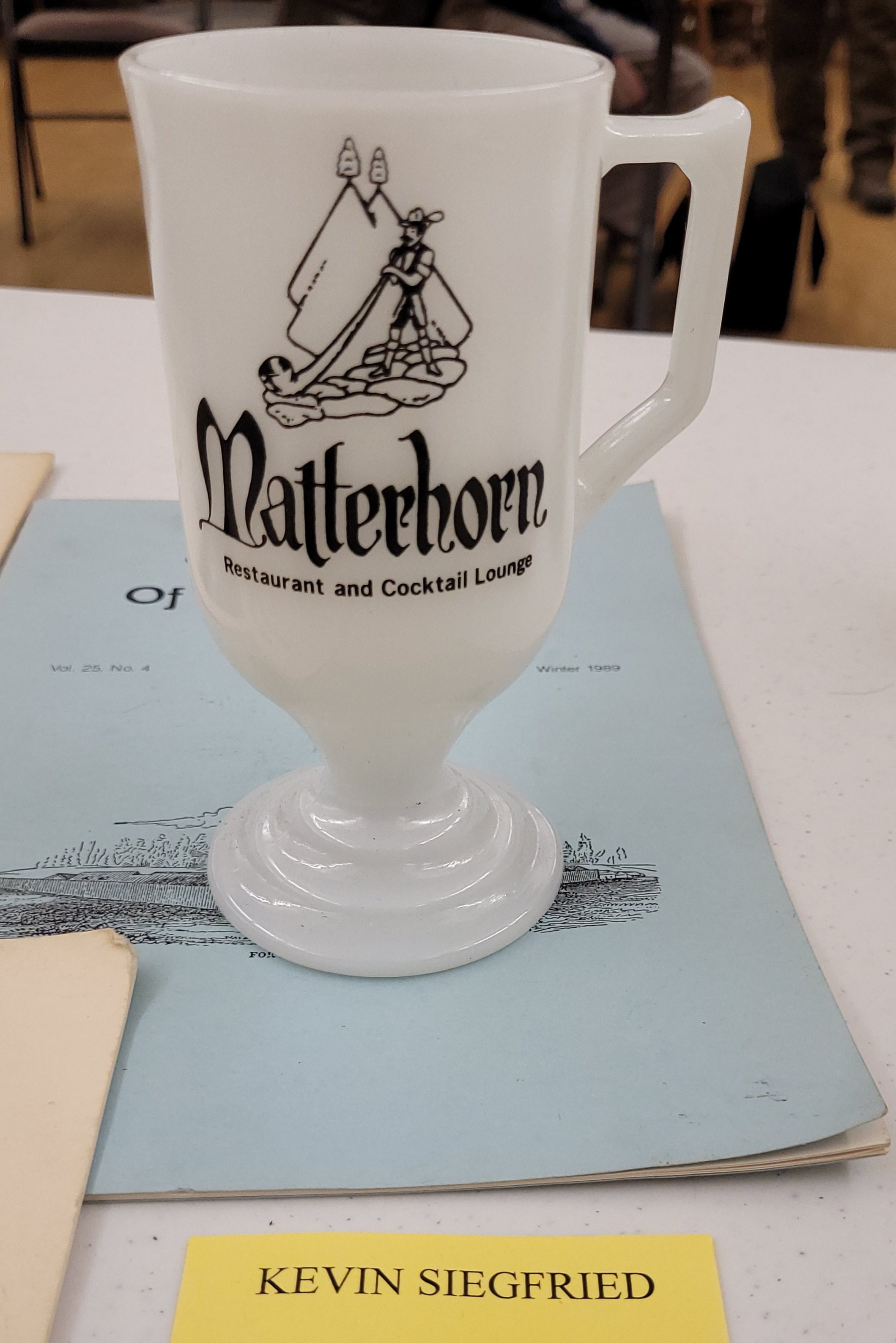 Mr Kevin Siegfried, gifted me some really cool old books from The Museum of Fur Trading, hopefully I won't have to wait long to read them!
Kevin also has a souvenir milk-glass cup from the Matterhorn Restaurant and Cocktail Lounge.
I only took a picture of one side, so I had no clue where this restaurant was located. Not a problem, I will simply "Google it" to learn. Let me tell you, America has had hundreds of Swiss Restaurants using the name Matterhorn . . .and they are everywhere!
So next, I direct my search to e-Bay where I found a pair of the exact same cups listed for $6.95 by sellers in Indiana! And, they had taken a picture of both sides! Lo-and- behold, this place was located at 4072 Lake Michigan Drive, Grand Rapids, MI!
And guess what else I learned! Souvenir Cups are a HUGE DEAL on e-Bay!
I hear people complain about e-Bay all the time . . . frankly I love it!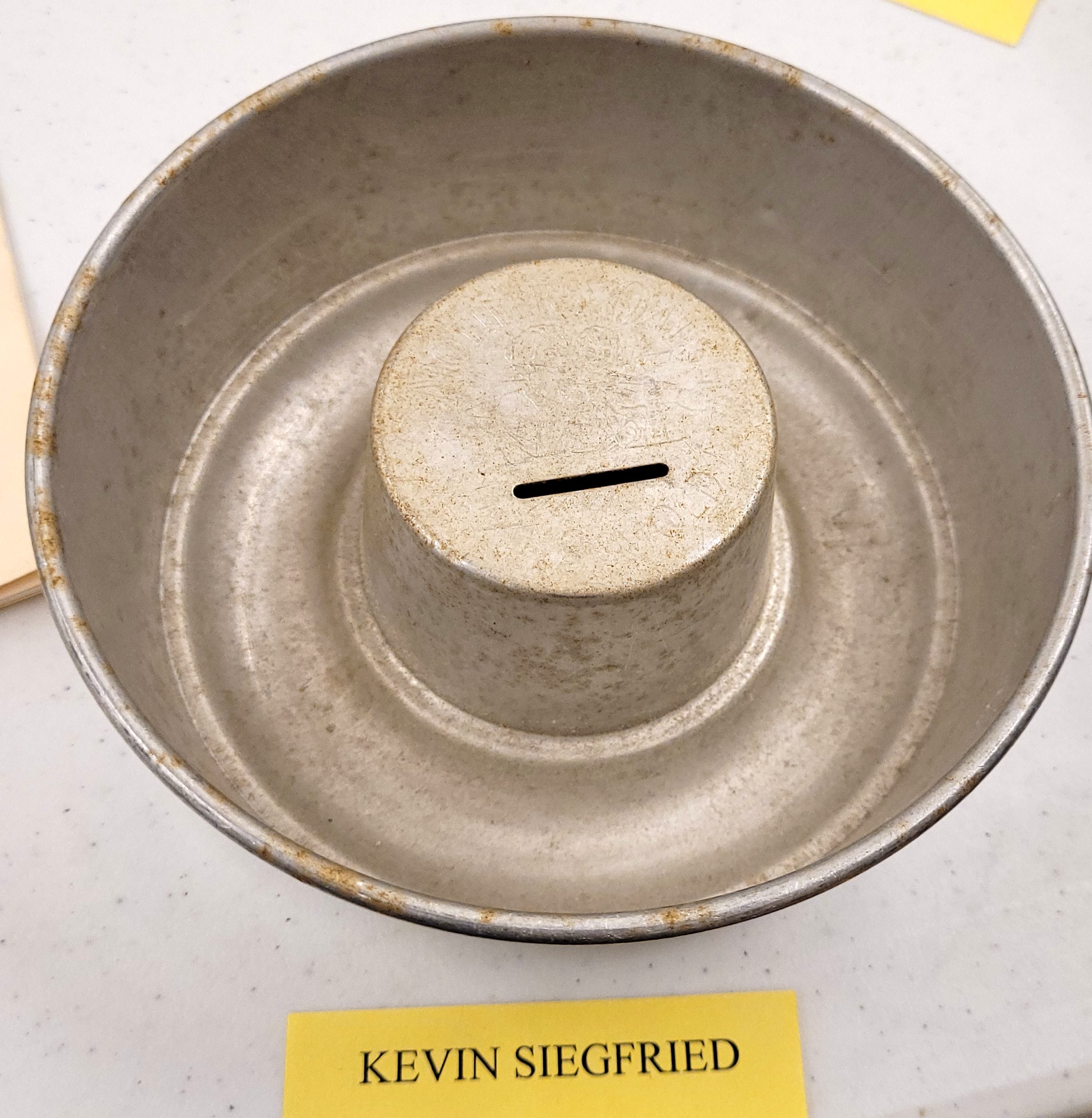 Kevin also had a "Pound Cake" mold while he was going through some stuff; he was about to overlook it as purely generic. Then, when the light caught the top of the pan's center, he could see words! It says "MOTHER'S OATS," "OATMEAL CAKE MOLD!"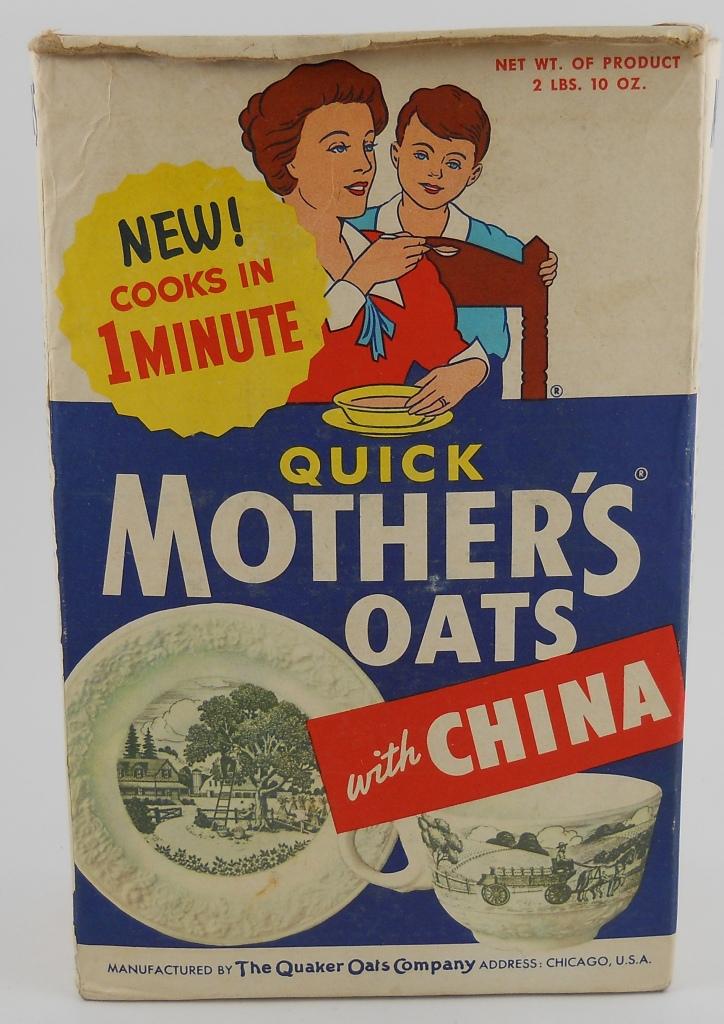 Mother's Oats was a brand sold by the Quaker Oat's Company back when Quaker Oats were big on in the box premiums for promoting! When it came to oatmeal they usually packaged premiums that would appeal to Mom, not Jimmy or Sally.
I love Oatmeal! I spent a great deal of time living with my grandparents, and they each lived nearly a 100 years eating hot oatmeal with raisins and fruit! I still enjoy it!

Did you know you used to be able to get dishware in your box of Oatmeal? For real! For decades, American ceramics companies produced dishware for the Quaker Oats Company! In the 1920s, breakfast sets were made by the companies, Royal China, Taylor Smith & Taylor, and Homer Laughlin.
These sets consisted of teacups, saucers, 6-inch plates, oatmeal bowls and fruit cups.
Dishware was offered in boxes of oatmeal through the 1960s.

I worked, during High School, for Don William's Sunoco in Plainwell. We had several give-away promotions! We had little toys, States Tokens, Presidents Tokens and one of the favorites was Sunoco dinnerware! Each time with a fill-up, with over 10 gallons purchased, you received a free dinner plate, cake dish, cereal bowl, cup & saucer. They rotated them week by week. This week a dinner plate, next week a tea cup, and it went on so you could get a full table set for the entire family! They are rare today!
But hey! When you were paying nearly 30 cents per-gallon, you expected something extra! Come to think of it, I washed your every single window, checked your air and oil! Whatever happened to that America?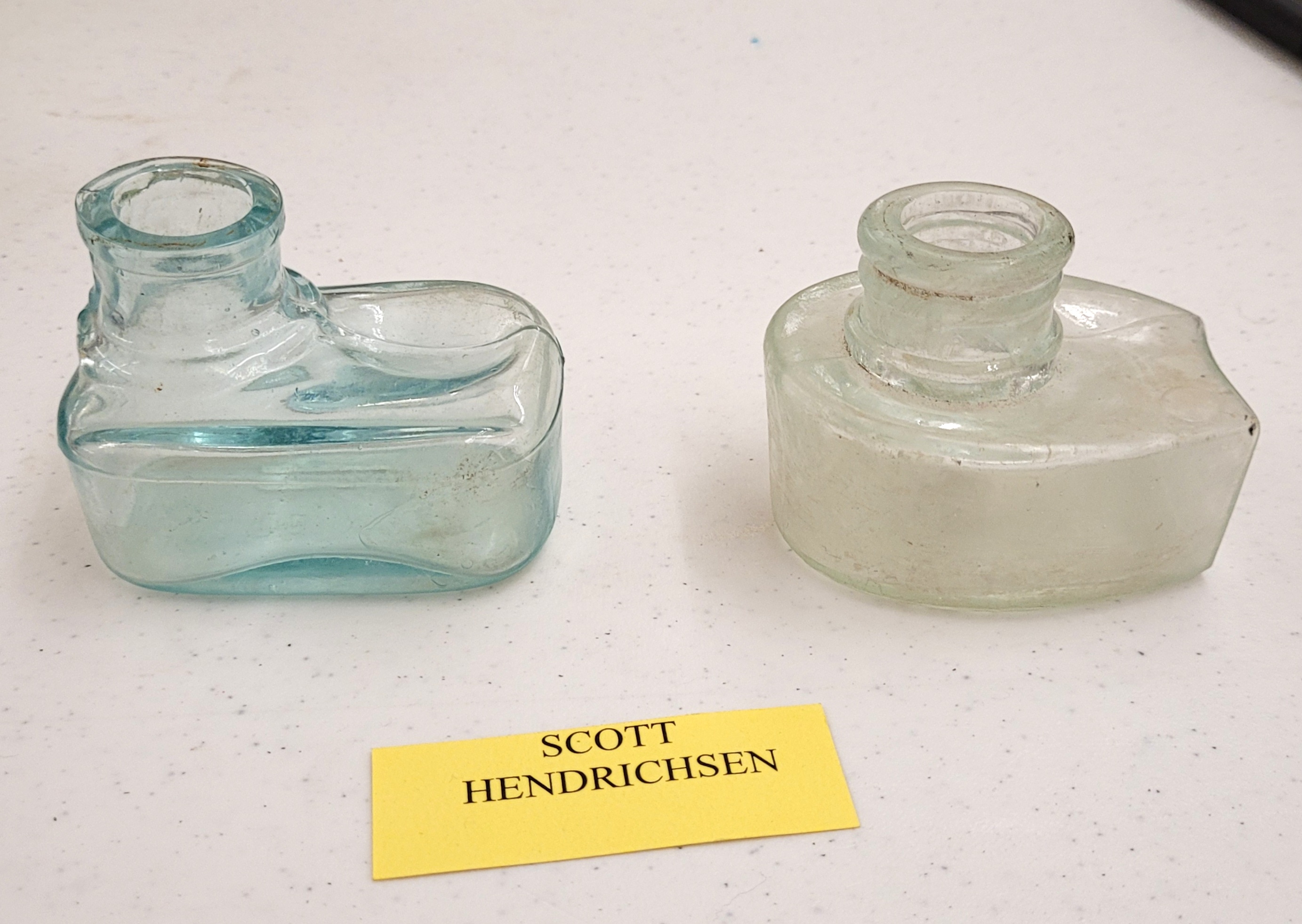 We were reminiscing with my mother a short while back, and, I told her I was so disappointed with Kellogg's, even at 70 years old.
She could remember me filling out my order and putting in the box tops that I saved-up for my very own atomic submarine. I had watched the mail for days . . . weeks . . .months, and it never arrived.
Mom said, "I think they expected you to send some money."
You mean I can put this to rest after all these years?
Today I wonder if they were to get my quarter in 2022 they would know what it was for? Very likely, the box is still sitting on Tony Tiger's desk.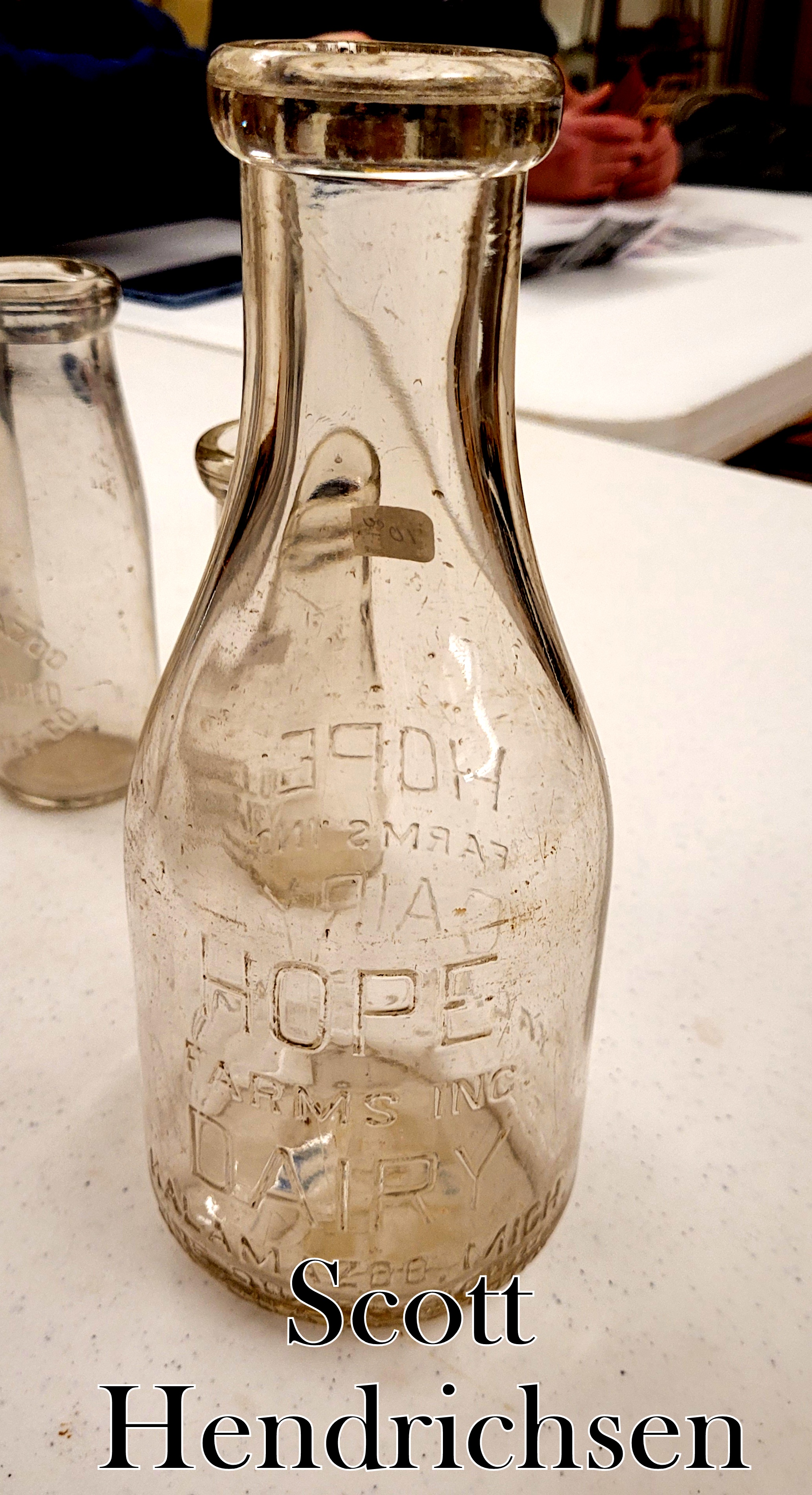 Scott Hendrichsen displayed some cool items as always. He displayed several half pint dairy bottles and two one quart dairy bottles.
One with black applied color label was a mint condition:
"Heatherwood Farm, Lansing. Mi."
Also a early embossed quart
"Hope Farms, Kalamazoo, Mi."

---
Curtis W. Holden

On April 1st 1989, 33 years ago, I lost my best friend. I wrote this memorial about that event on Facebook. I am sharing it here for the sake of time. I do hope I see you at the show! Al

On this morning, 33 years ago, right about this time, it was a bright, warm, sunny spring day . . . as pretty as they come. It was a very special day for me, I was going into business for myself for the first time in my life.
My best friend, and former employer, was going to become my first employee! We had it all worked out, and today was the real beginning.
On the last day of March the local building inspector gave us the final OK to move into our new building.
We had the big garage door open and the warm morning sun flowed in, bringing with it the sound of singing birds. Everything was coming together and I remember thinking about how blessed I was.
Then my silent thoughts were interrupted by a sharp loud crash! I had been working with a bunch of pranksters for so long, I didn't even finch. I didn't even turn around, but mentally I took inventory of the scene . . . . there was just mom, dad, and me.
That was when I turned to see that it was the aluminum ladder which made the loud crash sound, and laying beside it, was my lifeless father.
For many years I told about doing CPR and having a heartbeat and steady breathing by the time help arrived. I told how he passed away in a couple hours later at the hospital . . .
But frankly, I know now he passed right there, in my arms. That was where his Lord came for him.
I will see him again, because we both share the same Heavenly Father.
Easter; it is a reminder where all who receive Jesus are blessed with resurrection life. By His stripes we are healed. Do you have that hope?
Last night in my thoughts; I was going to go into the building behind me early this morning right where he passed . . . but I get too emotional . . . I miss my dad so much. Besides he is not there.
Yes, he was going to work for me part time, but that was really his first day of retirement. Most retire to Florida or to a mountain retreat, Dad retired to Heaven where his lodging was purchased with sinless blood.
My earthly father died helping me. I was so sickly as a child, and that had a huge impact on him, because, he always was very protective of me. Many times I could sense him being overly protective and I know that is the reason he took the ladder from me and his last words were, "I can do that, you go and help your mother."
My earthly father died helping me, but the most important job for my parents, early-on was pointing me to Jesus.
For it was on a cross where my Heavenly Father died saving me.
I remain undeserving of both. They both taught me the true definition of LOVE.
"Greater love hath no man than this, that a man lay down his life for his friends"
John 15:13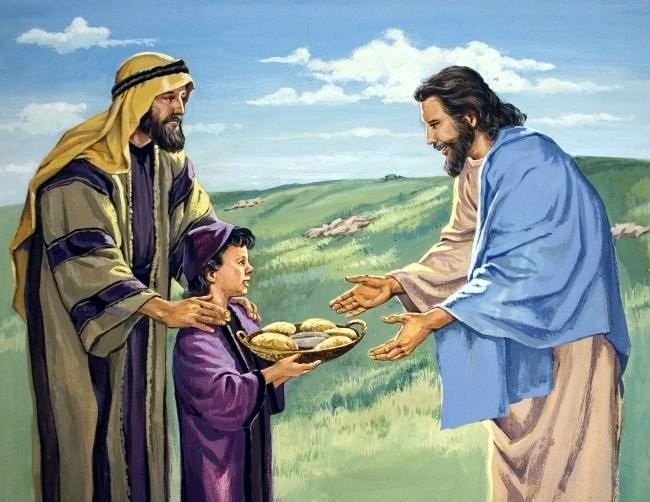 Matthew 14:16
16: But Jesus said unto them, They need not depart; give ye them to eat.
17: And they say unto him, We have here but five loaves, and two fishes.
18: He said, Bring them hither to me.
19: And he commanded the multitude to sit down on the grass, and took the five loaves, and the two fishes, and looking up to heaven, he blessed, and brake, and gave the loaves to his disciples, and the disciples to the multitude.
20: And they did all eat, and were filled: and they took up of the fragments that remained twelve baskets full.
21: And they that had eaten were about five thousand men, beside women and children.
---
SEE YOU AT THE SHOW!

THIS MONTH'S THEME IS RECENT FINDS AND SHOW TREASURES!
The Kalamazoo Antique Bottle Club
Meets at the
Otsego Historic Society Museum,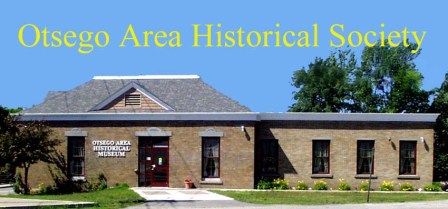 Meeting date is March 12th at 7:00

The Museum is located at 218 N. Farmer St. Otsego
Meeting starts at 7:00
prostock@net-link.net
Phone 269-685-1776
Web Address
www.kalamazoobottleclub.org


269-685-1776