Step Right Up!
I love the old patent medicine history. I'm not sure why, and maybe this is something I shouldn't admit to. Most of the medicine sold by pitchmen was designed to rip people off. But, the product was only half the story! In most cases it took the clever pitchman's skills at 'conning people' to extract that ill-gotten gain! Why do I find that so fascinating? I have been a salesman of some sort most of my life, but I have always represented honest products that gave my customer good value. But I am still fascinated at the ways many of the old snake oil salesman proved P.T. Barnum correct when he said, "There's a sucker born every minute!"
My favorite character on The Dukes of Hazard was Boss Hogg, played by Sorrel Booke. An evil, scheming, greedy, con-man was the best way to describe the Boss Hogg character . . . so what's to like? I guess I cannot explain it.
I've wanted to put together an old fashion pitch routine for years. Wouldn't it be fun to put on a mini medicine show just for the fun of it at the antique bottle show? You could even make it more fun, if you had a product to sell! It could be bottled water . . . anything to pitch for $1.00 a bottle.
Think of the claims you could make for water!
Lack of water can lead to dehydration, a condition that occurs when you don't have enough water in your body to carry on normal functions. Even mild dehydration - as little as a 1 percent to 2 percent loss of your body weight - can sap your energy and make you tired. So, water can restore energy and pep and put a spring back in your step. Dehydration poses a particular health risk for the very young and the very old. Signs and symptoms of dehydration include:
* Excessive thirst
* Fatigue
* Headache
* Dry mouth
* Little or no urination
* Muscle weakness
* Dizziness
* Lightheadedness
Most experts believe that drinking water can aid in wait loss and aid in healing any thyroid condition. It will help restore energy and even help you sleep and wake refreshed! I could go on and on! Water helps by purifying the blood, slowing hair loss and is beneficial to diabetics! Thin muscular people need more water than people with large amounts of body fat because muscle holds more water then fat!
During my cancer treatments, right after my second Chemo dose, I became so deathly ill that I honestly thought I was going to die! My wife is a nurse (And a darn good one) and she had a hunch I was dehydrated. My doctor had me go back to the Cancer Center and they started me on an IV drip of water. Within one hour I felt great again! Part of the Chemo Cocktail is a bunch of drugs to keep you from getting sick from all the drugs! But nothing works like it should without water!
Well I could go on for pages! Think of it, many of the snake oils that were pitched "were little more then water!" Maybe God does get the last laugh! The whole Medicine Pitchman would be fun, but it is just another footnote on my dream list.
I think that one of the pitchmen American's know the best was Professor Marvel from The Wizard of OZ! They don't mention anything about Professor Marvel having a product to pitch but that was an important part of the traveling sideshow. Perhaps his most famous quote was;
Professor: "Well, well, well! House guests, huh? Ha ha ha ha! And who might you be?
No, no, now don't tell me.
Let's see. . . . you're traveling in disguise. No, that's not right.
You're . . . you're going on a visit. No, I'm wrong.
You're, you're - running away."
Dorothy: "How did you guess?"
Professor: "Ha ha! Professor Marvel never guesses. He knows! Ha ha! Now, why
are you running away?"
Dorothy: Why -
Professor: "No, no, now don't tell me. They - they don't understand you at home.
They don't appreciate you.
You want to see other lands, big cities, big mountains, big oceans. Ha ha!"
Dorothy: Why, it's just like you could read what was inside of me.
Here is another great Professor Marvel line;
"This is the same, genuine, magic, authentic crystal used by the priests of Isis and Osiris in the days of the Pharaohs of Egypt... in which Cleopatra first saw the approach of Julius Caesar and Marc Antony... and... and so on and so on."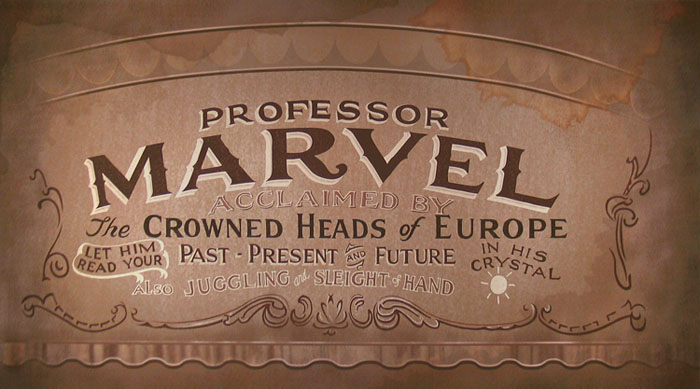 ---
PROFESSOR MARVEL ACCLAIMED BY THE CROWNED HEADS OF EUROPE!
LET HIM READ YOUR PAST PRESENT AND FUTURE IN HIS CRYSTAL! ALSO, JUGGLING AND SLIGHT OF HAND.
---
So what do you think? We certainly had a very shady history did we not? Con men were willing to prey on even the sick and weak among us! Man has come so far! He has evolved into a caring, loving creature right? Really? I just received a post card in the mail that proves once again the timely wisdom of King Solomon who said; Ecclesiastes 1:9 "The thing that hath been, it is that which shall be; and that which is done is that which shall be done: and there is no new thing under the sun."

Isn't amazing how the Bible exposes the truth about man yet to this day! Yes, there is nothing new under the sun!

The postcard says: "Learn in 45 minutes what some prominent physicians and major medical centers have known for years about helping our bodies and health. Topics of Discussion: Aches and Pain, Lack of Energy, Sleepless Nights, Swelling of Joints, Stress or Fatigue, Neck and Shoulder Pain, Back and Hip Pain, Restless Legs, Inflammation and MUCH, MUCH, MORE!

FREE DINNER! ENTERTAINING HEALTH SEMINAR! ABSOLUTELY NO OBLIGATION! DINNER FOR YOU AND YOUR SPOUSE AND UP TO 2 ADULT FRIENDS! LIVE A LITTLE, LEARN A LITTLE!

Of course space is limited so you are encouraged to call now!

At the medicine shows of old, the cost of doing business was paying a band of Native American entertainers (real or imagined) magic acts, knife throwing or any type of sideshow that would draw a crowd. Today's audience can stay home and watch TV for entertainment. What to do? Hey! How about a free meal at Old Country Buffet! Of course there is a hitch or two. You must be over at least 21 to be legally snookered in this state. Also, if you are 21 or older there is a far better chance you have something in your wallet! Oh yes, you can only attend these wonderful seminars 2 times! The last message on the post card is, "See You There!"

So my friend, I say; "Step Right Up!"