U.P. in June!
I didn't have a chance to talk about our family vacation, not that anyone is interested! Every year we go to the Western UP. to visit my wife's parents in her hometown. I love it up there and part of the fun is metal detecting at one of the nearby ghost towns or in one of the old swimming holes. I have done some bottle digging at a ghost town location and I had hoped to do that again this year.
The spot I was thinking about is not more then 5 miles north of my inlaws and my wife's father had told me the area had just been logged. That is a good thing because every time we have gone there in the past we have spooked a nearby bear. In June they are usually foraging with their cubs and not to be trusted! Also, the last time I was there, the sun was at high- noon and, inside a stand of trees, it is easy to get turned around for a dummy like me!
No, it doesn't do much good to carry a cell phone because there is no service. A compass is no help either because the ghost town is on top of an abandoned iron mine and a compass doesn't know where to point! I had a GPS but it was my mistake to get one before they became simple to use and the one I had so frustrated me I don't want another one!
Well, I really had dreams of finding one of the super rare Iron County beer bottles or an Amasa Hutch Soda! I had been day dreaming about it all through the long cold winter. In the Summer of 2010 we went up just days after I finished months of cancer treatment and right after surgery. I had amazed several people by working through 8 weeks of radiation treatments and three heavy chemotherapy sessions. When I pulled into my in-laws, I almost fell out of our truck onto their driveway like decomposed liquefied flesh! The trip almost killed me.
Well, this year was going to be different. I am still very weak but I have learned to pace myself. They told me the cancer treatments would damage my hearing, cause constant ringing in my ears, and take about 10 years off my life, which seems to be all true. They said all that was better then the alternative, but I'm just not sure for whom?
We didn't get past our first night at Mackinaw City before it started raining. From there we still have a day's drive and it was overcast for the most part. Then, when we got to our destination, it started raining and kept raining for days! We had rain, thunder and lightning day and night with only small dreary overcast breaks. When we finally hooked up the trailer and headed a day's drive east toward the Soo Locks, it stopped raining until we got to the Soo. Then after we got a camp site on the Saint Mary's River, it started to rain!
Did you know that there has been an ongoing argument for 200 years between Detroit and Sault Saint Marie over which is the oldest town in Michigan? When I see pictures of the Saint Mary's River from as early as the 1860's, I cannot help but wonder how many bottles have been tossed off the old wooden ships! Think of it! Every time I see the Army Corp of Engineers "Paul Bunyan" dredging the river, I wonder about antique bottles!
Right on Portage Street, one of the oldest streets in the state, there was a neat little antique shop and somebody was selling antique bottles that had been dug in town. I think they were all dump finds and I have always wondered about privy digging. There is a canal that goes through town and it was originally dug to be used for ship traffic around the Saint Mary's rapids.
The problem was the water flow was too great! The current races along at 7 MPH and the whole canal was dug out of rock! So, it was not wasted work. They used the stone that was quarried to build the world's longest hydroelectric plant across the canal's outlet. It is an impressive site! The building is over 1/4 mile long!
So where did your antique bottle loving brain take you? That's right, this town which was first settled in the 1630's is built on solid red rock! Can you imagine what a job it was to dig a privy back then? Can you imagine how easy it would be to find them with a probe? I drive around and look at the old Victorian ship's captain's homes and I can just imagine the rare whisky flasks just awaiting the lucky digger!
So, we were pretty bummed out about our rained out vacation. It sort of felt like we had been robbed of one of the things we really value. We did spend time with my wife's wonderful parents and I got a chance to see a 900 piece puzzle come together! Well, as for the bottle digging at the old ghost town . . . maybe next year!


What you do in the Wester U.P. when it rains for two weeks! My wife and her mother put this together, between fixing great home cooked meals, in three days! My mother in law makes the best Pasties and homemade pies!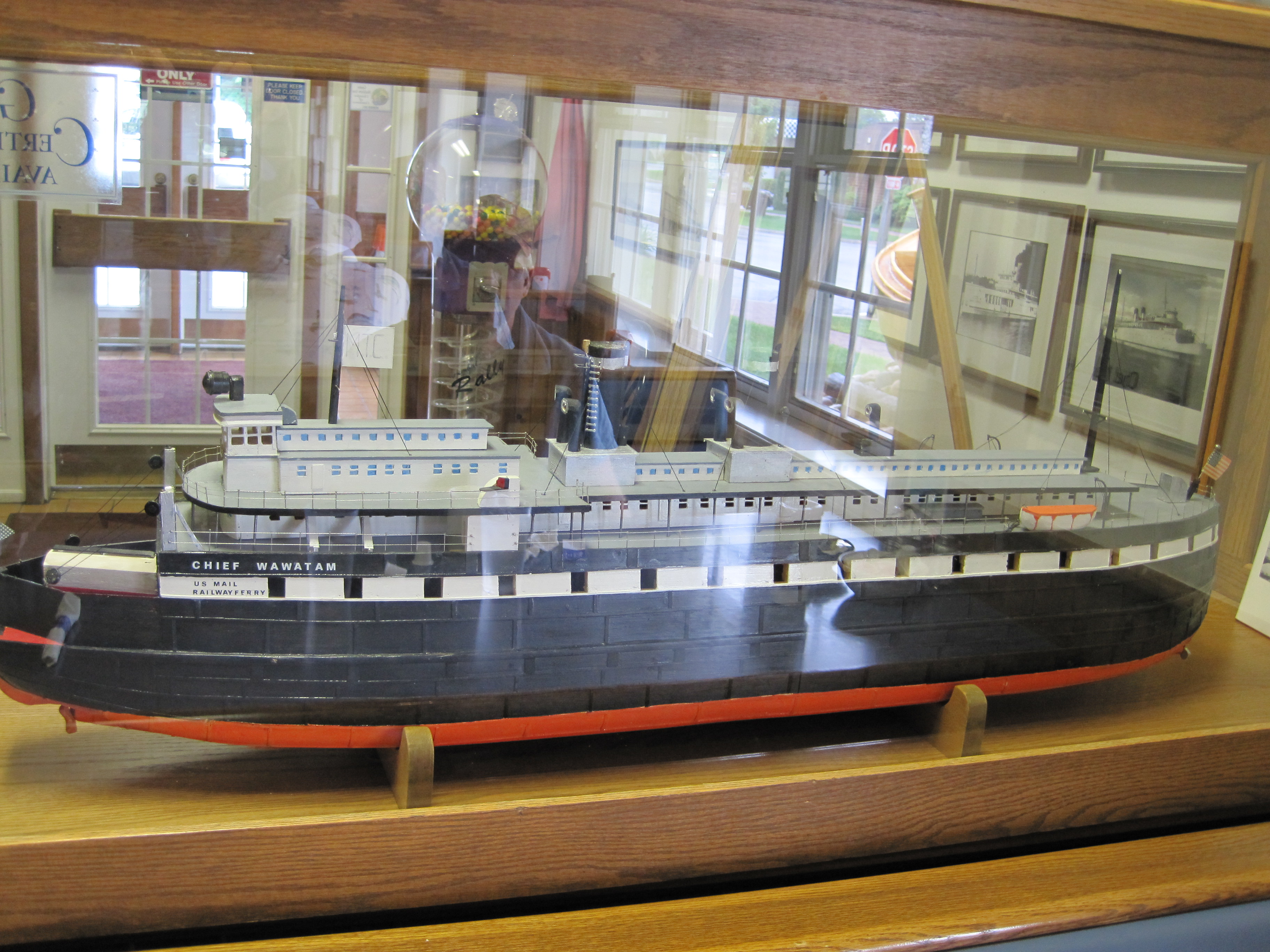 This model is on display in Darrow's Family Restaurant in west Mackinaw City. It is a nice place to eat with great food and the prices are reasonable. It is on the west side of I-75

No, it has nothing to do with antique bottles! I love old Great Lakes Ships and the Chief Wawatam is one of my favorite ships! I have a large beautiful 1870-80's, aqua 3-piece mold 1 gallon bottle I purchased from Duane Nickerson several years ago. My plan was to build this same model in that bottle. The Chief was a ice breaking railroad car ferry that had a regular route from Mackinaw City to Saint Ignace. She worked up until 1987. In 1988 she was sold and cut down into a barge. She is still being used as a barge and can be seen docked at Sault Saint Marie, Canada. For years I had been pronouncing the Chief's name wrong. I ran into a Local Mackinaw Straits expert and he helped me. I was saying Wa-Wa-Tam (like it is spelled) it is Wa-Wattum. When they had both boilers fired, and she was steaming ahead "full" she would blacken the sky! I loved to watch her work!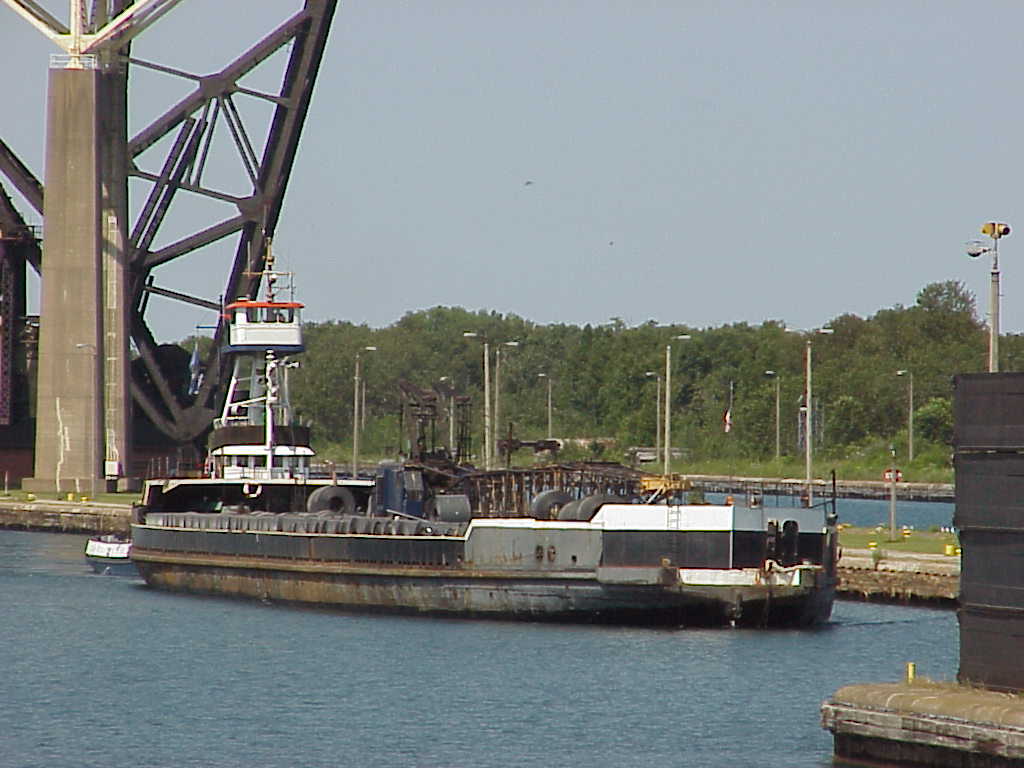 The Chief Today being pushed by a tug. Looks like she is just up river from the Soo Locks in the upper Saint Mary's River.

Here is the history of the chief

---
Idiot's Market
I couldn't leave this last page blank. I decided to tell you about my latest acquired treasure at the last minute. That means I'm back at my store and this part will be unedited. As I write this, on August 4th., the price of crude oil is at a 5 week low. It has been slipping back daily and last I heard closed at $91.00 a barrel. So, did the gasoline prices retreat? Nope they went up! I searched the Business web-sites for an explanation and found none. They don't even need a concrete reason to raise gasoline prices, just a unfounded-fear is enough to get their greedy little black hearts grabbing for more money. It just seems to me that there is far too little public outrage.
Don't expect President Obama to do much in your defense. He actually stated when he was campaigning for the Illinois Senate, that gas should be $6.00 per gallon to discourage its use and bring us more in line with the European market.
Discourage its use? The American economy was built around low energy prices and I don't think that should be criticized. Our problem is the source of our oil! I am fully behind the "Drill Here Drill Now" plan! Competition and volume always result in lower prices and a better product!
So, have you ever seen the start of a Alcoholics Anonymous meeting where they introduce themselves and say, "I'm John Smith and I am an alcoholic."
Well, "I'm Al Holden and I am an RV Camper."
I grew up around RV's My father owned on of the largest RV dealerships in Southwest Michigan which he started in 1957 and then He sold it to retire in 1988. I started out washing the bugs off from the rental units, then was promoted into new unit prep, then into sales, then sales manager. I loved selling RV's! We were the number one selling dealer in the United States for several national brands and I sold the largest share of them. I didn't know my wife at that time, and she really doesn't understand. It drives her nuts when we are going down the road and I spot a familiar travel trailer, pop-up camper, pickup camper, fifth wheel or motor home and I say, "I probably sold that."
There still is a RV industry, the high gasoline prices have not killed it. The retiree can still save money by winterizing his home and heading south for the winter if he finds a nice park away from the tourist traps. We like to travel with our 21 foot Jayco because it gives us a nice clean bed to sleep in, a place to prepare our own food and a clean bathroom.
I think our pickup gets about 16 to 18 miles per gallon running around empty and about 10 to 12 pulling the trailer all loaded. I still think it is a good deal when you factor in the costs of Hotels and eating out. Some of the campgrounds we stay in range from $15.00 to $25.00 per night with full hookup, which is water and electric and a sewer dump station. Many places have cable TV hookups and free Wireless Internet!
The campground we stay at Mackinaw City has almost a mile of waterfront on Lake Huron at the Mackinaw Straights!
The name of the campground is, "Old Mill Creek." There are over 800 sites and it is a beautiful campground! They have a nice camp store, arcade game room and pool as well as beaches and a golf course. The showers and bathroom are squeaky clean! They even pipe in classical music into the showers!
There are a couple large playgrounds and a large basketball court. Plus, after 10:00 pm it is quite! They have shuttle service to the Mackinaw Island Ferry Service, and they can handle your bikes. The people who own it are committed to keeping it as a campground even though the property is worth millions to developers.
Well, when we returned from vacation we noticed a used class-C motor home for sale on West Main and we drove by it for weeks. It caught our eye but we didn't say anything to each other. One day on our way past it I was in heavy traffic and I was going to stop and take a closer look when some guy pulled in and blocked the drive. I expressed dismay and my wife asked "What's wrong?"
I told her, "I wanted to get a closer look at that motor home." I expected her to rebuke the idea. Instead she said, "I've wanted to check that out as well!"
It was locked up, so we peaked through the windows but it was hard to see much. They had a price tag in the front window of $9,850.00. I went on the computer to see if they had a web site. They did and it had a slide show of inside and outside of the motor home.
I had some idea what we were looking at, it was a 1984 London Aire 27 foot motor home on a Ford chassis with the 460 V8 engine. The London Aire motor homes were top of the line! Full welded aluminum superstructure with hand finished oak cabinets and the finest workmanship. In 1984 I was selling Midas Mini Motor homes for about $12,000.00. A London Aire would set you back around $44,000.00 plus options!
This unit came from an estate and it was advertised to have 116,000 original miles and also was stored inside. It was loaded! And I don't mean just options!
It has a 4000 watt Onan Generator, (that fires at the touch of a button), and runs like brand new. It has rear Air-Ride suspension, roof rack and storage pod, high dollar Zip-Dee awning, monitor panel, roof air, power step, microwave and regular oven, all directional TV system, Towing package, running boards and roof air! And much more! But, it was even packed with dishes, tableware, pot & pans, vacuum cleaner and clothes iron!
It runs out like new! I had my son check it over and it looked like the front disc brake pads were not striking fully so I had them changed buy the guys who are in my building. I had them put new belts and hoses on at the same time. I asked them what they thought of the coach and they said, "We cannot believe it only has 16,000 miles on it!"
I told them it has 116,000 miles and they said, "NO!"
They said, "We know that odometer has not rolled over, and we just changed the original belts and hoses. There is no doubt in our mind this is 16,000 miles!"
Well, it gets 9 miles per gallon and it is shear luxury! I made the seller and offer of $6000.00 and we settled at $6500.00. When I was researching London Aire, and the parent company 'Newmar' there was a newer, bigger 2008, 40-foot unit on You Tube with 11,000 miles for $550,000.00 the factory suggest retail price of $998,900.00! A million dollar motor home! I am one happy camper!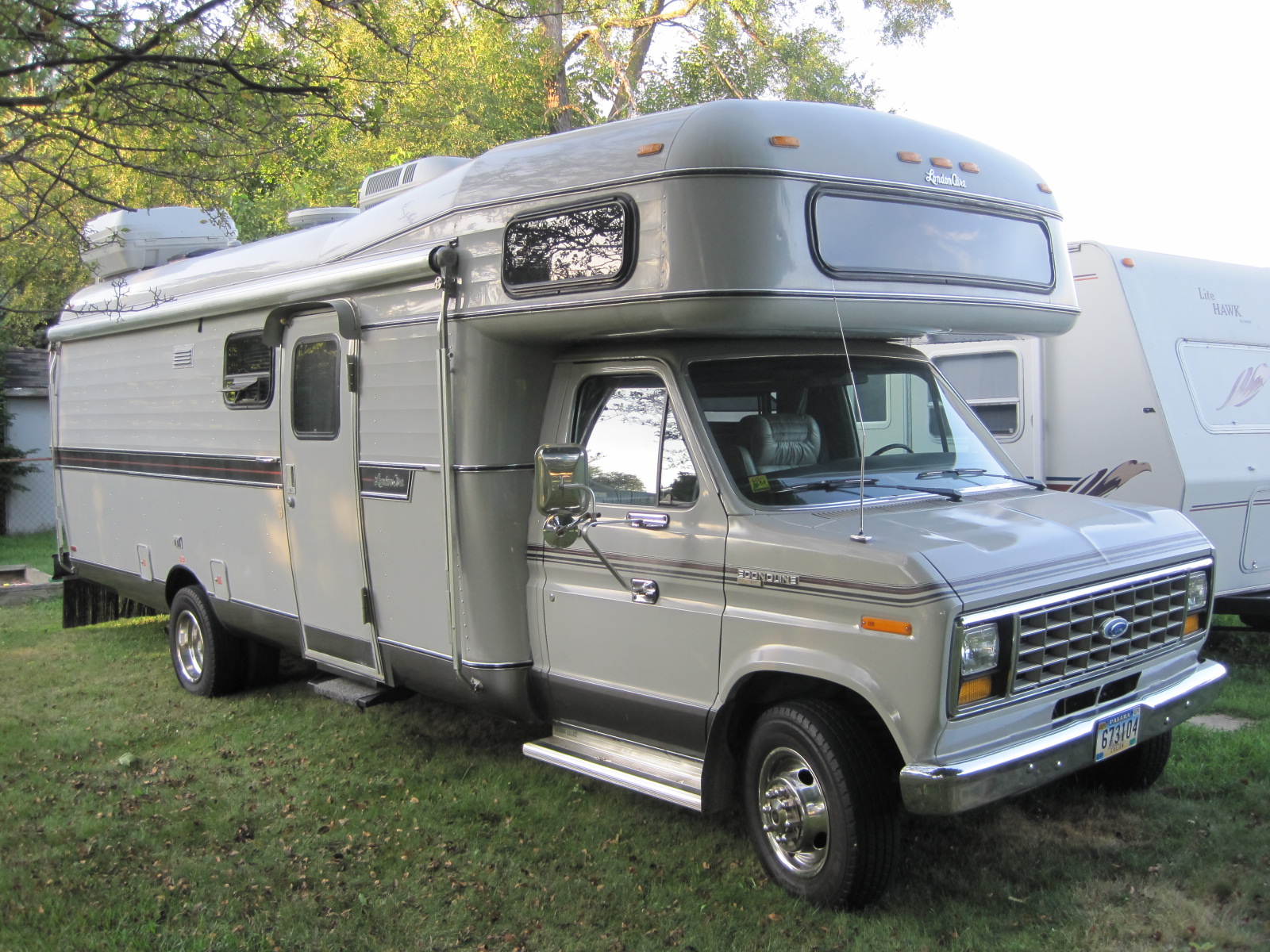 ---
The Kalamazoo Antique Bottle Club meets at the main downtown Kalamazoo Library, located at 315 South Rose Street. We meet on the third floor in the conference room. This meeting is August 9th. Meeting starts at 7:00 pm. For questions e-mail prostock@net-link.net
Or call 269-685-1776