We saw some interesting bottles at the last meeting. Vincent Grossi brought in a clear 1-pint whiskey bottle embossed: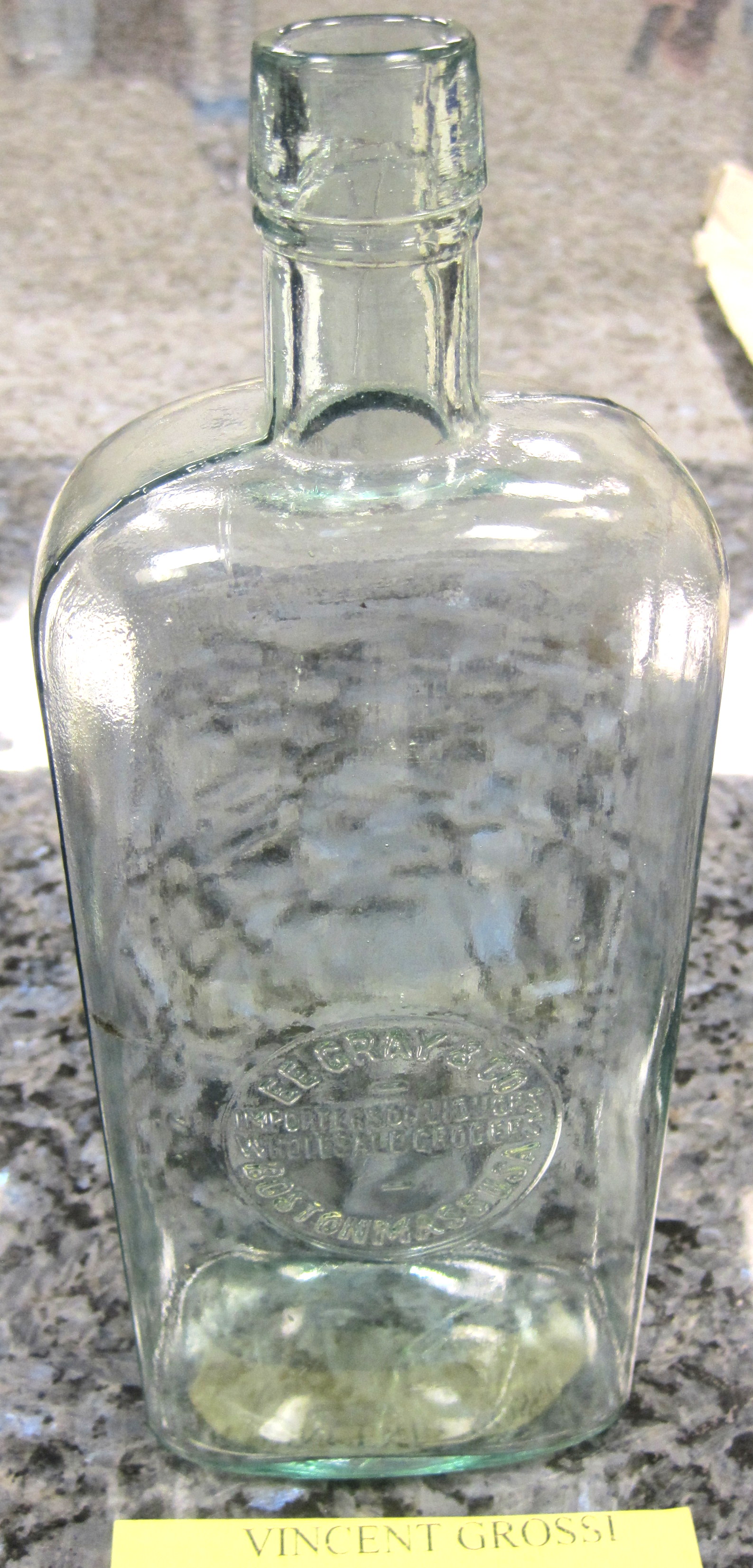 E.E. Gray & Co. Boston, Mass. Importer of Liquors and Wholesale Grocers.
The E. E. Gray Company, was organized in 1914 and conducted a chain of grocery stores in several cities in the commonwealth of Massachusetts. Some of the company's private-label products were "Defender Rye", "Gray's 44", "Gray's Club", "Gray's Eclipse Rye", "Gray's Household Pride", "Gray's Monarch", "Household Pride", and "Lucky Clover."
Because the company was huge, they put their name on lots of products. For the most part, what turns up in a Google search is bottles and jugs for sale listed on antique auctions.
The most informative page I was able to find was an actual law suit briefing that was filed in US Court of Appeals dated December 17, 1931.
The E.E. Gray Co, claiming to raise funds to expand their chain of stores, offered stock for sale to the public.
The company officers organized a new corporation, with charter powers to loan the newly acquired money to assist the Corporation in any way needed.
This plan raised, from public sale, $500,000.00 in cash. With that money the officers of the new corporation gave themselves each $40,000 management fees which totaled $236,000.00. Added to this they paid themselves handsome salaries and other bonuses.
After they burned through the investor's money (and then some) filed bankruptcy.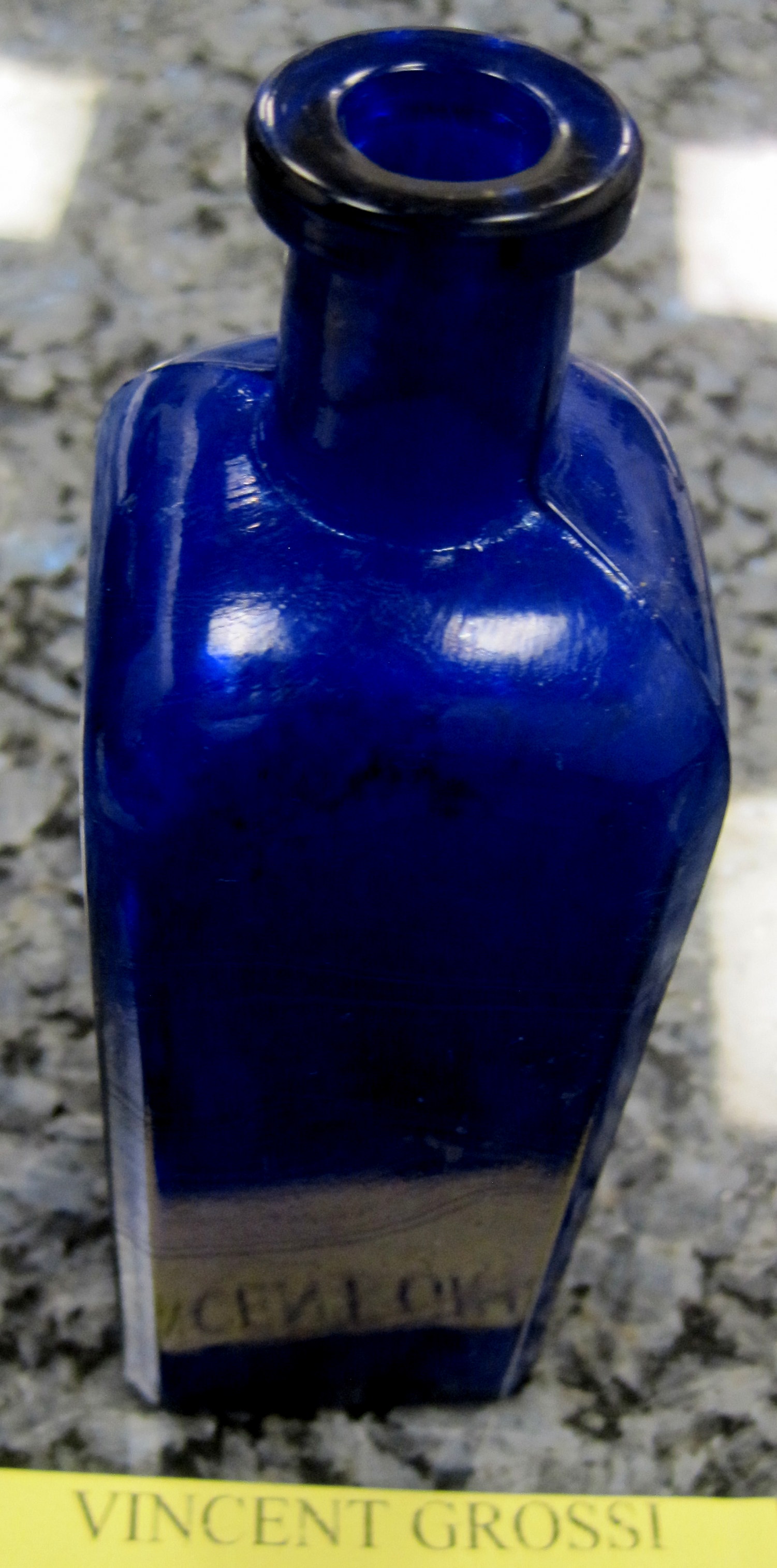 The corporation was taken to court by many of company creditors, one who was owed nearly $200,000.00. I suspect the court itself was getting money under the table because the court ruled the creditors should have written off their claims!
From what I can see, in 1914 up to 1930 E.E. Gray was the Walmart of that day, at least in the Boston area.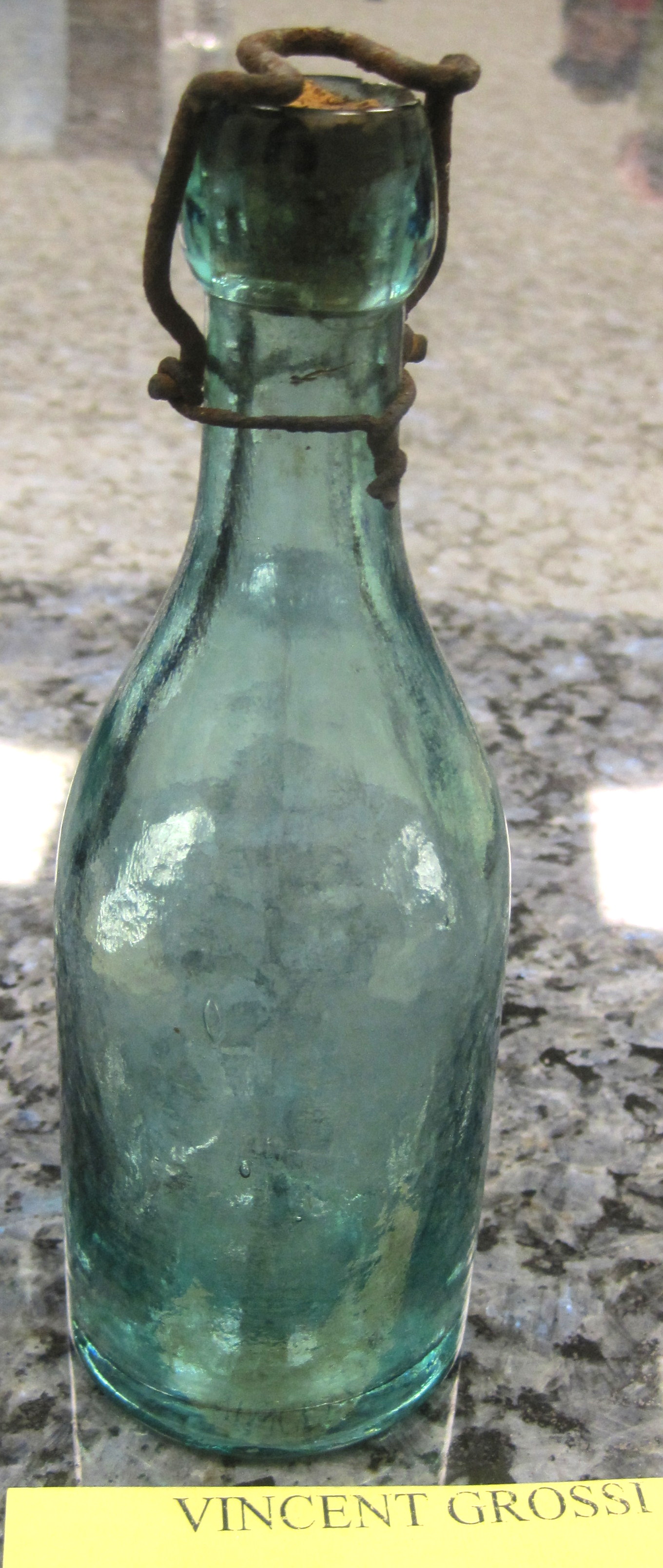 I cannot say that I understand all the legal mumble jumble, but the entire deal looked pretty shady to me. All of this took place during prohibition and leading up to the early 20's E.E. Gray was heavily invested in the liquor business. Being in that business, during those years I suspect crooks with big ideas were always within reach.
An elderly person asked her aged father, "Father, why did you never drink? Was it because you didn't like it?"
"No," he replied, "it was because I did."
Honestly, I think it is a shame that nearly every young person alive today will be tempted to play with that snake.
Another bottle Vincent displayed was a light sapphire blue Keasby & Mattison, Philadelphia. They were founded in 1873 as a pharmaceutical co. The company originally manufactured and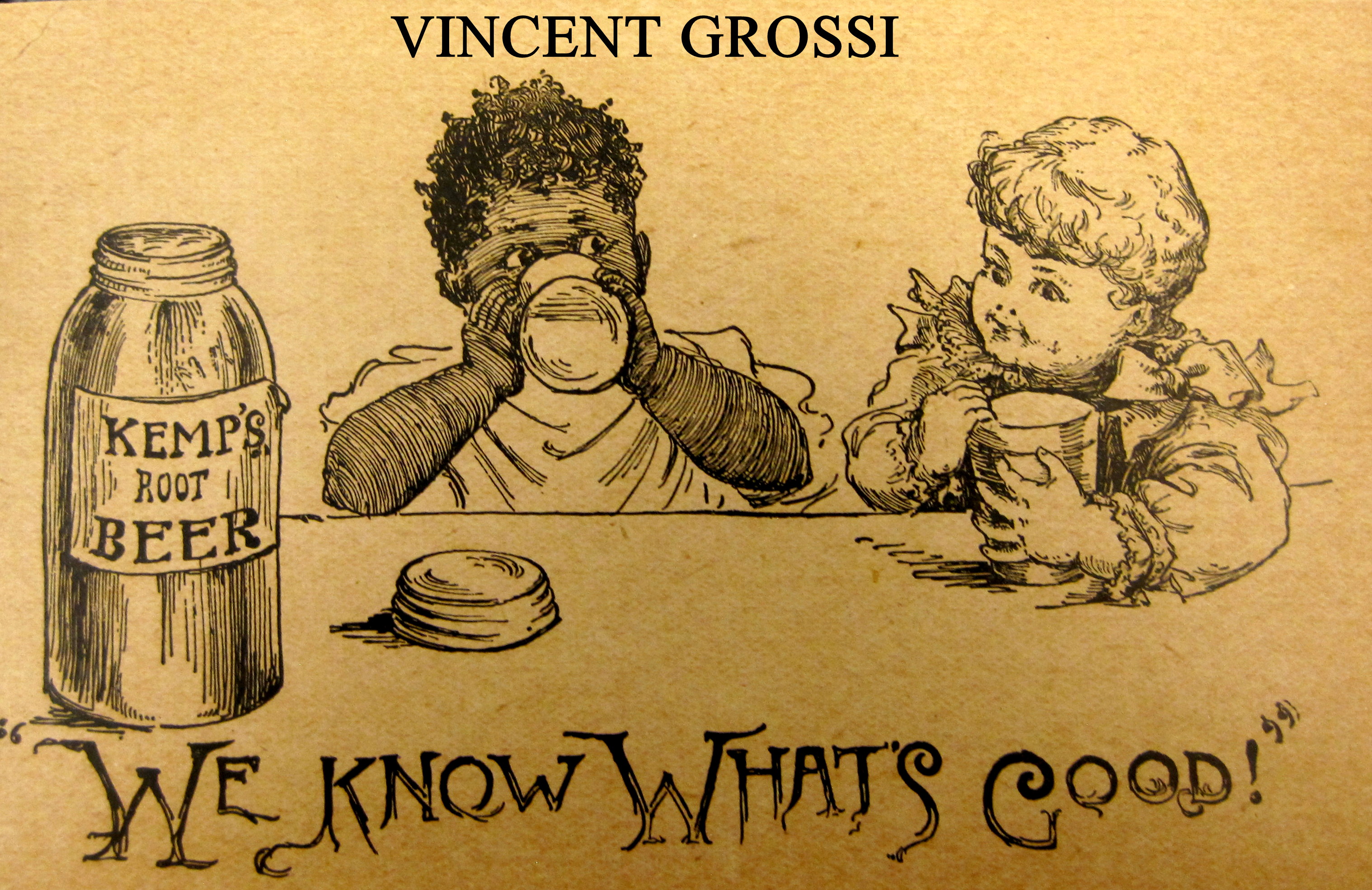 marketed patent medicines. Working in a company laboratory late one night with the moon and stars shining bright, Mattison did the mash, he did the monster mash! It was a graveyard smash!
Mattison discovered that a mixture of magnesium carbonate and asbestos would adhere to a hot metal pipe, and could be turned into a dandy insulation material for steam pipes. Asbestos and related building products soon became the focus of the company.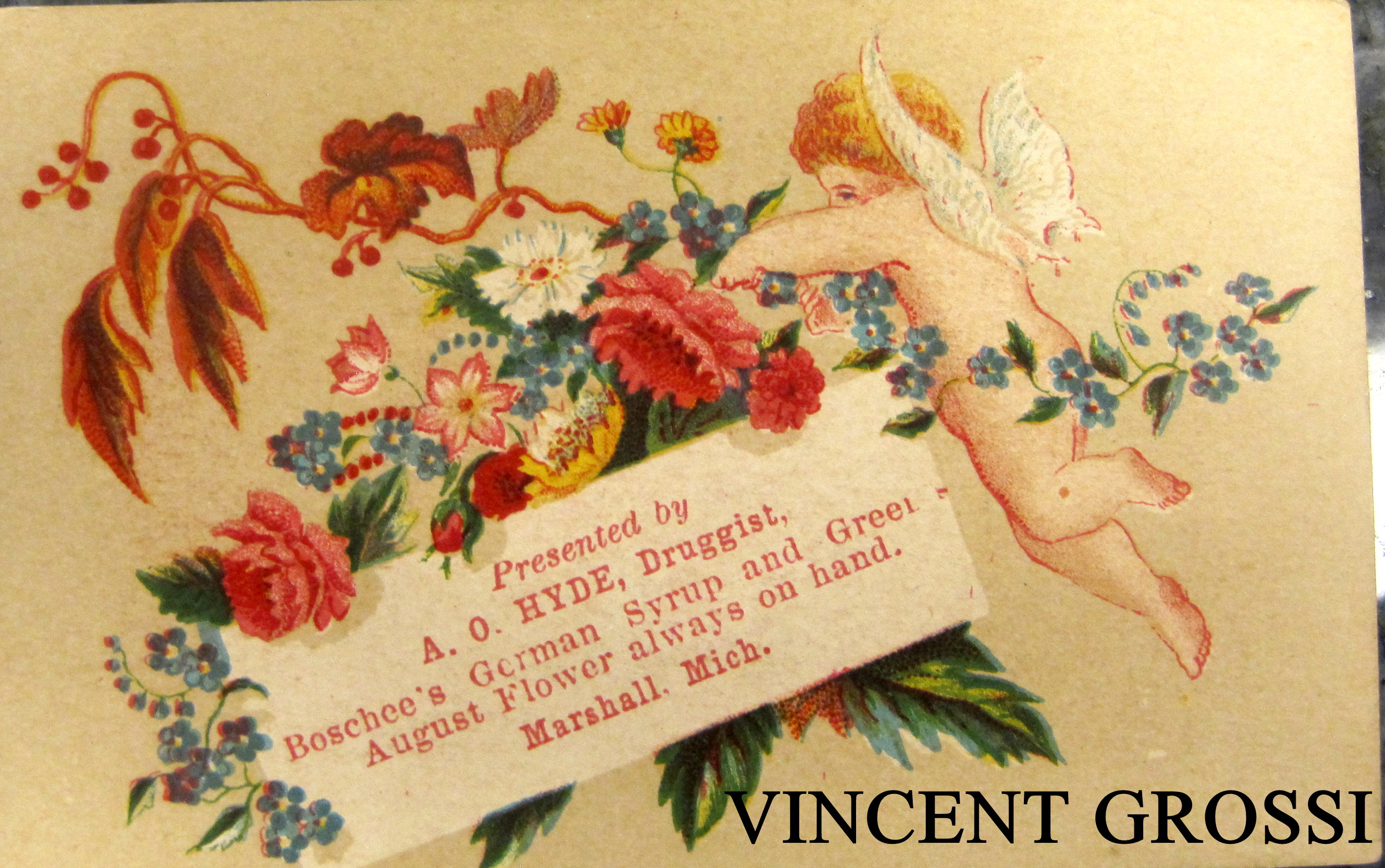 Keasbey and Mattison did extensive research and product development. By 1896, the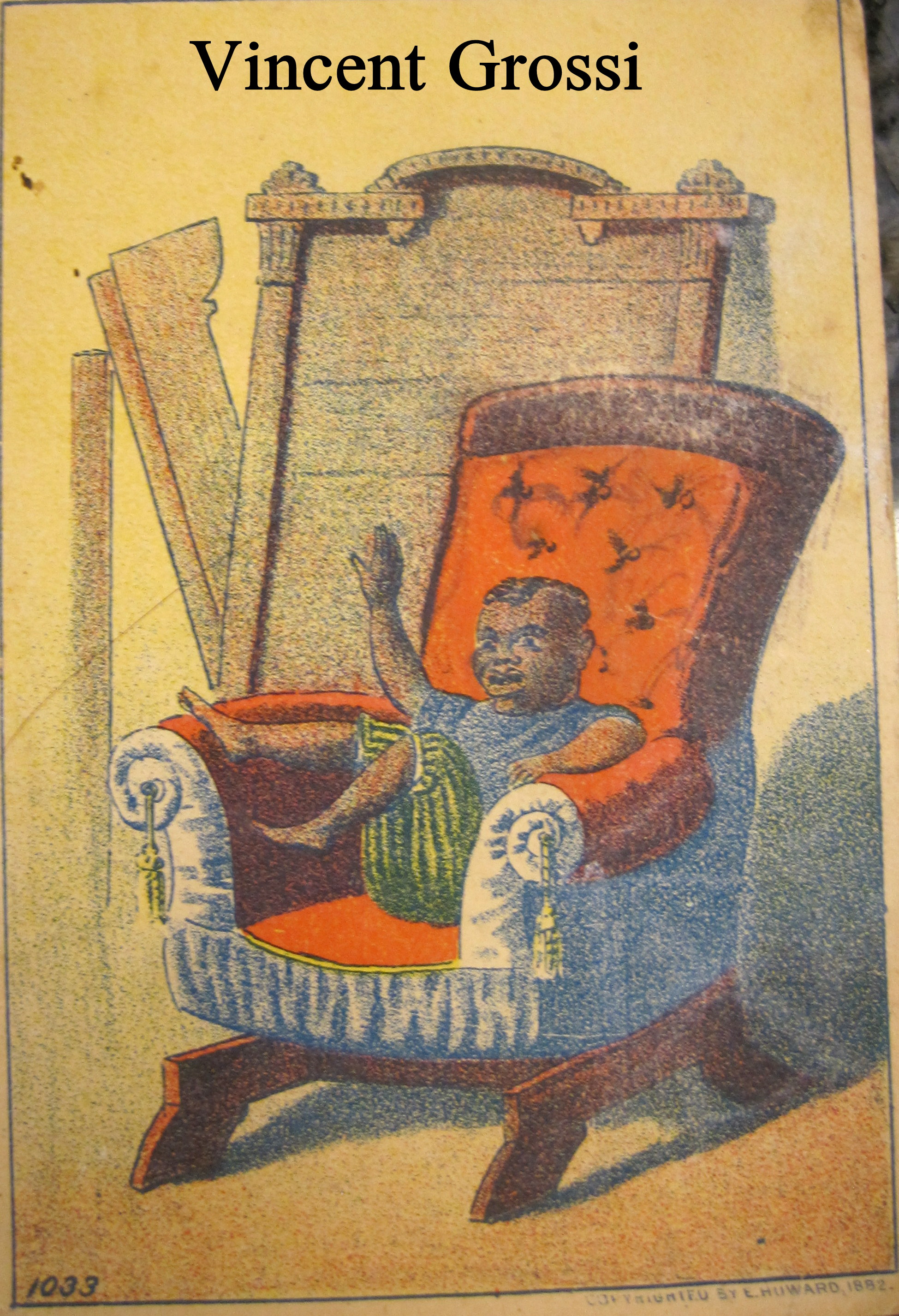 plant included areas to produce roofing tiles, papers, pipe coverings, and the nation's first asbestos textile plant. By 1897, they were producing asbestos paper and millboard for electrical insulation and welding shields. As of 1905, they began to use the Hatschek process for manufacturing asbestos cement roofing shingles, which they sold under the name "Century Asbestos Slate". They even released advertising postcards, showing elegant buildings that used the new materials. By 1906, they were treating lumber with asbestos. By 1909, they were making asbestos brake linings for automobiles and railway trains.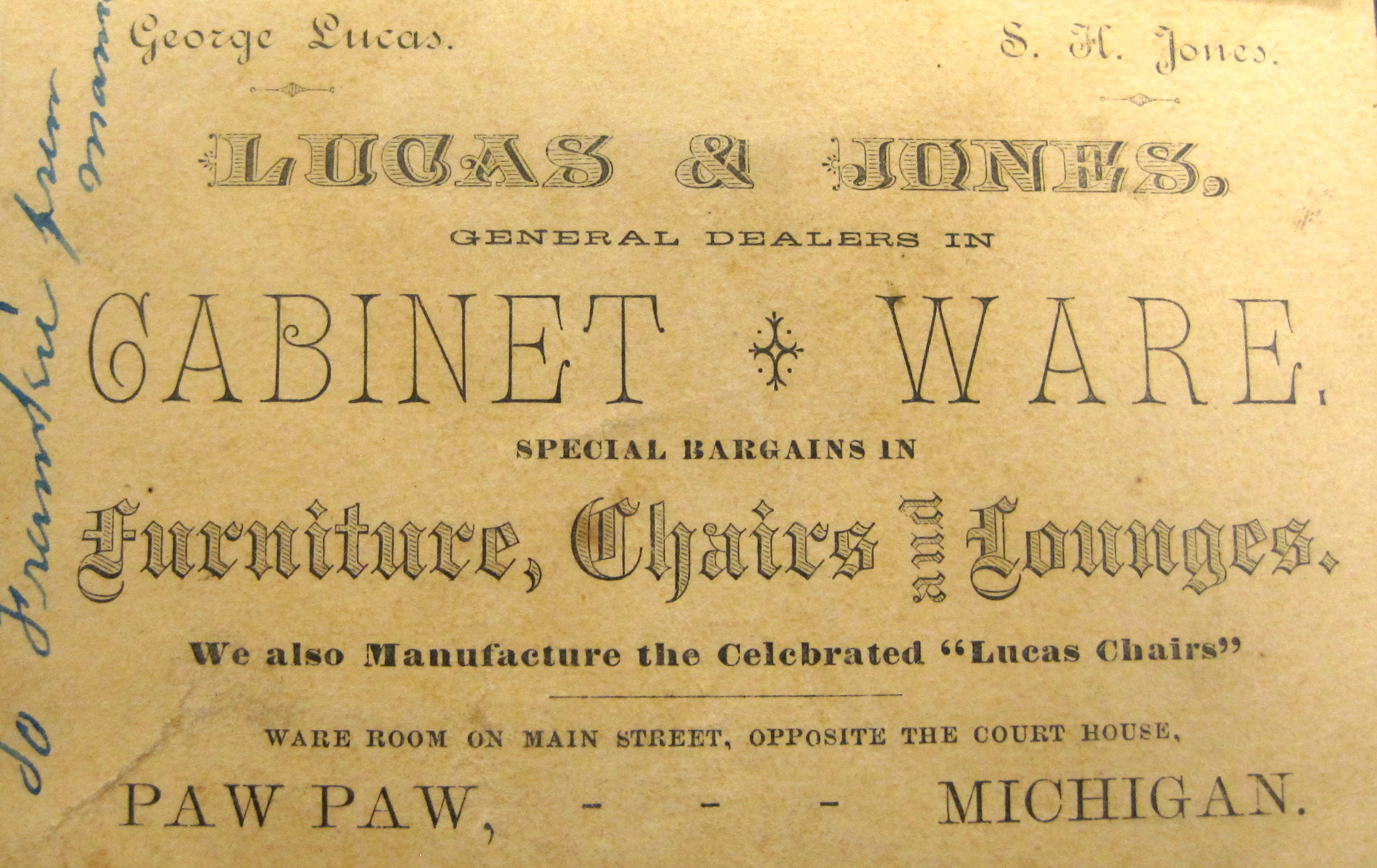 By 1920 the plant employed 900 men and used 1,000,000 gallons of Wissahickon Creek water daily. The company also had a first aid room with a doctor in attendance at all times. However, the amount of waste released downstream was "tremendous" and gave the creek "a milky appearance".
Little or nothing was known about the dangers of asbestos when the plant was built. By modern standards working conditions at the plant were hazardous, as workers came into daily contact with the mineral. Raw asbestos fibers were stirred into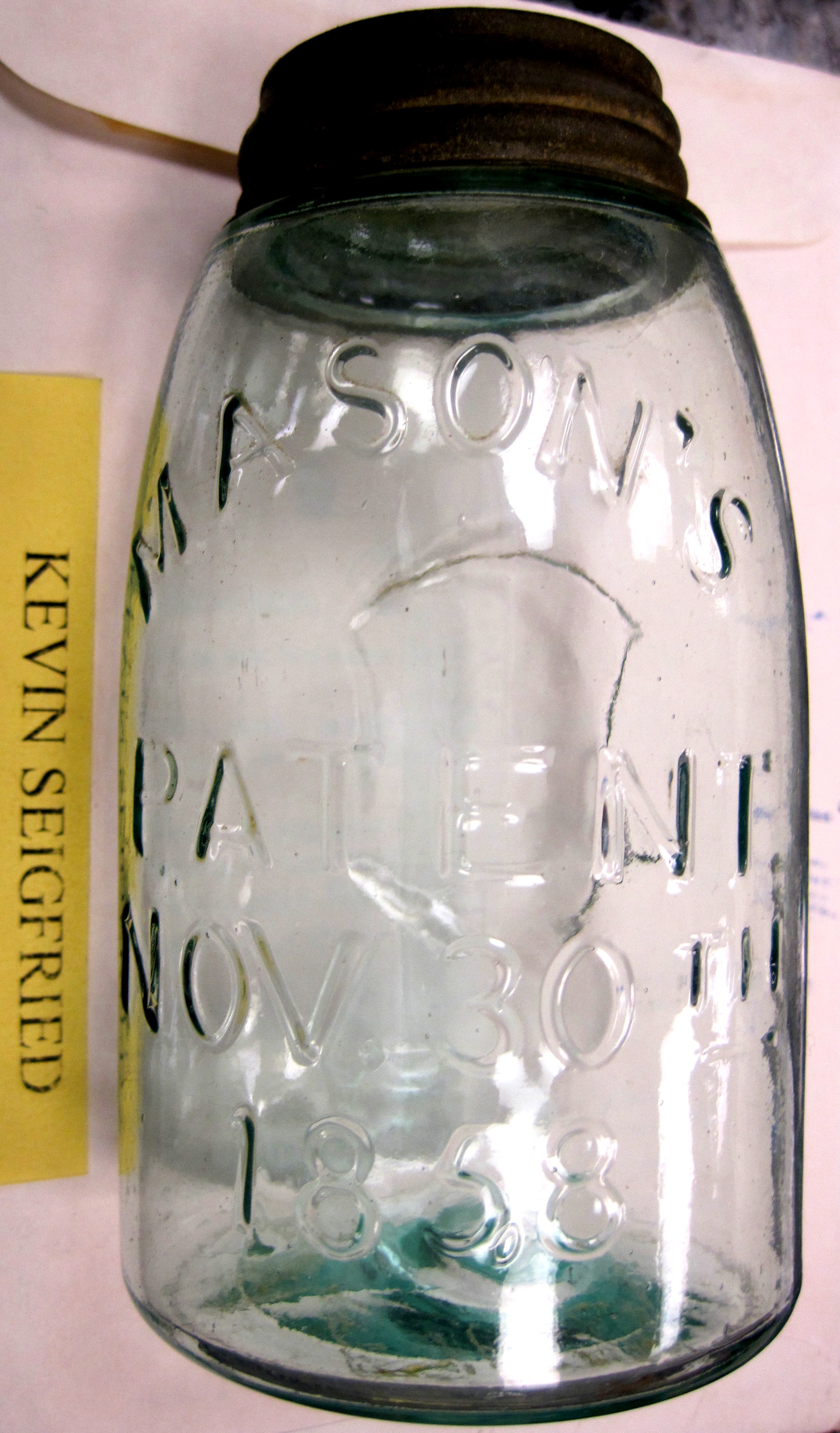 cement slurries or beaten by hand and fed into carding machines. Ventilation was rarely used in the rooms, and the men working in the plant did not wear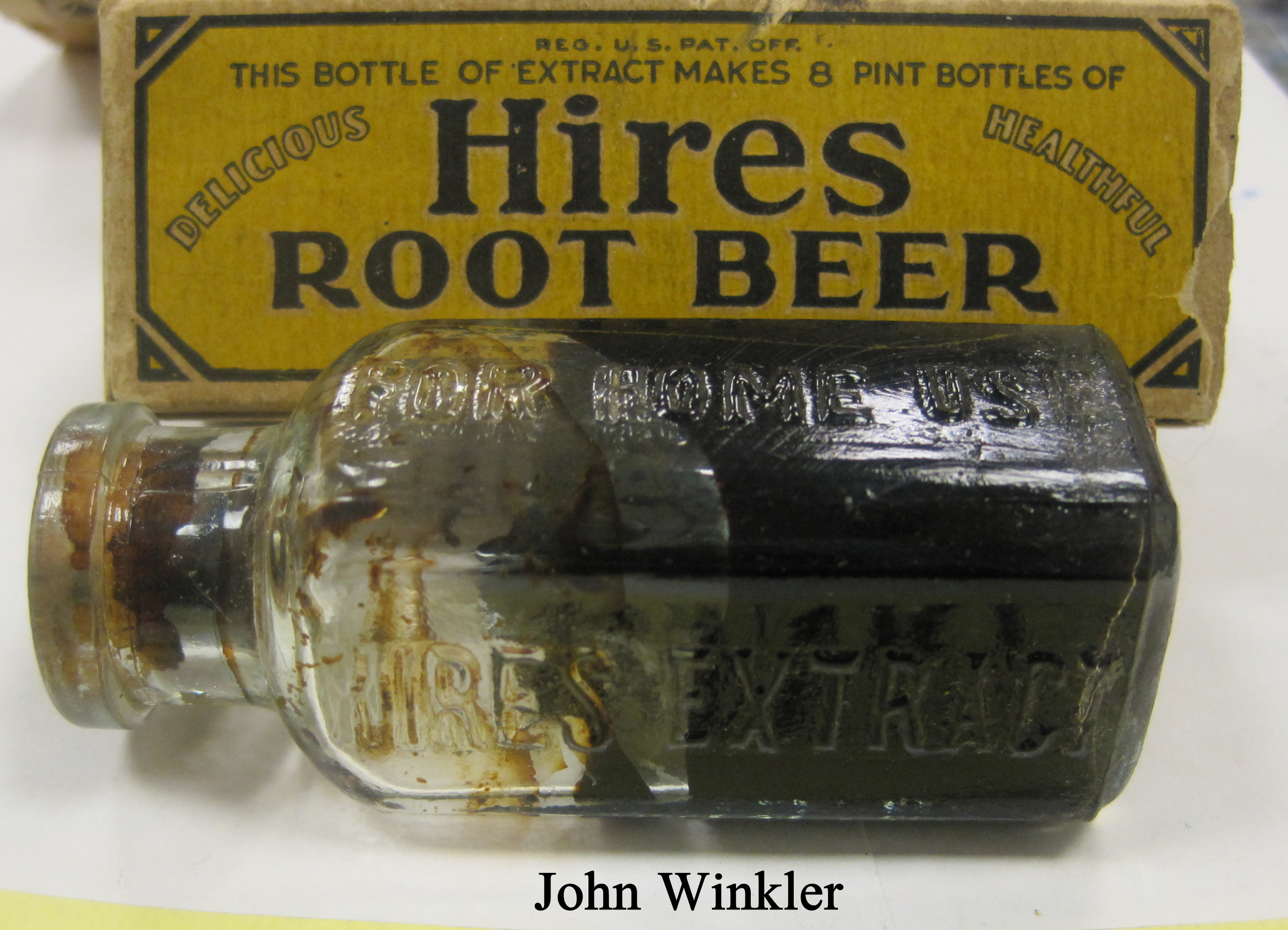 ventilator masks.
Even into the 70's the shop where I worked in the paper machine trade had me wearing it! I would rebuild bearing journals by welding overlapping weld beads all the way around a 40 inch diameter bearing surface. Each bead would be 12 inches long and they had to be pure clean welds. The job took several hours of patterned welding to avoid warpage. Then the tapered journals had to be machined down to exact dimensions.
I was the only in-house welder! I wore asbestos leg coverings, ankle and shoe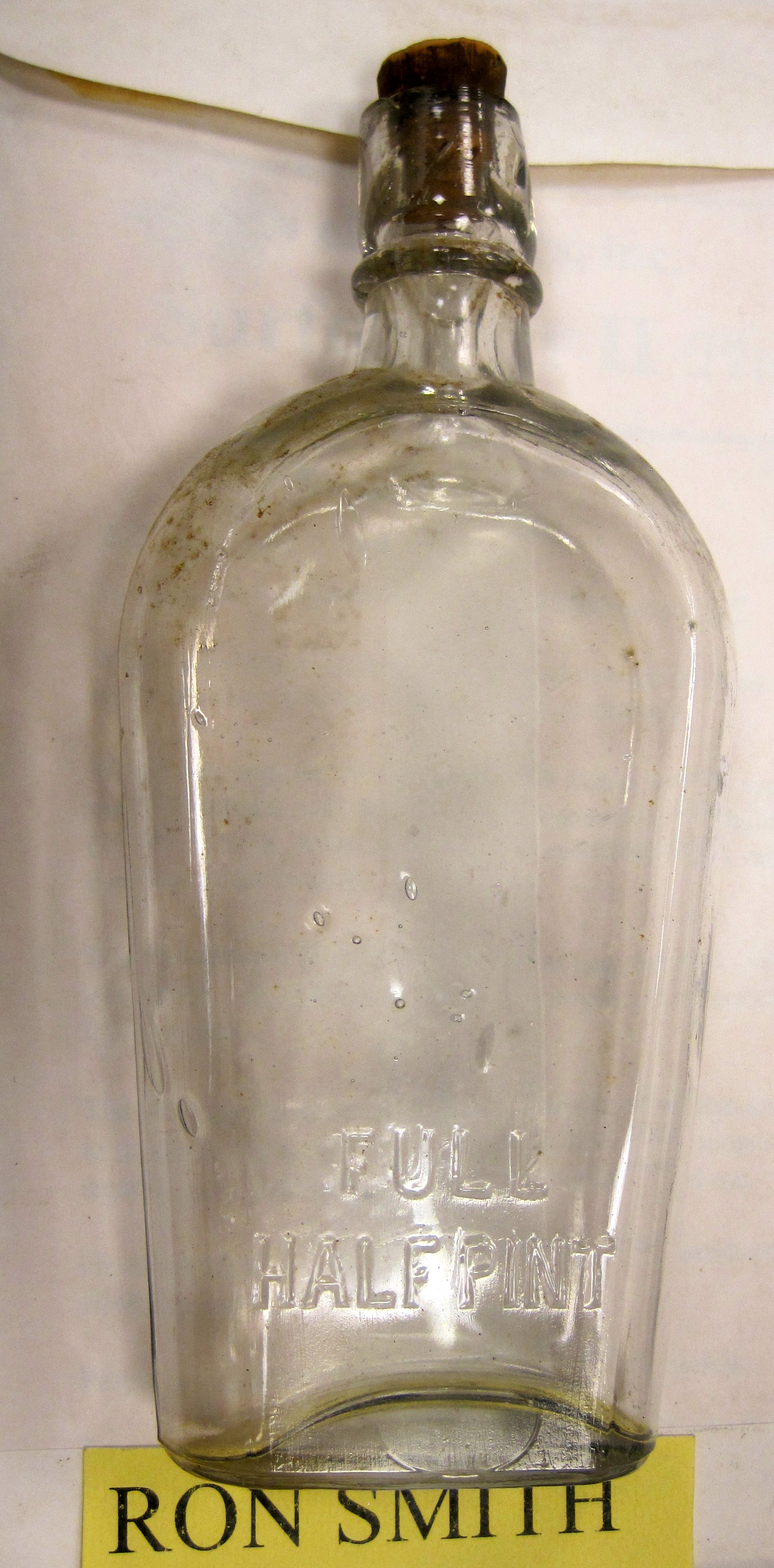 covers, asbestos apron with sleeves day-after-day! And to think I was concerned about the welding fumes!
I wish I had the time to write in detail the description of every bottle we enjoyed seeing at the meeting. For years I have been saying, "If you missed the meeting you really missed a lot!"
Vincent had some other early soda, beer and wine bottles. One soda bottle that really caught my eye was a squat soda bottle in a aqua blue with lots of seed bubbles and the original wire bail top and cap! It is a real keeper!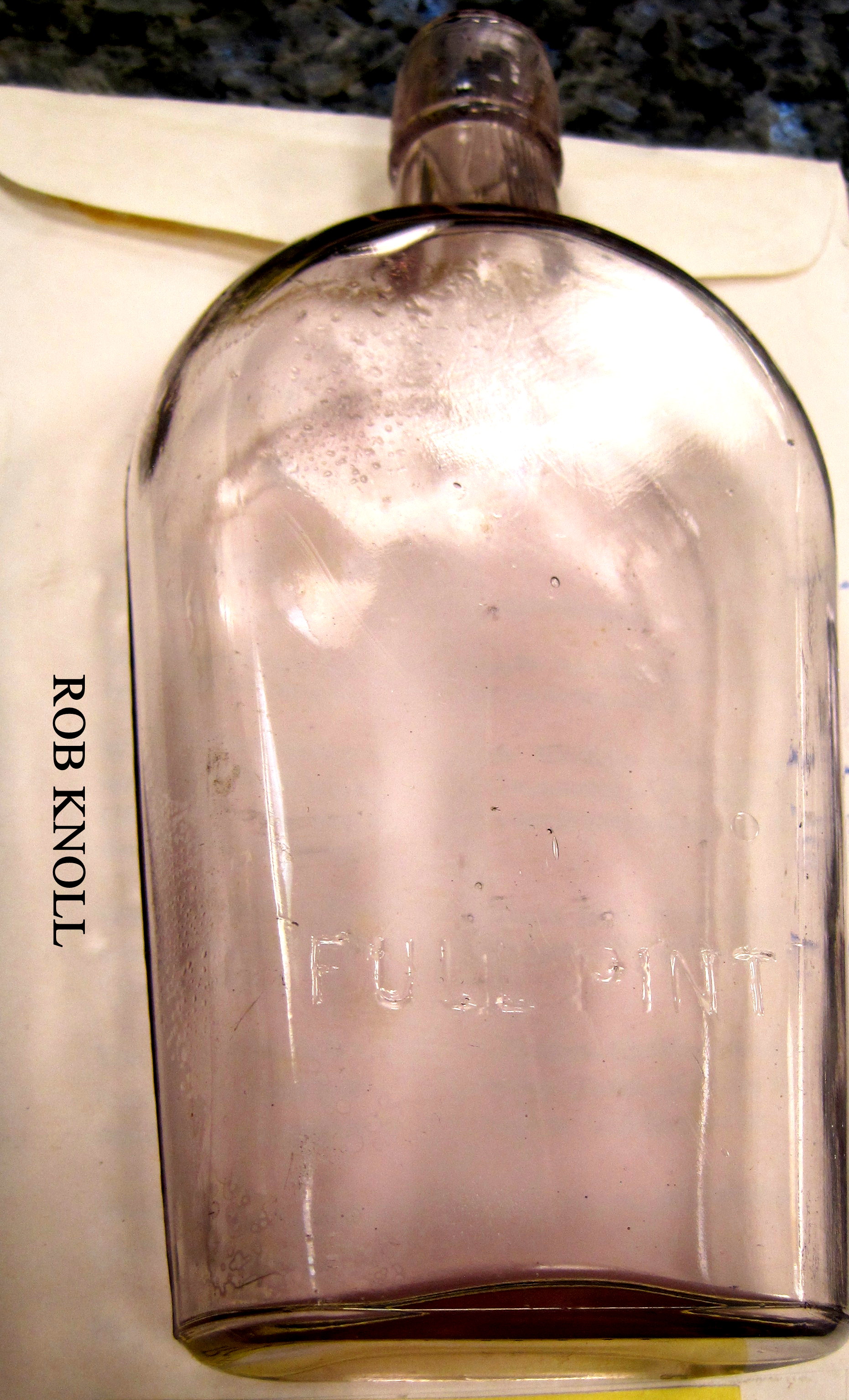 Vince has a small druggist bottle from, John D. Lyon's Druggist, Kalamazoo
Mich., Phone Us We Deliver Vince also likes Victorian era trade cards, as do I. One of his cards was from A.O. Hyde Druggist, Marshall, Michigan. Boschee's German Syrup and Green August Flower always on hand.
I found a trade card for Boschee's Advertisement for Boschee's German Syrup & Green's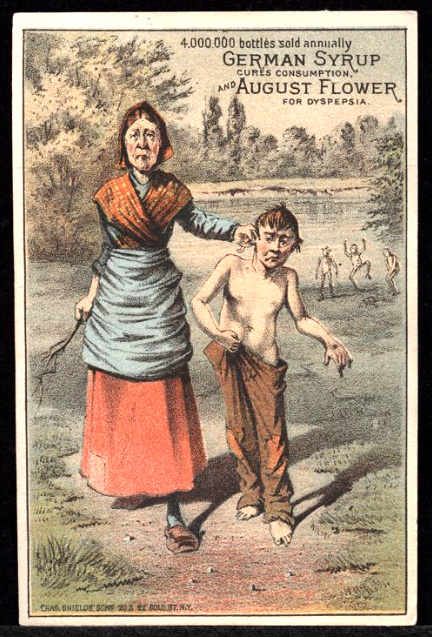 August Flower depicting a woman walking up the path from the river. In one hand she has a switch and she is leading a boy by holding on to his ear. He is only wearing trousers which he is holding up with one hand and is obviously in trouble. At the top right corner is: "4,000,000 bottles sold annually German Syrup cures consumption, and August Flower for dyspepsia." In tiny print on the lower left corner is: Chas. Shields' Sons, 20 & 22 Gold St., N.Y. The reverse of the card "The August Flower has the largest sale of any medicine in the world." It cures dyspepsia, liver complaints, headache, heartburn, and more. Boschee's German Syrup cures consumption, coughs, colds, croup, bronchitis, asthma, throat diseases, and lung diseases. The price for each is 10 cents for sample size and 75 cents for regular size. Hurd & Blodgett, Druggists, White River Junction, Vt.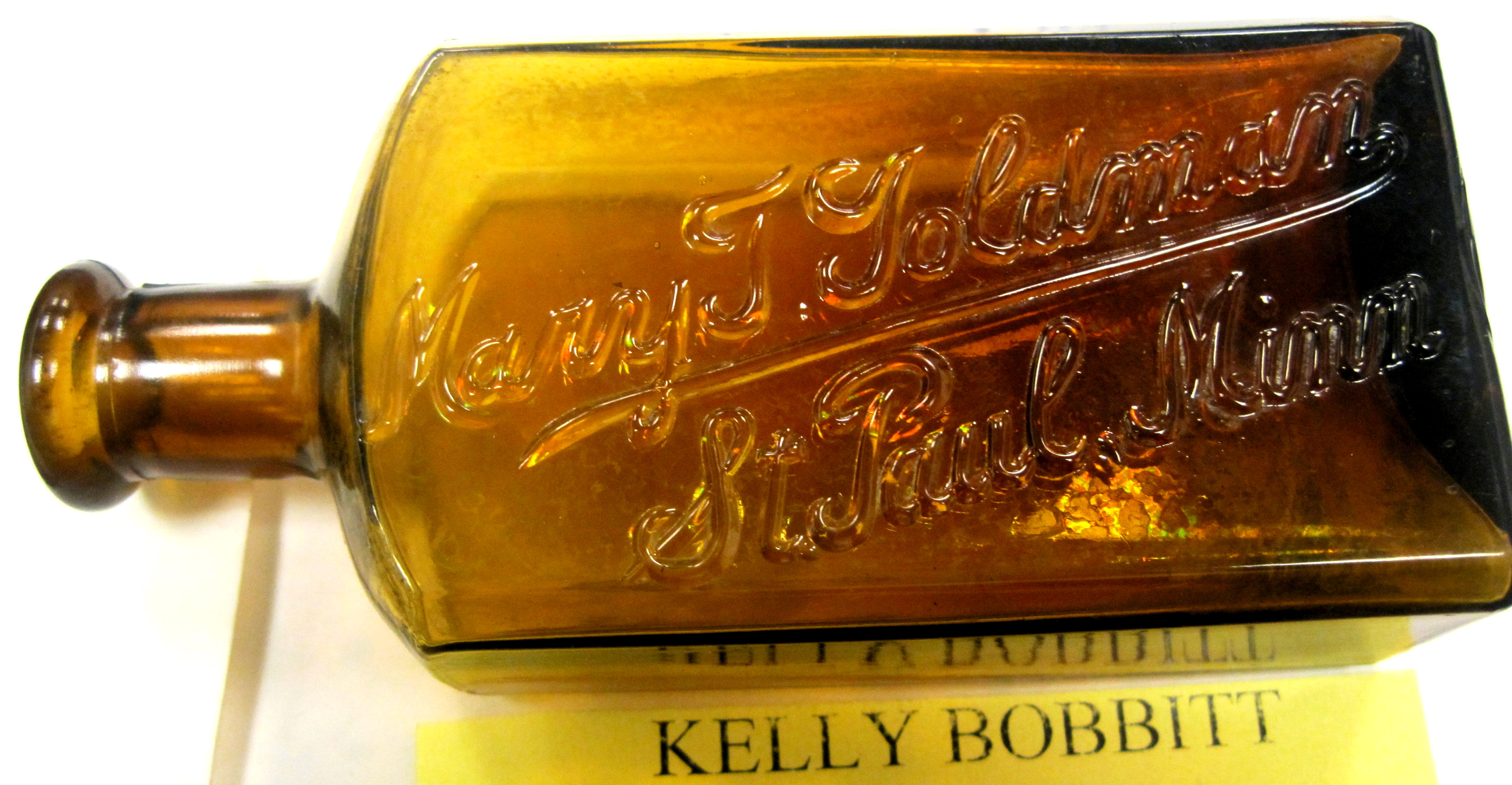 Vincent shared a Paw Paw trade card dated 1882. The front side shows a colored boy being swallowed up in a giant overstuffed and "highly celebrated" Luca's Rocking Chair!
The reverse side reads George Lucas & Jones, General Dealers in Cabinet Ware. Special Bargains in Furniture, Chairs & Lounges!
We also Manufacture The Celebrated Lucas Chair!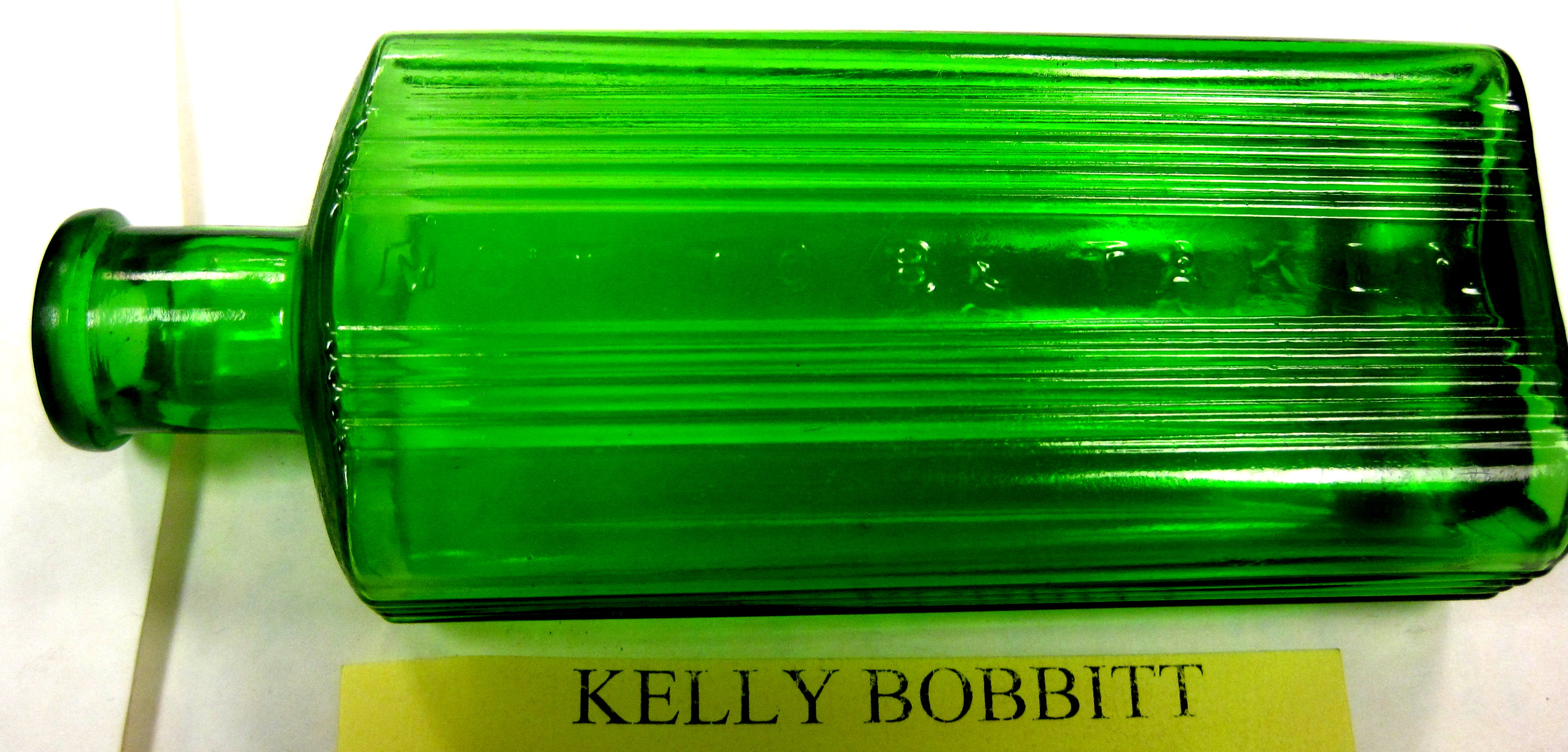 Most small towns had at least one furniture maker and often they were the only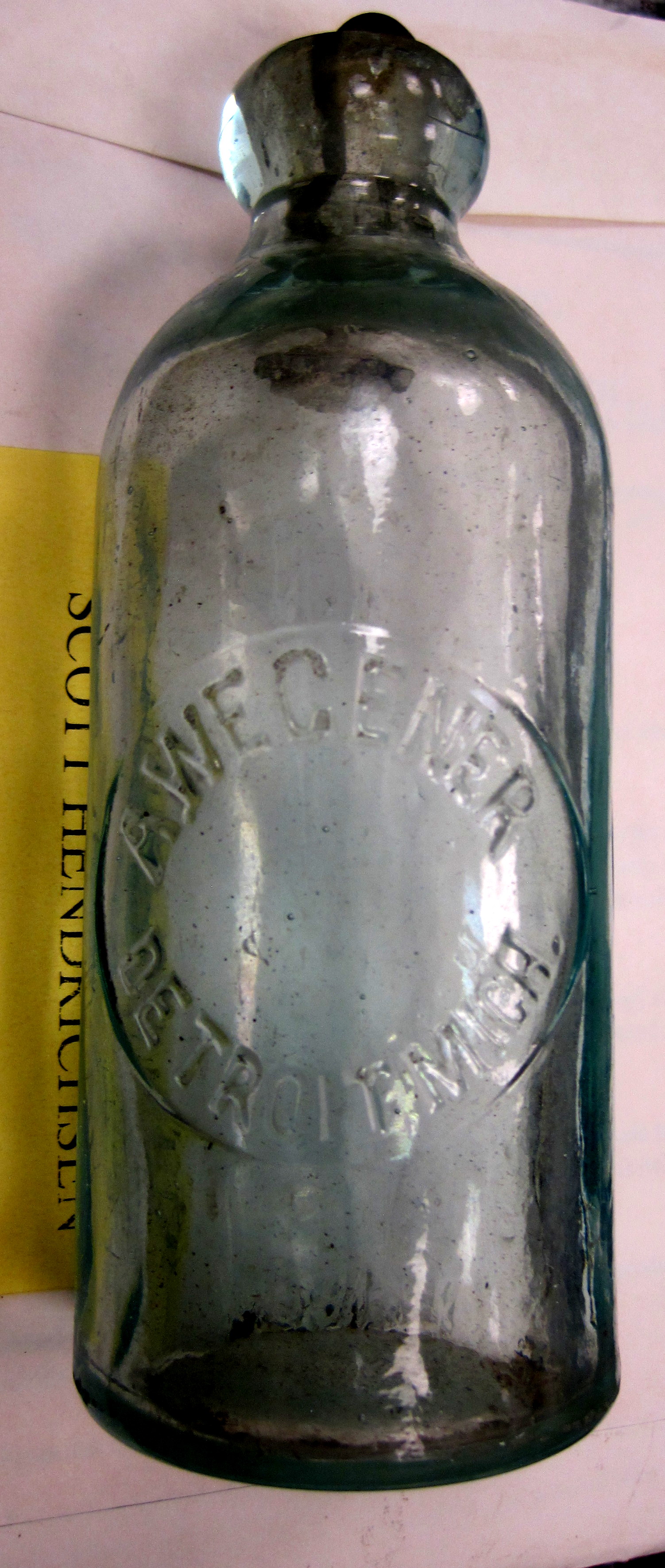 source for local caskets.
We had a regular old Fashioned Root Beer night at the club meeting! Vince brought in a trade card for Kemp's Root Beer "Made Just Like Your Grandma Made It!"
John Winkler had a original sample bottle of Hires Root Beer Concentrate, in the sealed bottle with contents and original box, and direction sheet! The sample bottle, which we see often, is about 1-1/2 inches high. The instructions say it will make 8 one pint servings.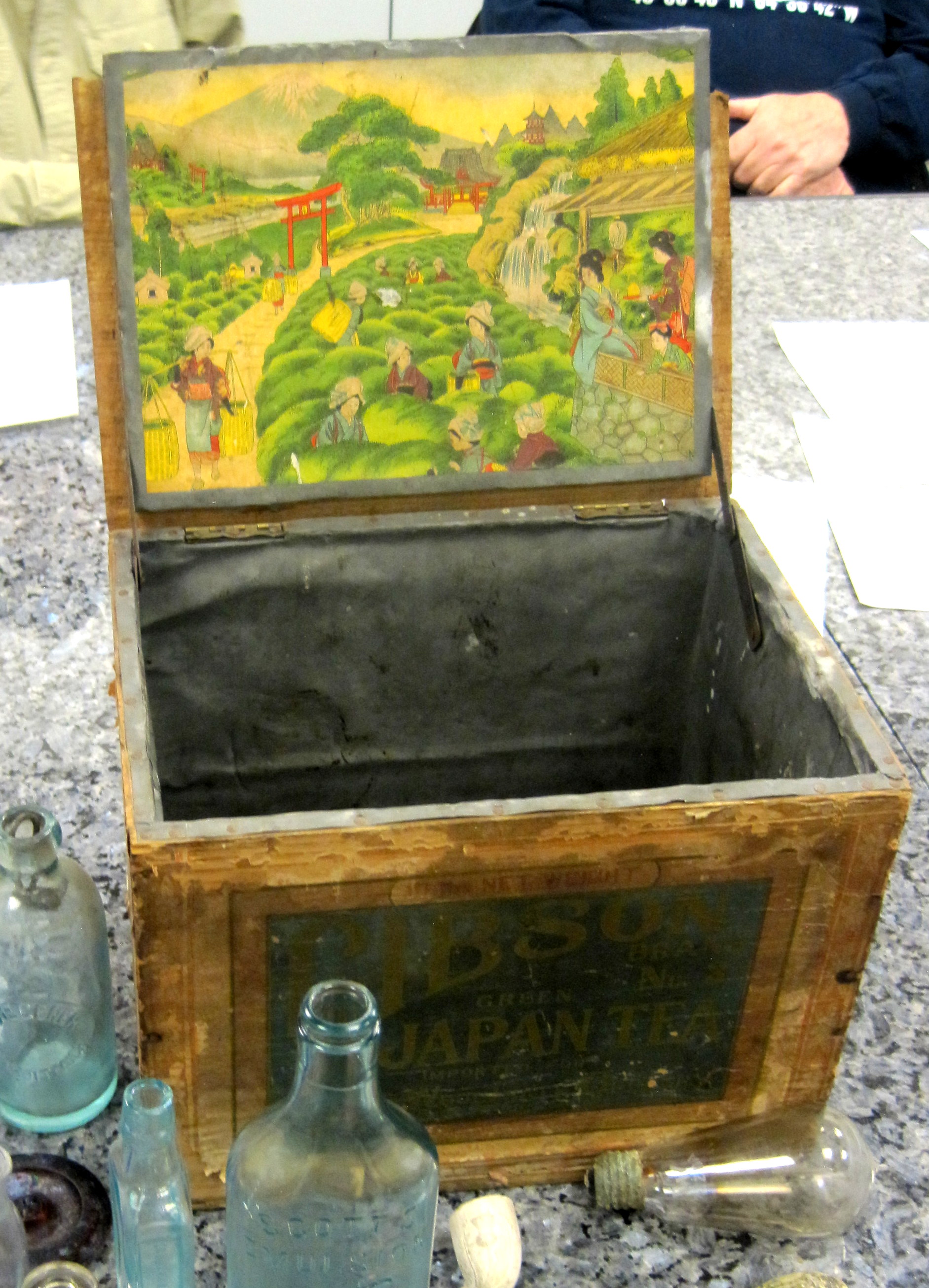 We saw two Coffin Flasks one belonged to Ron Smith. They were both clearly pre 1920's prohibition era and both appear to be tooled top hand finished bottles. Ron Smith's bottle is a half pint.
Rob Knoll showed the other coffin flask that was a full pint size. It too has a crude tooled top with lots of stretch marks in the neck. What is amazing about Rob's bottle is it is pre-automatic machine made (hand finished) but it has that beautiful sun kissed pink color.
It was in the mid 19th century that manganese dioxide, popularly called "glass-maker's soap," began to be used by American glass manufacturers as a de-colorizer. By including a small amount of this ingredient in the melt, they could produce glass that appeared virtually colorless.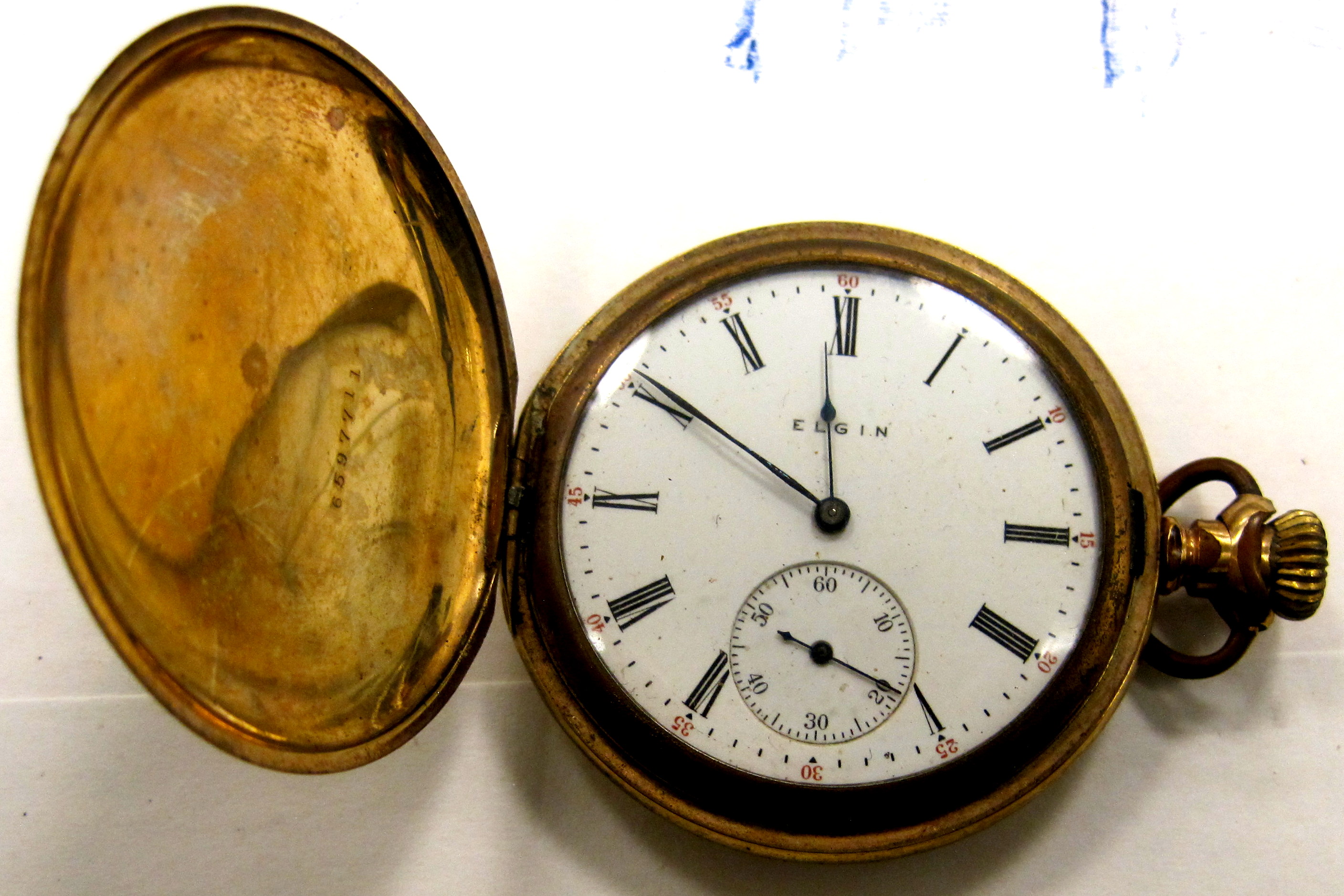 Ultra-violet light initiates an electron exchange between the manganese and iron ions. This changes the manganese compound into a form that causes the glass to turn purple.
This glass maker's soap was first marketed in 1899 and the A.B.M. machines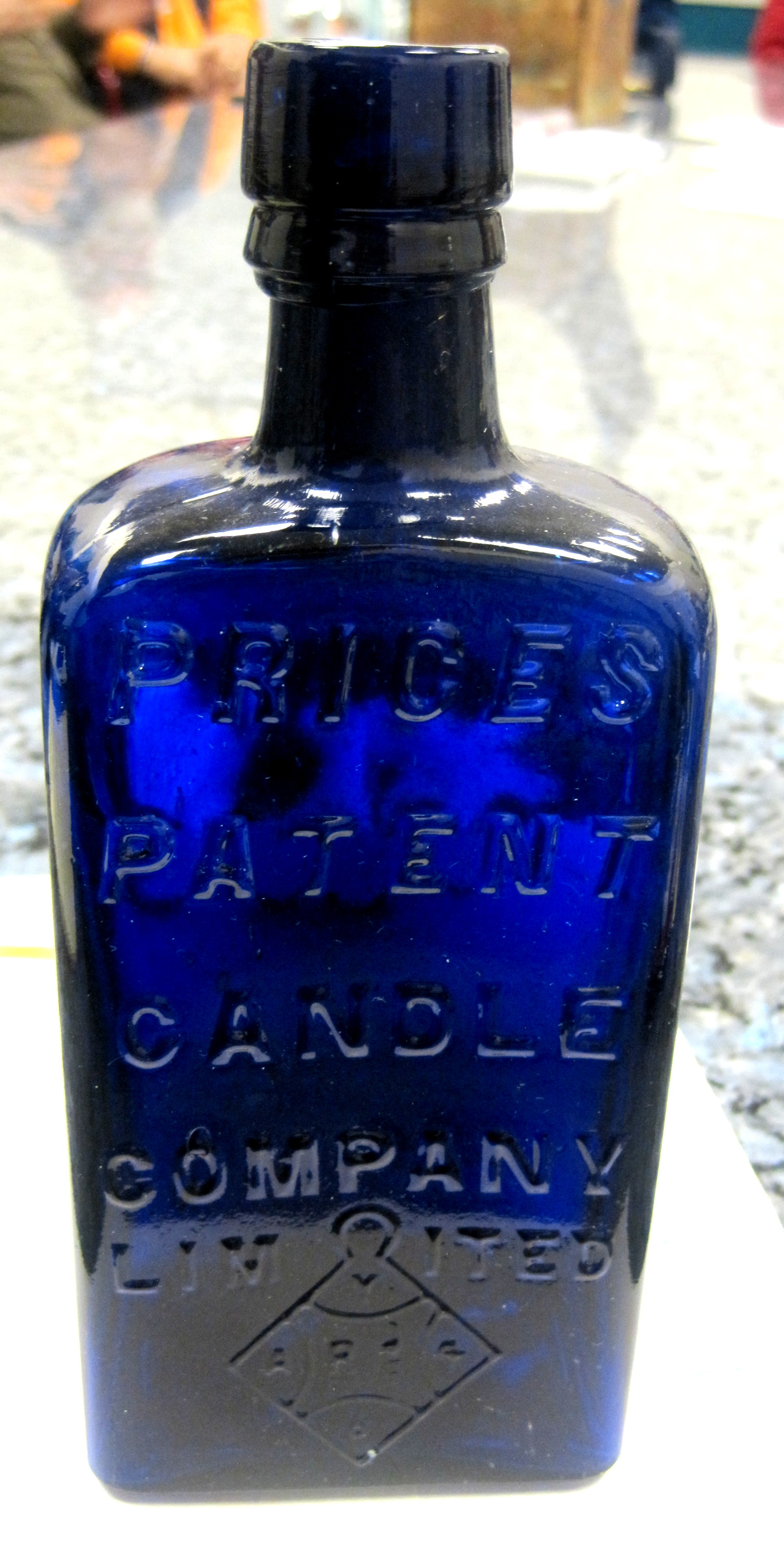 came into service in 1900. Not every glass maker switched to the new machines right away but I think it didn't take long as a matter of survival.
Kelly Bobbitt likes the hair care and Barber related items, and so do I! One bottle Kelly has is a beautiful deep honey amber, Mary T. Goldman, Saint Paul Minn.
Mary Goldman products were Hair Tonic, Shampoo, Color Restorer and Excelsior Hair Tonic.
Mary Goldman registered a Patent in 1880 and her address on the Letters of Patent indicated that she was from Toledo. Mary's father Moses Goldman started in the hair goods business in Detroit and may have died in 1888, because he was no longer listed after that date.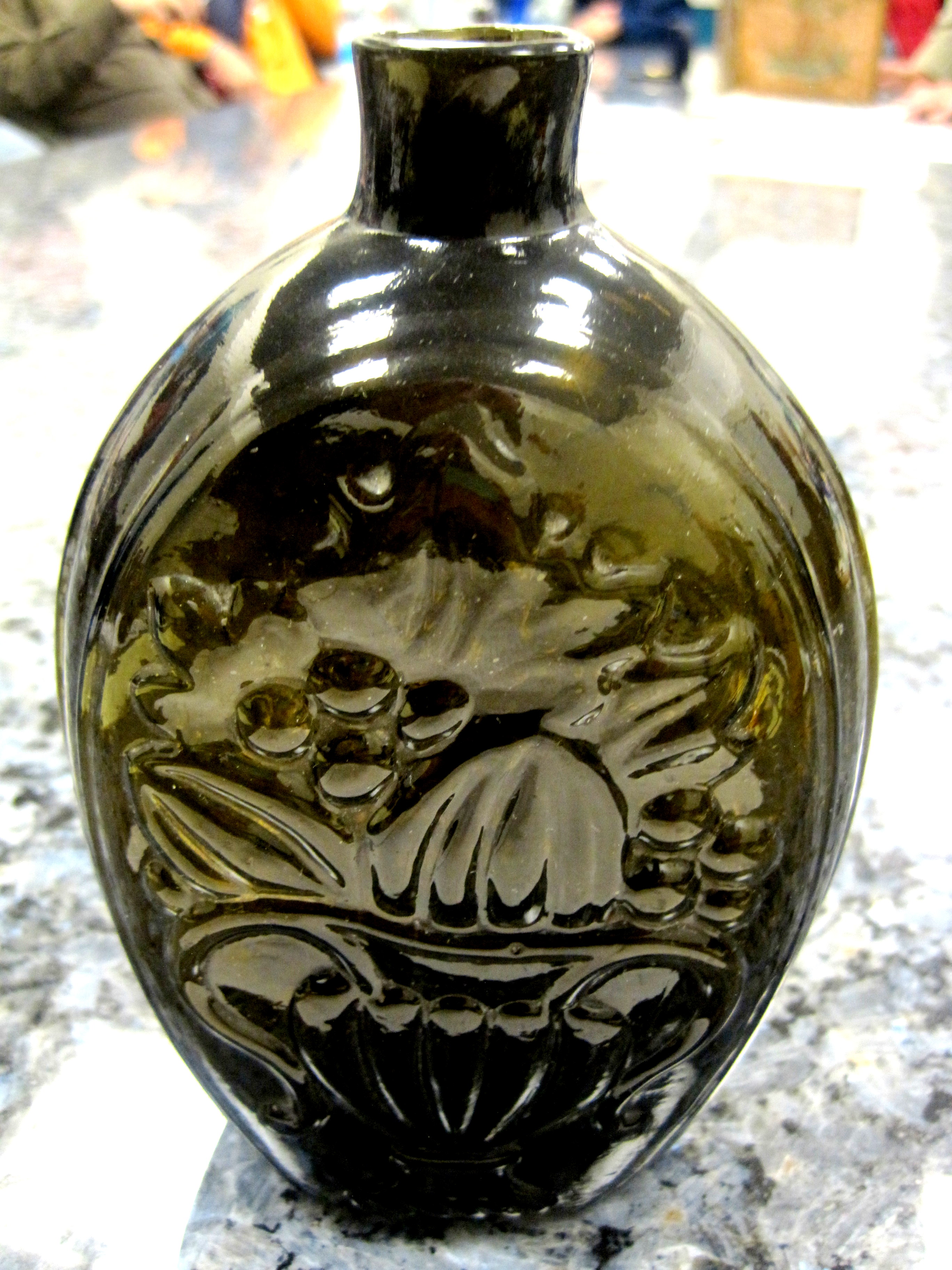 Mary moved to Minneapolis, Minnesota around that time. I found Mary listed in the Hair Goods business in Minneapolis from 1888 until 1890. For that period, she was on Nicollet Avenue, which was the same street that Sarah Farr was doing business on. Not coincidentally, the Farr's Gray Hair Restorer and the bottle shown are very similar. The Goldman family finally settled in St Paul, Minnesota sometime in the 1890s, and their success story continued. Their hair treatment products were sold in stores but in the early days, like with many products of that day, the word of mouth and that of the medicine show pitchman, was the best way to promote, going from town to town.
Trains and automobiles took away the steamships, and the radio and TV took away the medicine show . . . I was born 100 years too late! Kelly also displayed a labeled bottle of Oil of Cloves, by Smith Kline and French. Smith, Kline & French was an American pharmaceutical company. Recently in 2000, it was acquired by Glaxo Smith Kline, but it all started in 1830 when John K. Smith opened a drugstore in Philadelphia.
Like other natural remedies, the oil of cloves is derived from a plant that originally comes from India. It is popular in dentistry because of its sedative properties, but you can buy the product over-the-counter at a nearby drugstore. One common usage of the herb is for adding flavor to cough medicines and cold remedies so they are at least tolerable to drink. Although natural, too much at one time can be life-threatening or it can cause severe breathing problems.

Kelly displayed an English codd mineral water bottle that is embossed "J.Lord, Walsall. If you search Google or E-Bay for embossed Codd style bottles from England be prepared to be overwhelmed! I am afraid my poor picture didn't show enough detail.
Scott always brings in such a large number of amazing treasures! One bottle I thought I would focus on was a short blob top hutch soda embossed A.Wegener, Detroit Michigan. Anthony Wegener's family is one of the early residents of Detroit.
In 1870 Anthony started out in the soft drink business. During his years in business he started the "City Bottlers Association of Detroit." He worked to maintain the highest quality products available for their family of consumers.
In the 1890's A. Wegener, and the members of Detroit Bottlers Association, was able to get a law past forbidding the use of saccharine in Michigan Soda manufacturing. It was a ground breaking law that was soon passed nationwide.
Scott showed several beautiful bottles, but it was a tin lined 12" square wooden box that was the real beauty! Honestly, if I had room to display this treasure I would have made an offer!
This wood tea chest is lettered on the outside, "Gibson Brand No.3 Green Japan Tea."
And as mentioned aforehand, it is lined with a metal lining. On the inside of the lid there is a wonderful painting depicting young Japanese girls picking tea leaves dressed in colorful kimonos. It is a lovely mountain side scene full of beautiful color.
I am certain this box was where the tea was displayed in the general store. Which would explain the beautiful artwork. And on these early tea chest they were lined with lead which deterred insects for the long sea voyage. Pretty cool don't you think?
Kevin Siegfried brought in a super cool Mason Pat Nov. 30th 1858 ground lid quart canning jar with the rare hourglass design embossed on the back! It is really a sparkling beauty.
I brought in a Cornucopia Urn flask with a sheared & fired lip open-pontil one pint flask in deep olive green color. G111-7 is the number the experts assigned the pint size. All have a blowpipe pontil scar and fired polished lip treatment.
Cornucopia flasks are a great flask for the beginner Historical Flask Collector. They are still affordable ranging from $90.00 to $140.00 dollars for common variants. These flasks come in shades of olive green, olive amber, green and aqua. The Cornucopia flasks have on one side an embossed picture of a " Horn of Plenty" with the other side an urn overflowing with fruit. These flasks stood for America being the land of the prosperity.
I also displayed a deep cobalt blue Prices Patent Candle Company bottle from my meager collection. It is one of my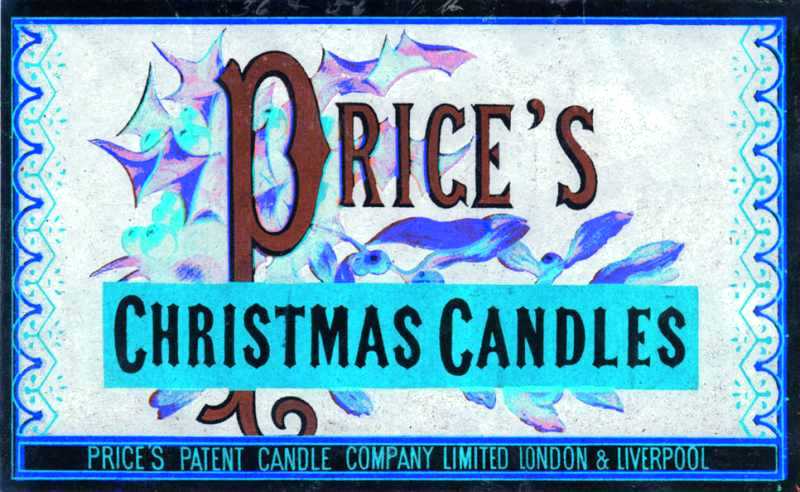 favorite bottles. Kevin spotted markings on the bottle that hinted it was British. Even though my bottle was dug in the State of Confusion it is an English product.
I wondered what a candle company would package in a bottle, so, I looked it up! They are still in business! Price's Patent Candle Company only started manufacturing candles in 1830. As such, they were a comparative newcomer to an ancient trade, yet in their 170 + year history have transformed the candle industry.
Price's discovered new inexpensive raw materials to replace tallow and beeswax. They were the first to explore industrial applications for the new chemistry of fats to produce better products. They brought light to the working classes of Victorian Britain, making cheap night lights and 'composite' candles for people who had previously been unable to afford artificial light. By the 1850's Price's was a national household name. By the end of the century the company was the largest maker of candles in the world with a reputation that extended beyond candles to soap, lubricating oils and glycerine.
One of the products separated out by saponification was 'sweet water', subsequently called glycerine. This was a non-flammable liquid and its separation was the reason that stearine candles burned better than tallow.
George manufactured chemically pure glycerine by distillation and then actively promoted his new by-product. By 1870 it was being used as a treatment for burns and skin disease, as a food preservative, an additive to paints, a photographic emulsion, a suspension for vaccines and as a base for soaps - which Price's started to manufacture at Battersea in 1856. George Wilson was elected a Fellow of the Royal Society for his pioneering development of glycerine.
Well that is it in a nut shell.
I want to wish each one of you a very Merry Christmas. My prayer for each of you is that we each remember the birth of Jesus as God's most wonderful gift to all mankind for the Holidays and every day.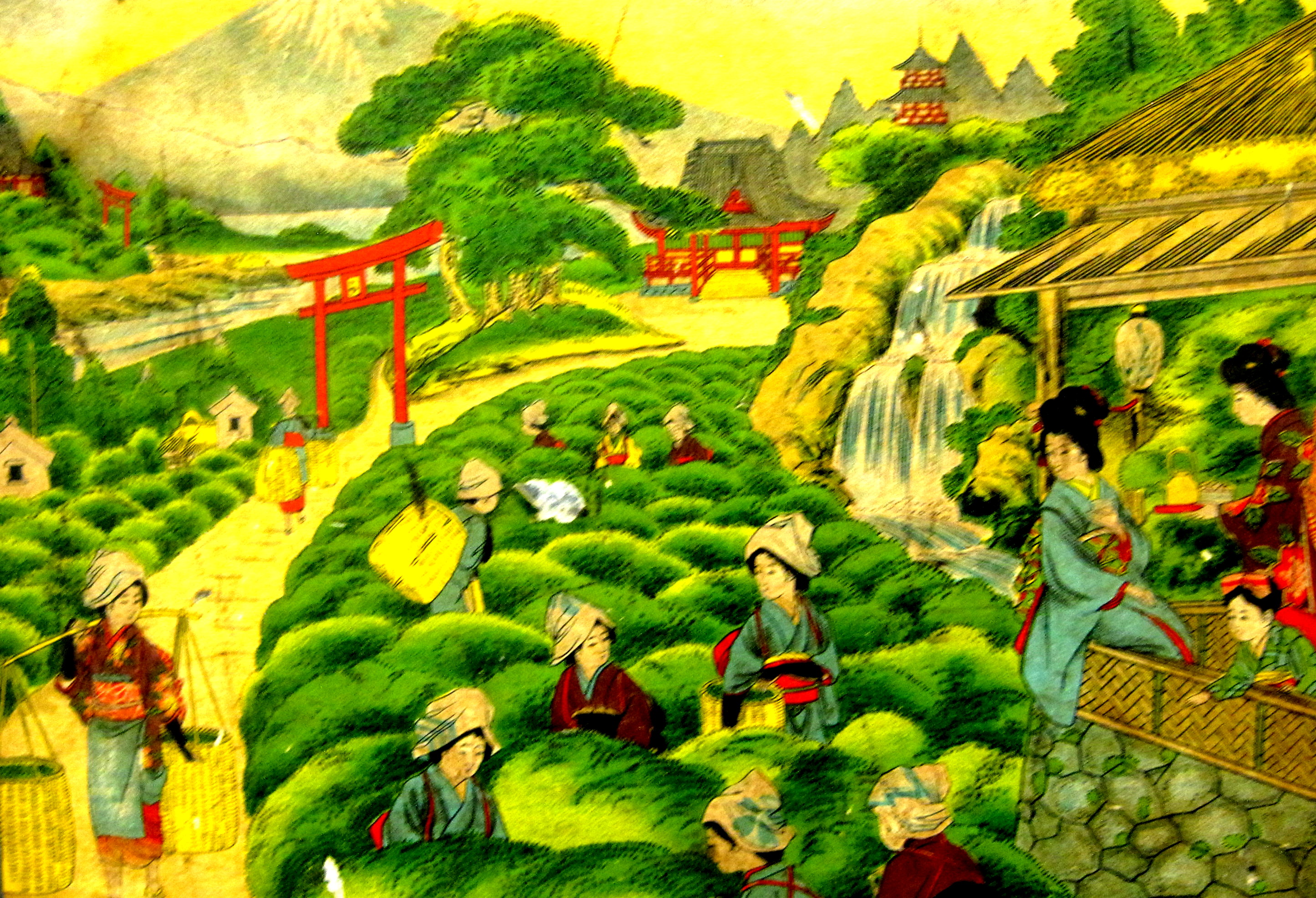 ---
Meeting Theme

For December, it will be our annual Bimbo's Christmas Pizza Party! Because of the weather, and for Chuck's sake, we are skipping the Library this month and meeting up at Bimbo's at 7:00. If you know someone who may not read their newsletter please give them a call.
---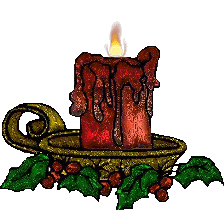 Kalamazoo Antique Bottle Club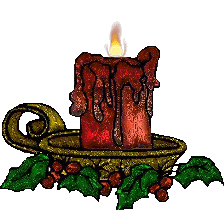 THIS MONTH!
ONLY, MEET AT BIMBOS!
338 East Michigan Ave.
Kalamazoo MI.
This Meeting is December 11th.
Meeting starts at 7:00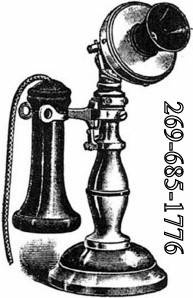 TO THE MANY FACES OF TREASURE HUNTING
with digging stories and tips