Spring Showtime

April is fast approaching! The club has already started with some show planning. That's right, you still have a chance to get involved at the ground level! Kevin has started a list, and quite frankly he is checking it twice! He passed around the hospitality suite food sign-up sheet, and all is starting to take shape. We are hoping we can spread out some of the work load so that Chuck and Kevin won't be so overloaded again this year. If you can make it to this meeting, God bless you! We need more member volunteers for show help . . . we need you! Even if you can only do a small job, that will help spread the load.

The show will be held Saturday, April 8th at the Kalamazoo County Fairgrounds.
This show has become the largest antique bottle and glass show in the nation!
Hey, how about that !!!


This is your chance to be part of a Really Big Show! Consider the world famous Beatles. They got their start on a "Really Big Show!" Right, Ed?

Especially for our dealer friends, the club hosts a Hospitality Suite with a generous buffet of food and beverages, between 7:00 and 10:30 at the Clarion located at 3640 E. Cork Street. (Exit 80, off I-94) in the Professional Conference Center.

The club has also secured a terrific group rate of only $69.99 + tax for a king bed, or $75.99 + tax for 2 queen beds! A fellow couldn't live out of a shopping cart for much less!

The Clarion, 3640 E. Cork Street, is a short 5 minutes from the show site on Saturday morning.

To reserve this rate, you must call the hotel prior to Friday, March 31st at phone 269-381-1900. You must tell them you are with the Kalamazoo Antique Bottle Club!

Dealers must leave their display set-up until show closing! This is a very big deal for many show goers!

Dealer set up is from 8:00 until 10:00, the public will be given access to the show at 10:00.

Dealers must furnish their own table covers again this year.

There is an invitation to Exhibit, with cash prizes for 1st, 2nd and 3rd place. $75.00 for first, $50.00 for second, $25.00 for third.

LAST MONTH

We had lots of fun at our last meeting. Most of us are no longer interested in skinny dipping; I guess you could say we have mellowed somewhat. So, we got together and enjoyed chatting about a common interest that we all have; admiring our ancestor's trash.
My fellow dump and privy find collectors at the last meeting included: the Very Distinguished Mr. Eddie Nickerson, Honorable Vincent Grossi, the Very Esteemed Mr. Tim Hayes, Wildman Mr Bill Drake, The Ever Gracious Mary G. Hamilton, the Most Benevolent Larry and Colleen Cook, Chancellor John Winkler, Professor Ron Smith, Provost Fellow Kevin Siegfried, and Colonel Chuck Parker, and also (I'm afraid there is nothing in that black bag for me) Allan Holden.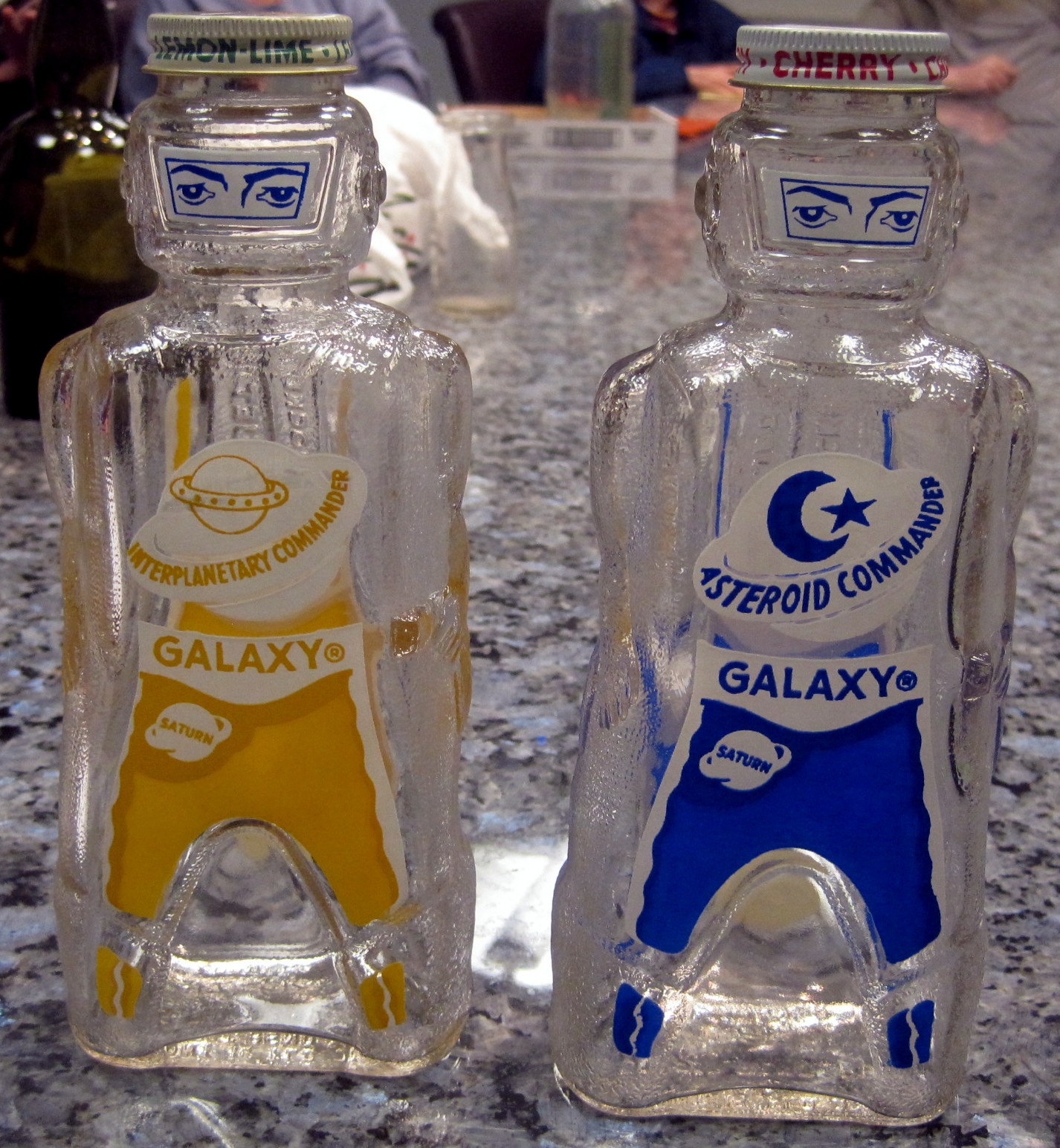 As I recall, our meeting theme was "Water Bottles." Kevin brought in a couple of his very cool Galaxy spacemen bottles, Asteroid Commander and Interplanetary Commander. Kevin was telling the group that the bottles were made and colored graphics applied, caps stamped out and printed, then the project was halted before going to market!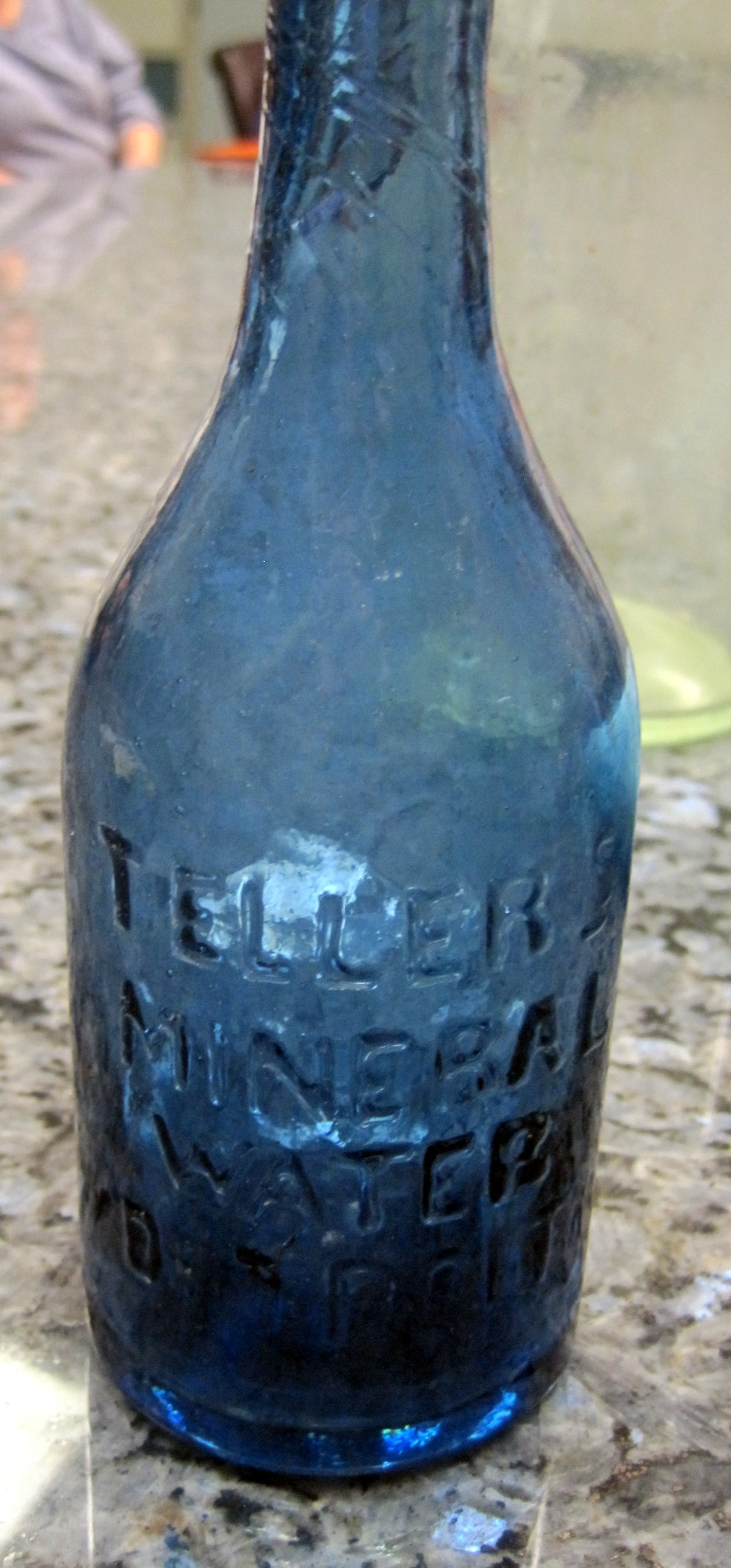 Ron Smith showed us an early three-piece mold with the lady's leg in a nice olive green with an applied top. If this bottle had nearly any company name embossed on it, we would be starting at $100.00 and the sky is the limit from there!
But, even without the much- needed embossing needed to put it into a collecting category, it was still a beautiful antique display bottle! I could almost see Sam pull the cork to pour Miss Kitty a drink down at the Long Branch!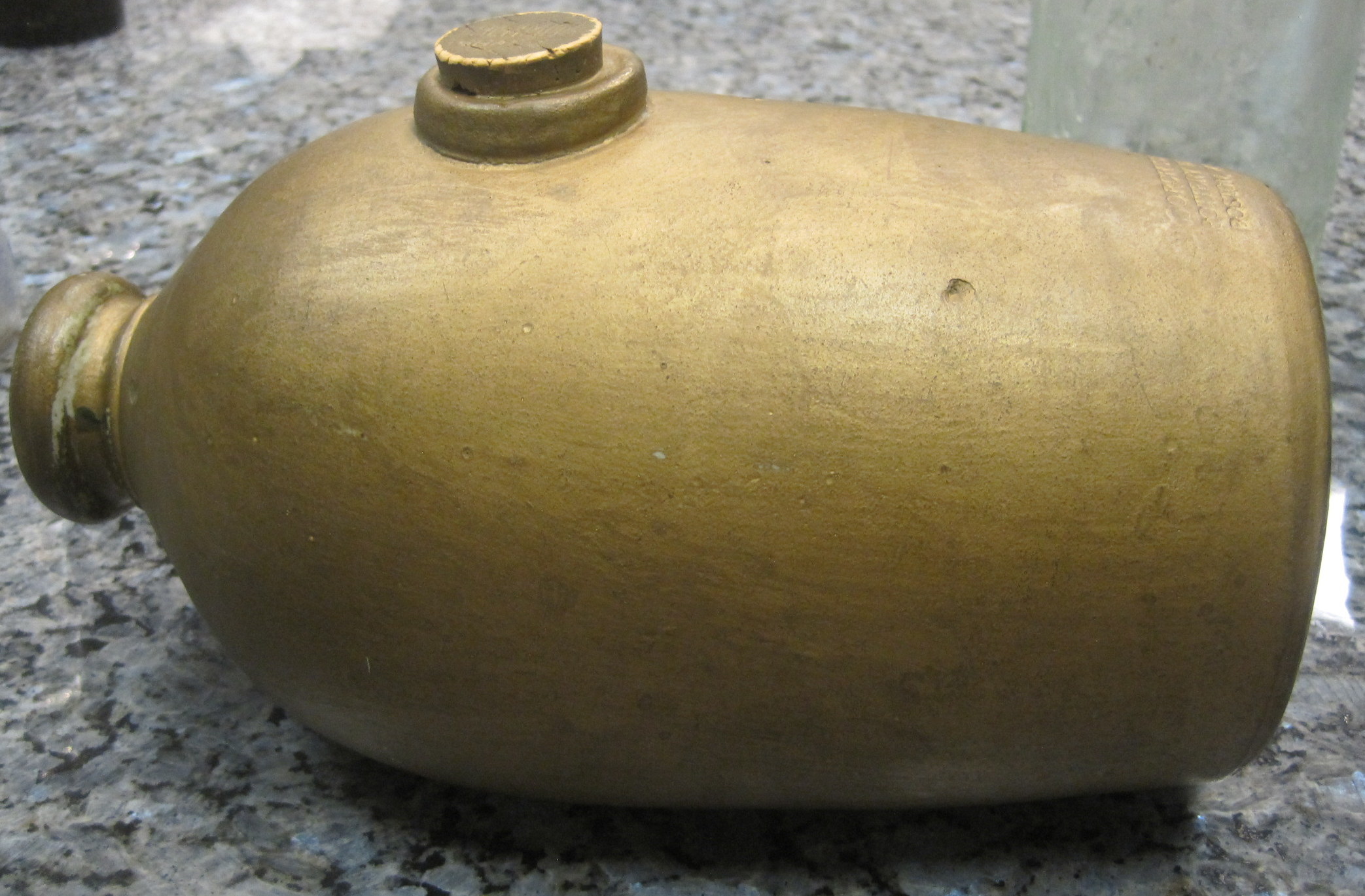 Ron also had a labeled "Florida Water" bottle. No it wasn't from the Fountain Of Youth, it was bottled in New York and is 75% alcohol! In all likelihood you would feel young until the next day at best.
Ron had another bottle which seemed more my speed; a stoneware hot-water foot warmer from the Dorchester Pottery Works, Boston, Mass.
I took a photo of a little half-pint dairy bottle, without placing a name card in the photo. But, I am fairly certain it was brought in by Colleen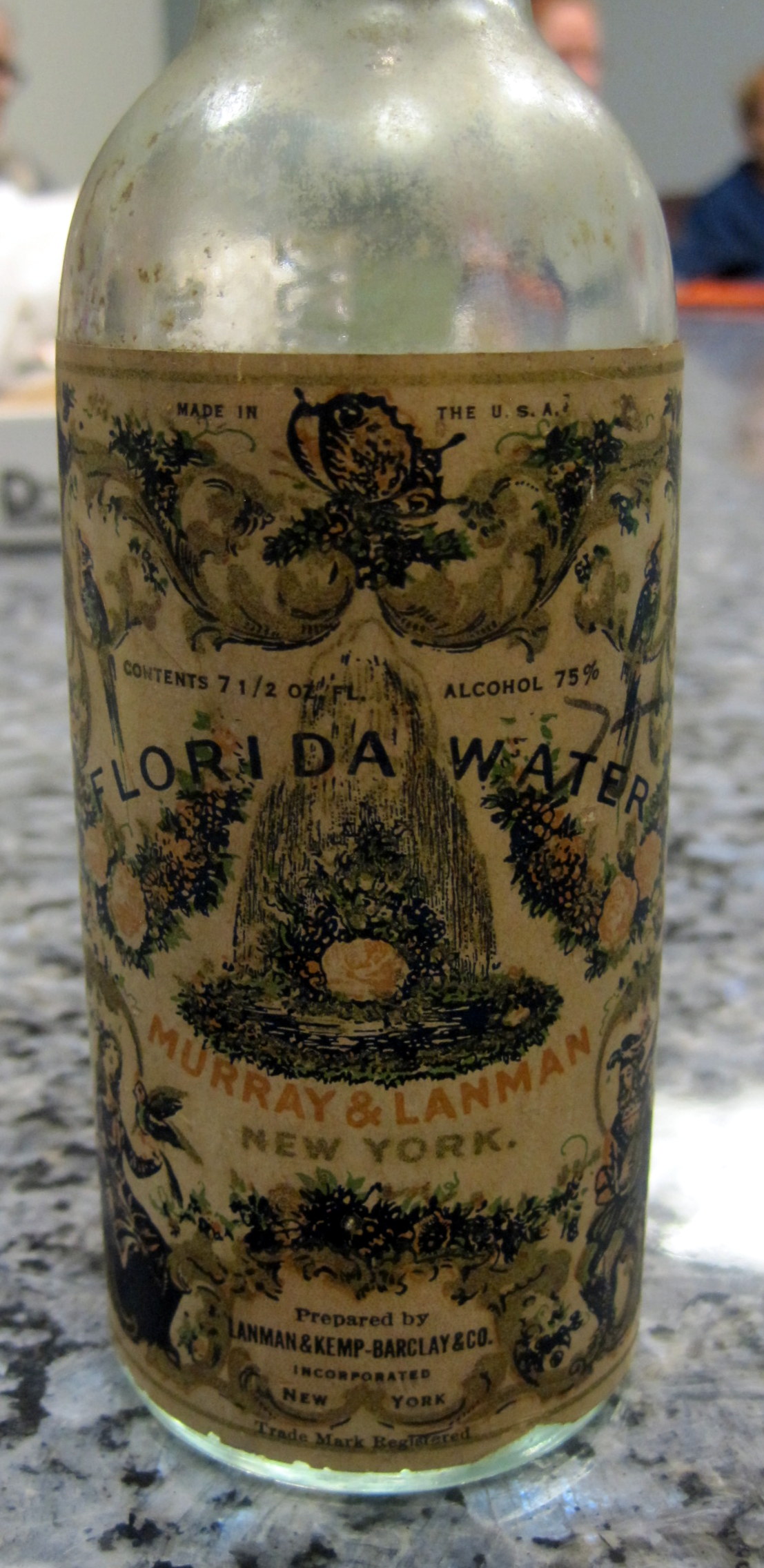 Cook. I thought at first the little bottle may be the bottle I have been looking for!
As most of you know, my grandfather started the Michigan Cottage Cheese Company in the mid-20's. He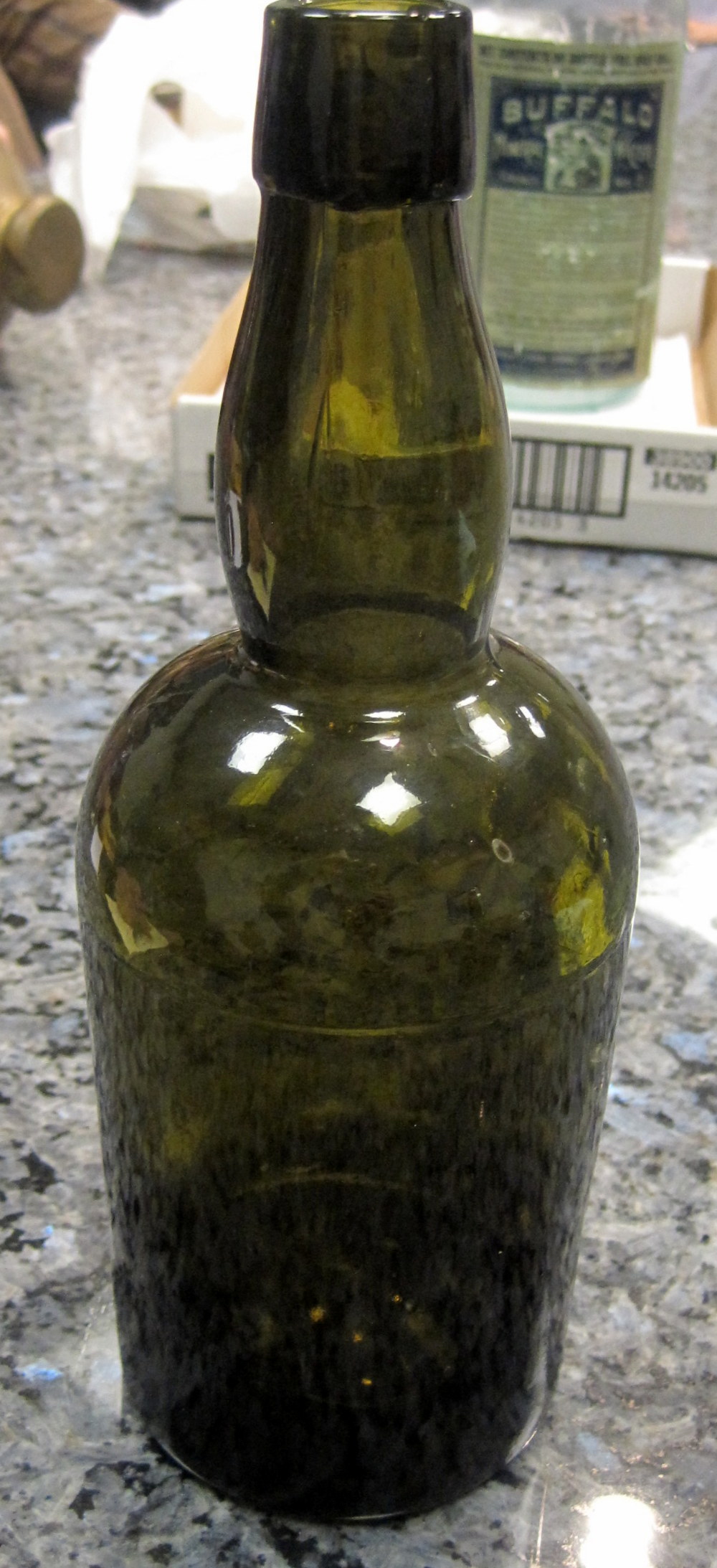 had been working in a dairy near Detroit, where they learned he could produce a special dry-curd creamed cottage cheese. That dairy was getting rich off Grandpa's work! Eventually he decided he didn't really need them, so he launched off on his own.
His entire relocation plan centered around finding a location rich with milk production . . . Otsego, MI filled the bill. However, he was also wise when it came to having a back-up milk source. That lead to the purchase of the small dairy in Albion, Indiana and also a manufacturing facility in Reed City, MI.
Colleen's bottle is from Albion, MI and she included a very interesting account of the dairy products that were produced in Albion, Michigan. Very neat stuff!
My old buddy Vince got the drop on me! I was going to surprise the group with one of my favorite bottles, "Buffalo Litha Water!" I really love the embossing on it! I have 2 very early large examples. However, Vince brought in the first example I have ever seen with a full beautiful label!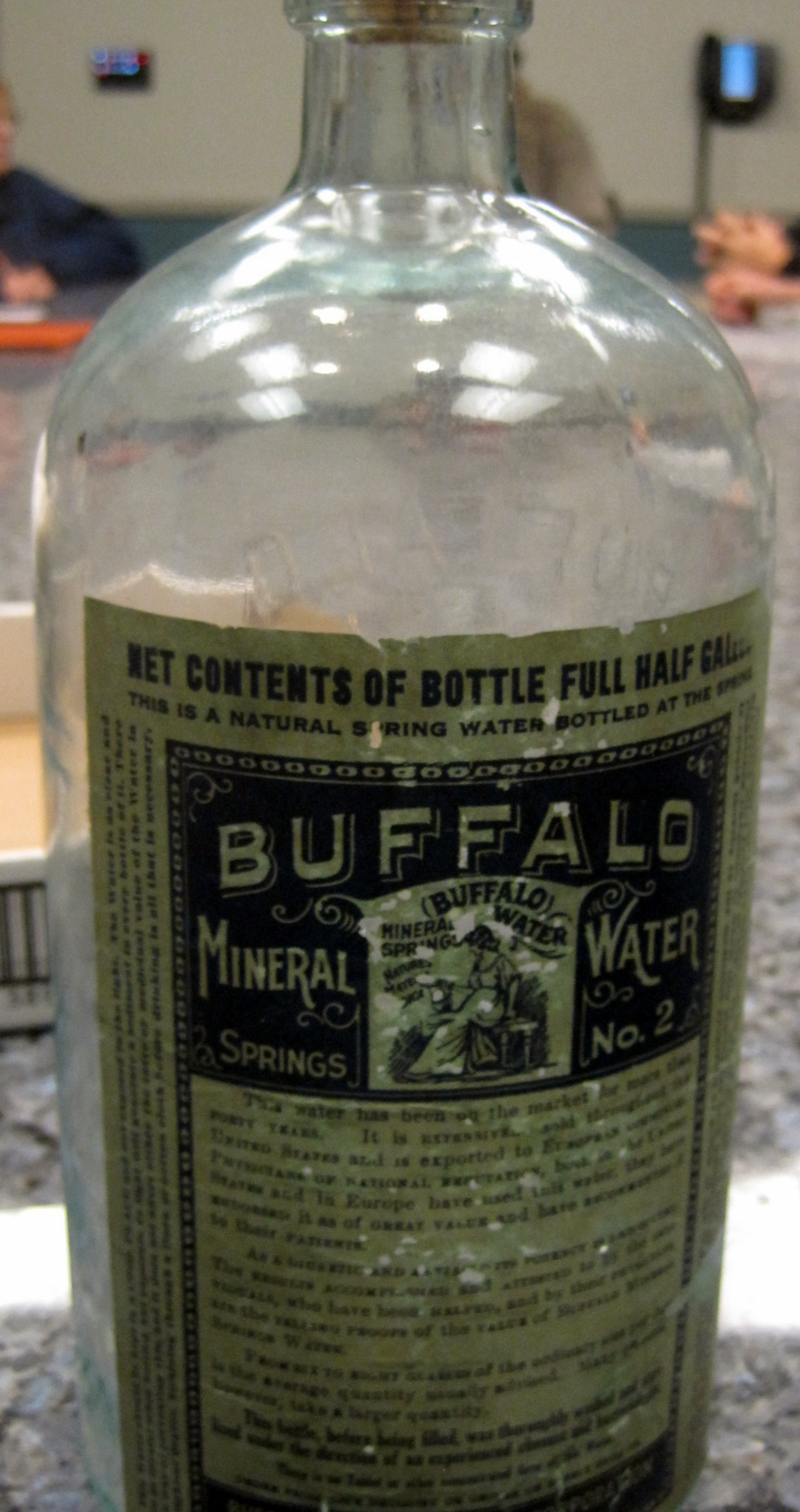 A group of explorers led by William Byrd II in 1798 are believed to have been the discoverers of the springs. Byrd had written in a book that the Buffalo Springs water was "what Adam drank in Paradise... by the help of which we perceived our appetites to mend, our slumbers to sweeten, the stream of life to run cool and peaceably, in our veins, and
"If ever we dreamt of women, they were kind".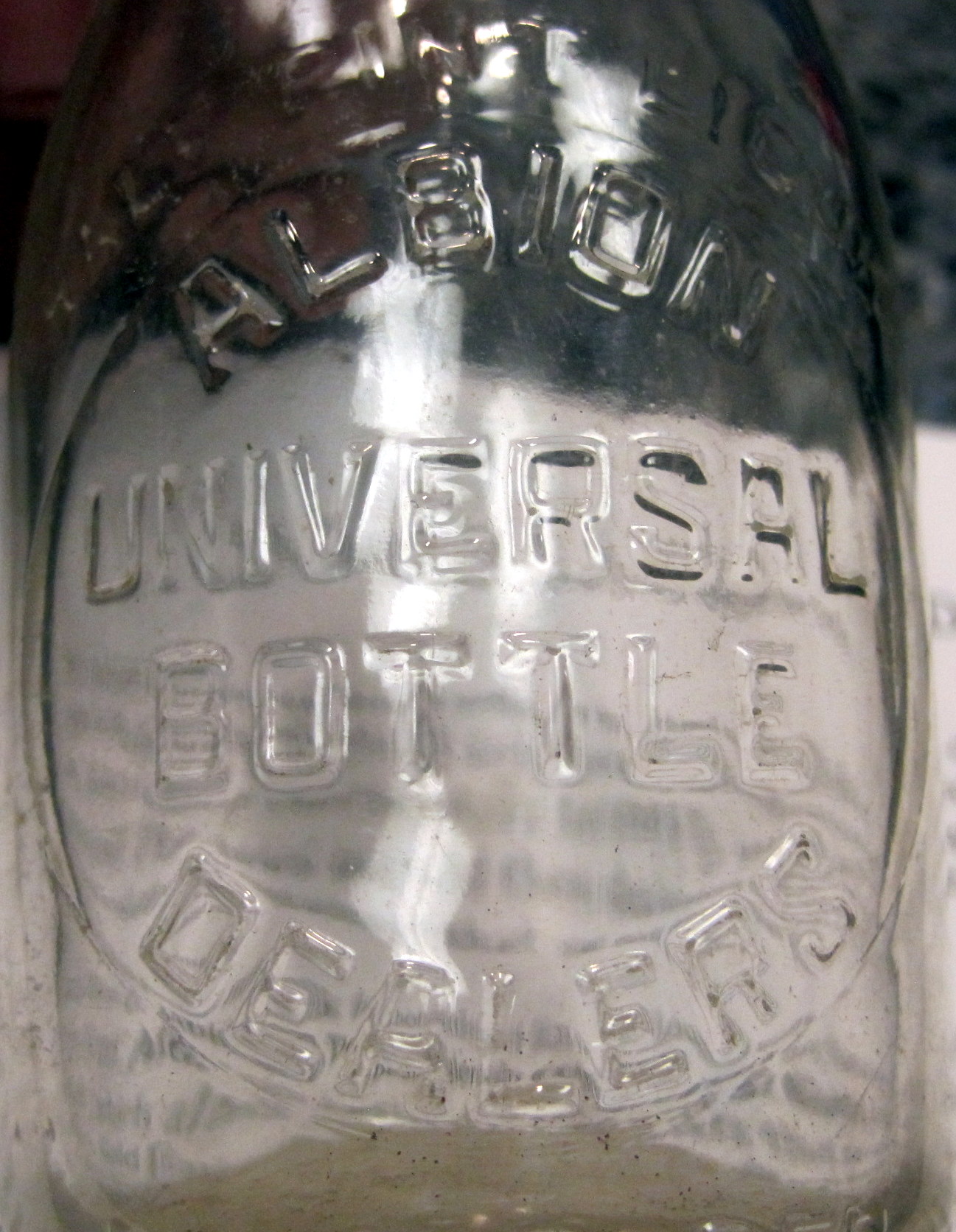 The perceived medical benefits of the spring water were that it was "good for the liver, stomach, skin, and 'female complaints'." It continued throughout the Civil War, when Buffalo Springs continued to draw people looking for the medical benefits. It was believed that lithium dissolved uric acid, which was responsible for gout, dyspepsia, rheumatism, eczema, diabetes, Bright's disease, gallstones, fevers, and other things. By 1895, the water, now known as Buffalo Lithium Water was being advertised and distributed in thousands of magazines, pharmacies and grocery stores.
The real beauty was the seated lady pouring water from a pitcher. Even the newspaper art doesn't capture the primitive charm of the lady embossed on the early bottles. If I live long enough, I want to print that image on a t-shirt!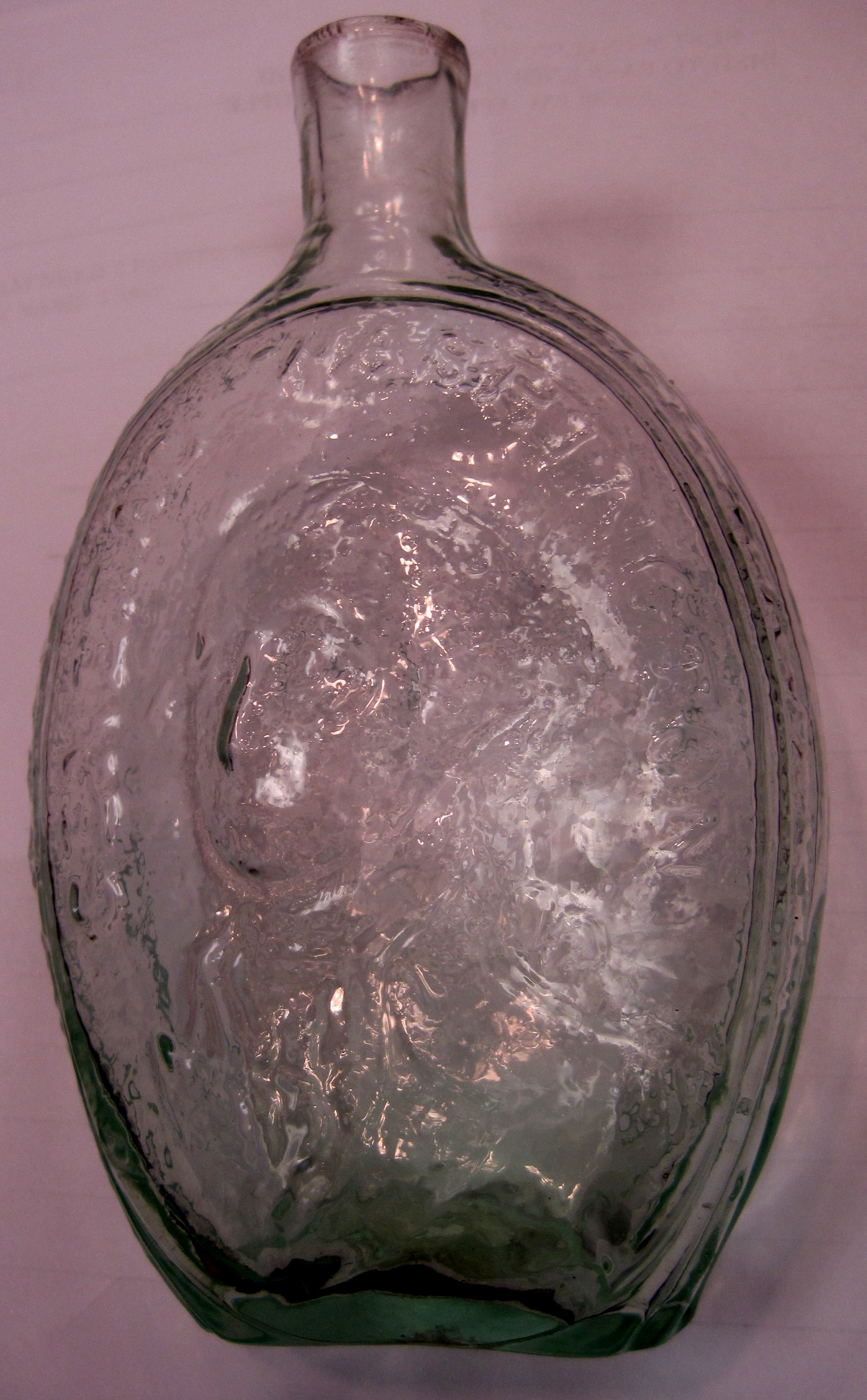 I also see in my photos, a lovely Washington / Eagle half-pint historic flask from Tim Hayes' collection! I really love those early open-pontiled, sheared-lip pocket flasks!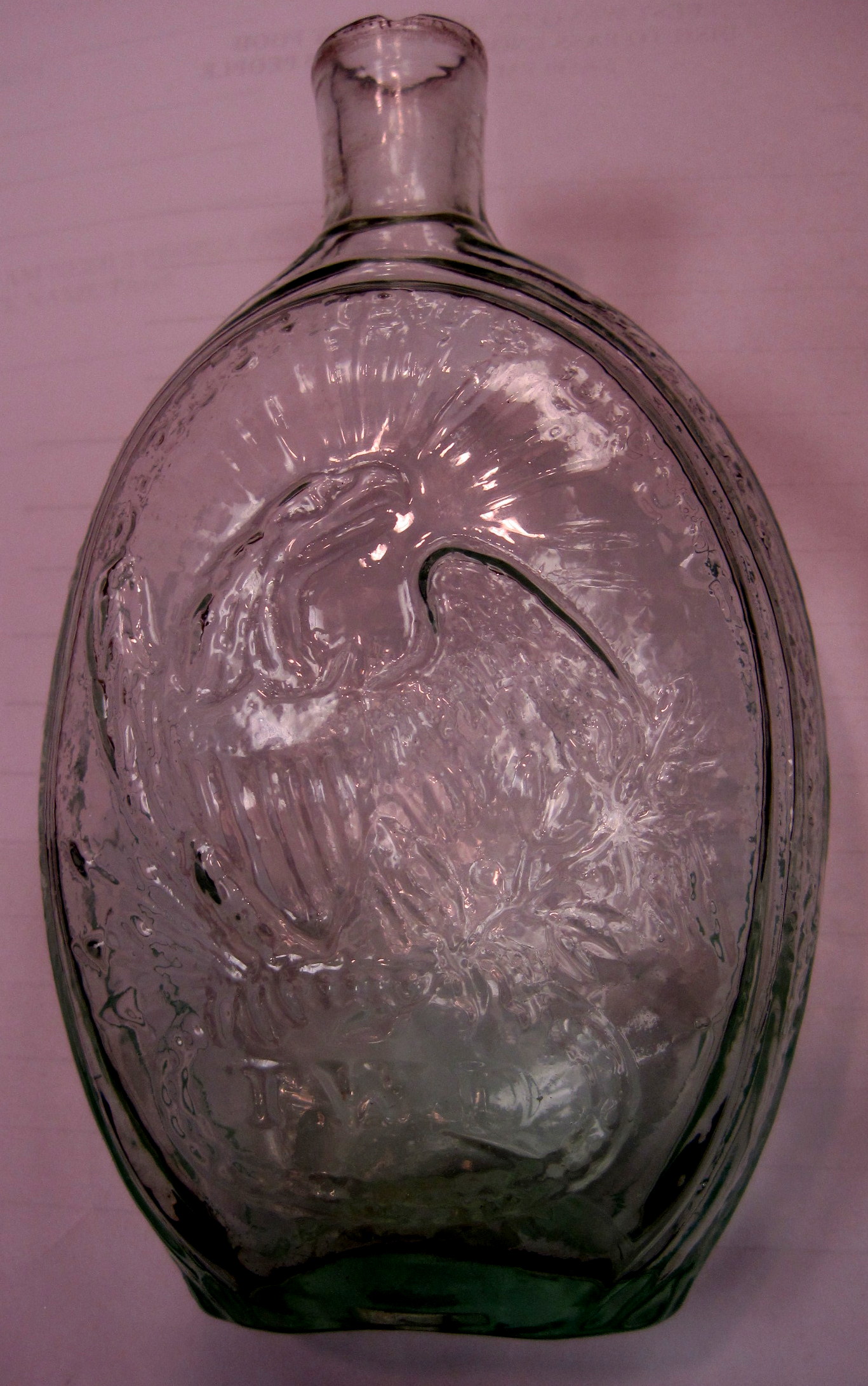 Many of our early presidents were forever enshrined on the early historic flasks, but no other to the extent of President Washington. He was a very loved leader!
On that same note, perhaps a founding father who was very loved was Ben Franklin, who also drained a good number of flasks! I would loved to have known these great men.