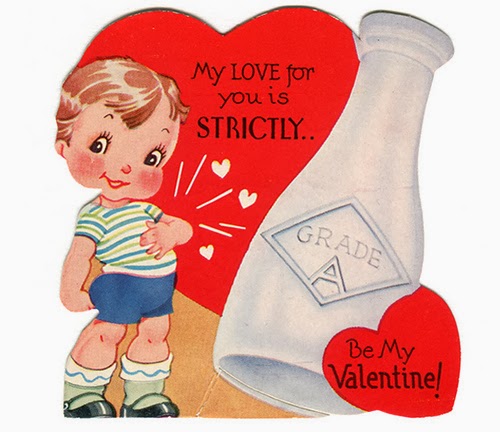 BOTTLE SHOW PREP UNDERWAY!




I Hear That Train A-Comin'!



I hear the train a comin,' rollin' round the bend,

I ain't seen the sunshine since I don't know when!

Well, friends, I am not in Folsom Prison, as of yet, but seeing the sunshine is indeed a real treat in January!





Today, I spent time cleaning out my cat's food dish before I added a fresh helping of Ocean Whitefish and Sardines. As I was busy making his bowl sparkle, I started thinking . . . "Will he notice?"

Most likely not. I could have dumped a can of food onto the floor and he would have been just as thankful. I clean Charlie's dish because I love him.



Then I thought about the beautiful sunshine today and I thought, "Thank you, Lord."





I need to remember to thank Him everyday, even when it is cloudy.



We were nearing the end of the last bottle club meeting, when, right before my very eyes, I saw the color drain from Kevin's face! Suddenly he took on his most serious face, as he exclaimed, "We only have 3 meetings left before the bottle show!"

Kevin is right! Here are the meeting dates leading up to the show. This meeting falls on the 13th, the March meeting is on the 13th, and April meeting falls on the 10th , and our show is on April 14th!

Yes sir! That train is rolling in our direction! It won't be long before we hear that old familiar steam whistle blowing! I hope you are planning to jump onboard!

This will be our 39th annual show. . . can you believe it?

Kevin has ordered the show posters and handbills. John Pastor has already started running the bottle show's ad in the January addition of Antique Bottle & Glass Collector.

Once again, the raffle prize will be a brand-new White's Treasure Master metal detector. This is really a super nice metal detector! This detector has the depth and features of detectors costing hundreds of dollar more just a few years back!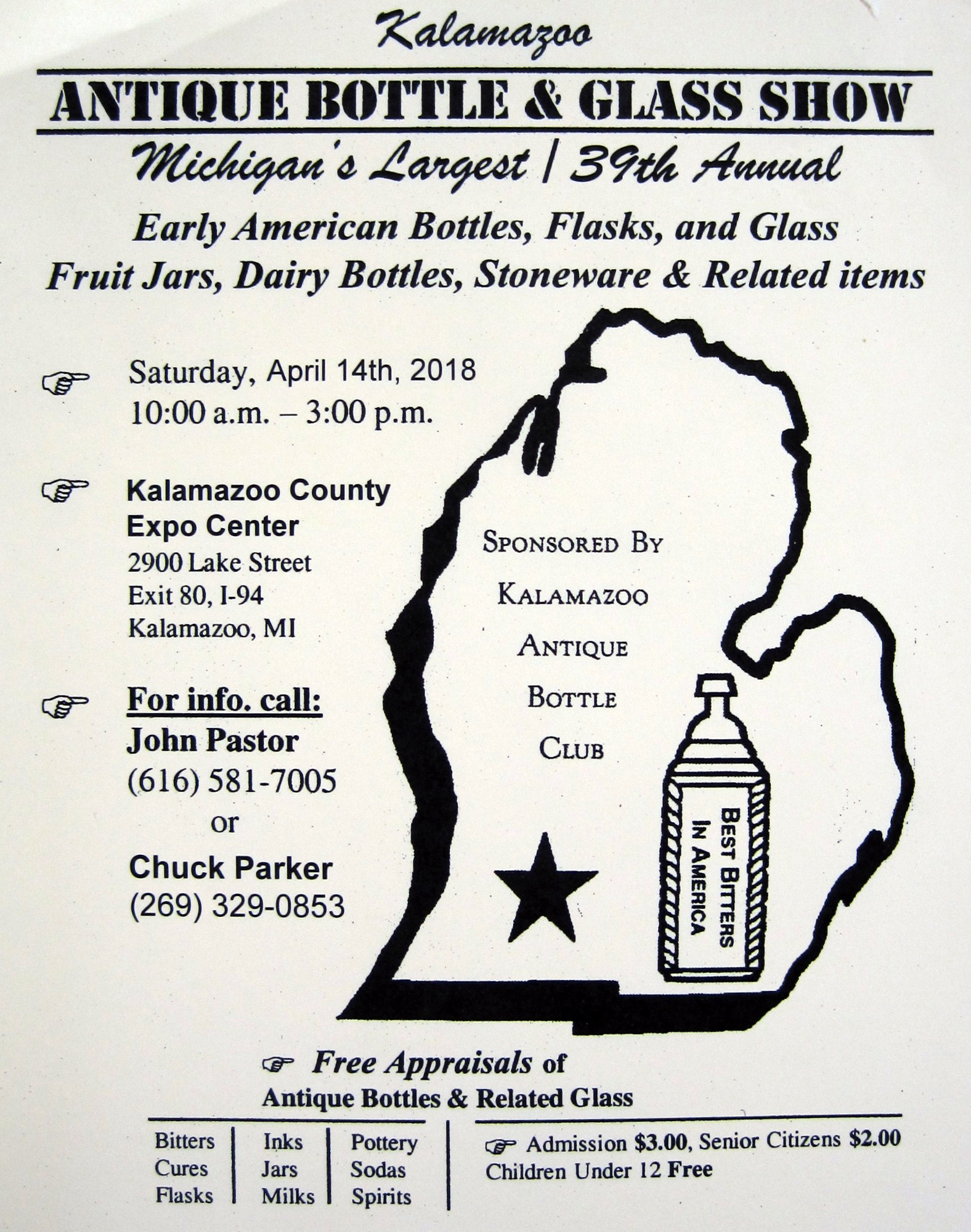 John also mentioned, as of Monday 01/29/2018, the show contacts are in the mail!

I am excited! The Kalamazoo Antique Bottle Show is like spotting the first robin-of-spring for me!

This winter hasn't been as bad as many I have survived, but they never seem to be easy.

My business came to a screeching halt right after Christmas. I should be ready for that by now; it always happens!

Adding to my problem was some unexpected expenses, that is challenging with no income. Have you noticed the one thing you can depend on in this life are the bills? "Neither snow, nor rain, nor sleet, nor gloom of night stays these couriers from the swift completion of their appointed rounds." The bills must go through!

Instead of going south, my parents decided to stay home this winter, so I am praying we slip on into spring without a major blizzard.

How many of you remember the blizzard of 1978?

I saw some vintage news coverage of that storm on 'M-Live' News. In that coverage it didn't look nearly as bad as it really was. Much of their footage was taken after things were opened back up. Honestly, you had to be there.

I had a full sized Oldsmobile parked in my driveway. The snow was coming down so hard, I grabbed my camera and took a picture when the snow was above the car's rocker panels. It just kept coming-and-coming non-stop! A few hours later, I took a photo when the snow was half way up the door. I took yet another picture when it reached the door glass and the last photo I took, all you could see was of the top of the radio antenna! I had one of those little "Union 76" antenna toppers, and, that was all you could see!

Now, mind you, this was not a snow drift, this was actual accumulation! We had snow drifts as high as a house! At the time, I was working for my father at Curtis Trailer Sales in Plainwell, but living in Kalamazoo. In Plainwell we had an entire RV lot to shovel out!

Each February we had a huge, pre-spring open house extravaganza! It was a lot of fun, and very successful! Except for 1978 with all its snow, the timing was near perfect! Our sale was just ahead of most local area dealer shows so we got the first chance at making important sales.

We would close down much of our service center and use those two big service buildings for indoor displays. We would pack them neatly in rows with new truck-campers, travel- trailers, fifth-wheels, motor-homes and pop-up campers. Every single unit was fully lighted and sparkling clean. We didn't just pull them off the lot and let the ice melt, they were all polished spotless, showroom perfect.

We also had a huge building that had served as our regular showroom and it too was filled with the very latest models! The display also continued outdoors onto the lot, where every RV was lighted and every furnace running, so they were all warm and cozy. Yes, even used units!

We would also have factory representatives on hand which was always fun! Shoup's Market in Otsego would make about 80 dozen tasty sour- cream donuts, fresh each day, over the 10 day sale. The coffee, donuts, punch and popcorn was always fresh.

My father didn't leave all the little campers out. They all got a big kick out of the candy dish. Dad would have a new Port-a-Potti with the lid up, and the toilet bowl filled with candy! Also, passing out bags of popcorn and tying balloons was Jerry The Clown! Honestly, it was such a fun time!

We had an older homeless man who had discovered the free donuts. Each day he would show up, and, when he didn't think anyone was looking, he would smuggle out as many donuts as he could stuff into his dirty clothes.

My father was told about what was going on and he decided to take action. I watched from a distance, and sure enough, the next morning the man sipped his coffee as he looked around for his chance to fill his pockets with warm donuts, a couple donuts with each sip before he finished his coffee.

My dad caught him red-handed! Everyone was expecting Dad to have some words with the elderly man and usher him out the door, but he surprised all of us. Dad walked up with a flick of his wrist, he snapped open a paper sack and started filling it with donuts, then he handed it to the man. I remember the man nodding, tugging on the brim of his hat, clutching the bag close to his chest and leaving. I never saw him again.

I still remember the man's name, and I knew both his sons. If I told you his story it would break your heart. I do believe he and his wife passed away the next year. I think of this man every time I see the character 'Mr. Gower' acting as the "Rummy" in It's a Wonderful Life. He is the spitting image.

I was the sales manager, and each year we would have a ten day contest to see who sold the most. One year I remember selling 27 RV's for the win! My father would have easily beat me, but he was always so busy keeping everything rolling along smoothly.

During the show, if you purchased a pop-up camper or travel-trailer you got a free hitch and awning! With the purchase of a motor home you got a free awning and generator!

It was the perfect time to have this event because most people were suffering from cabin-fever, and longing for an excuse to get out of the house! It was easy to make the sale in a warm cozey camper with customers dreaming of summer vacation.

Very honestly, it wasn't so much about the money for me. I found that the people we dealt with in the camping community were wonderful people. To me, they were not

just new customers, but new friends.

I clearly remember one evening in the showroom with a nice couple from Battle Creek. With his work, he had the winters off. Also, because of his work, for months at a time, he was away from home.

After we agreed on a price for a beautiful new 31 foot Avion, the three of us got comfortable in a new Avion, out in the showroom, with an order sheet and fabric samples. It really was exciting because I played a role in a very important time in their lives and over the years we became very good friends.

His name was Captain John Glomsted. John worked for Inland Steel Corporation as manager of their Great Lakes Fleet and was a rotating captain. If one of their fleet captains had a reason to be off work, Captain John would step up and run that boat. The freighters Wilfred Sykes, L.E. Block, Edward Ryerson, Joseph Block . . . he skippered them all.

I guess I told you this all before. He invited me to sail on the Ryerson for full a rotation. I was to board in south Chicago, run up to Duluth, and then all the way down to Cleveland. Without asking my father, I assumed I was too valuable to him during the summer, so I told John, "No." Well, duh!

When this story came up years later in a conversation with my dad, he said, "You should have gone!"

During this big storm of '78, Dad needed every hand on deck because we had to dig out the sale's lot, which was buried!! It was so bad that it was hard to know where to start.

At that time, my brother was running the Plainwell Chicken Coop, and both of us were snowed-in down in Kalamazoo. I am not sure how he did it, but my father grabbed our old 65 Chevy 4-wheel- drive lot-truck and he came all the way down and picked us both up! I lived over near National Water Lift, on Buena Vista, and my brother was living near U.S. 131 at KL Ave.

Wayne walked down to 131, where we picked him up. Then from KL Ave, we drove all the way north, from Kalamazoo to Plainwell, in the "southbound" lane! Yep, you read that right! Thinking back, I do not recall seeing any opposing traffic. I would love to have that old truck back! It was an old Chevy inline-6 with the truck top-loader, 4 speed transmission and manual locking hubs.

Once U.S. 131 was reopened, in both directions, we headed back home. The plow trucks had to bust through some giant drifts, some reaching nearly to the top of overpasses. From time-to-time you could get a haunting glimpse of the smashed corner of an automobile sticking out of a snowdrift. These cars had to all be abandoned, but still one could only hope everyone was safe!



Remember, if the weather is bad, listen to the radio.
If the library is closed, there will be no meeting.



Last Meeting



We had another great meeting, but our attendance was down somewhat. Chuck decided it was just too risky to get out and about. I think he made a good call. We all need Chuck well, and no more set-backs would be nice.





As for this next meeting, Chuck is feeling better, but he is just taking it one day at a time. He is able to get up and move around the house without using aid, but his progress isn't what he would like it to be. Connie is at home and caring for her is a good motivation to get up and move around.





As for coming to the next meeting, Chuck is hoping he can get out, but a number of things will determine that and the weather will be a big factor. Just please remember Chuck and Connie in your prayers.





We didn't see a large number out for the last meeting, but just remember, it's not the size, it is the quality that counts! What I am trying to say is, "We need you!"





I get overwhelmed each year as we move towards Michigan's largest antique bottle show and the volunteer sheets are being passed around and returning with blank lines. Don't let me scare you too. I go through this anxiety attack every year and it always works out.





Initially I misplaced the sign up sheet so I borrowed this older one that I found on the Justice Files Most Wanted List:





Vincent Grossi, John Winkler, Rob Knolle, Mary G. Hamilton, Ed Nickerson, Kevin Seigfried, Ron Smith and that world renowned escape artist, Al Holden.





Rob Knolle showed us some cool scuba recovery bottles! The three bottles appear to be all Chicago Beers: Topez Beer, Edelweiss Beer and Schoenhofer Beer.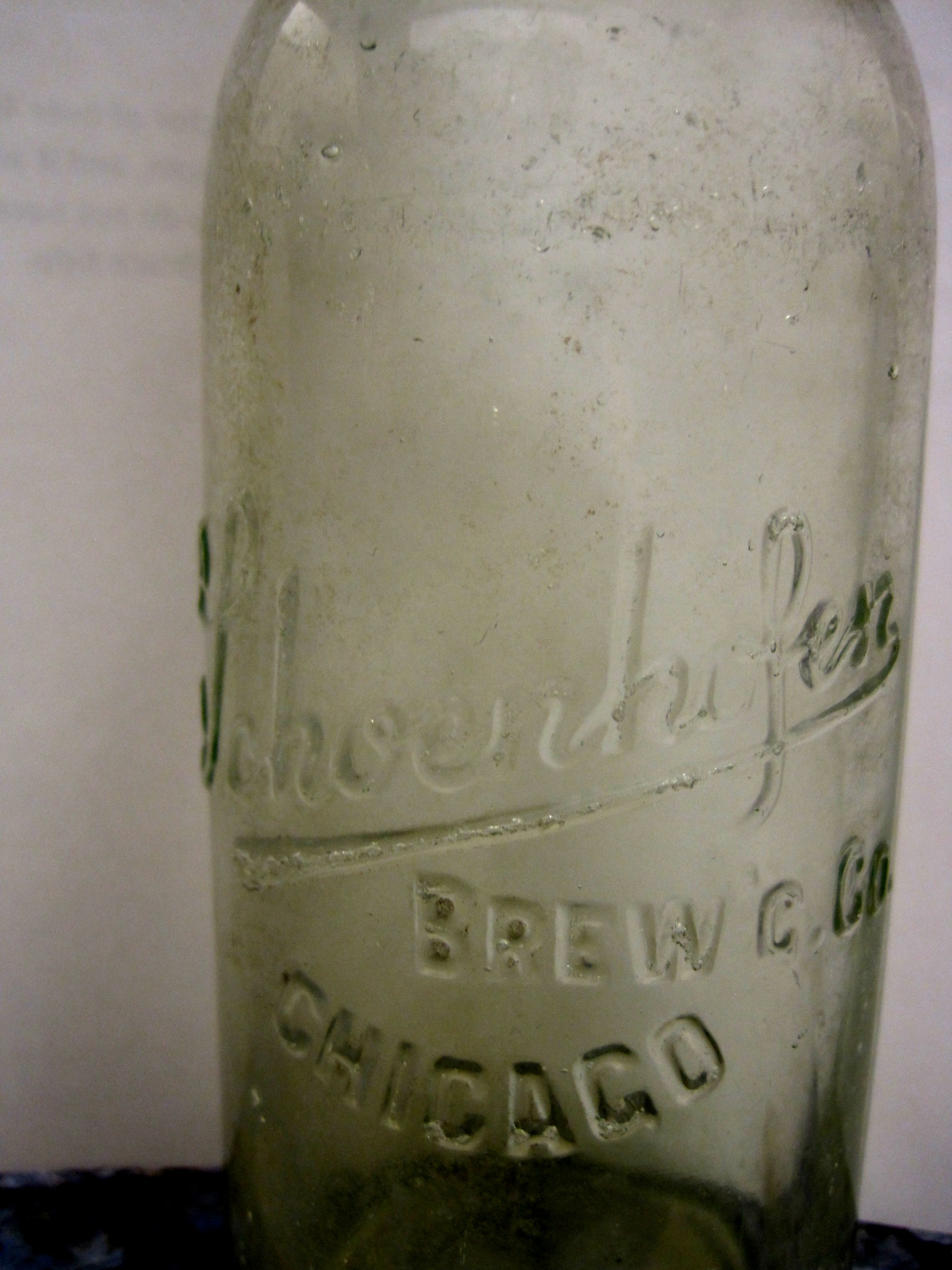 The Topez Beer bottle is one where my picture didn't turn out well. A quick search online turned up a listing for Topez Beer brewed in Chicago by Koller's. Today with the craft beer craze going on, I would think the collector market for the older beer bottles would be strong. However, online, it is easy to learn about the beer, and very little about the bottles.
According to some, Topez is a 'type' of beer, more than it is a 'brand' of beer. Real Topez beer is brewed using two types of hops grown in Australia. I am not a beer drinker myself, but from what I read, this is one you would either love or hate! I guess it has a strong bitter taste and a strong bitter after taste.
Edelweiss is another "type" of German beer that can be brewed anywhere. Rob's example was brewed by Schoenhofer out of Chicago. Edelweiss is a mild wheat beer named for a lovely flower which grows in the Alps. Even though the flower has nothing to do with the ingredients, the beer is said to have a delicate floral aroma.
Schoenhofer Beverages were bottled in Chicago. I found that Peter Schoenhofer tried to register the name Edelweiss as his legal trade mark name for Root Beer in 1886. In those days, there was a mad rush to trade-mark anything made that was made!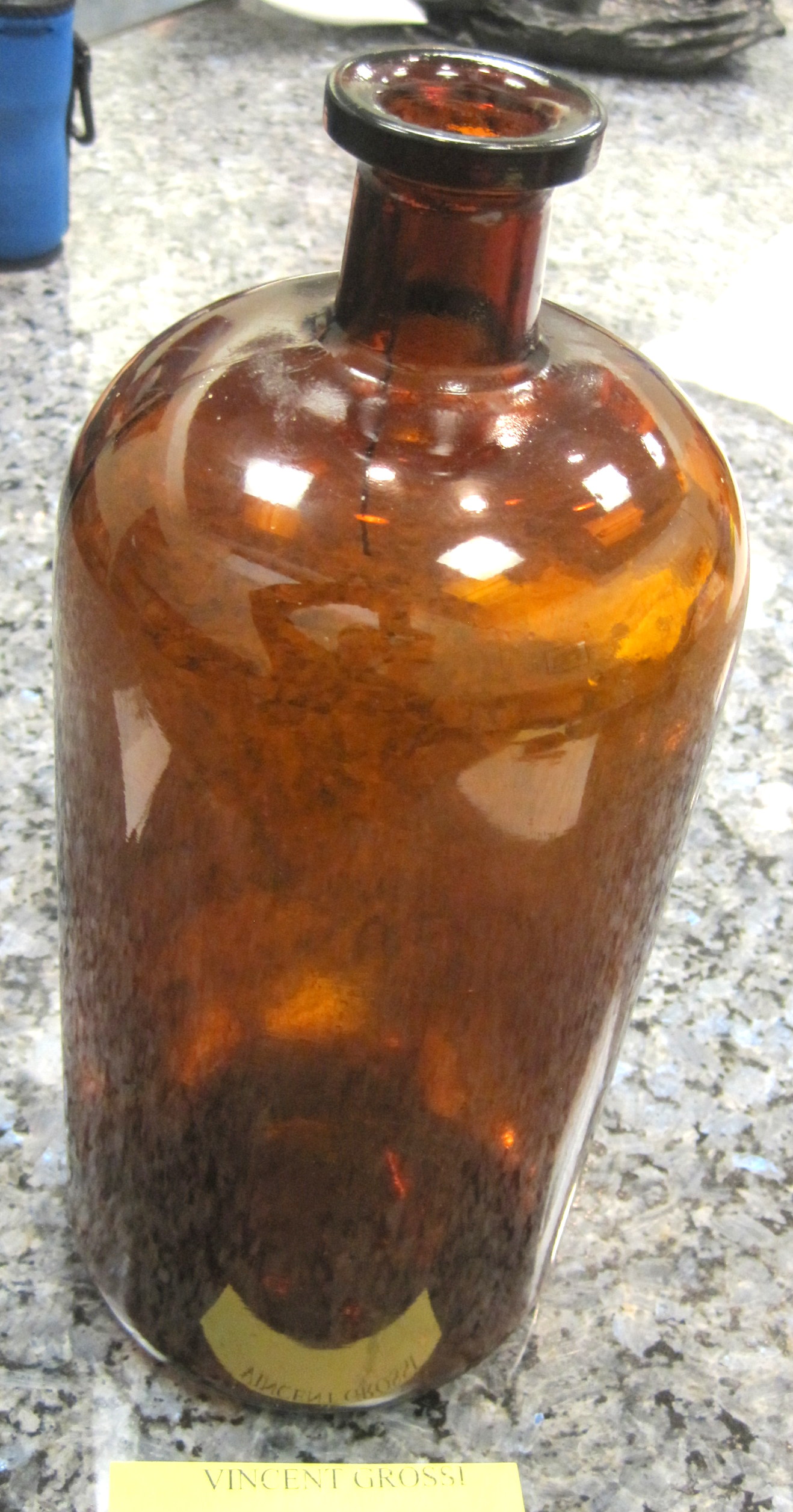 Vincent had some neat treasure to display at the meeting. One was a BIG beautiful, sparkling amber bottle. I would say this bottle would have been used to hold chemicals and used in industrial, pharmaceutical or commercial drug trade. If you like amber bottles this is a real beauty!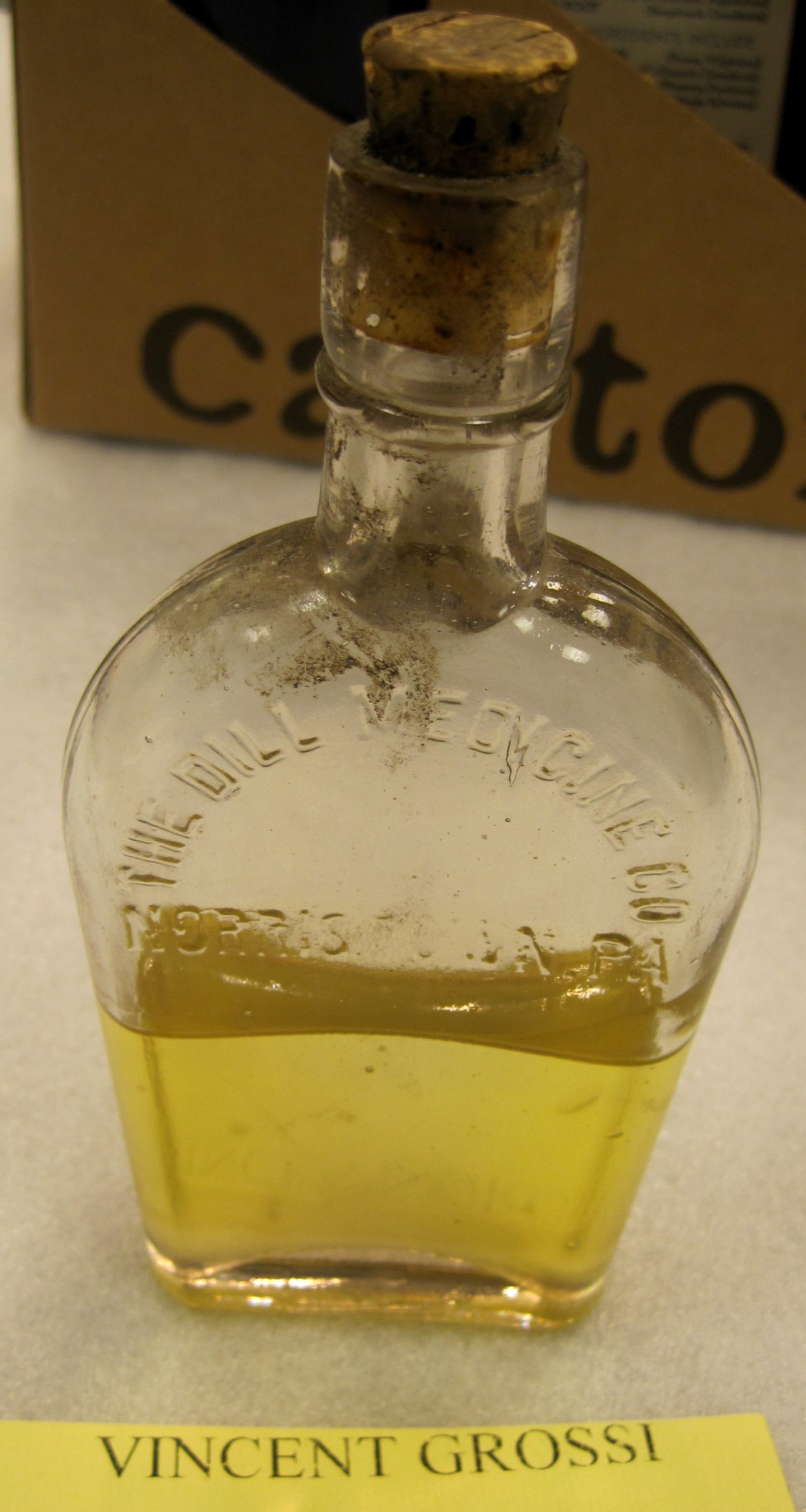 Vince displayed a corked Shoo-fly flask from the "Dill Medicine Company, Norristown PA."
W.W. Dill, after serving in the Civil War, took on the title "Professor W.W.Dill," and he made a fortune in the drug business! Like many in the early patent medicine business, he hitched his wagon to the Mennonite group called Evangelical Mennonites.
Religious people of the Good Book were very trusted! Back then, people also stood in awe of the Indian Medicine Man! Siding up to religion gained trust, siding up with the Indian gained respect. It was one way to gain trust and respect, even when it wasn't deserved!
The good Professor W.W. Dill was born in 1844 and lived until 1923. His company, Dill Medicine took a hard hit when the Food & Drug act insisted that Opium and Chloroform didn't belong in children's cough syrup!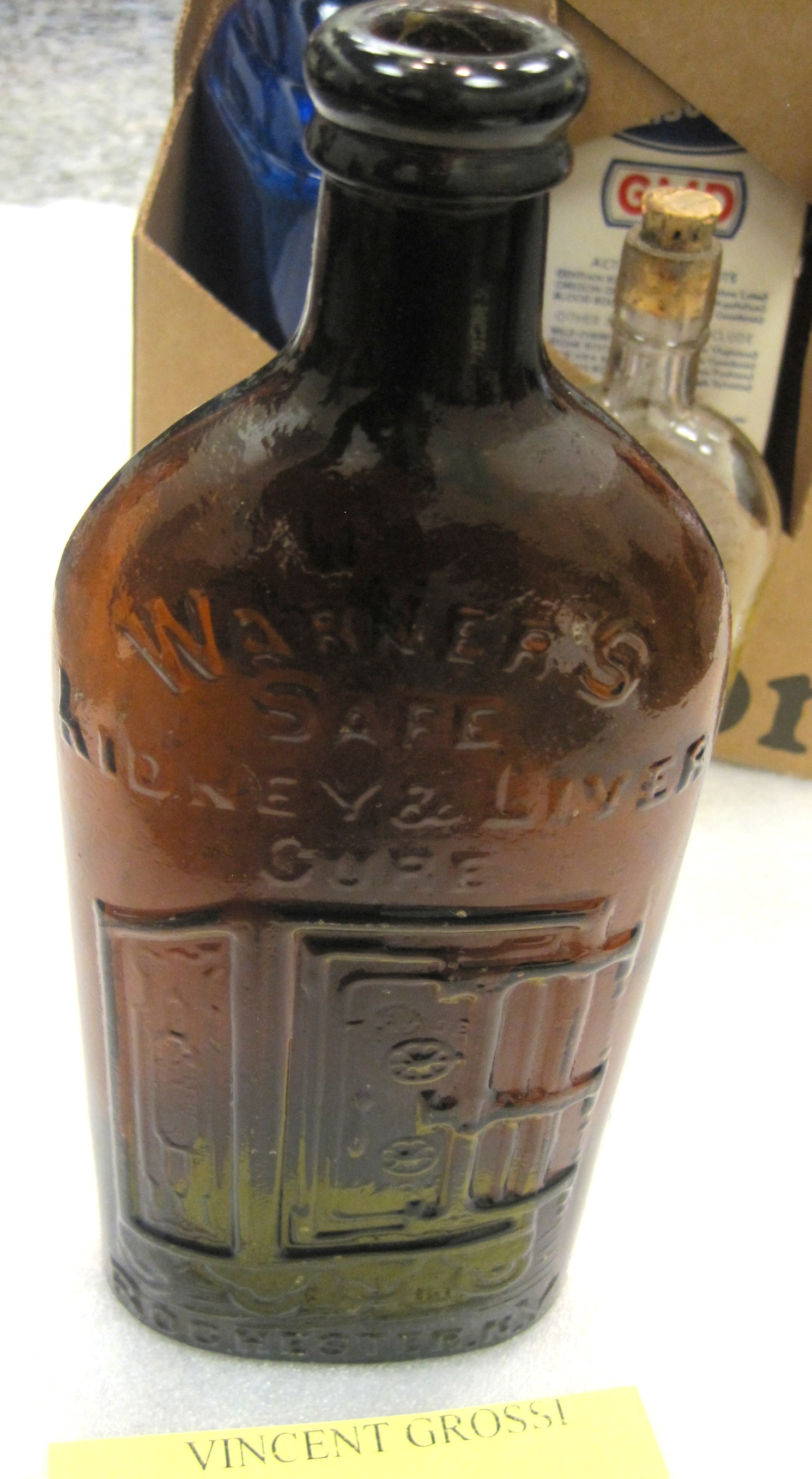 Vince also displayed a nice Warner's Safe Kidney & Liver Cure. Vince's bottle is the well- known deep honey amber bottle from Rochester NY. The Warner's Safe bottles can fool you! Many are very common but even with common embossing, the right shade of amber can make the value go way up! I have an early one that is so dark that it is a deep chocolate amber, which is sought after!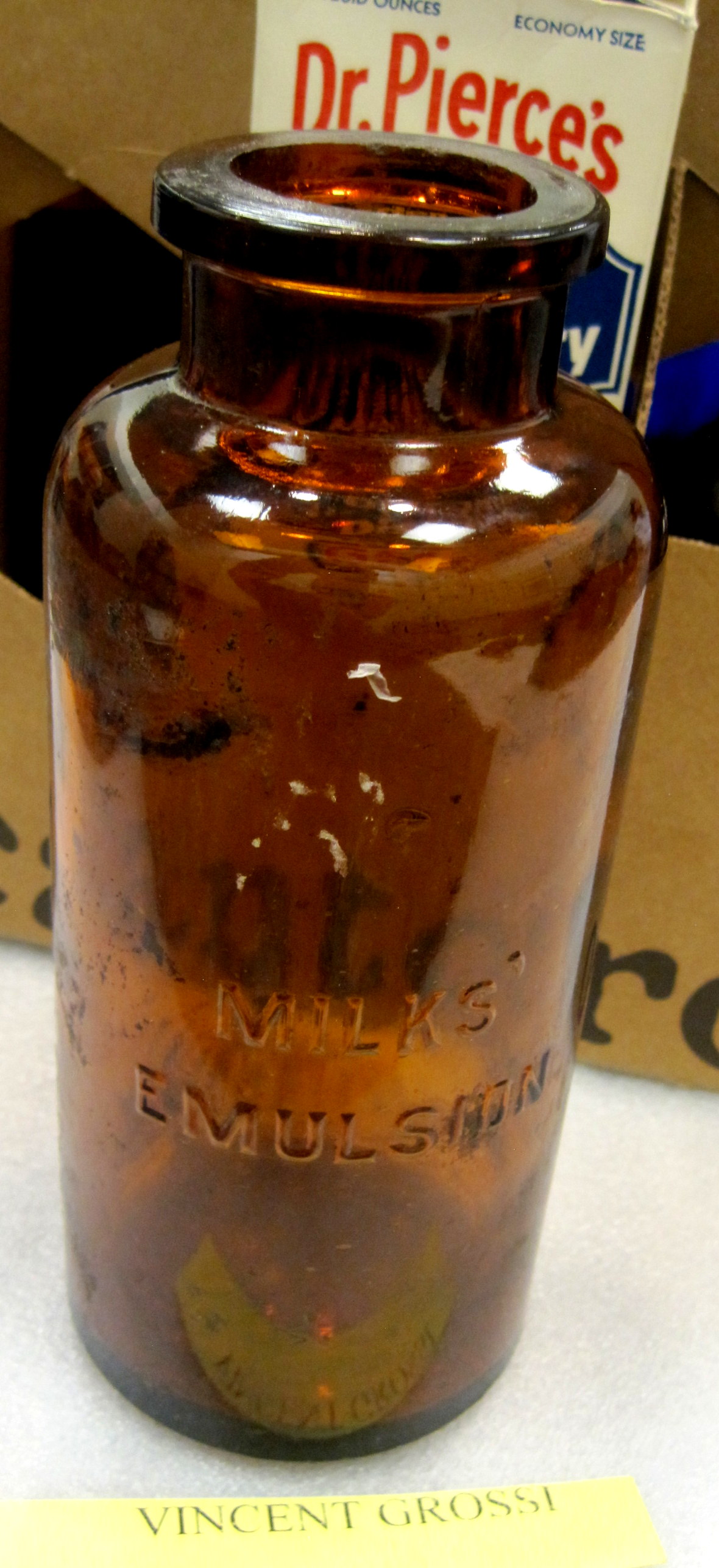 They list them as Amber-- Medium Amber, Yellow Amber, Red Amber, Chocolate Amber and Golden Amber!
Warner also introduced a Safe Nervine, Diabetes Cure, Safe Tonic, Tonic Bitters, Bitters, Rheumatic Cure, and later his Tippecanoe Bitters. Finding different Warner's bottles alone can lead to a substantial collection!
Another mint-in-the-box bottle Vince displayed was a Doctor Pierce's Golden Medical Discovery! Dr. Pierce was the king of snake oil hustlers and he created an amazing empire. Much of his success was due to advertising. Just as barns were painted with Mail Pouch Chewing Tobacco, Dr. Pierce did his share of barn painting!
Why use the Golden Medical Discovery? Let me count the ways!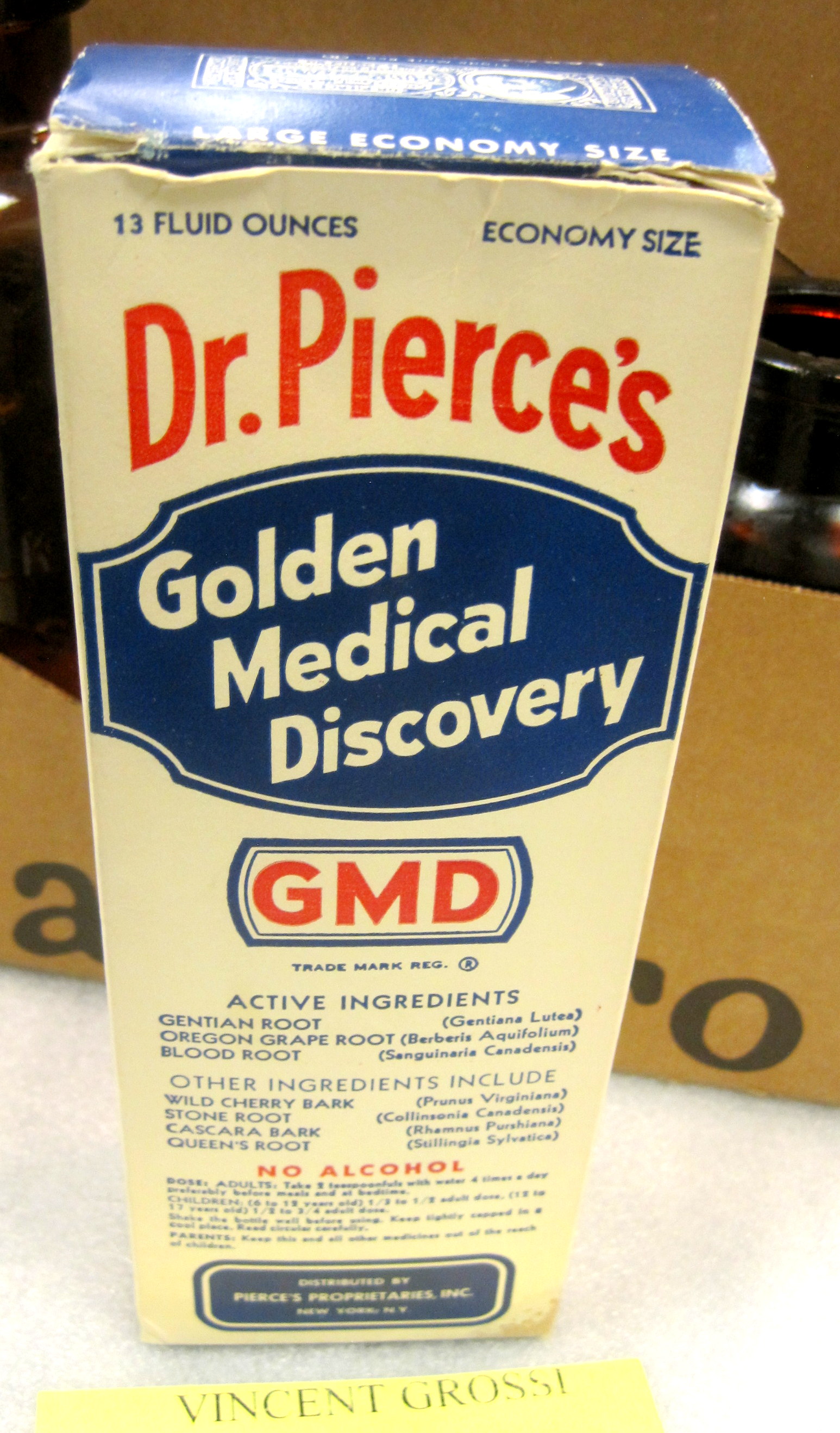 For the cure of all severe, chronic or lingering coughs, bronchitis, laryngitis, weak lungs, bleeding from lungs, public speaker's sore throat, hoarseness and suppression or loss of voice. A remedy for liver complaint, and for habitual constipation of the bowels. For loss of appetite, indigestion and dyspepsia, and for general nervous disability or prostration, in either sex. An alternative, or blood purifier; valuable in all forms of scrofulous and other blood diseases. For skin diseases, eruptions, pimples, rashes and blotches, boils, ulcers, sores, and swellings, arising from impure blood.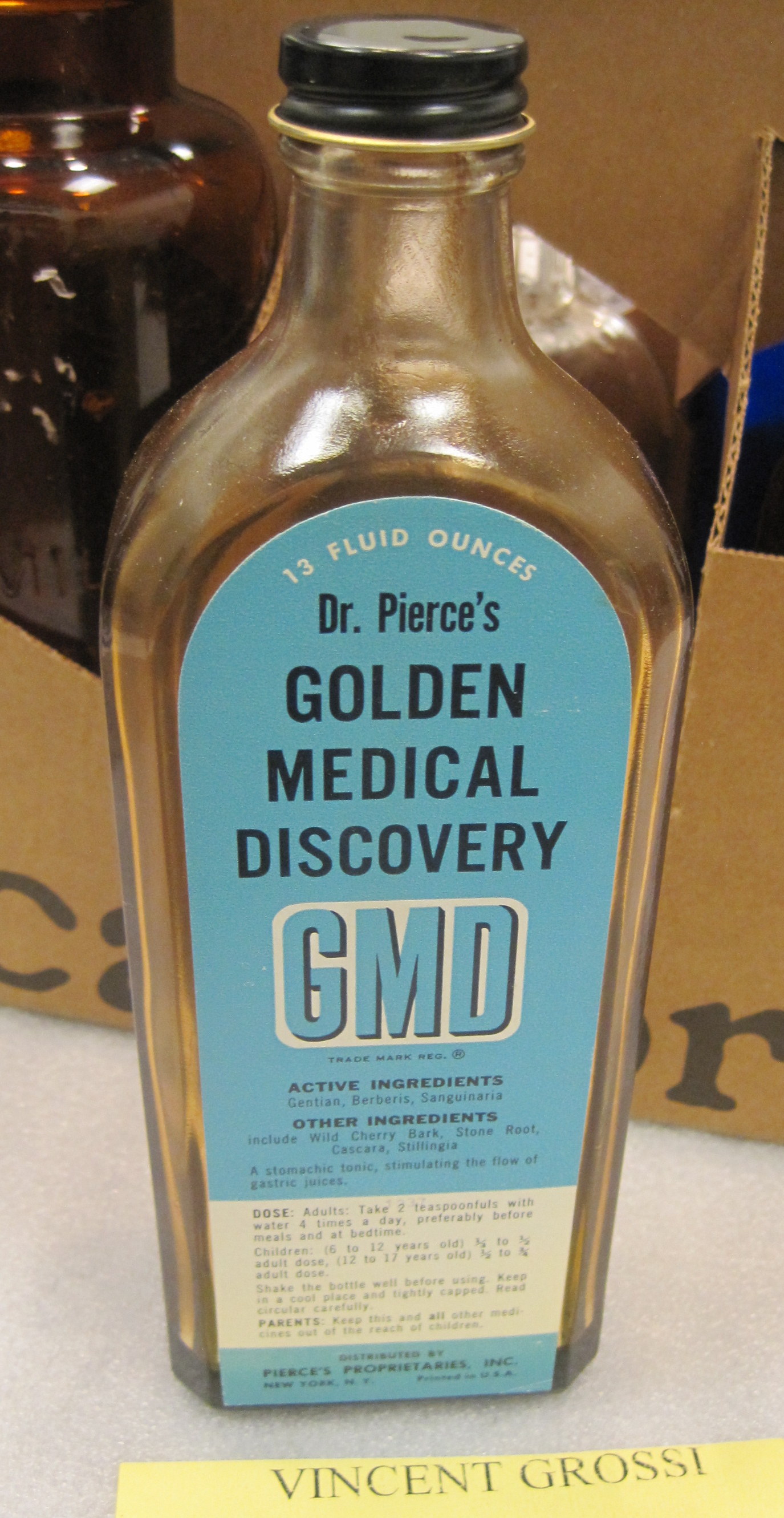 Here is a list of ingredients common to Dr. Pierce's Golden Medical Discovery: Gentian Root, Oregon Grape Root, Blood Root, Wild Cherry Bark, Stone Root, Cascara Bark, Queen Root, Mandrake Root.
Can you imagine being a tester for these guys? "Here, take a spoonful of this so we can see what happens."
"Well, Bernie, how do you feel? Bernie . . . Bernie?"
"Sarah, do you know if Bernie was married?"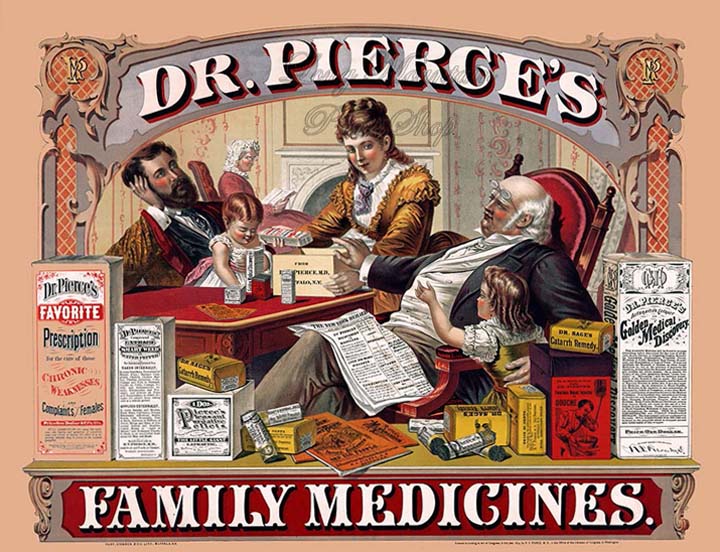 As I like to say, "This stuff will take the rattle out of your hubcaps!"
Dealer Contract Highlights
The Kalamazoo Antique Bottle Club is proud to present the 39th Annual Kalamazoo Anitque Bottle Show and Sale. The show hours are from 10:00 a.m. to 3:00 p.m., on Saturday, April 14th 2018. HOSPITALITY SUITE
On Friday evening April 13th, between 7:00 p.m. to 10:30 p.m., the club will be hosting our annual Hospitality Suite, including a buffet of food and beverages at the Clarion, 360 E. Cork Street (I-94 Exit 80) in the Professional Conference Center HOTEL INFORMATION:
There will be a group rate of $69.99 + tax for a King Bed or $75.99 + tax for 2 Queens. To take advantage of this special rate, you must call prior to Sunday, April 1st That phone number is
269-381-1900. Tell them you are with the Kalamazoo Antique Bottle Club. It would be best to call in as soon as possible. In person, you may be asked to use the secret handshake. SHOW HOURS:
The show is open to the public from 10:00 a.m. to 3:00 p.m.
Dealers MUST remain set up until 3:00 p.m. This rule is strictly enforced out of respect to show goers. They expect the show to run up to 3:00.
DEALER SETUP:
Dealer setup is from 8:00 a.m. to 10:00 p.m.
NAME TAGS:
Two name tags per contract will be provided. Name tags will be available at 7:45 at the entrance table. Name tags must be worn in a visible location and must be worn to gain entry into the Auditorium at 8:00 a.m. SALES TABLES: Sales tables are $30.00, and $25.00 for each additional table. Sales tables are 8 feet in length. You must furnish your own table cover-- table covers are required.
MERCHANDISE FOR SALE:
Antique Bottles, jars, flasks, stoneware, advertising, small table-top antiques are permitted.
PLEASE NO: flea-market items, Avon bottles, new merchandise, Jim Beam Bottles, beer cans etc. Tables should consist of at least 60% bottles, flasks, jars and related glass. The purpose of the show is for antique bottles and related glass.
Any reproduction glass or other reproduced antique and irradiated glass must be clearly marked as such.


(No Pizza This Month.)
The Meeting theme is Valentine's Day
"LOVE!"
BRING IN YOUR FAVORITE BOTTLE!
---
GRAND RAPIDS BOTTLE & GLASS SHOW

The West Michigan Antique Bottle Club

28th Annual Show and Sale!

Saturday, February 24th
SHOW HOURS
10:00 am - - 2:00 pm
Fonger American Legion Post
2327 Wilson, S.W., Grand Rapids, MI.
For information contact: STEVE DeBOODE, 616-667-0214

---
The Kalamazoo Antique Bottle Club
Meet at the main Kalamazoo Library
315 South Rose Street.
Kalamazoo MI
We meet on the third floor in the conference room.
This meeting is February 13th. Meeting starts at 7:00
e-mail: prostock@net-link.net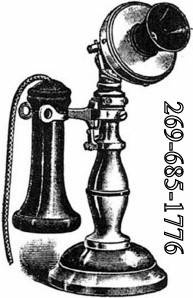 Phone:
269
-
685
-
1
7
7
6
Club Web Address
www.kalamazoobottleclub.org
HOME