Down in the Dumps

Scott Hendrickson, our program director, selected this for our February meeting theme. This month you can bring in one of your favorite dug bottles or anything interesting that you found while searching for bottles. I have a large, tin, Buddy L steam shovel from around 1920 that Mark Churchill dug somewhere. It is very restorable but I don't know when I will find the time to do it. I used to buy non-bottle items that one of the local diggers used to discard until he met a sucker like me. I have a bone toothbrush, a bone shaving brush, and even some carved bone chess pieces.

Many of the items that I have purchased are antique doll parts. I had one tennis-ball-size doll head that was stamped "Germany." It was in perfect condition. It had everything going for it. The collectors like the opening and closing eyes and open mouth. I didn't have the eyes, but the very fact that they were missing said that this doll had opening and closing eyes.

I put the doll head on e-Bay and the auction was one to watch! At the end of all the bidding the doll head sold for over $350.00!

I also have a large collection of clay pipes and one was never smoked-- it was flawed! When they bored the stem, the drill hole missed the bowl and came out the front of the bowl! I guess the inspector of quality control missed that one.

Shortly after I joined the club someone told me an interesting story. I may not have all the details right, and I don't remember who shared this with me. It seems like a bottle club in Pennsylvania, or thereabouts, had a real dilemma on their hands. Some company or local government purchased several blocks of property in the oldest part of a city and every house would be destroyed.

The bottle club approached the city council, begging them for permission to dig the privies before all of the history they held would be lost forever. Well, permission was granted but an impossible time frame was set for the club. To make the most of the situation, the local club sent out invitations to other diggers in other clubs. I was told that some of our club members went down to take advantage of this opportunity.

One of the last digs was a privy that was part of commercial property, like a hotel or saloon. At the very bottom of the privy, in one corner, curled in a fetal position, was an adult human skeleton! Clearly what they uncovered was evidence of a murder!

Don't bring in any skeletons! I remember I was digging with Mark Churchill in Plainwell on property that was then owned by my grandmother. In the 1800's the property was used as a large poultry operation with lots of employees. When we found the privies, there were several pits all in a row. I don't recall anything good coming from that dig, but there was something that I will never forget. I dug a treadle sewing machine in it! Try digging one of those out! That was very hard work.

Another memory was digging with Duane Nickerson in Plainwell on property that was owned by a dear family friend. I couldn't stick around for the whole dig, but when it was all done, Nick found two of the first issued Michigan porcelain license plates! As I recall, they were in perfect condition and sold for a couple hundred dollars.

I have seen marbles the size of tennis balls, breast pump parts, oil lamp parts and many other tools an trinkets. So bring in your favorite dump or privy treasures to this "Down in the Dump Meeting!"

While on the subject of down in the dumps, what an awful miserable winter this has been. One of the ways I like to entertain and support myself during these dreary Michigan winter days is with e-Bay.

I have never been able to part with any of my own personal detecting or bottle digging finds. I cannot explain why for sure, I guess they represent little trophies to me. On the other hand, I don't have any problem selling things I buy from other treasure hunters. There are a couple guys in the detector club who offer me the chance to buy the gold that they find. Being somewhat of a wheeler dealer, I try to counter offer their asking price.

These fellows have me figured out pretty good by now. If they have X-number grams, of say, 14K gold, and they want to get $200.00 for it they will offer it to me for $250.00. Because I am so shrewd, it only takes me a few minutes to get them down to my price . . .$200.00.

Not always does this work out right for them, so they will usually have a card up their sleeve, something to sweeten the deal. Generally this sweetener is silver rings, catholic medals and trinkets which they will throw in as a bonus.

I have as much fun selling this stuff as I do the higher ticket items. I sold a silver Indian ring that was somewhat crude for $107.00!

I also sold an old brass lipstick tube for $20.00! Even the old costume plated jewelry with rhine-stones get plenty of bids!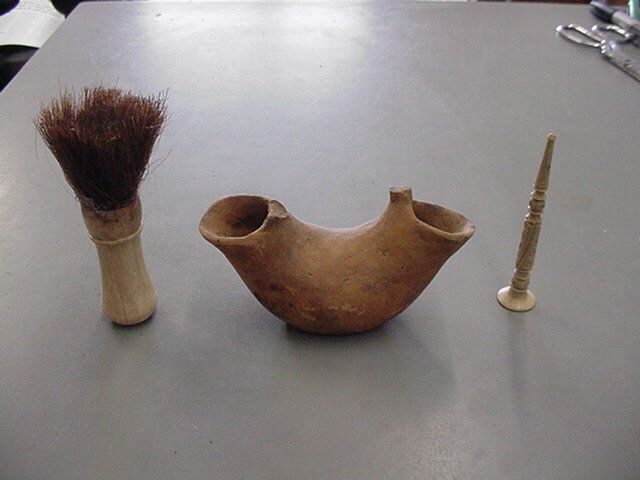 Left is a bone handle shaving brush. I have a friend who raises horses, she got me the horse hair.
When you dig these out of an old privy they soon dry out and start to break down so, once they dry put a coat of varnish on them,
Center This is a Native American ceremonial wedding cup.
Left is a bone carved chess piece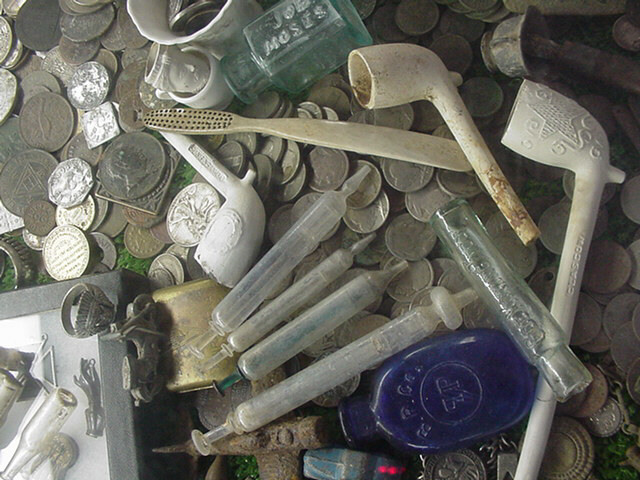 Here you can see a rib-bone tooth brush. Also, found in a 1850's doctor's office privy, some very rare hand blown syringes that predate the Civil War.

---
Show helpers
There is a always a need for security help at each show. Sadly, we have lost, over the last few years, some key members. So, we need everyone to pitch in and help where he or she can.
So, please sign up for an hour's duty sitting with the displays, if you can. This is a very important part of our show and this is an easy job for a guy or gal!
We will also pass around a sheet for the Hospitality Suite Potluck held on the Friday night before the show. You guessed it, we are coming up a little short here as well!
---
See you at the meeting February 10th..... meeting is at the main Kalamazoo Library on the third floor in the Van Deusen Room. Meeting starts at 7:00
Questions? Call
269-685-1776
Newsletter is written by Allan Holden