One of our club founders passes.....
Jack Short
Many years ago I met Jack Short and Ernie Lawson. I just cannot think of one of them without thinking about the other. Jack and Ernie came to me when they both decided to look into the hobby of metal detecting. These two guys took to the detecting hobby like ducks take to water! Soon I got to know the two of them very well. I remember all-to-well that one of their favorite topics, when we got together, was one that they wanted to interest me in the worst of ways-- antique bottles.
I can remember when they talked me into coming to an antique bottle club meeting for the first time. The meetings then were being held in the Washington Square area at the big United Methodist Church on Stockbridge. That night the club was having a special guest speaker, Norm Heckler. Mr. Heckler is like "Mr. Antique Bottle" to collectors all across America! The club had a small turnout that night. I was sort of embarrassed for Mr. Heckler, but the excitement that Jack and Ernie had for antique bottles quickly took a strong hold on me.
Not really knowing where to start with my new bottle collecting hobby, Jack made me an instant collector! Jack had just moved into the home, where his wife Betty still lives, on Owen Drive. In Jack's mind, the moving wasn't complete. At the time Jack's amazing bottle collection was still packed in several boxes out in his shed. Not sure what he would do with all of them at the new location, he offered to sell them to me for pennies on the dollar!
To Jack these old bottles were precious treasure that he worked hard to find and unearth. These were bottles that Jack had spent countless hours digging with Ernie at old dumps and trash pits all across the Kalamazoo area! Jack wasn't trying to just unload them for extra cash, or to get them out of the picture; he took many things into consideration before offering them to me. Jack wanted the collection to be appreciated and displayed.
Thanks to Jack and Ernie, my vocabulary was expanded to include names and words like Moses Atwood, Seven Sisters, Scott's Emulsion, Dr. Kilmer, Spavin Cure, Warner's Safe, Mandrake Bitters and many more!
I heard first person how they came to see the area's first two newly discovered America's Best Bitters bottles. That all came about as the result of an article written about the two part-time dump diggers in the Kalamazoo Gazette! So, there I was with new friends, a new hobby, and an instant collection!
When I think back on it, my wife must have thought that I had lost my mind when boxes of old bottles showed up in the driveway! Jack and Ernie went out of their way to tell me everything there is to know about old bottles. Thanks to Jack and Ernie, I soon became the new owner of countless antique bottle books and magazines and years of research material!
I put up several narrow pine shelves on the wall of my detector store, then I carefully put all of those old beauties on display. Jack was very proud of the way it turned out and I think he enjoyed the collection more than he ever did before.
Whenever I was busy at my store in the spring time, Jack was always happy to come in and lend me a hand. He really enjoyed talking to people about treasure hunting with a metal detector or digging old bottles!
One day I was sorting through some old photos when I found a couple that were taken back around 1973, back when I worked for a machine shop in Kalamazoo called Wheeler Roll. I was trained by a retiring German master machinist. My job was building machines for the papermaking industry. Some of the machines took over a solid year to build. Before the machine was shipped out to its new owner, the company would call in a professional commercial photographer to take pictures of it. I happened to notice a stamp on the back of the photos that said, "Jack Short Photography!"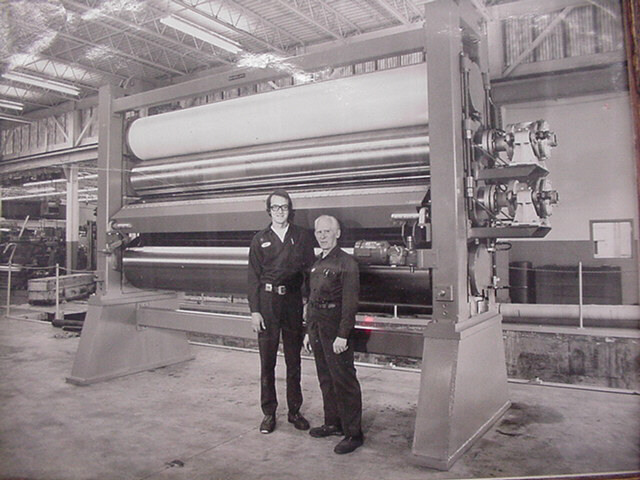 Photo taken by Jack Short at Wheeler Roll Company, Kalamazoo around 1974

I didn't know Jack back when he took those pictures, but he sure remembered taking them, and he was sure surprised to see me back when I had still had hair. Jack went on to share many photos with me for years to come! Jack was indeed a great photographer and he was one who loved to share his God given gift!
Jack truly invested his talent in others, just as the Lord Jesus taught his disciples! What I mean is this; Jack was always helping others by photographing items for the detector club, the bottle club, the local university and the new Kalamazoo Museum. Those are just the areas that I know about! Jack was always busy at the metal detector and antique bottle clubs with his camera looking for that perfect shot. Then, no matter how late it was, the very minute he got home, he was at his computer posting his pictures for everyone to enjoy!
Jack was always thinking about others! One day the Kalamazoo Museum asked Jack to photograph some of their recent acquisitions. The now closed Kalamazoo Creamery donated dozens of tiny waxed product-sample cartons from the Michigan Cottage Cheese Company from Otsego, which was my grandfather's business. The museum only wanted to keep a couple of the sample cartons. So, Jack talked them out of the rest of the cartons for me! I was able to surprise my mother and my seven siblings with these family treasures for Christmas gifts--- all thanks to Jack!
Jack was always fascinated by my computer, especially when I got hooked up to the Internet. I've never considered myself all that good with a computer, but Jack was busy picking my brain to learn whatever he could. Jack went on to become a very active computer user, unlike many in his age group.
For several years Jack would send out little proverbs by e-mail with a new one on every single day! I wonder to this day where he could find all of these things! They were the kind of clever sayings that you would find on those changeable signs in front of churches. Also, he would send many beautiful pictures that he would find, or many of them he would take himself. Jack could see beauty in so many things that we all take for granted! For a while Jack would puzzle us by sending a little piece of a picture then ask his computer family, "What is it?" The next day came the rest of the picture.
Like I said, Jack and Ernie came as a pair! They both looked forward each year to the Kalamazoo Antique Bottle Show and they both liked to help me with my detector display. I mean to tell you that they could not wait! They both looked forward to that weekend like a kid waits for Christmas!


Jack & Al working the Kalamazoo Antique Bottle Show

I can remember when Jack and Betty used to take their motor home to Alabama each year. Ernie and I would miss Jack each winter, especially at the detector and bottle club meetings. It was always great to welcome him back.
I was at my store when the terrible phone call came and I learned about Jack's passing. In some ways it was rather shocking, but not totally. Lately I must admit, like Ernie, I was worried about Jack overdoing it. I was, and still am, very weak from my cancer treatments, while at the same time Jack seemed to defy his age! Since they sold their motor home and stopped going south for the winter, Jack was always busy stocking up his wood pile for winter heating. Jack was proud to be cutting, splitting and stacking firewood at over 80 years old and he went about this like he was 30!
I'm not certain why he sold his motor home and stopped those winter trips to Alabama. Jack even belonged to a metal detecting club down there. He was so proud that he was the only member of that club with his brand of detector, and he could keep up with the best of them!
I believe it was Gulf Shores, Alabama, where the Shorts spent their winter. Also, if I remember correctly, the area where they stayed was wiped out by a hurricane. That seemed like the end to their winter trips. Jack really loved to run his metal detector down there and he came back with some great stories.
When Jack had his brush with death, just a few years ago, after having a terrible internal infection, one of the things he was afraid of was that he wouldn't ever be strong enough again to do his metal detecting! He sure did a great job of bouncing back! It almost seemed as if he was getting younger!
Jack was really taken back when he learned about my having cancer. He always showed concern for me and was always trying to cheer me up. Even though he sent out a lot of e-mail, when he wanted to tell me something he would either call me on the phone or drive to the shop. Jack's daughter lives in the Otsego area and he would rarely go to see her without stopping in to visit with me. Jack was very proud of his daughter, Spring. He used to mention her very often.
The evening before Jack passed away, I was busy in the store with a couple who were interested in buying a metal detector. Working alone, I sometimes get interrupted when the phone rings. It seemed as if I would get a phone call after about every ten words that I spoke to them. I had a feeling they were growing tired of my running to the phone every other minute. The last call to interrupt me that day was from Jack. He was wondering why I hadn't e-mailed him his detector club newsletter yet.
I was afraid that I was a little rude sounding as I explained my frustration to poor Jack about the phone interruptions. I explained that I would e-mail him a newsletter as soon as I could get one put together as a web page. After the customers had gone, I called Jack back to apologize for my behavior and explain things to him in more detail. He was really glad that I called him back and so am I. I'm especially glad that I squared things with him now that he is gone. Do you have loose ends that you should tidy up?
I have always been outspoken about my Christian belief, and nobody knows that better than my close friends. I can tell you that Jack was one of those who shared my faith and I know, without any doubt, that I will see my friend again one day.
After learning about Jack passing away, our club president, Mike Walker, asked me to write something about Jack for the metal detector club newsletter. I really felt that the one who should write about Jack was his best friend Ernie. Jack Short and Ernie Lawson started the Kalamazoo Antique Bottle Club over 30 years ago and as I said, they were very close friends. These are the words that Ernie spoke at Jack's funeral.
---
JACK SHORT

by Ernie Lawson





We all know Jack as an award winning, top-notch photographer, and I want to get back to that. Jack also had a whole lot of mechanical skills in his basket and you could tell him your problem and he would do his best to help you if he could.

I've had him install plumbing for me in our kitchen and give good advice on many other such problems that arose, and then offer to help do them.

I believe you will agree with me that Jack was a very unselfish person, a person who would give, and not ask anything in return.

In addition to his superior photography skills Jack was good at so many other things.

I am sure I will remember him the most because of his very outward expressions of love for his wife, Betty, and his children Jeanie, Joan, Earl Jr., Mark and Spring, and his many grandchildren and great-grandchildren.

Irene and I introduced Jack and Betty over fifty years ago, and you know the rest.

Jack was very proud of all his children, grandchildren and great-grandchildren. He kept me informed of their many accomplishments and adventures day to day. They were most always in our conversations each time we got together.

Jack readily accepted and loved his children, Jeanie, Earl Jr., and Mark who came into the family when Betty and Jack were married. Jack's daughter, Joan met her new sister and brothers and a family of 4 children started out together with their marriage.

This of course was the second marriage for Jack and Betty. Their daughter, Spring, was later born to them by God's grace to bring the offspring count to five.

Jack and I founded the Kalamazoo Antique Bottle Club over thirty years ago, and we spent many happy years together digging antique bottles and providing antique bottle shows each year as our club grew in new club members.

In recent years, we both found digging bottles too strenuous for these aging frames, and found a new joy of Metal Detecting.

Finally, I would like to mention what I found out about Jack over the years concerning his faith. From my memories of Jack and I talking about our God and his Son, Jesus Christ, Jack acknowledged total belief as I do.

More recently, Jack's daughter, Spring, had a conversation with her father, Jack (now timely) and he acknowledged to Spring that he had given his life to Christ in the past.

Jack certainly displayed a Godly attitude many times over the many years I've known him and to everyone he met along the way. I'm sure Betty was shown his love in many ways.

In the Bible book of Galatians 5:22 and 23, we find the fruit of the Spirit is love, joy, peace, long-suffering, kindness, faithfulness, gentleness and self control. Jack showed these traits often.

On the lighter side (my fantasy):

Haven't we all wondered what heaven is really like? No one knows, but we now may have our best opportunity for a view of heaven.

God now has the award winning photographer, Jack Short on board, and if there is a way to send back pictures, Hang on!!

I will miss my friend, Jack.

In the Bible book of II Corinthians 5:8, we're comforted and reminded as believers that absence from the body is presence with our Lord when we leave this old world.

Praise God, Jack is now with his Lord!
---
Last Month

At our last meeting we saw: Wayne Marvin, Tim Hayes, Brent Heighton, Steve DeBoode, Elmer Ogg, Ed Nickerson, Mary Hamilton, Scott Hendrichsen, Bill Drake, Mark McNee and Al Holden. We also had a guest at our meeting from Montana who now lives in the Galesburg area, Pat Parson.

I first met Pat in my store and invited him to the bottle club. He originally came to check on metal detectors but when he saw my bottle display I found out he is just getting into bottle collecting.

Our club president, Chuck Parker was not at the last meeting as he traveled out to California to see his grandson graduate from boot camp! I'm sure Chuck is very proud of his grandson and we can all be thankful for young men like him.

Our meeting started out with general chit-chat and frankly I was afraid that was all it would be. As it happened, Scott was going to fill in for Chuck but he was late because it was so hard to find a parking place.

After Scott got to the meeting, he called it to order. It ran very smoothly. Our guest, Pat Parson told us about some of his digging adventures in Montana and a little about digging in a river dump recently near Galesburg. Also, Pat told us about some bottles that he saw for sale that were saved by one of the area contractors. He had a chance to buy them, but he just didn't feel comfortable with his limited knowledge. After hearing some descriptions, we all agreed that he made the wise choice.

Brent Heighton received a phone call during the meeting and it looked like he would need to leave early. He managed to work things out so that he could return right away. Brent had some bottles to display at the meeting and one was a historic flask. It turned out to be one of the more recent American glass house reproductions that are tricky to spot, unless you know what to look for.

Wayne Marvin had some older bottles that he displayed, but they all appeared to be A.B.M. bottles. However, he did have a hobble skirt Coke that started some interesting discussion. We learned that some collect these by the city name on the bottom of the bottles. Wayne's came from Battle Creek, Michigan, which is fairly common. I saw one on e-Bay once that was from some little town in Indiana that was selling for a couple hundred dollars or more!

Scott had some very interesting bottles to show us and also we heard an interesting story. Scott learned about some road construction, where they were digging out an old culvert and they dug into an old bottle dump. The county or state deposited all their digging onto the nearby property. The person who lives there has been digging even pontiled bottles out of this mound!

Steve DeBoode and Mark McNee both had a nice selection of bottles to enter in the $25.00 bottle raffle. I thought about Chuck at the time because one of the bottles was an amber Saxlehner's Bitterquelle bottle with a near perfect full label! Does anyone know what Hunyadi Janos means? That is the name on the bottom of the Bitterquelle bottles. I read that the product in these bottles was a mineral water and not actually a bitters. Also it said that most of the Bitterquelle bottles are not American made!

---
This Month
The meeting theme this month is "local area treasures," including glass and ceramic items, and whatever you think is interesting, from the Kalamazoo area and surrounding towns.
I have a feeling that John Pastor will be at this meeting to talk with us about the bottle show in April, so you will want to be there for this important meeting!
---
SEE YOU AT THE MEETING FEBRUARY 9th, MEETINGS ARE AT THE MAIN DOWNTOWN LIBRARY, 315 SOUTH ROSE, KALAMAZOO MI.
THE MEETINGS ARE HELD IN THE VAN DEUSEN ROOM ON THE THIRD FLOOR.
THE MEETINGS ARE ON THE SECOND TUESDAY OF THE
MONTH AND START AT 7:00
Send Questions and Comments