www.kalamazoobottleclub.org
LAST MEETING


Of course, the last meeting just had to be great - - great because it was: the

BEST

of people, meeting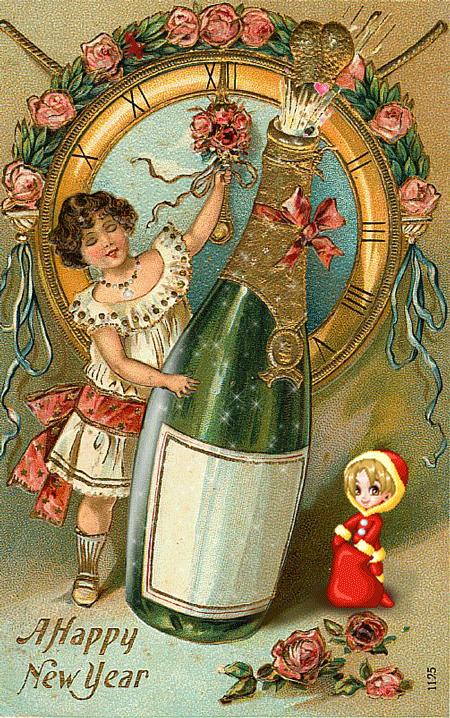 at the

BEST

of places, for the

BEST

Pizza money can buy! It was a wonderful way to celebrate the

BEST

of Christmas!

Everyone seemed to get the message about going directly to Bimbo's for the meeting from the newsletter except for Mary. Fortunately, her daughter, Linda, planed on meeting her at Bimbo's, and when she couldn't find her, she asked us if Mary had been to the meeting?

When we all figured out what had gone wrong, we called the library. "

Mary Hamilton? Let me check our card file

.

We have Mary Barton, Mary and Joseph, Queen Mary, Mary's Little Lamb, Mary Poppins, Along Came Mary

"
. . . "Wait, what does she look like? Stout old gal with cane toting three green recycle grocery bags? That may be our Mary! Yes, that must be her!



Captain Fast-Eddie

raced off to rescue our damsel in distress. As it turned out the library considered Mary an overdue return, so in the spirit of Christmas

Captain Fast Eddie

paid the late fee and checked Mary out in the

SAINT NICKerson

of time!

I mentioned in the last newsletter that the Great Lakes Acoustic Music Association uses the Van Deusen Room, just down the hall from us, for a jam session on the second Tuesday.

I suspect that is the group using many of the parking spaces. I see they are scheduled again this month.

((((((the hard copy was completed and mailed before I learned that we lost our room))))))
So, my advice to you is 'arrive early.' This is typically a way off-key bunch with 6 strings of cars! But, there is really no need to fret; if you arrive early you will be right in tune to find a good spot which is why I am keying you in. Just remember to step up the tempo.

For our last meeting we skipped all the parking problems at the library, only to find them just as bad at Bimbo's! I had to park a full block south on East Park Street! I'm not complaining, walk not too far for Tarzan! Tarzan not only one for Pizza!

The downtown parking problem is somewhat bittersweet. Many small towns are seeing their downtown areas turn into ghost towns! Many store buildings are being boarded up as more and more people shop online.

I think the trend toward online shopping will eventually slow-down as soon as people start to remember what personal service means. Unfortunately, by then it will be too late for most shops.

What is bringing the traffic downtown in Kalamazoo isn't the great toy sales, or a chance to get a picture with Santa. It isn't the manger scene or the beautiful window displays, it is that there is a beer-pub every 34 feet! Somehow, having 60 beers on-tap doesn't convey the true meaning of Christmas.

I find it interesting that the downtown manger scene (when part of it isn't missing because of theft or vandalism), is moving further and further west from town, close to the rail tracks. You can bet the Kalamazoo crowd would be happy to send Jesus into storage with the Fountain of the Pioneers.

Yes, the parking spaces are being used by folks (mostly students) sitting in the pubs getting a snoot-full. Also, did you notice a dozen cop cars complete with officers on the ready to herd them?

The good news is that because of the law of supply and demand, we are finally seeing some of these watering holes go flat broke. I'm wondering what impact the upcoming pot market will have on business downtown? Moreover, how will that effect our civil society in general? Never in the history of the world has this picture ever had a happy ending.

We saw only a of couple interesting bottles at the Bimbo's meeting. But, before I get into that, here are the names off the sign-up sheet, and what a lovely bunch it was!

Rob Knolle, Jean Bogard, Ron Smith, Vincent Grossi, John Winkler, Elmer Ogg, Chuck Parker & daughter, Susan, Ed Nickerson, Steve DeBoode, Tim Hayes, Kevin Siegfried, Al Holden, Mary Hamilton & daughter Linda.

I just know I am missing someone?

I was missing

Scott Hendrichsen's

name on our sign in sheet! Scott was trying to make sure old Saint Nick didn't get a bad wrap, so he was shoveling coal to keep that old U.P.S. truck up on steam. Thinking of Scott, a friend of mine from church, David Stout, is renovating an old Otsego drugstore and will be starting a sporting goods store soon. He will be specializing in used sporting equipment. I usually shop for that stuff out by the curb on trash pickup day. If I put generators on all of the free treadmills I have, I could put the Palisades plant out of business.

Dave Stout's message read,

"Al, do you know anyone that may want these antique display cases?"



When I moved from my old store, I had one I put on Craig's list, thinking people would be fighting for it! I started out asking a couple hundred bucks and nobody wanted it. I kept lowering my price without interest so I have it stored away. I love that one but my new shop doesn't have the floor space.

I asked David, "Are you looking to sell, or just looking for a good home?"

He fired back,

"Good home."



I know Scott has a nice display room for his bottles at home so I sent him some pictures.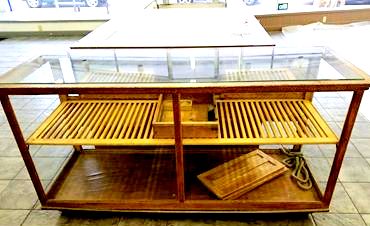 And it was clear which one I would choose for myself. One had lighter colored oak framing and some nice slatted oak shelving that really looked cool and different. It had that sturdy hand crafted furniture look to it.

Scott contacted another U.P.S. driver and told him that he could have one if he went and picked them up for him.

Scott kept the one I described and it is really cool! Clearly it is over 100 years old! It is a cigar display case that is actually an antique tobacco store humidor floor display case! It even has a water pan!

Can you imagine what a cool display that will make for Scott, who is the "Display Master!" Now Scott needs some old cigar boxes to put his small bottles in! Or, how about his amazing collection of clay pipes, marbles, and Civil War bullets!

When I was researching that display case, I found one that had been sold for $1,500 and it needed glass! I also found some antique cigar store advertising Indians for under $100.00!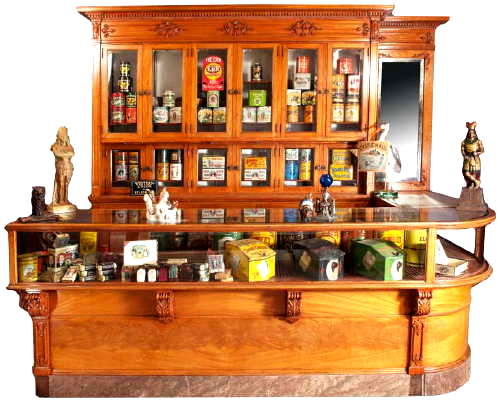 I hope this image will print. This was an item I found on an Antique Trader site. The listing reads: "Tobacco and cigar store back bar and counter featuring a marble base with curved glass corner ($55,000). I need that!

Kevin Siegfried was doing his Santa routine! He had a number of Civil War related books for General Parker (a.k.a. Reverend Otis Shapiro) and, bless his little antique-picking-heart, he gave me a book about the history of Beaver Island and another book covering 4 centuries of Michigan History! I'll tell you if I find any mistakes!

Kevin also showed off two great bottles! One was a little artisan's flask in a light purple and amethyst color with a ribbon swirl design. It would hold about a half pint liquid by measure.

The flask has a sticker identifying it as "Boyer" Hand Blown Glass from the Sauder Museum in Archbold Ohio.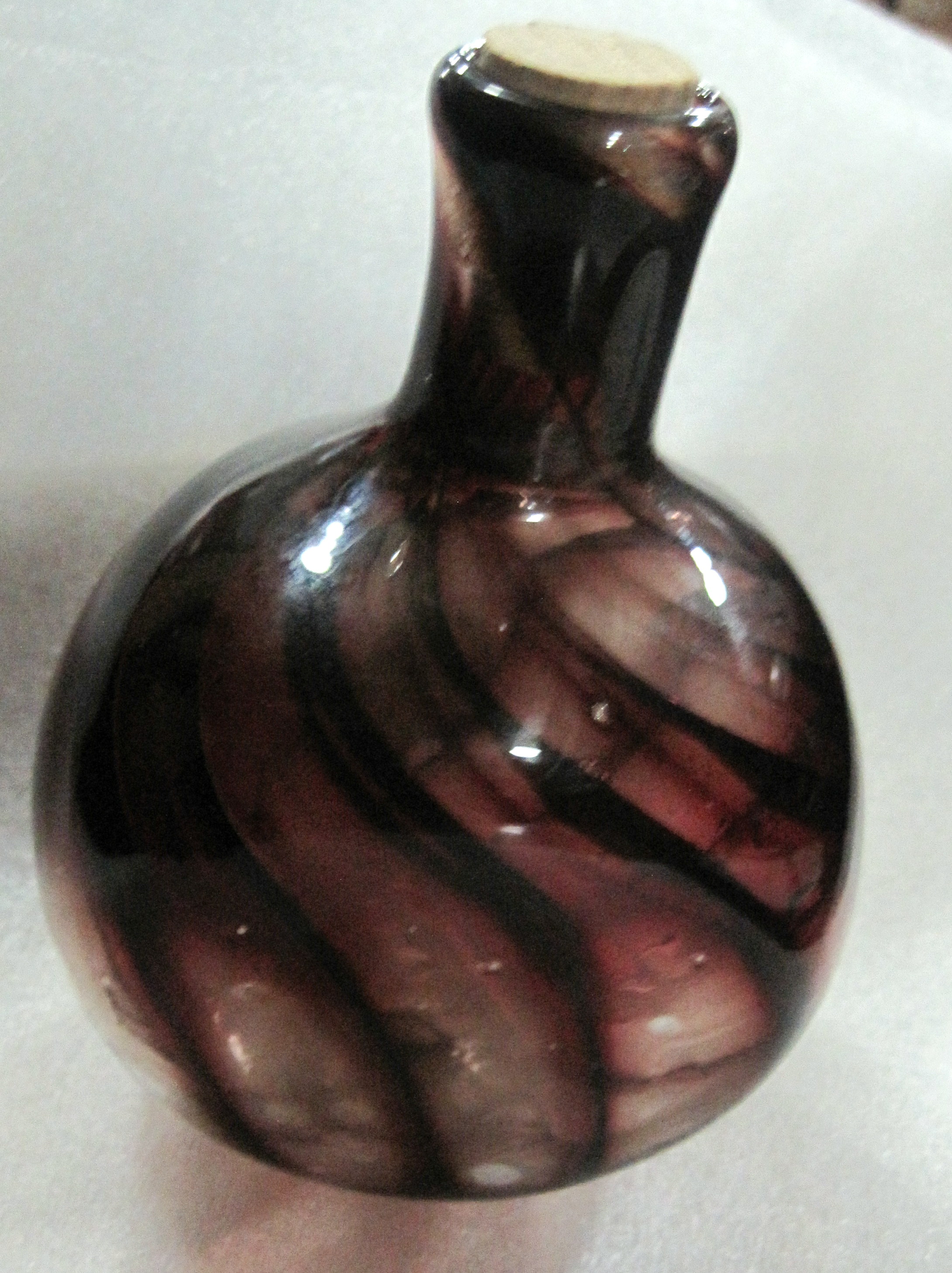 I had not heard of the Sauder living history museum before, but it sounds pretty neat. Archbold, Ohio, is about half way between Kalamazoo and Sandusky, which would make a great weekend trip for the old London Aire! It sounds like a combination of the Middlebury Dutch Essenhaus and Greenfield village. It looks like top quality with lots to do and they have a nice campground.

They have lots of old- world hands-on exhibits from Woodworking, Glass Blowing, Blacksmithing, Basket Making, Broom Making, Coopering, Native Crafts, Pottery, Quilting, Spinning, Tinsmithing, Weaving, Woodcarving.

The Master glass artisan working the glass blowing display today is Mark Matthews from Burlington Glass Works. If you go to the Sauder Museum web site, you can see some of his creations. They are amazing!

Before Mark Mathews, Harry Boyer, known across the country for his glass pumpkins, had been blowing glass at Sauder Museum. Today Harry is creating artwork in the Harbor Springs, MI, area.

Boyer started following his artistic passions early as a child and said living on a farm helped him do so.

"I'm originally from the Toledo, Ohio, area and was raised on a farm. I was always artistic as a kid and would put pieces of machines together to create little sculptures of things like sailboats to play with."

It wasn't until Boyer attended Bowling Green State University in Ohio that he found his true calling for glasswork.

Boyer's shop, known as Boyer Glassworks Studio and Gallery, is located in Harbor Springs. He has been at the same site creating thousands of pieces each year for the last 33 years.

Boyer said that he was in Northern Michigan visiting some of his art friends when he saw a building for rent in Harbor Springs. Six months later he was blowing glass in it, and the rest is history.
"I just love the process of making it. I love watching my pieces get heated up and seeing the finished colors once it is cooled," he said.
I watched a YouTube video that shows Harry blowing one of his pumpkins and it really is neat to watch! I would love to buy one! The pumpkins Boyer creates every year are just some of his many works of art.
Boyer said, "I make about 1,000 pumpkins every year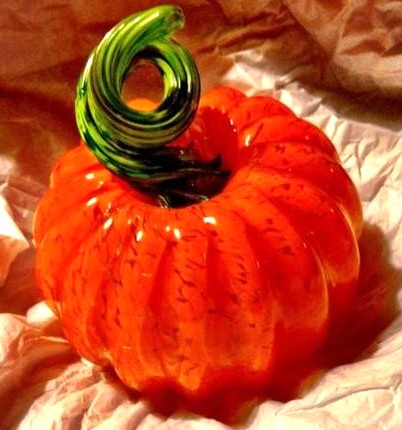 because in October we have a pumpkin patch day where we have about 300 pumpkins here at my gallery and about 300 pumpkins up at Three Pines in Cross Village. There are collectors all over the country that come pick their pumpkin every year." Editor note, "I want one!"
When I was searching for a swirl flask like Kevin's, I found some amazing hand blown swirl marbles-- and they are not cheap!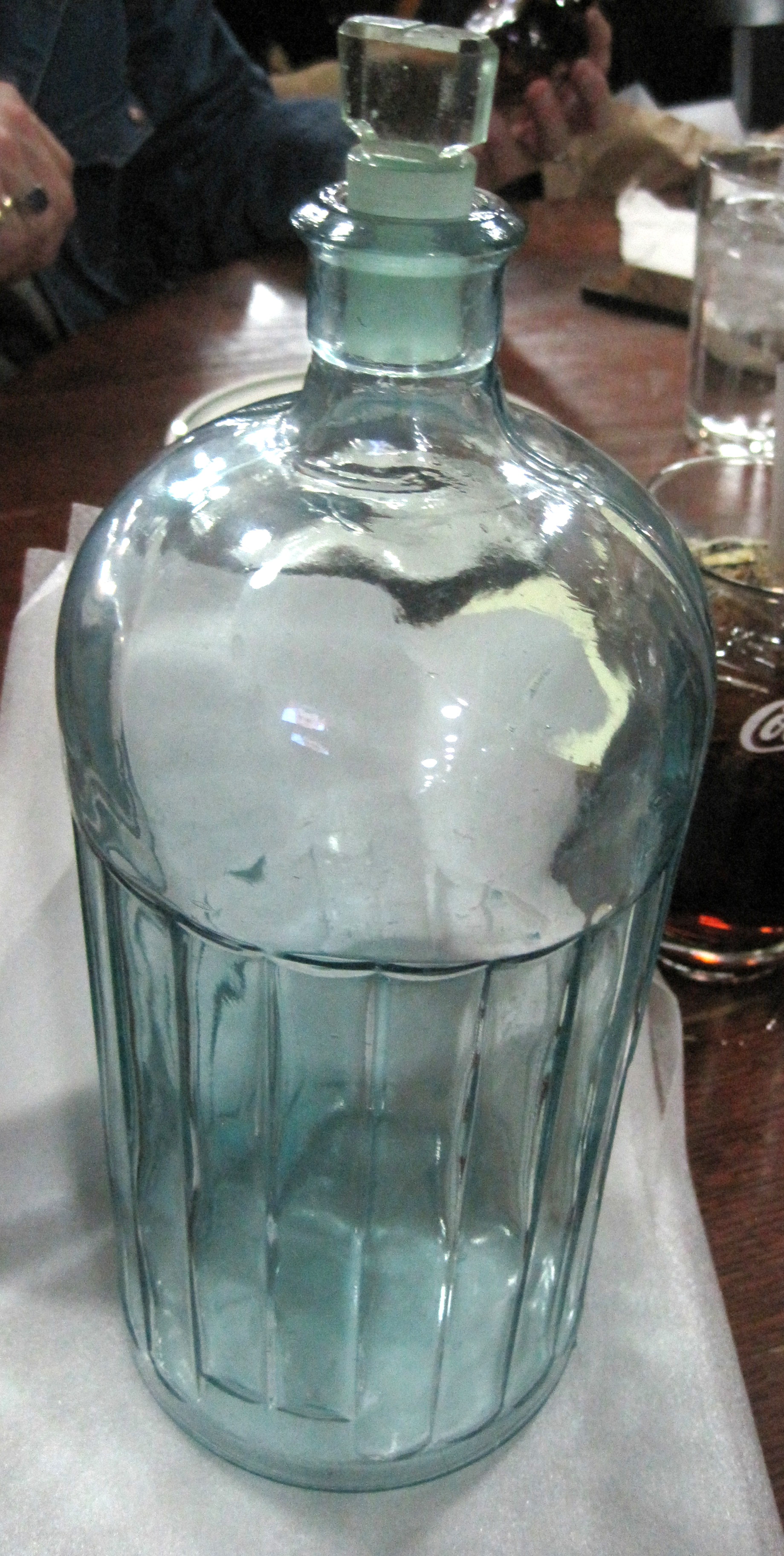 Another bottle Kevin displayed was a large gallon-size aqua bottle with fluted sides.
Kevin found it with a ground stopper. We determined it was not an original match for the bottle, but it looked real good!
Steve DeBoode figured it was a druggist bottle, likely filled with bulk fluid for mixing up a liquid medicine. It is a sparkling beauty!
Next time you watch, "It's a Wonderful Life," one of my favorite Christmas classic movies, pay attention during the Mr Gower Drugstore scene where young George stops Mr Gower from mixing poison into a prescription. I have that same 1907 National Cash Register, and some of the label under glass apothecary jars!
Ron Smith found a neat Kroger Dairy Bottle from Grand Rapids. When I was in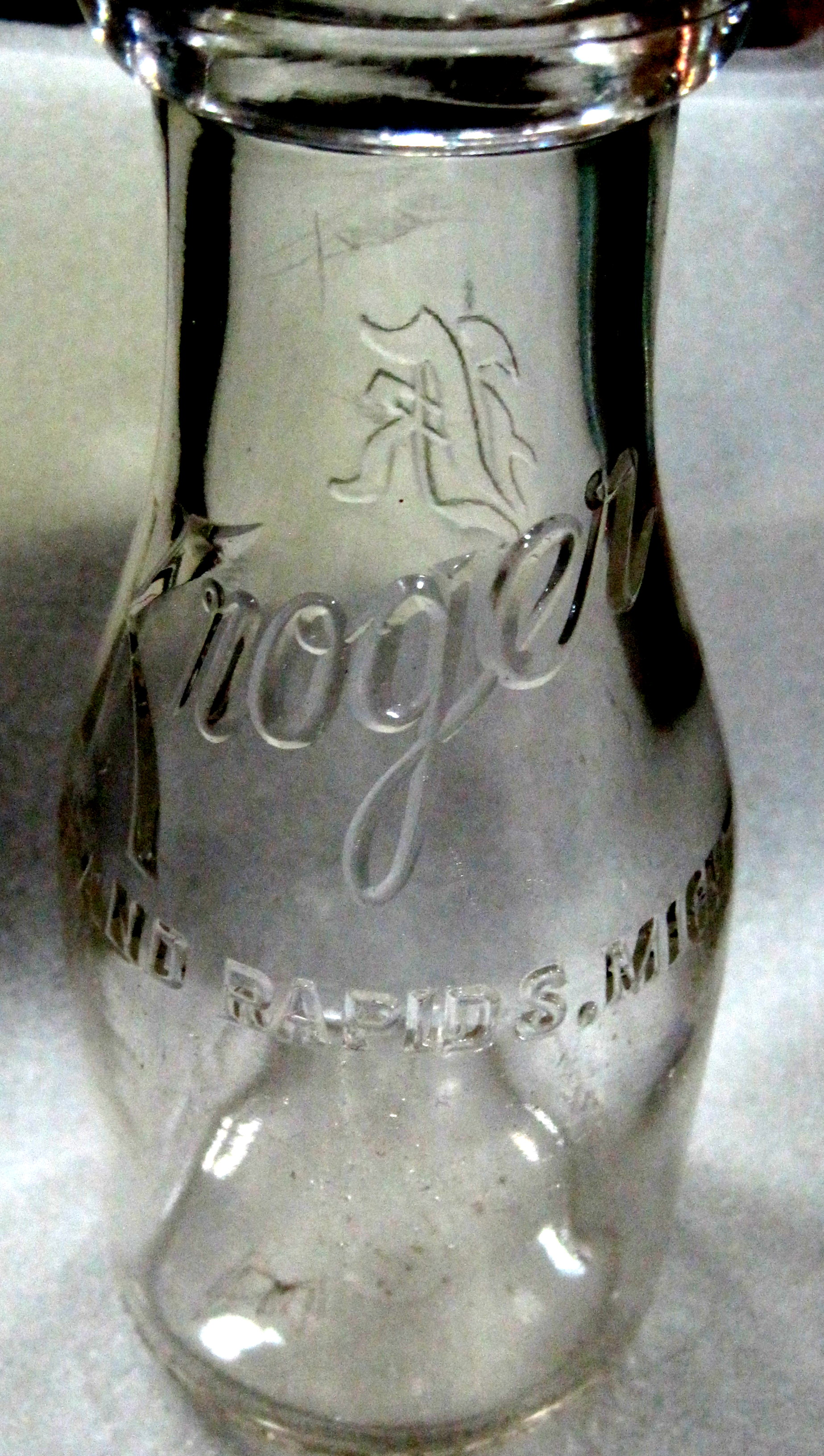 elementary school in the late 50's, living in Plainwell, Kroger opened a new store on M-89 where Hardings is now. For the grand opening they featured all the free samples you could think of. It really stirred up activity in our small town.
My most vivid memory was of a guy in a west bound sedan using a hand signal to turn into the parking lot. He dropped his arm down beside his door as the approaching car was about to pass allowing him to turn in. What he didn't realize was the
east bound motorist was distracted by a sign-carrying clown and a juggling act. Well, he got sideswiped and basically lost that arm!
I can picture that entire event in my mind like it was yesterday, but I cannot find anyone else who remembers it.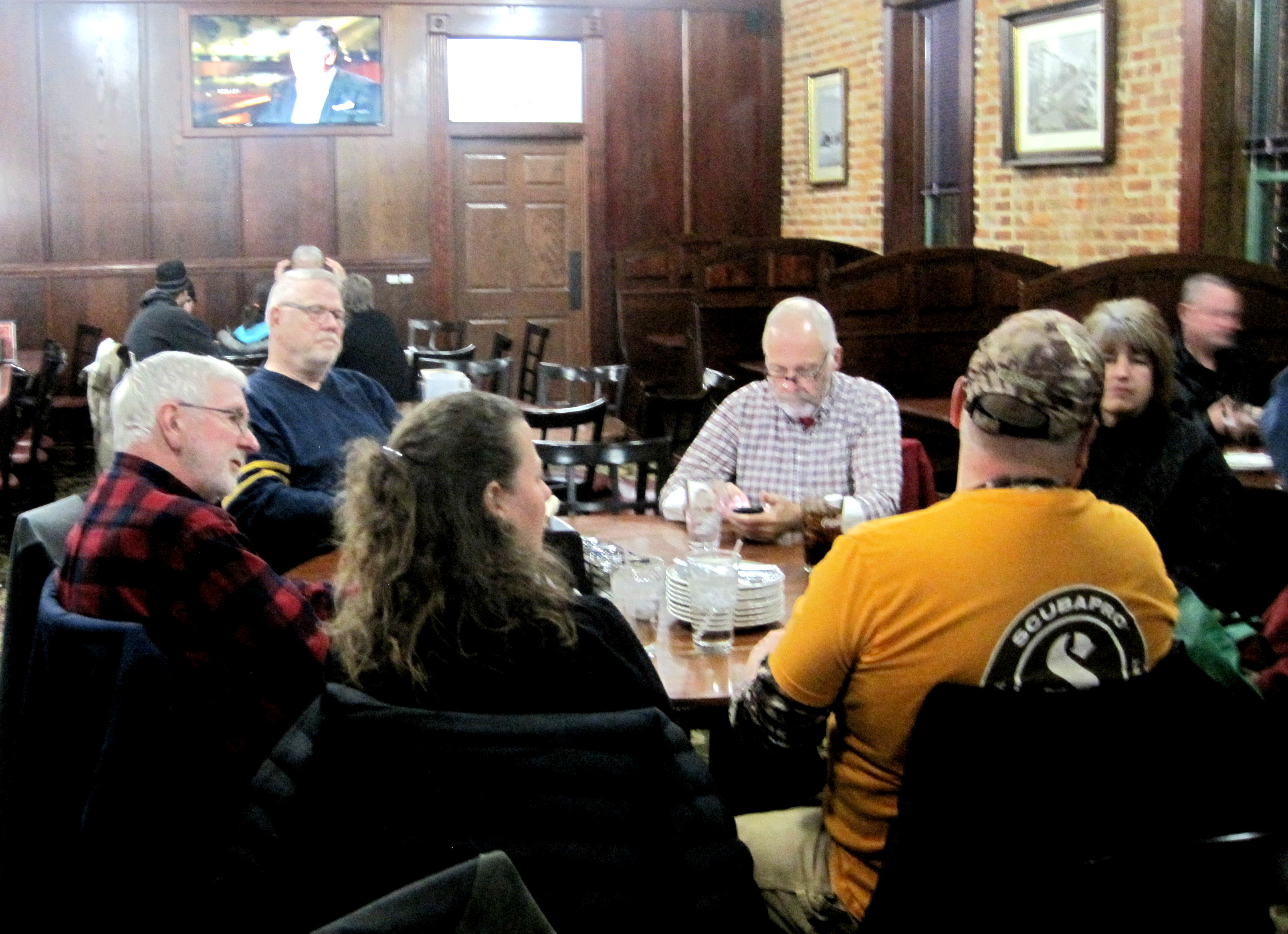 Meeting Theme

This month we would love to see that treasure you got for Christmas! I was gifted an embossed crown cap soda from the 20's. Do you have some embossed soda bottles? Let's have a look! Bring your embossed or painted label soda or go~with advertising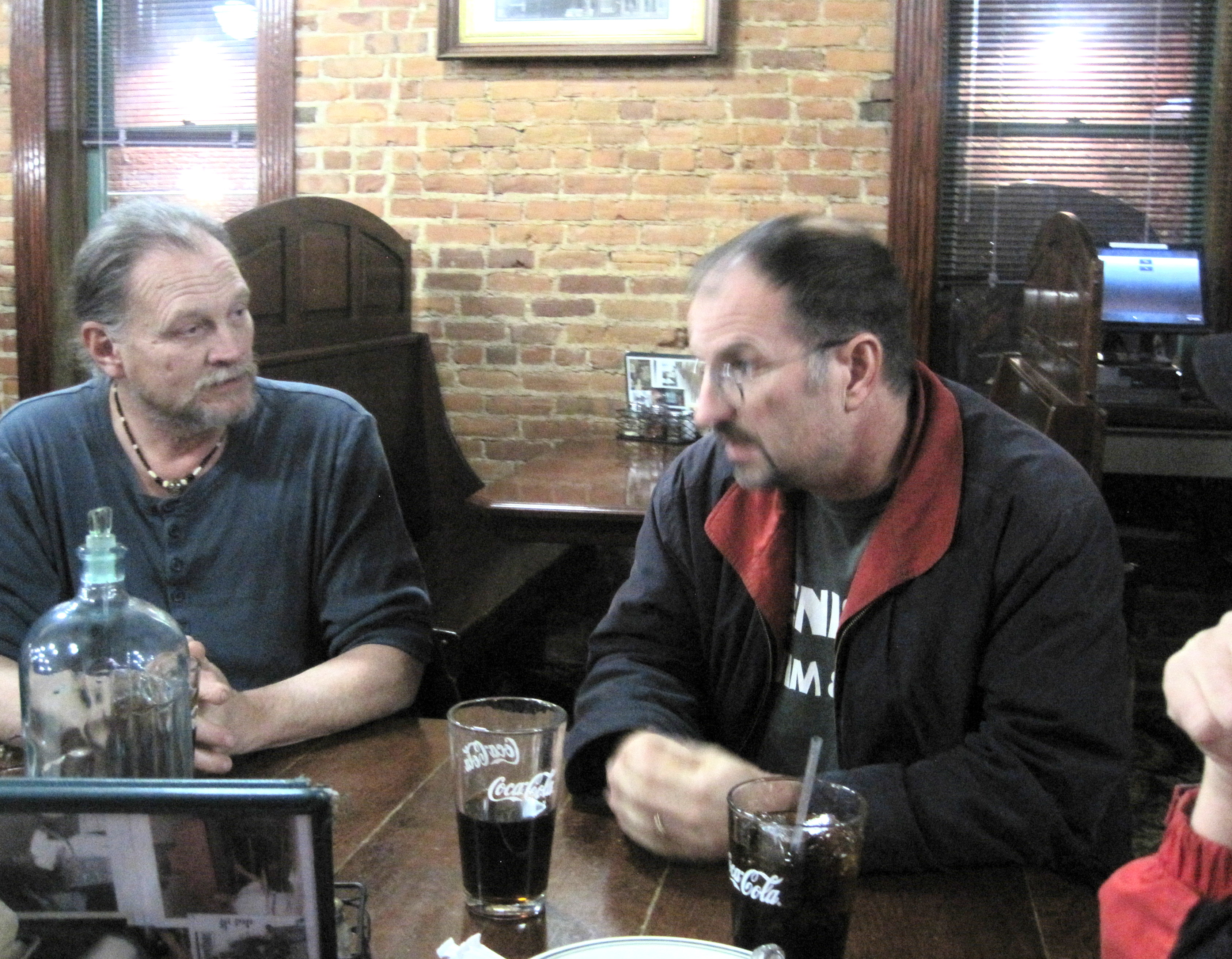 products.


Kalamazoo Antique Bottle Club

THIS MONTH ONLY,
MEET AT BIMBO'S
PIZZA, 338 East Michigan
Kalamazoo MI.
This Meeting is

JANUARY 8th

Meeting starts at 7:00