Recognizing Treasure

Watching these new reality TV shows like American Pickers, Pawn Stars and especially the Antique Road Show, I am always learning something. I don't know about you, but I love those shows! The first lesson that I learned is how very little I know! Another neat TV show is the Barrett Jackson classic car auctions shown on the Speed Channel.

When my High School Guidance counselor asked me, "What do you want to do for a career?"

I should have told him, " I want to have my own junk yard!"

When I watch the Barrett Jackson auction, there are very few cars that cross the auction block that I didn't have at one time or another. I loved to buy old ratted-out cars, fix them up and make them look as cool as I could. The problem with me was, a finished project was a finished project! The fun wasn't in owning and driving, it was in the building! I was actually warned about being "outside the law" because of the number of cars I sold in a year's time without a dealer's licence!

I learned at a young age that we have far too many laws . . . at least too many laws when it comes to those which tread on our personal liberties. I can see a law against selling drugs, or robbing a bank, but fixing up and selling too many cars? Actually it was my hobby. I really tried to perfect what I was doing and I tried to learn every trick in the book.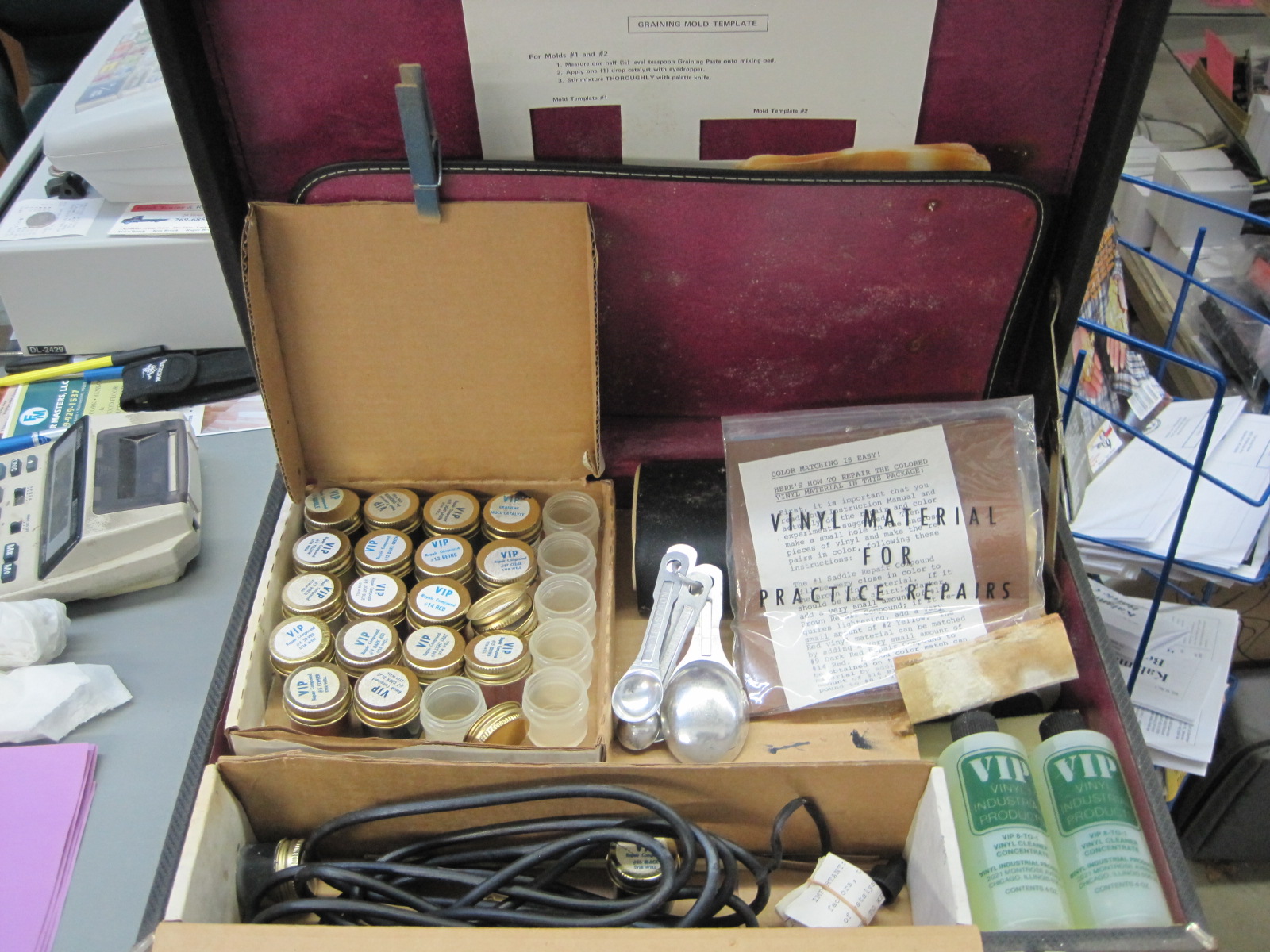 My grandfather responded to an ad he saw in a magazine. Very likely it was one of the magazines I left at his house like Popular Mechanics or Popular Science. 'Do they still publish those?' He saw something he thought would be a money making venture, as well as a great gift for me. He sent away and got this amazing kit for repairing vinyl upholstery. It was actually intended to be a business, one that you could build.
They really put on a good sell, after all who wouldn't need vinyl seat repaired--- used car dealers, schools, restaurants the list went on and on! The large (vinyl sided) case contained everything you needed to be on your way to making the big money!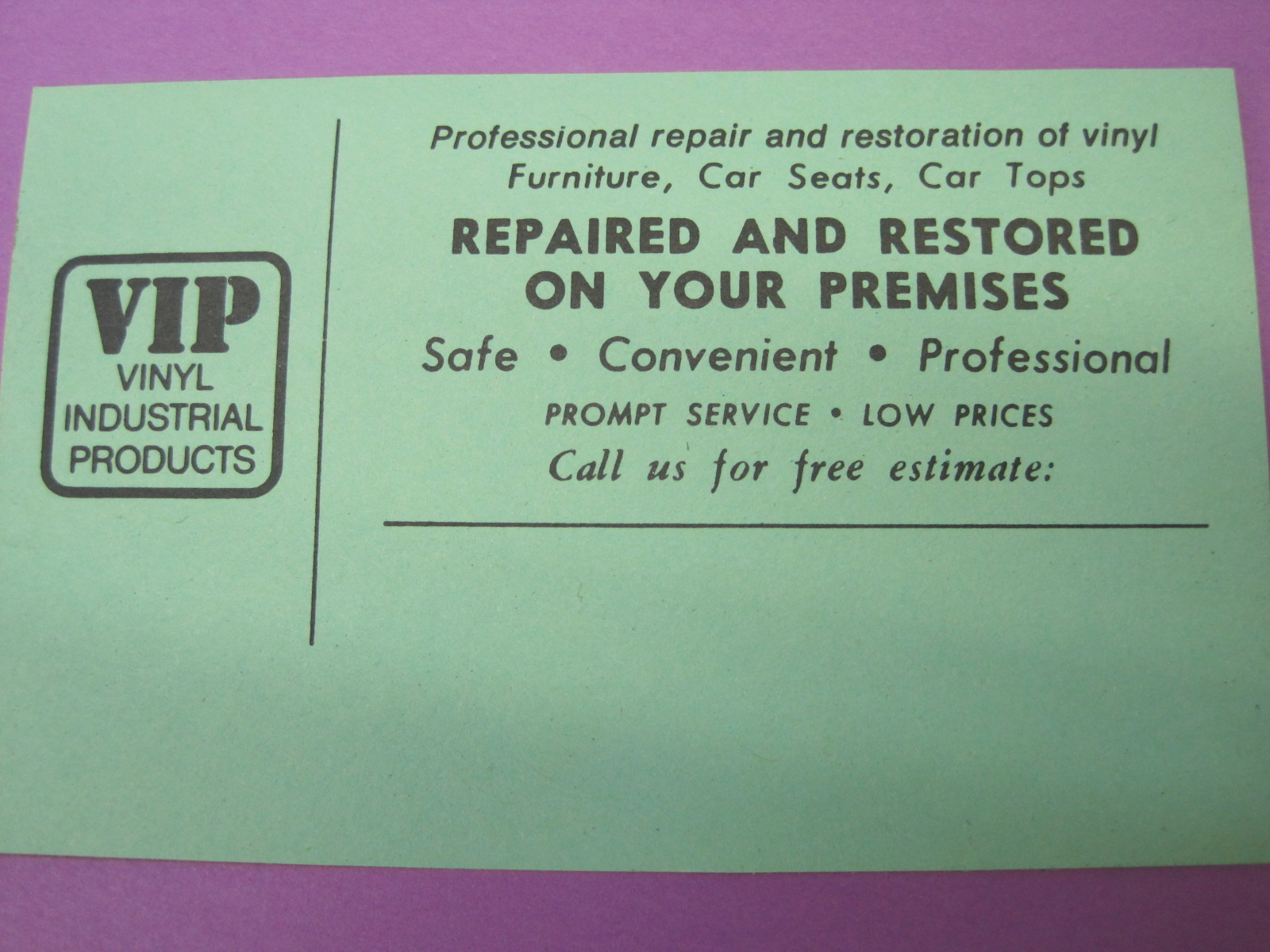 The kit contained several shades of vinyl in little plastic bottles. It also had a small stainless steel paddle about the size of a Popsicle stick and an artist pallet where you could blend colors until you got the right shade. Then, after trimming the torn area to be repaired, you smoothed the vinyl paste over the area. In some cases, you need a backing material which was also provided.
Next, the kit came with some textured paper-thin plastic sheets which had several grain patterns embossed on them. You matched the grain pattern with the material you were working on and laid it over the soft paste. The vinyl paste was heat-cured. The kit came with a little soldering iron with a half- dollar sized tip. You simply ran the hot tip over the textured sheet, just like ironing a shirt and presto, there you have a beautiful repair! Well, practice makes perfect. Probably better to give out receipts without your name or phone number . . . and cash only, no checks!
It really was an art fixing up old cars. I picked up a mid-sixties 240-Z Datsun that was so rusted I had to find a picture of one so that I knew what it was supposed to look like when I was done. I patched them up right, it wasn't a used car scam with me. I used very little plastic filler and I welded new metal in when repairing rust.
I remember somebody gave me a book titled, "How to Sell Your Car for More Than It's Worth." I know, that sounds pretty bad, but it was a book full of good fix-up ideas.
When I put my spotless 1960 Corvette with both soft and hard tops on the market for $3,000, my friends laughed at me! "You can never get that much for it!" they said! Frankly looking back, you could have purchased a new Chevy Nova for less back then. Today you couldn't buy the front grill for $3,500!
I had a clue but who would have guessed the values would have quadrupled! Back in the 80's, my brother was having a blast restoring Mopar muscle cars, like Plymouth Barracudas and Dodge Challengers. He only liked to buy the rare Hemi cars and the 440 Six-Pack stuff. I remember when he sold a show-quality Hemi Dodge Challenger for $17,000, I thought "Who would pay that much for a car that was less then $5,000 new?" Today, that car is worth $100,000 plus!
I had my mind set on becoming a diesel mechanic and my Guidance Counselor had me convinced that I needed to attend Ferris State because they had the best course anywhere in that field. A surprise changed my life's direction and I went from stupid kid to a Dad.
It's kind of like the movie, It's a Wonderful Life. It is amazing how things turn out without any planning required. If I had not gone to work for my father selling RV's, I would have never started selling metal detectors. If I had not started selling detectors, I would have never met Mark Churchill, Ernie Lawson and Jack Short. If I hadn't met that bunch, I would have never heard of the bottle club. Had I not heard of the bottle club I wouldn't be writing this newsletter!
Actually my childhood friend, Tim Thompson, was the first one to tell me anything about antique bottles having value. My father purchased one of the oldest houses in Allegan County to expand his sales lot. The giant two-story farmhouse was next to our home, along with a couple large out-buildings.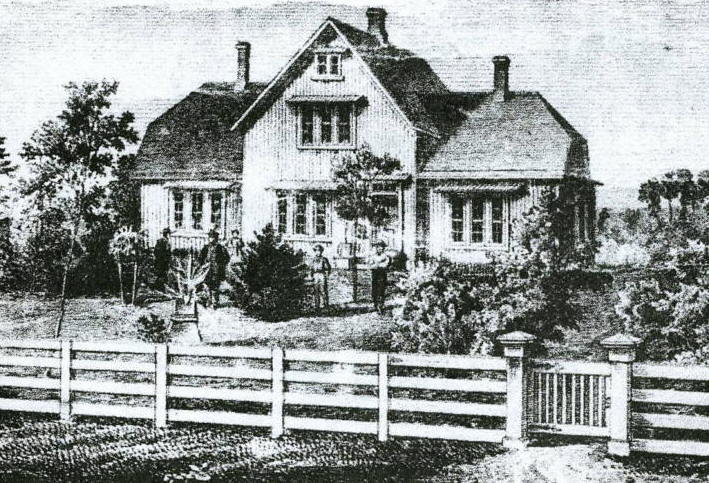 When it was first built in the 1830's, by a family who settled here from New York State, it was a big farm. Then from the early 1900's, the house belonged to a family whose owner was a mechanic. We explored the old buildings and they were full of stuff! When my father purchased the property, the family who owned it had to deal with emptying a house that had been vacant for a few decades, yet full of personal property.
It was as if somebody had walked out the door and turned the lock, never to return. After my grandmother passed away over a year ago, I fully understand now how that happens. The old house was amazing. The high ceilings, the kitchen with its tall white kitchen cabinets, the old lever- action water pump in the kitchen . . . it was just really cool! The kitchen light dangled from a long wire and the electric wires were very early add-ons when electric was the amazing thing to have! I have toured the old house in my mind while doing this newsletter and I cannot recall a bathroom. The upstairs bedroom closet had a seat panel cut-out with a hole for a chamber pot. I guess electricity came before indoor plumbing for many people. I still don't know how they dug the well to hook up the pump in the kitchen.
I remember the old light switch in the kitchen was two push buttons. When the 'on' button was pushed in the 'off' button would pop out! The house is gone now so my memories will have to do. After they cleaned out the house, they left a mess behind. My friend suggested the basement filled with antique bottles might have some value. Also there were some old furniture items and odds and ends.
I painted up a sign and we called our new venture, "YE OLD ANTIQUE SHOPPE." We cleaned up a couple rooms and arranged all of our treasures, ready for our first customer. Mostly what we had were antique bottles and we knew nothing at all about them. One of the first people to notice our sign was an antique dealer from Otsego and I remember her last name was Wallace. She looked over our stuff and made us a lump sum offer.
I think she bought us out for $75.00 which was like a million dollars to us boys! It didn't occur to us that we were now out of business! There was no plan for restocking "Ye Old Antique Shoppe," no shipments coming from the main warehouse in Tennessee. But who cared? With $75.00 we could retire!
It didn't take long before the money ran out. Soon we were bugging my Dad for some work. As I recall one of our favorite cash outlays was at the Martin Dragstrip! I remember my dad was always good for an odd job. He said, "Boys, what I need is for you to wash that trailer and that trailer, pick up that stuff and just do some general clean-up."
So that was the name of our next business, "Al & Tim's General Clean Up." I think we got 25 or 50 cents for cleaning up rental travel trailers and it was not easy work! Dad wanted all the bugs off the front and they were usually baked on! So, we invented a soap which was our next business venture! I remember we mixed in every soap and solvent we could lay our hands on without measuring any of it. Come to think of it, it's a wonder we didn't come up with a poison gas or explosive. I do remember the stuff we came up with took the bugs off and changed the shade of the paint!
So what is tomorrow's rare treasure? I got an e-mail from a company I have purchased coins from in the past. They were reminding their customers that the U.S. Mint was going to put their 25th anniversary 5 coin set of the silver American Eagle coins on sale starting at noon the next day. They said they would purchase any of the sets and pay a fair profit for as many as you could sell them.
I have several of the Silver Eagles and I would not mind buying a set. So I parked on the U.S. Mint web site and placed my order at noon for two sets for $299.00 each. Seven hours later I finally got my order placed. The next day I got an e-mail saying I was too late and I missed out. The next week dealers had them on e-Bay asking $3,000 per set.
I can tell you after watching my family and I sift through everything my grandmother left behind, she actually had it right by making sure we heard a lot of gospel preaching all of our lives. It is best to, "Lay up your treasures in heaven." That is because no matter what it is worth, you are going to leave it behind.
---
The Kalamazoo Antique Bottle Club meets at the main downtown Kalamazoo Library, located at 315 South Rose Street. We meet on the third floor in the conference room. This meeting is January 10th. Meeting starts at 7:00 pm. For questions
e-mail prostock@net-link.net
Or call 269-685-1776