www.kalamazoobottleclub.org
LAST MEETING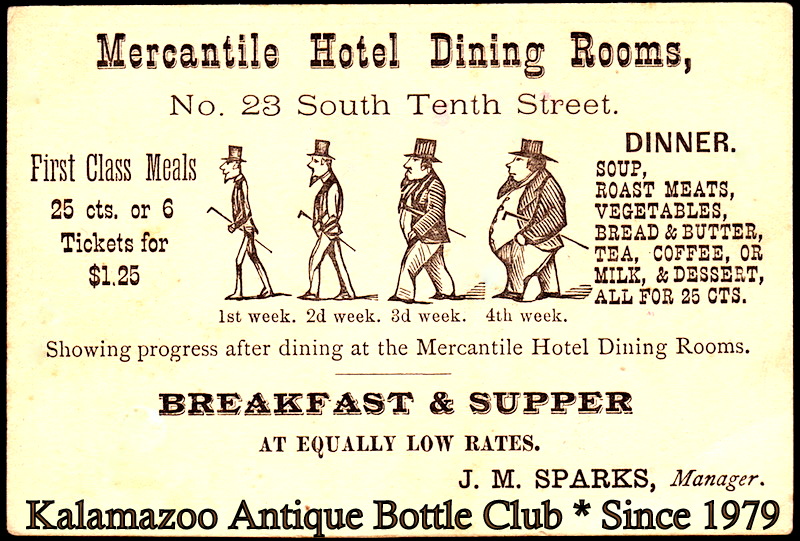 Happy? Who Are You Kidding?

Well folks, here we are again, venturing out onto uncharted territory with yet another brand-new year.
I hope each of you have a very blessed New Year!

Our pastor this morning spoke about how nice it would be if within the first second of the new year, we started out with a pure white clean slate. Imagine, we enter a new year and leave behind everything that was wrong with 2020 behind.

Unfortunately, because we live in a fallen sin-cursed world, all the evil, like, Covid-19 and this dark cloud of corrupt politics will be waiting to greet us when we opened 2021's door.

But wait! I have some good news! Could it be we are drifting out into calmer waters?!
Yes! What do I feel? Could it be a fresh breeze filling the mainsail and jib! Weigh-anchor mates! Set her stern with the wind! Soon this golden gallon will sail upon crystal seas and leave-way from these listless waters.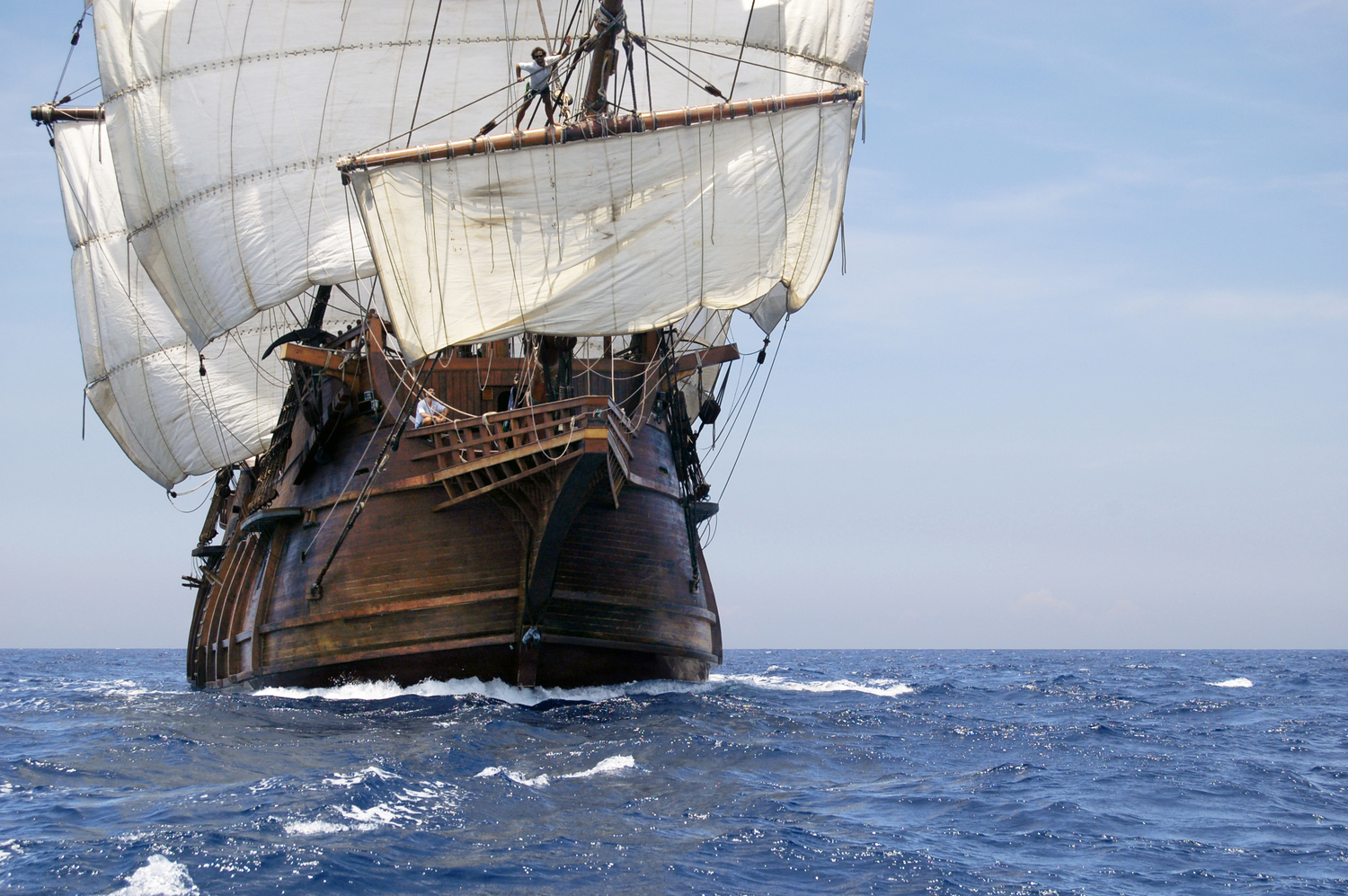 I received this message from Neta;
"Hey Allan. The museum is opening back up on January 9. If the Bottle club wants to meet that next Tuesday, Robert and Shannon will be available to open up for them."

So, I told you it was good news for a change! I also was told by Robert and Shannon we could have a few pizzas' delivered as long as everyone picks up after themselves. No, I am not fooling about.


That brings to mind one of my all-time favorite westerns, Tombstone.

Johnny Ringo called Wyatt Earp out for a showdown. When he saw him approaching out of the darkness Ringo said, "Well, I didn't think you had it in you."

The face of Doc Holliday came into view. . . as Doc said, "I'm your huckleberry."

Johnny Ringo was frightened at the thought of fighting Doc. Doc said, "Why, Johnny Ringo, you look like somebody just walked over your grave."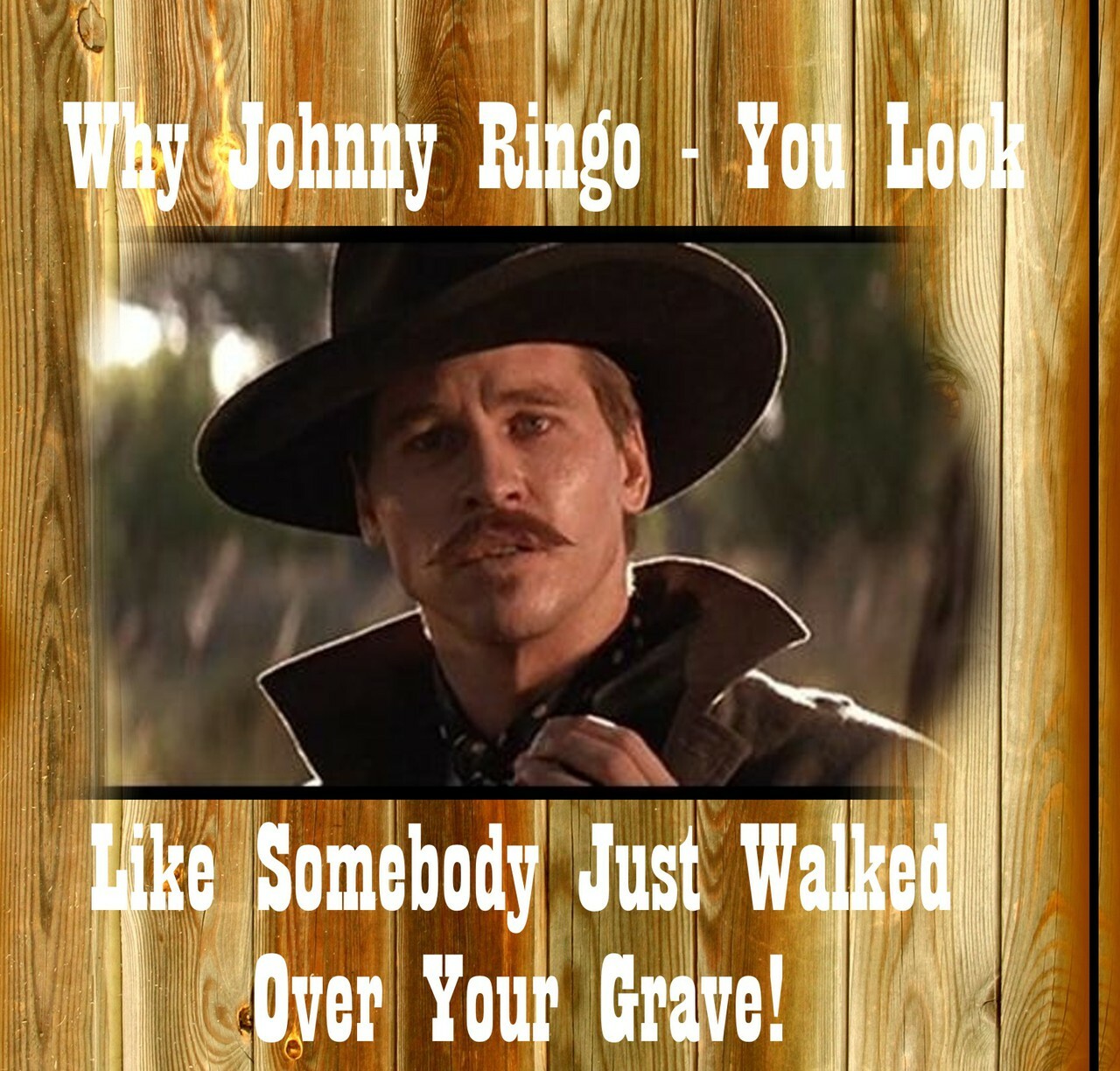 Johnny Ringo says, "Fight's not with you, Holliday."

Doc Holliday : "I'll beg to differ, sir. We started a game we never got to finish. Play for blood, remember?"

Johnny Ringo : "I was just foolin' about."

Doc Holliday : "I wasn't, and this time...... it's legal."
[opens his coat to reveal a U.S. Deputy Marshal Badge]
Johnny Ringo : "All right, lunger. Let's do it."

They walk slowly in circles, staring at each other as they clear the way to their holsters.
The last words Johnny Ringo hears is when Doc says, "Say when."

As Johnny Ringo lays dead with a bullet hole in his forehead, Doc places the Marshal Badge on his chest he says, "Poor soul, you were just too high-strung."
***************************************

Back to the bottle club, I am not sure how I ended up landing in Tombstone Arizona in 1881!

So I am still hoping, someone traveling from the Kalamazoo area will find a way to help us give Mary and perhaps her daughter Linda a ride to the Museum. Remember, and I can bring them back home.

The only issue with Mary is it is hard for her to get up into high vehicles without a step stool.

So, our first meeting of January, 2021, will be at the Otsego Historic Society Museum once again. Meeting date is January 12th at 7:00 pm.

The Museum is located at, 218 N. Farmer St. Otsego, MI. Meeting starts at 7:00 pm.
If you are coming in on the U.S. 131 expressway, (from north or south) take exit ramp 49-B. This will put you west- bound on highway M-89, follow it into downtown Otsego. At the main four corners, turn right (north). Go to the bottom of the hill. The building is on the right just before you cross the river, it is clearly marked.
Just to put everyone at ease, please wear a mask and maintain social distancing as much as possible.

The club has invested in a high speed industrial blender so you can drink your pizza through a straw placed under your mask.

At This Meeting.
We are planning on having some pizza delivered from Mannies in Otsego. Somewhere I have our call-in order from Bimbo's so I will order from that.

I will bring some paper plates and plastic forks. I also think we should try to use a pie knife for serving pizza slices. I know over at Bimbo's we tend to get a little barbaric, pulling things apart with our fingers or with dirty forks . . . we should try to avoid that don't you think?

Well, hey folks, we will be in Otsego, a bit more upscale than what we are used to! So, please, we must avoid acting like a bunch of low life rolling in from Kalamazoo. Let's show some table manners! And please, no spitting on the floor!

Another tip; It would make things much easier if you bring your own beverage, PLEASE! I am not making arrangements to bring drinks, so please bring your own beverage.

Also, this month we need to go into our nominations for President, Vice President and Treasurer and Secretary.

I will continue to cobble something together for a newsletter each month, but I think ideally we should have a secretary. We need to archive meeting minutes and have someone keeping the club records.

Chuck had me listed on the State's "Non-Profit" form as secretary, but I think that is above and beyond what I do with the web page and newsletter.

Vince is always a good one to help me out in regards to where the newsletter and web site need updating. And it isn't that I don't value that, but I simply have been burning the candle at both ends and have fallen far behind.

I have been too busy to take the time to sort through all the club stuff as I would have liked to. Chuck was handling everything himself! I suspect if I was retired it would be possible.

I have a bunch of the club stuff that Chuck kept which includes show records etc. It may be stuff we should save, or maybe not? The point is we need to try our best to get a handle on these things . . . I need help!

As you know I mailed out a club membership dues form in the last newsletter, and, I posted online with the digital newsletter.
I did receive several back, thank you for each one! Some who paid, I wasn't expecting, (my mother), and several I was expecting . . . that I didn't receive yet.

That was one thing that really touched a raw nerve with Chuck, and he let me know!

If I can find my "paid" stamp and my red ink pad, I will mark the corner of your newsletter paid for a receipt.
As I mentioned, we plan on going forward with the show raffle ticket for the new metal detector bundle. I have at least one brick of tickets left, so grab a few and sell them, everyone can make a few sales pitch jobs.

WANTED!!

My friends, Tim and Dianne Janssen, are looking for a bottle, or perhaps some advertising, from Kalamazoo's, " LUKE'S BEST WHISKEY"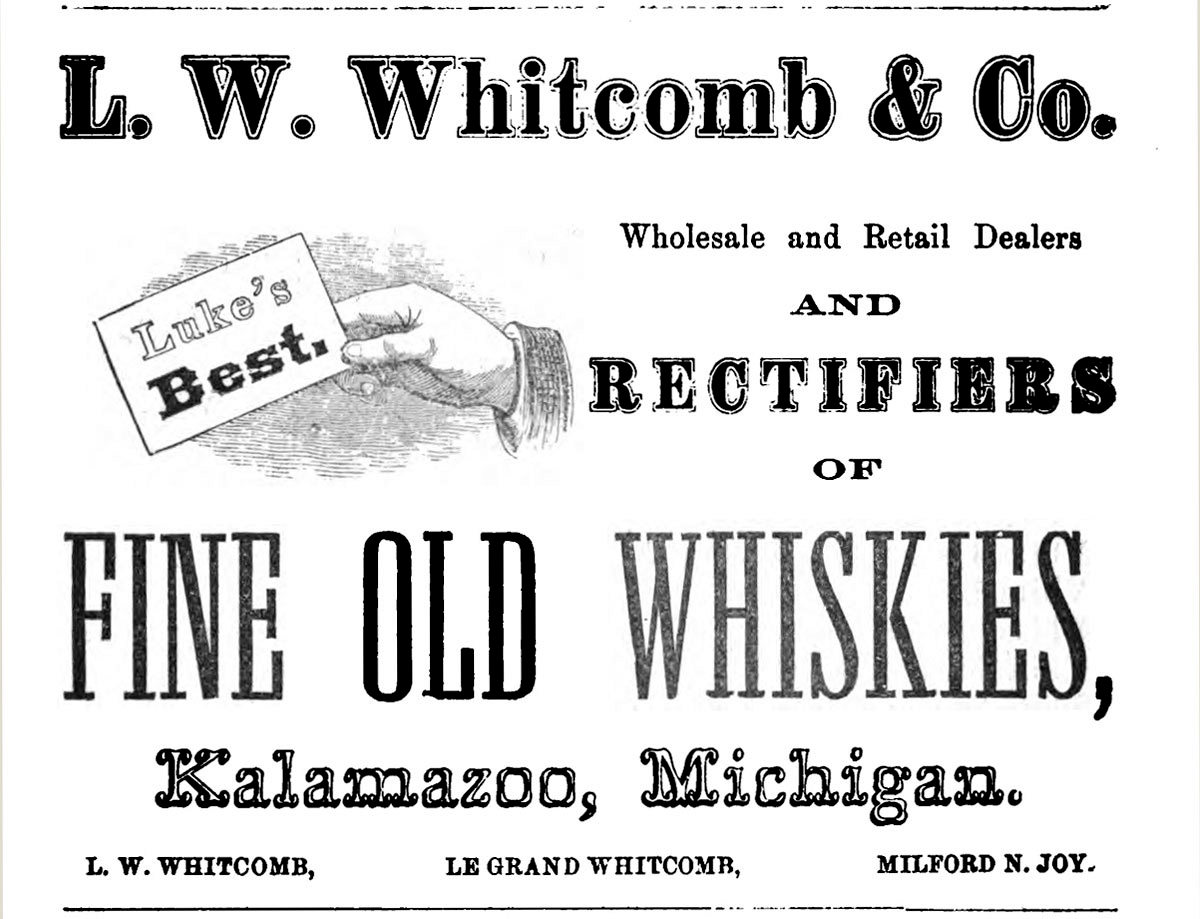 Recently there was an article written by, Keith Howard, published in the October issue of, South West Michigan SPARK newspaper, which "sparked" an interest in Tim and Dianne.

Tim and Dianne are dear friends of ours, and they are members of the metal detecting club. After retiring Tim went to work at Bronson Hospital. Tim was frequently assigned to the Trauma Care floor where my wife worked. Tim has a very important job as a "Sitter."

A sitter stays in the room watching over the patients with impaired judgment. In some cases Tim watches cases where the patient could put them at risk. His job is to alert the nursing staff of possible problems. In other ways Tim could be in a position of calming and reasoning with an unstable disoriented patient.

The nursing staffs really love Tim because he is perfectly suited for that job with his calming demeanor.
As it turns out somewhere in the Janssen family tree, there is a family connection with Luke Whitcomb, the founder of Kalamazoo's Luke's Best Whiskey.

The Whitcomb brothers were operating a sawmill, gristmill and distillery on the banks of the Kalamazoo River as early as 1835. The location was where the Arcadia Brewery is (was) located, on the north side of East Michigan, between King's Highway and Mill Street.

In 1835 the first bridge crossing the Kalamazoo River tied the Whitcomb mill with the greater Kalamazoo village which didn't amount to much at that time. Although Kalamazoo already had a surprising number of small distilleries in operation, the L.W. Whitcomb Company was by far the most successful.

Being located near the rail line, their product was shipped into Chicago, and east to the New York markets. Luke's Best was a very well known product. The problem with having your business located near a busy rail line in those days was fire!

Hence, the government mandated Sanborn Maps. In the late 1800's when the great fear was indeed fires. Many village fires were blamed on those fire breathing monsters, the steam locomotives! Many engines had cow catchers but few had spark catchers. Back then, when a fire was started, unless it was caught immediately, it didn't stop until there was nothing left to burn.

This resulted in conflicting accounts about the actual property loss as seen between the owner and the insurance company.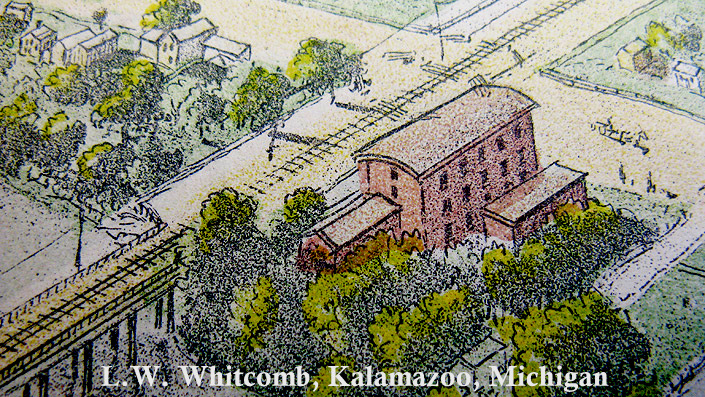 The Sandborn maps showed incredible detail of each property. It showed the location and number of every structure on the property (including privies). Each building was drawn on the map was like a detailed blueprint of each structure. The maps showed each room, the doors and even stairways leading up to the upper floors.

Near each door, and at the top of stairs, it showed where fire buckets and other firefighting gear was kept.
Somewhere in my store, hidden beneath a pile of other hoarded treasures, I have an original Sanborn Map for Kalamazoo. It shows the building layout of the block on East Michigan where Bimbo's Pizza and B. Desenberg Wholesale Grocers was located.

In 1858, the unthinkable happened, the Whitcomb's mill and distillery were completely destroyed by fire.
They rebuilt right after the fire, but their operation changed. They went from a distillery business, to the business of "rectifying" whiskey. Which is to say they remained in the whiskey business, but they purchased bulk raw corn liquor brought in by rail from the Detroit area. They then aged it, blended it, and distributed it regionally.

However, the whiskey trade wasn't the only part of the Whitcomb's business, but they also put up barrels of salt pork. 1858 would be a devastating year for the Whitcomb brothers. Heavy spring rains swamped the area, causing the Kalamazoo and Portage rivers to overflow and flood hundreds of acres of meadow land (Portage Road) along their banks.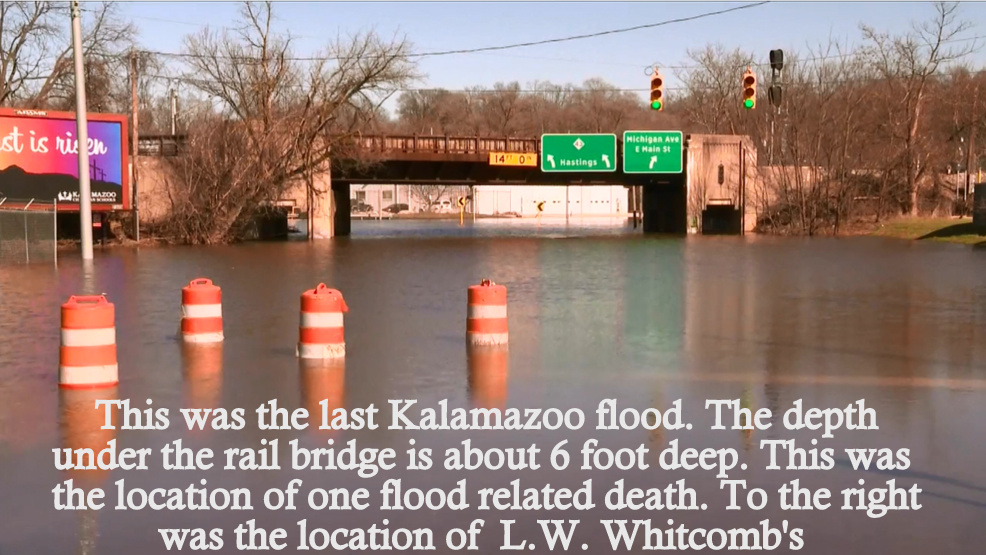 (Something's never change do they? That was indeed our Kalamazoo story just a couple years back! My wife was at work in Bronson Hospital when she looked out a patients window when she saw a guy in a canoe paddle up to the east entrance!)

In the flood of 1858, The lazy little Arcadia Creek became a raging torrent! It washed out a culvert west of town, which sent flood waters pouring all over the north side of the community.

By June 1st, 1858, the Main Street bridge over the Kalamazoo river was partially submerged! The mill race near Whitcomb's mill was completely under water. The mill and distillery buildings withstood the watery onslaught, although some 400 hogs narrowly escaped the rising water and had to be moved to higher ground.

Grain in the mill was stored in upper level rooms so it was kept safe from the water, but damage to the machinery on ground level was said to be "severe." The water soon subsided, but the brothers' troubles were only beginning.

Yes, it gets much worse! During the early morning hours of September 23, 1858, a sudden blaze wiped out the entire Whitcomb mill and distillery complex, including all of its contents.

A worker in charge of the mill had evidently allowed a lamp to come in contact with a cask of liquor, which ignited a blaze that quickly consumed the dry wooden buildings, including the distillery, the gristmill, an adjoining shed, the sawmill, and some livestock.

Some 300 hogs were saved from the blaze, but loss was estimated in excess of $17,000 (more than half a million today) for which the Whitcombs had no insurance coverage.
Leverett Whitcomb was overwhelmed by the loss. Without the ability to rebuild his operation, he died less than two years later. This, along with the nation's growing anti-liquor sentiment, effectively brought an end to commercial distilling in Kalamazoo.

One account later told of several temperance supporters who watched the 1858 fire and suggested the firemen should "just let it burn," as it was "nothing but an old distillery." Whitcomb knew that some horses and several head of cattle were kept in the sheds directly behind the burning building, and in response, told the firemen to "never mind the whiskey, let it burn, but save the animals."

This was printed in the Kalamazoo paper a decade later.
Luke Whitcomb was standing nearby when fire broke out in the old Congregational Church building on Academy Street and bystanders were pleading for assistance to help remove furniture ahead of the blaze. Remembering how he was treated when he needed help, he responded, "Let 'er burn, it's nothing but a church."

Then he removed his coat and jumped in bodily to help save the building and its contents. The paper claimed "(Luke Whitcomb) had his faults and vices like many other men," recalled Judge E.W. DeYoe in 1901, "but despite them all he was ever the gentleman under all circumstances"

This was also from the Kalamazoo Gazette:
"That famous 'honey dew' for the pioneers, Luke Whitcomb's signature product had for many years been a whiskey known as "Luke's Best," which grew famous largely by word-of-mouth from Chicago to the Eastern Seaboard, and perhaps even abroad. From the 1840s, freshly distilled "Luke's Best," said to be "made from the old-fashioned eight-rowed Yankee (Flint) corn, pronounced by competent judges to be "The best whiskey ever made on earth." Luke's Best could be purchased right from the distillery for 25¢ a gallon, or 50¢ for a gallon of two-year-old. "Luke's Best" would continue to be Whitcomb's stock-in-trade for decades to come, in fact outliving Ol' Luke himself by some fifteen years.





Kalamazoo Antique Bottle Club

We meet at the
Otsego Historic Society Museum
Meeting date is January 12th at 7:00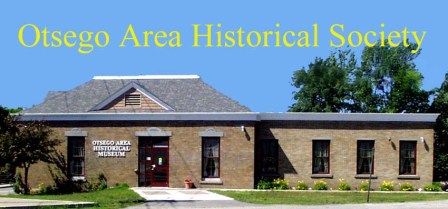 Meeting starts at 7:00


e-mail: prostock@net-link.net

Phone 269-685-1776