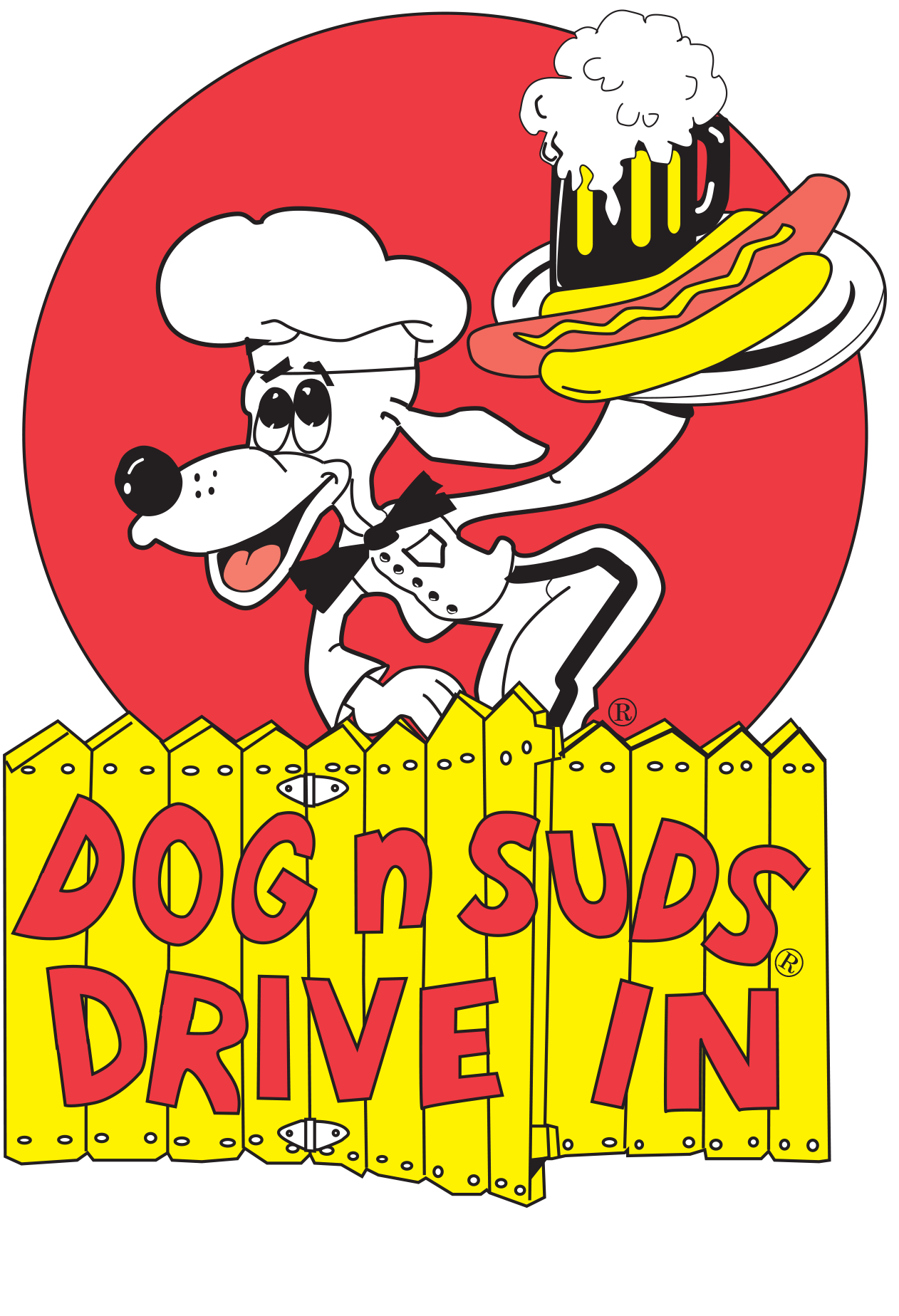 KALAMAZOO ANTIQUE BOTTLE CLUB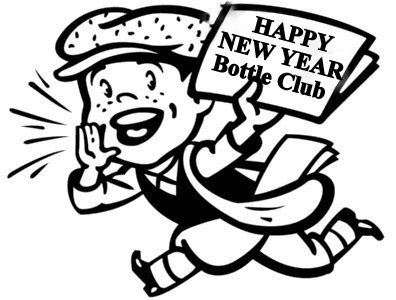 HAPPY NEW YEAR ANTIQUE BOTTLE CLUB!

Grand Rapids Antique Bottle Show Coming Soon!

The West Michigan Antique Bottle Club's
32nd Annual Antique Bottle Show and Sale!
Saturday February 25th
Fonger American Legion Post
2327 Wilson, S.W., Grand Rapids, MI
Show runs from 10:00 am to 2:00 pm
Dealer Set-up Saturday 8:00 to 10:00
Cost of admission $3
Contact: Steve DeBoode,
1166 Corvette Dr., Jenison, Michigan, 49428,
PHONE 616-667-0214,
thebottleguy@comcast.net
Well folks, here we are again, venturing out onto uncharted territory with yet another
brand-new year.
I hope each of you have a very blessed New Year!

Think about how nice it would be, if within the first- second of the new year, we started out with a pure white clean slate.
Imagine, we enter a new year and leave all the old baggage behind, you know, everything that was wrong with 2022 dropped to the bottom of the deepest sea.
Unfortunately, all the evil, including the dark cloud of corrupt politics, will be waiting to greet us when we opened 2023's door.

But wait! What do I feel? Could it be a fresh breeze filling the mainsail? Weigh-anchor mates! Set her stern to the wind! Soon this golden gallon will sail upon crystal seas and leave-way from these listless stagnate waters!

We are off to another brand- new year with a clean slate, and the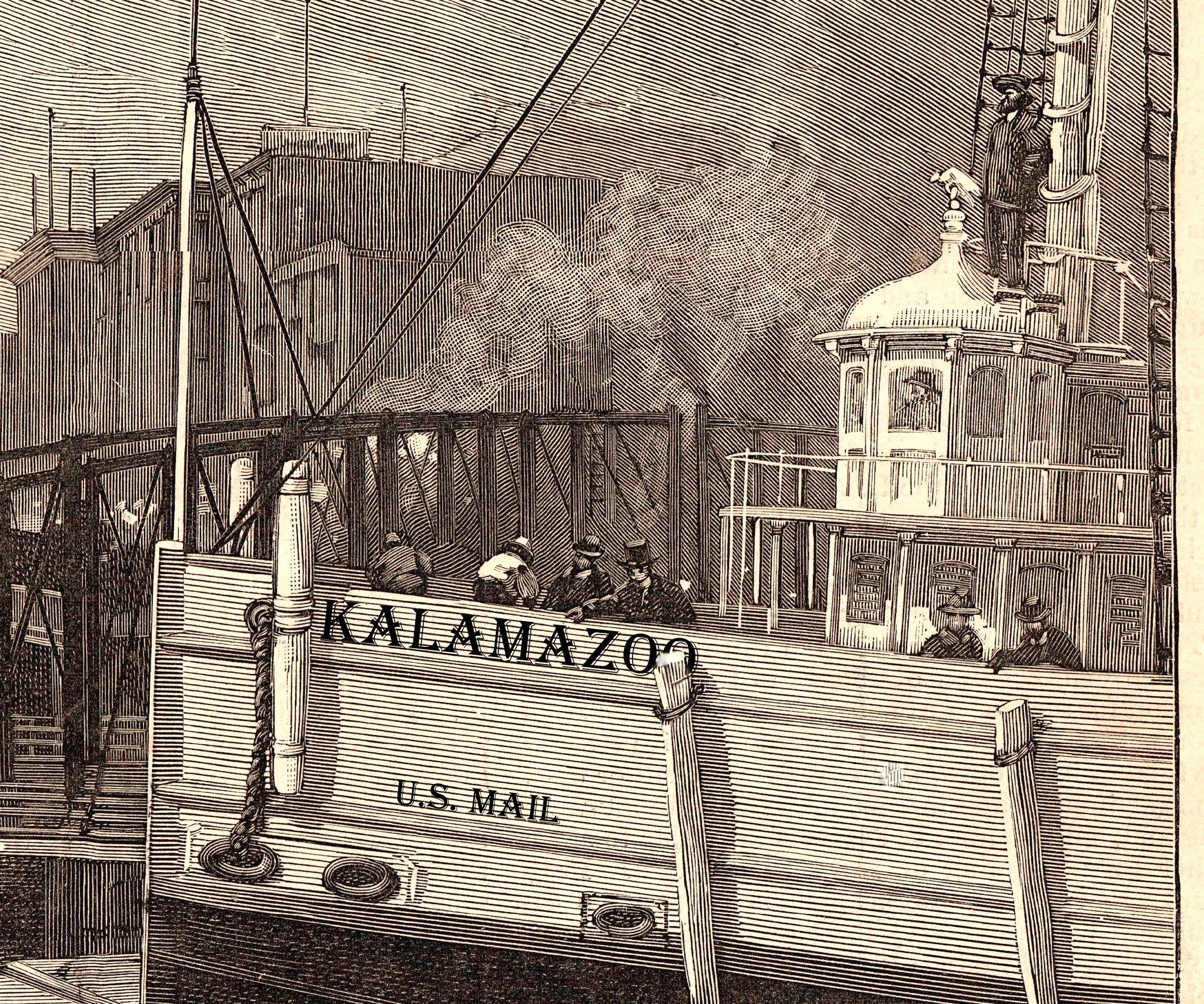 good old Kalamazoo Antique Bottle Club is still afloat!

LAST MEETING HIGHLIGHTS
As is customary I am going to tell you what a great time we had at the last meeting . . . and we did!
I used to get a big kick out of Chuck Parker, our past President because, he would always thank me for the newsletter and say, "I almost forgot how much fun we had."

Our attendance was down somewhat from our November meeting, even though our membership is indeed growing each month.

Every month since September we have added new names to the roll!
Our "NEW" strategy is working out well!
We now tell folks that if they are club members,
"You get into the Kalamazoo Antique Bottle Show free!"
In the past we said,
"If you are a club member you need to work at the bottle show."

They seem more receptive to getting in free! When I was a kid, I remember the U.S. Navy Posters read : "See the world!"

At the last meeting we saw the following happy faces: Dave Wilkins, Kevin Siegfried,
Rob Knolle, Ron Smith, Ed Nickerson, Kelly Bobbitt, Scott Hendrichsen, Vincent Grossi and
Al Holden.

So, did you spot the new name? Our newest member is Dave Wilkins from Gobles Welcome, Dave!

Dave has been collecting bottles and following the club for a while. He was actually prompted to come to a meeting, seeking information on a recent bottle find that he recently made.

So, looking back, it would appear that a perfect storm was brewing!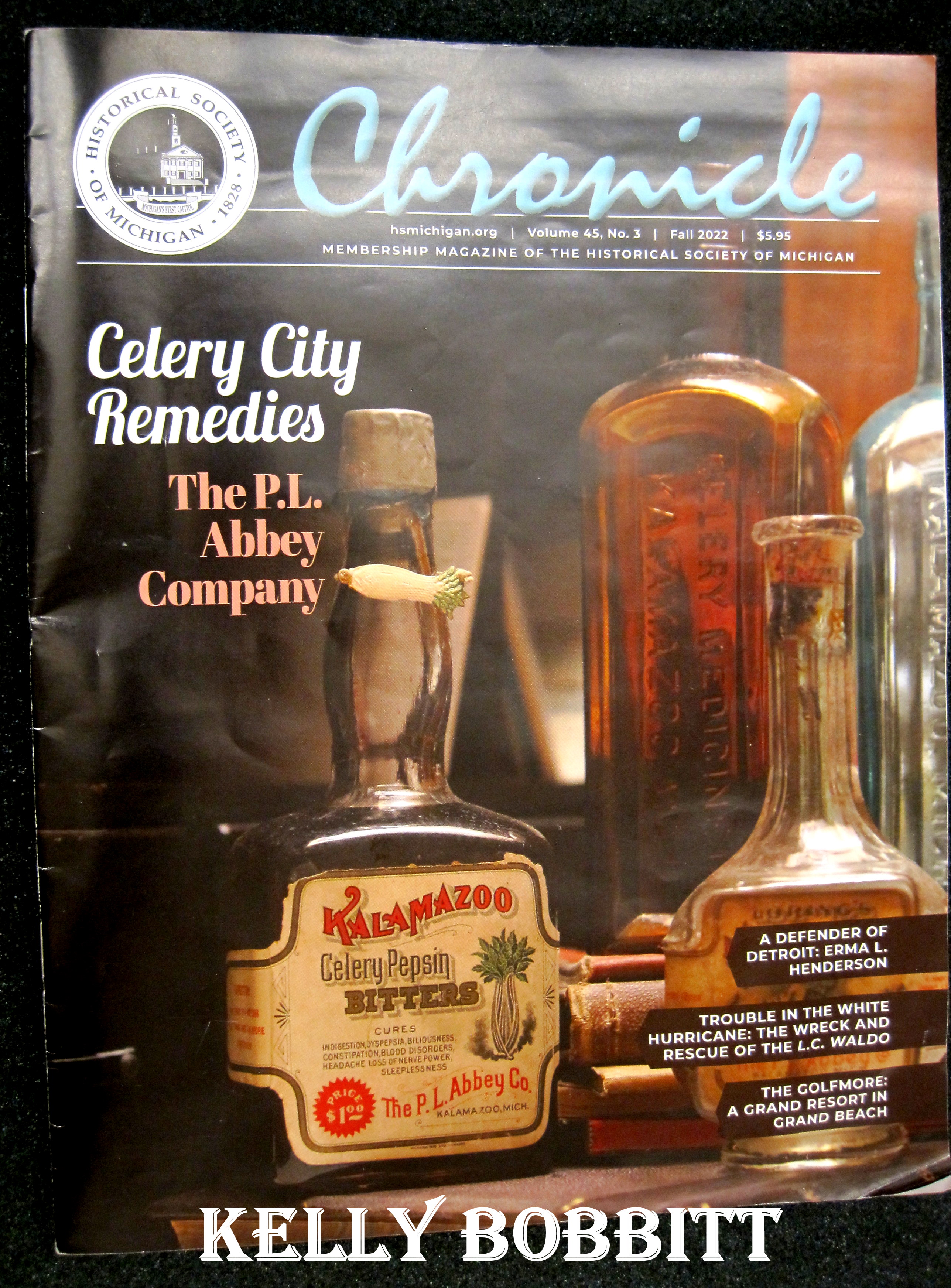 Kelly Bobbitt, had brought in a copy of "Chronicle" a magazine of the Michigan Historical Society. The cover photo showed the very bottle Dave Wilkins has! But, it is in full color with a bright beautiful label!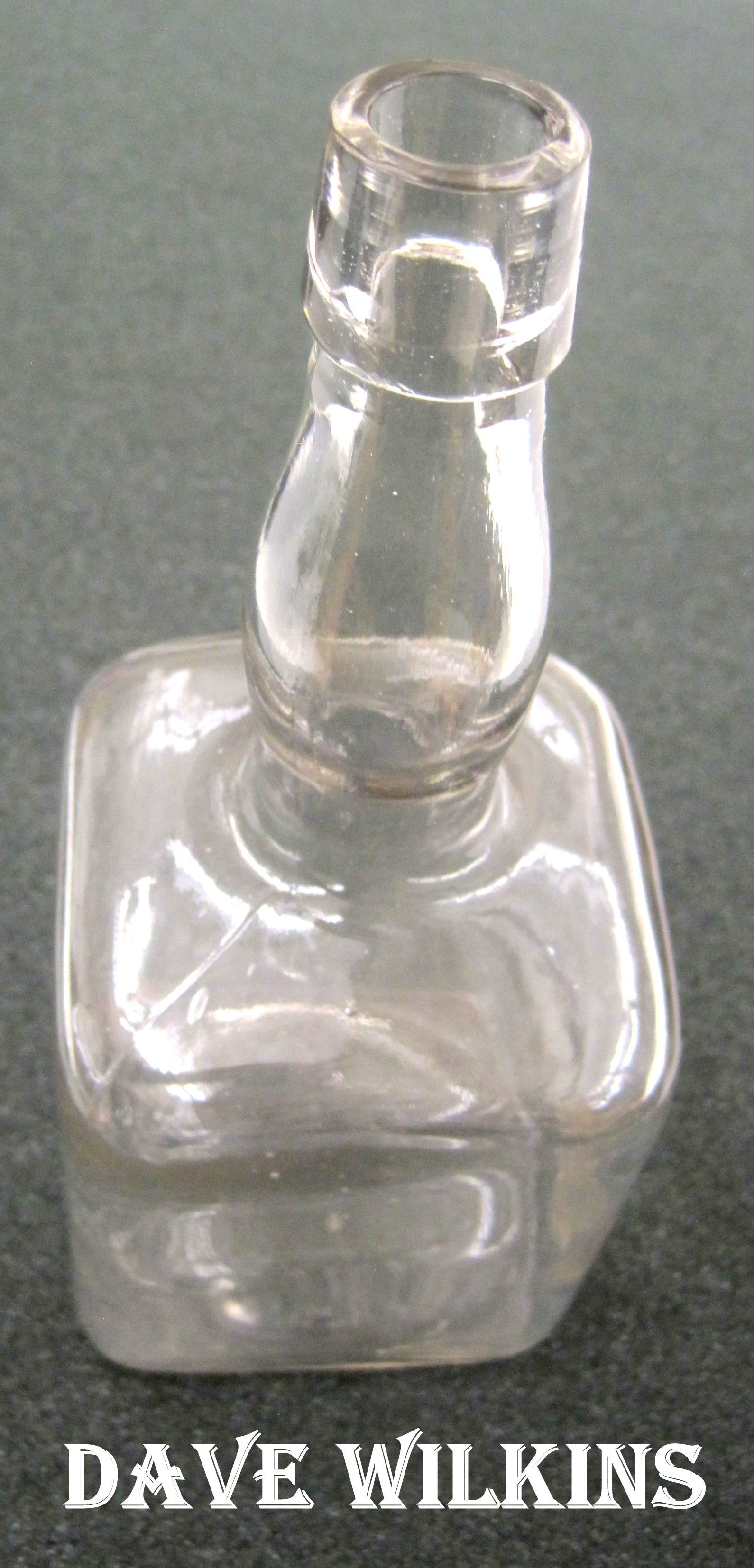 The second I saw the picture, I knew I had seen this treasure before! Yes indeed, It was a picture of our good friend, Gordon Hubenet's "Kalamazoo Celery Pepsin Bitters" from the P.L. Abbey Company!
We were all blown away by this amazing happenstance!
Kelly had just finished reading the magazine, so he gifted it to Dave! Dave was indeed a happy camper! He told me that he couldn't wait to show his wife!
The Celery Pepsin Bitters bottle is anything but a usual run-of- the-mill antique bottle. The body of this bottle is cube shaped, and the shoulders of the bottle rise ever-so-slightly as they flow into the neck. The neck of the bottle is very cool! Its shape reminds me of the neck on a lady's leg whiskey bottle.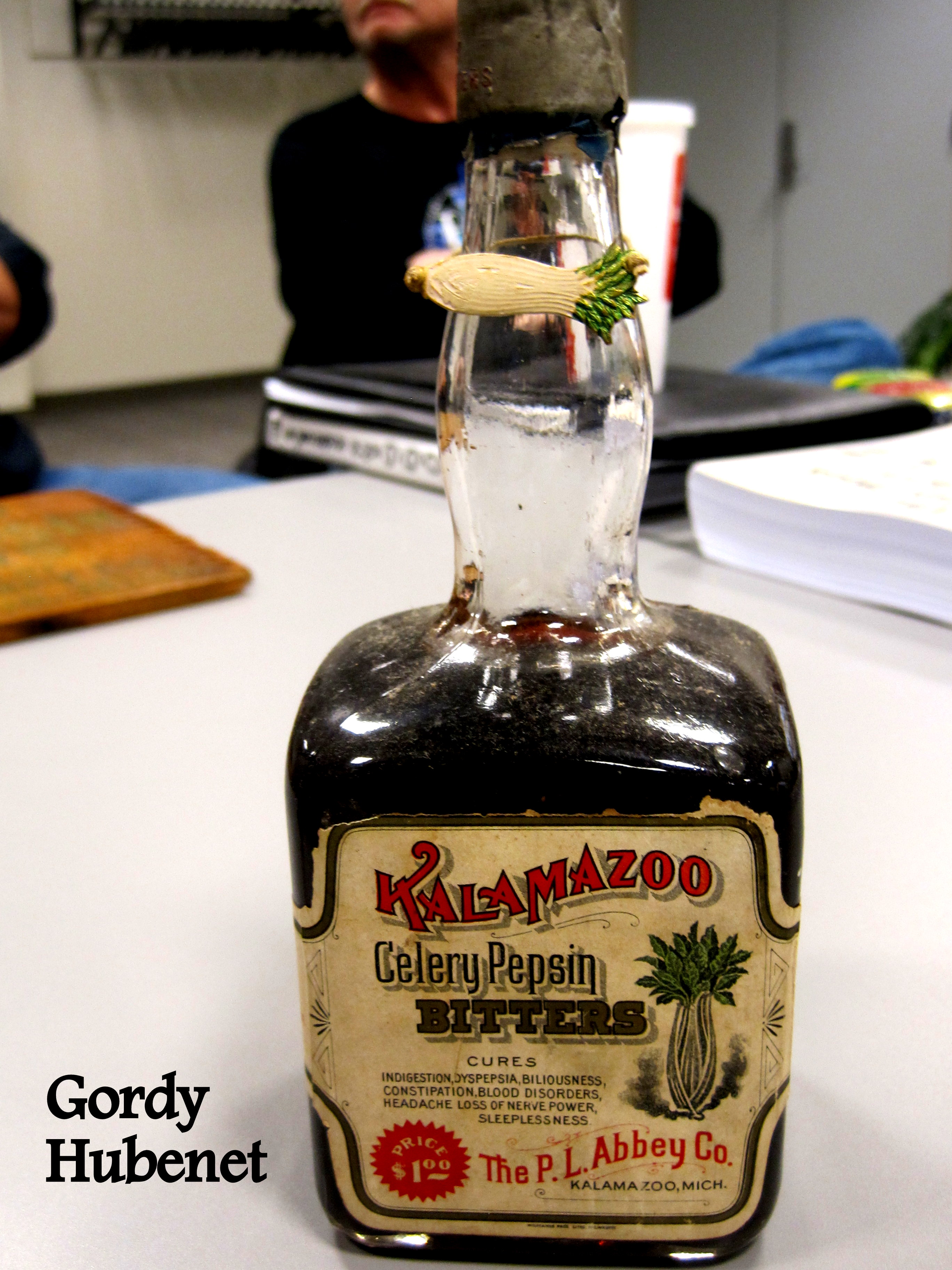 Dave's bottle is clean, bright, perfectly-clear glass, a bottle which was clearly made to have a beautiful, colorful label. Any digger would be at a loss to identify it except these little beauties were embossed on the base; "The P.L. Abbey Co. Kalamazoo, Mich."

Back in January of 2020, when I took a picture of Gordy Hubenet's beautiful bottle, I wasn't researching it for the newsletter, because, his presentation at that time was about Clairvoyant Dr. D.B. Kellogg, from Ann Arbor. At that time, I really loved seeing the Celery Pepsin bottle, but I didn't realize the true importance of it!
From my research, It looks to be scarce - - - even without a label! And rare-as-hen's- teeth with a label!

The original label makes the claim:
Celery Pepsin Bittlers CURES, Indigestion, Dyspepsia, Biliousness, Constipation, Blood Disorders, Headache, Loss Of Nerve Power, Sleeplessness.
We can all identify with some of these disorders, but let's look at a few. First what about, Pepsin? Pepsin, is a stomach enzyme that serves to digest food proteins.
What about Dyspepsia?
Dyspepsia is a form of indigestion causing abdominal discomfort such as a burning sensation, or feeling too full too quickly. Dyspepsia can also be caused by taking some pills on an empty stomach. See I told you this would be fun!
What about Biliousness?
This is related to discomfort from indigestion related to a disordered liver function with a excessive secretion of bile.

You are very likely "up-to- speed on constipation?" This is where the lower tract is not up-to-speed.
We all can relate with sleeplessness and headache, but what about, Loss of Nerve? It is assumed they are addressing 'neuropathy' which is numbness and pain usually in the hands and feet.
Or, perhaps this is where that elevated alcohol level comes in. You know, where normally you would have never taken a swing at that guy who is a foot taller and 100 pounds heavier . . . but someone had to teach him a lesson!

THE P. L. ABBEY COMPANY. Was engaged in the manufacture of medicines on a large scale, and it was one of the big industries of Kalamazoo in the late 1800's during the Celery City Boom!
It was formed by Perley L. Abbey in 1887. It started business first, known as the
Celery Medicine Company, until I897, when it was changed to the P. L. Abbey Co. They produced celery preparations, and some pharmaceutical products.

Mr. Abbey, the founder of the company, was born in White Pigeon, Mich., on July 2, 1865. P.L. Abbey died in Portland, OR, at 78 years old in 1943. He was 12 years older than his wife Maude Young Abbey who died in 1960 at age 83.

Kelly Bobbitt, brought in a nice collection of advertising beer tumblers.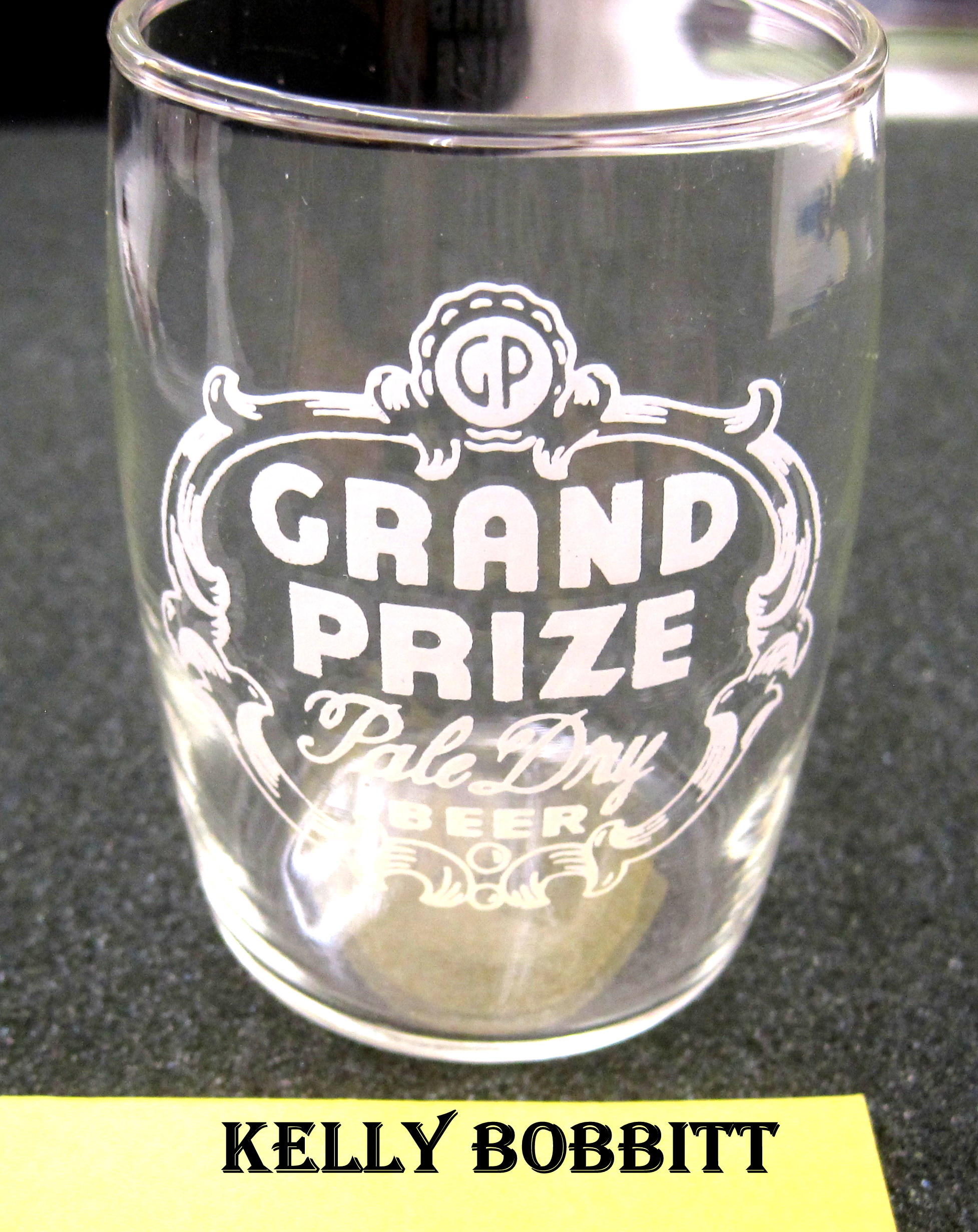 The first one, a high quality acid- etched tumbler is decorated with the letters 'GP' in what would look to be an award medal. The name is:
"Grand Prize Pale Dry Beer."
Grand Prize Beer was brewed by the Gulf Brewing Company and was started by billionaire, Howard Hughes Jr., in the summer of 1933, in Houston, Texas.
Gulf Brewing Company was one of many new breweries started in Houston just after the repeal of Prohibition in 1933. It was built on the grounds of the Hughes Tool Company, and was operated under the direction of brewmaster "Frantz Hector Brogniez" a Belgian immigrant.
Frantz died about two years after they started brewing, but he had trained his son, who was a great brewmaster. Grand Prize Beer was the best selling beer in Texas.
However, Kelly's tumbler is advertising "Grand Prize Pale Ale," which, in a 1949 National Brewing Championship, with 4,067 entries, it did indeed win the Grand Prize!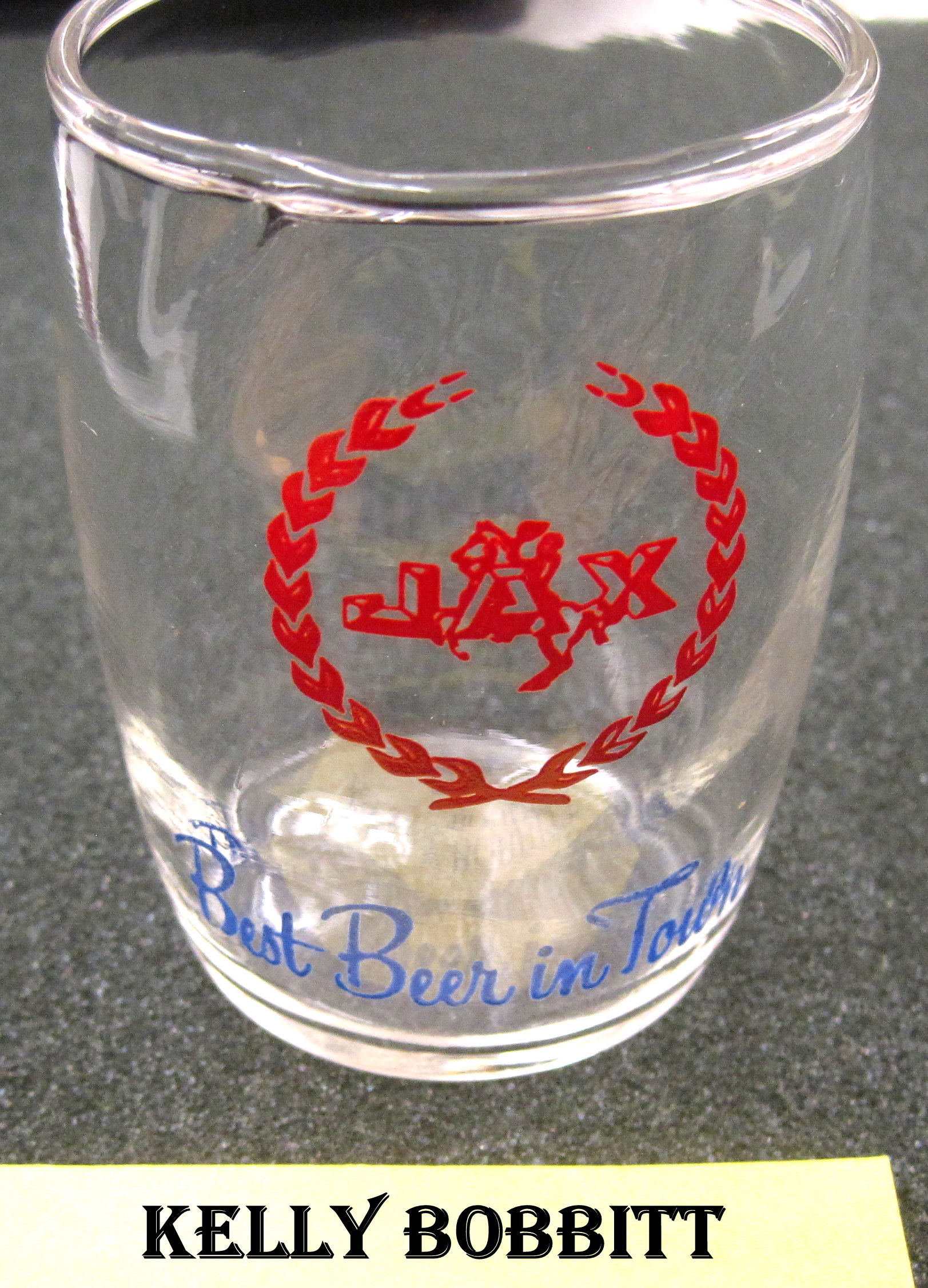 The name of Grand Prize Brewing became history in 1963 when it was acquired by
Theodore Hamm Brewing Company of St. Paul, Minnesota.
The next tumbler has an applied color label
"Jax," Best Beer in Town!"
Jax Beer, from Jacksonville Florida, was a popular beer from 1913 to 1956. Like other brewers they went out of the business of brewing from 1920 to 1933 because of prohibition.
Jax Beer was revived after Prohibition, but it finally went down for the count after World War II.
The big national brands forced local favorites over a barrel. Busch, Pabst, Schlitz, and other heavyweights used their big budget advertising campaigns, and they benefitted from greater industrial efficiency. Also the big companies could better afford the cost of switching from bottles to cans, which skyrocketed in popularity during postwar years.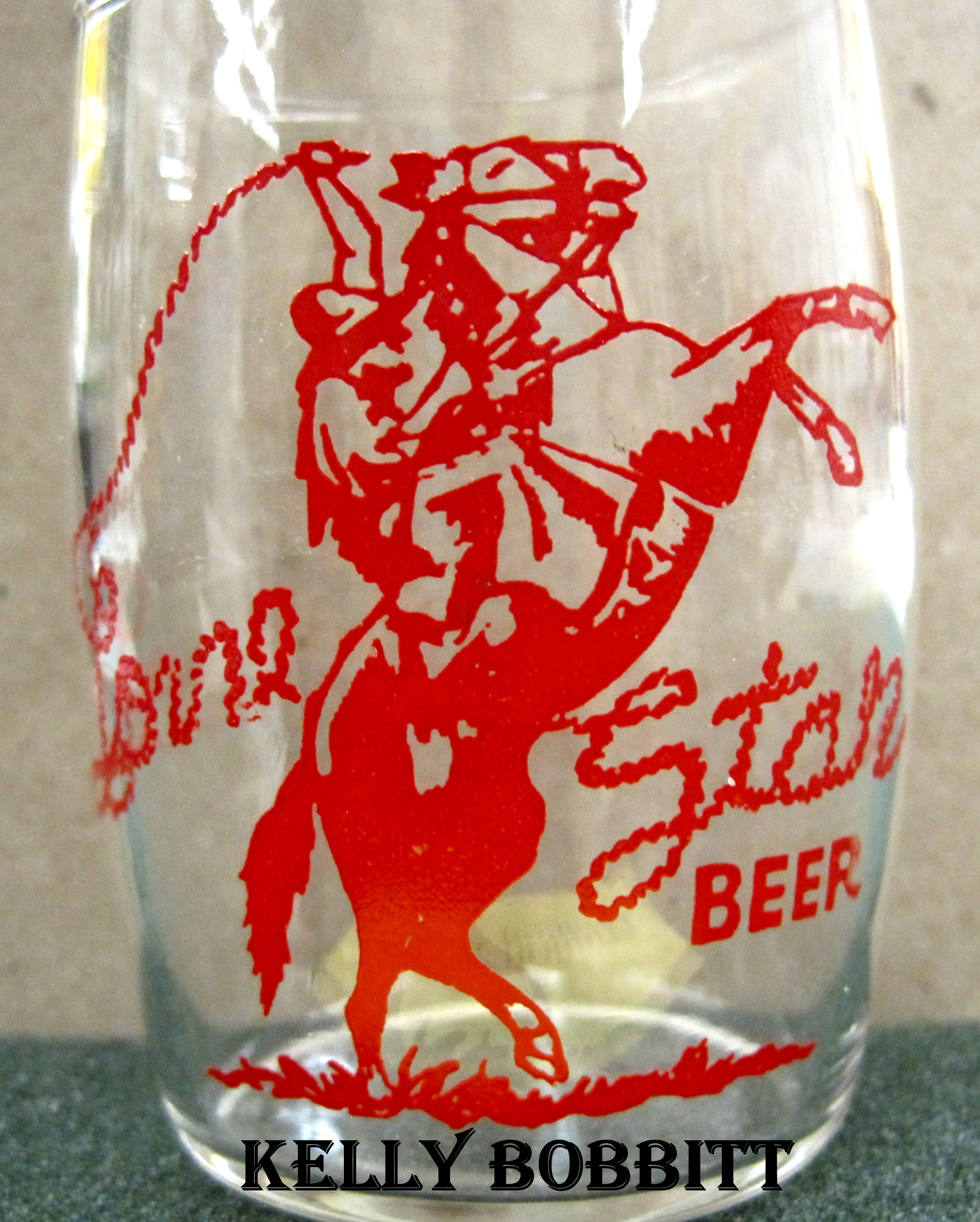 Jax Beer was swallowed up, or you could say "Came to a foaming head" in 1956 when Jackson Brewing bought them out.

Kelly's next tumbler was a colorful Applied Color Label showing a cowboy on a rearing bronco swinging a lasso rope which forms the words "Lone Star" Beer. It is a really neat logo.
The Lone Star Brewery was founded in 1884 by Adolphus Busch (of Anheuser-Busch) in San Antonio.

It was the first large mechanized brewery in the state of Texas. Like the others, the Brewery would close 1918-1933 due to prohibition, but by 1965 the company's annual sales would exceed 1-million barrels!!

The name lives on to this day even though the ownership has changed often. The brewery was sold in 1976 to Olympia Brewing Company out of Washington.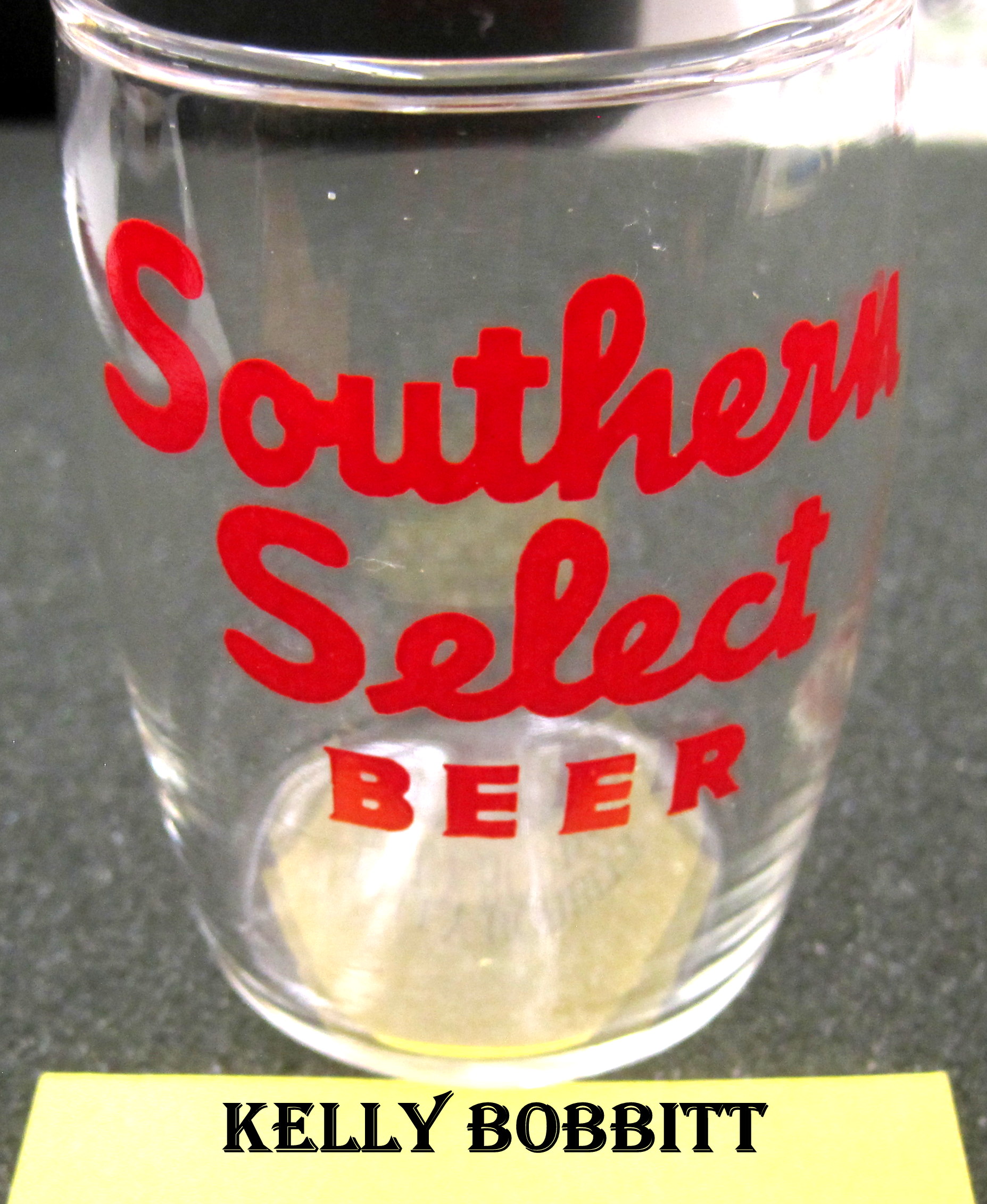 The brewery would change ownership a few more times
G. Heileman Brewing Company, and Stroh Brewery Company, before the Pabst Brewing Company took over.
In 2005, Lone Star would celebrate 65 years as the National Beer of Texas. The brewery is still owned by Pabst Brewing, but they currently contract production to Miller Brewing Company in Fort Worth.
Another classic beer tumbler Kelly displayed; "Southern Select" which has a similar story as the others. Southern Select originated in the late 1890's from the Houston Ice & Brewing Co. They had a good run of sales up to 1918 when they were closed as the others for prohibition.
But, they didn't bounce back like the others. Some 15 years later, after national Prohibition was repealed, the brand finally reappeared, but under somewhat curious circumstances. Houston Ice & Brewing Co. did not return to brewing the product, but brought Southern Select back while operating as a distributor.
The curious part was, they contracted to have it brewed in Brooklyn, New York by Liebmann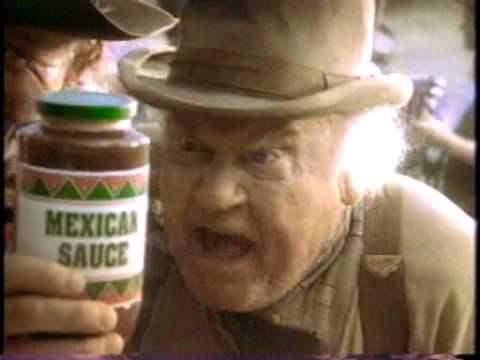 Breweries Inc.??? Wow! This beer, obviously for the Texas market, was brewed in Brooklyn?
Do you remember that Pace Salsa ad on TV, where this rough looking bunch are sitting in a dark- sinister saloon card game, when one of the players orders out for another jar of Salsa?
That was when another player offers him his jar. And yet another player picks up the off-brand salsa jar, reading the label, the fellow quickly quiets the entire saloon when he says, "This fellow gets his salsa from New York City!"

The meanest, worst looking gambler, throws down his hand, and clamping down hard on his cigar says, "I sure hope you can beat a full house!"
He wasn't talking about this poker hand! No sir, every Texan in that saloon was about to dispose of this sissy . . .
Yep! The full house!
Folks, you don't mess with Texas!

Back in the early 70's I made a trip to Dallas on business. While I was in the area I planned on spending a couple hours with friends who were living there. When I found they weren't going to be home for a couple hours, I had some time to kill.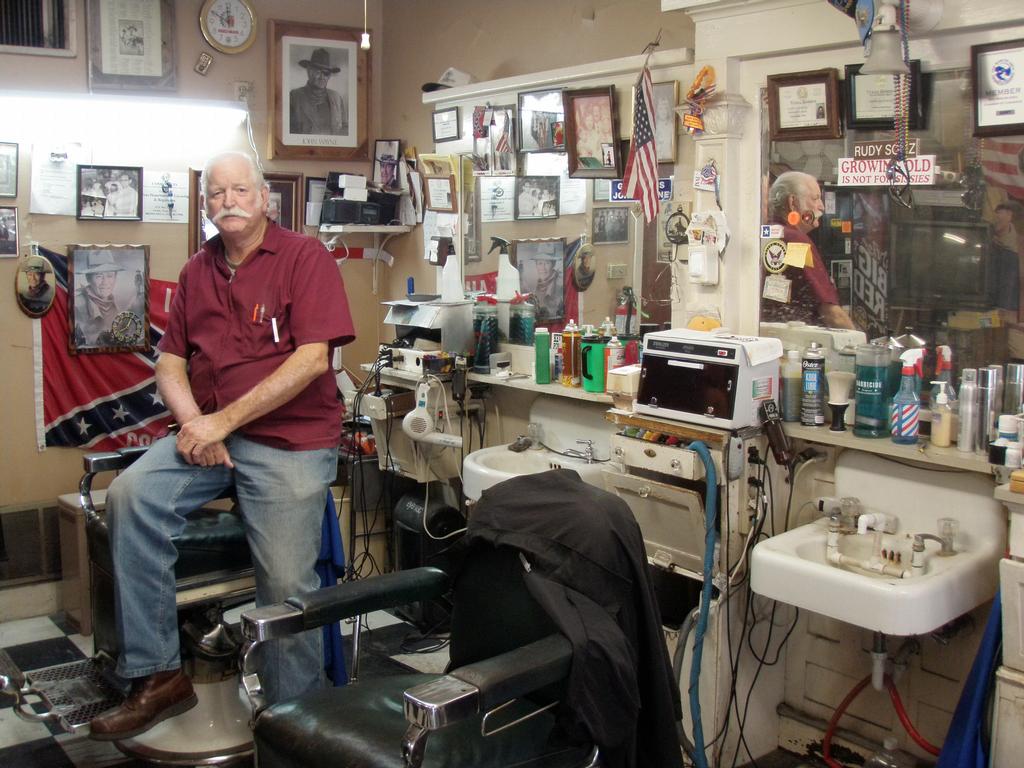 I had noticed a barber shop on the way in, and I needed a haircut in the worse way.

I wandered into the barber shop and was greeted by the barber . . . I just nodded, took a chair and picked up a magazine waiting my turn.
Beside the man in the chair, there was one more ahead of me.
When it was finally my turn, I climbed into the chair. The barber rolled down my collar, placed a strip of sanitary tissue around my neck and snapped the cape in place. Right away he started with small talk, which eventually came around to a question that I was expected to answer.

My Kalamazoo area friends, did you know you have a northern accent?
I was in Dallas in 1970, for the National Hot Rodding Association World Finals. I went up to a food vender and ordered a couple hot dogs. The cute little blond who took my order looked at me with the most dreamy blue eyes, and she said,
"I love y'all's accent!"

Well, the old boys in the barber shop were not impressed with my accent! You could have cut the tension with a knife! I was never so glad to get out of there! Them fellas have not yet surrendered!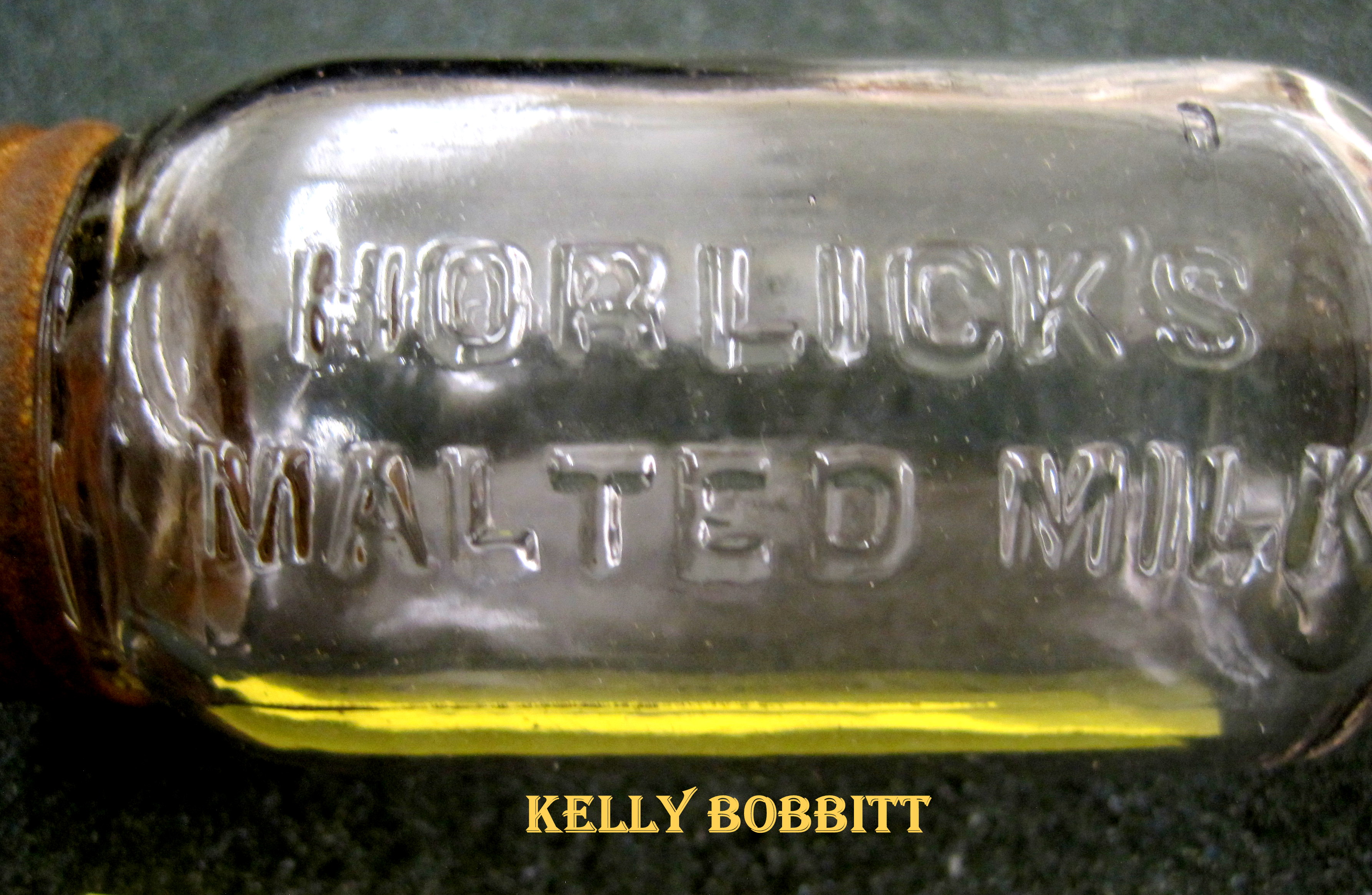 Back to our meeting.
Kelly also has a sample bottle for Horlick's Malted Milk Tablets. I can safely say these Horlick's Malted Milk bottles are not rare, because I see them everywhere. But still, they really are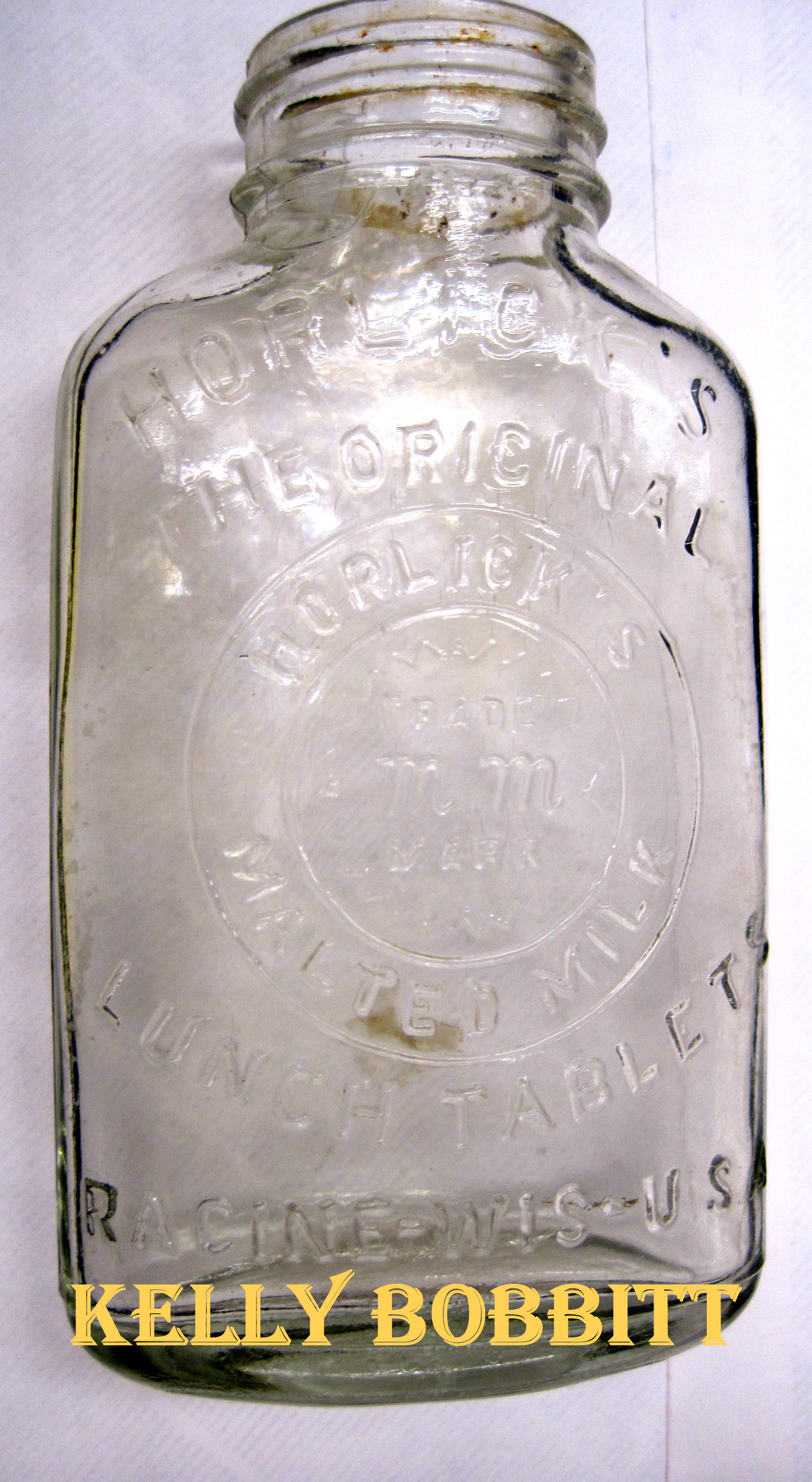 interesting! The product was not invented to change the flavor of your chocolate shake into a chocolate malt,
(I love chocolate malts!) The product was originally produced as a nutritional supplement for babies and us elderly!

In 1875, William Horlick convinced his brother James, a chemist at a baby food company in England, to come to Chicago to help with a new product idea. William and James founded the J & W Horlick Company in Chicago. Originally dubbed "Horlick's Food for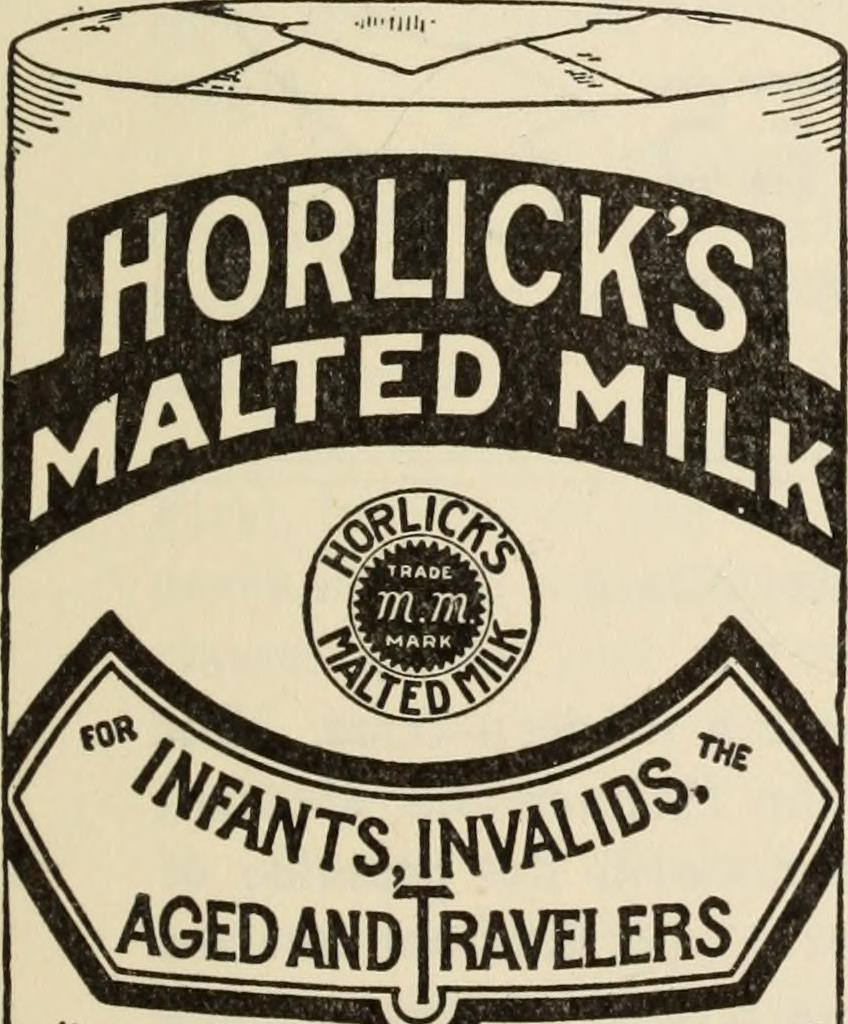 Infants and Invalids," their new product was a special compound made of wheat and malted barley. Consumers added this powder to milk as a nutritional supplement. The Horlick brothers had invented malted milk!!
Their new business venture would eventually become the Horlick's Malted Milk Company.
When we are digging in the 1800's city dumps, the little Horlick's Malted Milk, and those tiny Hire's Root Bottles, are plentiful. But for me, it isn't the rarity of the bottle but the story they tell!
In our time, we have adventures of space travel and following news about the International Space Station. Back in the time of the Horlick brothers, they supplied and supported Richard Byrd, a famous explorer of both the Arctic and Antarctic. Byrd was a close friend of William's.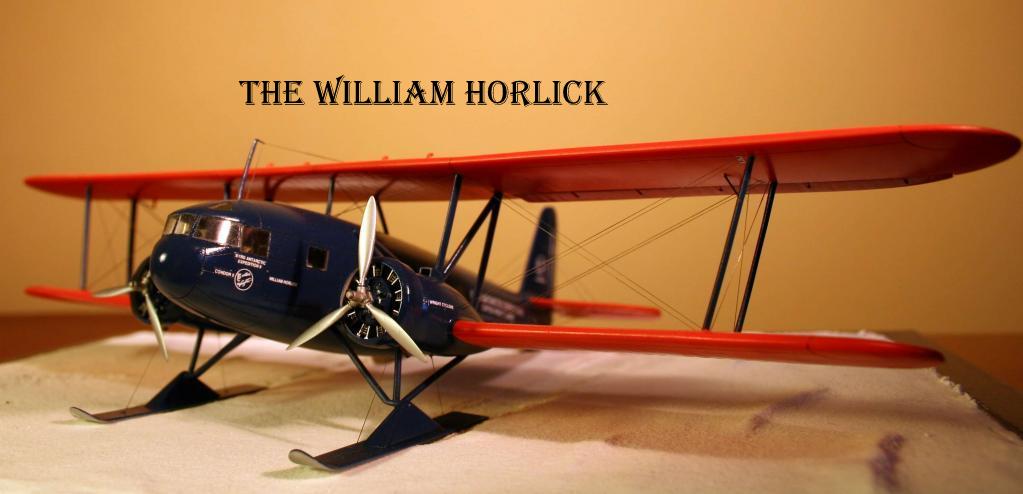 Horlick actually funded a few of Byrd's expeditions. Byrd even named a plane after William on his second expedition to the South Pole. Horlick also funded exploits of Roland Amundsen, a Norwegian explorer who was the first to fly over the North Pole and the first person to ever reach the South Pole. William's support for exploration
earned him knighthood from the King of Norway.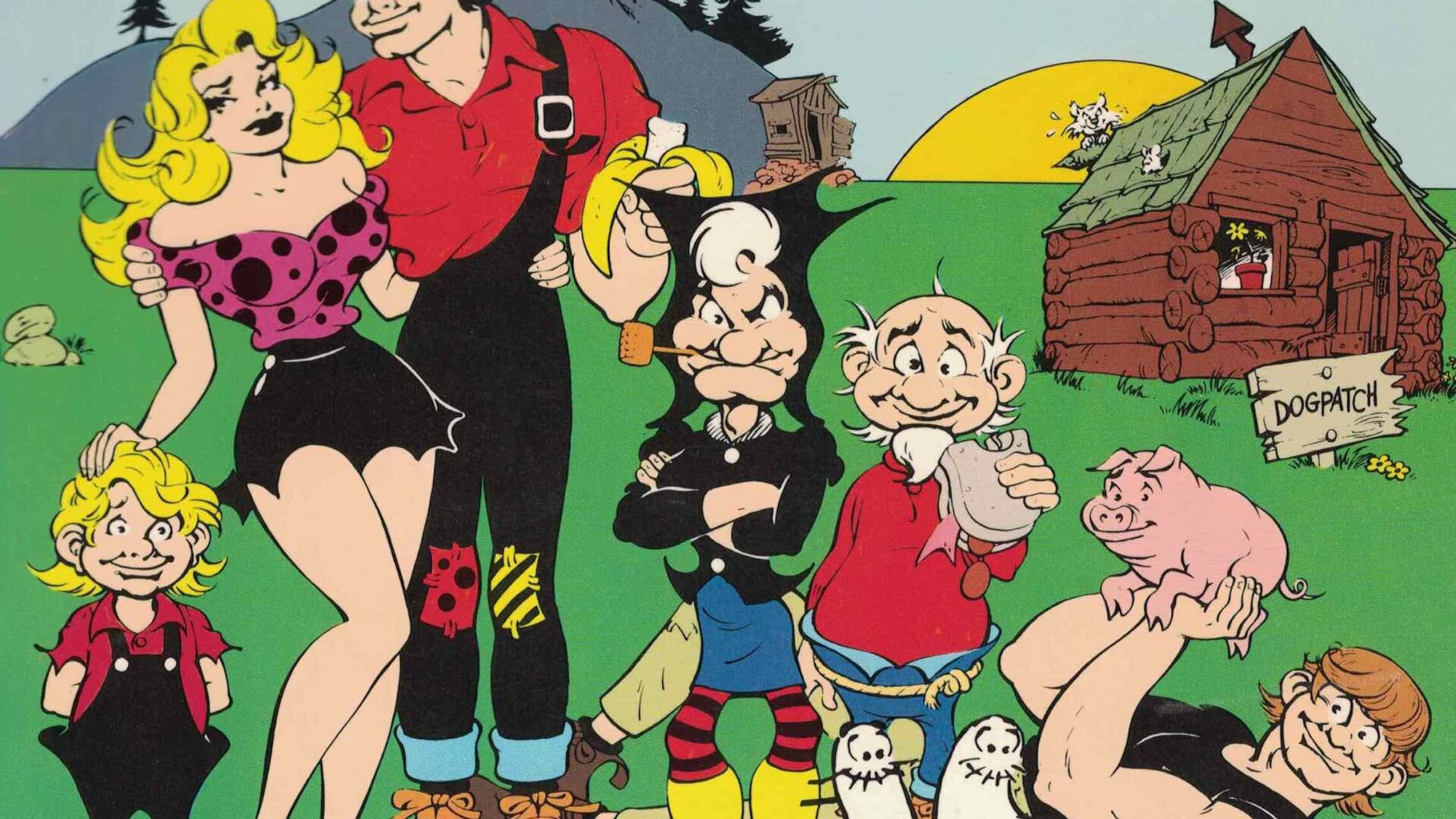 Pretty cool stuff don't you think? Thanks, Kelly!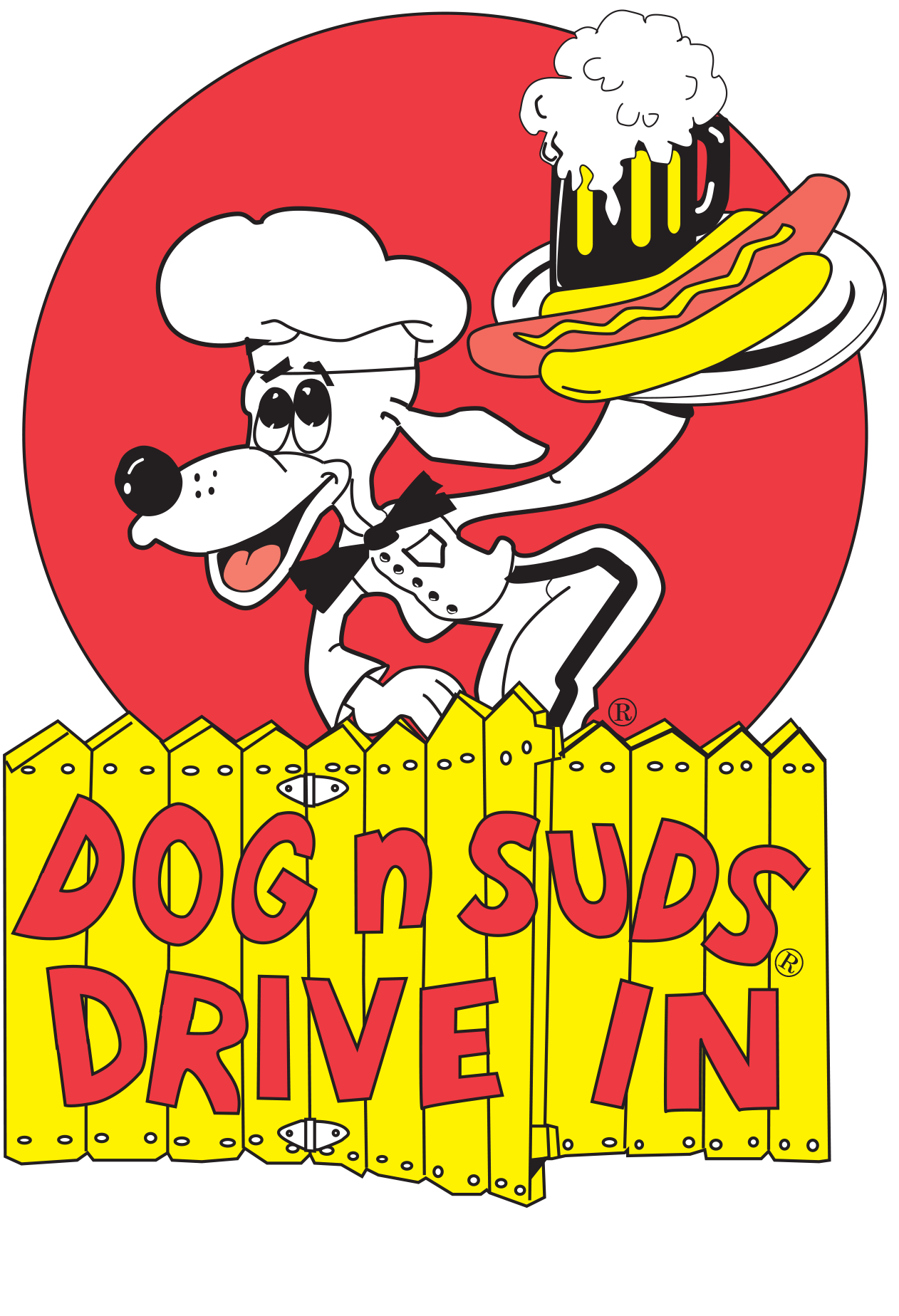 Kevin Siegfried, had some really neat items as usual! And some of my favorites! Root Beer Mugs! One is an A & W baby mug! I found where these were offered as a special early promotion. The early slogan for A&W during the 1920's was "Kid's Eat Free!" and it got even better! They would get to keep this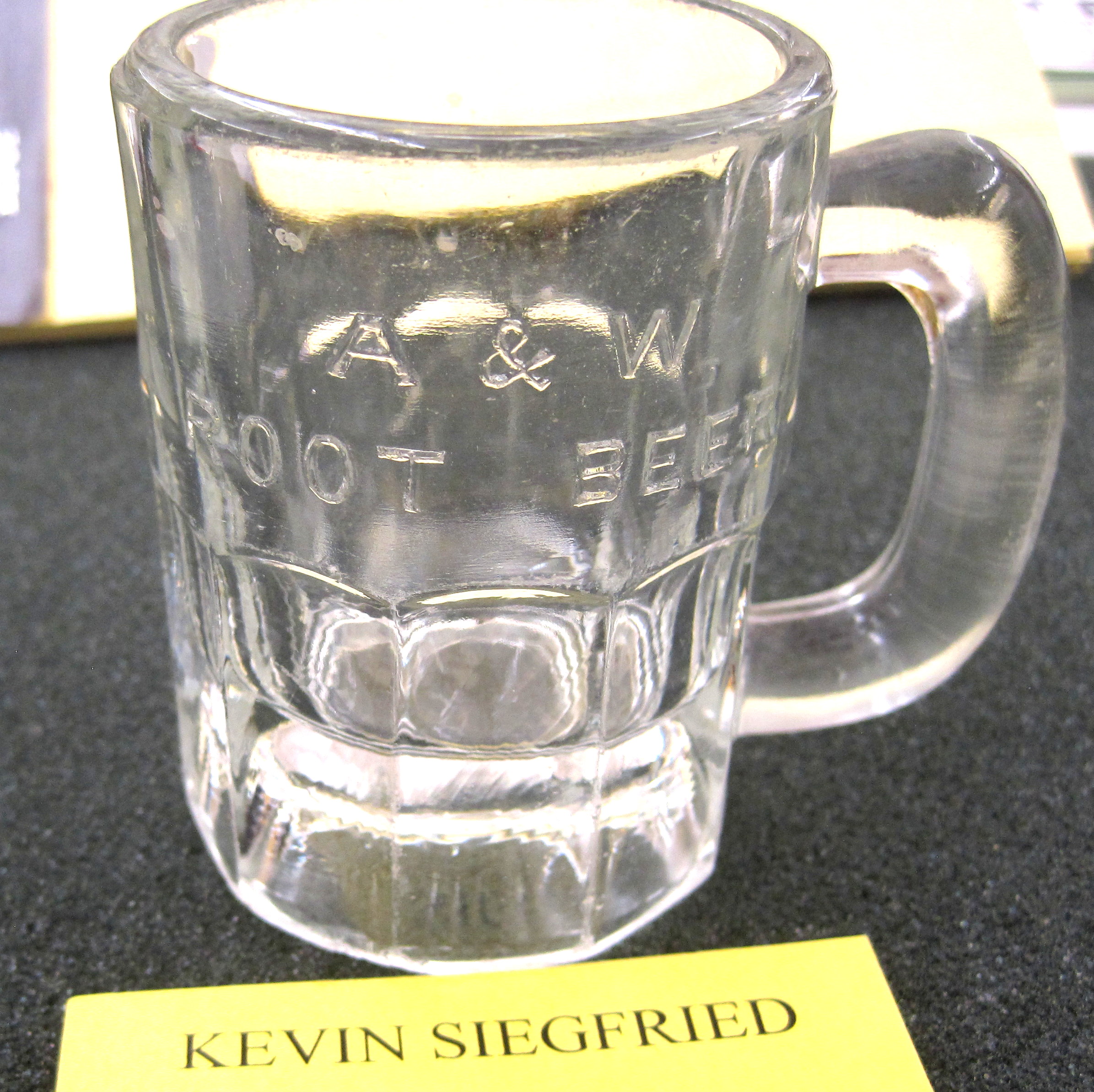 Miniature Child's Souvenir Mug! You might say they were paid to eat at A&W!
We had two favorite stops in the northern U.P., in Munising. One, The Dog Patch Restaurant, and right across the street the A&W Restaurant (now gone) At the A&W you could get a frosty mug of creamy root beer which went down like it was wrapped in velvet! But also, 'daily' they purchased fresh caught Lake Superior white fish! They were breaded and deep-fried and served piping hot! The fish was served with a to-die-for homemade tartar sauce!
Kevin also had a full size Dog & Suds Root Beer Mug! Another favorite of mine! You can have your lobster brother, just give me a hot dog! Dog n Suds was started back in 1953 in Champaign, Illinois. Two music teachers, Don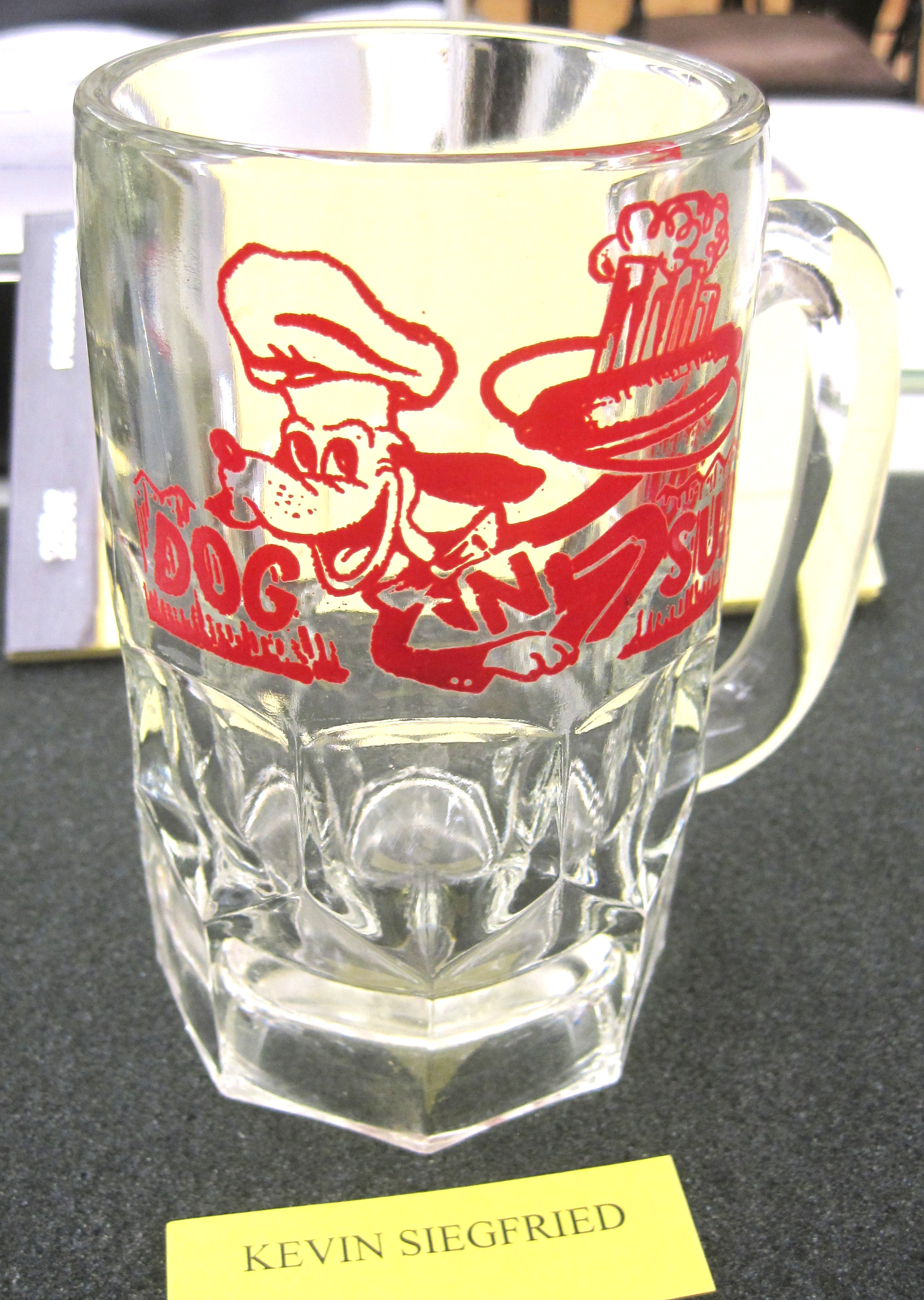 Hamacher and Jim Griggs from the University of Illinois, opened a hot dog and root beer stand. Their success in Central Illinois, led them to quit the teaching profession and get into the fast-food franchising full time. They are still in business 70 years later. I cannot talk about great hot dogs without mentioning one of the best wiener joints anywhere, Coney Island in Kalamazoo! They are good, God- Fearing people, so they don't grill dog's on Sunday. They have been serving up great dogs for over 100 years! They use Koegel Meat Frankfurters which have been made in Flint, MI, also, for 100 years!


Rob Knolle, had shared a commemorative 1973, 7-UP Bottle that reads, "7-UP Salutes Notre Dame, The Fighting Irish for their 1973 National Championship Win." It has a list which
includes the date and score of every game that they played during that Championship season.

THE HARD PART!
The club surprised me with a special crystal plaque that reads:
All I can say is thank you from the bottom of my heart! I wasn't expecting this at all! I am speechless.
Ok, that is a lie.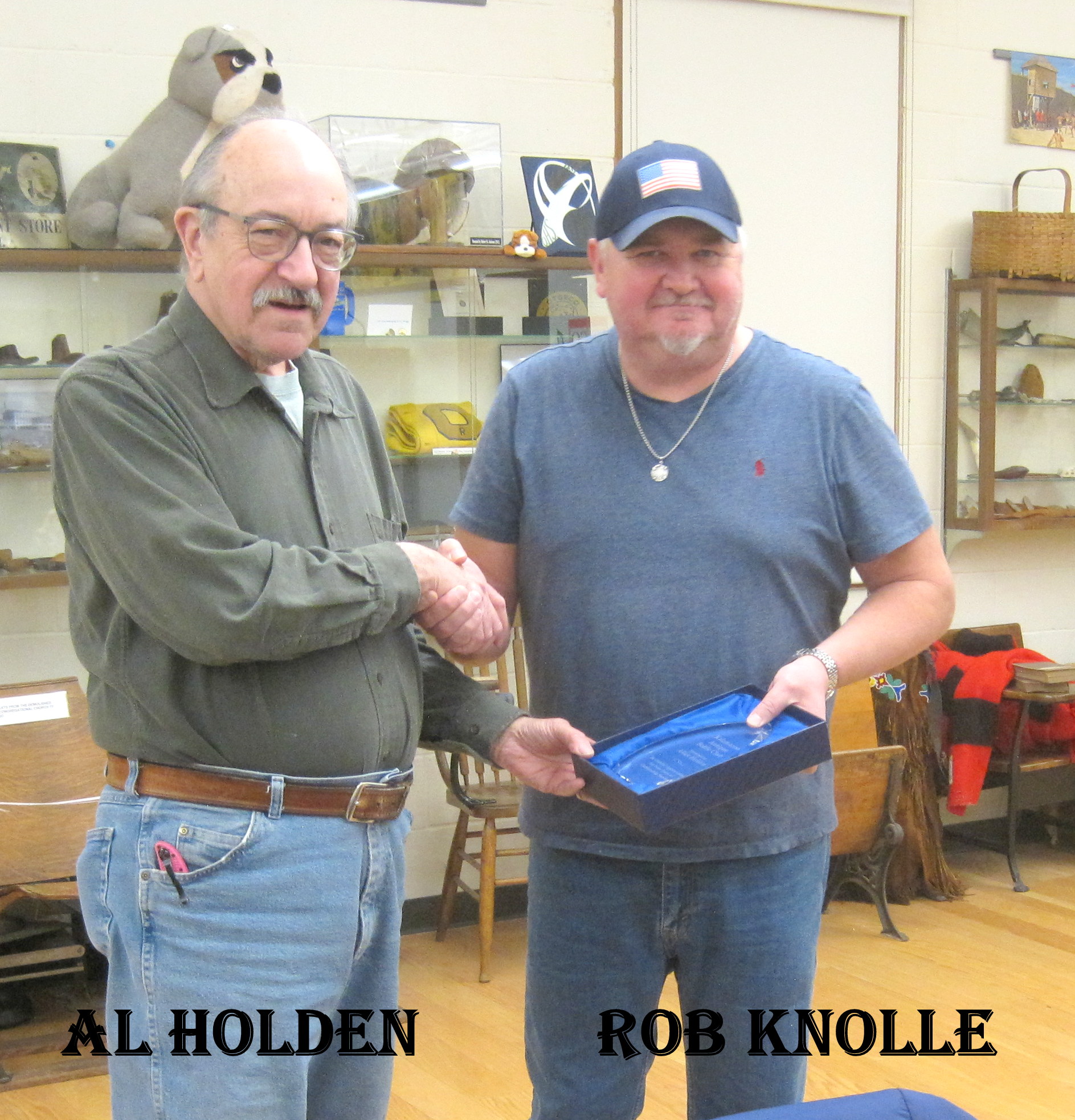 One day, working as a young journeyman machinist in the early 70's, I was making about $8.00 per hour. Don't laugh, that was pretty good money for a dummy like me!
I had a boss who was mean like a junkyard dog! I would tremble whenever he walked my way! He was a retired U.S. Marine lifer and had a hard shell!
On payday he walked up to the machine I was running and handed me my paycheck. And he told me I was got raise!
They were afraid GM was going to lure us away.
As he turned and walked away, I stammered,
"Thank you, Bob, I will work very hard to deserve it."
He stopped in his tracks, spun around on his heels and said,
"We don't give raises to be earned, we only give raises that are already earned . . . remember that!"
Well, I don't feel I earned this award! That is because I love this club, and enjoy doing this! And, I am thankful for each one of you, more than you could know. THANK YOU!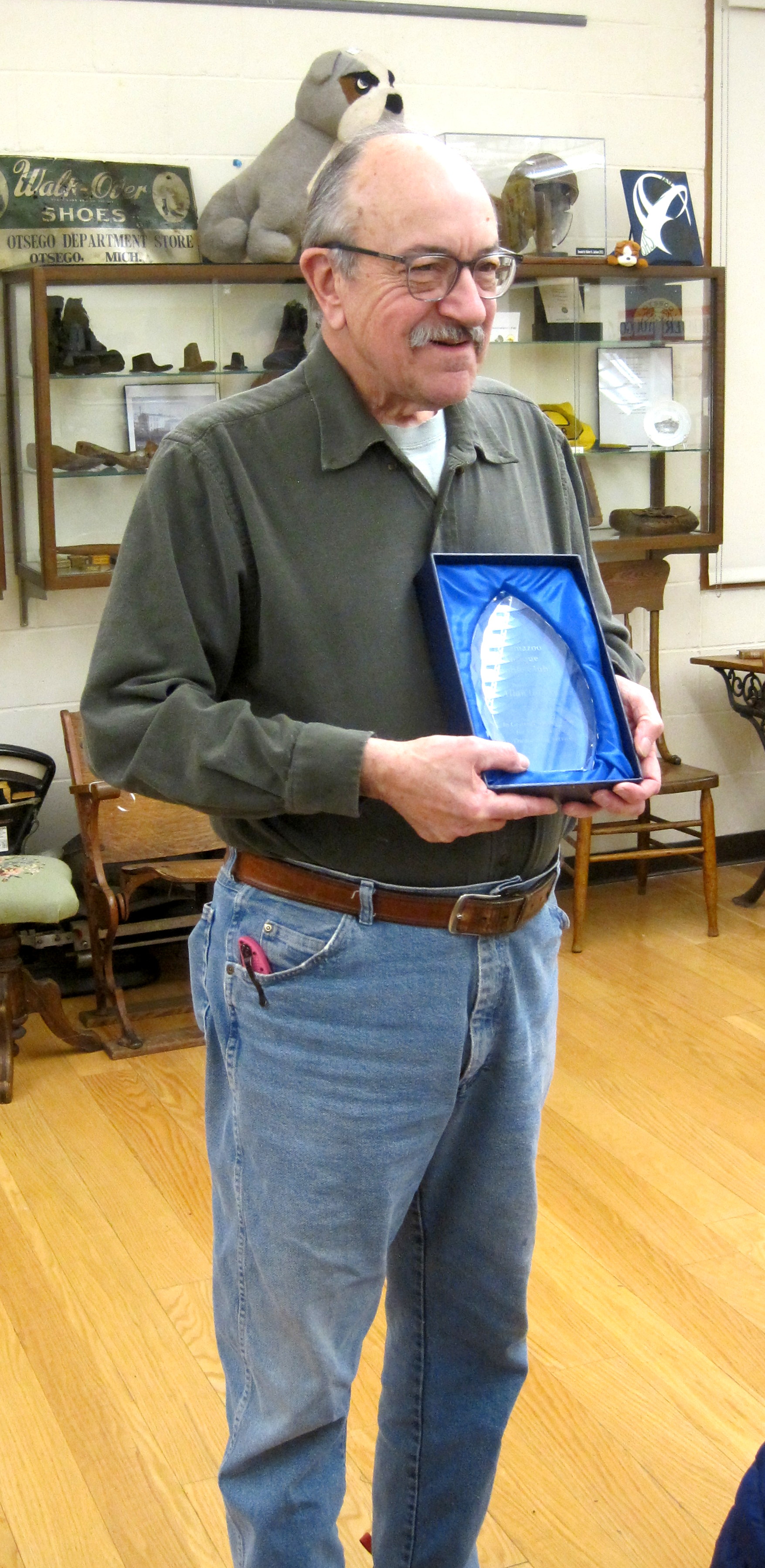 At This Meeting. We are planning having a $5.00 bottle table. Bring a bottle you feel is worth $5.00 and we will see how this works, I haven't a clue.

Theme bottle: "Bitters Bottle."
And, we are having a smallest bottle contest!


THE KALAMAZOO ANTIQUE BOTTLE CLUB
MEETS JANUARY 2023 at:

Otsego Historic Society Museum
Meeting date is
January 10th at 7:00
The Museum is located at
218 N. Farmer St.
Otsego, Michigan
Meeting starts at 7:00 pm.

e-mail: prostock@net-link.net
Or call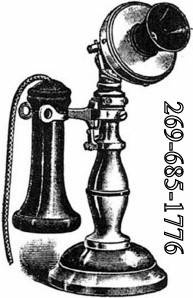 Phone 269-685-1776
HOME