Good Old Summertime Picnic!
Summer Picnic, Sunday July 28th


That is the big day folks! Everyone had time to raise objections, and there were none that I heard about! The time that we plan on getting the grill fired up is 1:30, which should give you time to rush home from church and change, unless your preacher is long winded.
Kevin found a deal on some low mileage hot dogs and brats. Also, if I heard correctly, Chuck is going to hit Gordon Foods for some hamburger and an assortment of buns. Also, the club is bringing some paper plates, genuine plastic tableware and bitters glasses.
There is no alcohol allowed in this park. We will have drinks, but if you want diet Vernors, bring your own-- I don't share well.
I plan on bringing our Weber Grill and some charcoal from Henry Ford's old Kingsford plant. I also figure on bringing some mayo, mustard, ketchup, pickle relish, sliced salad olives, salt & pepper, garlic salt, and some good old Michigan Cottage Cheese. Oh yes, also my official Sponge Bob spatula!
So, what could you bring? A dish to pass would be great! What is a picnic without a cold veggie tray (including radishes) potato salad, baked beans. . . well, you know!
The picnic is at the same location as it was last year, at the Oshtemo Township Park. To make sure we get the Pavilion on Sunday, Kevin is going to tie his big black dog to the picnic tables the night before, and post some Rabid Dog posters.
The Oshtemo Township Park is located behind the Township Hall and the Oshtemo Fire Dept. That would be convenient if we have another fire like the historic Milham Park Picnic Fire of 06.
The Township Hall is at 7275 W Main St, Kalamazoo, MI 49009 . Just look for the Oshtemo Fire Dept and Township building complex on the south side of M-43. If you are coming up or down U.S. 131, you need to go west on M-43, which is Exit 38-B. The entrance is marked with a green sign that you have to be looking for.
If you need help with directions my cell number is 269-806-2355.
This will be fun, don't you think? As we did last year, we would like to see your best summer bottle finds!
---
Story Time
OK, as you should all know by now, we will not be having another meeting at the downtown Kalamazoo Library until September 10th. The main purpose of this newsletter is to let you know about the picnic, and I hope you will try to make it.
I wanted to update you on the gentleman with the old Great Lakes Steamship items. You remember in the last newsletter I told you about the little MG sports car I purchased? By the time the picnic rolls around, I should have the little car at my shop so that I can figure out what I need to get it on the road yet this summer.
If you recall from the last newsletter, the man who is settling his brother's estate knew that his brother had, among other things, some old bottles. He found our club's website and dropped me an e-mail for help on the old bottles.
Well, it happened again! This time the man who was looking for antique bottle help sent me a photo of a bottle that his father found 50 years ago when canoeing in a stream near
Indianapolis. When I opened the e-mail, the first thing I saw was this beautiful cobalt-blue, squat-soda style bottle with a bulbous huge top!
I couldn't make out the embossing very well but he ID'ed it in his letter as a Teller's Mineral Water Bottle from Detroit. Well, since my earliest days in antique bottle collecting, I still remember Jack and Ernie talking about digging a "Teller's!" It was like it was the Holy Grail of bottles!
The picture he sent me was not showing all sides, but I knew enough to tell him that he had a keeper. I told him that a Teller's bottle can be worth a few hundred dollars in good condition. I also told him that the condition really is a big deal on the rare bottles. It did look like there was a chip on the lip, so I told him that I would have to see more photos or look at the bottle in person.
I had guessed at $400.00 if it was perfect, and a letter to John Pastor showed that I was low. John was talking perhaps starting around $600.00 and going up. Well, the man brought it into my store, wanting to sell! I have to admit I was happy to see it looked beautiful! It is an iron pontiled bottle that looks like it was found in an attic! But, it has a mouse bite-sized chip on the lip!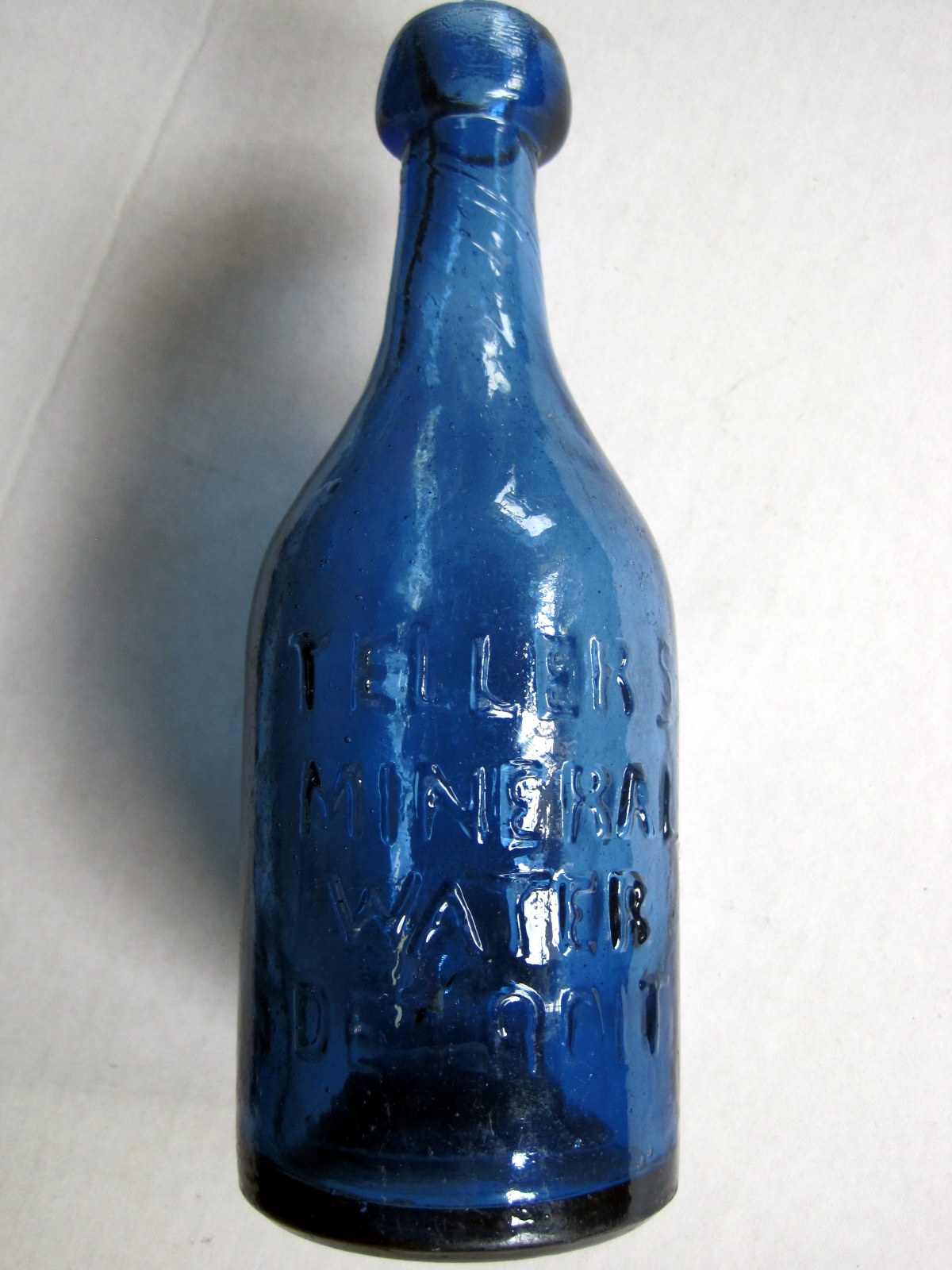 Friends, that chip didn't discourage me one bit! In fact, it made me think it may be something I could afford! I'll do my best to remember to bring it to the picnic.
He had another bottle with it that was much newer; in fact, it is machine made. It is clear with a perfect wire bail and porcelain stopper. It is a "Citrate of Magnesia" bottle which I think was a druggist bottle. I picked them both up for $320.00. Was it a good deal or a bad deal? I'm very happy. That is what is important with collecting!