Bottle Club Tries Summer Meetings

Summer Meetings

Hi friends! This is the first newsletter that I have done since before the bottle show --- sorry! Usually the bottle show brings the club season pretty much to an end for the year. It wasn't until the metal detector club's spring camp-out and hunt, that I learned that some of you have been meeting each month. Bill Drake mentioned to me that I was missed at the last couple meetings. I assumed that he was talking about the antique bottle club. The reason that I am not sure is because I also missed the last two detector club meetings.

I'm sorry but if it was mentioned that we were going to have meetings year around, I sure missed the message. As I said, I haven't been to a detector club meeting for two months either.

Let me try to explain something; I have always been active in the bottle club by choice and the metal detecting club more out of a sense of duty. Because my business is selling metal detectors, I feel that being a part of and supporting that club, is simply a good business decision. I really do like metal detecting. There is such a thrill when you dig into the ground and find a 150-year old coin, just like there is when you dig a 150 year old ink bottle! I also have a lot of good friends in the detecting club. But when it comes down to it, attending the detector club meetings is something that I feel that I must do as part of my job. Now, the bottle club, on the other hand, is something that I have done simply because I enjoy bottle collecting. There is a real difference, but I'm not sure that I did a good job of explaining it.

The April meeting was one that I could not do, even if I had known about it. My grandmother had just passed away and that led me into a very dark chapter in my life. Her death happened when she was in Florida, and my mother and stepfather were in Florida with her.

That left my wife and I here in Michigan to handle all of the funeral arrangements. It was a big task and it was the first time that my wife and I have ever taken care of anything like that. Writing the obituary, picking out a casket and dealing with the florist wasn't that difficult; it was worrying about everyone being happy with our choices that worried me the most.

I am one of eight children and we all dearly loved our grandmother! Grandma lived to be 95 years old, and right to the very end she was a great example of faithfulness to the Lord.

My wife and I volunteered to fly down to Fort Myers, Florida, and drive my grandmother's car back. That turned out to be more work than I had thought it would be.

On the flight down we went through some real turbulence and I watched the jet engine shake up and down-- that was troublesome! I was very happy when we stepped back on solid ground! I must say though that jet sure made that trip seem very short!

My stepfather drove their large motor home back from Fort Myers in time for the funeral, and he seemed to make short work of the trip. He takes a route that avoids any mountain travel, which is really the long way home. Because we were simply driving a car, we decided to take the mountain path and enjoy the view. That didn't work out so well! It was rainy and foggy for most of the trip and it was a battle with semi trucks! I kept the cruise control on just a little past 70 and all the big trucks wanted to pass me, even on the up-hill climbs!

My grandfather was a very successful businessman and he did a very good job of providing for my grandmother. We still have a long way to go before all of her estate is settled. I have felt for a long time that the best way to leave this life is without a lot of spoils to divide. It is so much easier to bury a poor man!

In the following month of May, one of the metal detector manufacturers demanded that all of their dealers attend a training seminar. Of course that was right during the detector club meeting. That was another real problem for me. Flying from Kalamazoo to Indianapolis is not something that is easy to do and it isn't cheap! I really had no choice but to drive down to the two day meetings.

Last year, as many of you remember, I was struggling through cancer treatments. This year it has been a day-by-day struggle with personal and family business. To make matters harder for me, is dealing with the after effects from my battle with cancer. The battle was one that the good Lord has given me a victory over, but it has left me much weaker than I was ever before. Simple things like keeping my grass cut has become a huge task for me!

I have so much on my plate right now that I simply have to make some cut backs, not because I want to, but because I have to. I am afraid that being faithful to the antique bottle club and doing a newsletter is something that I cannot continue to do on a regular basis.

As the bottle club's newsletter writer, I am really not a good pick anyway. Almost everyone in the club is more in- tune with antique bottles than I am. I hear you guys talk with each other at the meeting and you often mention the names of different bottled products and the sometimes strange names of different bottles, just like they are second nature to you--- I cannot do that. For example, how much does this letter have to do with bottles?
---
MILK PAN
My only antique bottle news to report is a little digging that I did on e-Bay. It was only a month or so back and I was killing some time waiting for the time to close my store. I went to the e-Bay home page and typed the word 'pontiled' in their search engine bar. Several auctions showed turned up in a list so I started looking at a few. This wasn't my first experience at doing this, and far too often there will be some junk posted that is simply meant to mislead buyers! Quite often it will be modern day reproductions, but usually they are so obvious that nobody has bid, the starting price is cheap and the color of the item is simply wrong.
One interesting auction was for a wide-brimmed shallow amber bowl that the seller referred to as a "Milk Pan." It looked old in the pictures and it was clearly open pontiled. But then again, what do I know? I did a quick Google Internet search and that brought up a similar image of what the seller was listing. The web site was called "At Home on the Fringes of the Prairie." It was part of the Illinois State Museum web site. About the only difference was that their glass milk pan was clear glass and this one was amber. The description on the web site read: "Shallow milk pans with flaring shoulders were common household items until the mid-1800s. Milk was allowed to sit until the cream had risen to the top and could be easily removed with a shallow spoon or skimmer. Glass pans were advertised as "preferable to all others" because they were "non-conductors" and therefore kept the milk "uninfluenced by storms or climate." It claimed that these items dated from 1800 to 1850! I cannot recall ever seeing one of these items before-- how about you? The starting bid was only around $5.00 and the shipping was very reasonable at only a couple dollars. What did I have to lose? The auction was about to end and there had been no bidders. Besides, I liked it so why not place a bid and see what happened. The auction ended with no other bidders and, the more I thought about it, the more I was pleased with my purchase.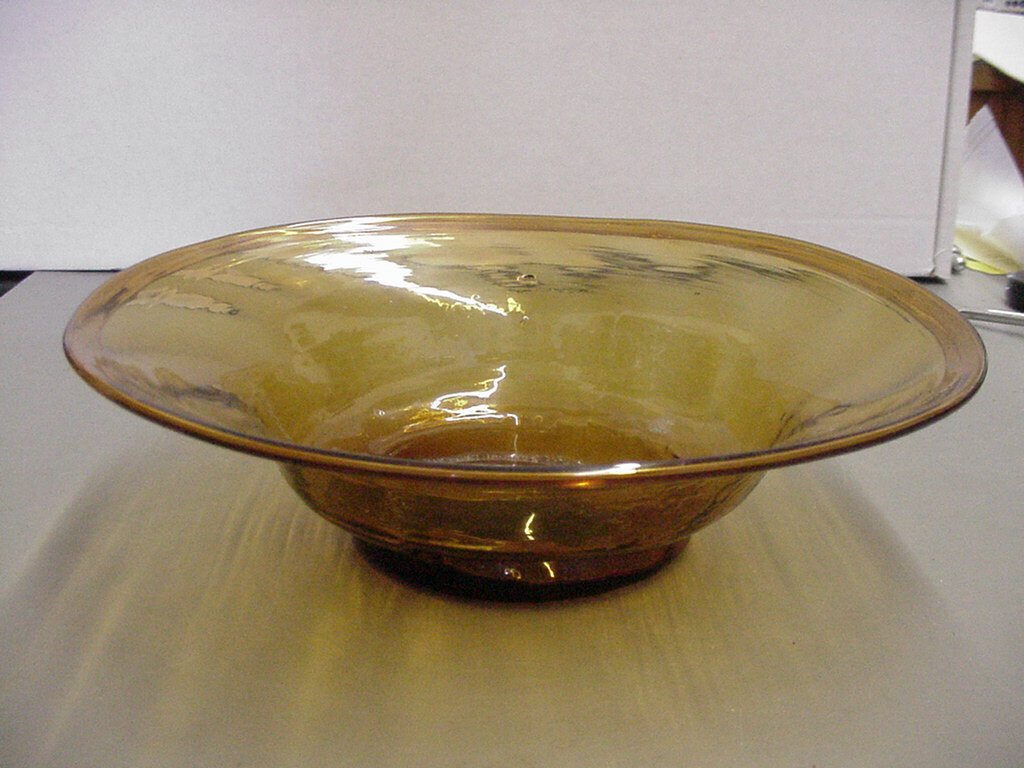 That is when it occurred to me that maybe this seller had some other great treasures listed. A quick search showed that she did have some other items but no more antique glass. However, she had several old coins listed and they to are right up my alley! The thing is, she must have listed these items one right after another so the auctions would all be complete within the next hour.
What was cool for me as a bidder, and not so cool to her as a seller, was that there were no other bidders! It was as if my timing was perfect and one after another I won auction after auction with no challengers! The coins were not in the best of shape but most would have been graded (G) good or (VG) if you follow the description of Very Good (VG) Well worn. Design clear, but flat and lacking details.
I had 5 to 10 minutes between auctions so I grabbed a coin value guide and looked each one up. She started the bids from between a couple bucks to around five dollars. The real kicker was that she clearly stated that if anyone won more than one auction, she would combine the shipping costs to save the winner money!
That is a big deal on e-Bay because sometimes the shipping that a seller charges is where they make their profit. I have seen some shipping cost more than the item itself is worth! I was having a great time and one after another I won some really cool coins!
I got the coins out as I was writing this and I had mixed them into a bag with coins that I recovered at our club's recent seeded hunt. If you are a member of the detecting club, you can take part in our seeded hunts. The two hunts cost $35.00 and we only bury true old silver coins. I was a little slow at the hunt but I did find about 18 silver dimes, mostly Mercury type and a few Indian Head pennies. This list is mostly coins that I got from the auction and I was especially happy to get a Capped Bust Coin! My wife and I also won two super nice almost uncirculated silver dollars in the dollar raffles. They were both Morgan Dollars, one was 1879-S and the other was 1887!
The milk pan and all the coins were around $35.00 including shipping!
The auction coins were:
1909 Barber quarter, 1914-D Barber Dime, 1857-O Seated Liberty Half Dime, 1837 Capped Bust Dime, 1916 Barber Dime, 1889 Seated Liberty Dime, 1875 Seated Liberty Dime, 1852 Silver 3- cent piece. And a 1865 3-cent Piece.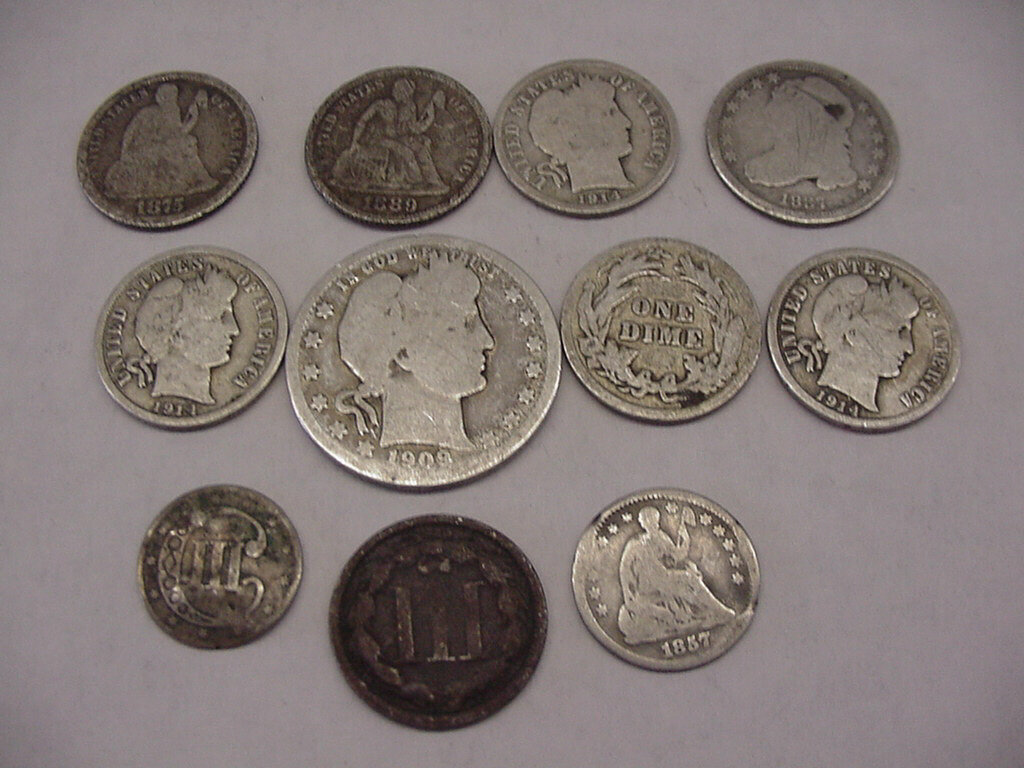 ---
SEE YOU AT THE MEETING JUNE 8th! The meeting is at the downtown Kalamazoo Library, 315 South Rose. The meeting starts at 7:00 pm and are in the Van Deusen Room.