THERE IS NO BUSINESS LIKE SHOW BUSINESS



CLICKING DOWN


Hi friends! Time is clicking down towards the 39th Kalamazoo Antique Bottle & Glass Show!

I hope you are enjoying this spring like weather! I am starting this newsletter on Saturday, March 3rd and it is a beautiful day. I just finished a day at my detector shop and it was a busy one!

My business is highly seasonal, which makes my winter months, right after Christmas, very lean. But, when the snow melts, the ground-frost breaks, people want to get back outdoors and enjoy metal detecting and bottle digging!

We only have a limited time left before the bottle show. At the last meeting, we passed around some sign-up sheets. One sheet was for the Hospitality Suite's food and beverages. Based on what I saw, we are in serious need of help!

Chuck shared with me since the last meeting, a decision was made to have a display room at the show this year. If that is the case, we will need to pass another sign-up sheet. If you can possibly make it to this next meeting that would be a great encouragement! We are going to need all the help we can muster! If you cannot make it, but you are willing to help, please let us know! Here is the phone number for Chuck Parker (269) 329-0853, John Pastor (616) 581-7005

As most of you know, Chuck Parker, our club president, has been laid up with complications following knee surgery. When I recently talked to Chuck, he tells me he starting to hobble around on his own, but still is using a walker for balance. Chuck tells me that he is determined to be at this meeting . . . so be on the lookout!

We have been putting off taking another trip to Bimbo's Pizza for the sake of our wounded leader. We are going to do our very best to get our pizza order in this month. But, here is what must happen. We need to get down to business at the library and dig into all the show business. Things will go smoothly if we have a good turnout of willing helpers.

<>

At the last meeting we passed around raffle tickets for the metal detector. We still have a gob more! Be sure to pick up a batch at this meeting!




<>

<>

<>
This raffle prize is really a sweet metal detector! For the last six years, Garrett has been king-of-the-mountain for both domestic and international sales. What does it take to accomplish that? Simple, they built an powerful, affordable metal detector! This industry has been extremely competitive, especially in the entry level.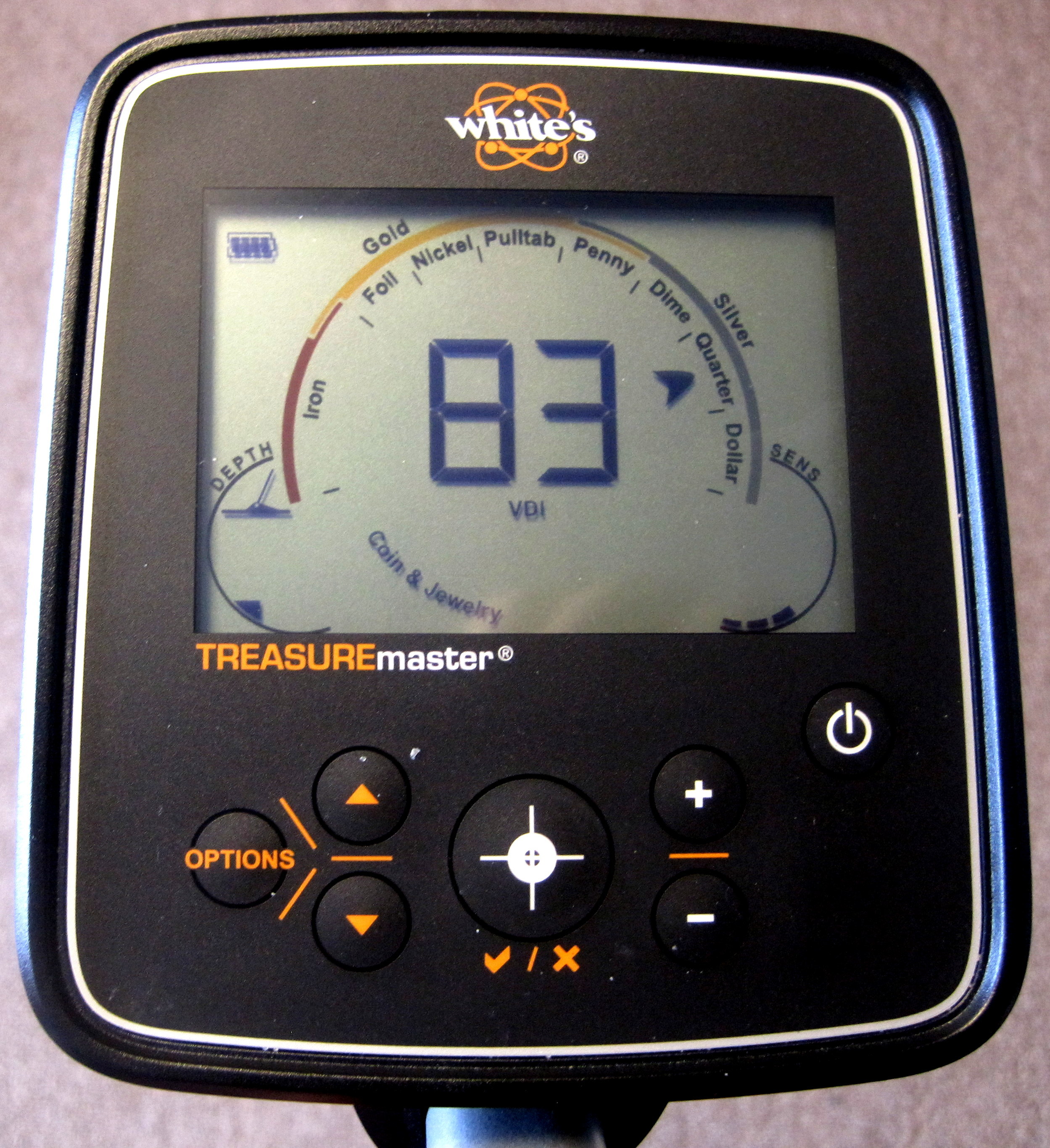 I have watched as the top two manufactures, Garrett and Whites have been right on each-other's heel for years! However, for the last 6 years Garrett seemed untouchable in the $600.00 and below price mark! I was at a loss to explain it. I guess Whites had so much invested in the high-end market, they where hit by surprise when the hot little Garrett Ace series hit the market. It seemed like they were blind-sided by these inexpensive detectors.
I am not sure these hot little entry level detectors were actually the best idea for the industry as a whole. The value of a vast number of detectors in the used market took a serious hit! The other issue was, the repair side of the business was hurt. Who wants to invest money fixing an older detector when for the cost of parts you can purchase a new machine?
Especially considering that the new detector is lighter, more accurate, and costs far less to run! And, add to that, the new detector comes with a warranty!
What seemed to be a secret, Whites wasn't sitting on their hands the last six years. They were looking over that detector they had to compete with, asking themselves 'how can we improve on this detector?'
One area they felt could be improved, was the very first thing everybody sees, the meter. The White's Treasure Master has a larger and much easier to read screen that is double the size of the Garrett.
Also, on this larger screen you will see much greater target information, including target number assignment. This technology enables the user to see very tiny differences in target identification.
For example, a typical 14-K gold gentleman's wedding ring will ID as a common pull-tab on most detectors. On the Whites Treasure Master detector, my ring is assigned number 37. With a little experience you will soon discover that it is very rare to see a pull-tab that reads above 32. That is not to say some gold rings will not read 32, but you get my point.
Another feature, addresses deeper ground penetration, or 'depth.' If a metal detector's search coil is too sensitive, the detector starts to get feedback from the conductive minerals within the soil. This is similar to driving your car in a thick fog with your high-beams on. Instead of seeing into the fog, your lights reflect back off the fog.
With the newer very low frequency detectors, the coil sensitivity can be adjusted to penetrate the soil without this problem of 'reflecting' off the ground.
On most entry level metal detectors, the 'ground balance' is performed during the final assembly at the factory. The coil sensitivity is adjusted on the circuit board to ignore a high mineral concentrate, which is far worse than you are likely to encounter. This type of factory coil tuning is called 'Pre-Set Ground Cancel.'
Don't get me wrong, Garrett did not go overboard with this step. Remember, the Garrett Ace series detectors are great well-loved machines because they really do get the job done. However, tuning the search coil to ignore a harsh mineral sample may de-tune the coil more than necessary for moderate to low mineral conditions.
The White's Treasure Master has a full time automatic ground cancel system. This circuitry isn't new, but it was reserved for the higher end detectors. The detector adjusts the coil sensitivity for the actual ground you are searching. It is a process of continually sampling the coil stability.This system is called "Auto-Trac." This automatic coil monitoring, adjusts for changes in ground conditions, making real-time adjustments, so you get maximum depth all day long!
Another feature on this new detector is called 'V.C.O. Pinpoint.' This is also not new, but it is in this price-point. V.C.O. stands for Voltage Controlled Oscillation. This feature is used to aid in the pin-point operation. As the target enters the center of the coil's field pattern, the audio pitch climbs higher and higher. The detector reaches the highest pitch when the target is centered under the middle point of the coil. This greatly speeds up the time for target recovery!
Another feature is a new generation digital processor. In the past, the metal detecting manufactures used processors designed for a completely different industry then adapted by them to suit their need. As a result, there was a clear compromise in accuracy.
The big problem was the detector was able to detect a target deeper than it could actually identify the target. This problem goes a long way back, but you have to be an old timer to remember it.
Back in the 70's and early 80's I was a Compass Metal Detector Dealer. The hot detector to own back then was the Coin Magnum. This was a great deep-seeking detector, but the discriminating (trash rejection) only worked if the trash was within the top two inches. They sold this problem as being "By Design!"
They made the claim that most trash is light weight like foil and pull-tabs and these items are usually found near the surface.
Many of the newer target ID detectors today can detect targets deeper than they can ID the targets. What happens is this; you get a weak yet repeatable signal, but the target ID meter does not respond at all. If you dig these mystery targets you will usually find a badly oxidized piece of trash. After you go through this digging enough, you will stop chasing ghost signals!
Here is the secret, a very well kept secret, it is called depth reading. Many detectors have a target depth indicator, but they too have limited accuracy. This function is calibrated to be accurate on coin and jewelry sized objects. However, if you get a repeatable weak target signal with no target ID, check the depth. If the target reads as a shallow target, it is most likely trash. You can trust this to have a very high degree of accuracy.
If the target is coming up as a deep target DIG! Granted, it could still be large trash, but it also could be a very deep old coin!
The White's Treasure Master's processor can identify targets at 90% of it's detecting range which is pretty impressive!
And the processor is much more efficient. This detector runs off just two AA batteries!
That's right, that is only 3 volts!
I still have one of my first Whites Detectors which was powered by a vacuum tube! That detector takes 3 batteries, and, one was 67.5 volts! That one battery weighed more than this entire Treasure Master Detector!
Hard to believe, but I have only just started! This is a detector worth buying tickets for!
---
The Following members were at the February meeting. Vincent Grossi, Ed Nickerson, John Winkler,

Bill Drake

,

Mary Hamilton

, Tim Hayes, Scott Hendrichsen,

Ron Smith

, Kevin Seigfried, Al Holden

Kevin called the meeting to order at 1900 hours GMT. "We are trying to maintain the military-like order as was maintained by our absent Star Fleet Commander."

We discussed the Dealer's Hospitality Suite, and that discussion will continue at this next meeting. I don't have possession of the sign up sheets. But we did discuss a tiny little problem we had with items being duplicated. It wasn't actually a big problem but would be better if we maintained a tighter pattern.

I don't want to bore you, but, maybe you can find it useful to know, I am bringing the condiments, which include; salt & pepper, mustard, olives, horseradish, cottage cheese, cheese sandwich slices, (cheddar and swiss) roast beef and ham sandwich meat.

One thing that I remember we were light on, was large serving spoons.

You see, this is some of what we need to settle at this meeting. Also, we will need to start a sign-up for security detail at the show room. Please try and be at this meeting if at all possible.
---
LAST MONTH
The items we saw at the last meeting included a very nice Dealer Award Certificate that Kevin printed up. It is for a dealer drawing good for one free table at the 2019 Kalamazoo Antique Bottle Show.
I have to admit, Kevin did a beautiful job with this print job! I think he has been practicing on $20 and $50's.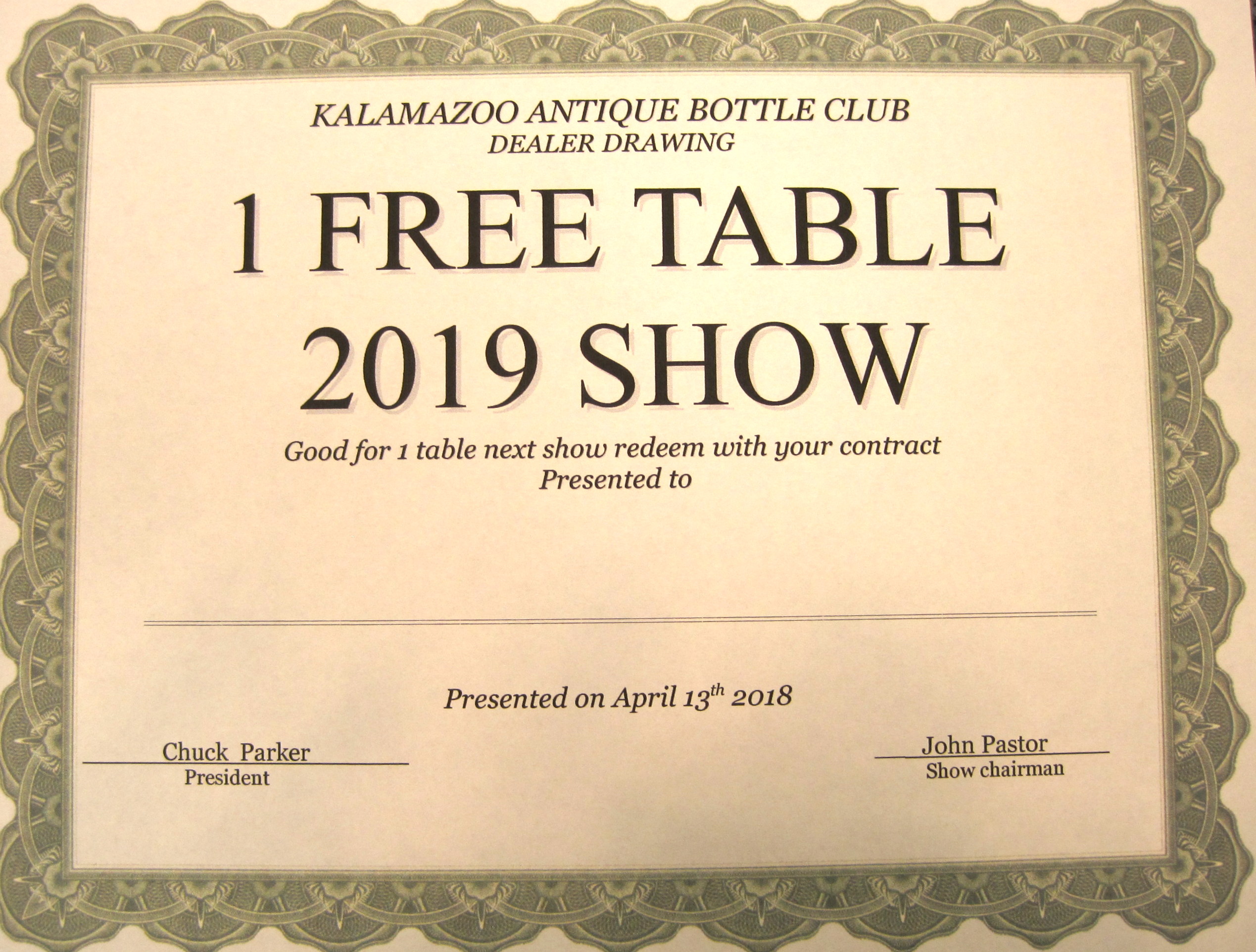 I have had a theory about counterfeiting. Most criminals print fake bills in common denominations. Why do that? People are far too familiar with $20, $50 and $100's. I would print something people can't easily identify. After all who could actually say what a $6.00 or $9.00 bill is looks like?
Kevin also had some nice paper label sodas. One was a PRAGER BEER from DETROIT MI. in amber with crown cap. Another, was a, BROWNIE ROOT BEER with a bright happy label. It is a clear-glass crown cap beverage bottle, also from DETROIT.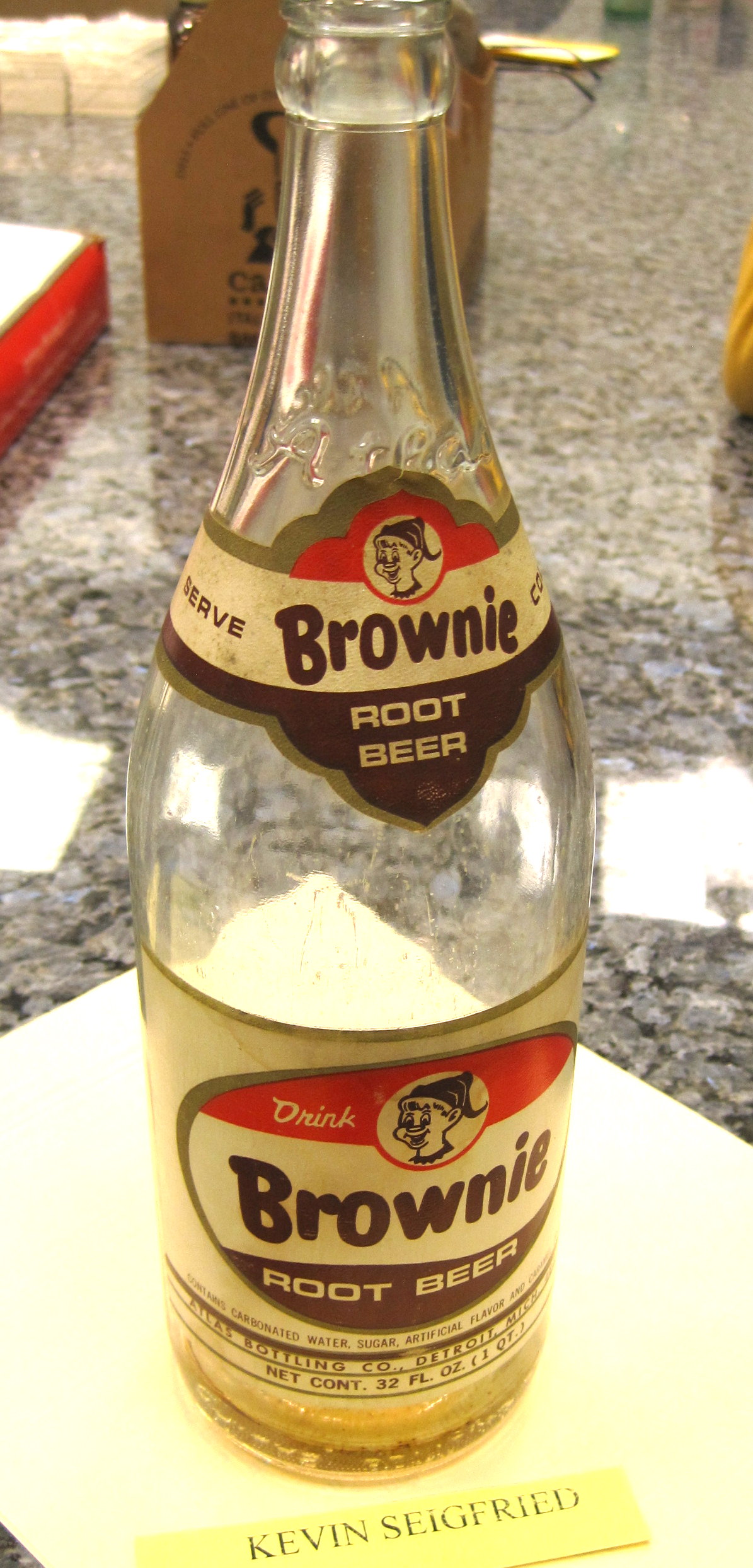 I am a Ginger Ale lover as most of you know. I am especially fond of Vernor's. Kevin displayed neat a east coast PALE DRY CLICQUOT CLUB GINGER ALE from MILLIS MASS. The bottle is a Seven-Up green color with crown cap.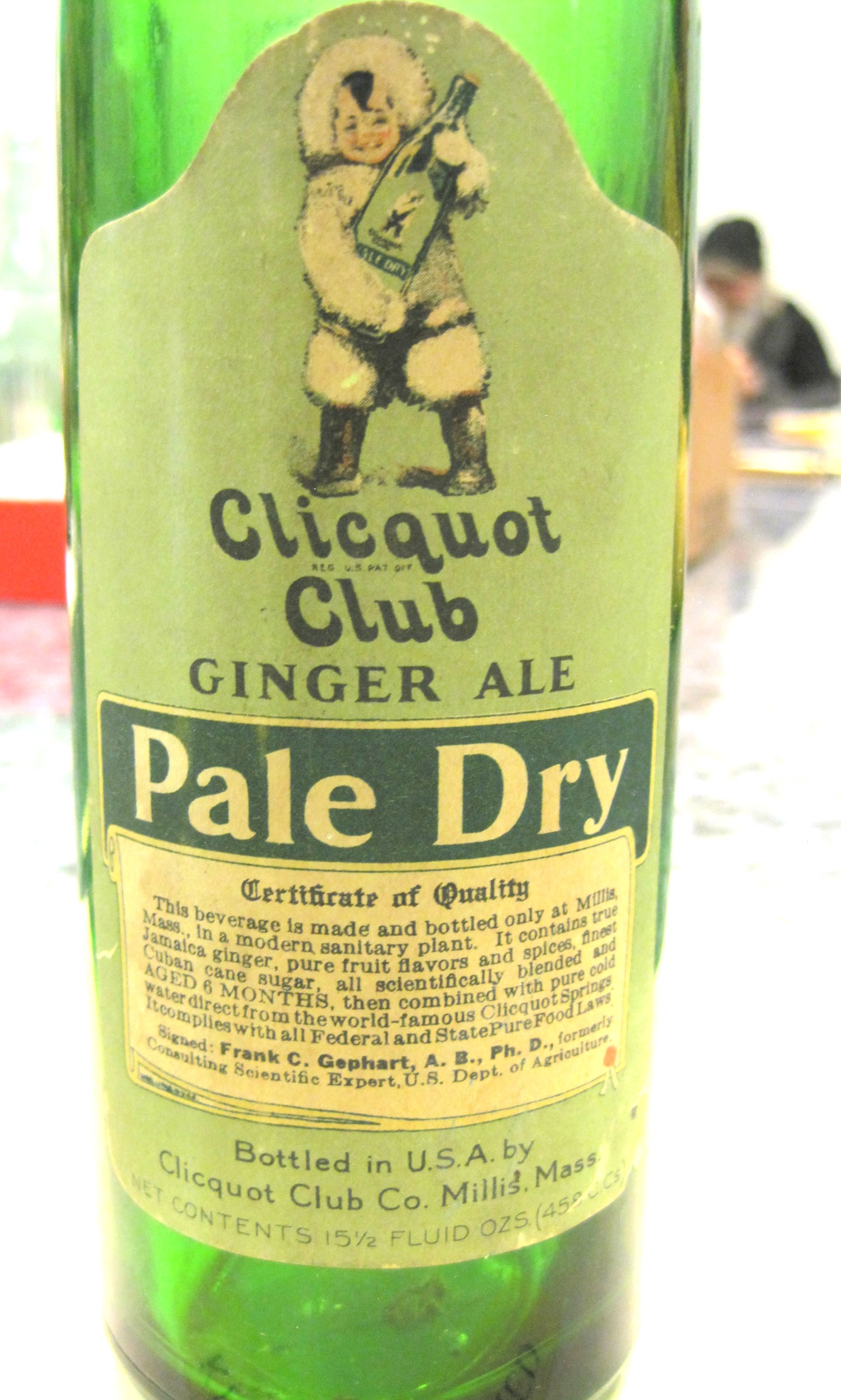 The label reads; "This beverage is made in a sanitary plant. It contains true Jamaica Ginger, pure fruit flavors and spices and the finest Cuban sugar aged 6 months. Then it is blended with pure cold water from the world famous Clicquot Springs."

Vince, our favorite

Greenhouse King , brought in some beauties at the last meeting. One was a teal-green beverage bottle with a heavy applied top. It really was a treat to see because it was crude in all the best ways! The bottle neck was cocked-off in one direction yet the applied top was level with the base. Speaking of the base; there was enough glass in the bottom 'one-third' of this bottle to make two more bottles! The icing on the cake was lots of big bubbles! This is one example of how an un-embossed bottle can be of collector value!

Another bottle Vincent displayed was a DR. R.V. PIERCE medicine bottle in clear with a screw cap top. The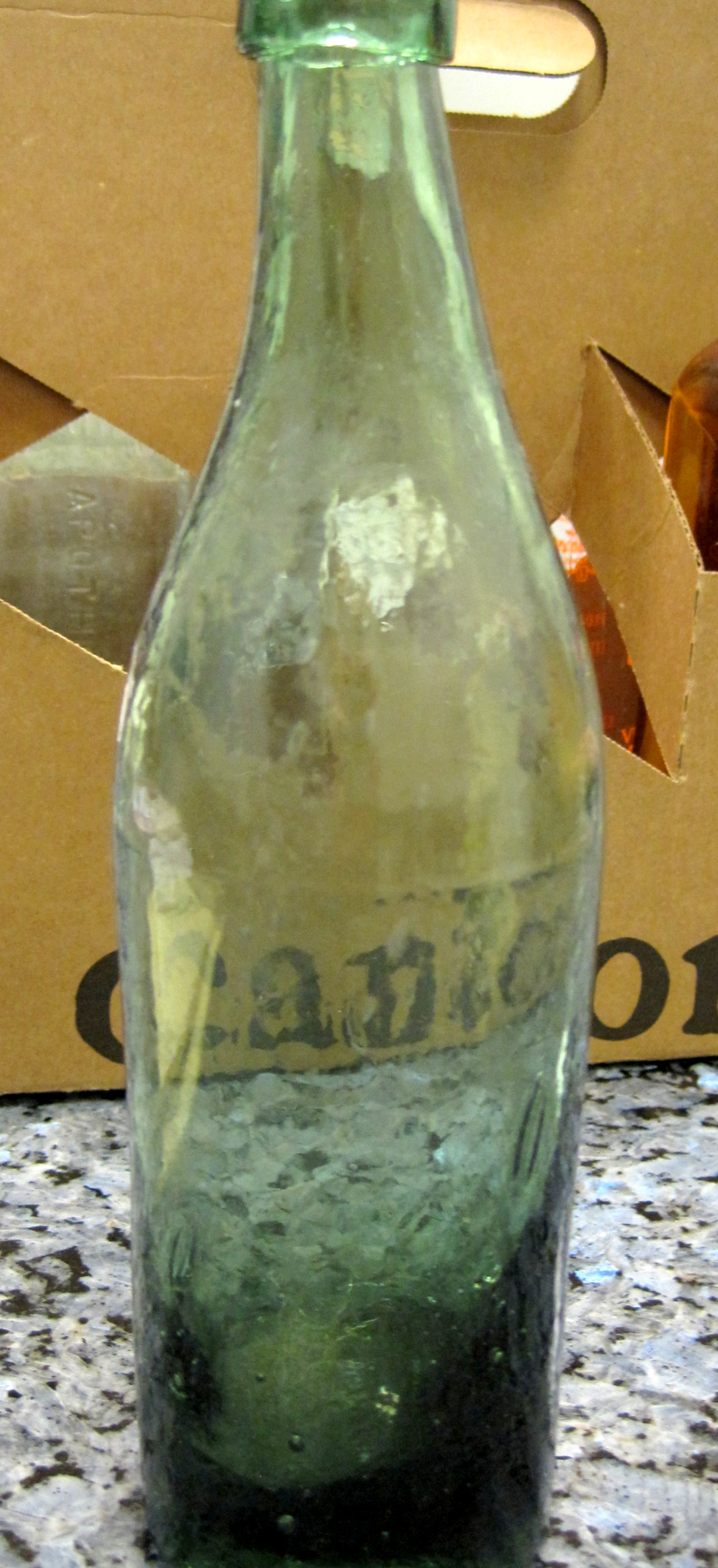 cap, a little tarnished, shows the image of the Doctor himself!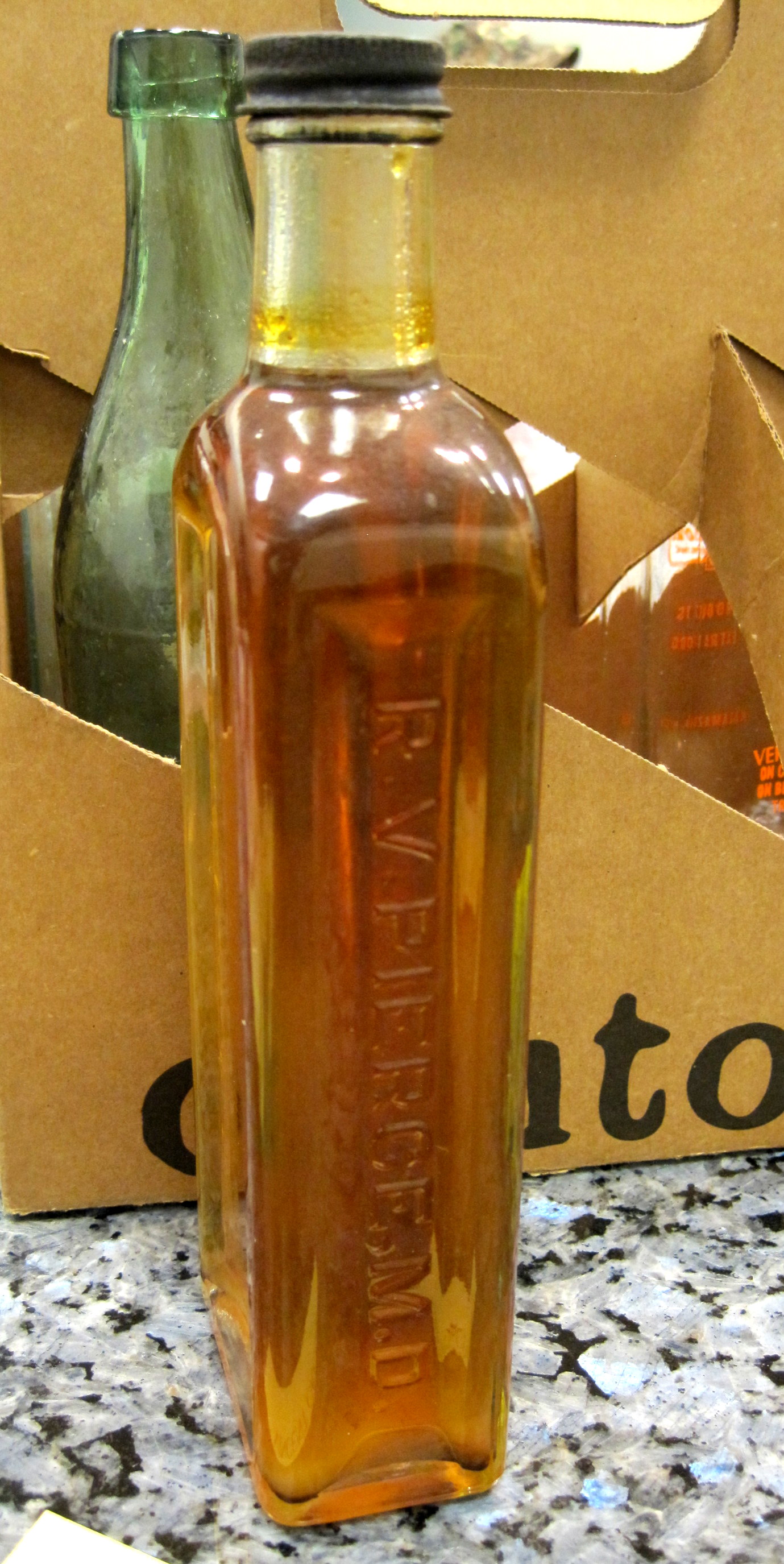 Dr R.V. Pierce was Ray Vaughn Pierce (1840-1914).
This man became one of the greatest snake oil sellers in America. From Buffalo, NY, Dr.
Pierce decided to turn a questionable medical degree into a quackery empire that included an Invalids' Hotel.
His World's Dispensary Medical Association endlessly dispensed Dr. Pierce's Golden Medical Discovery and a host of other elixirs, copies of his medical book, "The People's Common Sense Medical Adviser" filled with slick advertising giveaways.
Of course, Pierce had something special for the women, or rather "Weak Women."
Now, he was not saying women are weak as we think of weak, Dr. Pierce featured Anna "Annie" Edson Taylor, the first daredevil to survive going over Niagara Falls in a barrel, for some of his advertising. When strong women became weak through illnesses suffered by women, the good doctor had just the remedy! In fact one of his biggest competitors was the very well known Lydia E. Pinkham's Vegetable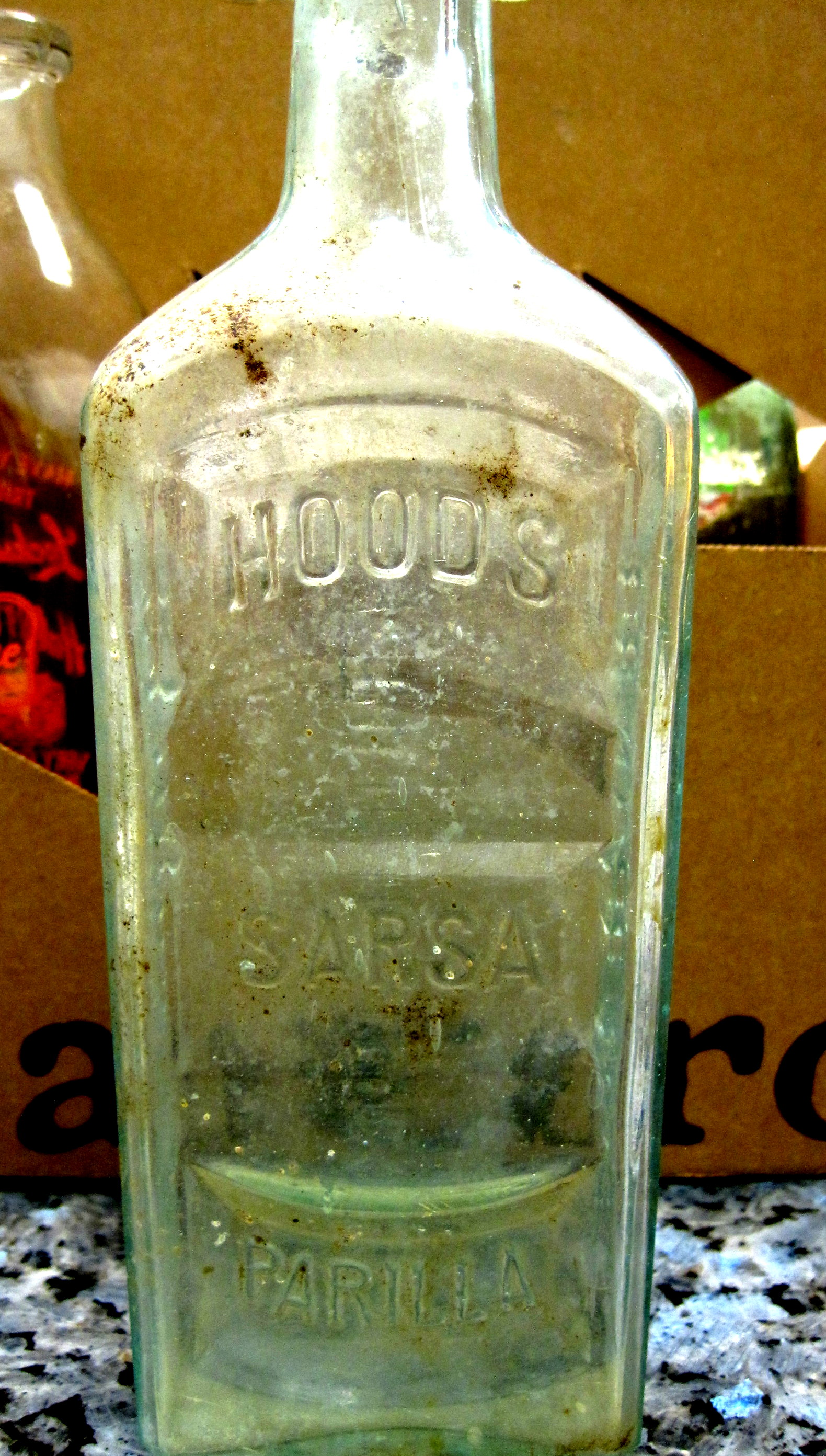 Compound, and Kalamazoo's own Dr. Pengelly's, Zoa Phora . . . the Woman's Friend!
Another bottle Vince displayed was a HOOD'S SARSAPARILLA. Here is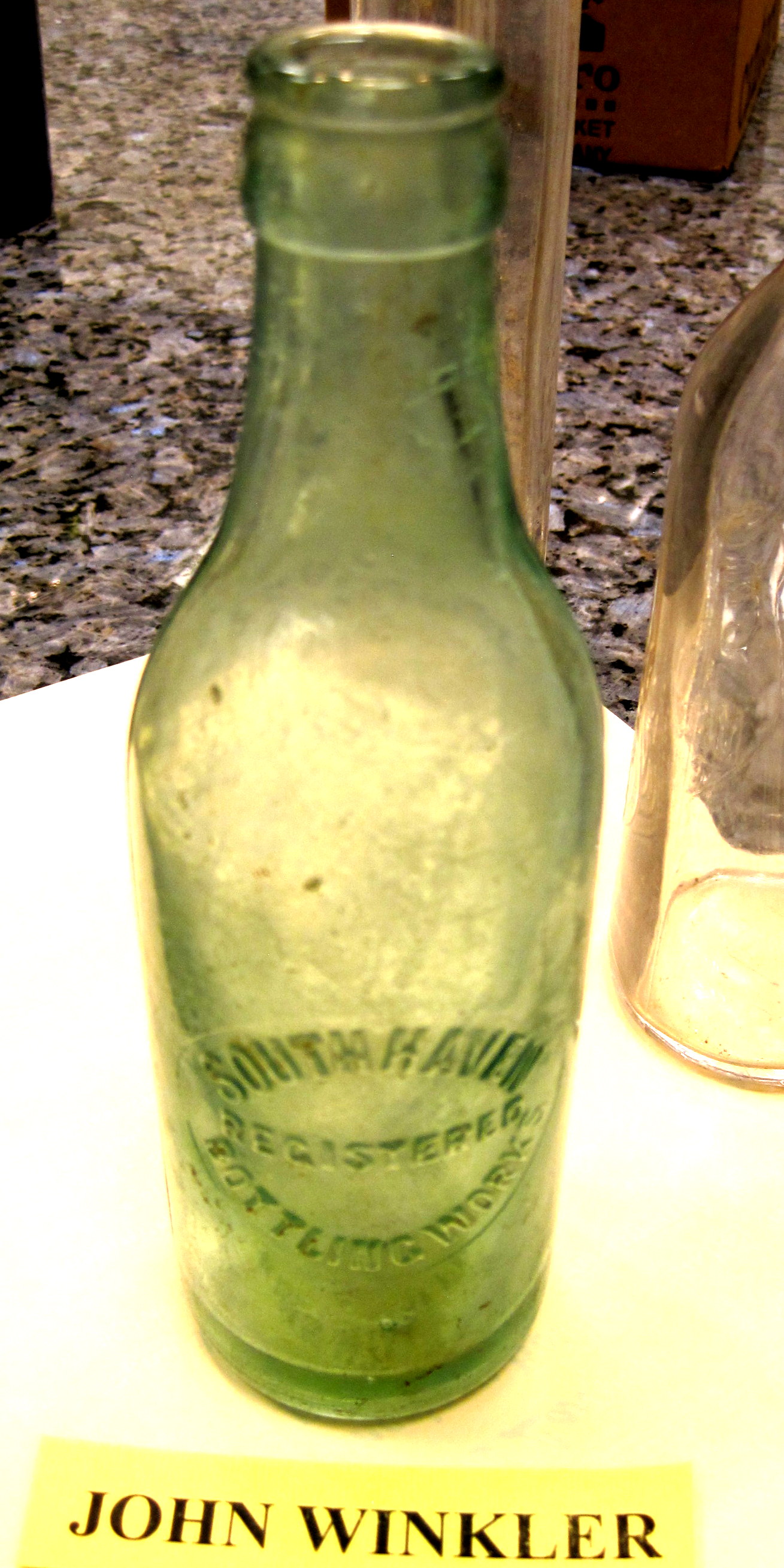 another classic antique bottle with a story all its own for another time. It is interesting to note that the William R. Warner Co. Purchased Hood's sometime in the 1880's for nearly half a million dollars.
John Winkler displayed a nice crown top South Haven Bottling Works soda bottle in aqua blue. Another bottle in clear was a Citrate of Magnesia, and a fluted sauce or capers bottle.
Tim Hayes displayed a beautiful half pint whiskey flask in aqua with a eight sided star on one side and a sail boat on the opposite side. The flask was attributed to the Bridgeton Glass Works in New Jersery and was likely made between 1830 and 1860. I have one myself because I love boats and ships! It is a really cool little pocket flask! The area where the Bridgeton Glass Works was located was a active fishing community.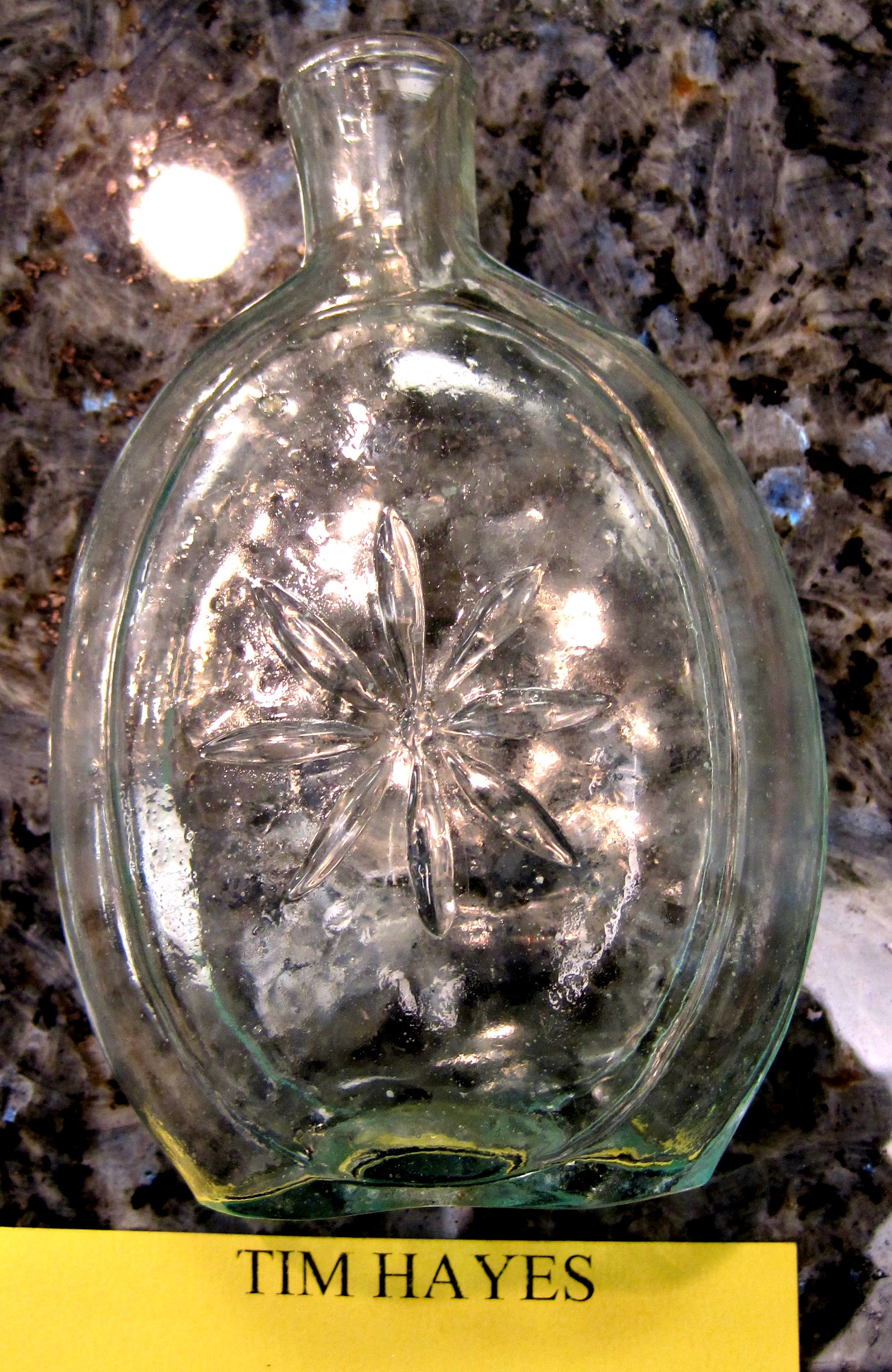 Tim also displayed another small flask with a egg shape. When I see these round bottom bottles I start thinking "Purse Bottle" It could have easily been a spirits bottle but many early English egg shaped bottles this size are also perfume bottles.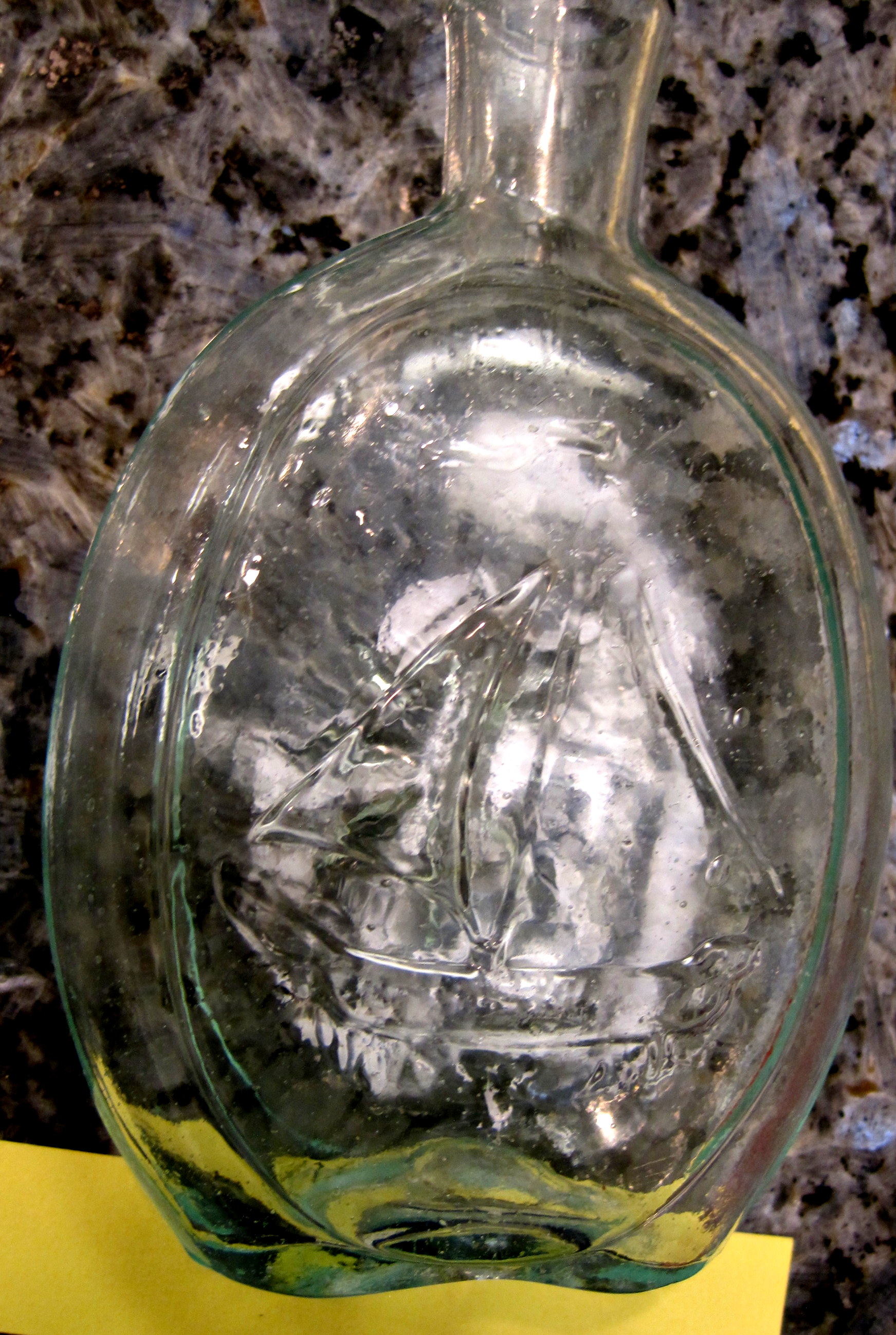 Bill Drake displayed a tiny antique glass DAINTY- MAID EARIGATOR return flow ear flush. The Dainty Maid Company, from Meriden, Connecticut, made douche apparatus that company representatives could sell at "parties" of neighborhood ladies, relatives and friends.
That is much as I will say.
This Month the theme will be work, work, work, PIZZA!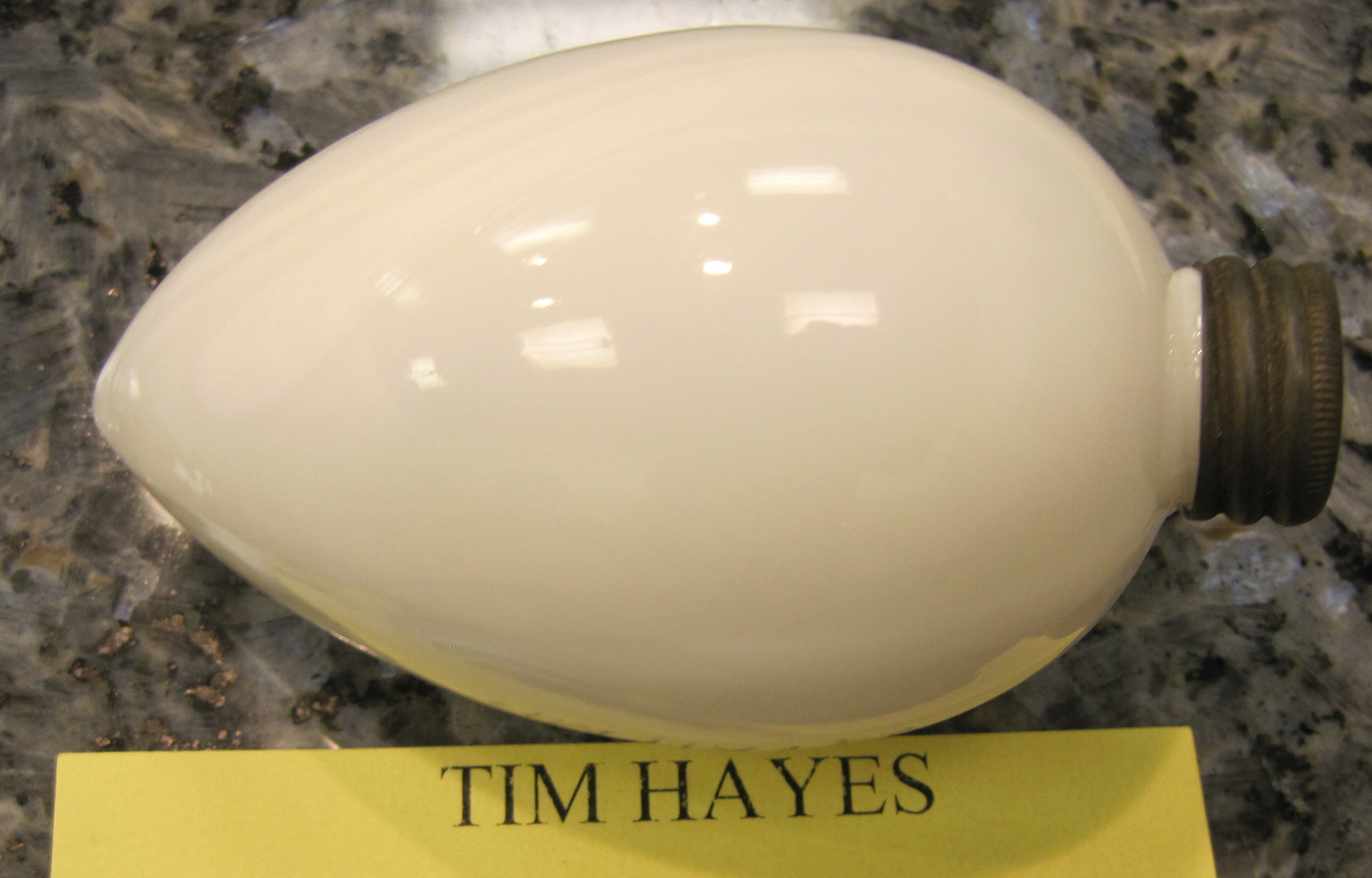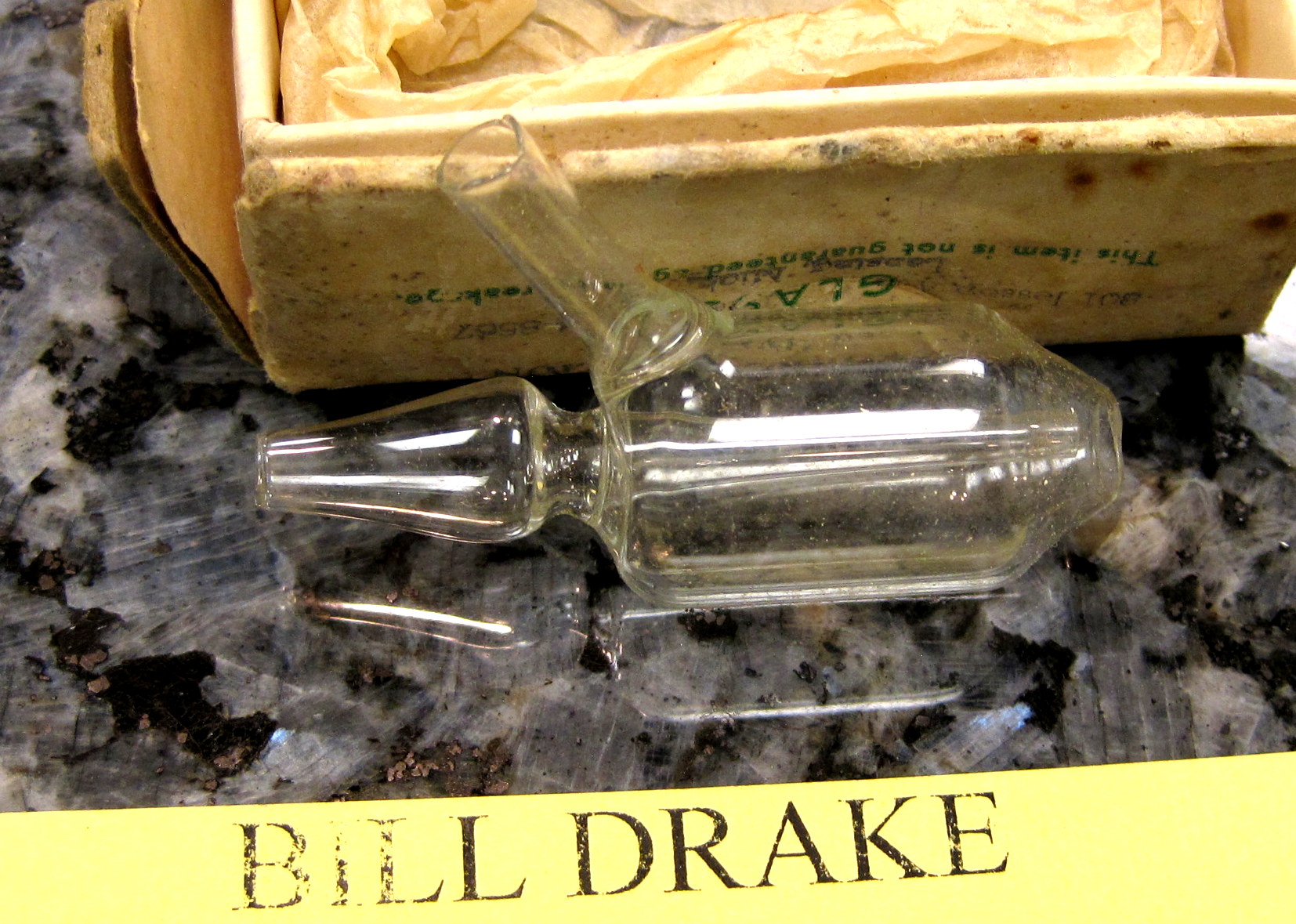 ---
KALAMAZOO ANTIQUE BOTTLE CLUB
Meets at the main Kalamazoo Library, 315 South Rose Street. We meet on the third floor in the conference room. This meeting is March 13th. Meeting starts at 7:00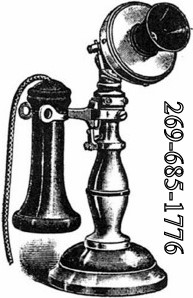 Phone 269-685-1776
HOME