THERE IS NO BUSINESS LIKE SHOW BUSINESS



CLICKING DOWN


Hi friends!
Time is ticking down to our 41st, Kalamazoo Antique Bottle & Glass Show! Just think, our 41st anniversary year, wow!


At this point, we only have a limited time left before the big show, so, at our last meeting, we passed around some sign-up sheets. One sheet was for the Hospitality Suite's food and beverages. Based on what I saw, we are always in need of more help! But thank goodness we did get the ball rolling. Many thanks to Kevin for getting things organized as usual!

Chuck shared with us, that a decision was made to have a display room at the show this year. Please friends, If you can possibly make it to this next meeting, that would be a great encouragement to all of us.


And, at this next meeting you will get a chance to see what we already volunteered you for! If you cannot make it, but you are willing to help, please let us know! Here is the phone number for: Chuck Parker is, 269-329-0853
And John Pastor is 616-581-7005. I have always had the best luck reaching them right after midnight.

I called John Pastor a week or two back to discuss the raffle prize. We will be featuring a new 2020 White's Treasure Master metal detector again this year!


I got lucky by accident! I had marked a White's Treasure Master for a customer's Lay-a-Way purchase. I marked it with the customer's name
(A reminder to myself not to sell it.) I sold a number of these by lay-a-way because the detectors came with the extra bonus items, including a pin-pointer and headphones. Folks didn't want to miss out on these deals as they were waiting for tax refunds!

We had no idea whatsoever the price was going to go up $100.00 and raised "without the bonus bundle!"
When this customer came in to pick up his new detector, it was a Saturday, when I was super busy. I knew exactly what he had purchased, so grabbed the first box I came to. The one that I grabbed wasn't the one I had marked with his name!
So, time rolls on and I continued to sell around that detector because it was marked SOLD!

One day when I was catching up on inventory, I stumbled onto that "SOLD" detector. I pulled up the Lay-A-Way ticket . . . and gave him a call.


"Hey Vern, are you still planning on buying this detector?"

Vern responded. "Al, I did pick up my detector, and I really love it!"
He went on to boast about some great finds he had made with his Treasure Master! For real!

Now, skip forward a few months; John Pastor e-mailed me about getting some raffle tickets printed. That is when I realized "How Perfect!" We have the same great detector to raffle-off as last year! All the details on the raffle tickets can remain the same, and I still got it at the detector at the old price!
I mentioned last year how White's pulled-out all the stops when going after their biggest competitor, Garrett Electronics.

At the last meeting we passed around raffle tickets for the metal detector.
We still have a gob more! Be sure to pick up a batch at this meeting!


This raffle detector has a large LCD screen with visual target ID, and it even uses a digital sweep needle like the old analog detectors . . . which is really cool!

Here is the kicker; White's, some very aggressive competitors, first put these machines on the market at a break-even price point! This meant they were actually making next to zero profit. Then, to really take a knock-out punch at the competition, for the 2018-19 Holiday season, these detectors were offered with that discounted accessory bundle!

With this bundle, the purchaser got headphones, treasure apron, White's baseball cap AND a free $119.00 Bullseye II, hand held pin~pointer!!!!

I know . . . . my talking about metal detectors can be boring to some, but I could go on and on about this detector! I can teach whomever wins this detector some amazing tricks . . and they will also get free training and full service!
The detector, features include:

Double Size LCD Screen, Faster Digital Processor,
Better Noise Filtering,
Real Time Ground Erase, Automatic Ground Track,
User Locked Tracking,
Greater Target Depth, Enhanced V.C.O. Pinpoint,
Greater RF & EMF Filtering Stability,
Volume Control, Sensitivity Control,
Programmable Discrimination,
Rain Proof, Uses Only 2-AA!, Only 2.5 Pounds!
It truly is an awesome treasure detector!
We already have the raffle tickets, and, they are selling briskly! Be at this meeting and pick up some to sell to your friends and family!
Only $1.00 each, or six for $5.00!!!
Chuck gave me a whole brick to sell! Go ahead, challenge yourself! Take more than you think you can sell . . and sell them all! Have fun with it!
---
LAST MONTH
The Following members were at the February meeting: John Winkler, Tim Hayes, Vincent Grossi, Kevin Siegfried, Chuck Parker, Ron Smith, Bob Haffner, Susan Anspaugh, Mary Hamilton, Scott Hendrichsen and Allan Holden.
At the meeting we discussed the Dealer's Hospitality Suite, and that discussion will continue on somewhat at this next meeting. I don't have the sign up sheets, but Kevin said we are still looking for mashed potatoes, salads, and cakes.
We really need to nail this down at this meeting! Please try and be there.

---
I want to mention that we have been bumped around again for our actual meeting room. For the last two meetings, we have been pushed out of the Conference room. So, when you reach the third floor, if we are not in the first room, (Conference Room), continue on toward the Van Deusen Room.

Watch for a sign. Just before the entrance to the main Van Deusen room there is an easy to miss hallway that takes you to an area on the backside of the, Van Deusen Room. We have been banished to the poor-side-of-town, down to Johnny River's neighborhood.

We have been serenaded at each meeting by a boatload of Kalamazoo Guitar players located on the apposite side of a heavy folding room divider. We were told the room divider is sound proof, but it is not! I am not sure who this group is, but it is an acoustic guitar group. They are not terrible, but personally I think they need more practice.

---
PLAINWELL LIBRARY
I mentioned at the last meeting; I was asked to give a talk on antique bottles at the Plainwell Library. The current library building is only about 20 years old, and now they are building a new building on the same corner lot.

When I was a boy growing up in the 50's, we had milk delivery,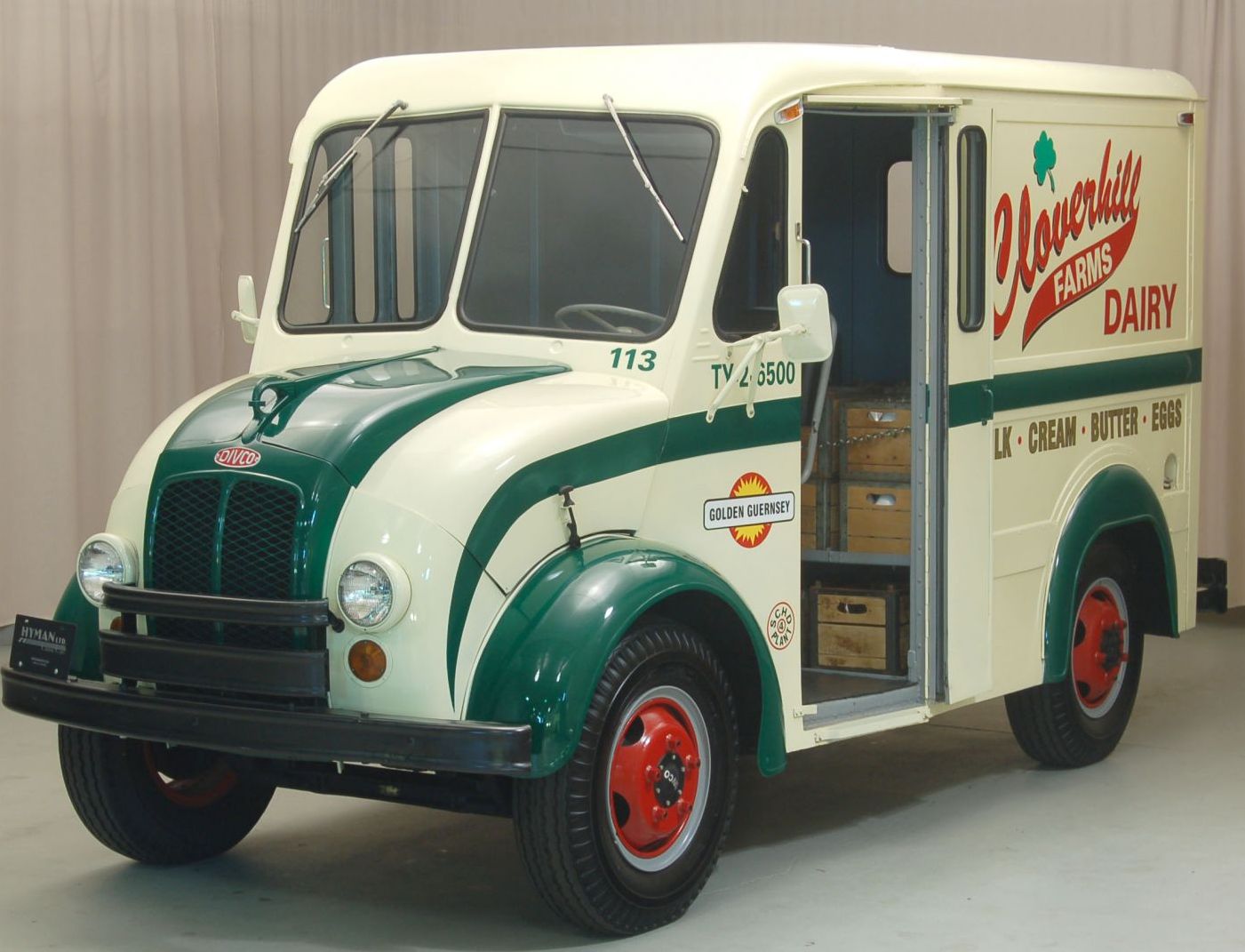 bread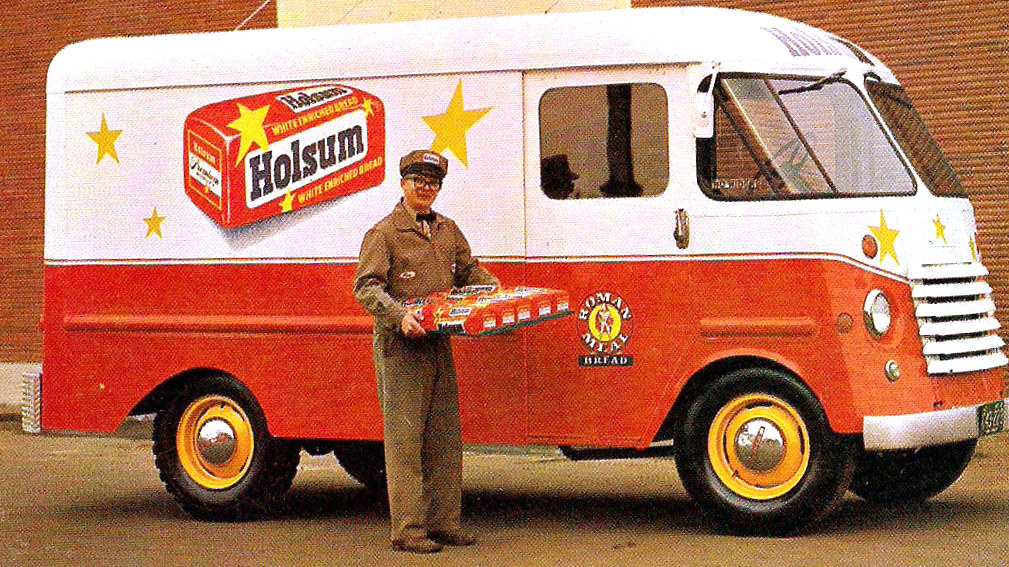 delivery, and even the Michigan Cottage Cheese truck was known to park in front of our house. I have five sisters and two brothers. I have been told I look like the cheese-truck driver! (For the sake of my mother's honor, my father did drive the cheese truck!)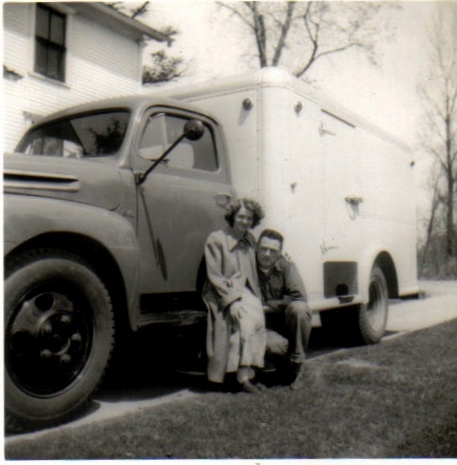 What we didn't have, driving down Cedar Street, was a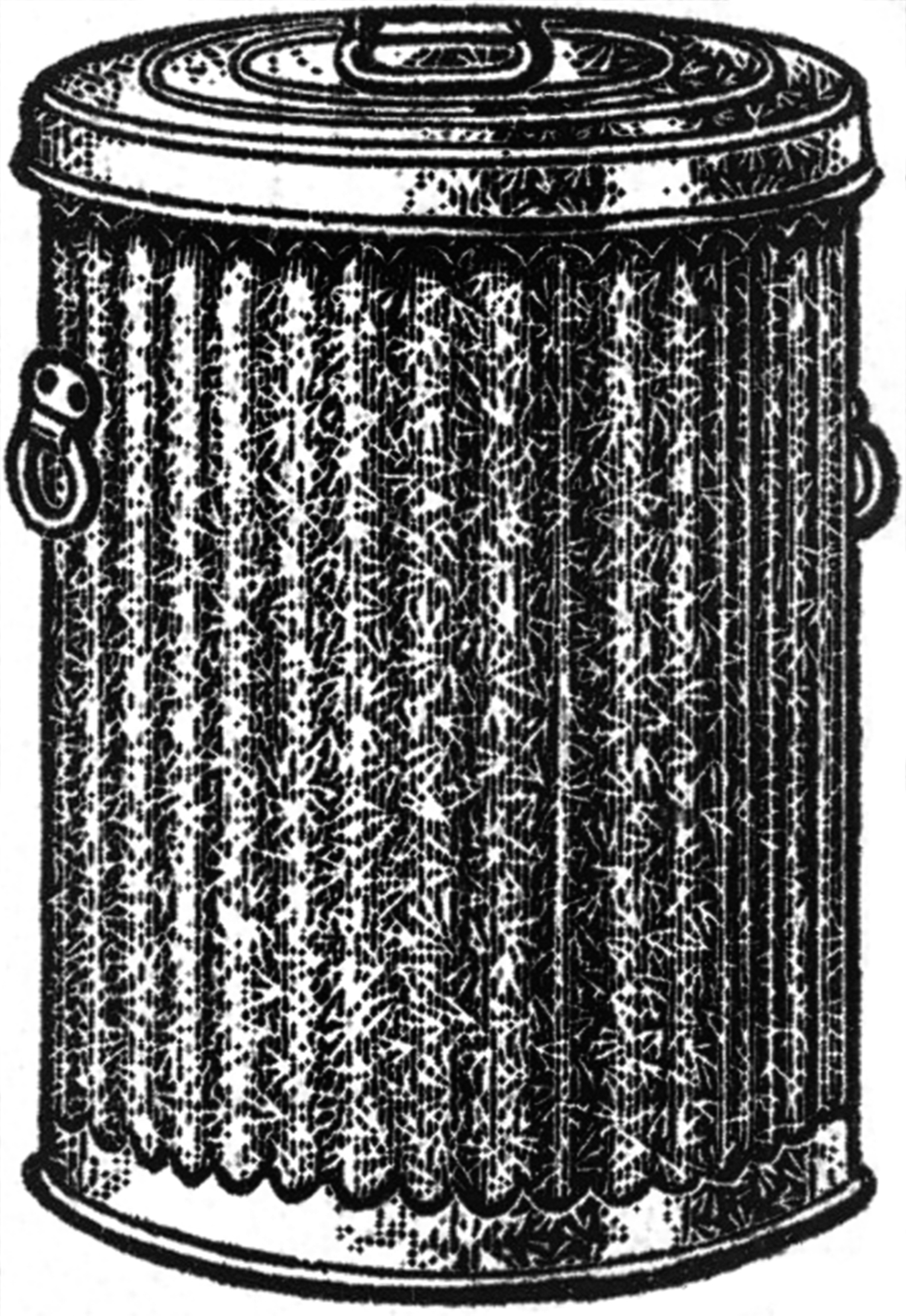 garbage truck. We used one rusty, old, oil drum burner barrel for whatever trash we could burn, and a couple metal garbage cans for bottles and cans, diapers, egg shells, fish bones.

My father had a little box trailer made-up with a Ford Model-T rear differential for a trailer axle. Every Saturday he would load the garbage cans and perhaps that broken down lawn chair and other trash in that old wooden spoke wheel trailer and off we would go hauling it down to the city dump. I can still remember climbing into that trailer and tossing stuff out with glee!
The point to this whole story is; one of the local dumps was right where they are building the new library! Which by the way, is also the location of the old library building, where I put on this antique bottle talk!

I learned as a very young boy, you do not pave over top soil! This is because it is made up in-part of living, organic, material which is subject to decay and settling. I have seen giant parking lots which were laid on unstable ground and usually in the first few months they break all apart! And never build your house on a dump!

To do the job right, they scrape-up and haul-away the top soil, then replace it with a stabilizer gravel. Next, the stabilizer gravel is mechanically compacted to give a strong, solid, unsettling, foundation for the new pavement.

When they built the Plainwell library, they knew they were building a brick building over an old landfill. The building was to be built on a concrete slab, but the possibility of settling was indeed a concern. They thought one easy option was to use lots of gravel and mound up the area. That way, the building would be on a man made hill. . . it didn't work! (The real foundation was a settling landfill!)

Well, it really was a beautiful library and very handsomely appointed. I spent many hours in that library and I maintained my Ransom Library card ever since I was a child.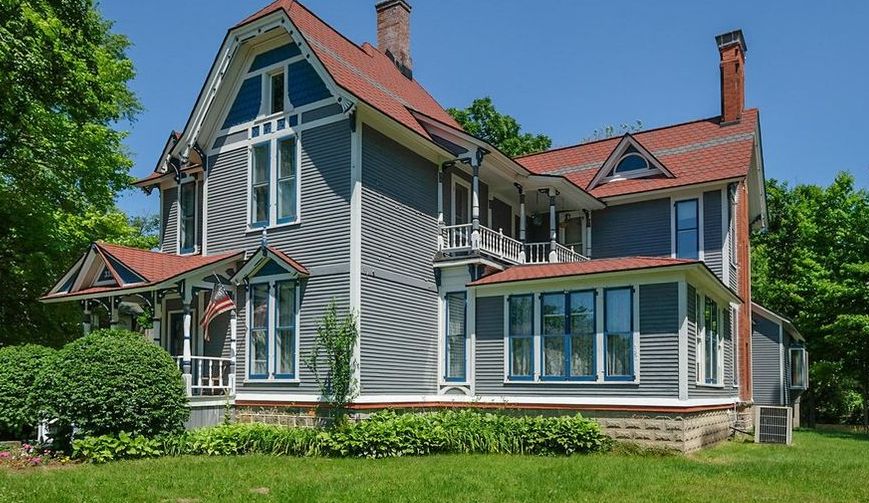 Before this 1980's library was built, the Ransom Library was inside in a beautiful Victorian Mansion, just across the river. Every room had a theme like; fiction, nonfiction, reference, science, children's books and nearly every room had its own beautiful working fireplace!

Man, I am telling you, it was a blessing just to be in that building! Today it is a private residence! Some people are so blessed!

On the night of my talk, I show up a half hour early, and the program director led me into a side room. They had four big boxes of dirty bottles which they wanted me to look over. As I am laying them out on a table, I kept stepping around an unpainted iron pipe which seemed to be out of place. I stepped back to inspect my work. Then I recognized the pipe is a foundation support, one like you would find in someone's basement! That is right! This building was settling! This adjustable brace was holding the ceiling up! This very modern building is, crumbling!

The new building is going to be different! Even though it is built on the same city dump. They are building a modern steel building. This time they have dug down and anchored the footings on solid bedrock! Well, guess what they discovered! Yep, all those primitive old bottles!
The bottles little Allan and his father tossed out there!

I must say we had a good turnout, with about 25 people on hand. Over the years I have been asked to speak to different groups on many topics: bottles, antique toys, metal detecting, treasure hunting, evidence recovery, auto racing, and Bible related subjects. As the appointed time approaches, panic always sets in! I lose confidence in myself, and then I have a tendency to over prepare.

Generally I show up with heavy boxes full of materials, and even so, I feel like I forgot something. This time I took full advantage of modern technology! What a blessing that was! I went into the meeting with all my material on a thumb drive in my shirt pocket . . . no sweat!!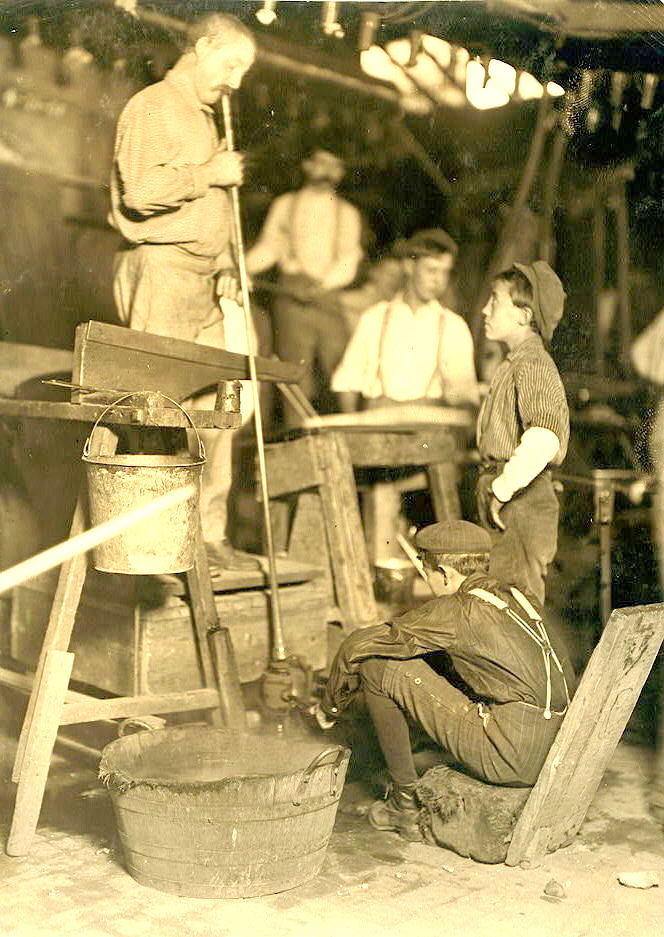 I had loaded a memory stick with over 100 high resolution images. I started with actual photos taken in 1800's glass factories.

Well, it really worked out well, and it was a lot of fun! Most of the bottles pictured were from my own collection.

Of course the boxes of bottles the library had saved were pretty much modern landfill material. Who knows, maybe my great grandson will be asked to judge those modern machine-made bottles some 80 years from now! By then, things will be somewhat different . . . I should imagine!

Can you picture this?
As he holds up a chocolate brown screw-top bottle and says;

"This is an early drink-mix bottle. It contained a chocolate flavored powder which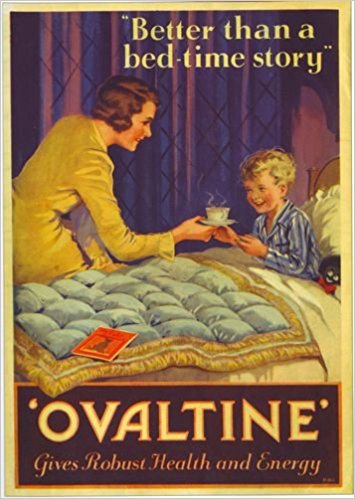 was a product popular with children in the 1900's. Parents mixed this powder with cows' milk. . . the product was called "Ovaltine."

Folks, before the 2021, Green-New-Deal, which President Sanders instituted, now extinct animals, once referred to as "cows" roamed freely in the countryside releasing high amounts of methane gas, causing all the Polar Bears to die.

Our primitive ancestors drank the cows' milk, as well as they made cheese for their, then popular, quarter pound cheeseburger sandwiches, all these items were a byproduct of the cow.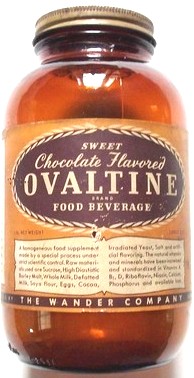 The value of this jar? Well, this is the common variation of the Ovaltine jar. I would put an auction value on this bottle at $2,900.00. If it had the original tin screw cap, perhaps $3,900.00 would be a fair market price.
Today, in 2100, after our ozone layer has been repaired, during this freezing ice-age, chocolate drink may-well have been served hot. But we can only speculate."

I told the bottle club that I had hoped this talk would generate some new interest in the bottle collecting. I had envisioned 100 people present with many young faces. Well, I was one of the only youngsters! We all looked like we had just stepped out of the bus coming from the senior living facility.

People did bring in some REAL antique bottles which were fun to talk about!
Doctor Kilmer's Kidney, Liver and Bladder Cure! What a popular product! You can't mention antique bottles without Dr. Kilmer showing up!

I saw a beautiful attic mint, Zoa Phora, "Woman's friend" A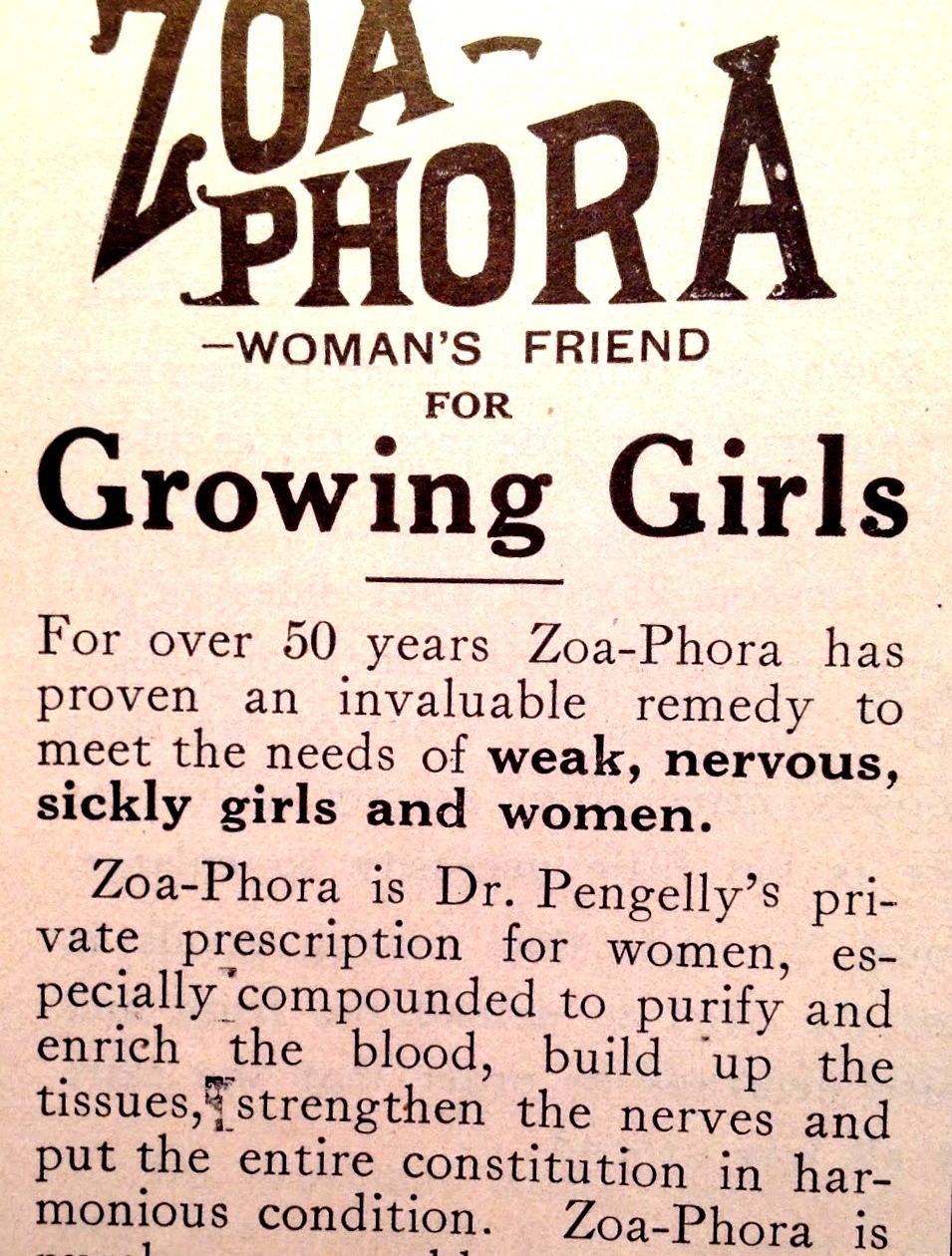 wonderful Kalamazoo Bottle that is a whole lot of fun to talk about!

As you may know, the man who started marketing this elixir was a Methodist minister who turned physician named Dr. Richard Pengelly.

His wife, Mary E. Pengelly, was the leader of the local Women's Christian Temperance Union. The W.C.T.U. was the leading organization that pushed for the prohibition of alcoholic beverages, (which Zoa Phora was one!)
Medicinal mind you
.

The idea behind this 80-proof elixir, considered the "Woman's Friend," was to calm the restlessness often caused by female issues. The question still begs for an answer; was Zoa Phora consumed by the wife or her husband?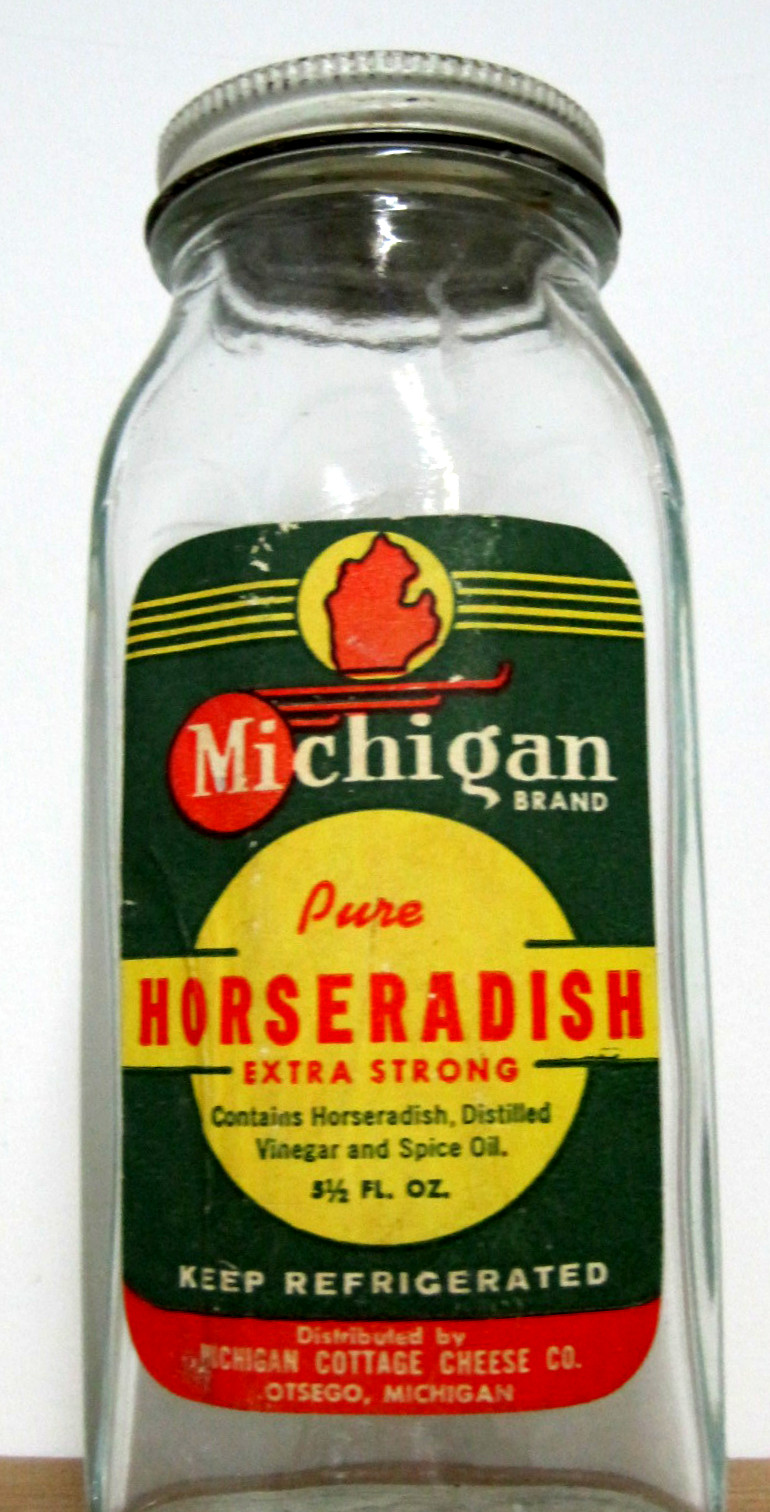 In examining the landfill bottles it was interesting to find a family connection! A number of the bottles were unmistakably Michigan Brand Horseradish bottles from my grandfather's Michigan Cottage Cheese Co.
It really was a lot of fun! There must have been some positive talk about the event, because some want an encore performance.

---
We had a Blast . . . .
At the last meeting!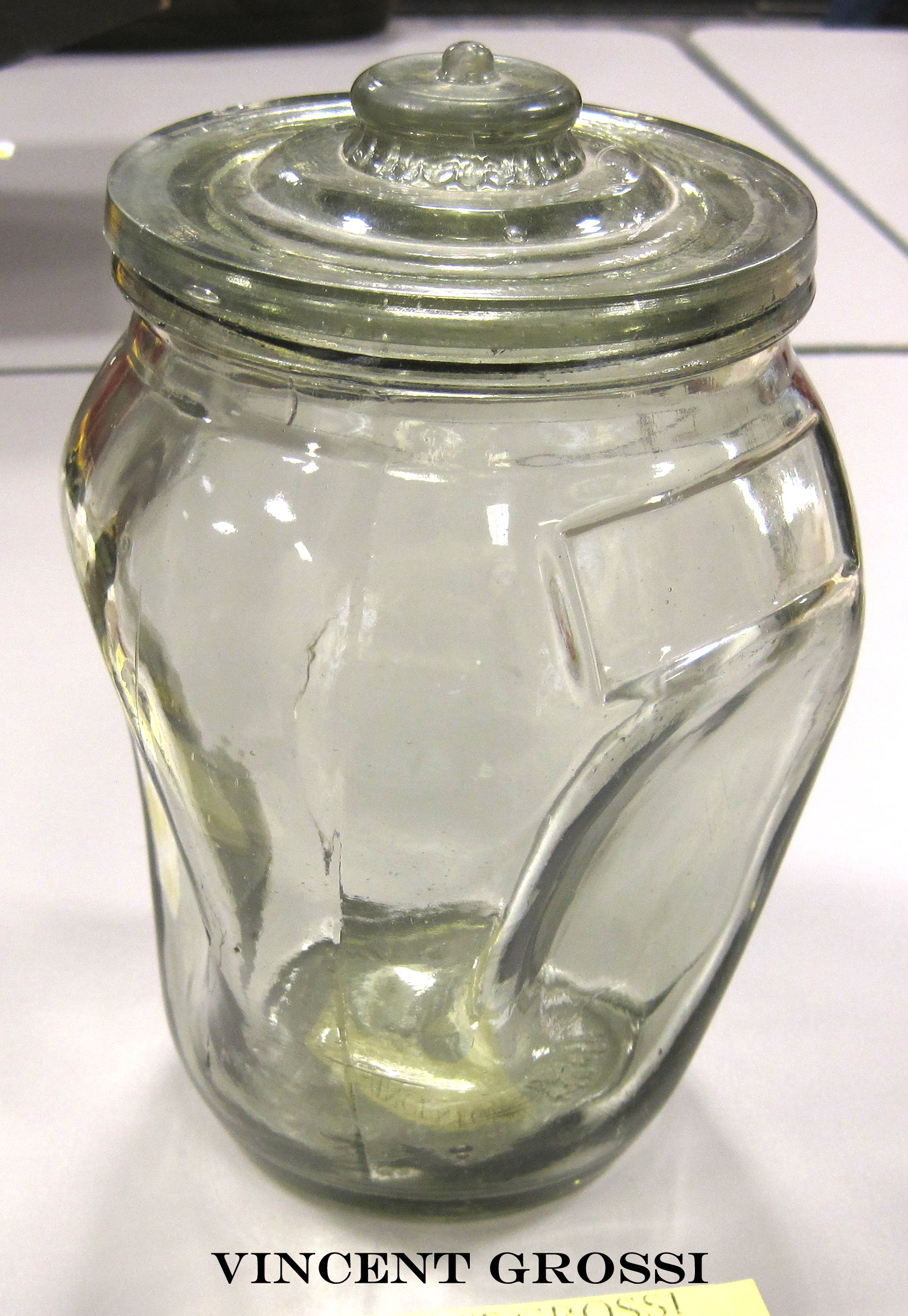 We saw some super nice collectibles!
Vincent Grossi, showed up with a large cigar store glass tobacco humidor from The United States Tobacco Company, Richmond, VA. I wanted to provide more info about the company.
The U.S. Tobacco Company is the manufacture of many smokeless tobaccos like Copenhagen and Skoal. The first thing to show up on a Google search is "oral cancer!" Take it from me, that stuff is more dangerous than all the smoking tobacco! Stay away from all of them!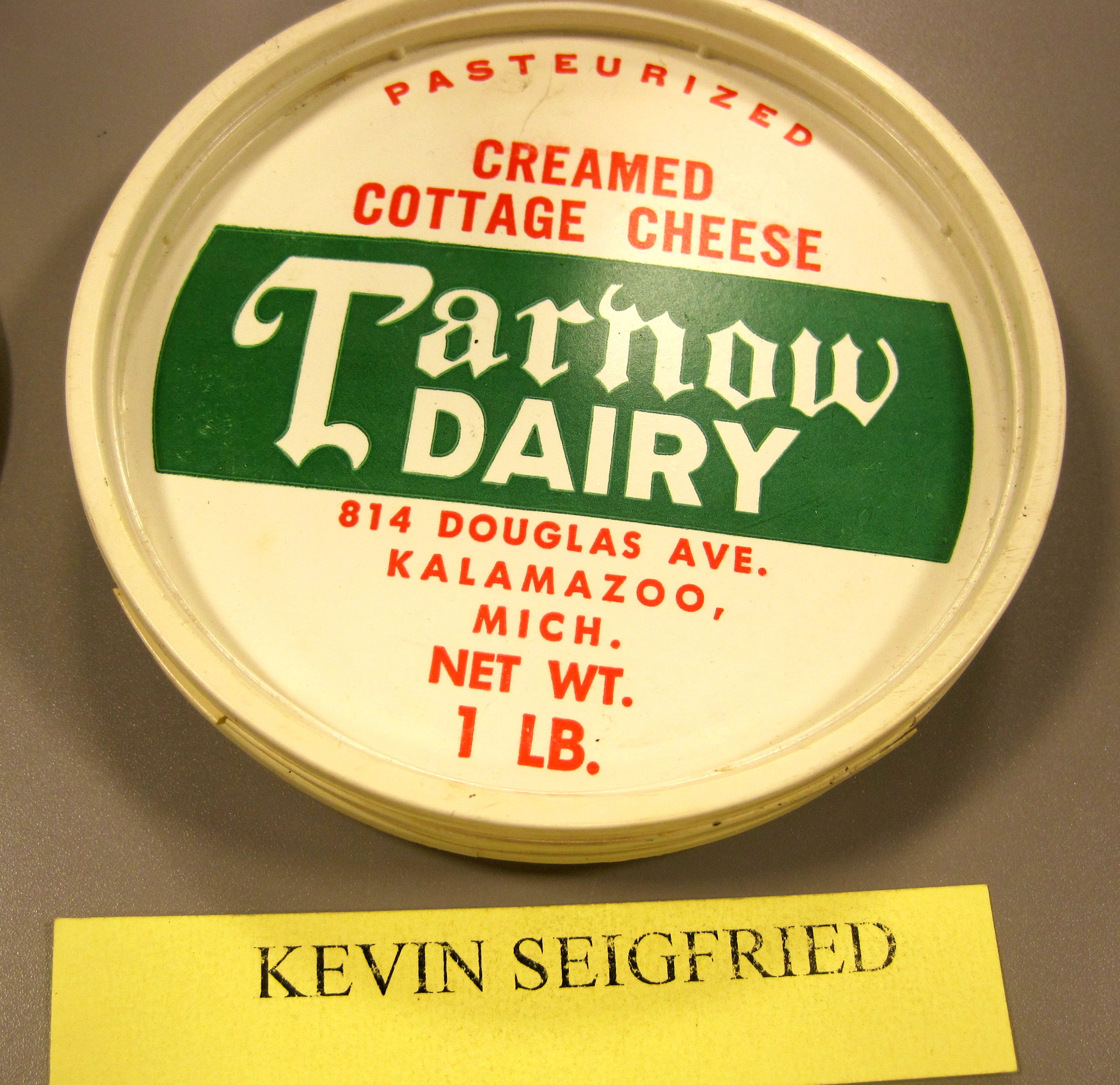 When a doctor looks you right in the eyes and says "You have cancer,"in most cases it is too late to quit!
Kevin brought in some great local treasures promoting an estate sale he was about to do for the owners of Kalamazoo's Tarnow Dairy.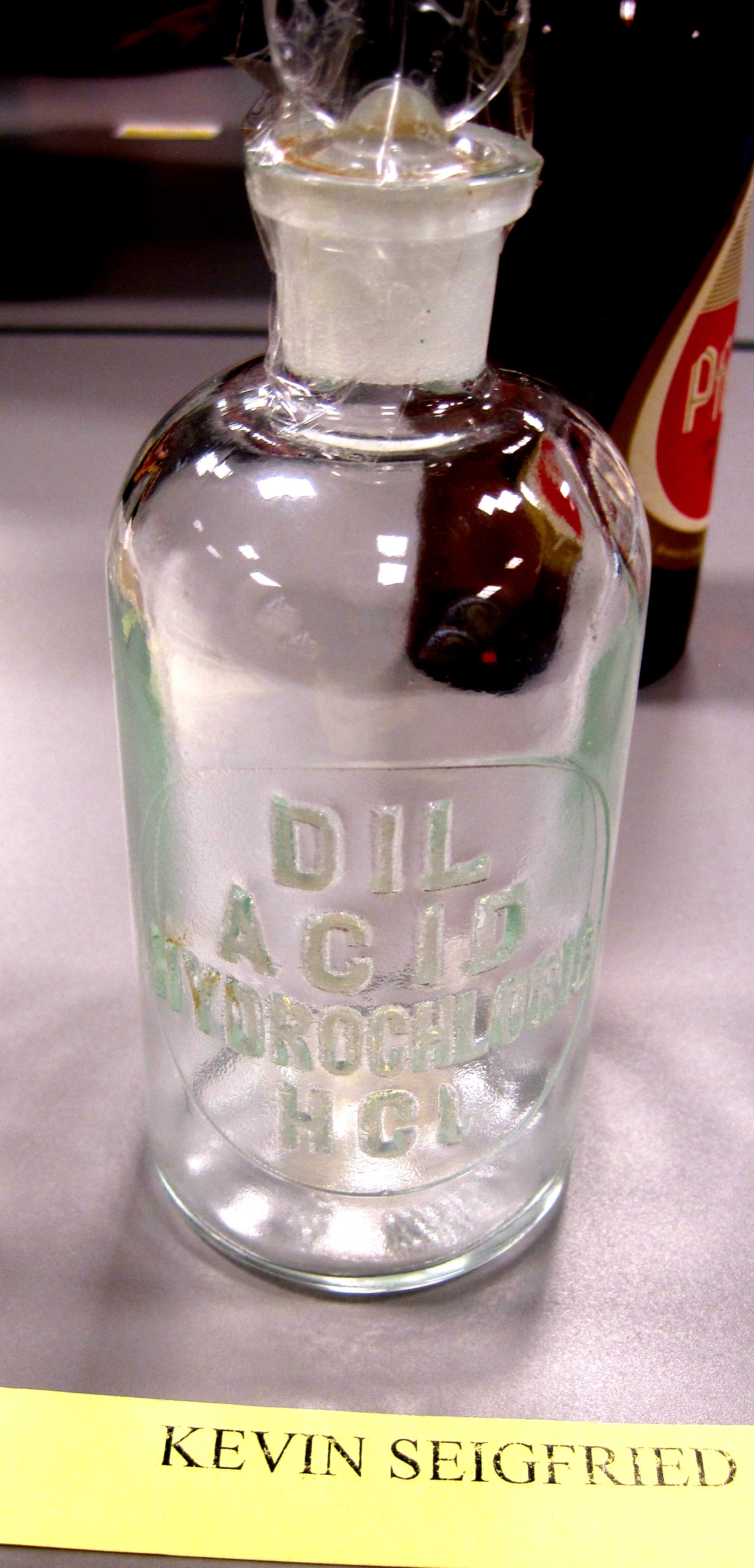 One item was a clear flint-glass flared-lip apothecary bottle, with large lettering etched into the glass;
"DIL ACID, HYDROCHLORIC ACID, HCI"
In this case DIL stands for a water diluted mixture. This was very likely used for cleaning metal tools used in the dairy.
Kevin's bottle was made by a company started in 1888 in Millville, NJ, by Theodore Wheaton. The company was very late, compared to most, in installing automatic bottle machines.
They added their first A.B. Machine in 1938! This was because their products were typically highly specialized and did not adapt well to automatic operation; T. C. Wheaton Co. was still hand-pressing much of their glassware well into the late 1960s.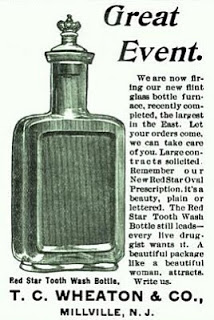 Their specialty, were bottles which used beautiful precision ground stoppers . . . .
of which Kevin's has a beauty! Many of those early dainty, little, perfume bottles we find with ground stoppers, were products of Wheaton.
They dropped the T.C. and started using just the name WHEATON by 1946.

Kevin had several cool Tarnow Dairy items at the meeting! I purchased one, a neat plastic store sign.
I posted a picture of this sign on Vanished Kalamazoo and within 12 hours it was "Liked" 200 times! And the posts people made were awesome! People who worked at Tarnow's or ate at their restaurant, shared some neat memories. You could tell this is a highly respected family! .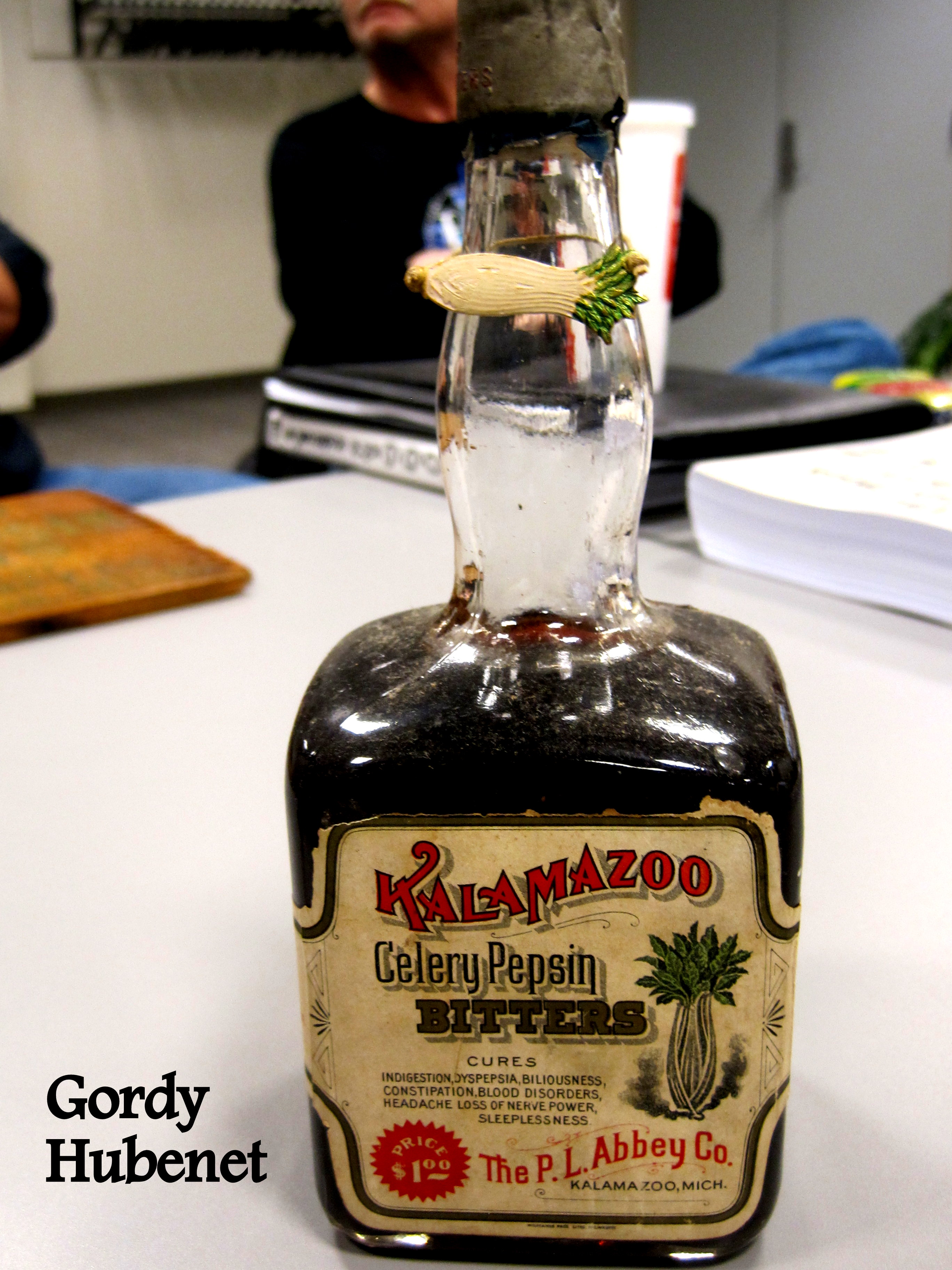 I also, posted a picture of Gordy Hubenet's, P.L. Abby, Kalamazoo Celery Pepsin Bitters, and within 12 hours, it had over 300 "Likes!"

We have been talking,
about doing a special Membership Drive event as part of our 2020 Bottle Show. Lord willing, I am going to paint up a sign for the front table promoting club memberships, which, will be on sale for a promotional, special show rate of only $10.00 for the first year! $300.00 value! L.O.L. (Always have been $10.00!)
At this sign, we will leave a selection of free sample newsletters. But, we need to have someone selling memberships and taking money, or can have mail in forms . . . or both?
Let us hear your ideas!
Vince also has some ideas for some membership pass-out fliers, which we can discuss at this meeting. He sent me some samples but I haven't had time to follow up on them.

Also, at the last meeting we talked about doing our customary

pizza nights a little different, by moving them to Wednesday for two reasons.
We won't jeopardize our meeting room at the library by being absent . . . that happened once. We can also get together earlier, and not feel rushed, and it sounds like Wednesday evenings starting about 6:00 works better for Susan, Chuck's lovely chauffeur, who has to be at work very early!

See you at the meeting March 10!

---
KALAMAZOO ANTIQUE BOTTLE CLUB
Meets at the main Kalamazoo Library, 315 South Rose Street. We meet on the third floor in the conference room. This meeting is March 10th. Meeting starts at 7:00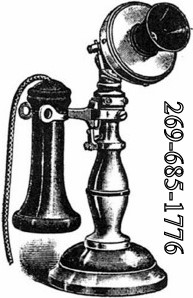 Phone 269-685-1776
HOME