What's Happening?

I was at the mirror shaving one morning right after first of January when I noticed a slight lump on the left side of my neck. I reached up and could feel firm tissue under the surface. I told my wife about it and we made a doctor's appointment.

Just before the last club meeting, I had a meeting with my doctor who confirmed, after many tests, that I have cancer. Squamous Cell Carcinoma of the left tonsil is what it is called. My doctor did a tonsillectomy the day after the bottle club meeting and they found that it had spread to a lymph node.

Hearing that was quite a rough blow, one that really rocked me to the core. Thankfully, they checked further and it had not spread to the lung or any other place.

They tell me that this is a cancer that can be beat if caught early. Well, mine was caught early. All my life I have wanted to grow a beard but I have a couple bald spots on my beard area, like I do on the top of my head! I tried to grow a beard once, but I gave it up because I looked like Festus on Gun Smoke. If I would have a had nice full beard, I would have not found this cancer until way too late!

As I said, this cancer can be beat if caught early. The problem is that we have to fight it aggressively and fast. That means that I will have radiation treatments and chemotherapy at the same time, which is going to be really rough!

Today, as I write this portion of the newsletter, it is Friday, February 27th, and this morning I had outpatient surgery. They installed what they call a Power Port. That is a small plastic cube a little larger than a game dice. It has a rubber top like a drum head. It was implanted under my skin in a small pocket the surgeon made. Attached at the bottom of the device is a plastic tube that is inserted into one of the larger veins near the heart. At the top of the device are three bumps, so that they can feel for the middle of the Power Port.

The whole idea behind it is, immediate access to a vein to insert the drugs and other fluids each time. Also, because the drugs will flow into a large vein, they can be absorbed and mixed with the blood more quickly, without the pain and burning.

To continue, today, March 3rd, I went in for a P.E.G. insertion. That is the one operation I did not look forward to. It is a feeding tube inserted into my belly that goes directly into my stomach. They say that I may or may not need this, but in case I do, they want it ready. There is a chance that the radiation to my neck may make it too hard to swallow solid food.

I don't write this to make you feel sorry for me, but I really covet your prayers. Also, anyone can get cancer, and many Americans do! I just want to say that if there is something going on in your life that puts you at higher risk, change direction! If you would like a greater persuader, go into downtown Kalamazoo and spend a few hours sitting in the lobby of the West Michigan Cancer Center and just take some time to observe the patients. Hey, maybe you will run into me!

Thank you Kalamazoo Antique Bottle Club and the West Michigan Antique Bottle Club for your get well cards I mean this when I say I was deeply touched to see all of your signatures and well wishes! God has surely blessed me with a great bunch of friends!
---
Bottle News

Friends, I really apologize, for this newsletter, I would really like to write about some cool historic bottle stuff. Maybe next month I can do better.

I decided a while back to not set up at the show this year and I will really miss it! I started having second thoughts when my doctor said, "No way!"

The way I understand it is, the cancer treatment is hard on the white blood cells and even picking up the common cold could get ugly.

So, just what is the hottest news in the antique bottle world? Well, it is the:




KALAMAZOO MICHIGAN'S ANTIQUE BOTTLE & GLASS SHOW!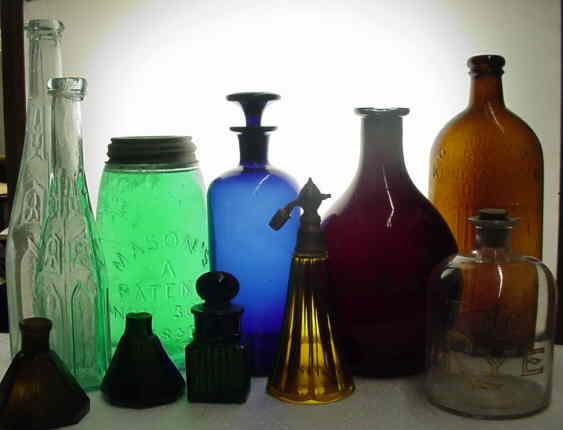 KALAMAZOO GET READY!
ANTIQUE BOTTLE LOVERS-
GET READY!
---

MICHIGAN'S LARGEST 30th ANNUAL
ANTIQUE BOTTLE & GLASS SHOW!
APRIL 11

th

, 2009!
Early American Bottles, Flasks, and Glass including: Fruit Jars, Dairy Bottles, Stoneware & Related Items!

---
Norm Heckler, America's foremost antique bottle and glass expert will be on hand,
as will other professionals, giving free appraisals ---
-- so bring your treasures!!
---

WHEN?
SATURDAY, APRIL 11

th

, 2009
10:00 am to 3:00 pm
WHERE?
At the Kalamazoo County
Fairgrounds
2900 Lake Street 'I-94 exit 80'
Kalamazoo Michigan
For Information call John Pastor
1-616-581-7005
or call
Mark McNee
1-269-343-8393

---
FREE APPRAISALS OF ANTIQUE BOTTLES AND RELATED GLASS ITEMS
---

BITTERS INKS POTTERY CURES JARS SODAS FLASKS MILKS SPIRITS

---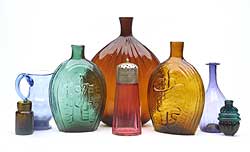 SPONSORED BY THE
KALAMAZOO ANTIQUE BOTTLE CLUB
RAFFLE DRAWING TO BE HELD,
WIN A NEW
"STATE OF THE ART"
METAL DETECTOR!
GARRETT TREASURE ACE 250!


All NEW, features-loaded
Head-turning sporty, outdoor design
Full-range notch discrimination
Pinpoint feature
Graphic target ID with 12 element GTA-
Notch discrimination for greater accuracy
Touch-n-Go technology
5 pre-set hunting modes



DONATED BY PRO/STOCK DETECTORS
PLAINWELL MI.
FOR MORE INFO E-MAIL HERE

Admission $3.00, Senior Citizens $2.00
Children Under 12 Free with Adult!