Important Meeting!

At the cost of sounding like the little boy who cried "Wolf," I am telling you, once again, we need you at this month's meeting. I spoke to John Pastor briefly on the phone and we will have some very important stuff at this month's meeting to work on. We did get started with some promotional pass-out fliers at the last meeting. This month we will have some very important sign-up sheets and raffle tickets. It sounds very much like John Pastor will be at the meeting, so we need to get down to business with our show planning details!

Here are some of the details about this year's show schedule that I am posting and editing from last year's newsletter.
---
Show Details

Here are some important show details that I want to add to the newsletter. Please, if you see an error, let me know. I have one more chance to get it right.

Friday evening, April 20th from 7:00pm to 10:30pm,


The club will be hosting our annual "Hospitality Suite" including a food buffet and beverages!!!


At the;
Best Western Hospitality Inn
3640 E. Cork Street Kalamazoo, MI.


For you G.P.S. users, the zip is 49001-4645

Phone: 269/381-1900
---
The Hospitality Suite;

will be located in the Best Western's Professional Conference Center.



Club members, please bring your food items in by 6:30!

This is one important reason why we need you at this month's meeting! We really need to know who is bringing what. If you missed last year's Hospitality Suite event, you missed a great time, and some great food and fellowship!
---
Hotel Information:

A terrific group rate has been negotiated with Best Western Hospitality Inn at the same location. This is just five minutes from the show site!

A group rate of $69.99 + tax for a king bed, or $79.99 for two queen beds has been negotiated with Best Western Hospitality Inn at the same location.

Man, at that price, Steve and Elmer can afford separate beds! (I was going to say Chuck and Scott, but they both live too close to be believable!)

To reserve this rate, you must call the hotel on, or prior to, Thursday, April 12th. Be sure to tell them that you are with the Kalamazoo Antique Bottle Club and there are no warrants for your arrest. Please do not hesitate to call them; the rooms sell out quickly!

The Kalamazoo Antique Bottle Show is from 10:00 am to 3:00 pm on Saturday, April 21st, 2012 at the Kalamazoo County Fairgrounds, 2900 Lake Street, Kalamazoo MI 49048. Exit 80, Interstate 94 (I-94)

PLEASE NOTE! We ask all dealers to remain set up until 3:00 p.m. please!

Dealer set-up is from 8:00 to 10:00. No dealers will be allowed into the auditorium for set-up before 8:00. Nobody, other than dealers, or people who have paid an "Early Bird" admission, will be allowed inside prior to the show opening at 10:00 am.

Name Tags must be worn


in a visible location in order to gain entry at 8:00 am.

Please note: you must furnish your own table covers.

Table covers are no longer provided by the fairgrounds. You must have a table cover!

Exhibits will be limited to: Antique Bottles, Jars, Flasks, and related glass. Also stoneware, advertising and small table-top antiques are permitted.


PLEASE!! No flea-market items, Avon Bottles, New Merchandise, Jim Beam Bottles, Beer-cans, etc.

I'm learning a lot here as well! Any irradiated bottles or jars must be clearly marked. The whole purpose of this show is for antique bottles and related glass, so pretend you don't see the guy with the metal detectors!
---
RAFFLE PRIZE!

Speaking of metal detectors, our raffle prize is a new metal detector package again this year! I was going to copy and paste the information from last year's newsletter, but I could not locate it! I didn't realize that I don't have any April newsletters on the club web site! The top prize in the club raffle is a:

Fisher F2 Visual & Audio Target ID Metal Detector! It is a Versatile Multipurpose High Performance Metal Detector!

FEATURES INCLUDE:
* 8-Segment visual target identification and 4-tone audio I.D.
* Fast, sensitive target response
* 2-digit numeric target value
* One-touch pinpoint with numeric depth readout
* Coin depth indicator in motion search mode
* 8" concentric search coil
* Light weight - only 2.6 lbs including batteries
* Ergonomic S-Handle design
* Notch system for accepting or rejecting target categories
* Includes two 9 volt alkaline batteries
* Operating frequency: 5.9 kHz
This would make a great detector for coin hunting, relic hunting, beach hunting and even for shallow water hunting! This detector even will come with padded headphones which have a volume controls for each ear! You don't need to be hesitant to offer tickets for this wonderful detector. It is as a good, professional, high quality, high- powered detector.
---
Last Meeting

Before I give the attendance report, Chuck tells me that we have some new members! Jim and Judy Jesier, were having fun at the West Michigan Antique Bottle Club's 23rd Annual Show and Sale when they were cornered by that famous medicine- show pitchman, Chuck "Only $10.00" Parker. I guess they fell for that alluring line, "Step right up."

I would like to apologize for not mentioning the West Michigan Antique Bottle Club Show in our last newsletter. I had my timing way off . . sorry! Chuck told me the show was a really good one! In fact, that has been the topic of discussion whenever we get together. With this mild winter, I am afraid my business is getting off to an early start and Saturdays this time of year are when this soldier must remain at his post.

When I say, "afraid my business is off to an early start," I just hope I did not get my spring rush early. There have been a number of TV shows that have helped me recently however. "Gold Rush" has been a shot in the arm. I have been stocking prospecting supplies for years. I have been selling gold pans and sluice boxes to guys lately, and low-and-behold, when they take them down to the old river banks to hunt for that fine Michigan gold, they frequently come across antique bottles!

At our last meeting we saw the smiling faces of: Kevin Seigfried, Chuck Parker, Mary Hamilton, Tim Hayes, Scott Hendrickson, Ed Nickerson, Dee Cole and Al Holden.

We had a great time as usual! I sent everyone a Valentine card with a lucky drawing ticket fastened to it, because that's the kinda guy I am. I tried to fit into my pink Cupid costume for the meeting, but it seems to have shrunk since last year. We gave away two heart-shaped boxes of chocolate candy and, as you might expect, I didn't write down the winners' names. I am going to stick my neck out and make a guess. I think Tim Hayes was one winner and either Dee Cole or Mary Hamilton was the other.

Also at the meeting we didn't see much in the way of Valentine theme bottles. It is hard for me to put in a day at work and also load up bottles for the meeting, but I do have a few nice pontiled perfume bottles.

This month our theme will be Kalamazoo Bottles and Related items. If it is a Kalamazoo bottle or Kalamazoo Advertising piece, bring it along! We would like you to get those treasures out and dust- them-off and oil-them-up for the Kalamazoo Display at the bottle show! Let's try to knock their socks off with some cool Kalamazoo Collectibles this year!

Ed Nickerson had a treasure at the last meeting. I understand that he had been digging with Scott and Chuck when they unearthed a neat cast iron toy. Well, it was neat at one time.

Ed spent a great deal of time cleaning the rust off the toy and it still resembled a pile of rust! I love the old turn of the century cast iron toys. I am very hesitant to buy any today because there are millions of reproductions on the market! The most often reproduced are the rare ones! It is really amazing at the lengths the modern counterfeiter will go to try to fool the uninformed buyer out of his hard-earned money.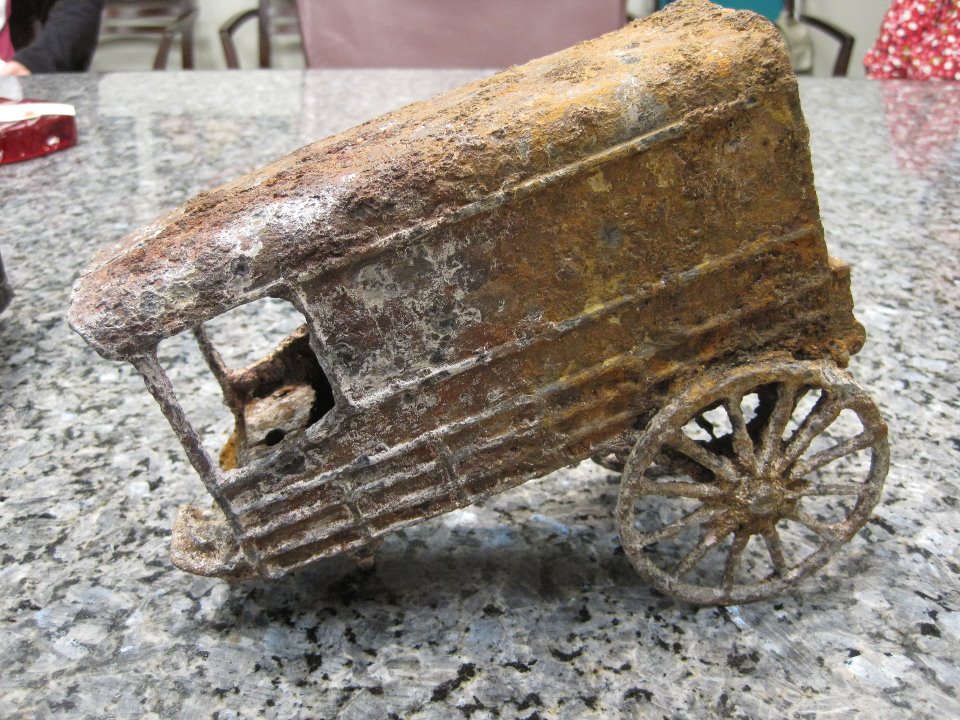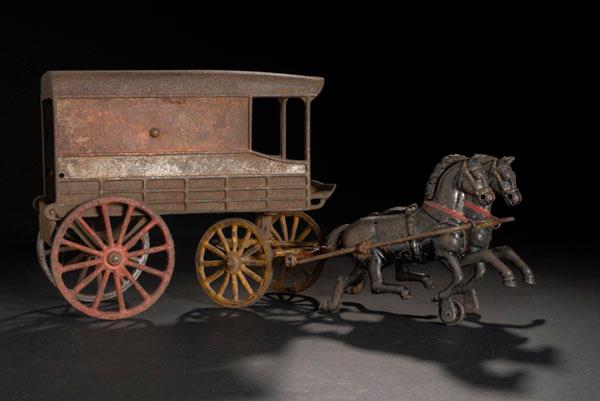 One of the give-away clues to a modern fake iron toys and banks is how crude they will be. The average Joe will figure that if the toy was cast in the 1800's it will be made up of poorly fitting parts which is all trickery! The skilled craftsmen from back-in the-day would be insulted to see the shoddy workmanship in these modern rip-off toys!
The wagon the guys found was a badly rusted delivery wagon missing its front wheels and hitching as well as its team of two horses and driver. When you find one in such bad shape, cleaning it up some will not hurt the value. The wagon is known as the Harris City Delivery Wagon and, in really good original condition with all its parts, it is worth about $3,500.
Even though this toy is so far gone, it still makes me want to re-dig the spot looking for more pieces. I have a good friend in our metal detecting club, Charles Turner, who along with our club president, Mike Walker, put on an awesome program at the last treasure hunting club meeting. The program was about cleaning metal finds with electrolysis. The process is amazing and it is very effective! Even the experts who clean up relics from the Spanish Treasure Ships use this process on a larger scale.
I bought the toy and Charlie is doing his magic to it. But goodness, I have a lot of toys to restore! I have my own Murray peddle car from the early 50's, an antique steam shovel that I got from Mark Churchill and several other small tin toys.
I guess most of you know that one of my loves, besides antique bottles, is Great Lakes Ship History. (If you get Norman Heckler's auction catalog, you will know what I am talking about.) The Heckler auction number 98 is loaded with some amazing stuff! I registered for the auction but I hate it when there is something I really want in an auction that is way over my means as a poor dreamer!
Norm has a painting of a Great Lakes Freighter by V.D. Nickerson that I like. One of our best records of the old lakers is in the form of early postcards, and this painting is on one of the true classics. It is a 19th century freighter, in the early days of steam and steel hulls with the classic Great Lakes three masts and a stream of coal smoke out her funnel. I have done some Great Lakes Ship art myself, but nothing this beautiful.
---
Monthly Contest

We have started a monthly contest that I think is going to be fun. The rules are simple (and if I don't have this right, the rules may be revised). We are going to have a $10.00 prize for the best Dug or best Acquired item. I don't think it has to be a bottle if it was dug, but that is preferred. I know that Ed would have been in the running for the prize at the last meeting had he not sold the antique iron toy to me before the end of the meeting. Oh yes, another rule is that it must be something that came into your possession since the last meeting.
---
1997 Bottle Club Article.



I needed some space-filler when I came across this little piece from a 1997 newsletter. It just brought back some good memories for me.
---
The bottle club is made up of two types of hobbyist, the diggers and the buyers. In my opinion, the diggers are the ones who have all the fun.They are the ones who contribute many of the antique bottles to the hobby. They do this by finding old dump sites and outhouse pits to dig, then they obtain permission to dig them. That's when the hard work begins. Unless you have been in a six foot deep hole, carefully clawing at the sides, when suddenly a little piece of the past tumbles out like a precious gem, you can never understand the thrill!

Then there are also club members who are buyers. For the most part anymore, that is the category where I best fit. The buyer wants to collect, but does not have the time or perhaps the desire to dig. (I have the desire; it's the time that I lack). The digger needs the buyer, the buyer needs the digger. But in the case of this club, the diggers, who were in the majority, are slowly growing older. When your age makes it difficult to dig, the thrill is removed.

The digger is like the metal detectorist in many ways. He gets a great thrill in finding items of value that were lost or discarded many years ago. When you remove that thrill, you remove the interest. The real problem is, there are very few young diggers coming up in the ranks- no one to take the place of the older members. Senior diggers, for the most part, have moved into other interests, like metal detecting.

About two years ago, Jack Short had already found that metal detecting was taking the place of his bottle digging. This was true for his digging partner and best friend, Ernie Lawson. Well, for years they had been trying to get me interested in antique bottles. I guess they finally saw a spark of interest. Seizing on the opportunity, Jack offered me a deal on many of the bottles that he still had packed in boxes and stored in his barn.

At first I stopped at his house to pick out bottles as payment on a trade we agreed on. After I got home with my new treasures, I sorted through them-- admiring them and searching the bottle books mainly in an attempt to educate myself. Occasionally, I would see something in the book that I thought I had, only to discover that it was one that I didn't take. I would call Jack and tell him that there are some more that I want! After doing that three or more times I got disgusted with myself and called Jack.

"Hello, Jack. This is Al, How much for all the rest of your bottles?" Well, he gave me a deal I could not refuse! Adding the ones I got from Jack with some I purchased from Ernie, with a few that I dug, several acquired as

gifts--what a collection! I started displaying them on my store walls, each one properly labeled with brand name and approximate manufacturing date. It's amazing the interest that it has created! Several new collectors have been launched! It has been neat helping several people to get started and to watch them fall in love with a fascinating hobby that blends together beautifully with metal detecting.