2019 Bottle Show Considered our 40'th Success Story!
PIZZA NIGHT!

Great Show!!
Hi friends! I hope you are all having a good spring! The good weather sure is taking its sweet old time showing up!
Let me start out by giving you a brief summary of the show, starting out with Friday night's dealer's Hospitality Suite. . . the "meet and greet."

This year, the club was moved back down to the ground floor level (thank goodness), for our little dealer-meet-and greet. I wanted to use the proper name of that room in this newsletter, so I found the phone number for the Kalamazoo, Cork Street Clarion Inn, and I gave them a call.

The phone rang a couple times, and when it was answered I heard a very familiar voice! I am positive this is the little fellow in India who does Norton Anti Virus Tech Support!

If these folks who are out there demanding $15.00 per hour would open their eyes and notice the world around them, they would see that the whole world can move on just fine without them! My granddaughter likes to eat at Panera and Taco Bell and both of these eateries have automated self-serve kiosk robots to take your order! I suspect thousands of others do as well! Hey, I gets worse! I heard a Wall Street business report saying this year in America 75,000 store front shops will close!

This entire mess works in a snowball fashion. First the little store owner can't afford the price of labor, so he can't make a profit, then he shuts down his store. With his shop closed, Amazon gets stronger and stronger and soon more shops close! It all started with those who are whining give-me-more! Finally, they got nothing and we all pay the price.

My dad used to say; "Losing your job, because you are demanding too much, is like holding your hand in a bucket of water. Quickly pull your hand out and see how big a hole you left!"
Everything went along swimmingly at the little dealer banquet! We owe so much gratitude to our very own Kevin Siegfried and his faithful companion Eddie Nickerson!

Kevin not only organized these important events, he toted the supplies back and forth and even picked up after us! I have been involved in club and Church events much of my life and I can tell you workers are always in short supply. I guess this has always been the human condition. Listen to a short Bible quote from Matthew 9:36.
"But when Jesus saw the multitudes, he was moved with compassion on them, because they were weak and scattered like sheep without a shepherd.
He said to his disciples, "The harvest truly is great, but the workers are few."

Thank you guys for all your hard work!

Of course we all know the Kalamazoo Antique Bottle Show requires a team effort. Everyone who was asked, stepped up to the plate and did their part! Please allow me to share another quote, this time not from the Good Book, but from a good movie.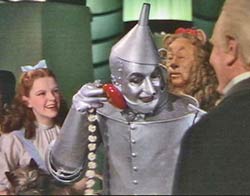 "As for you, my galvanized friend - you want a heart do you? You don't know how lucky you are not to have one. Hearts will never be practical until they can be made unbreakable."
"But I . . . I still want one."
"Well, back where I come from, there are men who do nothing all day but good deeds. They are called phila-er-er philanther-er, good-deed-doers! And their hearts are no bigger than yours. But! - They have one thing that you haven't got . . .
A Testimonial!
Therefore, in consideration of your kindness, I take pleasure at this time in presenting you with a small token of our esteem and affection.
And remember my sentimental friend, "A heart is not judged by how much you love, but by how much you are loved by others."

---


Well, for all of you good deed doers, we have a small token to show our esteem and great affection for you!
After a brief meeting at the library, we will wander over to Bimbo's Pizza Kalamazoo's very best Pizza Parlor and "PIG OUT!"

---
Speaking of the Show
The weather for our show was not bad at all. Frankly I don't think it could have been much better!

My grandparents had a couple mobile homes in a little park in Fort Myers Florida. It was about this time of year when I would spend time with them. My folks would put me on a plane in Detroit and my grandparents would meet me at the airport in Tampa.

Today, thinking back, I fully understand I was the luckiest kid on earth, and I loved my grandparents.
My thoughts ran off in this direction as I thought about the weather on our show day. Around here we are thankful for a spring day with temps in the 40's. I have been swimming in the Gulf of Mexico when the temp was in the low 70's, and the native Floridians were wearing jackets and sweaters!

Chuck tells me the show tables were a sell-out! To me, the crowd seemed to be up in numbers from last year, but last year we did have severe storms north of Kalamazoo.

Mike Walker and I were busy at the Metal Detector table and I was very pleased with our sales numbers.
Just getting together with our many friends involved with bottle collecting is always great fun! Also we were privileged to share our show corner with Kevin Siegfried, Eddie Nickerson and Rob Knolle that was fun!

In the display room we only had two entries, but they were darn good ones! Lynn Kozik entered a display featuring Kalamazoo Dairy Bottles. Lynn walked away with the Dealer's Choice award.

Rob Knolle entered his awesome Treasure Diving display. Rob has nailed down the Most Educational award for two years in a row! Way to go Rob!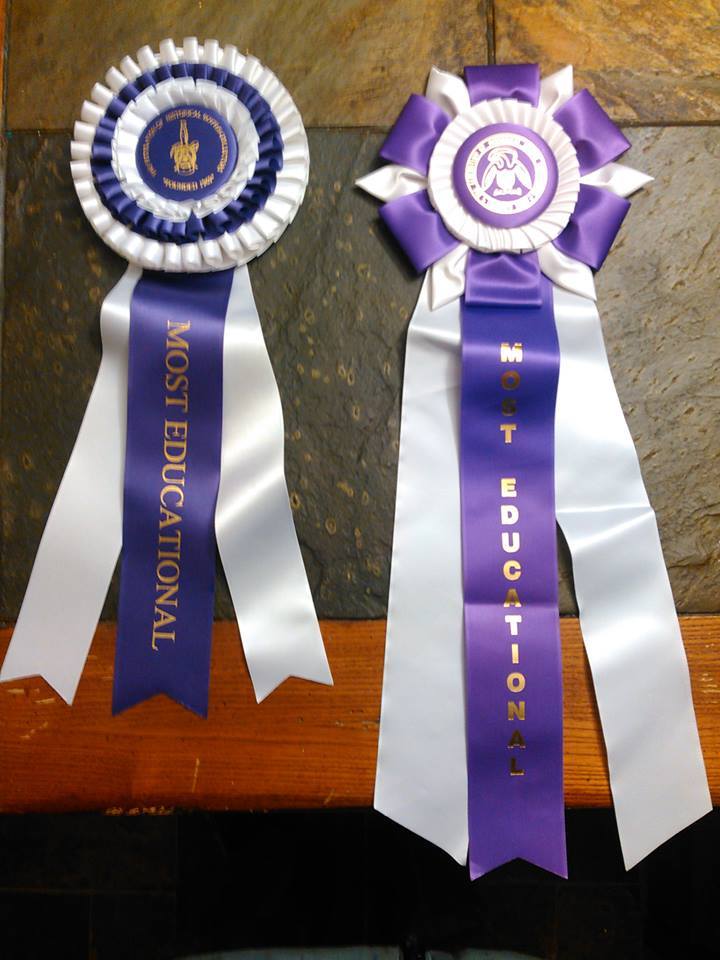 At each show I listen to hear that $8,000 bottle hit the floor. This year, we didn't lose any high dollar bottles. One of the dealers, right near our table, had a stack of bottle boxes on his hand cart. Suddenly he let the cart stand upright and the top box fell! I could hear the sound of breaking glass, but they were common milk bottles. . . thank goodness.

John Pastor came over and thanked me for donating the metal detector for the club raffle. I mentioned to him how pleased I was with my personal ticket sales numbers. I sold 180 tickets.
So, why is that a big deal? This year I took the time to sell them and not buy them! Usually I fill in the names of all kids and grand kids, parents and whomever I can think of. I have purchased tickets for heads of state, President Trump and other dignitaries.
It occurred to me that after donating these detectors, how stupid am I to also donate another $100.00 for tickets!
By the way, one year my granddaughter Madison won the $75.00 prize and even then I gave her $100.00! Well, Duh! No wonder I can't find the way out of the poor house!

I am starting to think the prize detectors I am donating are not "Metal Detectors" they are "Boomerang Detectors!" I toss them out there to benefit the club, and within a week they come right back at me!

I am not positive, but I believe this winning ticket was sold on the show floor. Tim Felty was the winner, and he asked me if I would buy it!
OK guys I am happy to do this, but I can only pay what I paid originally. In this case it worked out good because the factory has raised the price $100.00 and I got it at the old price!
I am always puzzled why these orphan metal detectors don't find a good home, a home where they will be loved just like family? Do you buy raffle tickets for something you don't want?
My curiosity got the best of me so I asked Tim, "Why didn't you want this detector? And why did you buy a ticket?
He replied "Gosh Al, you sold me a $700.00 Garrett AT Max and I love that detector! It is the best detector I have ever owned! I find 1800's coins and silver almost every time I go out. Actually I was hoping to win the $75.00 cash prize!"
(I just thought you would find that interesting.)

Just another quick note about this being our 40th Anniversary Bottle Show; we decided to splurge and do something nice for ourselves. Hey why not? Besides buying a big Anniversary cake for the show, Kevin brokered a good deal for the club on some new golf or polo shirts!

They are light ash gray (wood ash gray!!!) with the full club logo on the back, and 'KABC' on the front near the shoulder area. I didn't think I would like them . . . but I do!
I am pretty sure we can hook you up with one and the price was around $20.00. Just let me know and I will pass along the order to Kevin.
I ordered 2 and I may get more. We do our laundry bi-monthly so it would be good to have more.

---
LAST MEETING
Our last meeting was just a few days before the big show! We had a real nice turnout! Listed here are some of the smiling faces we so fondly remember: Vincent Grossi, John Winkler, Kevin Siegfried, Charles Parker & Susan, Jean Bogard, Rob Knolle, Eddie Nickerson, Ron Smith, Mary Hamilton, Ron and Joanne Michalike, Tim Hayes, Scott Hendrichsen, Al Holden.

Ron and Joanne Michalike are new members from Buchanan MI! Welcome Friends!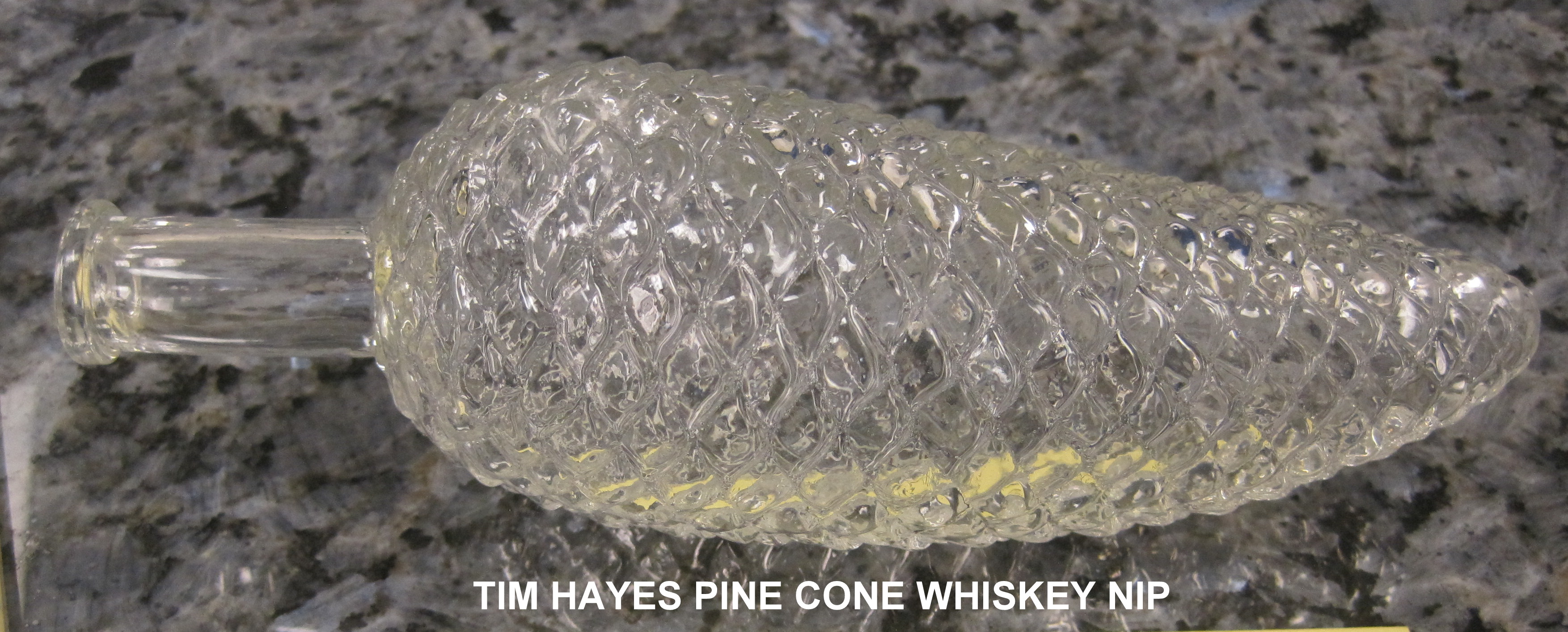 We saw a few nice bottles at the last meeting, hey, we can't be all about business!
Tim Hayes brought in a beautiful figural pine cone whiskey nip in crystal-clear. Tim thinks the bottle would date to the late 1800's. . . I love it!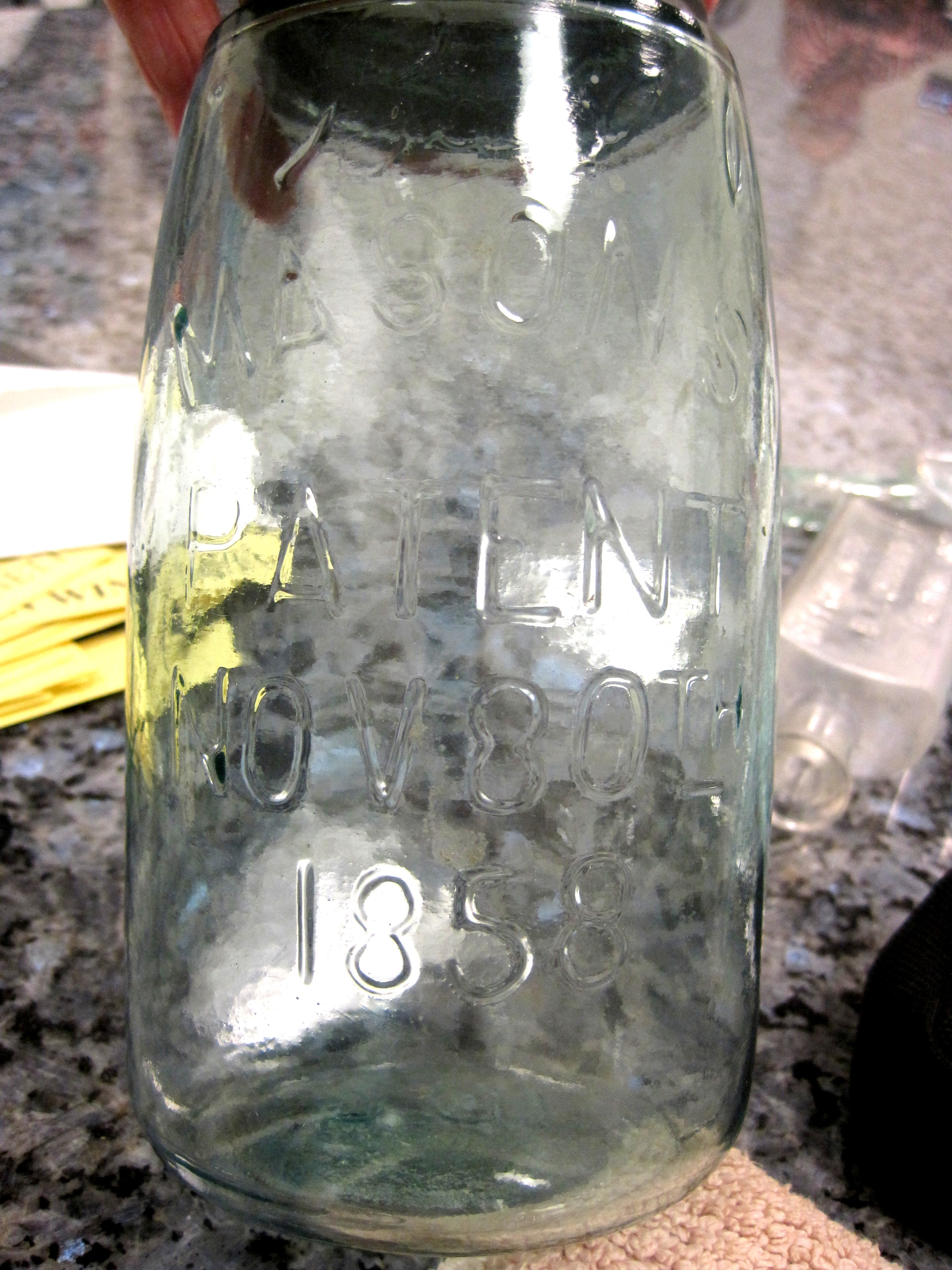 Kevin Siegfried had us all seeing stars with a attic mint Mason Patent Nov. 30th 1858 canning jar in bold aqua complete with zinc lid. So, big deal you say? Well, I hear ya, but this one is different! It is a in-you-face-error! It reads "MASON, PATENT Nov. 80, 1858.
Many people see the 1858 date and think the bottle is that old. Of course we know they dated these jars 1858 way into the 1950's give-or-take.
The Mason jar was invented and patented in 1858 by a young tinsmith, John L. Mason (hence the name Mason Jars)
John L. Mason was raised in Philadelphia. He moved to New York and filed his patent at the age of 26. As a tinsmith he first created the threaded cap and the bottle mold was designed around the specs of that first zinc cap. His invention was way ahead of the game!
Whitney Glass Works was working on a screw cap for whiskey flasks, but in the canning jar field young Mason was leading the charge. Most companies looking for a good tight seal for canning jars were working with wire bail style clamping tops, with wax or rubber seals.
The first Mason jars came from the mold too crude to seal well. The top lip of the jar would be dressed off on a lap-grinding wheel to make the top lip square and true. This is the reason you will see collectors remove the cap and look for that "ground" lip. Eventually the molds were made to be more precise and the top lip would come from the mold with a good straight sealing surface.
At the bottle show canning jar expert Doug Leybourne said that while it is much more desirable than the run-of-the-mill Mason, the error "Nov. 80 1858" is not super rare. I think it is a cool bottle!
Vincent Grossi displayed several nice bottles as he usually does. But, his best bottle was just so cool! This bottle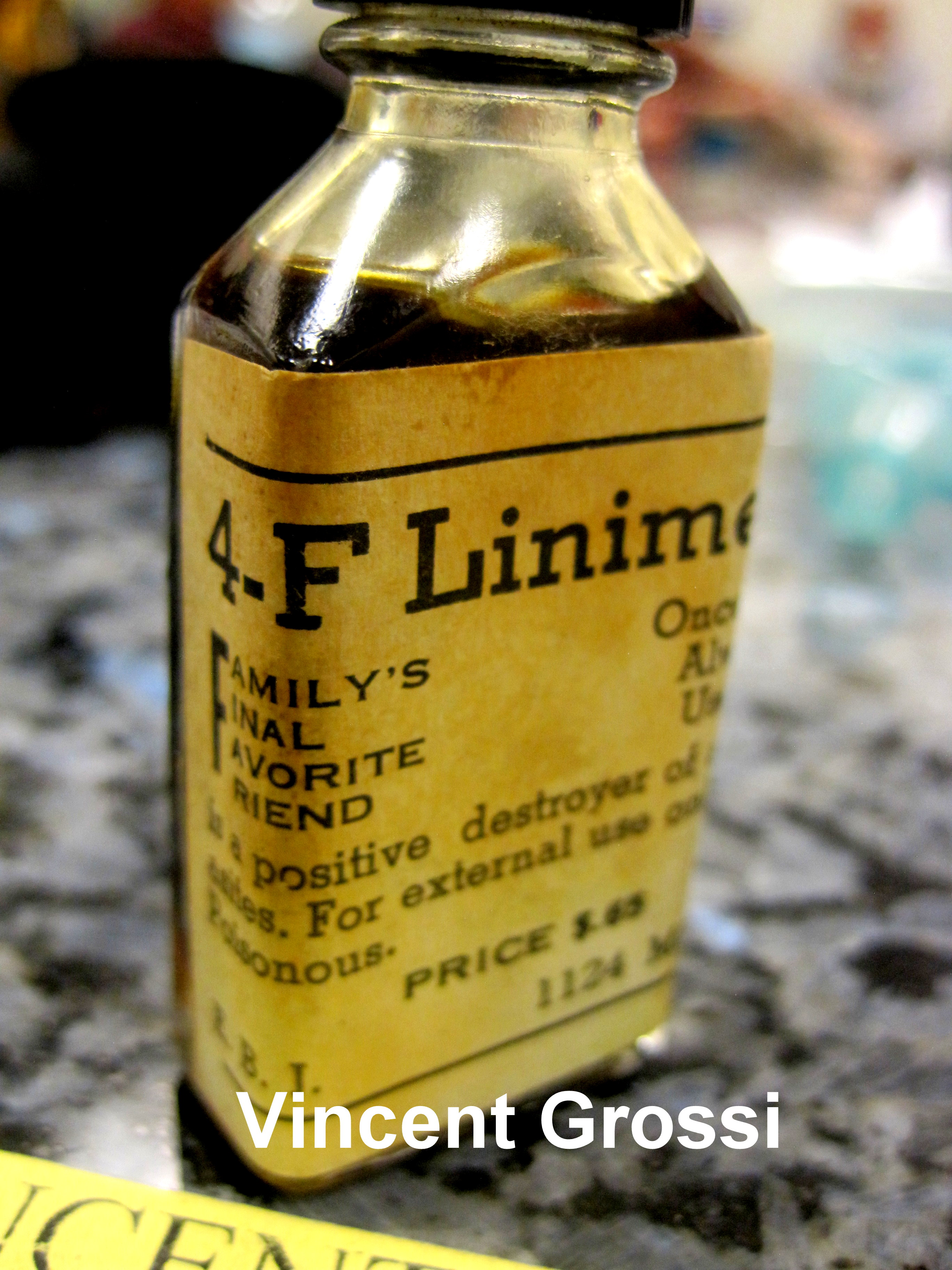 is like a tiny bit of KABC folklore!
This little bottle is still sealed with original contents and it has a perfect paper label! The product is 4-F Liniment. "FAMILY'S-FINAL- FAVORITE-FRIEND!"
A positive destroyer of all parasites! For External Use Only. Non-Poisonous. Price 65¢ "Once Used Always Used" 1124 Maywood (Kalamazoo)
When Chuck Parker was working at Hercules in Parchment, someone at work knew he was a bottle collector. Somehow they found a paper label for 4-F Liniment to give him. A short time later they found a cork stopper F-4 Liniment bottle! Chuck has held onto it till this day.
The interesting part of this story is; at that time Chuck and Connie lived on Maywood back in the 60's! Curious to learn more about the history of this Kalamazoo product. Chuck spoke with a 90 year old lady who lived next door to 1124 Maywood for most of her life. Chuck asked her if she remembered anything about the source of the product.
Did she ever! Who could forget! It actually affected the quality of life around Maywood and not for the better!!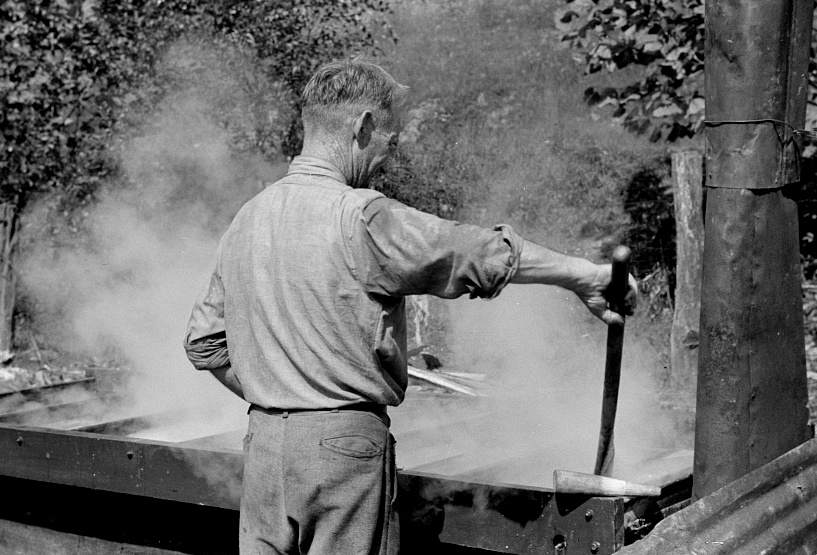 She told Chuck the family who brewed, bottled and sold Family's-Final-Favorite-Friend, had a large vat in their back yard where they would cook up a batch whenever supplies ran low. She described the vat, like a witches brew, was suspended over a wood fire. The mixture had to be constantly stirred with a large wooden canoe paddle!
The label on Vincent's bottle does not list the product's ingredients, but the elderly lady remembered the brewing of the product stank to the high heavens! People would blockade themselves in their homes shutting every window plugging any openings . . . all to no avail!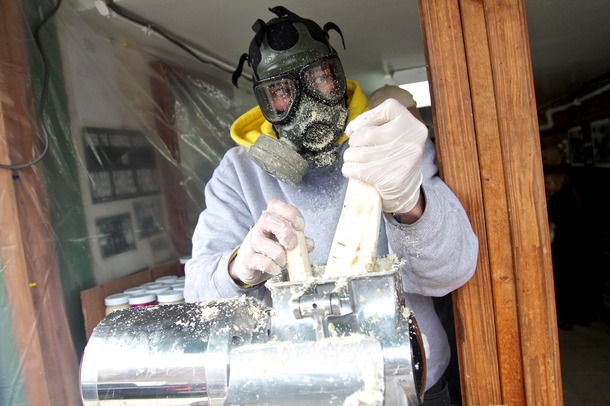 Sometimes manufacturing certain products can create some very pungent orders! When my grandfather had the Michigan Cottage Cheese Company, they had a couple dozen products which were all made in the main plant. However, the Old Fashion Horseradish was made in a separate building way outside of town!
My father-in-law, Bob, decided to make up a batch of home style horseradish after successfully raising his own plants. He took the roots into the kitchen and tossed them into the food processor to grind them up. It was like a box of pepper spray exploded! They had to move out of the house for a few days!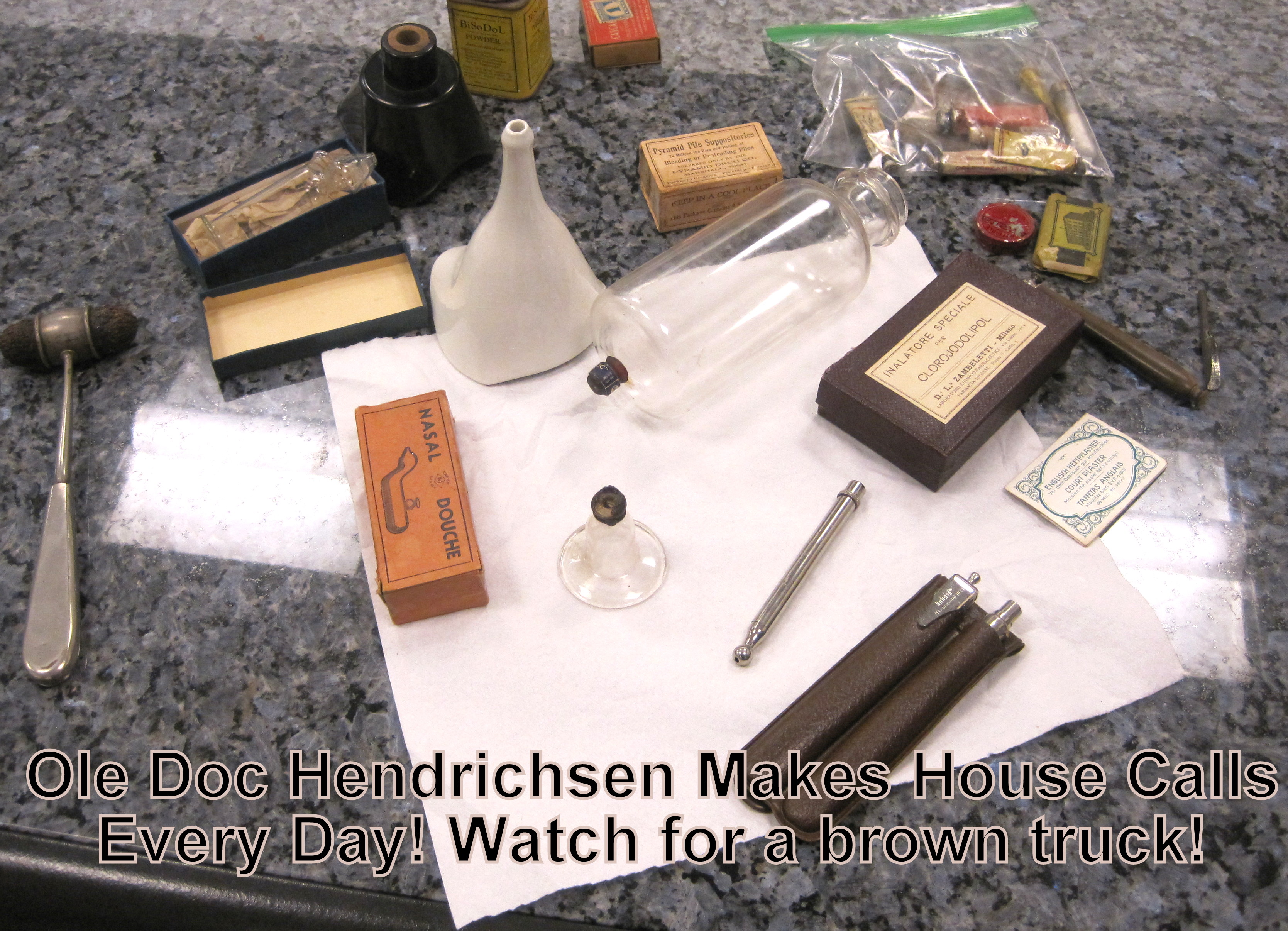 My dear old friend Scott Hendrichsen and his wife Lori stopped by my store for a visit. Lori has been having some setbacks health wise, and we have been praying for her. It looks like hopefully she is on the mend. She certainly seemed in good spirit when we visited. We all have those ups-and-downs and it is helpful to know people care. (I know this first hand) Still praying that the Lord touches you both body and spirit, girl!

Scott displayed such a neat selection of cool items that I could only take a group picture! It looks like he wandered into Dodge City, wandered up to ole Doc Adams office and emptied it out! He had everything from a nasal douche to a reflex hammer and anything else Doc would had in his bag!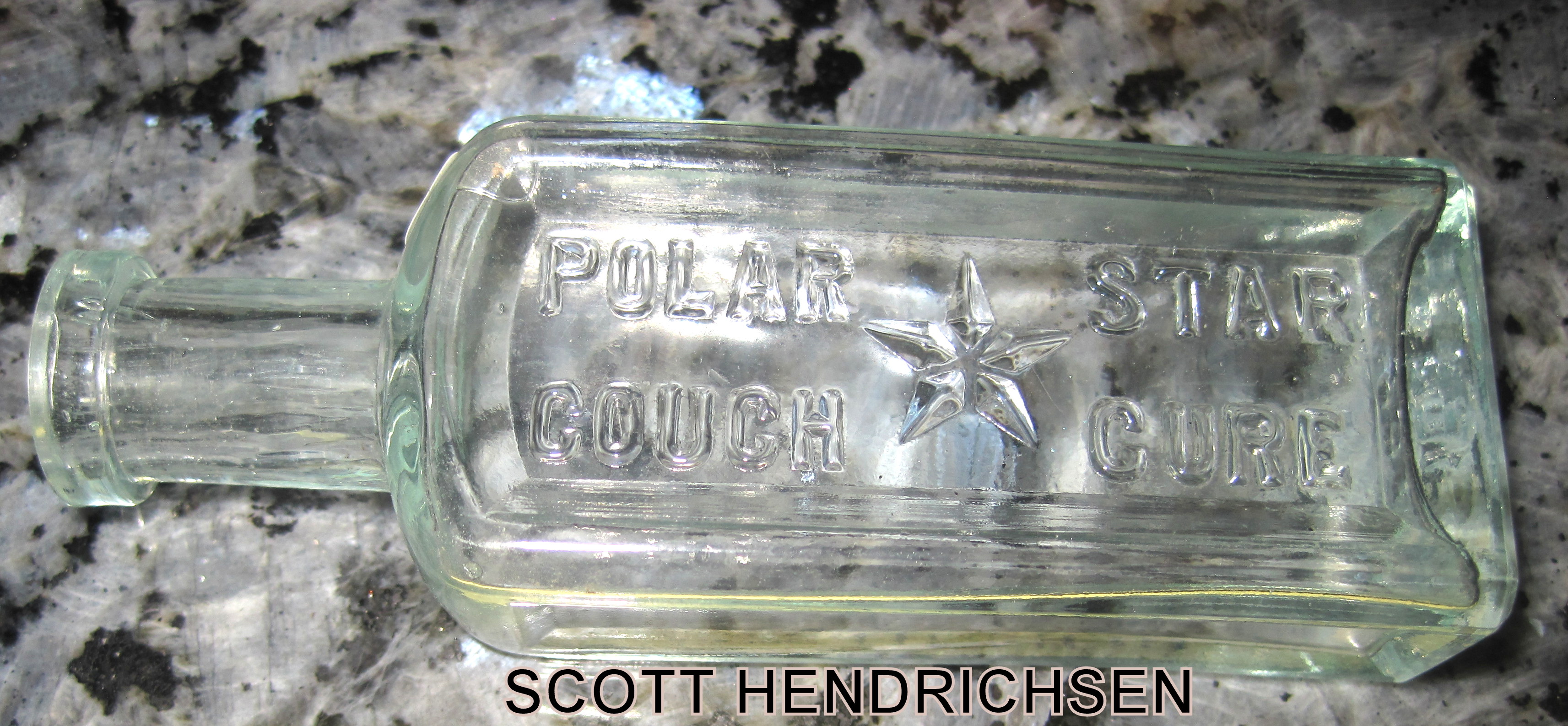 One of the really cool items Scott dug was a Victorian era ceramic pot lid from MAISON DORIN of PARIS. Maison Dorin was one of the first manufactures of cosmetics to successfully enter into the U.S. market in the 1880's. This was the company to make those makeup compacts popular in America. I love these old ceramic pot lids for their artistic value.

---
Clearly, my wife didn't help me edit this mess, sorry.
I originally finished the newsletter and printed off a copy to print from.
I was so busy that I didn't have spare time to just pick away at it, a-little-here-and-a-little-there whenever I found some extra time. I had to wait until my day off and start from scratch. I started around 9am and was at the printer at about 8pm. In other words, I spent a solid day writing.

When I returned from the print shop, I decided I would start some of the basic steps to turn the newsletter to a web page. I could not open it! I tried using a different program, I scanned the thumb drive . . . all my work had vanished! The error message said "Corrupt File!"
So, I had to spend another two days to rebuild the newsletter and another day to build a web page!

Would you like to play your little fiddle or shed a tear please.

THIS MONTH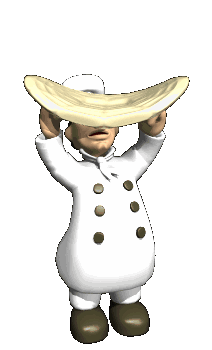 Well, boys and girls this is the last regular meeting before our summer break. This meeting will start off at the library, and I do believe we will be in the Van Deusen room. Remember we were bumped out of the Conference Room by the Ladies Reading Club. I know some of you guys may want to self identify as a lady, but trust me, it is more difficult to fake being a reader!

So if you peek into the Conference Room and you see readers . . . dat tain't us!
Continue to the end of the hall to the Van Deusen Room. After a brief meeting, we will go down to Bimbo's Pizza! We plan on calling in our order, so we can move things along helping Chuck's designated driver.
(Three cheers for Susan!)
Please try to be at the Library so we know how much pizza to order.


---
THE KALAMAZOO ANTIQUE BOTTLE CLUB;
Meets at the main Kalamazoo Library,
315 South Rose Street.
We meet on the third floor in the Van Deusen room.
Meeting is MAY 14th.
Meeting starts at 7:00
e-mail
prostock@net-link.net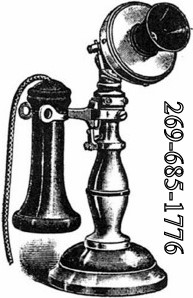 269-685-1776
HOME