Last Meeting

Our last meeting was really a lot of fun! The following members were present: Dee Cole, Kevin Seigfried, Bill Drake, Edward Nickerson, Jim Jesiek, Judy Jesiek, Chuck Parker, Mary Hamilton, Vincent Grossi, Scott Hendrickson, Al Holden.

We had been encouraging people to bring in local Kalamazoo area stuff hoping to get more people involved with the Kalamazoo Display table. Well, I don't know how the rest of you felt, but Kevin Seigfried had some stuff that was amazing!

I just hope I remember it all. One of the items was early dovetail wooden boxes with the black stenciled letters. I love those items! I don't know how many of you know this, but in the 1860's, 70's and 80's, there were several Kalamazoo wood shops turning out these small boxes and shipping them all over the Midwest. Truth is, many of these little wood mills in town were major fire hazards and they were an important detail included on the early Sanborn insurance maps.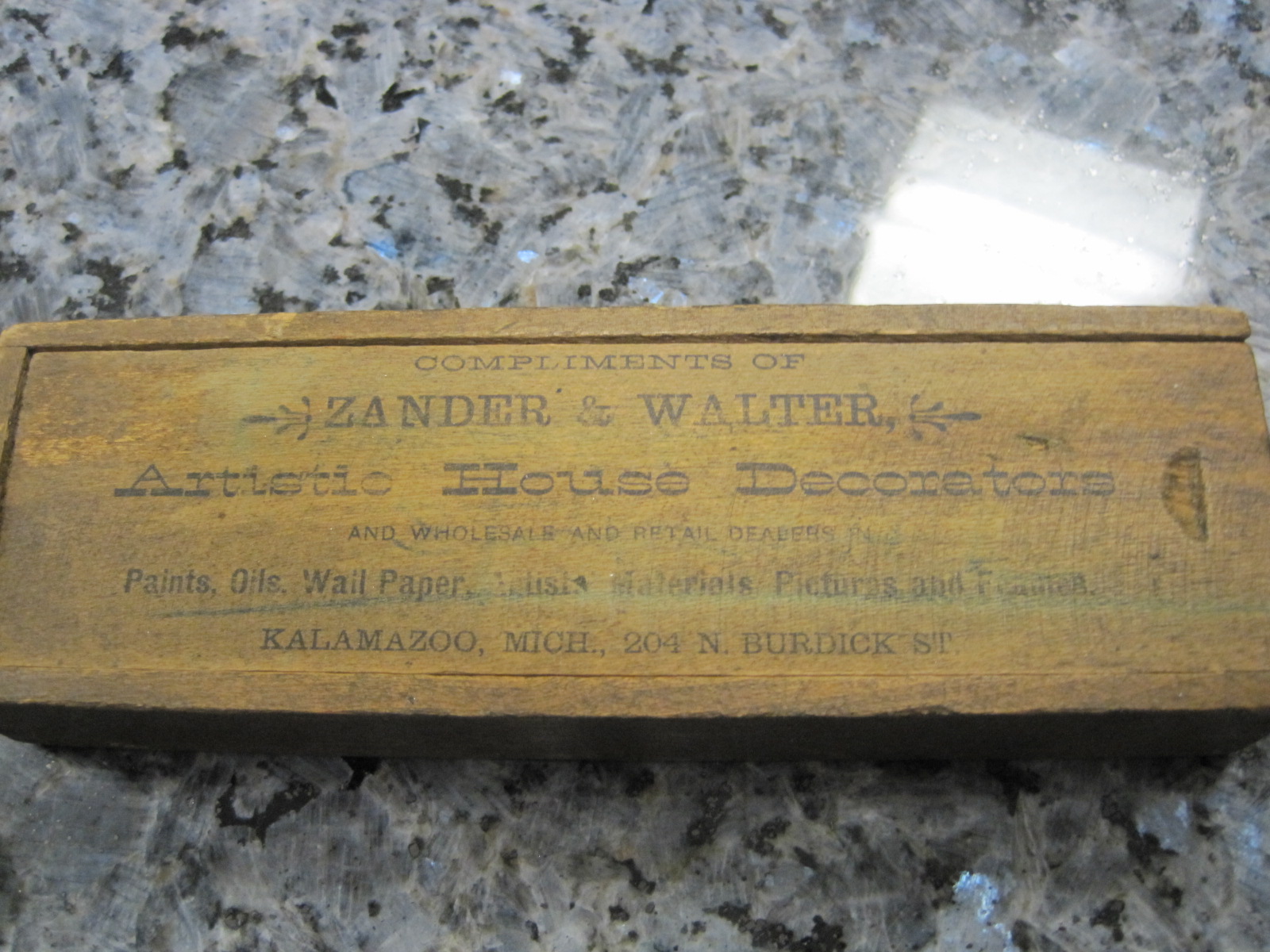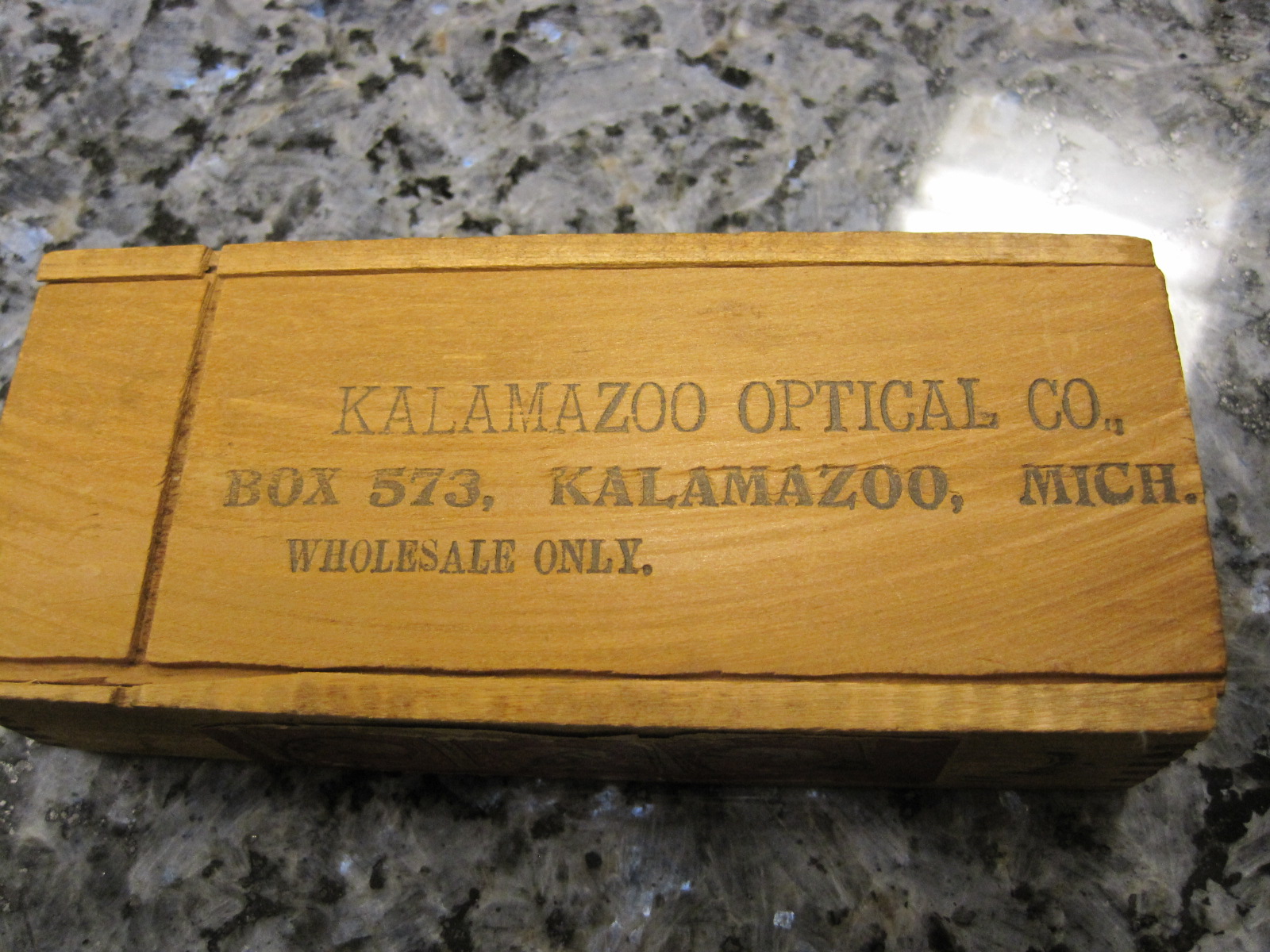 Many businesses passed out a complimentary box. One we saw was Zander & Walter Artistic House Decorators. The box states; "Wholesale & Retail Dealers of Paint, Oils, Wall Paper, Artist Materials, Picture Frames. Located at 204 N. Burdick Street, Kalamazoo."
Another great wooden box from Kalamazoo was: "Kalamazoo Optical Co. Box# 573 Kalamazoo Mich. Wholesale Only."
As I recall Kevin picked up that box at an estate sale where he also found a small eyeglass tool embossed, "Kalamazoo Optical Co." Now, how cool is that, you Kazoo collectors? It gets better!
Kevin also found a wooden box. I am sure these were all made in Kalamazoo, back in behind where Bimbos' Pizza is now, and along the R.R. tracks. This box has a paper label which is about 80% complete. The label reads, ". . . . . & Co's Extract of Vanilla" The bottom of the label lists the distributor as "B. Desenberg & Co., Kalamazoo Mich." See what you missed! I wanted to make Kevin an offer, but I saw Scott foaming at the mouth! Scott has a great Desenberg collection already started!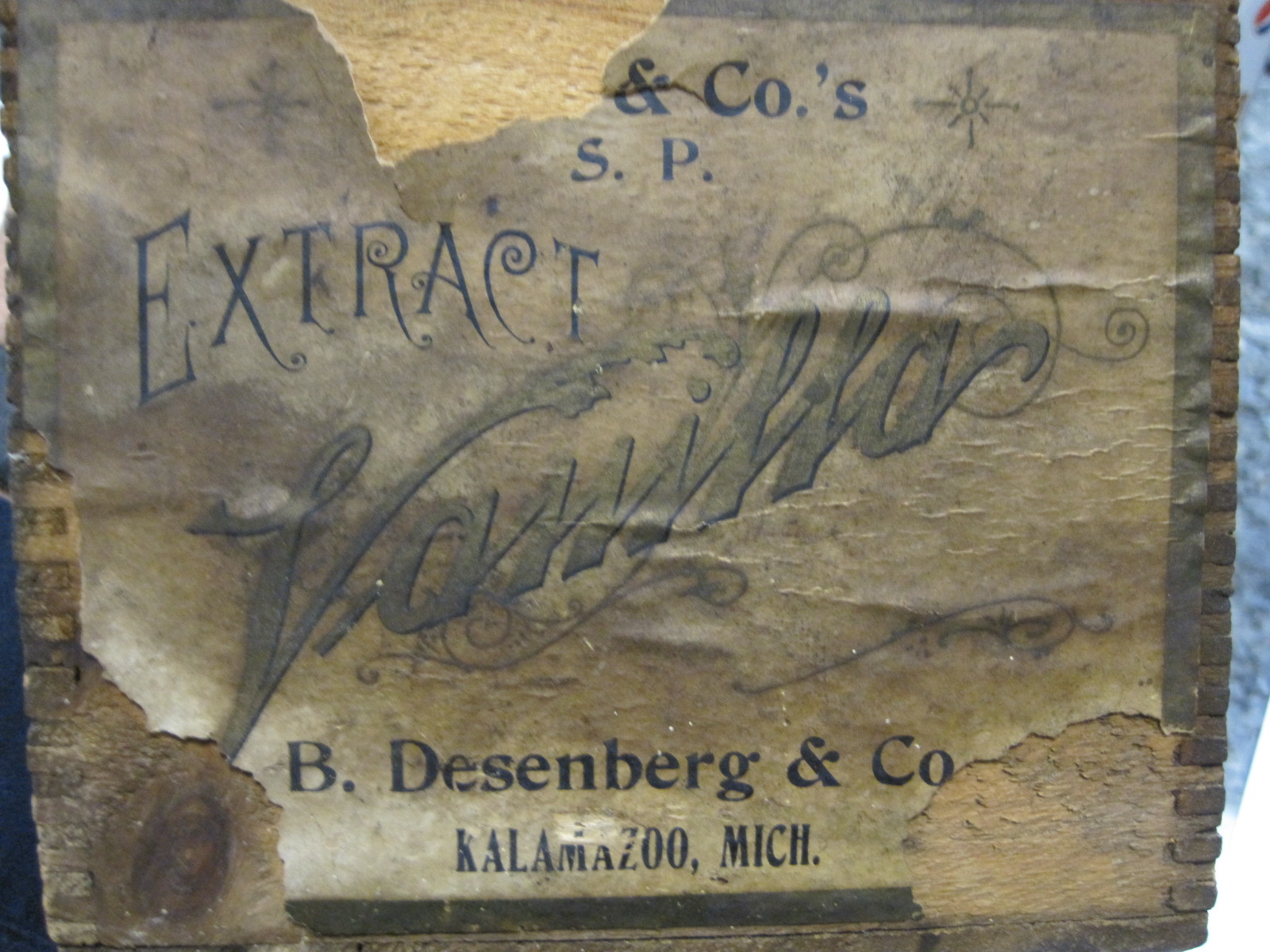 So, do you want me to fill in the blank? The very top of the label was missing so I will have to make an educated guess, but, with my brilliant mind, a guess is usually as good as gold! I'm 99% sure it said, "A.M. Todd & Co's Extract of Vanilla." Please hold your applause. What a Kalamazoo Treasure!
OK, Kevin had several more items. I know he had me in mind from the moment he found it. It was a small glass jar with the tin screw cap and paper label from Otsego, Mich.! Kevin knows that one of my favorite purchases 'ever' from the Kalamazoo show was a horseradish bottle from my grandfather's Michigan Cottage Cheese Company.
Back when my grandfather had the business, they offered many more food products than just cottage cheese. They were taking advantage of the fact that they had their foot in the door at food stores across Michigan and northern Indiana, which was not easy!
My father and my step- father were both route drivers and the stories I have heard about battles for cooler space inside the stores would fill another newsletter! Also, they had refrigerated trucks, so the more products they could manufacture and peddle, the more money could be made.
What Kevin found was a horseradish bottle with a paper label that read: Sam Beck 242 E. River St., Otsego, Mich.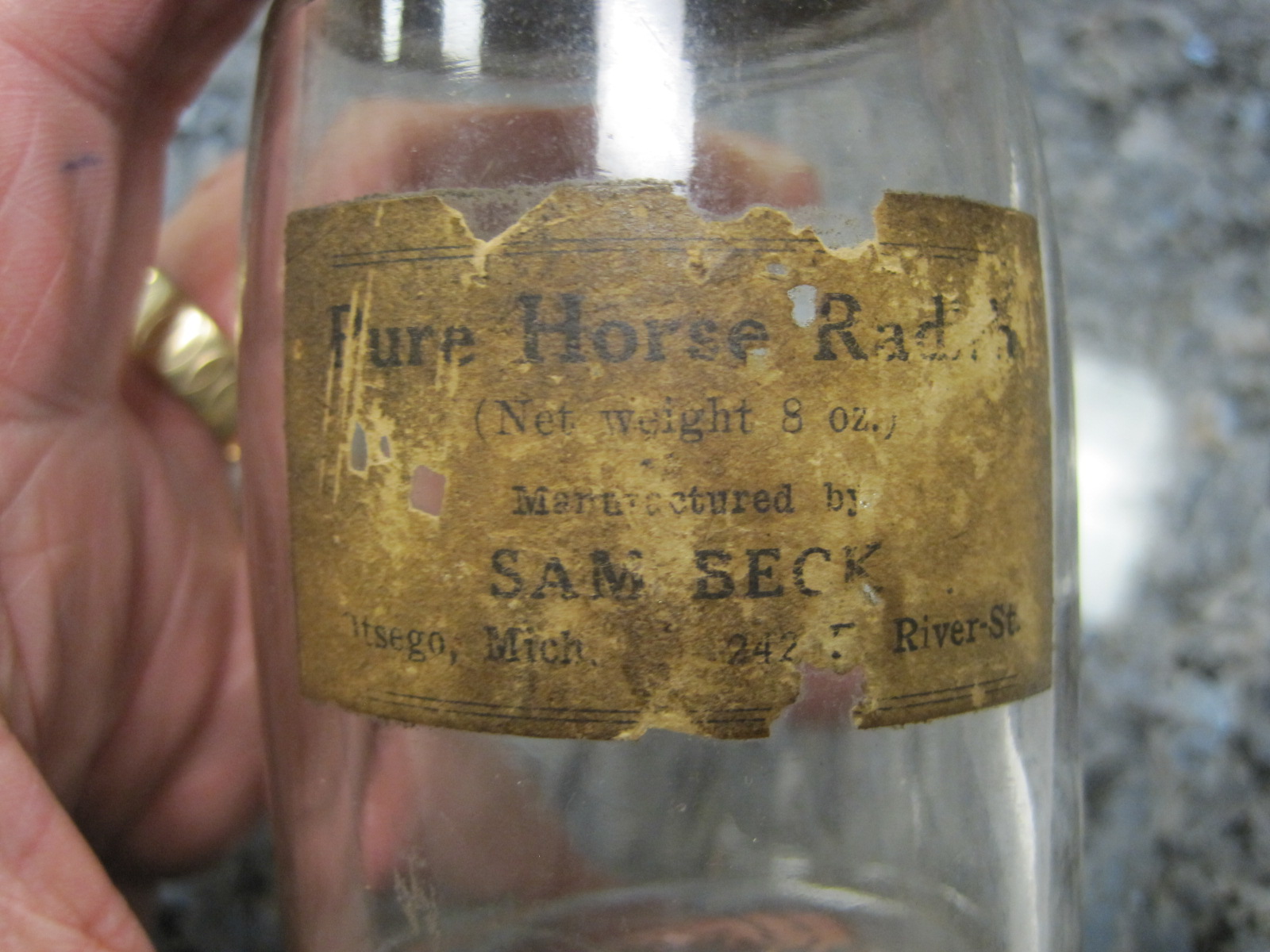 Kevin walked over and put it in front of me at the Kalamazoo show with an $8.50 price tag! I couldn't get the money out fast enough! Wow! There was another great Otesgo collectable and evidence of another horseradish product from Otsego! I saw, and took a picture of this at the meeting, but I was so focused on covering everything, I actually missed too much. If you want me to notice something special, just make sure I am awake!
Here is the rest of the story! From the moment I took the picture of the Sam Beck bottle, I was anxious to ask my mother or stepfather about it. They are both walking history books about things "Otsego!" But, I was still thinking it was very likely a shot in the dark. The bottle looked to be from the 1920's so there was a great chance Mr. Beck had slipped under their radar.
The label was not flawless and I was not 100% sure the first name was Beck. With the type font and the tiny missing specks, it could say Seck. I got my mother on the phone and told her that I had purchased a horseradish jar from Otsego and I asked, "Have you ever heard of Sam Beck or Sam Seck?"
I no more then had that out when she said "Sam Beck! Yes, he worked for your grandpa!"
When my grandfather started the cottage cheese business on Hammond Street in Otsego, it was in their home. At first, he could make about 400 pounds a day, which was a lot back then.
My grandmother and his two daughters washed crocks. During the day my grandfather would deliver the product. (He didn't get much sleep) As the business grew, he simply added onto his home. If you drive by the old factory and look up at the roof, you will see the roof of a house sticking up!
At one point, after he had several routes established and a small fleet of delivery trucks, he put in his own underground tank and gas pump for the trucks. At night the trucks would be emptied of any spoilage that the drivers bought back, cleaned, loaded with fresh product and gassed up. My grandmother was a big one for keeping good records. When she passed away, we found lists showing how well her hens were laying, how many eggs she sold and how much she was paid! On the list was even how many eggs she gave to the needy!
Well, the company gas station was not adding up! She was recording a shortfall week after week! She had a hunch something funny, was happening so she waited up night after night to watch the gas pump from the attic window. There he was finally! She had caught the thief filling up his truck! She grabbed her broom and took after the thief, taking the law into her own hands! She got in a few whacks on the thief before he could get off in his truck and she got a good look at the rascal! Yep, it was Sam Beck!
I hope his descendants don't find this story as alarming as I do funny! You had to know my little Swedish grandmother to appreciate this little story! And to think I have a 1920's Sam Beck Horseradish Jar! How cool is that? No, Sam didn't lose his job. My grandfather was one of the most forgiving men who ever set foot in Otsego.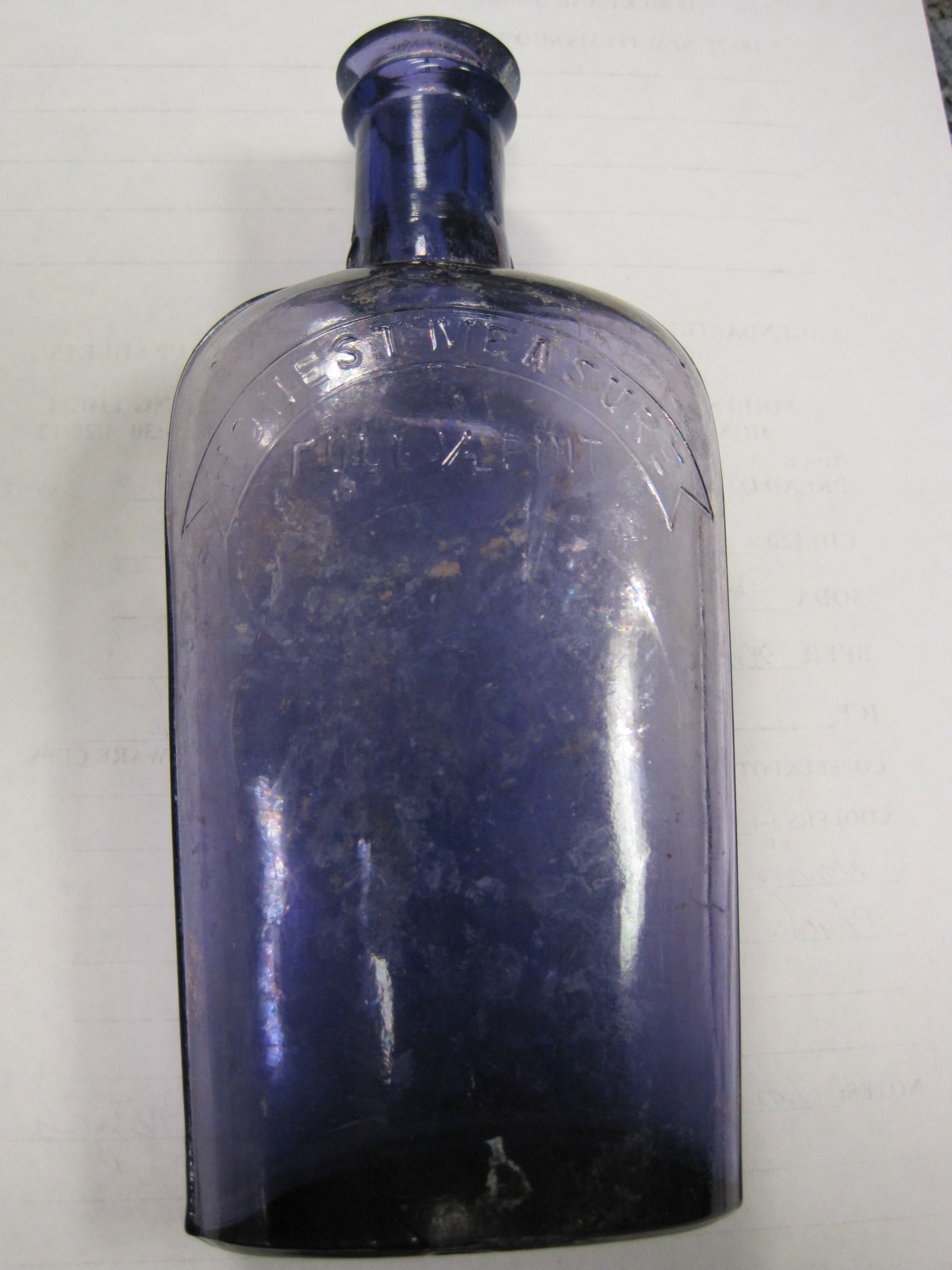 Let's get back to last month's meeting. Dee Cole had some awesome bottles to show us. One bottle was a beautiful shade of pink. Some of the guys said it was a very early 1900's perfume bottle, but I think, based on the size of the mouth, it is a smelling salts bottle. I have almost the same bottle in green with a ground stopper.

Another amazing bottle Dee had was also from the early 1900's, and it was a desert find! It was the darkest sun-colored purple whiskey flask I have ever seen! It is embossed with an old ribbon style banner that reads "Honest Measure." Below that it says, "Full ½ Pint"

Also Dee had just dug a nice Omega Oil bottle. In a little cloud-shaped framing, it said, "Omega Oil it's Green."

Scott had a drop dead beautiful fruit jar on display that he took in exchange for some garage door work. It was a sparkling attic perfect "Lightning" canning jar with a bail and glass top.

There was much, much more. If you missed the meeting, you missed a great one.