Our Club Meeting is Tuesday, November 8th
Last Meeting
I suspect you are becoming somewhat doubtful regarding my honesty. I must sound like a broken record when I say month-after- month "If you missed the last meeting you missed a great one!"
Well, that is exactly how I remember it!
We had another good turn-out for our second meeting of the 2016 - 2017 club season!
Here is the list of names from our sign-up sheet: Vincent Grossi, John Winker, Ron Smith, Eddie Nickerson, Bill Drake, Mary Hamilton, Kelly Bobbitt, Rob Knolle, Kevin Seigfried, Chuck Parker and Al Holden.
We also welcomed a new member, Rob Knolle. Rob is one of my good friends, and also a member of the metal detecting club.
We have several members of the Southwest Michigan Seek & Search club who are very good divers, and Rob is one of the best. Rob works as a dive instructor at Sub Aquatic Sports & Service in Battle Creek, MI. Their address is 347 Helmer Road North, Battle Creek, MI 49037
As I age, my passions change, with I think is a healthy thing, maturity is suppose to be that way, right? Winston Churchill supposedly once observed; "Anyone who is not a liberal at 20 years of age has no heart, while anyone who is still a liberal at age 40 has no brain."
At age 16 my interests centered around 'cars and girls' usually alternating in order. I was recently telling my wife that many of us guys worked really hard to fix up our cars, thinking somehow 'the girls would see how cool we were.' Guess who noticed? The guys!
The girls, around our same age, liked to dress up pretty in trendy clothing and they spent extra time applying the latest in makeup so the guys would notice. You know who noticed? The other girls!
By the time I was 18 I had purchased a 1960 Corvette which I painted a bright gold metallic with beige side panels. I put some red-line tires and sporty Cragar mag-wheels. The car had a flawless black interior and I was just as cool as anyone could get, handicapped only by my looks. At just over 6 feet tall and tipping the scale at 130 pounds, I wasn't the football star of every girl's dreams.
About three years earlier at a Baptist summer camp I met a cute little girl from Plainwell named Shannon. I decided to give her a call, and somehow, she was free for a candlelight supper out at Point West in Holland. I splashed on a little Hai Karate, and my Corvette sparkled enough to compete in the Autorama! Even my plug wires were spit shined!
As we drove a mile or two, with my male pride ready to explode, she popped the question!
(First consider this; with a big cove area in the dash directly in front of her, was the word "C O R V E T T E." )
The question came framed in a compliment, "This is a nice car . . . what kind is it?"
It was just the pin-prick I needed to pop that ugly balloon of male pride! I learned it was more important 'who I am' than what I drove. She would have been just as happy if I had picked her up in a VW Beetle, which, by the way, was to be my next car!
As I grew into my 20's my distraction to life continued to be cars and drag racing. But my attention shifted to the "Lore of the Lakes" on a vacation to Sault Marie in the early 70's.
I purchased a 67 Toyota Corolla from a school teacher in Battle Creek. This lady had certainly squeezed every penny of good out of it, and it was tired . . . but at the time it was all I could afford. I fixed it up in my garage, it was real rusty and a heavy smoker!
I stripped the overhead cam 4 banger, 8RC, engine down to the short block in our garage. Then, with the help of my neighbor, we manually lifted the engine out of the car! I am not kidding!
With new piston rings, bearings, and a valve grind, I was pretty confident in my work, (actually young and foolish) because I hooked up a little Bee-Line teardrop travel trailer and headed north. We found a little mom-and-pop campground on the Saint Mary's River.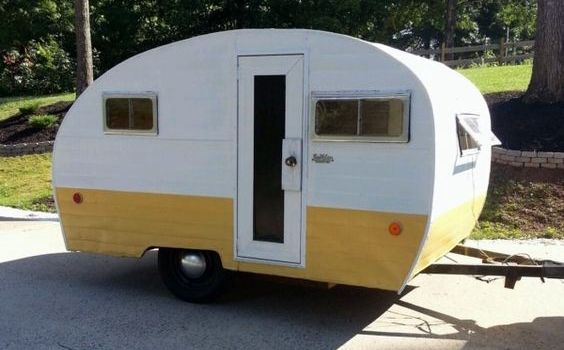 We didn't consult a Rand McNally Campground Atlas, nor did we do an online search. Of course there were no personal computers back then. And, to this day, I have never been good at asking directions. When we reached the Soo, it was late and I just followed along the river headed east looking for a campground.
Soon I located the Nicolet Campground (gone today) about 7 miles east of the Soo. It had been a long day and everyone was very tired so we hit the sack as soon as we got the trailer hooked-up to electric. In fact, it was so late, I didn't even bother to unhook from the car. Our two little boys slept on a hinge-down bunk which lowered over our bunk leaving very little space; it was impossible to sit up in the bed, on top or bottom!
Knowing very little about our surroundings we fell off into a deep sleep in the quiet of a northern star-filled night. Little did I know, in less than one hour I would suffer a severe head trauma!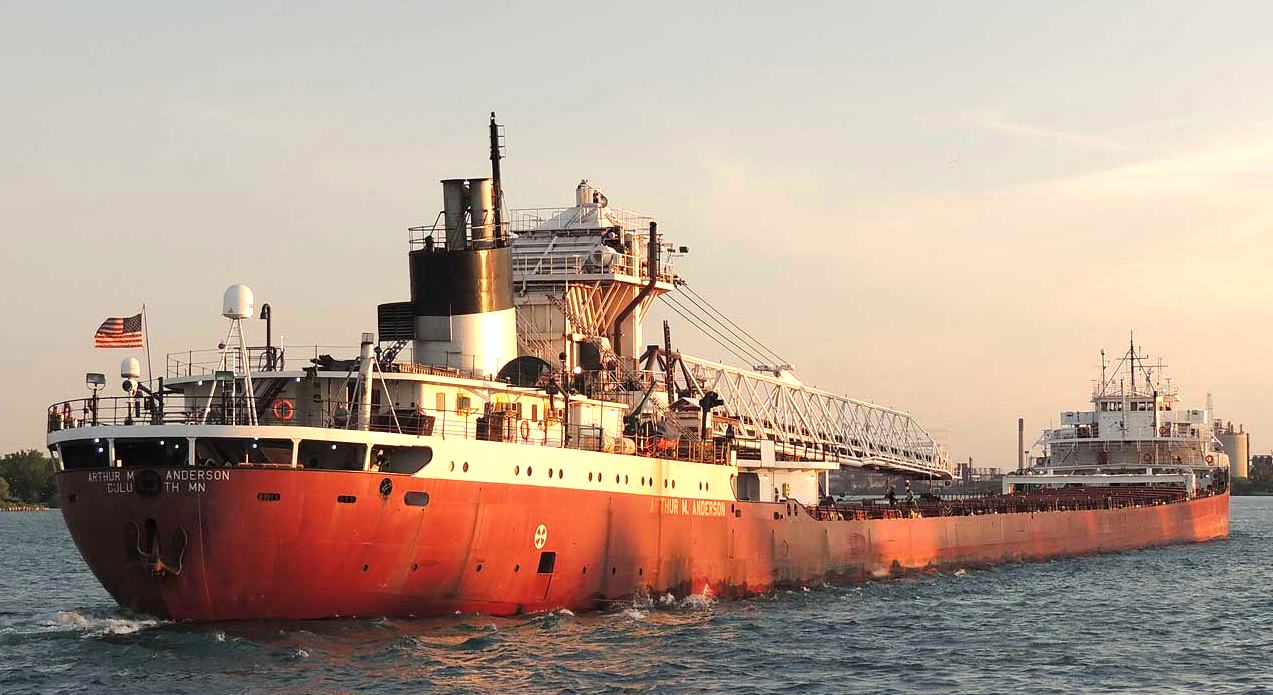 I had no idea just how close we were to the giant passing freighters! Let me put it this way; if you had a real good arm, you could throw a baseball onto the deck of a downbound ship!
As I went to sleep that night I didn't have a clue about the fascinating activity taking place just outside the camper on the Saint Mary's River.
My first lesson was to be about the ship's horn-blast signaling system. Imagine; waking up to a bomb blast only inches away from you, and you sleeping inside a canned ham container!
Have you ever experienced a sound that is so loud that you could physically feel it? Well, it happens when a pair of nitro-burning fuel dragsters go down the dragstrip, or when a Great Lakes Freighter blasts its horn! I sat straight up in bed so-fast . . and bang! I hit my head so hard it was as if I had been smacked in the forehead with a ball bat! And guess what; in the cartoons, when they depict the victim with a 'halo of stars?' It is really like that!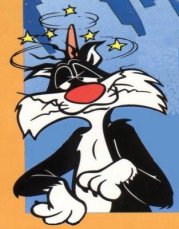 I went on to buy every book about the Great Lake's shipping history that I could afford. From the first shipwreck, dating back to La Salle's "Le Griffon" in 1679" up to our present time. This history is very interesting.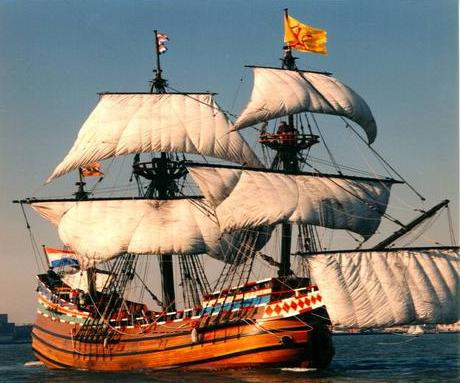 Among "Boat Nerds" like myself, there are certain 'gone missing' shipwrecks which have never been located. We refer to such wrecks as "Ghost Ships." The Holy Grail is the very first wreck, Le Griffon. I have some friends who are wreck divers and Rob Knolle is one!
Just last July when we were camping near Mackinaw City, I checked in on Facebook from Cunningham's Restaurant . . . and BOOM, Rob fired off a message "Al, I am in Mackinaw City with a group to go out wreck diving!"
The Straits of Mackinaw's Underwater Preserve contains a treasure trove of underwater riches for the scuba diver. Not that it matters to anyone, but I have a feeling the Straits is the resting place of the Griffon and her 6 crew members.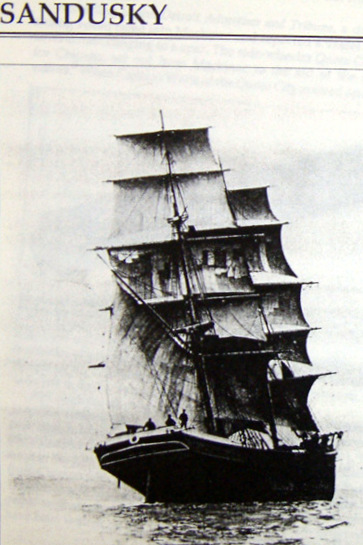 Rob posted some great photos on Facebook of some of the wrecks. A couple of them I recognized, like the 'Sandusky,' from pictures in books I have!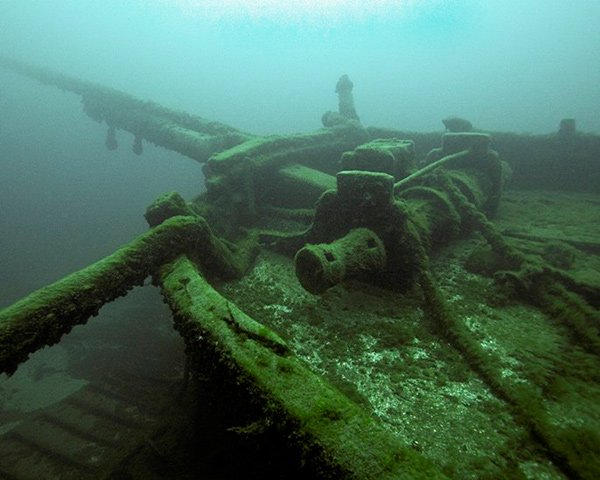 So, what brings Rob into the antique bottle club? Antique bottles of course! Rob has been diving in the Saint Joseph River, among others, and finding some very cool bottles and other relics. Rob showed off a large group of bottles at the meeting which included a small cologne bottle that he spotted on the river bottom sitting upright with its glass stopper! Rob said the bottle was 'wiggling' around trapped in a current's vortex almost saying "look at me."
Just like those of us who bottle hunt on land, we all learn from our mistakes. Rob snatched the little bottle out of the mini underwater cyclone and added it to his goodie bag. When he surfaced and unloaded all his treasures, the little glass stopper was gone!
Something that I spotted in Rob's display brought a smile to my face, it was a clamshell full of holes. I was given a few of these back in the 70's by one of my customers. Clams had been harvested by the tens-of-thousands from back in the 1870's up until the 1940's for making decorative mother-of-pearl buttons.
The button factories near Saint Joseph, (there were a half dozen or more), would machine-cut the pearl button-blanks out of the clam shells. For the smaller buttons they could cut several from one shell, and some large buttons would require one shell per button.
The bulk blanks would be shipped by rail to button finishers in Chicago where the blanks would be polished smooth on lapping-wheels and then drilled to-order for the garment industry. Of course the mass production of plastic buttons in many colors, and even some made to look like artificial pearl, spelled the end of that local industry.
For some reason that story about the clam shells triggered another memory. I have two friends, who are brothers, (whom I suspect are the ones who gave me the holed clamshells.)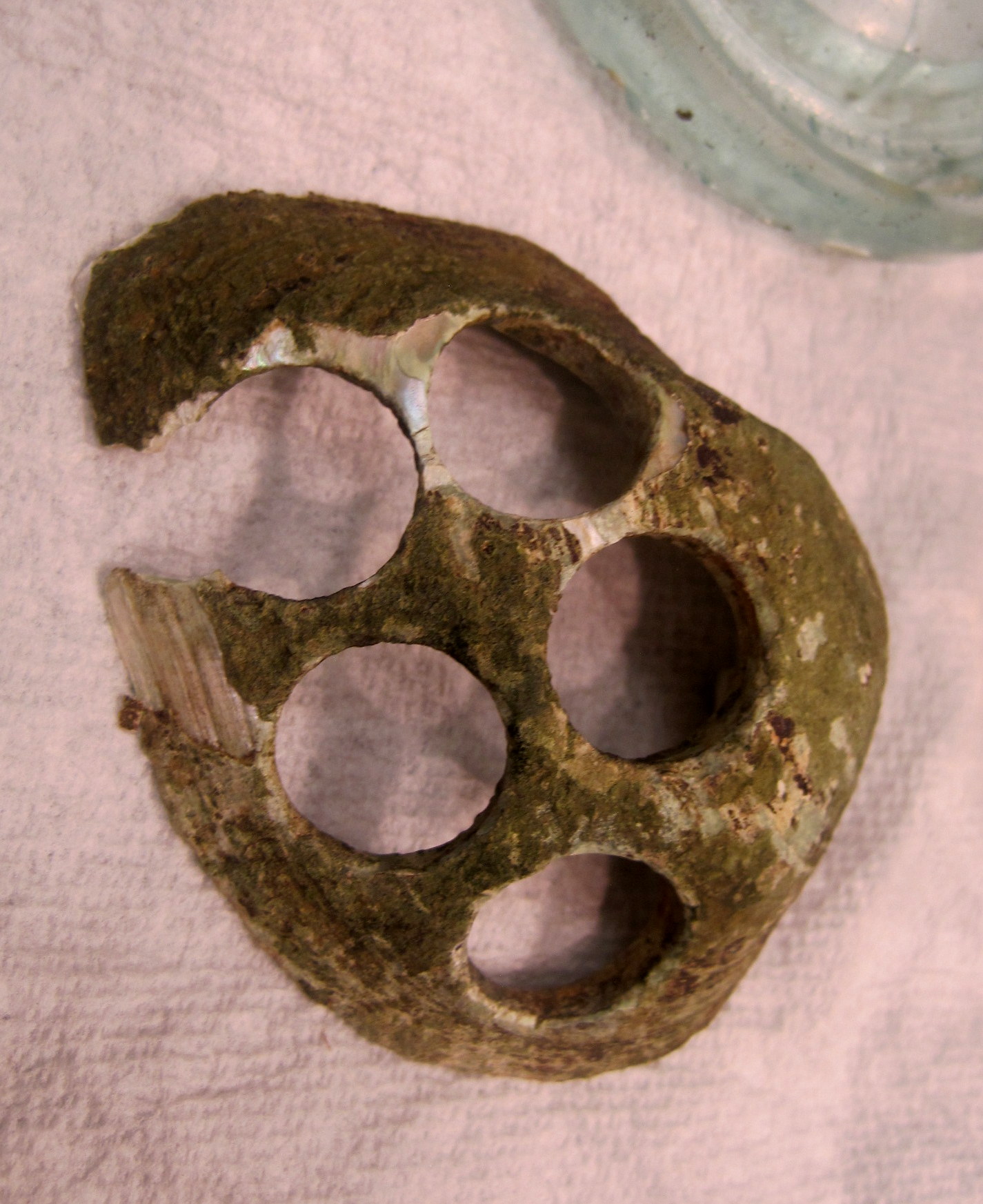 My friends both worked for the DNR and one was assigned to the Kal Haven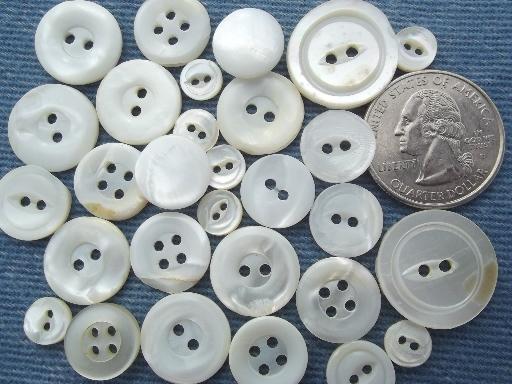 rail-trail and also the north beach at South Haven. (Please stop me if I already told this) They had their work crew clearing out a parking area near Grand Junction, MI for the rail trail State Park. Moving around the dirt, they found evidence of an old structure.
After their shift they went home changed out of their uniforms, grabbed their metal detectors and went back to hunt the old ruins. Almost immediately they started finding some very neat stuff including coins from the 1800's. It was one of those hunts where it was hard to stop even after dark.
After hunting the area that they had already cleared, and with so much success, they started to think about the area that still needed to be cleared. With that in mind, the one brother with the training to run the dozer, went back home, put his uniform back on, came back and pushed some more dirt around! Sometime you just have to do voluntary overtime!
In later research the brothers discovered this was a spot, along the old railroad line that was an early Bible factory!
I'm not exactly sure of the connection? Maybe it is to found in what Jesus said in Mt13:46 "Who, when he had found one pearl of great price, went and sold all that he had, and bought it."
Of course the Lord mentioned pearls again in Mt,13:45 "Again, the kingdom of heaven is like unto a merchant man, seeking goodly pearls"
As my granddaughter likes to say, "So anyway" we had a great time listening to Rob's bottle diving stories. Chuck was quick to notice how much better the old bottles look coming out of the water than out of the privies! Welcome aboard, Rob!
---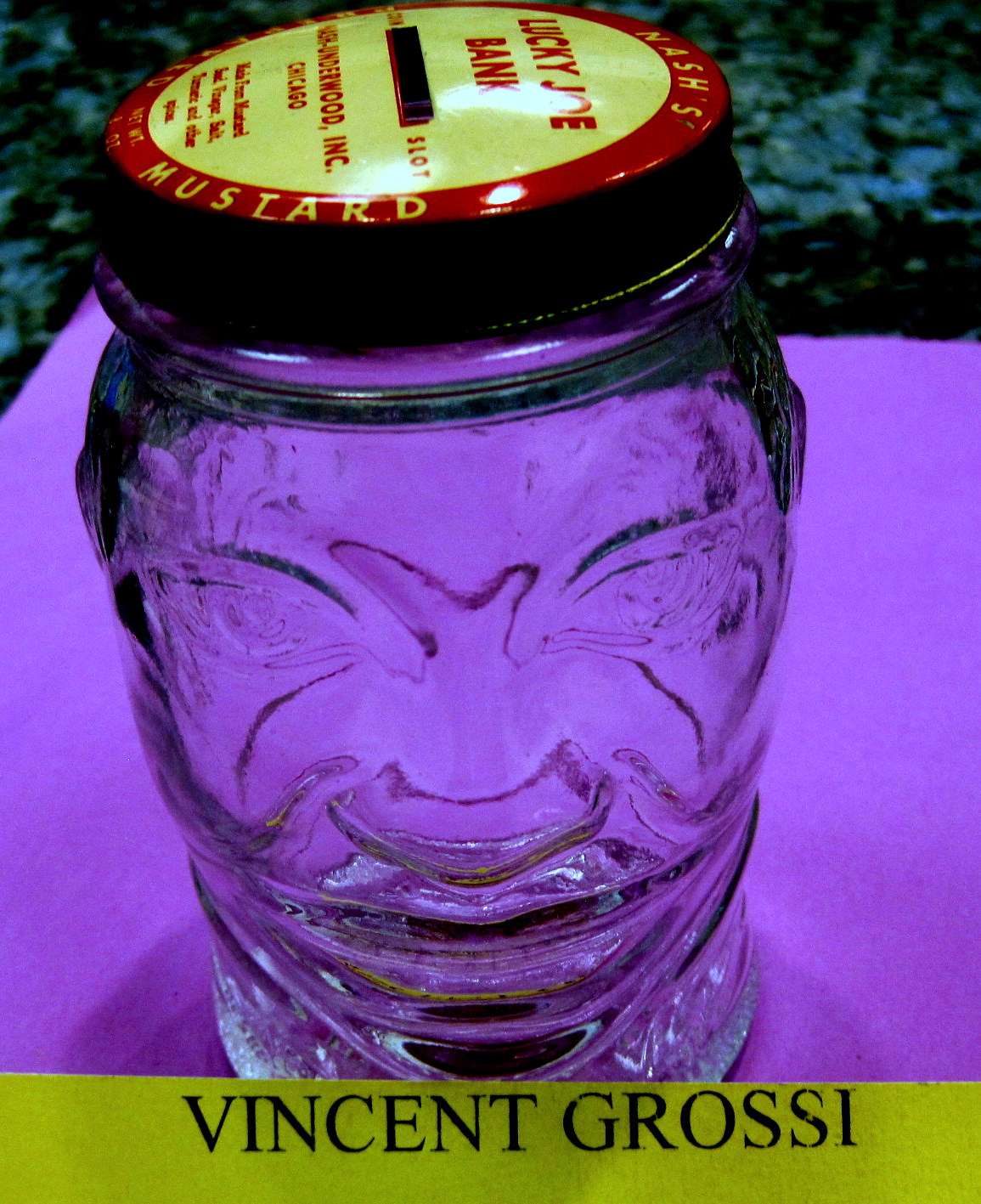 We saw some neat stuff at the meeting which is always the fun part for me! Vince Grossi displayed a figural bottle that is a Nash's Mustard jar from the 1930's. Originally, it was full of mustard, when the mustard was all gone they would punch a hole in the lid to turn it into a piggy bank. The bottle was formed to look like heavy- weight boxer, Joe Lewis.

Vince had a crown cap bottle that once contained "Moxie." Moxie was one of the first soft drinks on the market dating from the 1870's. Actually Vernors was started in 1865, but they were both first marketed as patented medicine. And surprisingly both beverages are still being bottled! Moxie was first promoted as "Moxie Nerve Food."

Vince has another labeled bottle with contents called: McNess Barbed Wire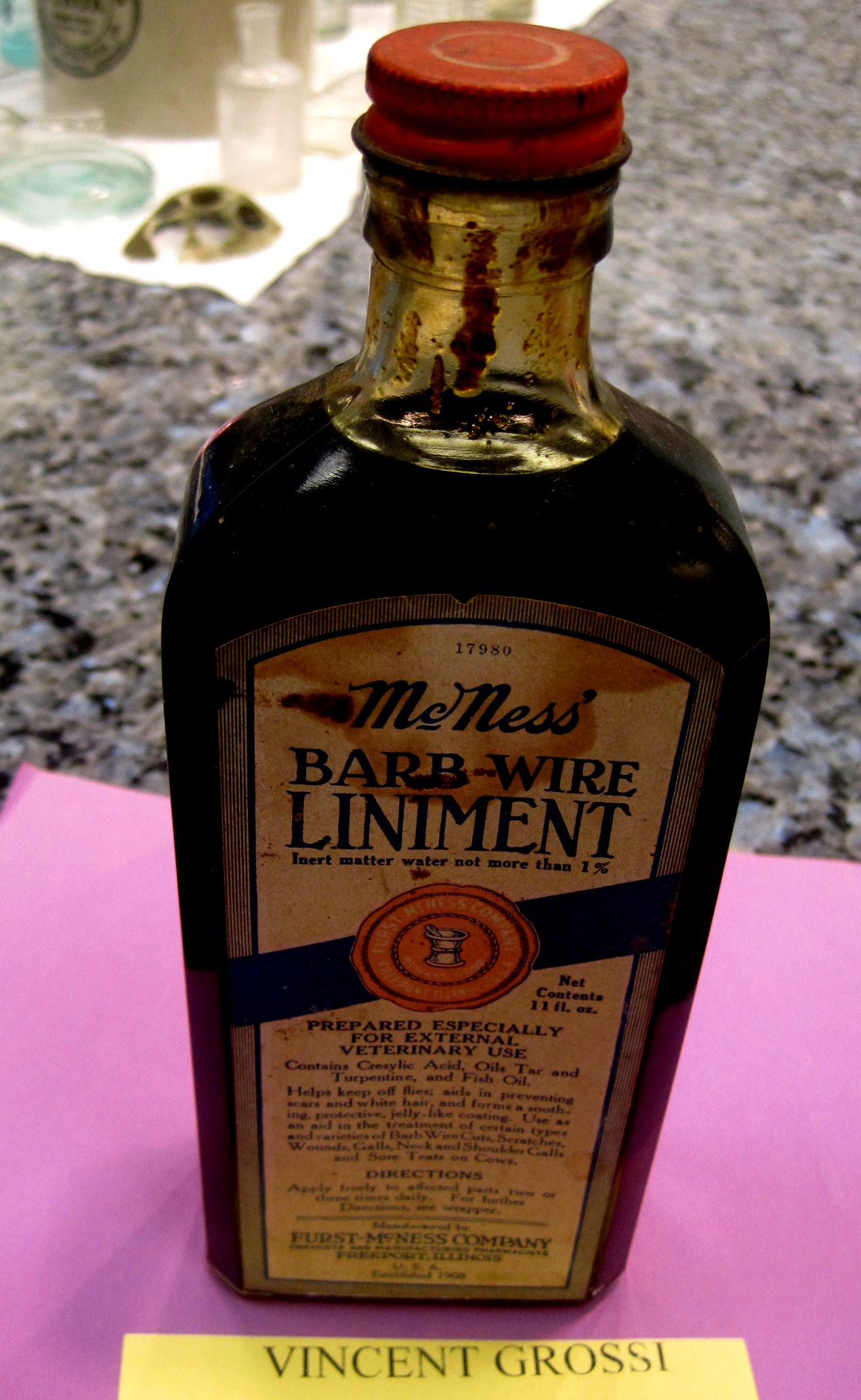 Liniment. Now, does that sound soothing or what? Actually, it was marketed to the farmer with cattle whose only sin was they were after that greener grass just beyond is barb wire fence!
Rob Knolle displayed some of his neat dive bottles which included a number of small- town soda bottles. I know that is an ever growing collectable market some fetching big bucks!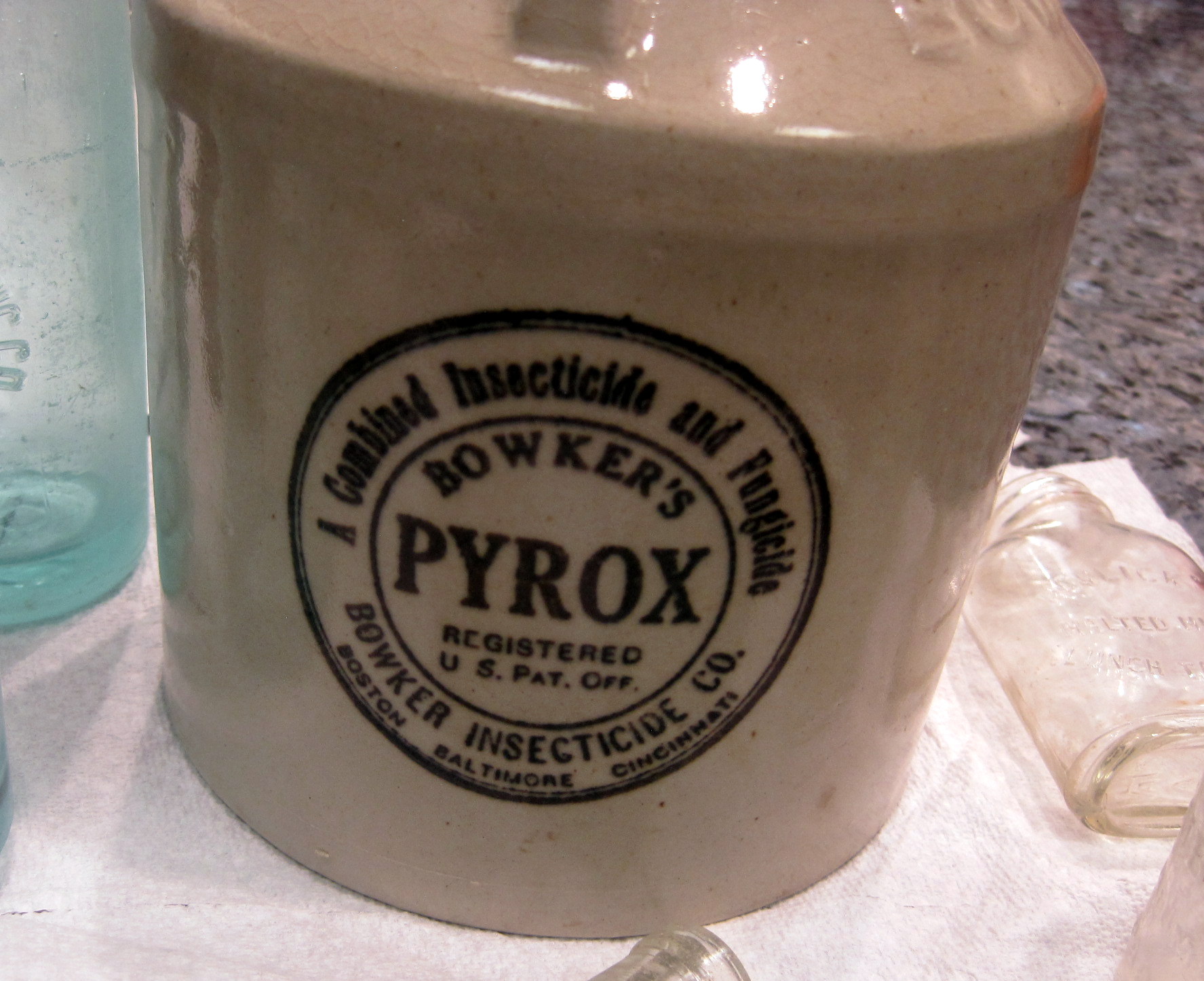 Another cool item was a "Bowker's Pyrox" ceramic container that was used to hold a combined Insecticide and Fungicide. I found one listed on eBay for $445.00! The product dates to the late 1880's. Pretty cool item! The stoneware crock has POISON embossed on the top shoulder! Wouldn't you love fill it with some brown-sugar and molasses home-baked beans and take it to the church potluck? I love thick, sticky and sweet baked beans!
Kevin Seigfried showed some neat stuff as usual! One bottle would be of interest to any Michigan druggist collector. It is a nice embossed Duncombe & Stearns & Co. Druggist, Paw Paw, MI. Another one I would have made an offer on, if I wasn't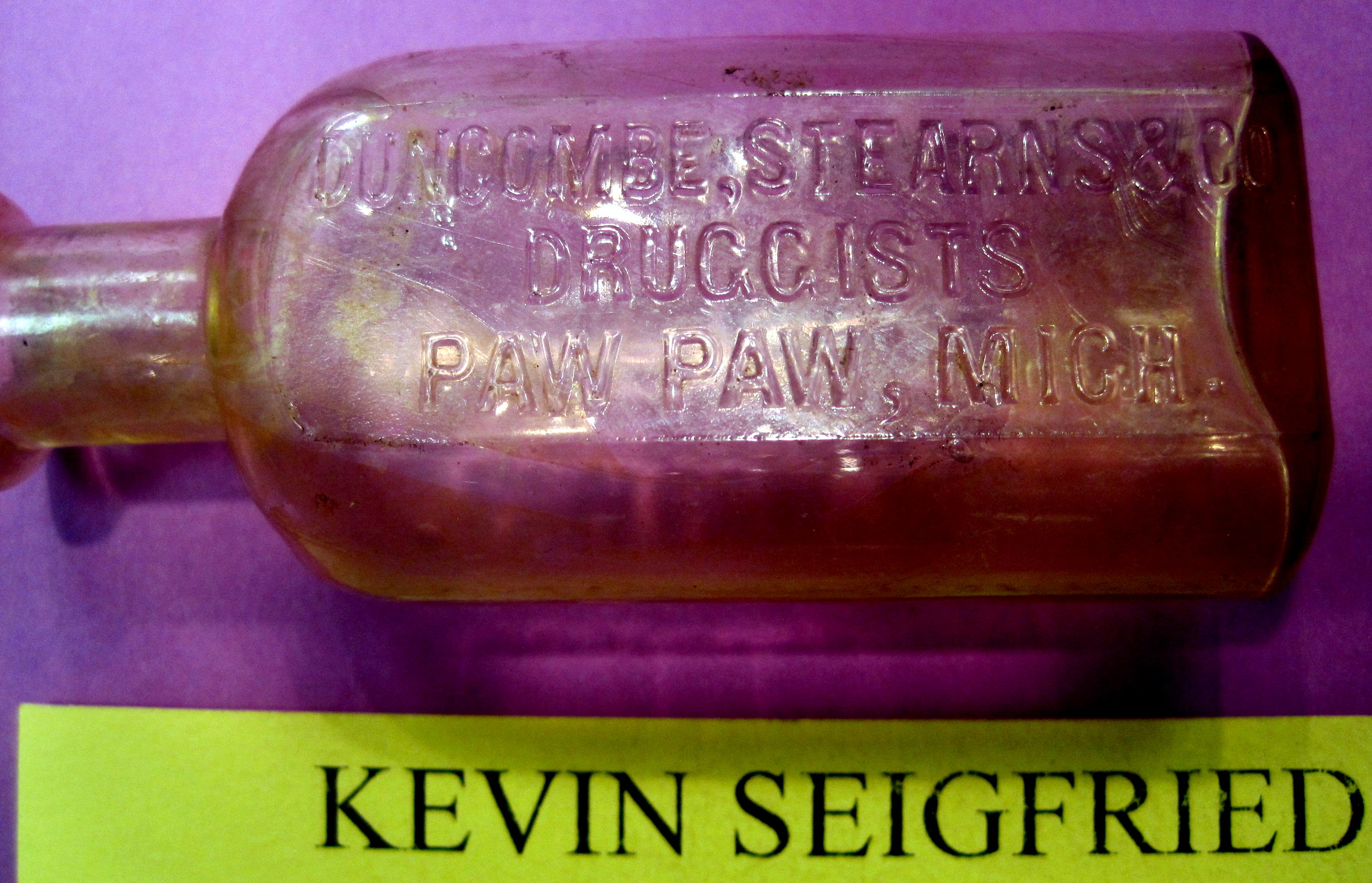 trying to cut back, is a Derby Peter Pan Peanut Butter jar with a beautiful bright colored label.
A second veterinary concoction we saw at the last meeting was for chickens.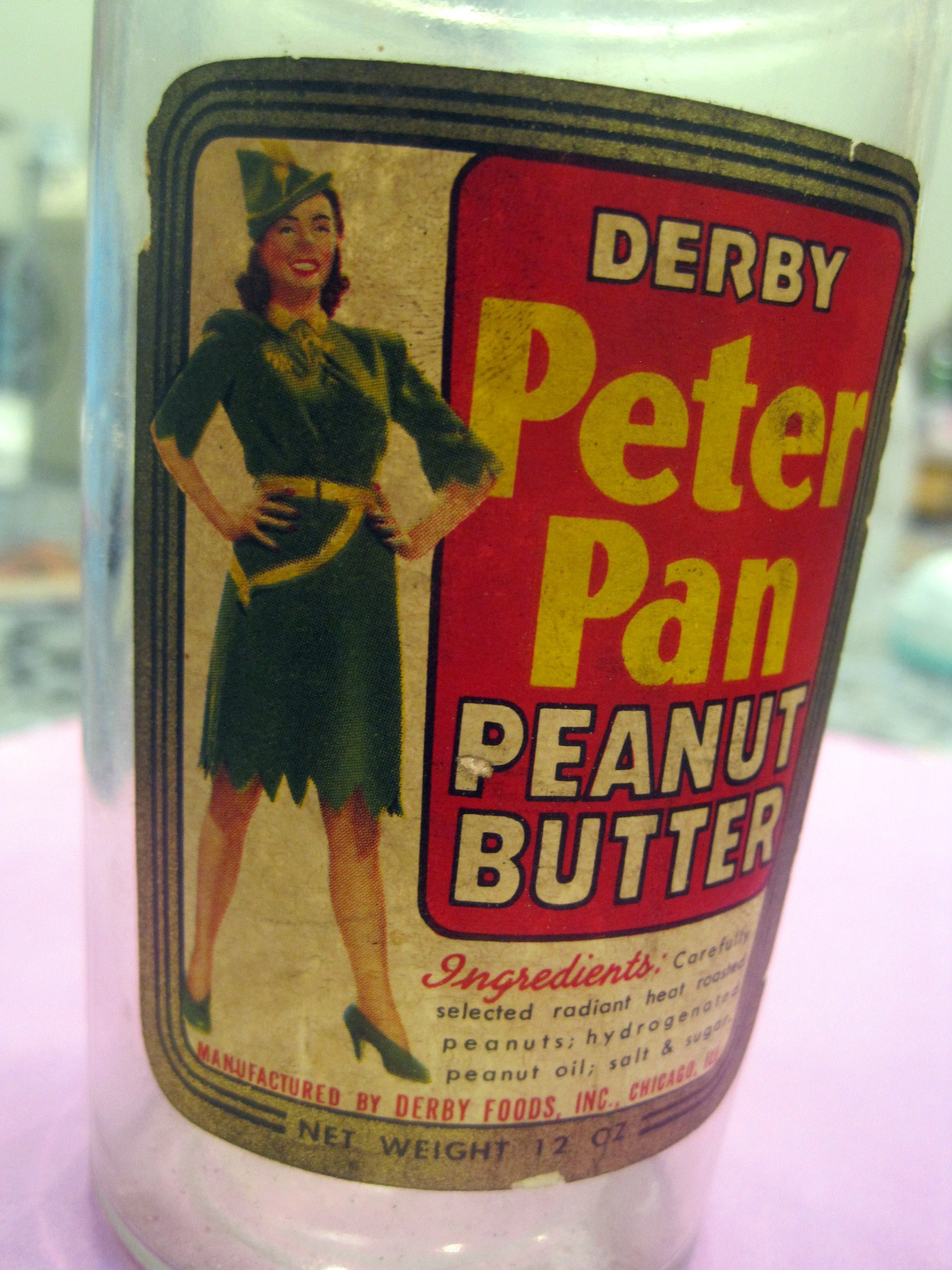 Kevin has a labeled bottle with contents of Lippincott's "One Night Roup Remedy!" In the bottle's instructions it says to put the remedy down the fowl's throat, taking care not to strangle!"
That is what I call "Kill or cure!"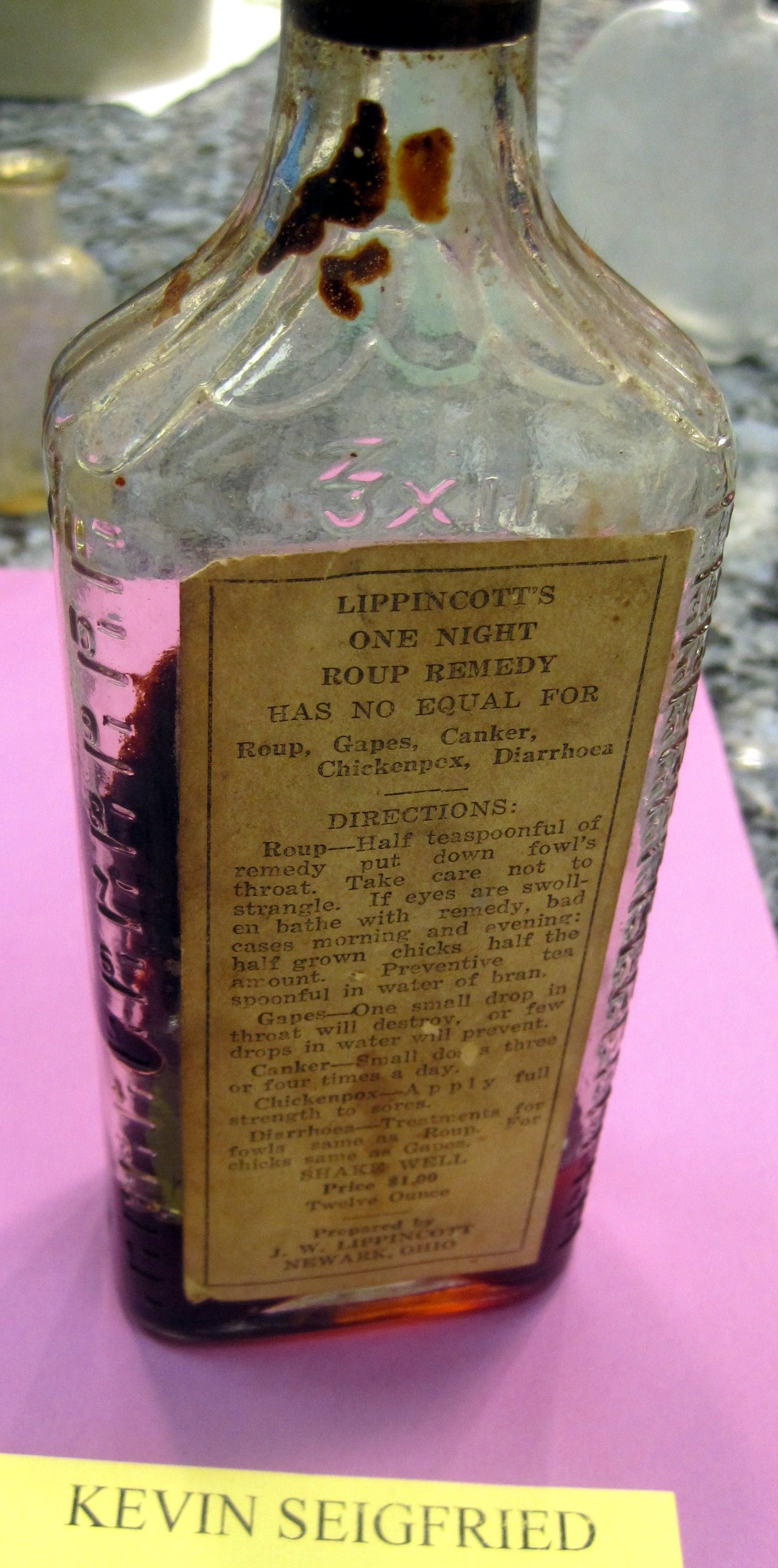 Ron Smith displayed a large glass female urinal. I just report what I see. I was curious how he could tell it was female, and I think he said something about looking at the opening? I won't go any further with that one for fear of pissing anyone off.
John Winkler and Chuck Parker brought in bags of Halloween candy which was a treat. I wanted to bring in cider and donuts again this year, but with moving my shop I have had little ambition left.
---
This Month
Our theme this month will be local bottles, and recently found treasures.
What it should be, with the meeting being on election day, is historic flasks and presidential bottles, but frankly I am already trying to forget about this never ending circus.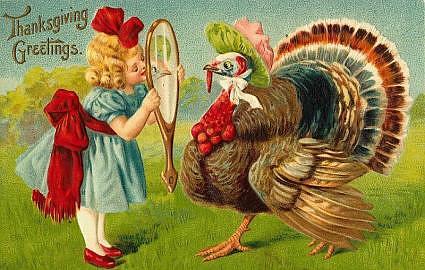 What we should be thinking about on this time of harvest in the most blessed land on earth is Thanksgiving. This is a time our forefathers so keenly understood. One of the reasons we have taken being thankful so lightly, is because we have become too self sufficient. We have reached a place where we no longer fear if the crops will fail. We feel too secure in the government to meet our every need. More and more people look to science to solve our problems and to direct our path. During this election cycle every candidate is quick to point out the problems and claim to have the magic cure, but not in one equation do you see any mention of God.
Never in my life have I seen so much demonic activity, while at the same time I see a nation slamming the door in the face of God. This has been tough for many to watch, but it isn't at all unexpected to the Bible student. To say this 'falling away' isn't actually happening, is add to the spirit of unbelief that is out-of control today.
Despite all of the grim reality, we can think of King David who was surrounded by ugliness when he proclaimed:
---
Ps:28:7: The LORD is my strength and my shield; my heart trusted in him, and I am helped: therefore my heart greatly rejoiceth; and with my song will I praise him.
---
Regardless of the situation, we as Americans, have so much to be thankful for.
---
SEE YOU AT THE MEETING!
The Kalamazoo Antique Bottle Club meets at the main downtown
Kalamazoo Library
315 South Rose Street.
We meet on the third floor in the conference room.
This meeting is Tuesday, November 8th
Meeting starts 7:00 pm.
For questions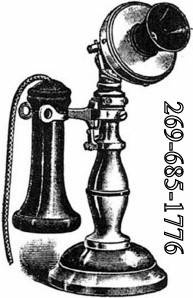 Or call
269-685-1776