Enter into His gates with Thanksgiving and into His courts with praise!


Hello Friends!

Here I am again, all of you antique bottle lovers! I'm here to wish you and yours a bountiful harvest season, one overflowing with thankfulness, for God's many rich blessings.

Because of the constraints of time, I was going to recycle as much as possible from the November 2021 club newsletter. Frankly, I really got myself
'Caught In a Trap,' and no, that is not from my new hit single, Suspicious Minds. That was Elvis not Alvis. . . as Chuck fondly called me.

The last two weeks of October really turned around to bite me hard, really hard!
I had lost my Optometrist and my General Physician, both to retirement. I could be to blame, just for making them rich. The real problem was, I was dragging my feet when it came to finding some new doctors.

Finally, my wife put her foot down. She reminded me about how I need to keep up with things because of my diabetes. Her main concern was my eyes. It had been three years since my last checkup, which in my case, should be every year.

After all the testing, the doctor wrote me a new prescription for glasses, but he surprised me when he said, "I need to see you again in a couple weeks."

I didn't know what to expect, and right-away the doctor's team started out with a test. It was like a video game! All they asked me to do was click a hand device whenever I spotted a tiny flash of light.
A couple times I clicked when I shouldn't have, and a few times I clicked too late, but it all seemed to work as it was suppose to.

At the end of the appointment Doc said, "I saw something that concerned me at your last visit, but I wanted to run this test to confirm what I saw."

The test revealed that I have Glaucoma. It is far more advanced in my right eye. The test is a form of measuring your peripheral vision. Most people think of the vision you see off to the side, but it also can effect sight above and below your line-of-sight. In my right eye, I am losing my site looking down. In that eye it is pretty well advanced. I also have it coming on, but at a much slower rate in my left eye.
So, there is medicine, but it can only be slowed and not stopped.

A day later, on the last weekend in October, I had to go into the pharmacy to pick up my new eye medication. The wife and I had been talking about getting flu shots, so I got both of us on the list.

My pharmacist said, "Al, I see you haven't had your second Covid booster, do you want that as well?"

So, we took care of business, and yes, we were glad to get that taken care of. That evening my wife told me she had an overwhelming sense of peace come over her, I love when that happens.

We had been battling several home repairs issues, car issues, and some legal issues with my granddaughter's social security, but everything seemed to be finally coming together nice.

That night in bed I started to get a burning-tightness in my chest. I took an Alka~Seltzer and returned to bed. It gradually got much worse and the pain, with burning, spread to my back and abdomen and was getting stronger every minute. It was terrible pain!

They had given me some paperwork, the "Fine Print" with the Pfizer Covid Vaccine, and the warnings included; chest discomfort or tightness, chest pain, possible moving to the left arm, neck, or shortness of breath! Hey, that's me! Then it said;

GET TO THE EMERGENCY ROOM!

By this time, I was in so much pain that I didn't feel I could even drive! I grabbed the Vaccine papers and away we went!
My wife has retired from Bronson after 44 years, and I am very well versed with that Hospital scene. I was shocked to check into the E.R. and see we were all alone!

They have a strict protocol for "Chest Pain," but, I think my suspicion, regarding the vaccine, caught them a little off guard. I waited for an hour in the waiting area before my wife demanded I be seen!

I was 5 hours in a treatment cubical with a pain level at 10! But, because I presented them with a theory that they were puzzled by, well, they were afraid to make any mistakes.
(I am my own worse enemy at times)
Finally, after I couldn't help but groan-out-loudly!!!! in terrible pain, without stopping, they started an IV drip and gave me pain medicine. After a while the pain level dropped to a 6 or 7 level but it was still unbearable! I was completely sure this was a heart attack and very likely not survivable.

They rushed me in for a C.T. Scan of my chest and abdomen, and next they did a ultrasound. They found that I had a badly infected gall bladder! And it was full of stones, and leaking puss!

The pain was caused when the infection started draining acid over onto my pancreas. The fluid was so toxic it was burning the pancreas with real acid!

They rushed me in for emergency surgery! The gall bladder walls were like leather! The organ was removed through my belly button! They used special tools coming at 4 different angles. My belly now looks like the post mortem photos of Clyde Barrow after the FBI machine gun shootout!

The good news is; this condition was dragging me down for a very long time, perhaps a couple years! I had dismissed my weakness as part of the aging process. Apart from loads of stitches and staples . . . I am feeling pretty good. I missed a few days of work, but I did mulch-and-bag 20 bags of leaves! And, I was working with a 15 pound limit.

More Important However, seeing that I am unloading!

I am deeply concerned about America's current politics of destruction. Many people are found at a point of desperation, just to feed their families! We are in trouble folks, and it is coming down to a test that has been lain before us by God . . . for real!

We have a chance to vote on key issues, which will reflect on our reverence for God. I am deeply concerned for America. Our meeting falls on election day, please vote!

So, the next thing I know, I wake up and (BAM!) the month starts on a Tuesday, and I haven't started a newsletter! I am afraid I am going to disappoint folks this month.

LAST MONTH
With everything considered, we had a good turnout last month. The sign-up sheet showed the names of these smiling faces! Vincent Grossi, Gary Dean, Ron Smith, Ed Nickerson, Kelly Bobbitt,
Linda Siegfried, Kevin Siegfried, Rob Knolle, Len Sheaffer, Juli Sheaffer, Scott Hendrichsen, Al Holden.

As there is a new Sweetwater's Donut Mill that has opened in Plainwell, I still have managed to shed about 20 pounds! No, I can't explain it? ( now I can . . . Gallbladder)
At the last meeting, we enjoyed a gallon of fresh Michigan cider and a dozen fresh donuts! They were good! Nothing says harvest time like fresh apple cider. Also, others brought in Halloween baked goods! As usual we had a great time!

We enjoyed seeing. .
Some interesting bottles at the last meeting. But here is where I am going to disappoint you. My photos did not pick up the embossing well on the bottles and my notes were not good at all.

I know that some of you bring items that are simply "For Sale" and not extra special . . . but I don't always know what items are special to you. I wish you would take time to help me out by bringing a list of the bottles you bring in, those to be included on the web page and newsletter.

Here are some of the items I can make out.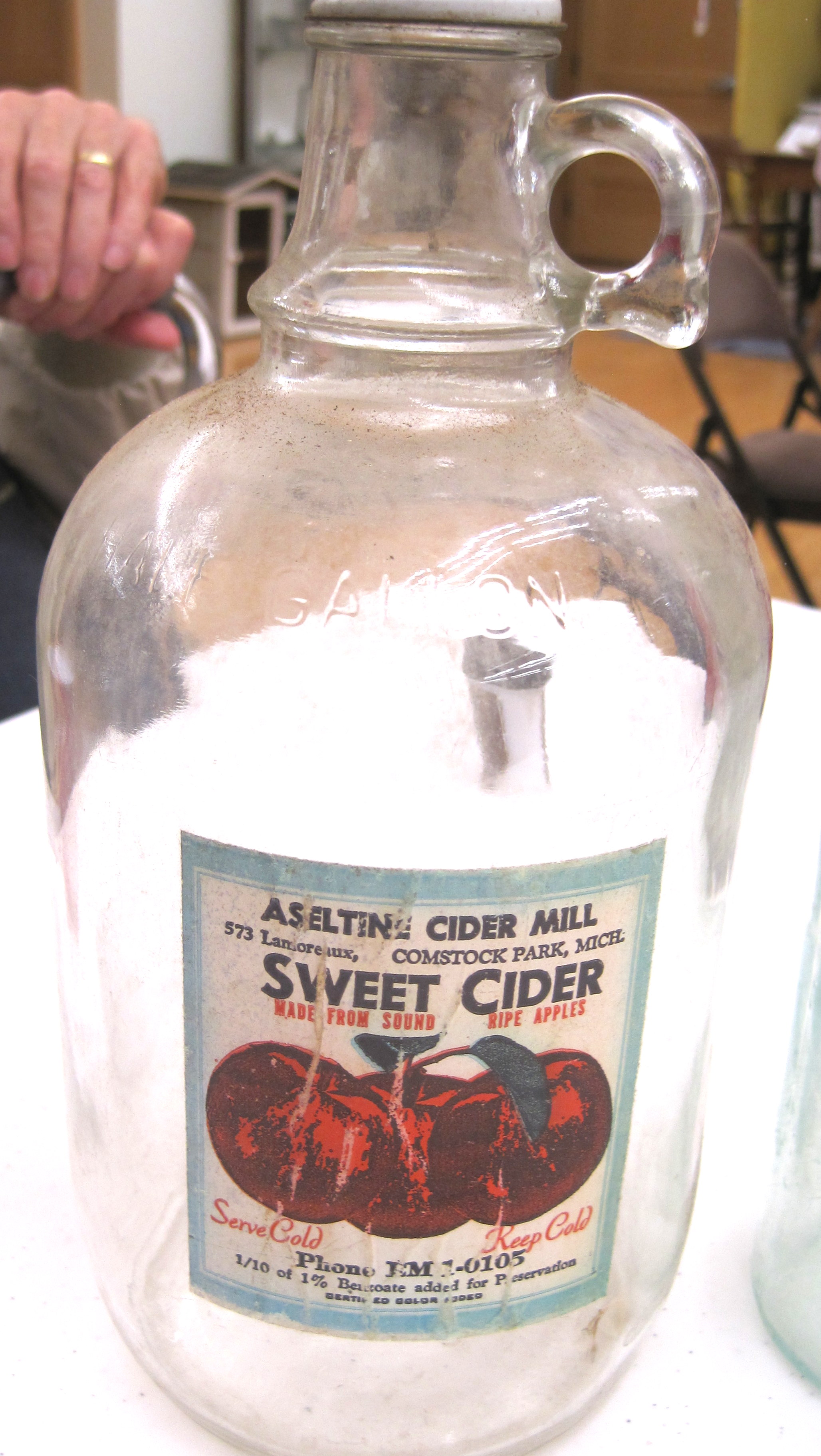 Scott Hendrichsen brought in several bottles including a Aseltine Cider Mill, clear gallon jug with paper label. Aseltines started pressing apple cider in 1900 and still does. My wife loves the fall because of the colorful trees. That is all well and good. She got a good dose of it just a couple weeks back when she traveled back to the Western U.P. for her father's memorial service.

The only things I look forward to in fall, in west Michigan, is fresh apples and cider. My first real job, outside of working for my dad, was working for Charlie Andrews at Andrews Cider Mill in Plainwell.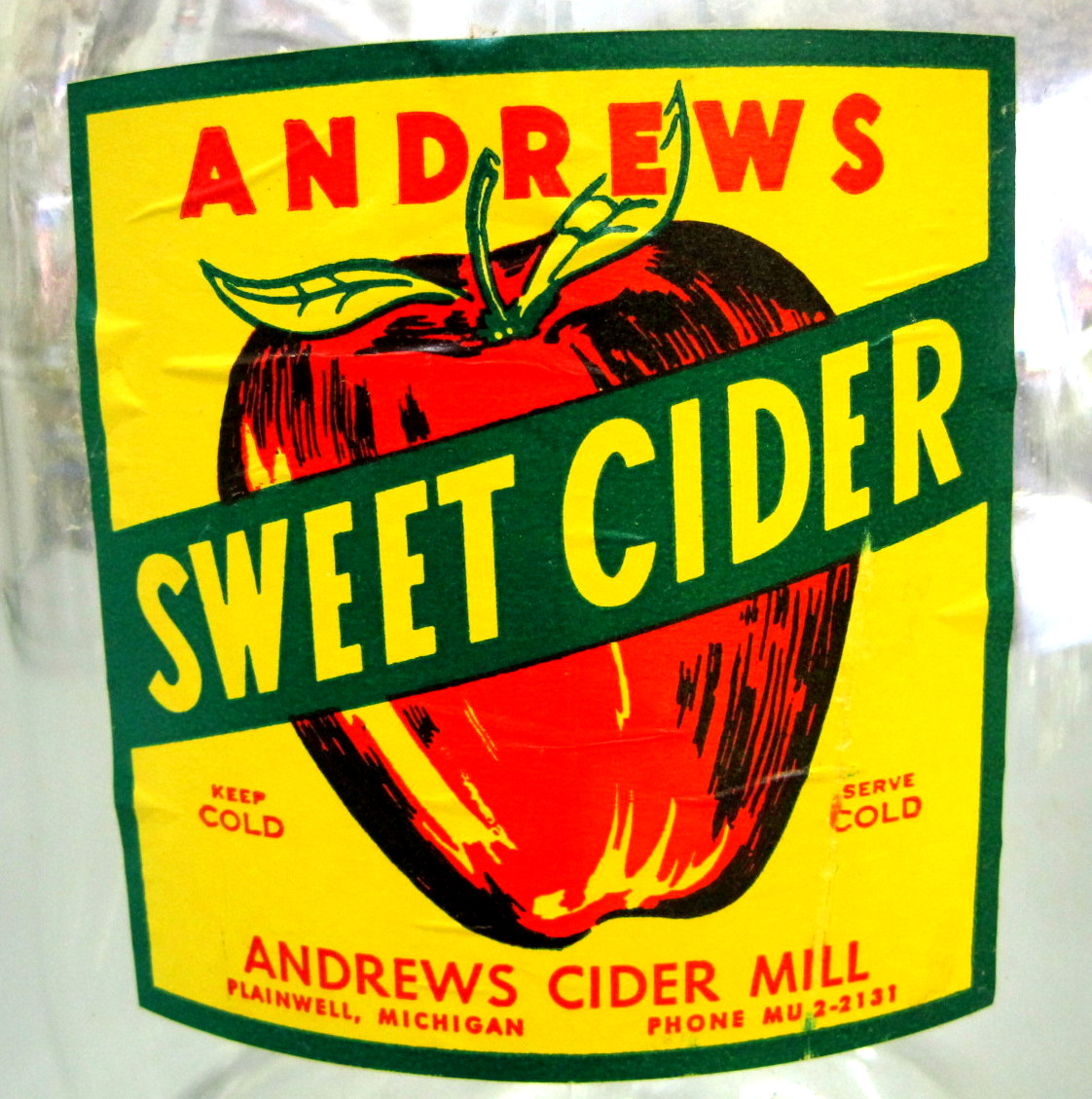 Aseltins claim they only squeeze whole apples.

We on the other hand, shoveled apples out of the holding bins onto a conveyor which dumped the apples into a chute. The apples dropped down onto a knife-grinder which cut them into small pieces.
If you don't grind your product, you cannot take full advantage of all the rich worm fluids.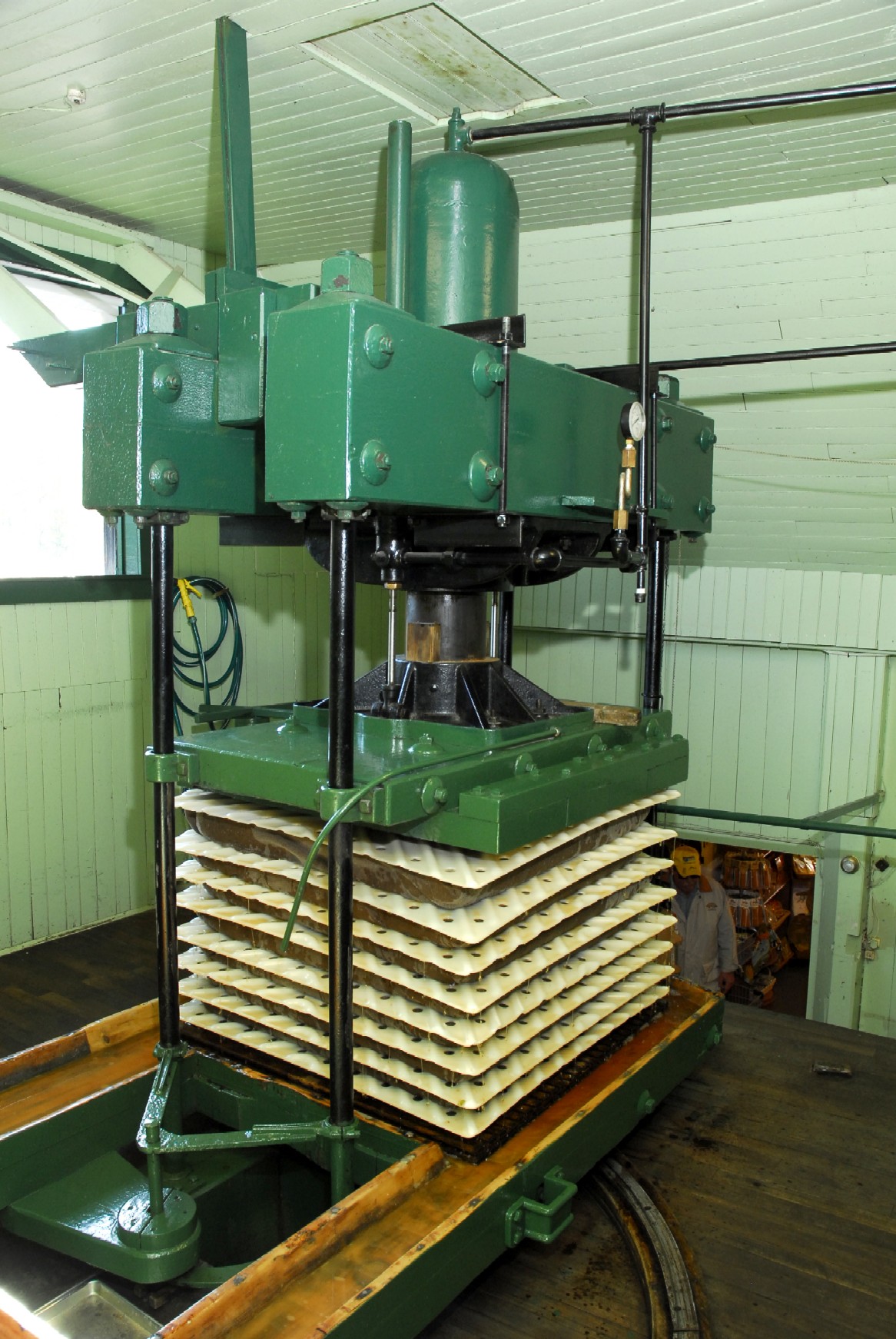 The chopped apples dropped into a flat wood pallet covered in a course burlap. When the burlap is full, it is folded over the apple, another wood rack, more burlap is filled about 6 inches deep, and the process is repeated until the stack in the press is about 5 feet high.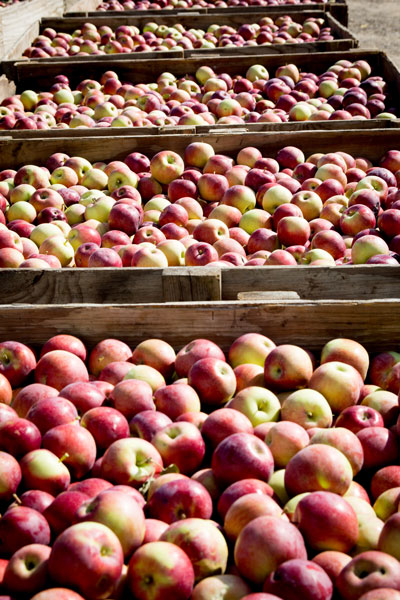 When the press is activated the raw cider flows out like liquid gold.

After the press was finished, the pulp was dumped in piles behind the mill and hauled away for animal feed and you guessed it, worm beds.




We sold mostly unpasteurized cider at the mill that was bottled straight from the press. The only difference in the product that was going to the stores, was a touch of benzoate of soda. Soda benzoate inhibits the growth of bacteria, yeast and mold. This white powder was in a folded cloth the cider was filtered through. Nothing we made was pasteurized, not when I was there.

People came from all over to buy Andrews Cider! If you wanted your own apples pressed into cider, your load was weighed and added to the appropriate bin, but, what we pressed was a special mixture of apple varieties for the best product.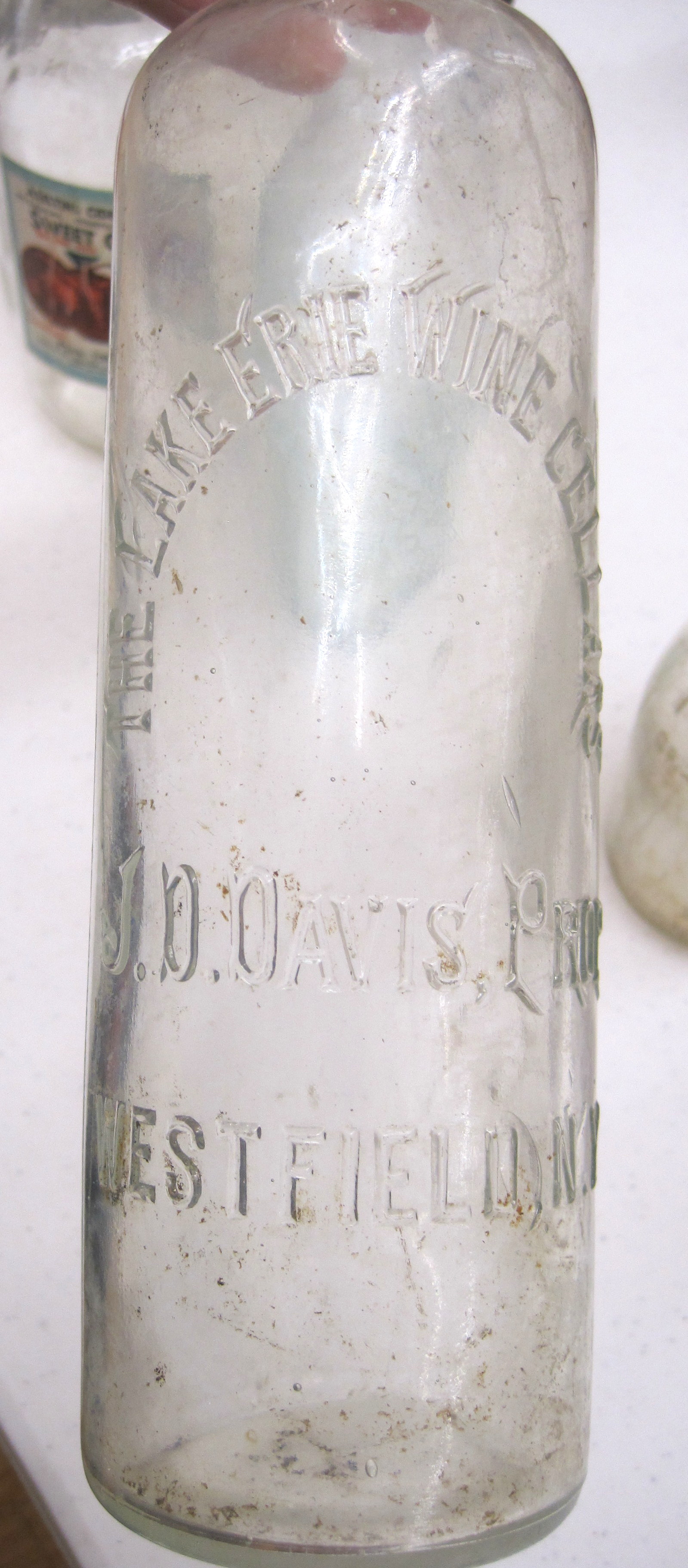 Apples pressed late in the season had the highest sugar content and made the best natural sweet cider. I no longer trust our mass food production techniques. Many modern products can actually be flavored water!

Scott had a one pint dairy bottle embossed; Kroger, Grand Rapids, Mich. I went online to see what is out there to be learned. I wish I had the time to pick Steve DeBoode's vast wisdom on this. Was this "Grand Rapids" Kroger a family dairy, or was the bottle provided to the giant Kroger store chain? The Kroger stores were based in Ohio with many different outlets in Michigan.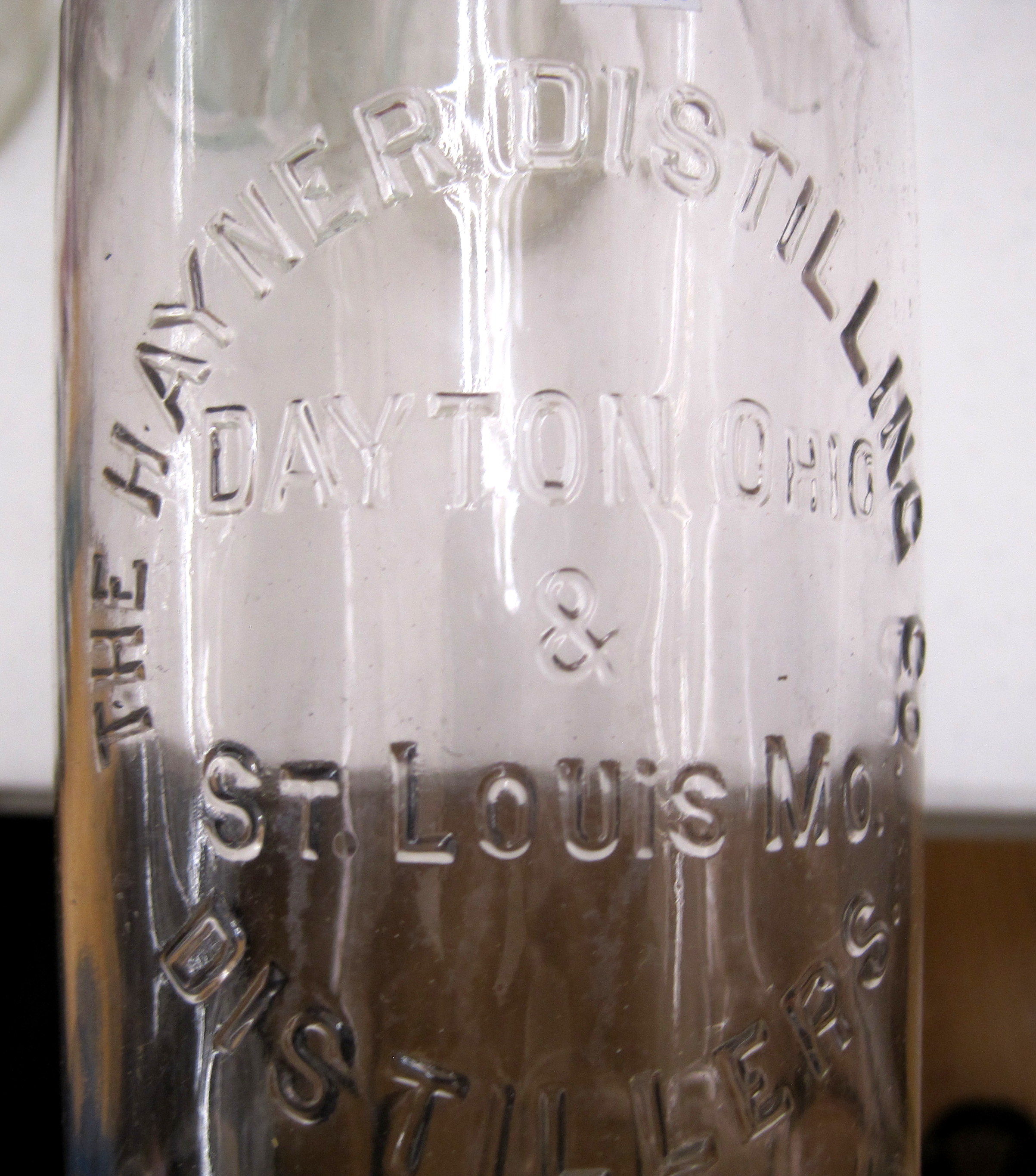 I found only one reference to these bottles online. That source was a newsletter from the
Kalamazoo Antique Bottle Club, dated January 2019, where a member named Ron Smith has one!

Scott displayed a whiskey bottle from Kellerstrass Distilling Company from Saint Louis MO. This distillery opened in 1888 and closed in 1916. The bottle is clear and highly embossed.

Another of Scott's bottles is a clear embossed wine bottle from:
"Lake Erie Wine Cellars, J.D. Davis Prop. Westfield N.Y."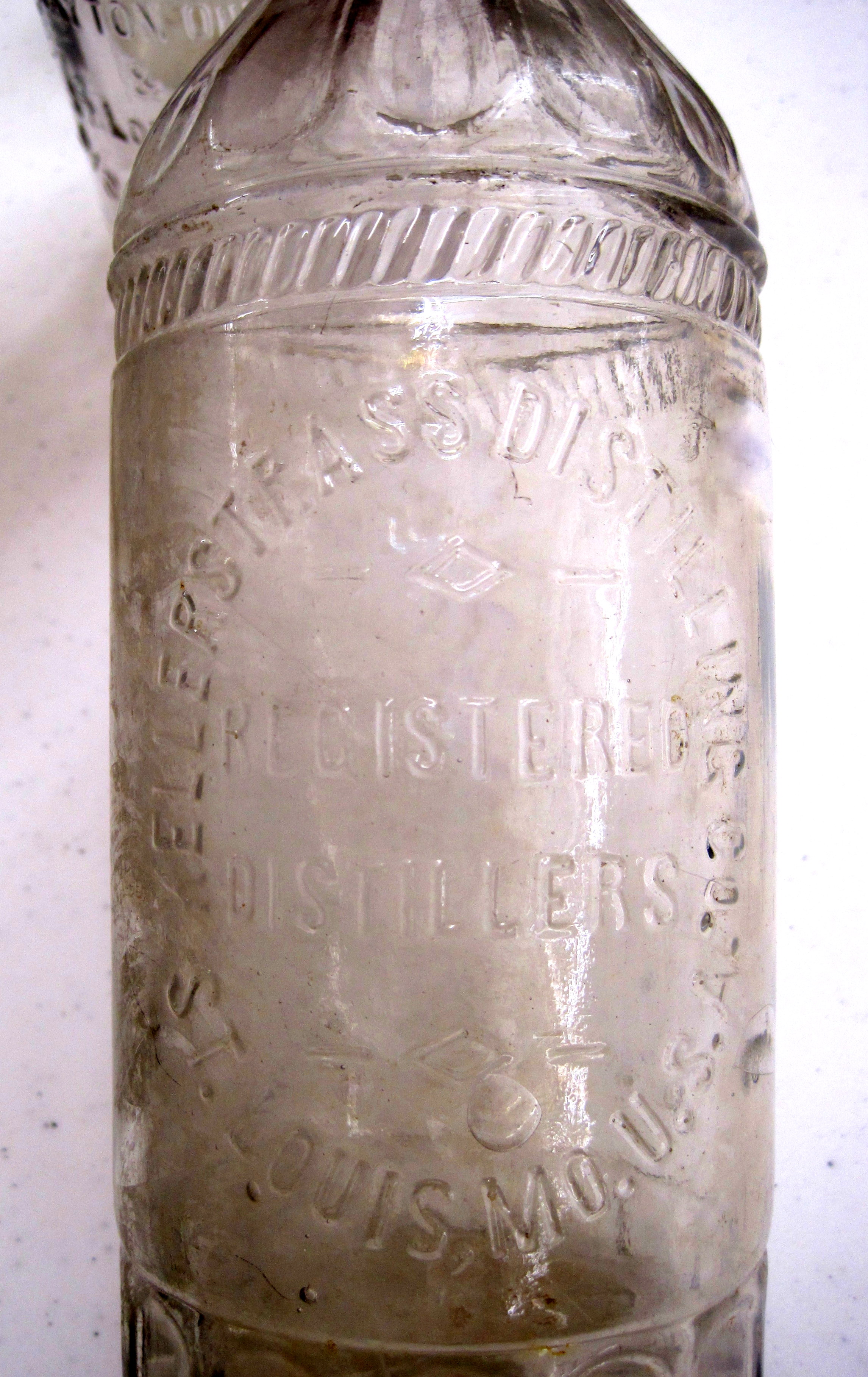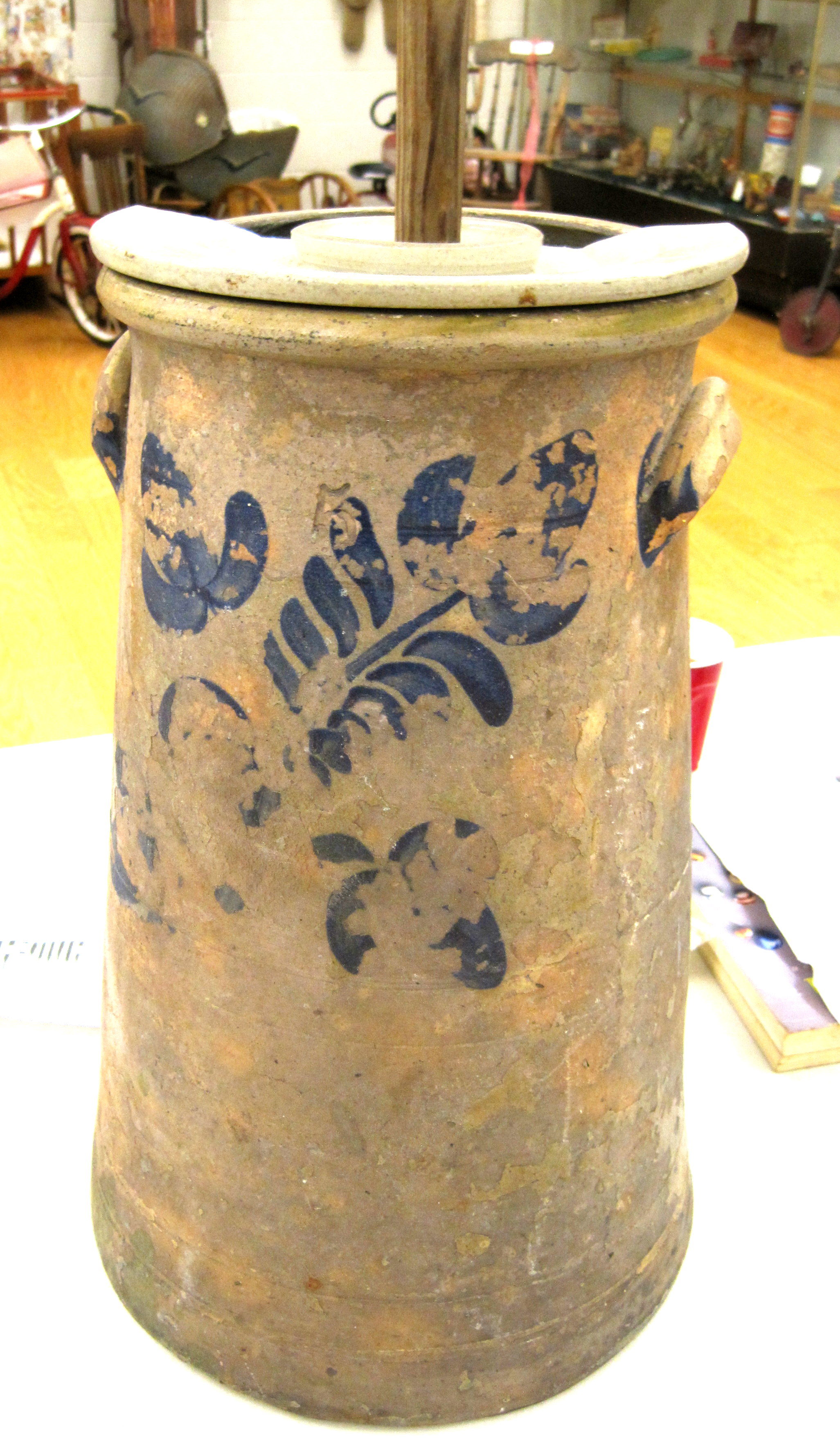 There is so much to learn about this great country! The Lake Erie Grape Belt has more than "30,000" vineyard acres, along a 50-mile Lake Erie coast including 23 wineries known collectively as Lake Erie Wine Country in Chautauqua County, and in neighboring Pennsylvania.

Growers in Chautauqua County produce approximately 65% of New York State's total annual grape harvest, which is then used in products sold in more than 35 countries around the globe.
Concord grapes (best known for the production of jelly, jams, juices, and, yes - wines) have made their mark on the region for generations.


In fact, Chautauqua County is the largest U.S. grape-cultivating region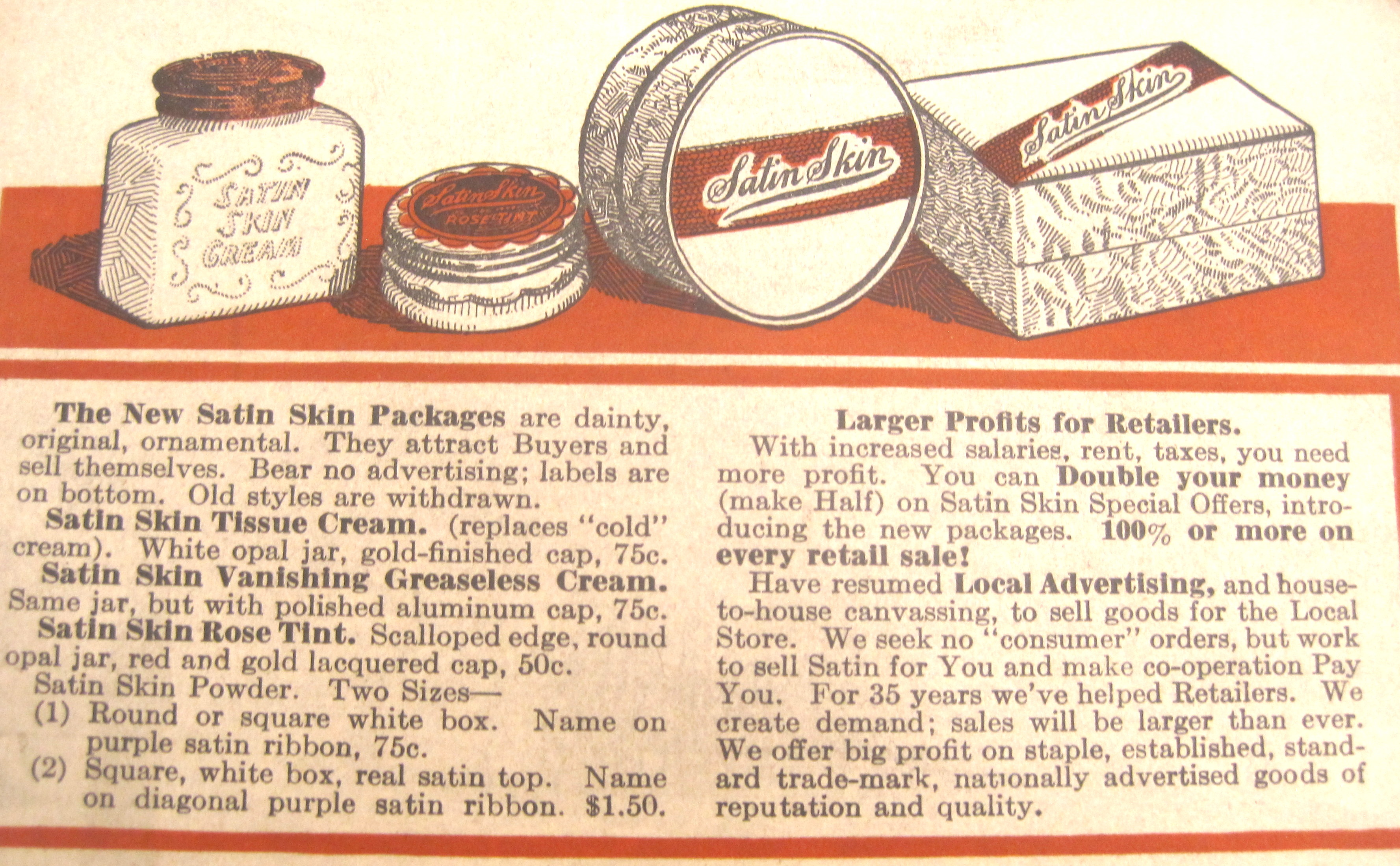 east of the Rockies and the largest global Concord growing region.
OK there it is, another thing to love about fall is fresh picked grapes!

Guys, I am running out of time as well as energy. I will add more from our October bottle sharing in the online version or next month. Hopefully I will find more strength by then.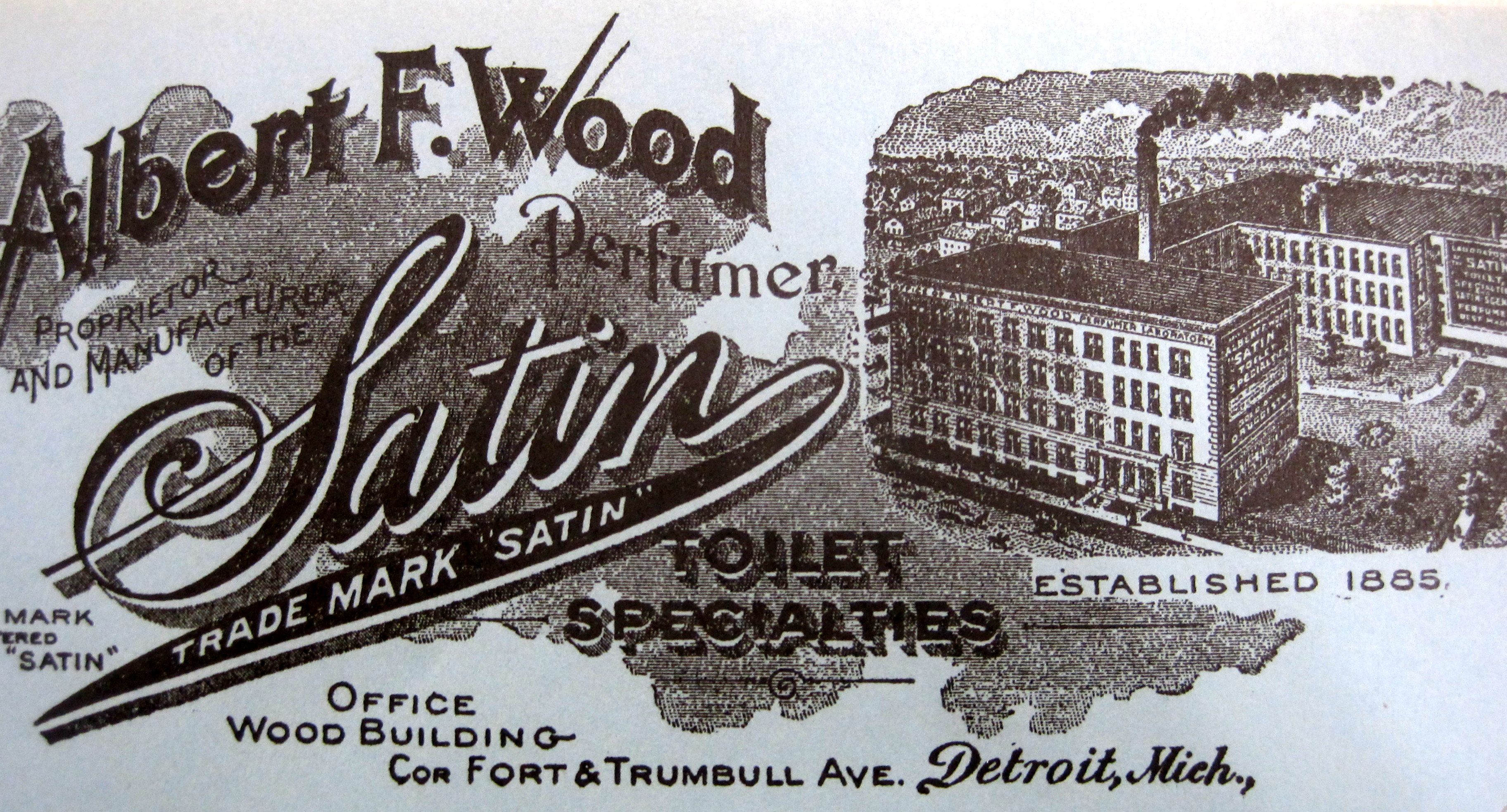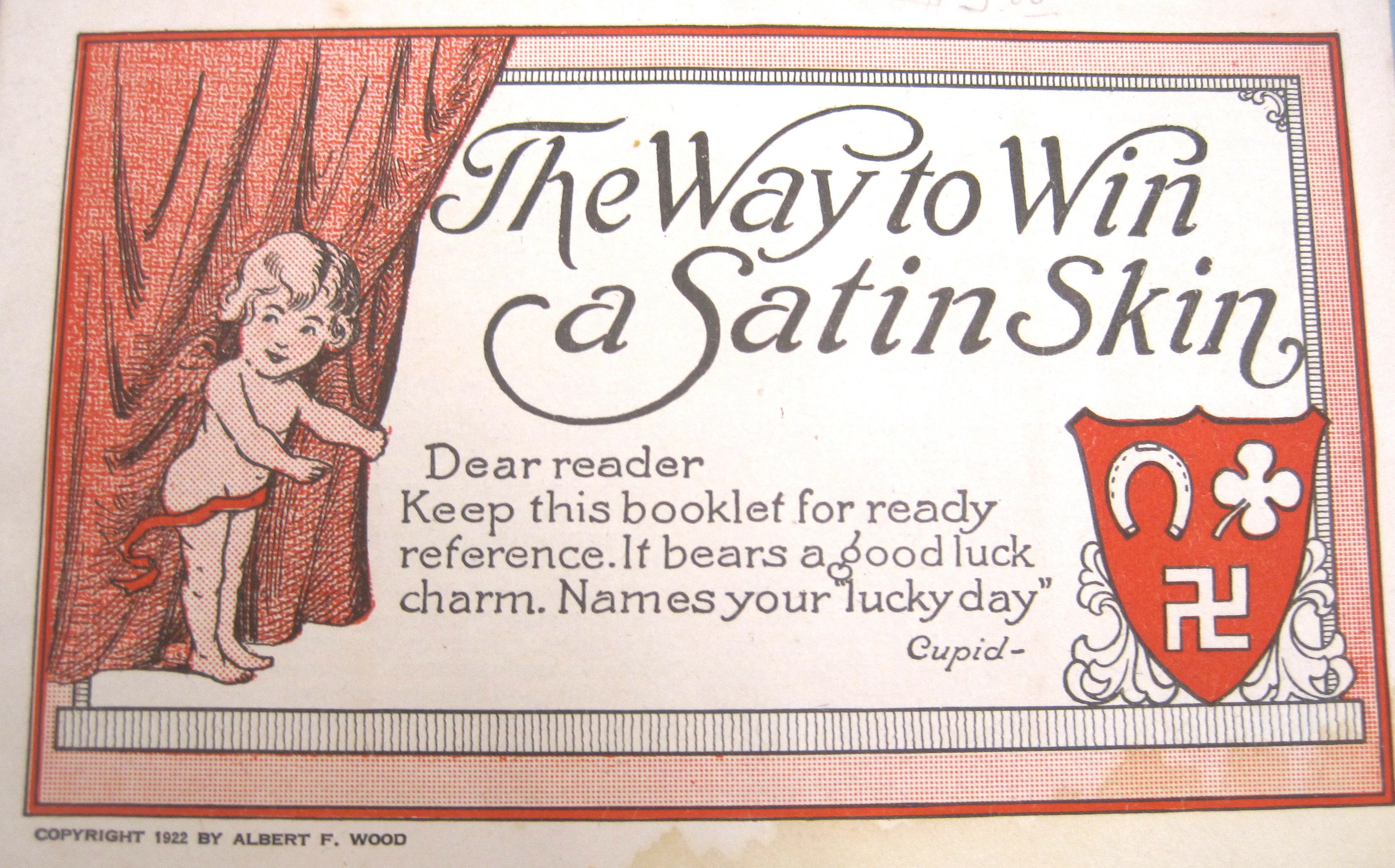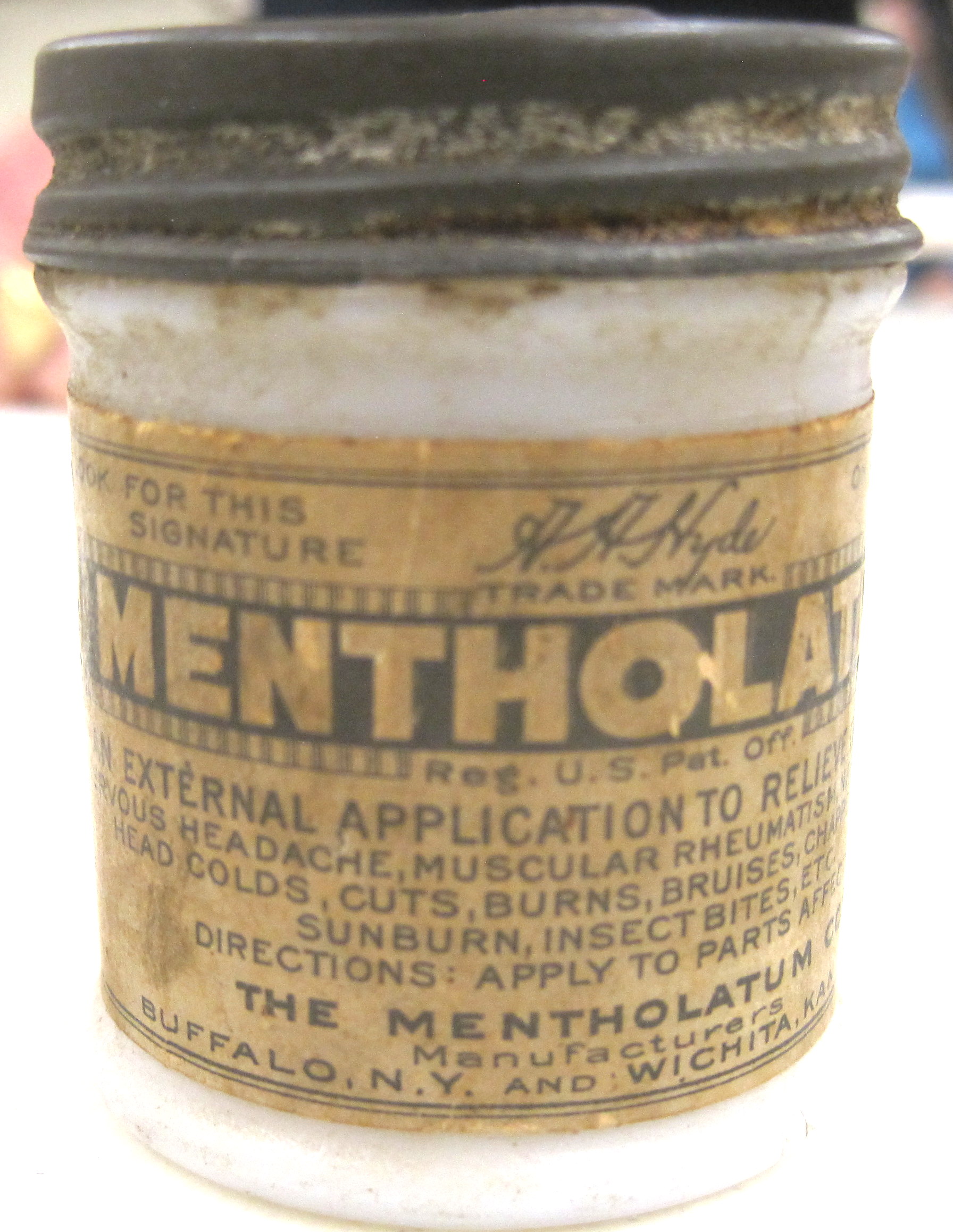 This is something I wrote back in September and I use it to here to fill some space, I hope you find it helpful.


I was given the honor to emcee our class of 1970, 50th year reunion. Clearly, we were disrupted, like the entire world, by two years because of Covid. Well, better late than never.
I joked with a friend after the second cancellation saying, "At our age, this should save the class some money on paper plates."
When the reunion committee handed me the materials I needed to follow at the big event, one was a list of 40 of our classmates who have already passed into eternity. I was on hand at two of those deaths before graduation. It smacked me face-first. . . this was nothing to joke about.

I reminded the class (I love these folks dearly) that this very sad list is going to continue to grow, until at some point the final name will be added.

I went on to talk about my interest in the study of genealogy. I was able to learn of three great grandfathers from Otsego MI, who went off to fight in the Civil War. Not a single one put down his plow to fight when it was simply a matter of preserving the Union, but when it became a matter of slavery they dropped what they were doing and marched off to war.

Our Class Reunion was held at the beautiful Lynk Golf Course, west of Otsego. When my great, great, great grandfather, Martin Harter dropped his plow and picked up his rifle it was on that very land where we were meeting . . . that was the farm he owned.

I was able to obtain their military records, and letters, in their own handwriting from the government!

I was also interested in my grandfather on my mother's side, Max Loebel. He migrated here in the 1920's from Germany to New York on the steamship "Yorck" from Denmark. I was able to get a copy of the ships manifest with the complete passenger list. It listed his weight and height and general description. And I also found a photo of the ship.

I remembered looking through the hundreds of names until I found his! That was an amazing feeling, one that is hard to describe!

I likened that list of our deceased class members, to that ship's manifest that I acquired from the Steamship Yorck.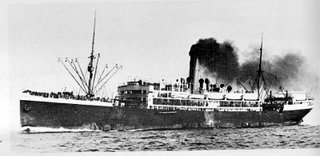 It truly can be likened to a passenger list, where everyone has a mandatory one-way ticket into eternity. But, we tend not to think of it. I have written obituary notices and funeral eulogies, have been a pallbearer a number of times, but even still, I rarely think about; "when will it be me?"

Well, that time comes for everyone. On that long trip we find only two stops, on only one stop the ticket holder has no need of a ticket, and that stop is simply marked "FINAL JUDGMENT" were every soul will be checked, for permanently soiled contraband that which is not allowed into God's Holy Heaven, then, eternally rejected and cast away.

The only other stop is marked "PREJUDGED" where the ticket holder will find the only requirement is a ticket that was gifted them by faith, where it is written in the rarest form of Sinless Blood. A blood seal that knows no substitute and it cannot be counterfeited.

These blood stained tickets can still be obtained with repentance and faith in the only sinless Son of God . . . the Lord Jesus Christ. Accept no substitutes. As His agent, I can gladly help.


My father used to say,
"The mark of a true idiot is someone who lives out this life without preparing for the next."


THEME THIS MONTH, HARVEST TIME AND RECENT FINDS!

The Kalamazoo Antique Bottle Club

Will be meeting November, 8th at the Otsego area Historical Society
Museum at 7:00, located at 218 N. Farmer St. Otsego, MI 49078
meeting starts at 7:00 pm.
For questions
e-mail: prostock@net-link.net
Or call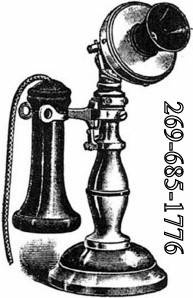 HOME