Written by Allan C. Holden
A Time for Thanksgiving!

Here I am again . . . . . all of you antique bottle lovers!
I'm here to wish you, and yours a bountiful harvest season, one overflowing with thankfulness, for God's many and rich blessings.
LAST MONTH

We had a good turnout last month. The sign-up sheet showed the names of these smiling faces!
Vincent Grossi

,

Gary Dean

,

Ron Smith

,

Kelly Bobbitt

,

Kevin Siegfried

,

Rick Mayhew

,

Ashley Carlson

,

Mary Gale

,

Katie Wages

, and

Al Holden

.
As our October meeting was about to start,

Vice President, Vincent

Grossi, received a call from,

President Rob Knolle

.
Rob was nearly to Otsego for the meeting, when Jean called saying her father had fallen and she needed help getting him back up! I can relate to this!
Well, Vince stepped in and did a wonderful job! And for those of you who are unfamiliar with the club, we had a lot of our regular people who were absent . . . but, we also saw some friendly new faces!
It really does my heart good to see the club growing! Honestly, at one point after Chuck Parker's passing, I was worried about the club's future.
Hey, it isn't just our club which has been struggling, and it isn't just antique bottle clubs, it seems like the younger generation are simply not interested in collecting anything!
Older folks on those club membership rolls are fading off into the sunset! I find myself in that line heading for the exit!
Sadly, we have found very few to fill in the ranks.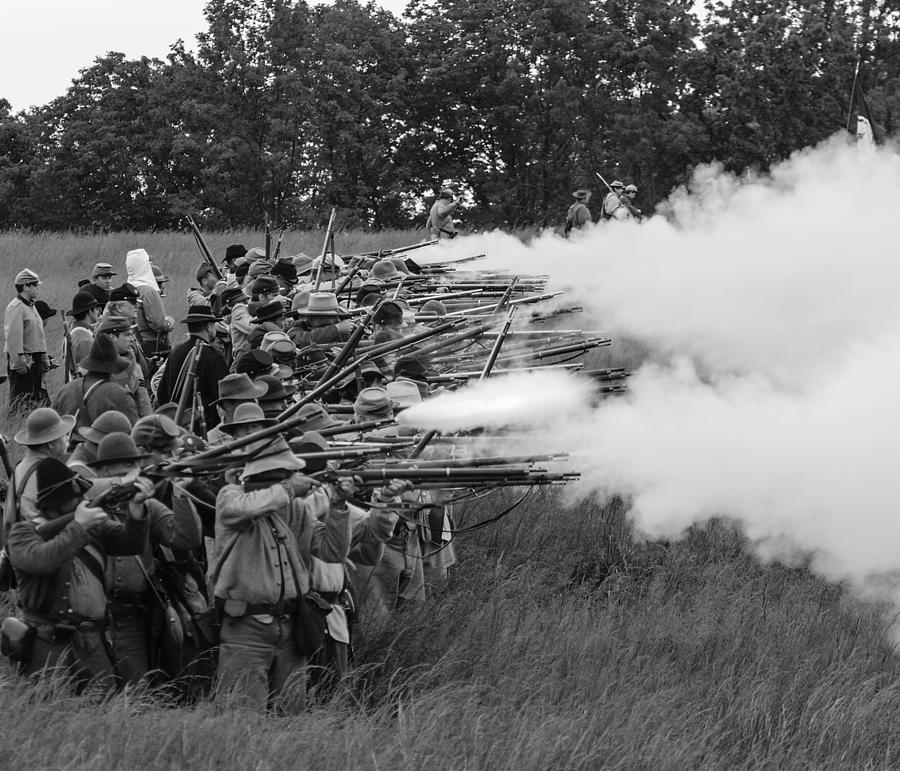 Did you know the analogy "

Filling the Ranks

" is a military term going back to the early days of warfare. From the days of the Roman Army, until the American Civil War, men fought marching in, shoulder-to-shoulder front lines, towards the enemy. With the front line taking the enemy fire, many men died early on. To be assigned to the front line meant almost certain death! When a first-line soldier dropped, it was the duty of the soldier behind him to,
"Fill The Rank!"
History lessons are a free bonus here!
We would like to welcome two new members, their smiling faces fit right in!

Rick Mayhew

from Allegan, MI and

Ashley Carlson

, from Kalamazoo, MI. joined the club at our last meeting!

Who'da dreamed you could find a Kalamazoo Club in Otsego?



Welcome, Rick & Ashley!


At the last meeting, we enjoyed a gallon of fresh Michigan apple cider, and a couple dozen fresh donuts! Man they were good! Nothing says harvest-time like fresh apple cider. As usual we had a great time around our favorite topic . . . old bottles!!
We enjoyed seeing. .
Some interesting bottles at the last meeting.



Rick Mayhew

, had some neat softball-sized round bottles in really beautiful colors!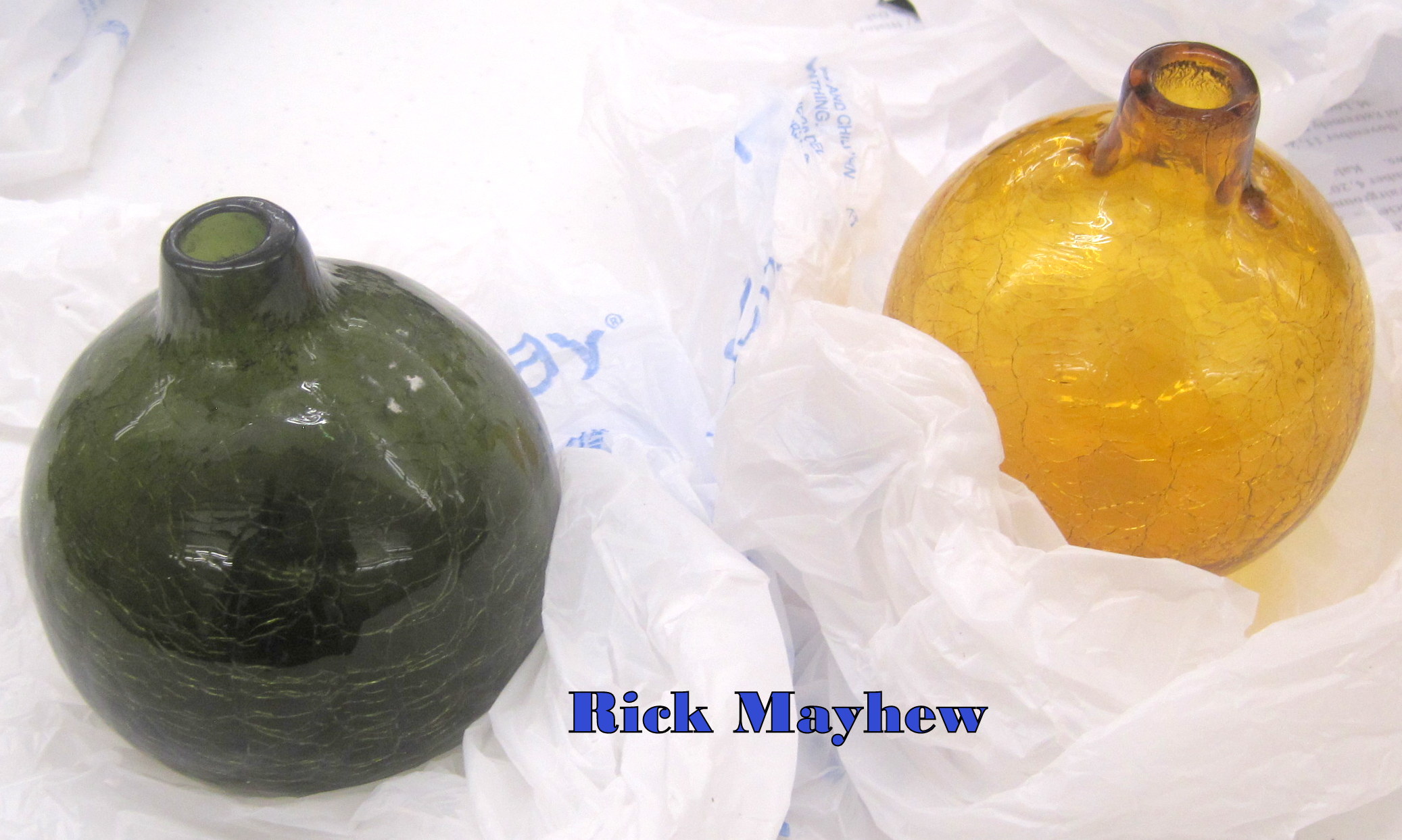 One was a rich olive green, and another in a sparkling honey amber. He believes both are target balls. Each one has a inside crinkle finish . . . it's had to think they were just made to shoot at, but very likely that was the purpose for those two beauties.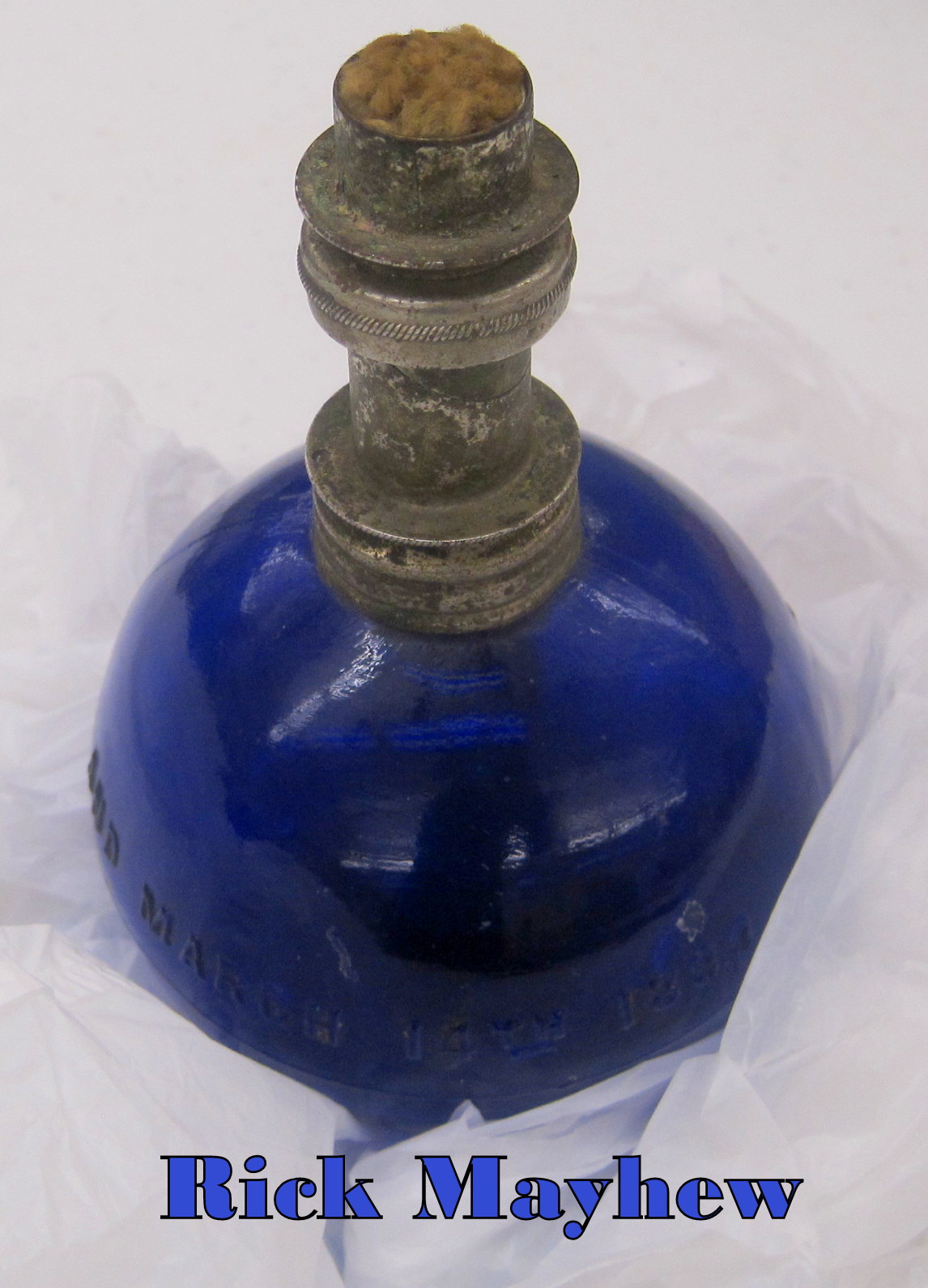 The other two of Rick's bottles, also round, had some type of wick inside and also equipped with burner caps. Clearly on these, the glass ball was a container for a fuel. The cobalt blue bottle has a burner head very different to ones we see used with lamp-oil or whale-oil. . . I was puzzled.
So, I picked up the phone and gave Rick a quick call.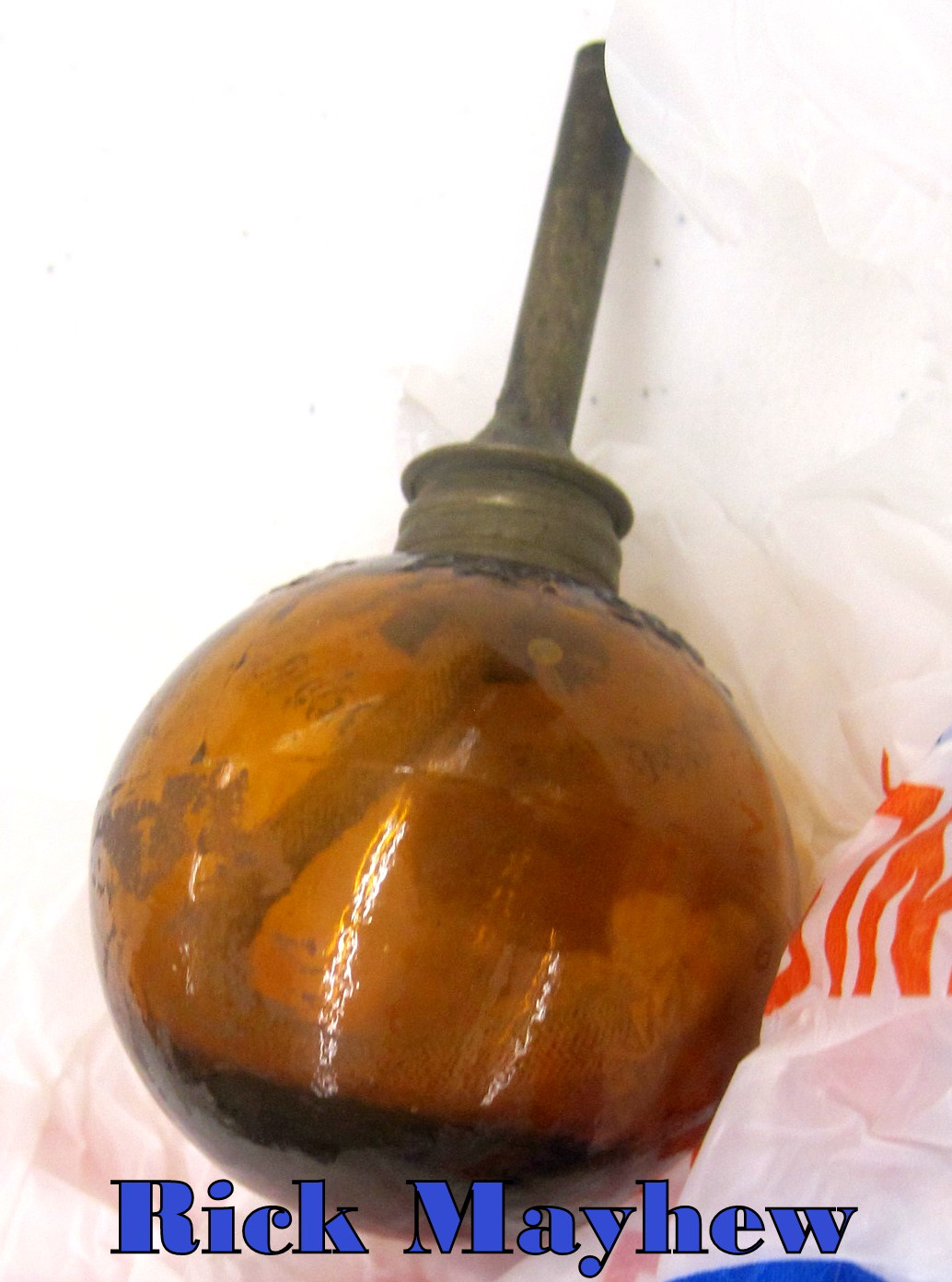 "

Hello, Rick! This is Al from the Antique Bottle Club, I do the club newsletter. I have some questions about your colorful round bottles . . . what can you tell me?"
"

Hi Al, well, not too much, that is why I brought them to the club

."

OK, by now he is thinking; "I could have joined the basket weaving club to get this question!"
All kidding aside, he purchase these glass lamps at a sale back in the 1980's and he was told they were put on stair railings to light the steps at night. He figured somehow that didn't make much sense.
So, I decide to dig in and research another angle that Rick had suggested. . .
"Burners used in the jewelry trade."
The cobalt blue bottle has a patent date of March 14th 1884 which was key to solving the mystery!
The perfectly round bottom glass "bottle" was a container for
alcohol, and the lamp was actually a burner used by a jewelers and watch makers for melting and soldering. The round glass base would be set in a funnel shaped holder which allowed the lamps burner to be put at any angle needed for the jeweler's project.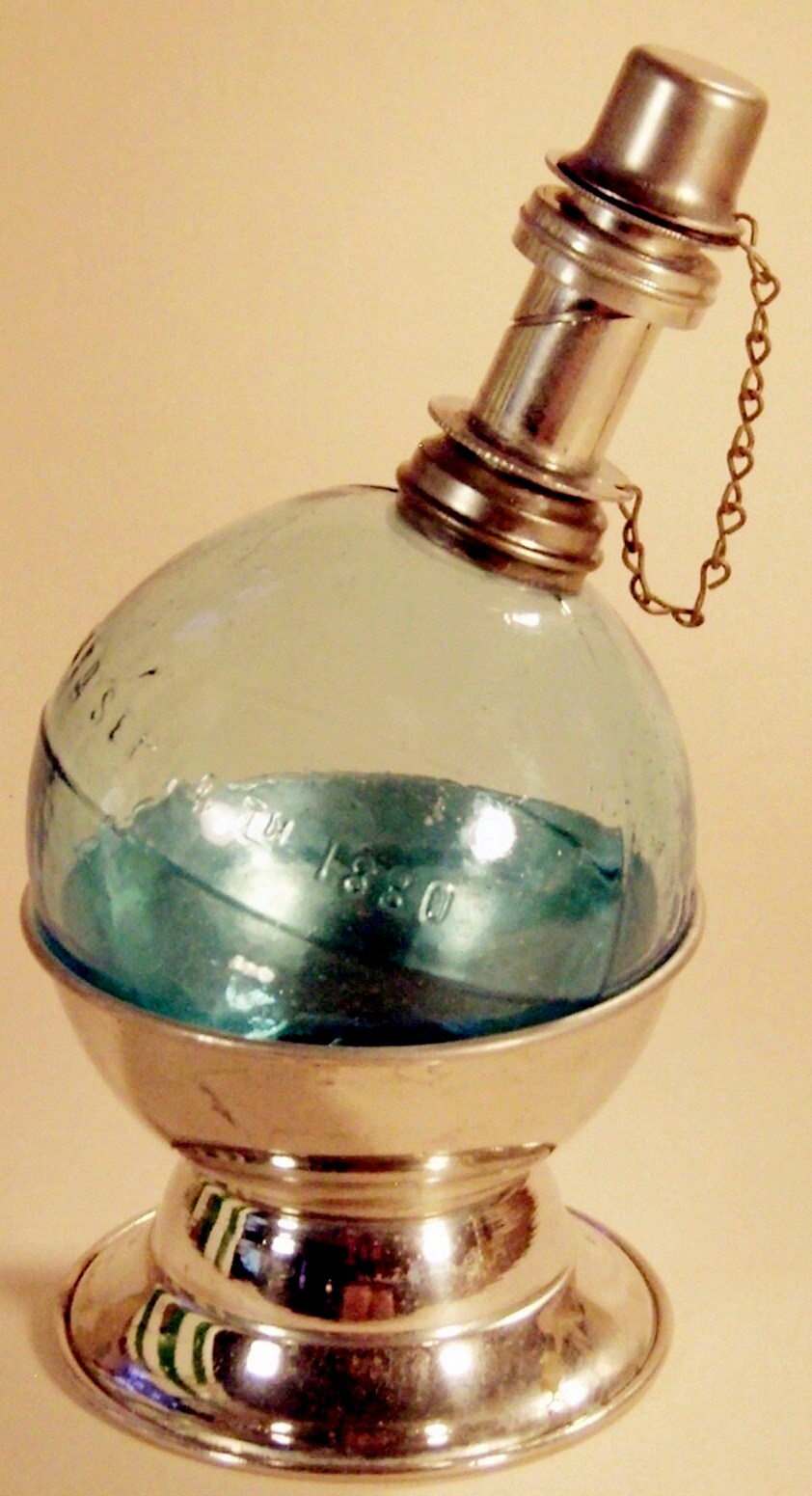 Often they were included with a blow-pipe to create a higher heat for melting metals.
One thing that leads to confusion in identifying these burner lamps, is they are rarely found with the tin burner base!
Likewise, people are finding the base without the glass globe and passing them off a grapefruit servers! (bad joke)
Ashley Carlson

, also came to the meeting with a keen interest in antique bottles and she also brought some treasures to identify.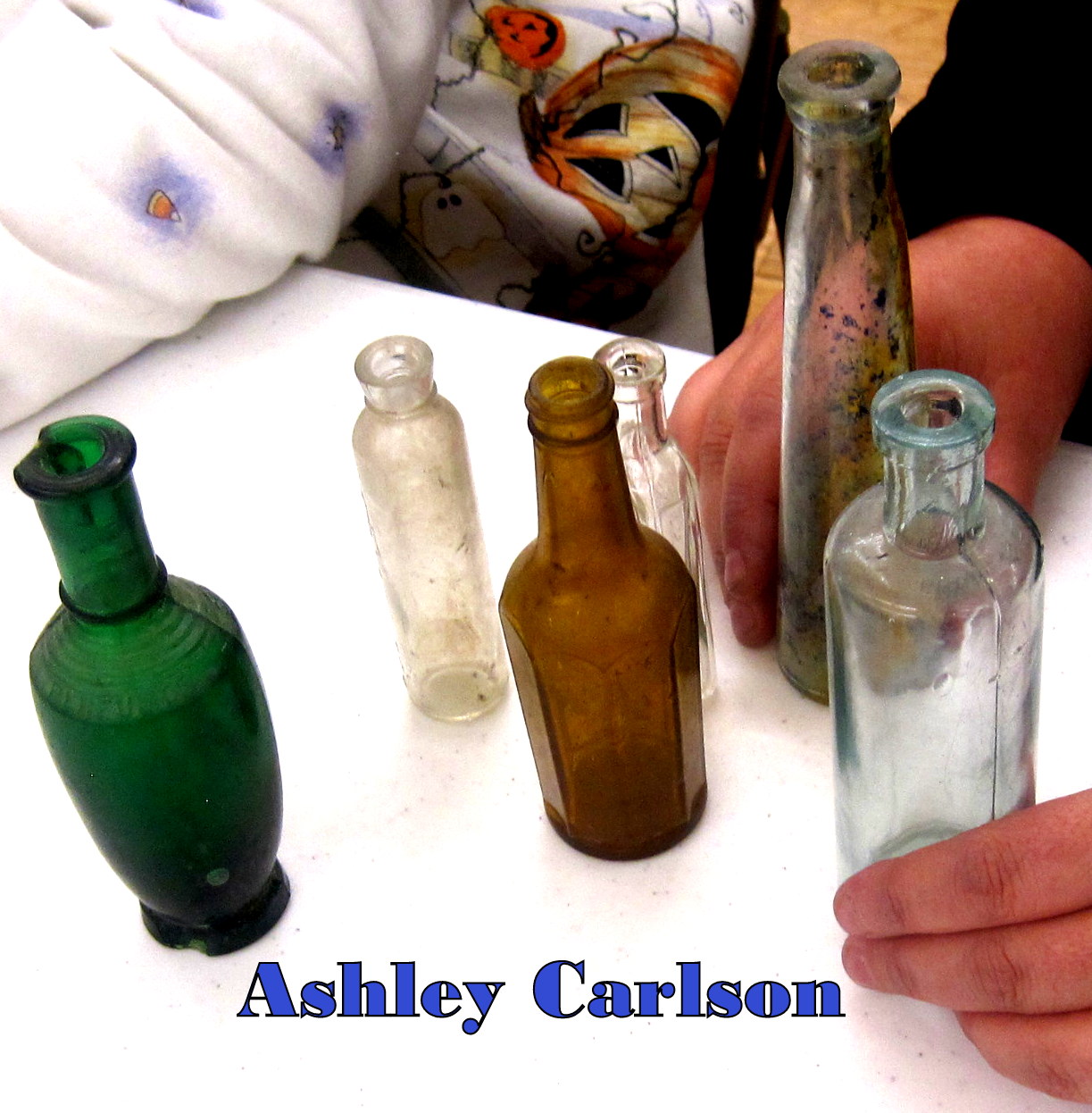 I was reminded of the excitement of early collecting. Like Ashley, I did indeed have some REAL early antique bottles. Ashley is on the right track! Her bottles we saw are indeed antiques!
I have folks bring me bottles to appraise, that are embossed (MI & OR 10¢ DEP . . . clearly they not antiques! I usually ask where they found them? They say "a dump" and will say in a respectful way,
"Go put them back."
One of Ashley's bottles is a nice aqua, crown-cap "

CITY BOTTLING WORKS KALAMAZOO, MI

." Also she has a similar "

CITY BOTTLING WORKS, BATTLE CREEK, MI

." Both are early 1900's local beverage beer bottles.
I was surprised to see that she has one of my early favorites! A

Palmer perfume bottle

(Embossed around the ribbed Shoulder ) . It is a rich Peacock green, tapered URN- shaped body, perfume bottle. As beautiful as they are, and they do display a rich quality about them . . . they must have sold a lot of this stuff!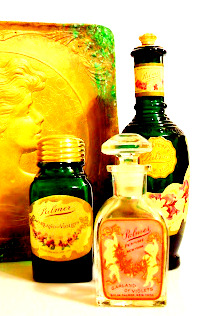 They are collectable enough to have made the Auction Price Report but they were always sold in a "group" of scent bottles. I found them listed on e-Bay priced from $10.00 to $75.00! Asley's Palmer was chipped in a couple places but she can treasure it until a perfect one comes her way. . . which it will.
Mr. Solon Palmer began the manufacture of perfumes at Cincinnati in 1847. He had a real advantage over his competitors thanks to his training as a chemist, doctor and druggist.
Proceeding cautiously in developing great perfume, and satisfied with nothing but perfection, he soon developed a profitable product line! Indeed his products became very well known.
Remember, he couldn't rely on cable TV ads! Products sold mainly by customer satisfaction, and by word of mouth!
In 1870, he moved his business to New York City, and entered the manufacture of perfumery in a big way.
At that time, he was already the oldest perfumer in the United States, he was considered the dean of the perfume industry in America.
Mr. Palmer was probably the first American to engage in the manufacture of perfume on a commercial scale.
From the beginning, he was loyal to the retail drug store trade, and the perfumes and toilet soaps he made were sold exclusively in drug stores.
Ashley's beautiful emerald green Palmer bottle, most likely contained the 1884 "Solon Palmer's Fountain of Perfume."
Palmer made hundreds of quality fragrances and the company was producing their products right up into the late 1940s.
I didn't have photo name tags made up for our new members.

But, I think

Ashley

was the proud owner of the

British Troop Oil bottle.

This is the usual narrow tall, round-shape of most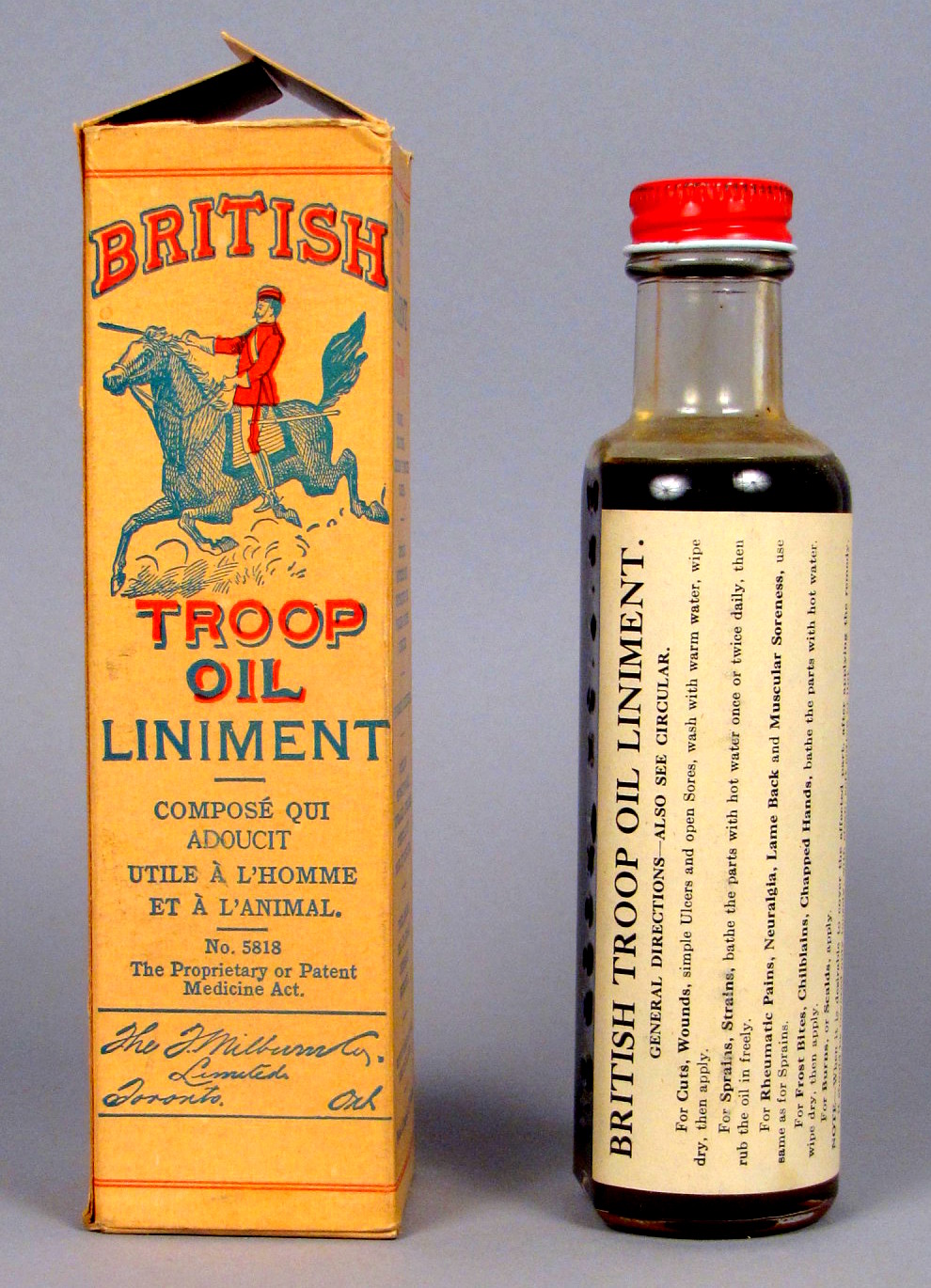 LINIMENT bottles, but this product came from Canada. Many of the box containers I found photo's of were lettered in French.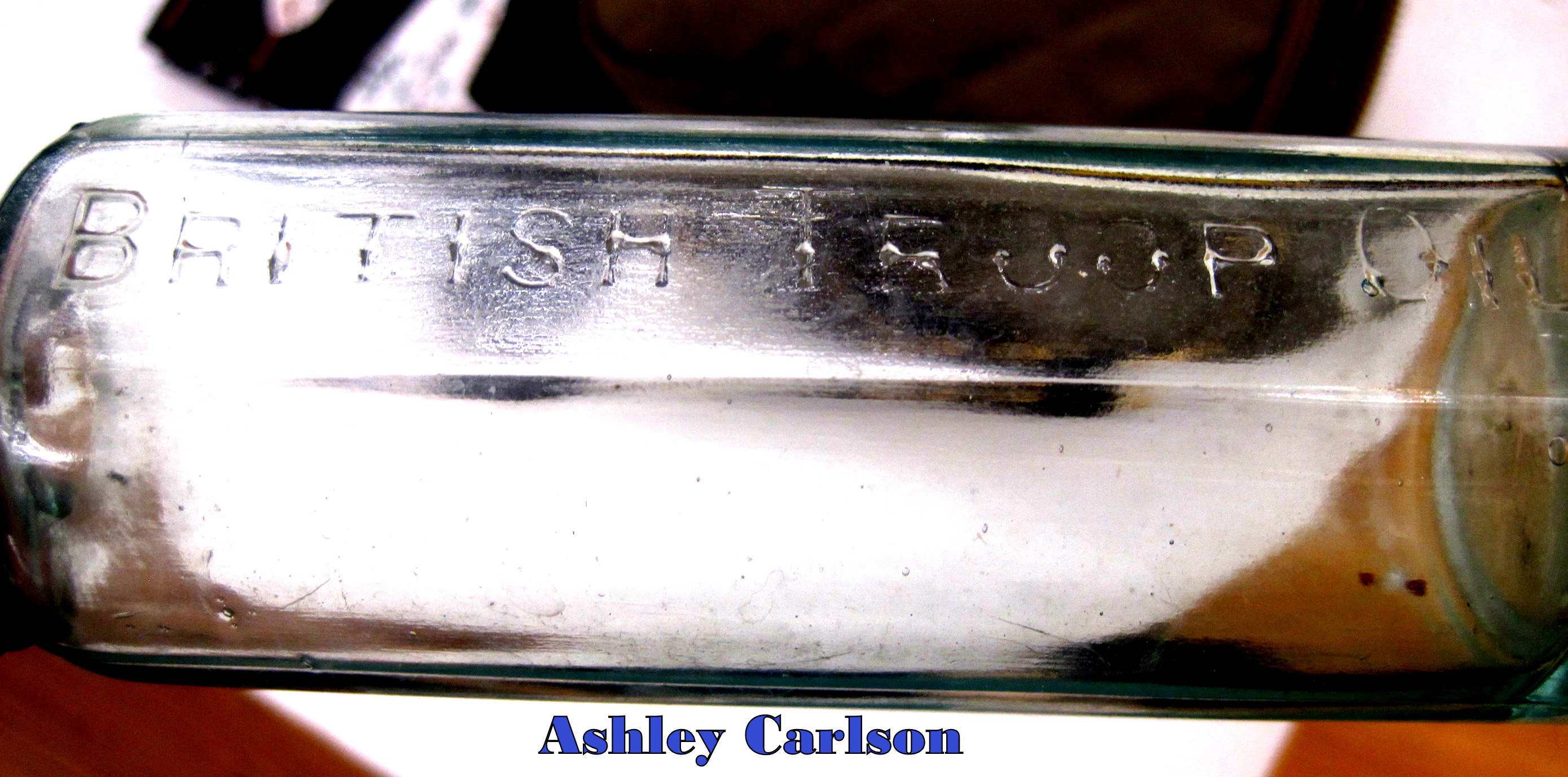 The product boasts properties Beneficial for Cuts, Wounds, Ulcers, Open Sores, Sprains, Rheumatic Pains, Neuralgia, Lame Back, Muscular Sorness, Frost Bite, Chilblains, Chapped Hands, Burn's & Scalds.
AND, just in the case they may have missed something, it will also work on your horse!
I did some bottle digging in the Western U.P. with my Father-in-Law, hunting around some 1800's logging camps. We must have dug dozens of Mustang Liniment bottles! "For Man or Beast!"
Kevin Siegfried

had a nice display of antique bottles. One was a 1920's art deco Nu Icy soda bottle.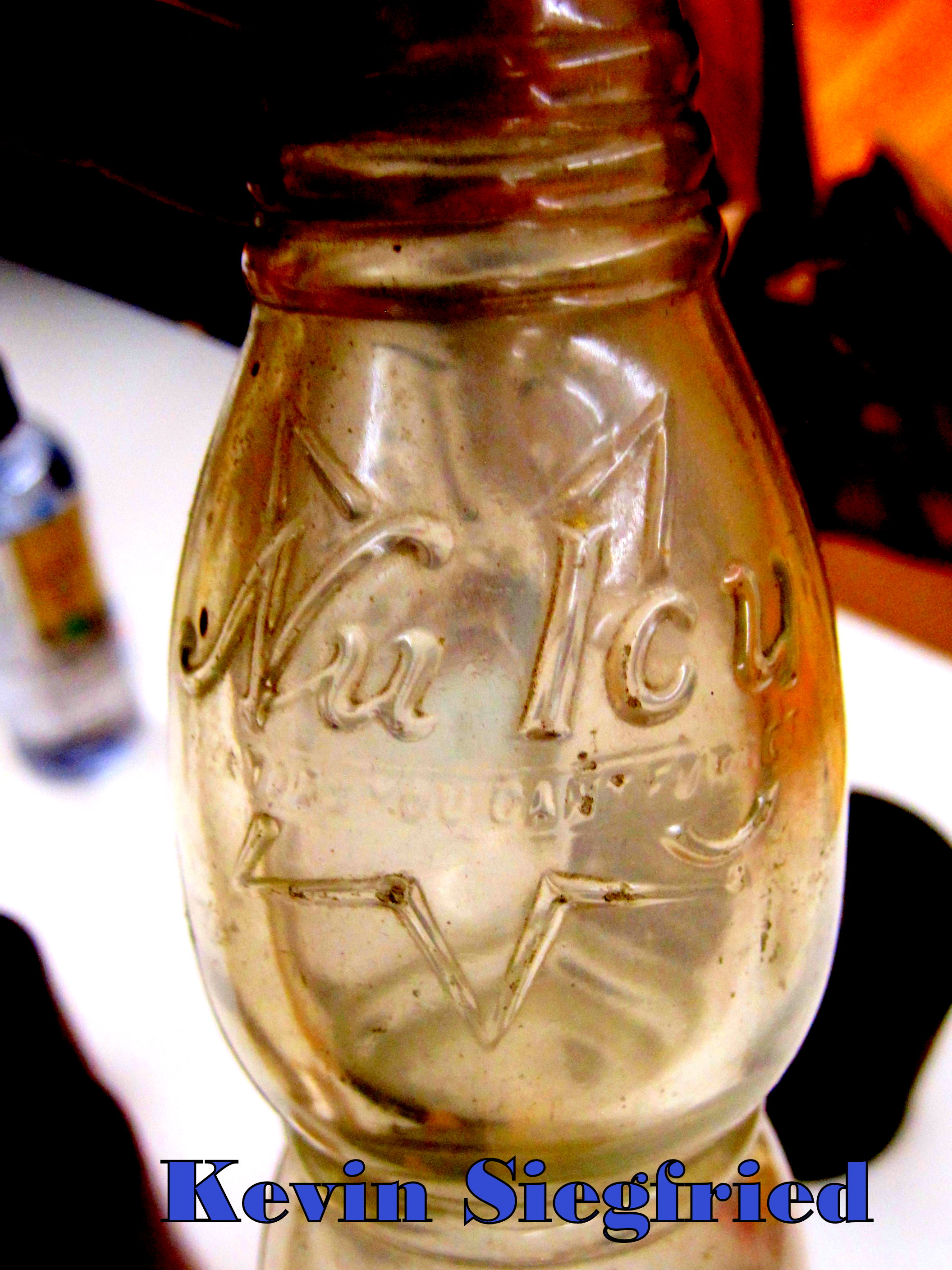 An ad I found from 1927 claimed "The chemist at NuGrape astonished the world by accomplishing the impossible!
After four years of exhaustive research they have perfected not one but 15 exquisite new favors! Each one far more wonderful than you could ever dreamed a soft drink could be!
Now friends, that is a hard sell for a soft drink!
Actually, Nu Icy was a number of new flavors joining with the companies already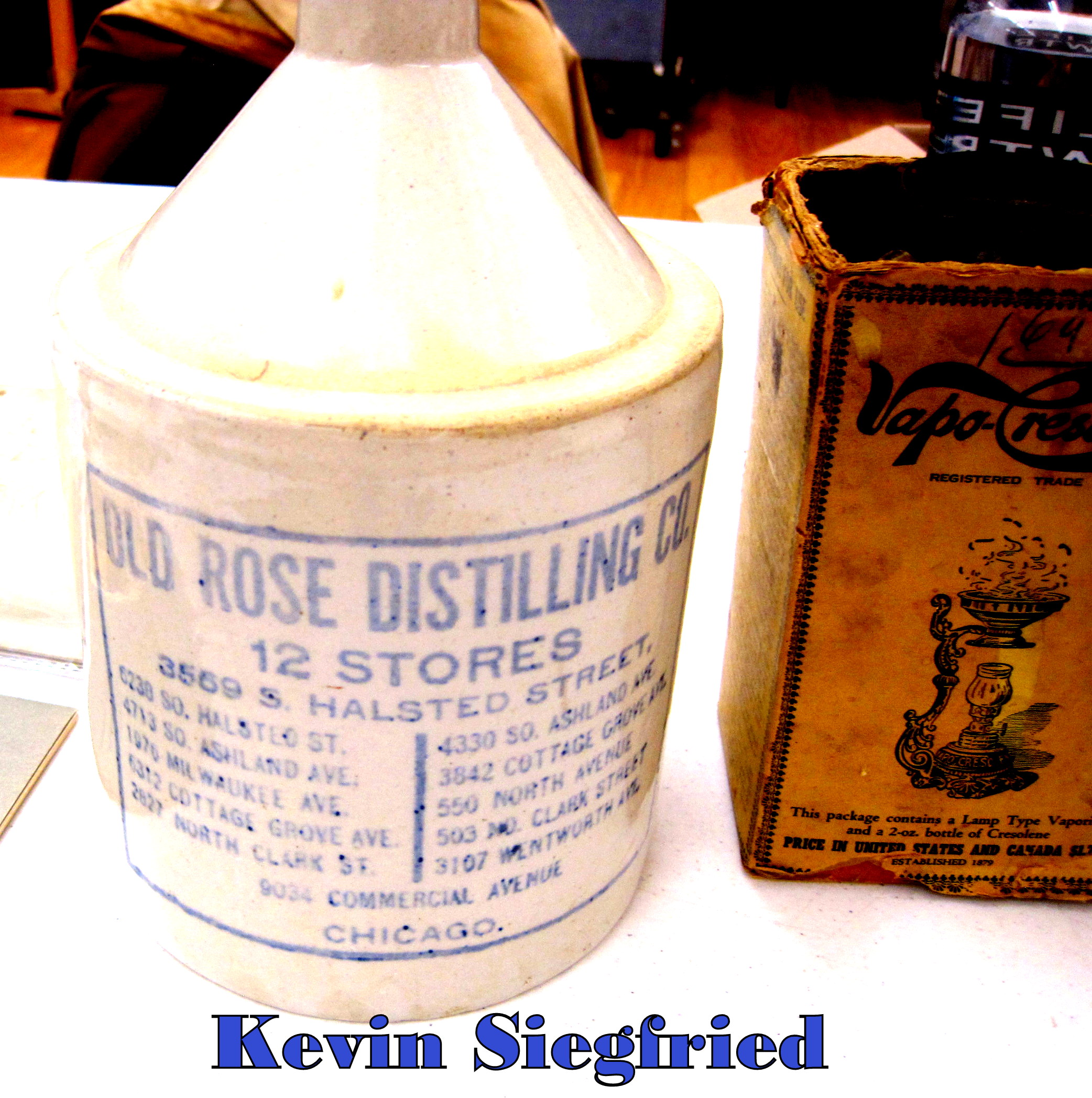 successful NuGrape.
Kevin also showed a gallon size stoneware handled jug from Chicago's Old Rose Distilling Company. The blue lettering lists the 12 stores in the Windy City selling the hooch.
Vincent Grossi

displayed an assortment of Victorian Trade cards including a nice Kalamazoo "Dutch Maid Dairy on N. Burdict, Kalamazoo. Also a selection from Arbuckle Bros Coffee from New York City.
There were other neat finds. Vincent sent me a list of important updates so I am going to squeeze them in. But there a couple more items I would like to squeeze in, I am afraid we are going to go into extra innings with this newsletter.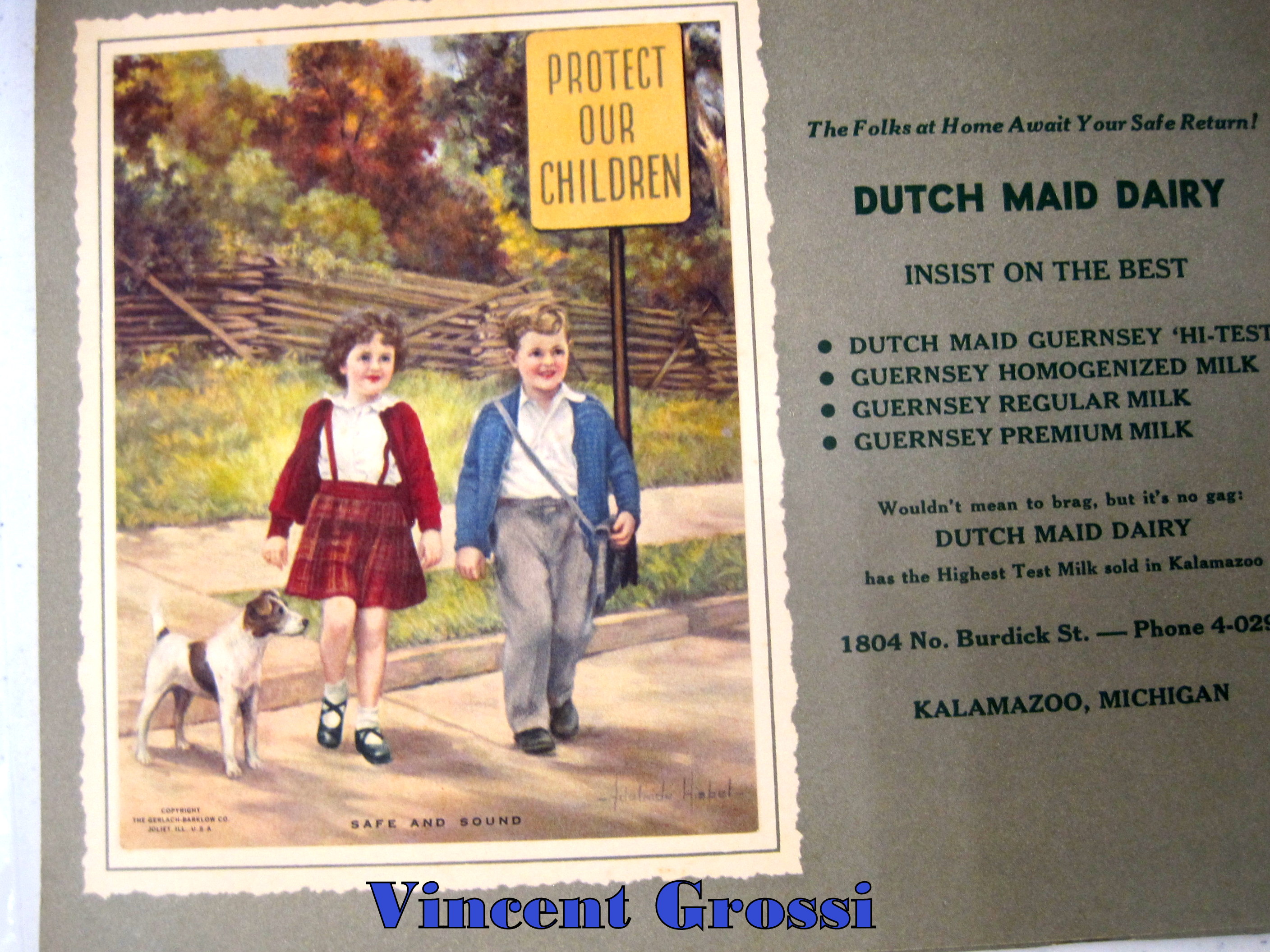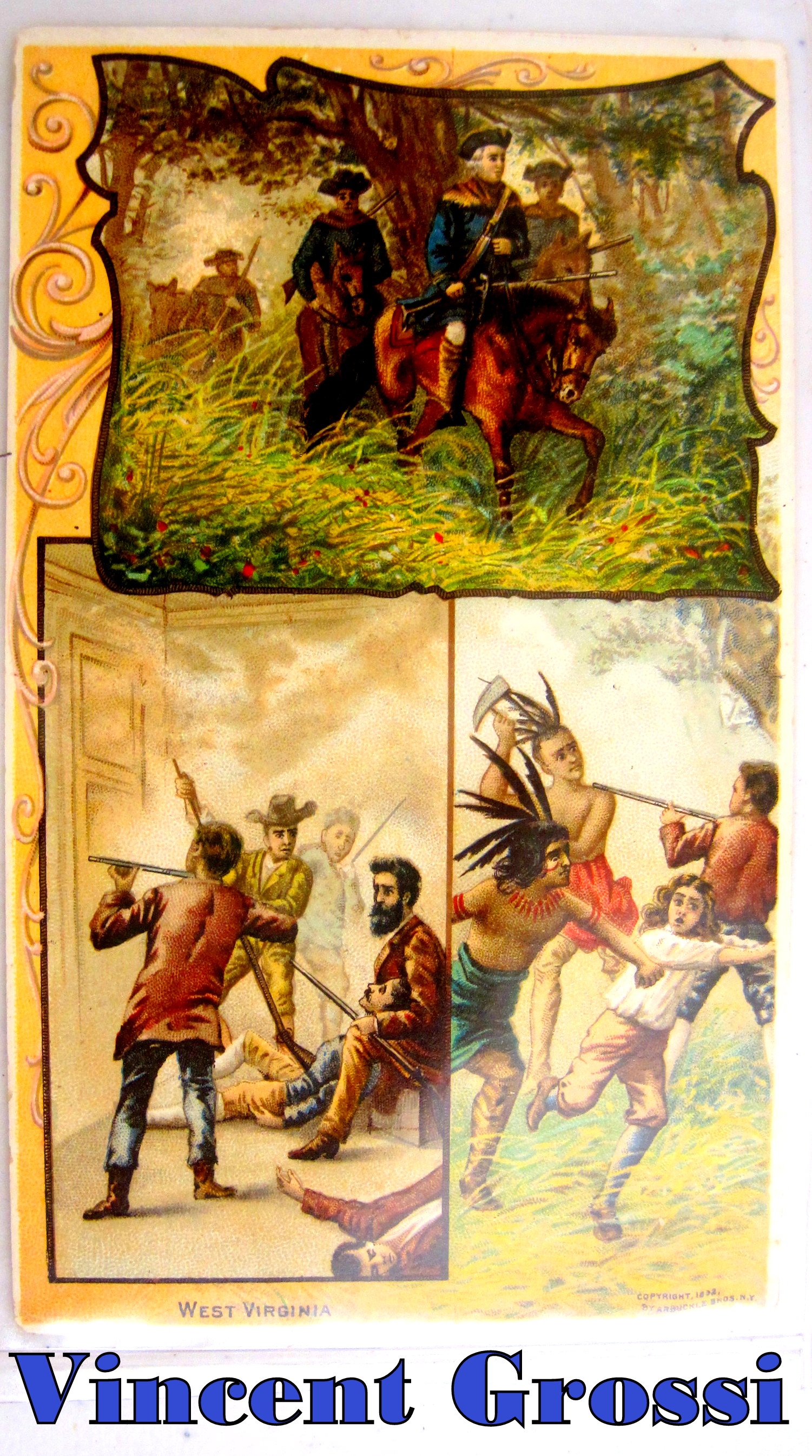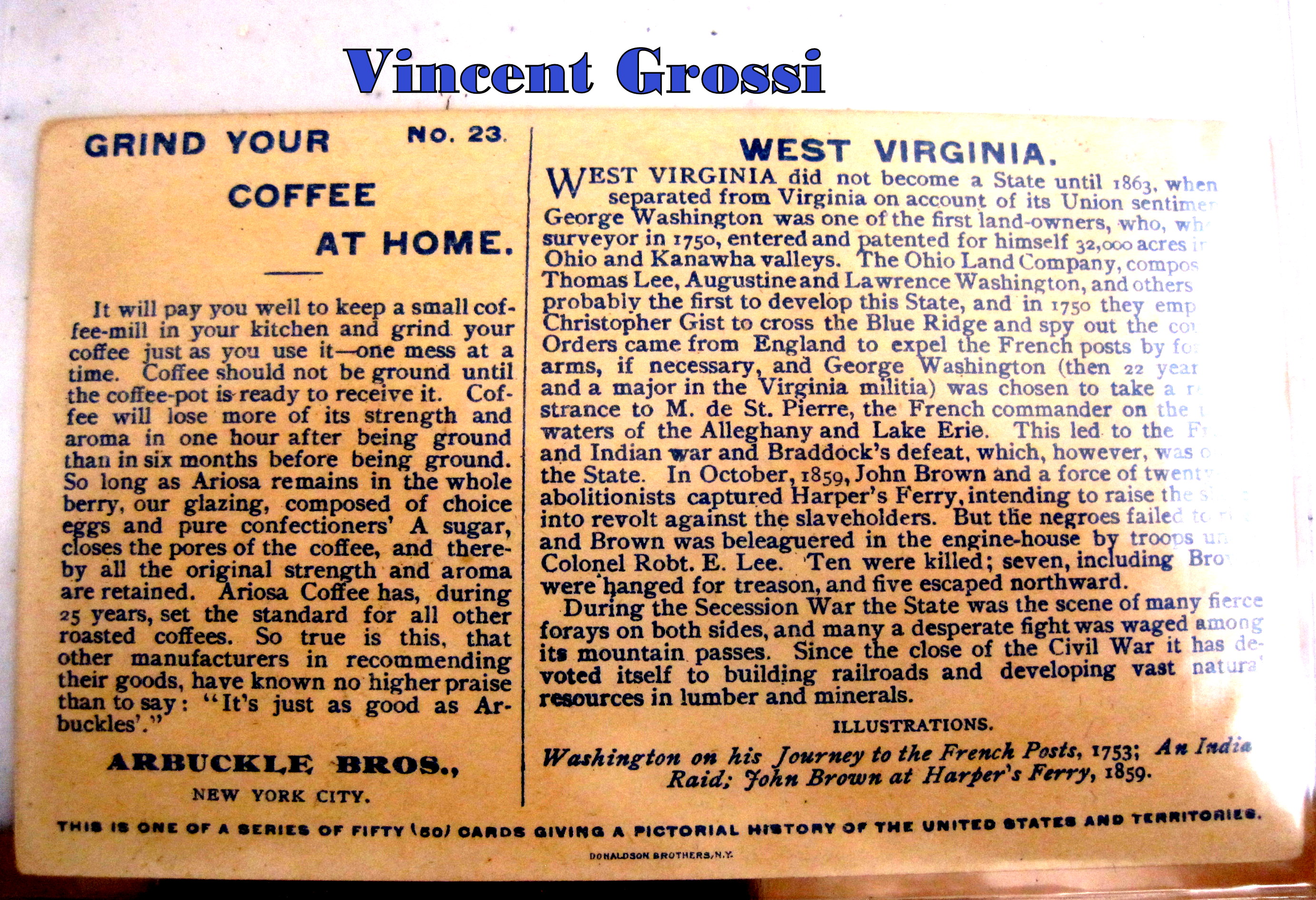 BOTTLE DONATION
I received a phone call from my friend, Neta Nowak, saying that a package was delivered to the Museum addressed to the K.A.B.C.
It was sent from a gal named Anne Bowgett from Fort Worth Texas.
The letter reads,
"

Hello Bottle Club Members!

I hope this bottle arrives safely and you have someone who would like to keep it.
It belonged to my grandmother who lived in Paw Paw, then my parents kept it for many years, before giving it to me.
Honestly, as much as I like it, I don't have use for it and I thought it would be better in the hands of a collector. Take Care! Anne, Fort Worth, TX."
The bottle she shipped arrived in perfect condition. Also, it is attic mint, it was certainly never in the ground! I had no more than opened the box, when my friend

Mark McNee

called me. . . I shared the information with him. It is a very light aqua tint, beautifully tooled top, with a slight twist seen just below the bulbous top. It has a perfect wire bail with metal cap,
It is an embossed slug-plate lettered,
"

R.M. ROWLEY, KALAMAZOO, MICH, PURE AND WITHOUT DRUGS OR POISONS"
Mark told me that he had only ever seen one! He suggested a starting value to be around $300.00! I don't know the market for Kalamazoo Beers but , with all the Brew Pubs out there , there must be some collectors?
I am saying; we need to discuss how the club can use this gift for the benefit of the club. Also, I am sending this newsletter to Anne with a letter of,

Thank You

!
The other thing

I wanted to mention is; Kevin followed up on the lead I shared at the last meeting about the collection available up north, and he did real well! Kevin will share his adventure at the meeting! You won't want to miss it!
VINCENT'S JOTTINGS:
On Saturday: October 7, 2023, the

West Michigan Antique Bottle Club

President Tom Buettner passed away. Vice President Roger Denslow will be in charge until the club has new elections for officers.

On Sunday: November 19, 2023, the

West Michigan Antique Bottle Club

will be hosting the Marble Presentation by

John Wilterding

. The West Michigan Bottle Club meets at the Neil Fonger American Legion Post, 2327 Wilson Ave, S.W. in Grand Rapids, MI at 4:30 PM. For more information contact: Roger Denslow 616-447-9156 Email: rogerdcoger@gmail.com or Elmer Ogg 231-557-7526 Email: elogg@comcast.net



The Indiana Marble Club

will be hosting their next marble event, In-Room Trading on JANUARY 4th & 5th and Marble Show on Saturday: January 6th, 2024. The location is the Residence Inn/ Springhill Suites, 9450 Counselors Row, Indianapolis, IN 46240.
For more information contact: Mike Adams 317-873-4975 or Kim Winningham 765-717-0488. For Marble Collecting Presentation Information: John Wilterding. Email: jwilterding@olivetcollege.edu

T

he West Michigan Antique Bottle Club

will be having their next bottle show on Saturday: February 24, 2024 at the Neil Fonger American Legion Post, 2327 Wilson Ave, S.W. in Grand Rapids, MI. For more information contact: Steve DeBoode 616-667-0214 Email: thebottleguy@comcast.net



The Kalamazoo Antique Bottle Club's

43rd Annual Bottle and Glass Show: Saturday: APRIL 6th, 2024. Time: 10:00 AM-2:30 PM. The Kalamazoo County Fairgrounds/ Expo Center: Exit 80, Off I-94, 2900 Lake Street, Kalamazoo, MI. For information contact: Show Chairman John Pastor 616-581-7005 or Club President Rob Knolle 269-993-5125 or crossbonzx@yahoo.com
On Saturday: November 11, 2023:



The Otsego Historical Society Museum

will be hosting a Special Unveiling of Extremely Rare 35 Star U.S. Flag from the American Civil War(1863). Time:1:33 PM. Location:Museum 218 North Farmer Street, Otsego, MI. The Kalamazoo Bottle Club member, Len Sheaffer will be a part of the special event.



On Tuesday: November 14, 2023: Special Club presentation by Len Shaeffe

r

(Member of the American Civil War Reenactment Group) on the American Civil War: Unveiling of 35 Star U.S. Flag(1863) and the placing of a grave marker for a Union Solider from the Battle Creek area.



The Kalamazoo Antique Bottle Club

will be holding it's regular meeting at the Otsego Historical Society Museum. Time: 7PM-9PM. Please, bring bottle items for the $5 table sale and your most recent bottle finds to the meeting as well.

On Thursday: November 16, 2023:

The Oshtemo Historical Society

will be hosting the History of UpJohn Company by Jeremy Winkworth. Time: 7PM. Location: Oshtemo Township Hall, Community Room, 7275 West Main Street, Kalamazoo, MI.49009.


---
SO THANKFUL!



I always feel a need to direct our thoughts toward God as we approach Thanksgiving. So often anymore, people wander about their entire life without even a thought about man's creator.

As we watch the world news with each passing day, hoping-and-longing for those, "good-old-days" . . . yet all around us, things seem to getting more and more out-of-wack . . . it is so frustrating.

When it has come to that point where all those things we believed to be bad, are now presented as good, and that which was good . . is now considered evil . . . . . I have to retreat to God's promises knowing

He is never-changing

and, in all ways,

He is ever trustworthy

.

Looking to Him in these confusing times . . . . I can always find rest for my soul.
King David, was facing enemies who were coming at him from every direction! He was boxed-in to the point where this once-brave-warrior was in hiding in caves from his enemy. . . . one was his own son!

When things seemed so dark and deeply hopeless,

David turned his heart towards God

. David found in God, strength and rest. He wrote one of the most loved of the Psalms during those dark times.

"

The LORD is my shepherd; I shall not want. He makes me to lie down in green pastures: he leads me beside the still waters. He restores my soul: he leads me in the paths of righteousness for his name's sake.




Yea, though I walk through the valley of the shadow of death, I will fear no evil: for thou art with me; thy rod and thy staff they comfort me.




Thou preparest a table before me, in the presence of mine enemies: thou anointest my head with oil; my cup runneth over.




Surely goodness and mercy shall follow me all the days of my life:




and I will dwell in the house of the LORD for ever.


Psalms 23

It is important to see that God didn't give David strength, or even comfort . . . or even peace.
God 'Himself' became all these things to David.
David wasn't saying look at me! He is saying, "

Look to God

!"

David was the shepherd King, but

it was GOD who was David's Shepherd!



God is in the shepherd business! Are you numbered in God's flock? God purchased His flock with His own blood.
It is my prayer in this time of political turmoil, you look to God and thank Him for His abundant Mercy and Goodness during these very troubled times.

Draw near to God especially during this season of Thanksgiving.
THEME THIS MONTH, HARVEST TIME AND RECENT FINDS!
The Kalamazoo Antique Bottle Club
Meets At the
Otsego Historic Society
Museum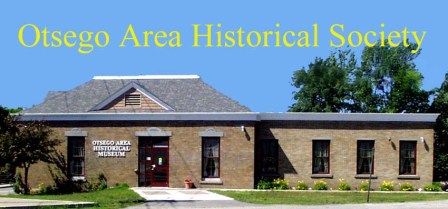 Meeting date is
NOVEMBER 14th
at 7:00 pm
The Museum is located at
218 N. Farmer St. Otsego, MI 49078
Meeting starts at 7:00
Information
E-Mail