October Meeting Falls on the 9th
This Month's Theme "GIFT BOTTLES"


<>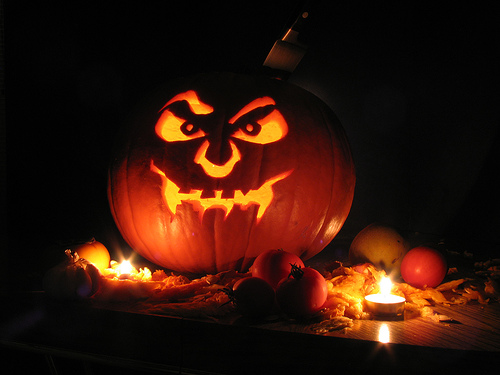 I blew it! Chuck asked me to list, for our antique bottle theme; "Bring your favorite Gift Bottle" for this month! If you have ever received an antique bottle as a gift please bring it to the meeting! I forgot to add this to the newsletter that you members were mailed.


Last Month's Meeting
We had a great turnout for our last meeting and I seriously do not think it was all about the great pizza!
Seeing the bottles and other treasures on display at the last meeting was worth the membership dues, for sure! Ed Nickerson has been busy recruiting members and our newest member, Ronald Marsh, has already been turning up some interesting stuff!
Ron has been monitoring the operations going on in a local environmental clean up project at one of the Kalamazoo waterways, and as we have come to expect, the old bottles are turning up. I love the study of human behavior; that is one of the many reasons I love God's Word-- the Bible. But one question that even the Bible has not answered for me is, "Why were our forefathers drawn to the waterways to dispose of their trash?"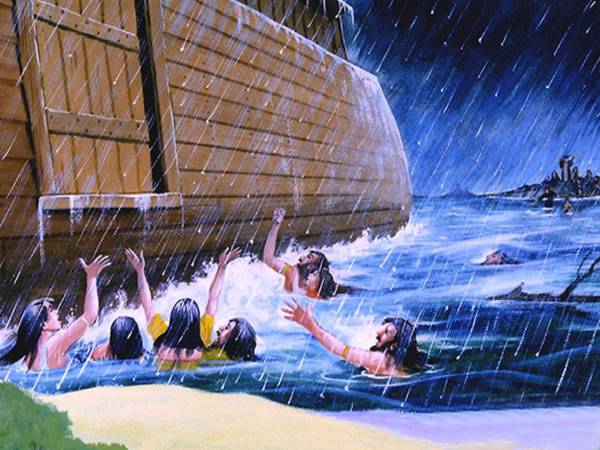 You can find a hint in the book of Genesis which explains that the water God used in the judgement flood of Noah's day came from both below and above the earth. Genesis 7:11 In the six hundredth year of Noah's life, in the second month, the seventeenth day of the month, the same day were all the fountains of the great deep broken up, and the windows of heaven were opened.
Now, I can understand the logic behind the location of most farm dumps. The way I always had it figured was, the farmer did not dispose of his trash on any ground where he could either plow or plant. So, using that logic he created his private landfills in any ditch, swamp or ravine that he had.
But, clearly the early settlers had no concept how our aquifer system works. Our great-great grandfathers seemed to have a disconnect between the surface water and subsurface water. I remember reading a book about how much cleaner both the air and water is today compared with a century ago. The book showed how man's understanding of his environment has improved.
God's earth is amazing in so many ways, but one of the amazing jobs the earth has is working as a giant water filter. Do you like history? If you are in the antique bottle club, I'm sure you do. Try this on for size; the water you drink today, has very likely had been enjoyed in the past by Moses or his donkey!
Disease was widespread during the mid-1800's because man would dump his waste right near where he drew his drinking water! I remember a missionary coming to the church we attend to give a report on his work we were supporting. I cannot remember where in Africa the mission field was located, but I remember that they were the first missionary group into this remote area ever!
I remember the missionary was a doctor and I think it was our former pastor's father who told the story. As I recall he was a surgeon and the book he wrote is named "Daktari," which is Swahili for "doctor."
On his first trip in, to minister to the first tribe, he was noticing some simple things that could be done to improve on the condition of the people. This started to burden his heart and he set a goal to get funding for his ideas. He saw small naked children wandering around without diapers and relieving themselves wherever and whenever nature called. So he set in his mind to press for the money to supply all the tribes with cloth diapers.
Surely that one tiny step would greatly improve the tribes living conditions. It was in his heart to do that very thing until one day he saw some of the women down at the river washing out some garments. That is when he realized that diapers would poison the waters for the tribe just downstream!
I may have told you about my daughter's science project. The theme was about "Caring for the Planet" and we came up with an interesting idea for a simple project that we could work on together. We found some giant syringes at the Farm Supply Store which were no doubt for livestock use. The company that made them was called Monoject and they were perfect for our project! We purchased several but all we were interested in was the outer syringe barrel.
We built a way to mount these open ended tubes on a display rack we made out of clear plastic sheets. Each looked like a large test tube that tapered into a funnel at the bottom. We packed each one with any type of filtering material we could find. For example one was packed with cotton balls, one with lamb's wool, one with shredded paper, and one with fine brass fibers, one with fiberglass fibers another with finely ground charcoal, and lastly ordinary beach sand.
Next, we mixed up a horrible concoction that would have earned the title of "Toxic Waste" in anyone's book. First we started out with clean drinking water, then in went used motor oil, ink, paint, mustard, catsup, chocolate milk, anything that we could lay our hands on to create a toxic soup. Under each tube we placed some small clear cups to catch our filtered liquid.
Our final analysis was purely visual, but the results were amazing! Our waste water was a dark gray almost black liquid and only one material cleaned it back to crystal clear! . Yep, it was the beach sand! The next time you are laying on the beach whether it is the white limestone sands of Florida's beautiful beaches, or the tan iron tinted sand of Lake Michigan, may it always remind you that God knows exactly what He is doing.
So, here are some of our new member's, Ron Marsh's, finds: a nice Kalamazoo City Bottling Works Hutchinson- type bottle, a very early crown top Vernor's bottle embossed with the warning "GENUINE ONLY WHEN CROWN CORK HAS THE ABOVE DESIGN IN RED!" The design is the a monogram crest circled with the words, "VERNOR'S GINGER ALE DETROIT MICH."
How cool is that! Someone must have been pirating their bottles! He also found a Merz Capsule, a German Brewing Company bottle, an amber Armour Foods bottle, and a one-quart Chicago Brewing beer bottle.
I was really fond of the Vernor's bottle myself, and I happen to have one already in my collection. My bottle was dug by Jack Short. Jack also thought it was such a neat piece of Michigan history that he contacted the company to see if they wanted it. They said, "No, thanks. We still have dozens of them!"
I am a huge Vernors fan! In fact, in between these last two sentences, I took a drink of ice cold Diet Vernors. I went on a business trip to Normal, Ill., and before I went to the hotel, I stopped at a small market to pick up some Vernors and the lady asked "What is Vernors?"
I told her, "Ginger Ale!" Then she asked, "What's Ginger Ale?"
Then I asked her, "Why do they call this place Normal?"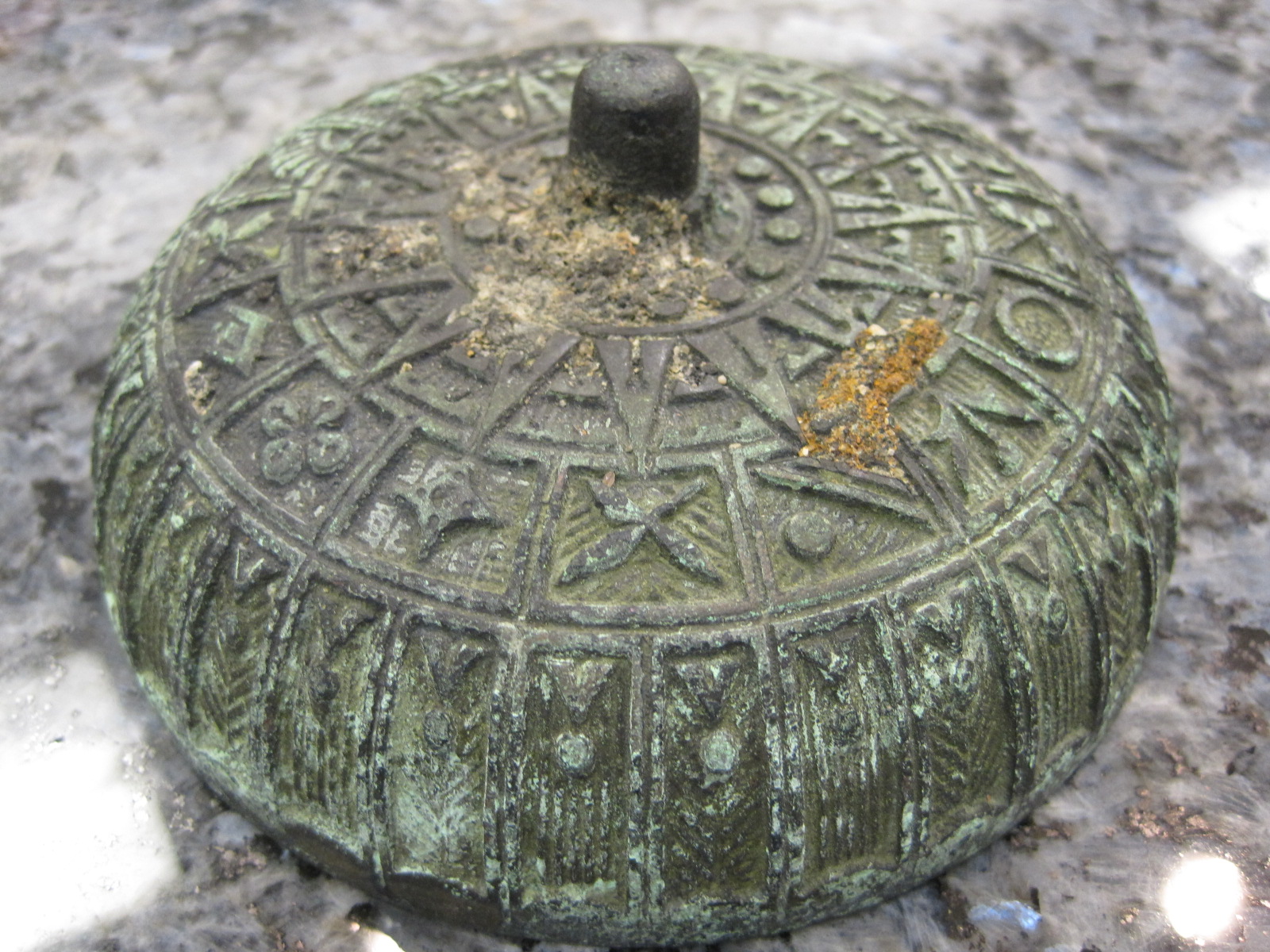 OK, Ron had one more item that I thought was about as cool as anything I have seen in a while. It is an old alarm bell and it is really awesome! It is brass and it has a beautiful green patina. It is 5 inches in diameter and very highly embossed with a very unusual design that I am certain has some meaning I haven't figured it out yet . . . but I'm still working on it..
The bell had a threaded internal center to which it had been mounted onto backing. I cannot find any tell-tale bell-hammer mark, so I don't know if it was an internal or external hammer. I really believe it was from the early days of electricity which would put it back into the 1890's. It looks to me like the threaded mounting piece was an iron nut that was brazed into place. That part, being iron, is pretty much rusted away, but the bell itself is in amazing condition.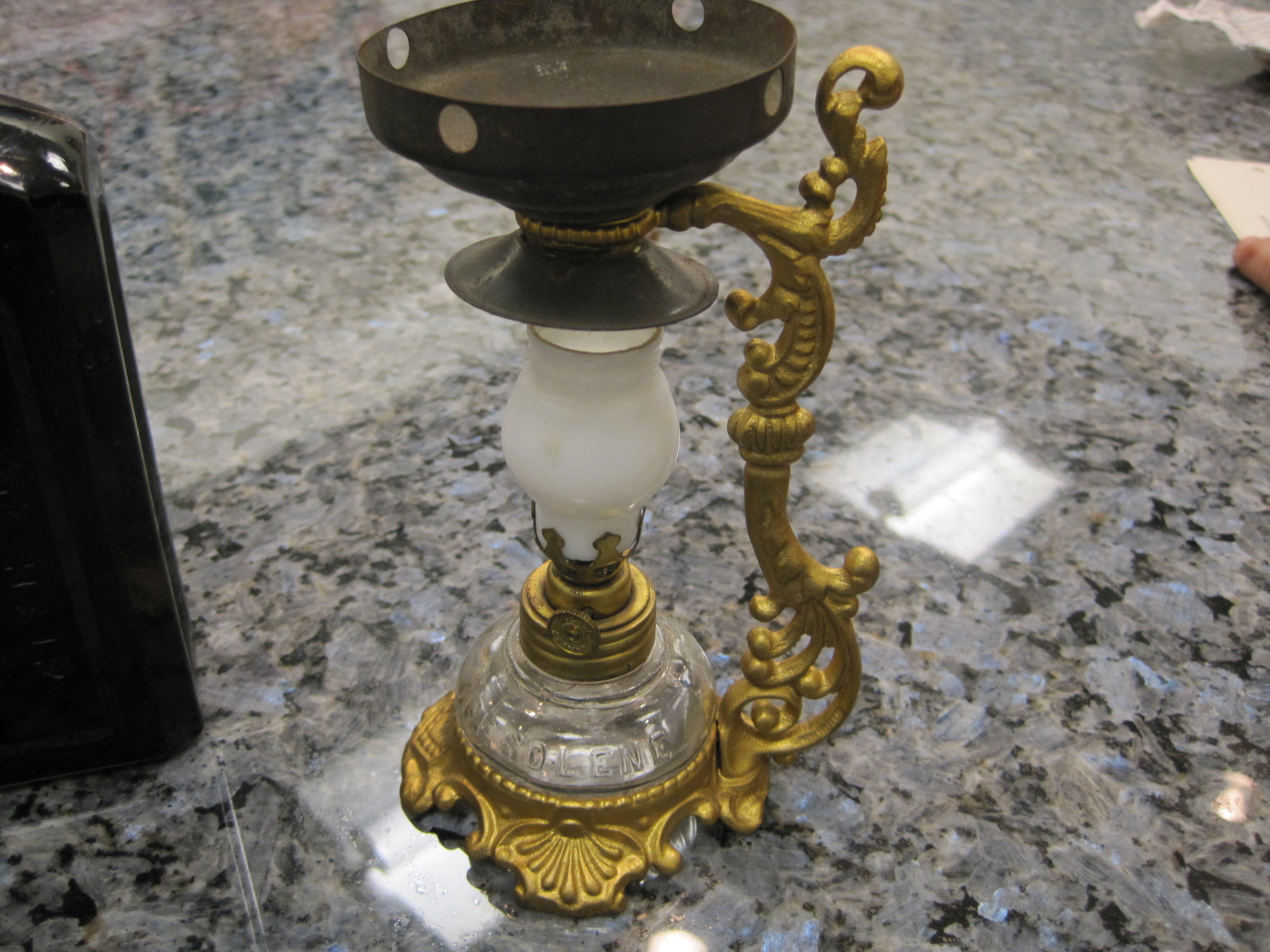 Kevin also had some neat treasures, which it seems he always finds! He found a neat Cresolene Burner and a slender paper label Queen Mary Lavender Water Bottle, which is really cool!
Scott and Chuck put off their annual trip to Alabama this year because both of their dear wives have been having some health issues. They are both in our prayers!
I've been able to keep pretty good track of Scott lately because he has been digging with my old friend, Bill Riley! It is sort of funny because I know both of these guys from WAY BACK because of the metal detecting hobby, but they haven't known each other all that long!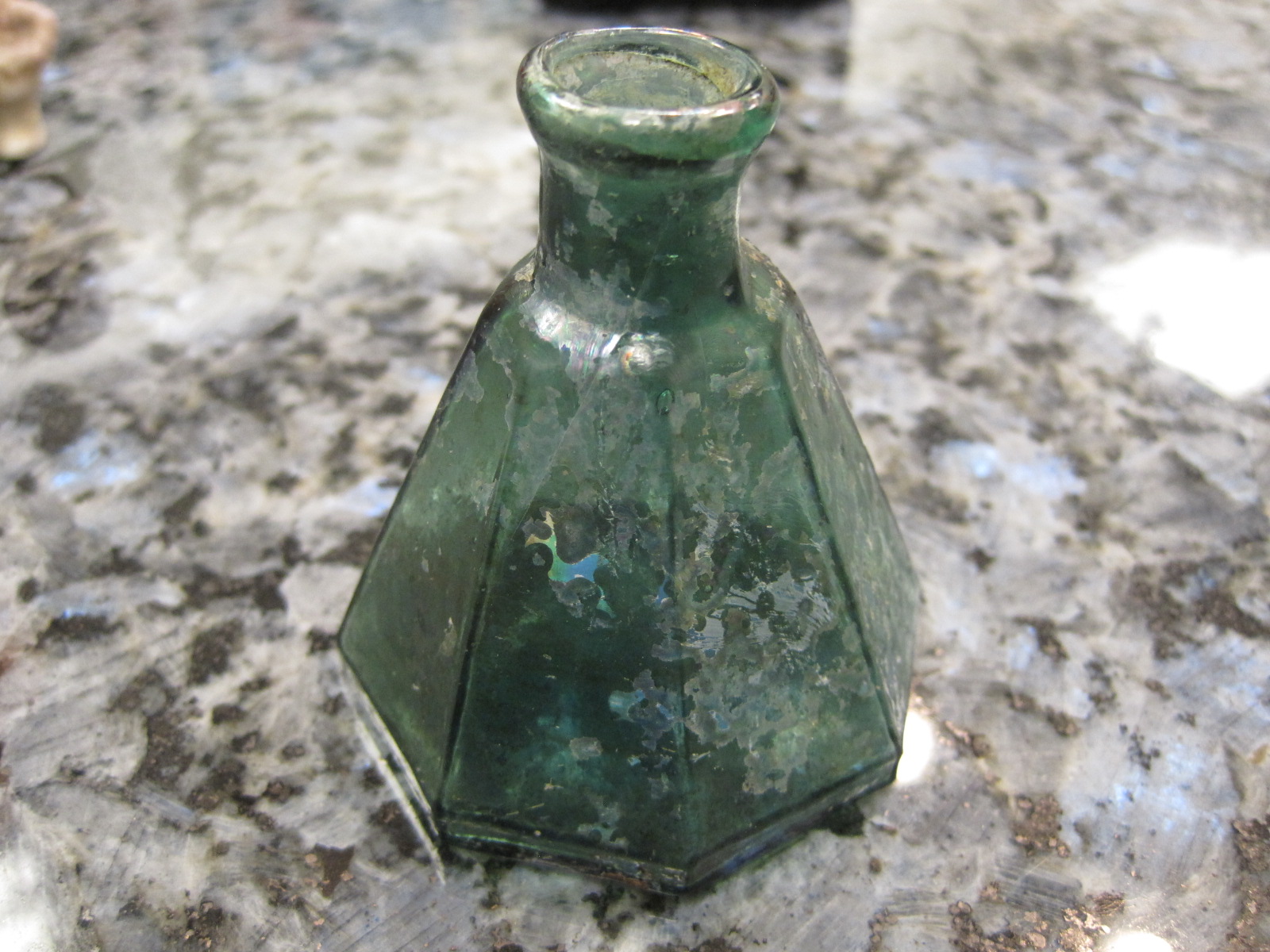 Well, you can bet they have been finding some very good stuff indeed! For the last meeting Scott had a sweet pontiled, teal-colored, rolled lip umbrella ink! I would say it is from the 1830's!
The first really cool bottle that I had ever dug was a sheared-top pontiled umbrella ink in a deep dark olive green with lots of shelf wear on the bottom! I cannot prove it but I do know about the family who built the house where I found it. The house was considered by the historical society to be one of, if not, the oldest in Allegan County. The family arrived in the very early 1800's from Otsego, New York. I believe my ink bottle was in use when George Washington was president!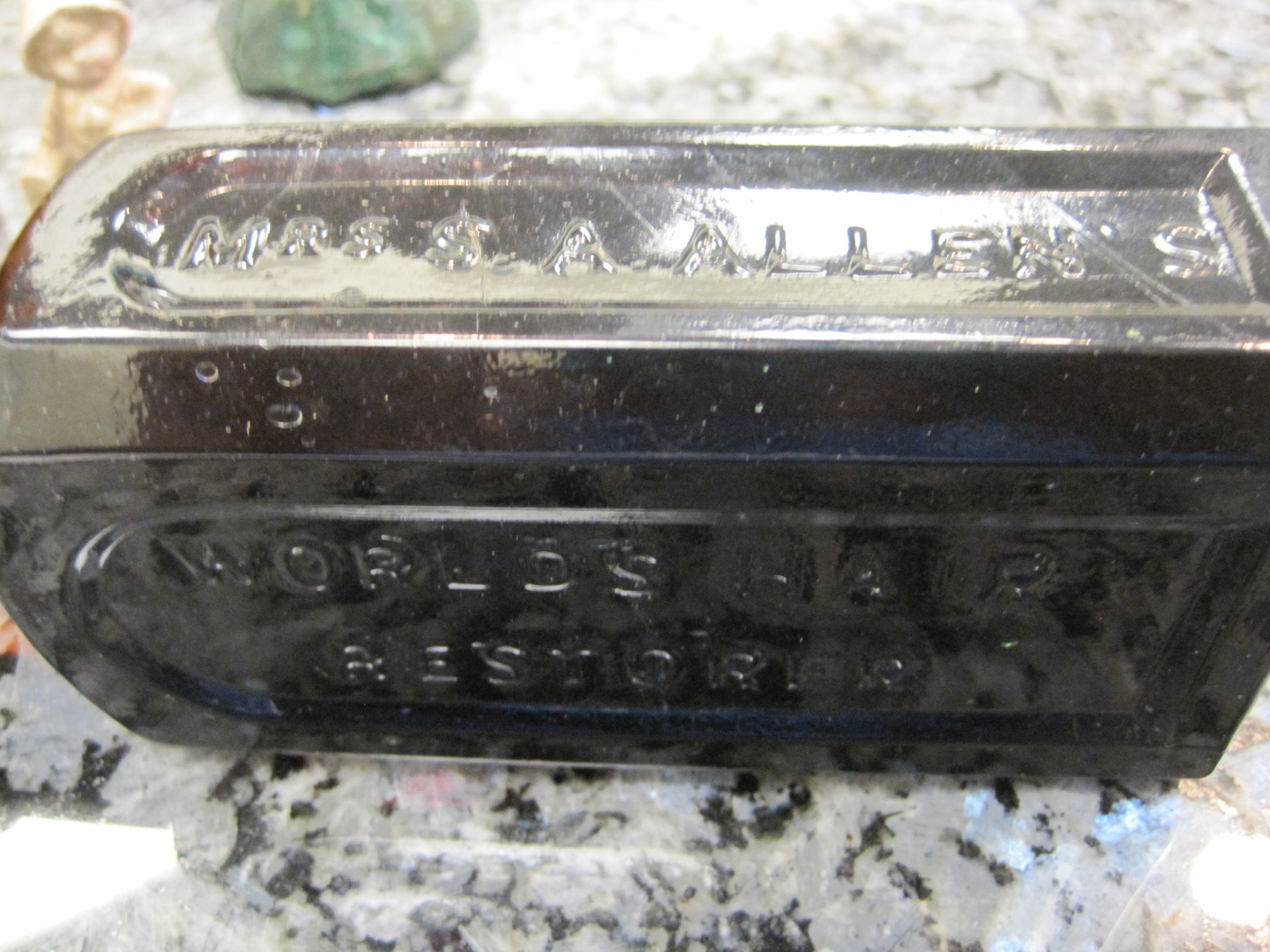 Scott also found a beautiful deep-blood red-to-purple color Mrs. Allen's Hair Restorer! Man, what a treasure! Then if that wasn't enough, he found a neat, large, amber Charles Truaxe & Company medicine from Chicago. (If you cannot access the newsletter online), let me describe the embossing on this one. Across the top of the side panel, it has in large letters CHAS and under that the letters TRU and through those letters the image of a long handled lumberjack felling-axe, or "Truaxe!" Scott told me about one of the Chicago collectors who has a big Truaxe collection.
Ed Nickerson always has something neat to share and on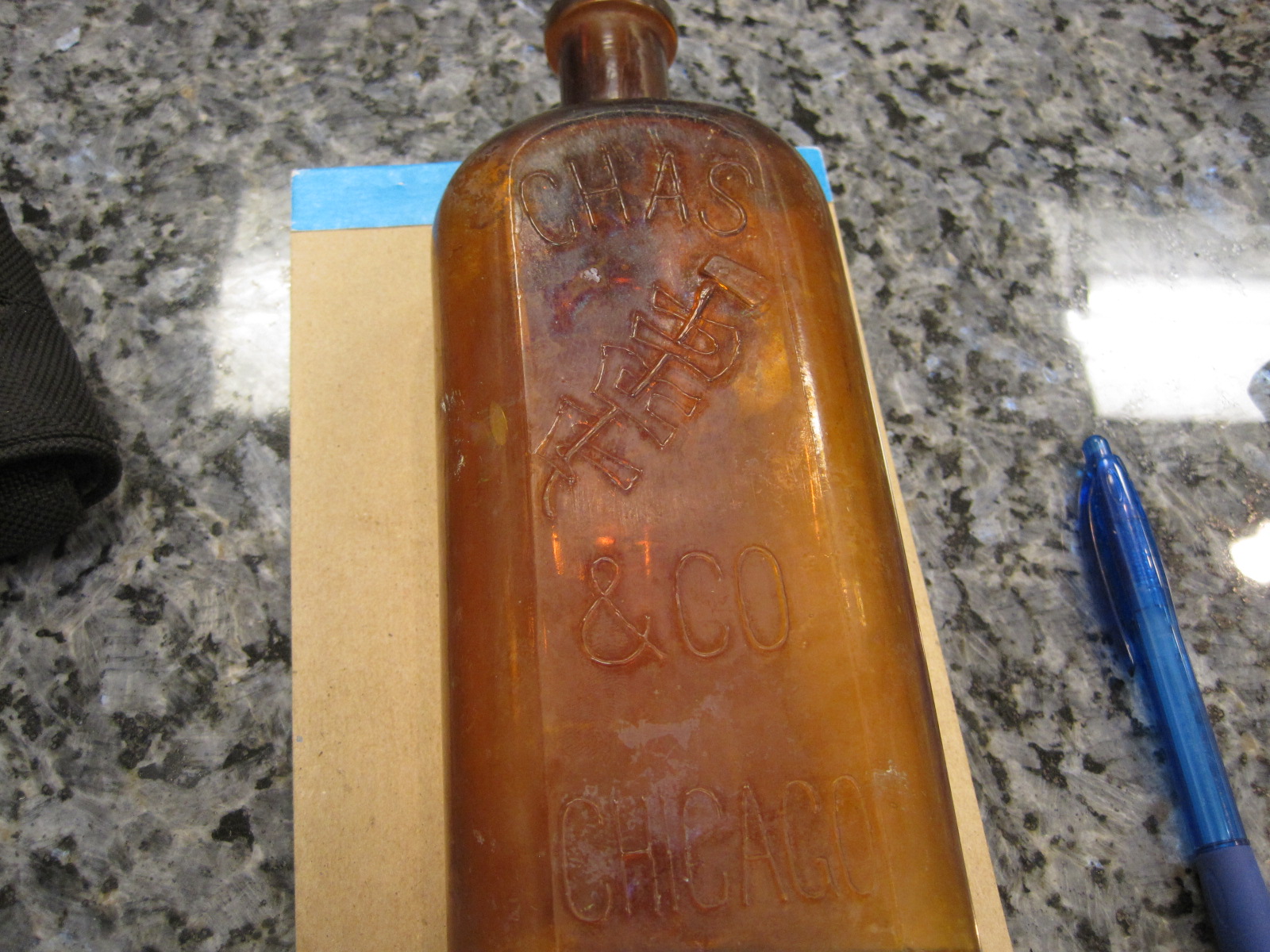 this occasion it was a Wheelock

Druggist bottle from Kalamazoo. Wheelock was located on the corner of Kalamazoo and Rose.