For you members who have requested only the online newsletter; you may have missed the latest newsletter insert:
The 2016-2017 club dues are being collected! Please mail $10.00 to:


Kalamazoo Antique Bottle Club




607 CROCKET AVE.




PORTAGE MI 49024





Checks can be made payable to: K.A.B.C.




Give your name, full address, e-mail address, phone number.



Last Meeting
Folks, if you missed the last meeting you missed a very pleasant surprise! About 3 hours before the meeting (thereabouts) I received a call from Reverend Otis Leroy Parker! You talk about excited! Through some sort of book keeping magic, Chuck figured the club had a substantial amount of cash in the club coffers in the back of his underwear drawer!
I suspect Chuck should have double checked his ciphering! As he grows older he sees twice as many toes as before. It is sort of like my first wife, "We can't be out of money, we still have checks left!"
So, Chuck calls and me, and others, and suggests we go spend our windfall before he finds the math error. When this club finds cash we love to exchange it for Bimbo's Pizza! And eat pizza we did!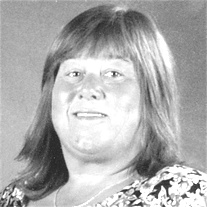 On a sad note; Bimbo's Pizza lost a long time employee Sue Robbert on September 19th.
Sue served on our rag-tag bunch for a number of years, and she loved to wait on the Kalamazoo Antique Bottle Club!
Always quick with a one-liner and just as professional as they come. If I am not mistaken, I believe Sue won the Antique Bottle Show raffle for the metal detector top prize one year! I also think either Kevin or Ed sold Sue the ticket! You know, while my memory is at a full boil, I think Scott Hendrichsen may have purchased the detector from Sue!
The entire crew down at our favorite pizza parlor and the Robbert family are in our prayers for God's peace and comfort during this great loss.
---
We had a fantastic turn-out for our first 2016 - 2017 club season! Here is the list of names from our sign-up sheet:

Ron Smith, Vincent Grossi, John Winkler, Steve DeBoode, Kelsey Ennis, Chuck Parker, Mary Hamilton & her daughter Linda, Kevin Seigfried, Elmer Ogg, Eddie Nickerson, Scott Hendrichsen and Al Holden.

We also welcomed a guest, Sly Geoffroy. Sly is one of my good customers and a member of the metal detecting club. Sly and his family are from France and I really enjoy his friendship! We have several from the Southwest Michigan Seek & Search club who are very good divers! They are all involved with a larger team of divers used for law enforcement evidence and body recovery.

Usually when you see a story on the nightly news, about "divers" searching for, or recovering drowning victims, in Southwest Michigan, well, usually it will be these guys. No thanks, I sure couldn't do that!

I suspect my only contribution to their new found hobby is that they have seen my antique bottle collection. Diving, they have often spotted old bottles but only lately have they decided to search for them! And now, they have the bottle bug!

I haven't had a chance to view the bottles that they are finding yet. I was talking to one of them as I fixed his metal detector. I told him; "I hope you won't be disappointed when I see the bottles and I tell you to toss them back. There is very little chance you will find a really good one."

"Oh no!" Ron replied, "They are working a river where the dump dates back to the fur trapping days and is the location of an early trading post!"

I am told that the newer embossed "local" bottles they are finding are colored blob-top bottles!"

Sounds exciting . . . and I am hoping they do well, but I have looked at truck loads of historic cork top catchup bottles! Unless you know, or collect antique bottles, there is so much to learn.

Several years back one of my friends from Battle Creek was on a body recovery in a muddy lake with very limited visibility. They didn't even know where in the lake to start looking because they had very little to go on . . . other than an empty fishing boat. Because of the vast area that needed to be searched, they put divers on what is called a 'tow-bar.' A tow-bar is where a rope is threaded through a metal pipe and both ends are attached to the boat's transom. As the name implies, the divers hold the bar as the boat slowly tows them around the lake.

My buddy was positioned on the starboard side of the tow-bar, and the whole object is to be alert as you watch and feel for anything! Aren't you glad God provided us with people who can do these jobs?

My friend locked arms with the body, and in only two to three feet of visibility he came face-to-face with the body! Frankly, I would have to throw my wet suit away after that!

As I mentioned, we had a great turnout at the September meeting. It was good to see Elmer Ogg and Steve DeBoode come all the way down for the meeting! Like several of our group they didn't know about the surprise "Pizza Party" but it brought some big smiles! This isn't their first rodeo, they have been to Bimbo's before!

Before we reconvened at Bimbo's, we saw a few bottles.

Ron Smith just snared a few beauties! I don't know the story behind these bottles, but it sounded to me like other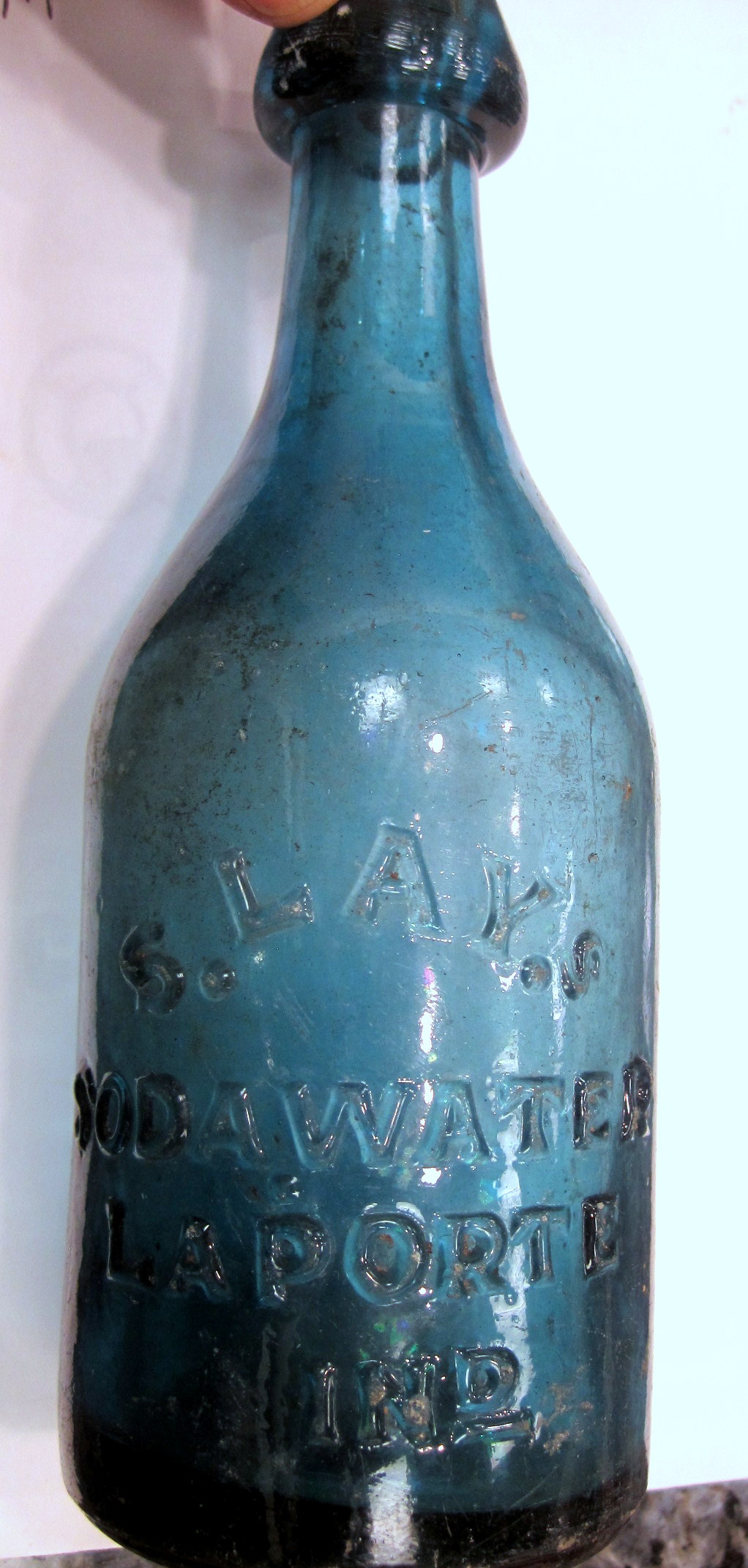 folks in our club knew who provided Ron with the bottles. Ron had one that made everyone green with envy . . . and it was blue! A Civil War era blob-top squat- soda embossed S.LAY.S SODA WATER, LAPORTE, IND.
I wanted to learn what I could online about this blue soda water bottle, but I have too many irons in the fire right now to spend the amount of time that I would like to. But, I did find a reference to S. Lay's Soda Water, Laporte, IN that was posted in a list called the "American Pontiled Soda Database Project." It looks like this website was last updated back in 2008, were it lists this bottle's rarity as "1" ( I couldn't locate an explanation of their rarity scale) They list the bottles value in 2008 at $900.00! Ron's beautiful blue soda is iron pontiled and prices have been like a roller coaster ride since 2008!
Now you know why privy diggers get all excited about locating a "Pontil Pit!" Both the chance of rarity, and the desirability peek when an example is pontiled and the value shoots right upwards!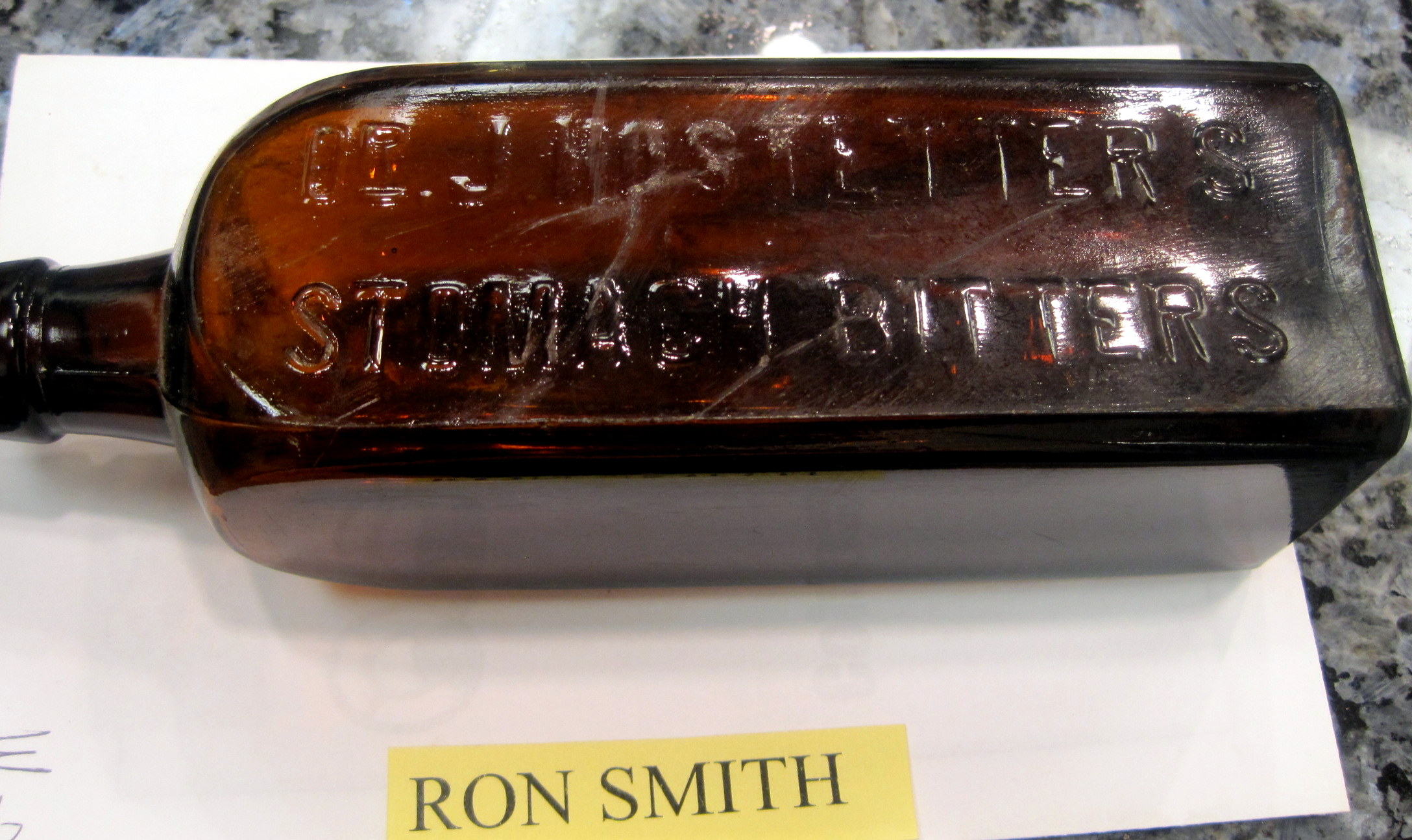 Ron also showed a C.I. Hood & Company Hoods Sarsaparilla, Dr. J. Hostetters Stomach Bitters, Thompson & Taylor's Concentrate for Making Root Beer. The little root beer concentrate bottle closely resembles the little Hires Root Beer Concentrate bottle which are so abundant! When seen from a distance, everyone guessed that Hire's was what it was.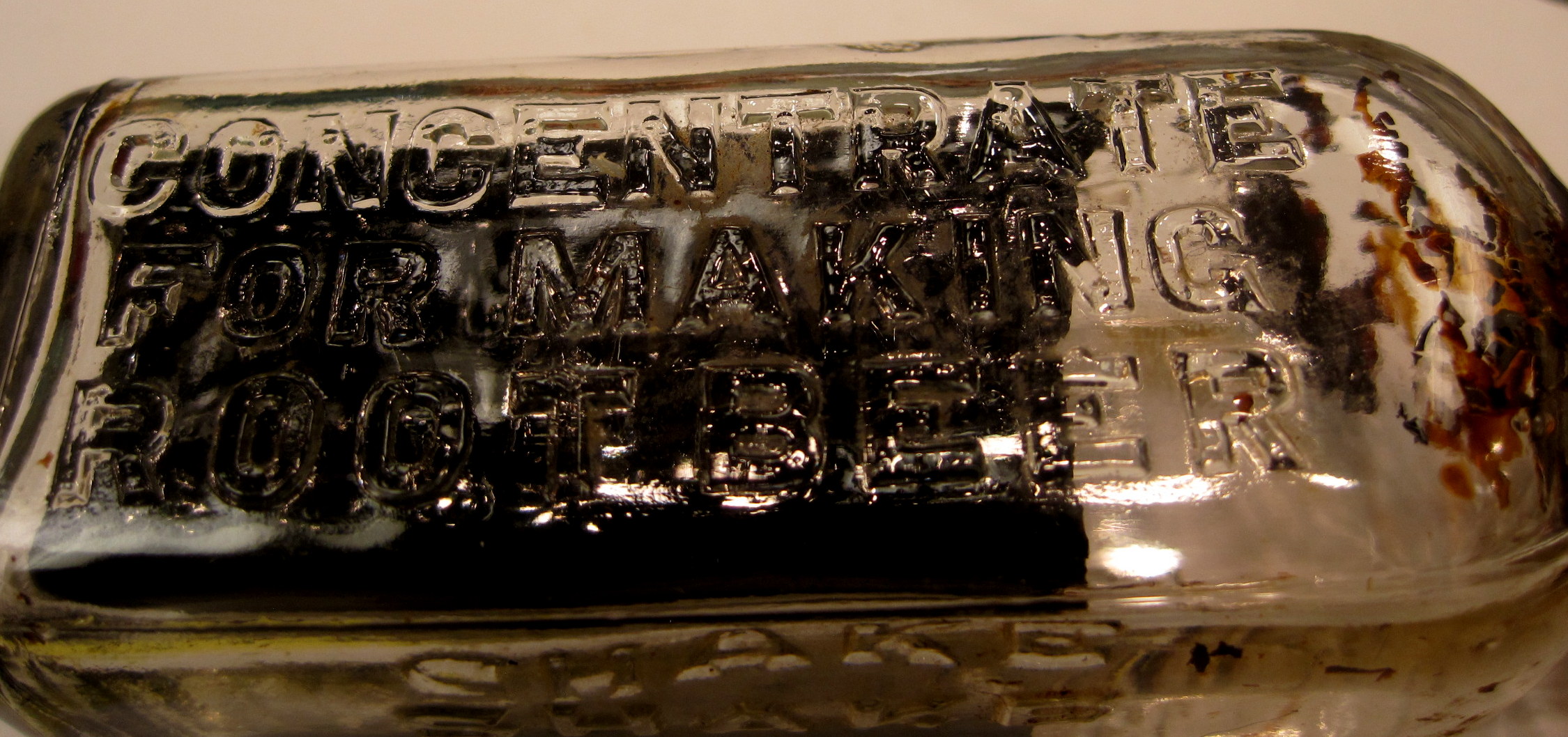 I wanted to look into it further online to see if there is a connection, but I didn't find out much. However, I did find several pages related to Root Beer followers! Several with regular Root Beer Forums! Some web sites listing the history of root beer starting with sarsaparilla tea, and many with do-it-yourself root beer formulas. One page listed past and present brand names. I almost listed them in the newsletter, but starting in alphabet order with A&W, by the time I reach Hire's, it would take several pages! It seems like we talked about root beer in the last newsletter!
Ron also brought a nice clean amber Indianapolis Brewing beer bottle. The embossing on these beauties ranks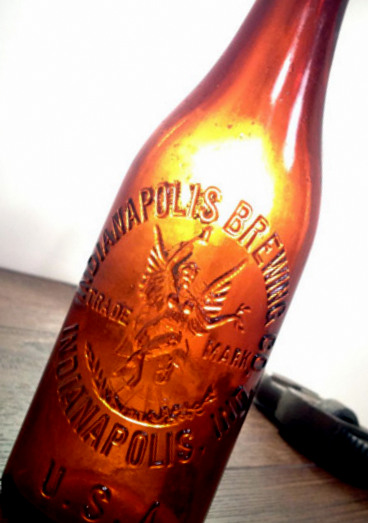 right up there with Buffalo Lithia Water as one of my all time favorites!
Embossed on the bottle is an angel seated on an early spoked balloon tire representing the "Old-Brickyard Indy 500." She is holding a glass of beer above her head. It is a fairly common bottle in aqua. This amber bottle shows very little case wear with just a little high point wear on her breasts (I have always wanted to say that).
Now Eddy brought in a real stumper! Somewhere Ed found a heavy, seven-up green High-Voltage Insulator . . . at least that is what we all guessed it is. I asked around, and also did an image search on the Internet without much luck, but I haven't given up yet.
Scott Hendrichsen always has something neat to show the group! One cool item was actually a metal detector find, a "TAFT" watch fob! A Presidential Campaign watch fob . . . now whatever could "TRUMP" that?
Scott also found a Samuel Stone, Elkhart IN hutch-style soda bottle. Searching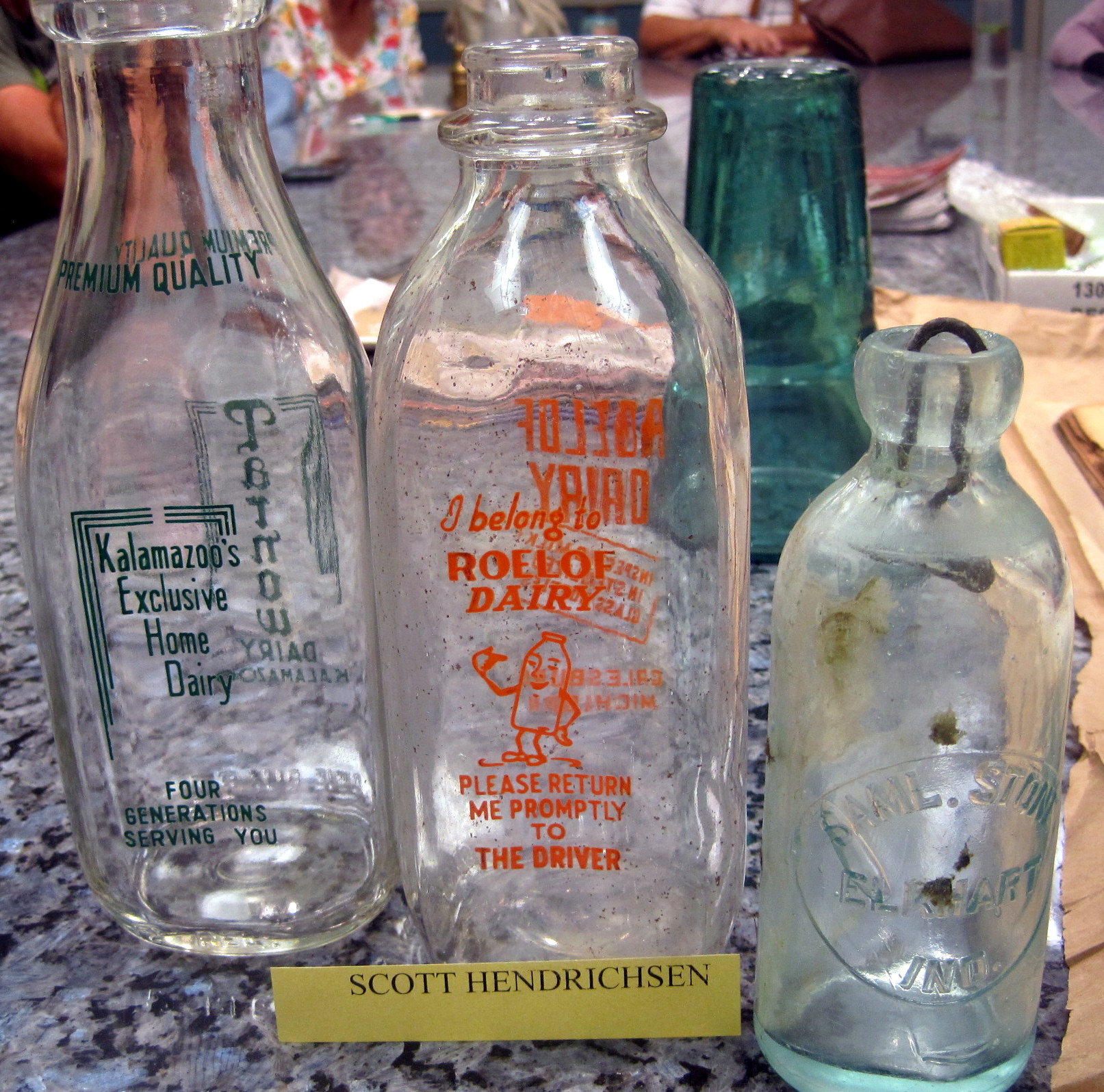 around online I found a Samuel Stone & Son, listed as an Elkhart IN soda bottler in 1900. I also found one that sold in September on e-Bay. I was hoping to find more about the company.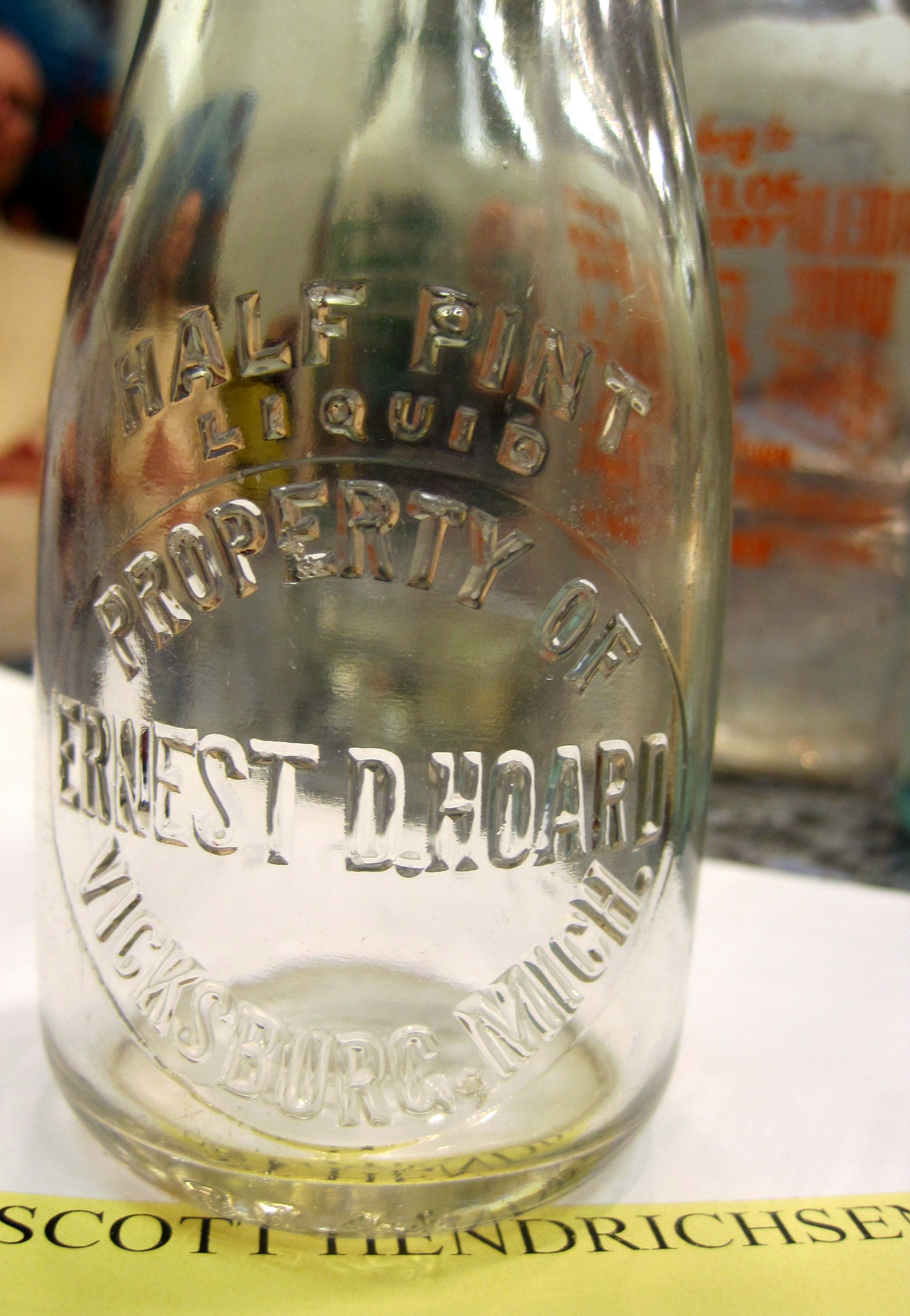 Scott also has a little half-pint dairy bottle embossed Ernest D. Hoard, Vicksburg, MI. Also, Scott found an aqua Northwestern Bitters. I thought maybe I could dig up something on this bottle online, but up to this point I haven't been doing so well. So, I try again. I type in 'Northwestern Bitters' then click the search icon and wait for the results. What surfaced was two web pages where Scott had visited a forum called 'Daily Dose' and my anti-virus popped up a stop sign warning! It stated "When we visited this site, we found it exhibited one or more risky behaviors." I had to laugh knowing Scott for as long as I have.
Actually, I think the Internet is like a carton of red-worm fish bait filled with germs! I posted a picture of a 1000 foot ore carrier in the Soo Locks on Facebook. I am a follower of the Army Corp of Engineer's Face book page, which is where it originally came from. A number of my friends like the Great Lakes ship photos as much as I do, so they clicked the "like" button to show their approval.
In a few days the photo started posting itself! In one week's time my Facebook wall was filled with the same photo over and over again! Next, I tried to systematically delete each photo, and each time it would post two more! That was when I remembered my Norton Anti-Virus program would scan a subscribers Face book wall, which I did a couple times before. When I tried it this time, it said "Facebook will no longer provide Norton access."
It's like take the cover off the cake and let the flies have their way!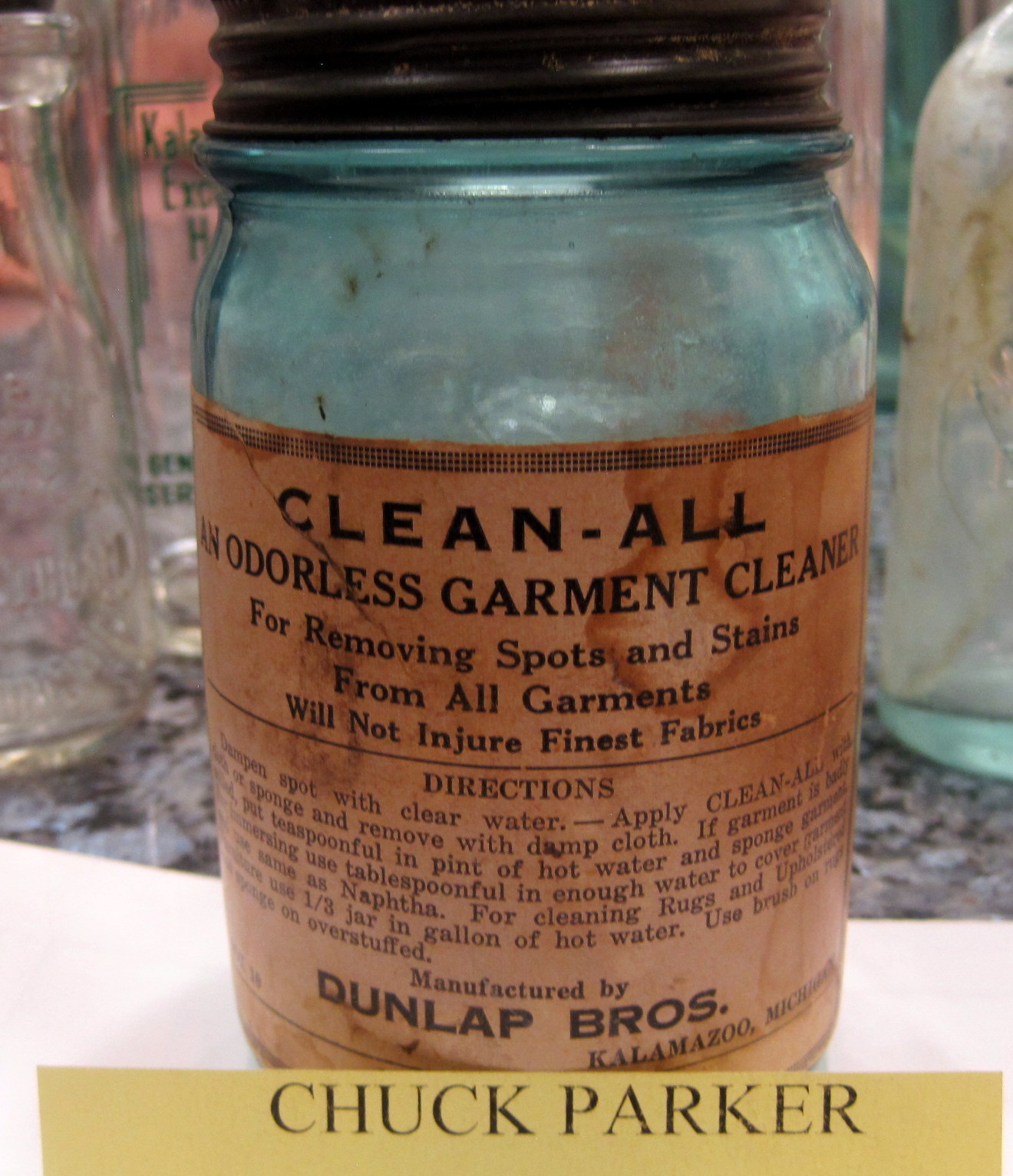 We move now to Reverend Otis Parker's item! If you really love Kalamazoo items, as I do, you would love Chuck's collection! Chuck displayed a full labeled bottle of "CLEAN ALL" ODORLESS GARMENT CLEANER, Manufactured by Dunlap Brothers, Kalamazoo, MI For removing spots and stains from any garment. Will not injure the finest fabrics . . .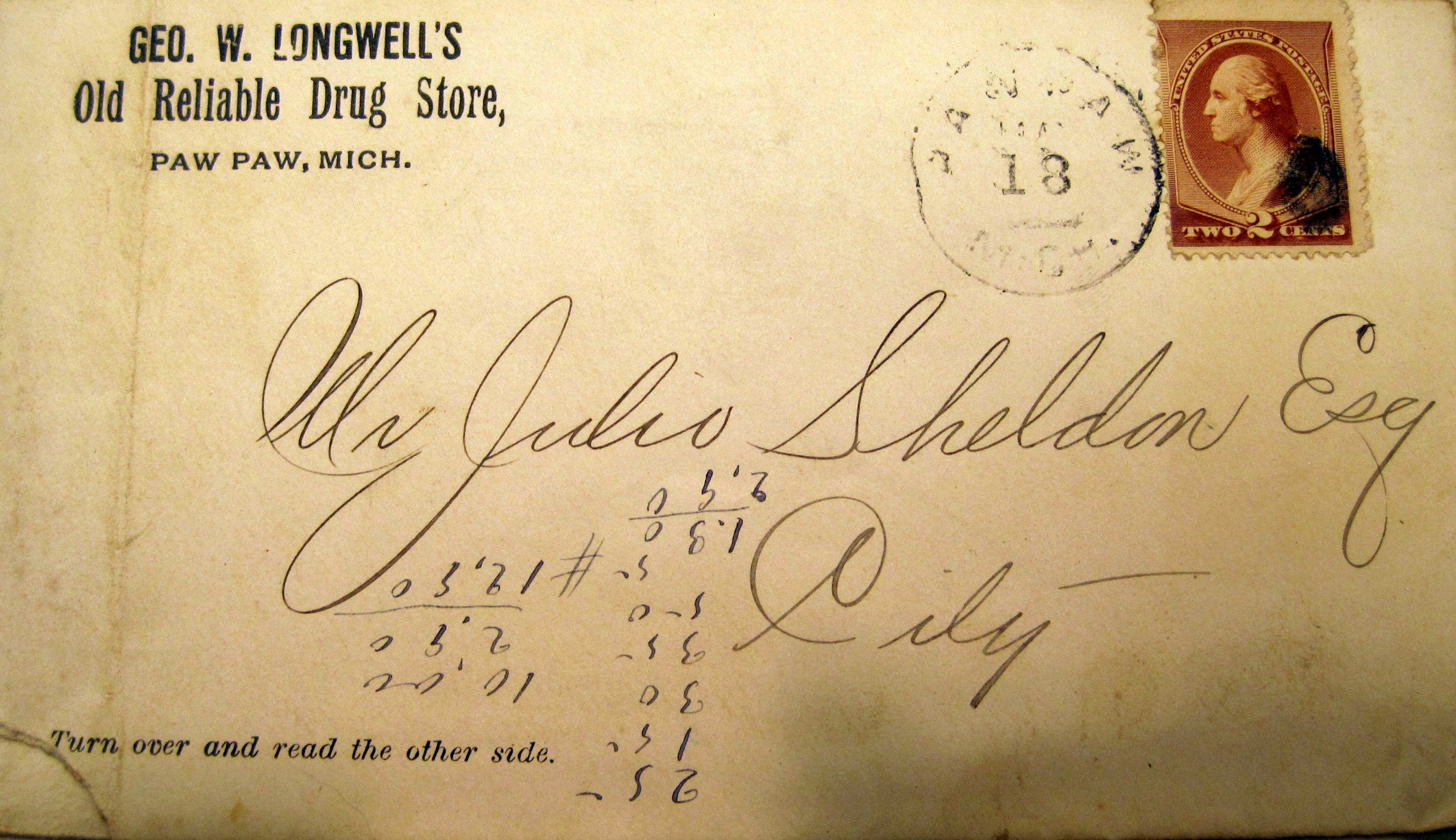 Kevin "Hauling the mail" so to speak. (Old drag racers phrase) The mailed letters Kevin found were sent with U.S. 1-cent stamps and the stamps were canceled by the post-office in 1905. One was mailed by Geo. W. Longwell's Old Reliable Drug Store, Paw Paw MI. A second one was mailed by E.A. Aseltine, County Commissioner of Schools, Paw Paw MI. And another one mailed from Paw Paw by E.L. Warner, Farmers Mutual Fire Insurance.
Vincent Grossi showed off a beautiful 1884 Morgan U.S. Silver Dollar that once belonged to his grandfather!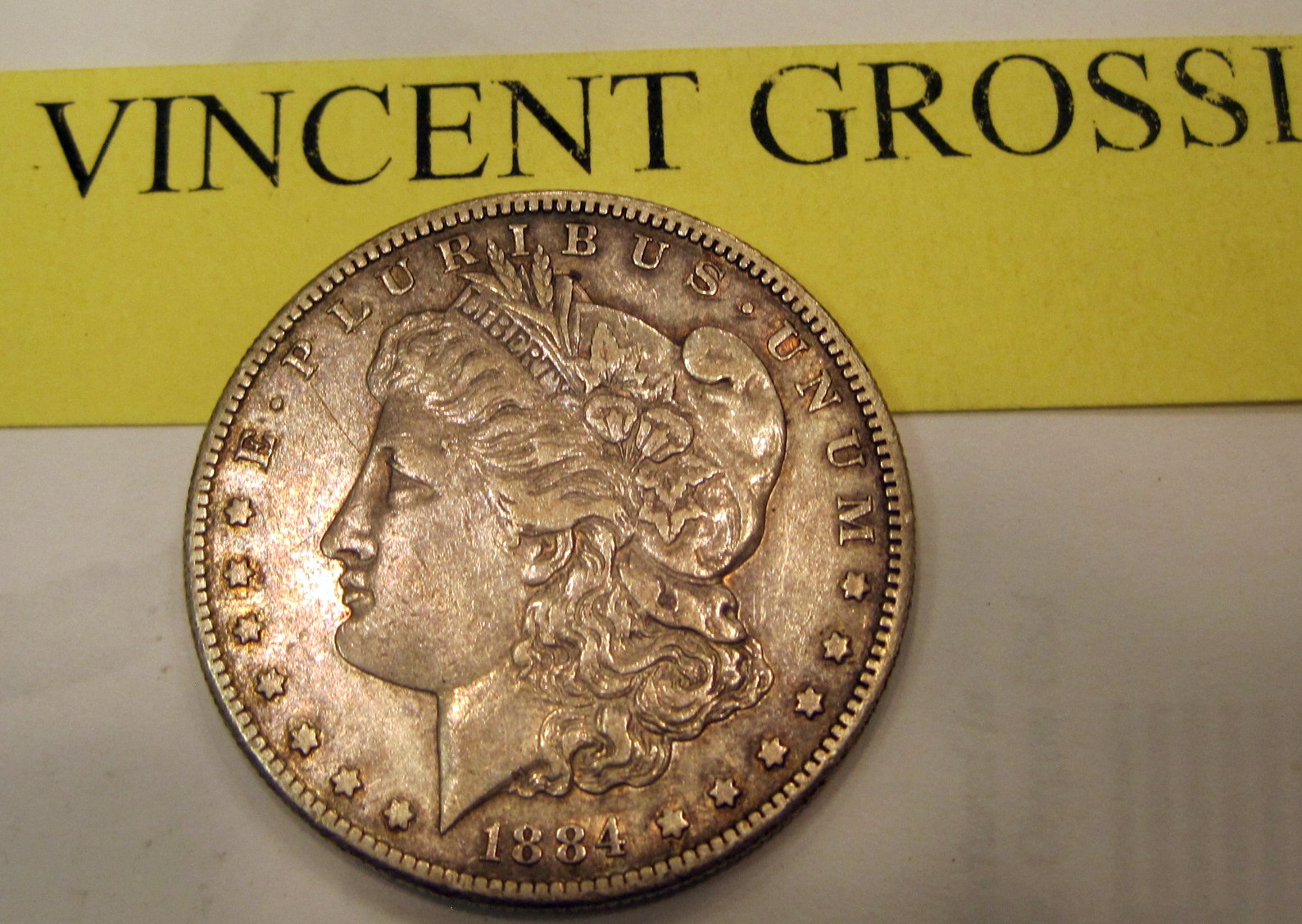 Every time I see one of these from now on, I start to become suspicions. We know this is a coin passed down in Vince's family, but otherwise you best be careful!
We had two friends of the metal detecting club, who are members of the Kalamazoo Coin Club, as our guest speakers. At the start of the meeting "Carl" from the coin shop in Schoolcraft, passed around a couple early-date Morgan silver dollars. By the time everyone had a chance to look them over and handle them, Carl asked the group, "What did you think?"
We had about 70 people with big smiles, a few thumbs-up and a number of positive comments from across the room.
Then, Carl said; "They are Chinese fakes!"
It was stunning to say the least. The coins did not look new or un-circulated in any way. In fact we were told that even the experts can not visually see the difference. The only way to tell these coins were fake were by putting them an a good scale! We live in a lawless, fallen world. Sorry to be so negative, but I miss the good-old-days for sure.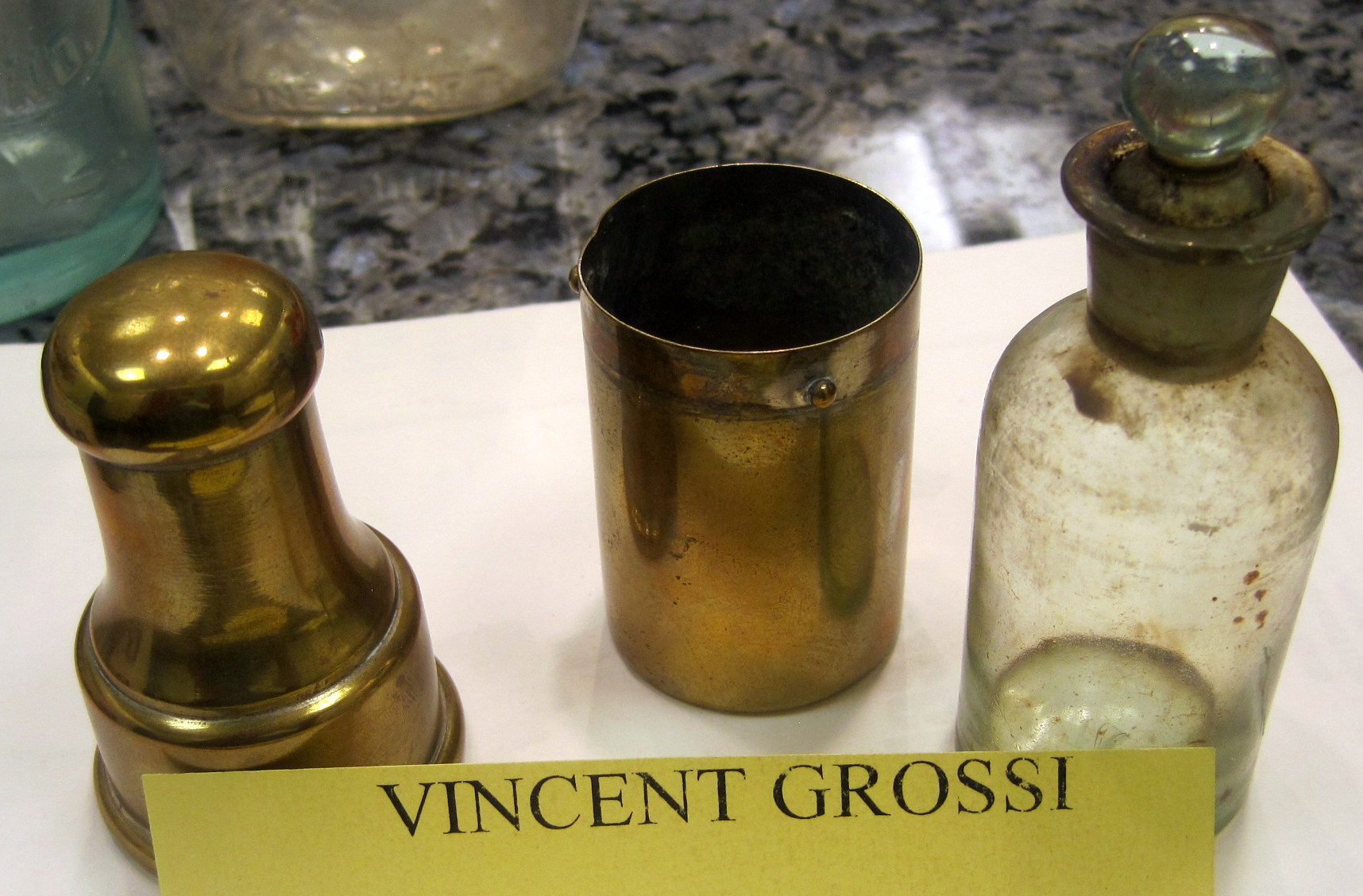 Vince also displayed a nice little bottle in a brass sheath with cover. The bottle itself has a little glass stopper. If I heard someone identify the purpose of this little bottle I am afraid I missed it. If I learn more I will pass along an update.

---
This Month
This month's theme is simply any seasonal bottles you may have. Just use your imagination! I have seen a flask with a spider web somewhere. How about a pumpkin seed flask? There, now you have some spooky ideas!
Also, bring your recent acquisitions. To my amazement I actually have a couple.
Some of you may have picked up from reading the last newsletter that I am moving my store. I am not moving far, in fact my address is changing from 1211-1/2 to 1211 (I'm just moving to the front building). Sounds easy doesn't it? Well, it isn't!
I have always been a collector, but at first I wasn't able to afford too much real collecting. Then, one day in the late 90's I heard about a new start-up online auction site called e-Bay. I was one of the first million to sign up. I wish I could remember what items I sold first, but they got lots of bids and sold for much more than I expected!
It was so much fun and profitable to boot! Selling on e-Bay reminds me a great deal of fishing! You find some good bait (something to sell) You carefully bait your hook so it really looks appealing, (write up a good honest description with photos) then toss it out into the sea (post it before a million watchers), then, sit back and watch the bobber for nibbles. (Check your bids and answer questions) Then usually the bobber takes a deep dive at the very last second! Next you send out an invoice, collect payment, package and ship! (Setting the hook!)
So that was the attraction and it works well! I was so successful, I would walk into an antique mall and wish I could buy it all!
In the early days a seller could have made a lot of money! Especially selling rare collectibles! I remember one of the local Michigan bottles would quickly bring $100.00 but within a year they started crawling out from under rocks . . . they were everywhere! Then, you could hardly give them away! So that is my story! Moving has been the hardest work I have done at my age! Of course I have never before been this age.
The other issue has been a very sick wife. Deb is on the mend now, but we had some nail biter moments! She picked up an infection in her blood stream and some kidney issues. She is doing better after a couple days in the hospital.
I have some good stories to share in a future newsletter but for now, I'm signing out! See you at the meeting!
---
SEE YOU AT THE MEETING!
The Kalamazoo Antique Bottle Club meets at the main downtown
Kalamazoo Library,
315 South Rose Street.
We meet on the third floor in the conference room.
This meeting is Tuesday, October 11th
Meeting starts 7:00 pm.
For questions
Or call
269-685-1776
HOME