Hi friends!

I hope you are all having a good summer, as summer winds down and gives way to fall.

For a few members we did have a high-brow summer picnic at Reverend Parker's Plantation Estate, or what General Sherman had left of it.
We feasted on iron-skillet fried battered catfish, collard greens, poke sallet, cornbread and pecan pie. And as for being all white folks, Colonel Parker's staff were very pleasant and never missed a beat! Why heck, when you were ready to leave, if you bought a bowl to the potluck. . . you got it back clean!

Some of you can remember that leading up to the Sunday of the club picnic, the weather was very threatening to say the least! It wasn't just a rainy day north of Kalamazoo, we had real storm warnings! One glance at the satellite weather map, it looked pretty hopeless!

We had juggled some things around so we could give Mary a ride, and Mary's daughter Linda, but they were the the first to ask me if the picnic was still a "GO?"

Next, some other members asked about our plans and others had already decided to stay home.
Who could blame them, I started to wonder if the event should be postponed.

I gave Chuck a call and then learned that on his side of the great magical kingdom, all was hunky-dory! They had seen a few sprinkles causing Chuck to have his crew move the tables inside the garage. Chuck is blessed to have a garage. My garage looks like it was patterned after a 1950's land fill! (I take full responsibility)

It was a perfect day! It wasn't too hot or too windy it was perfect! I passed around an attendance sheet for folks to sign, and here is that list: Vincent Grossi, Chuck Parker and family, Ed Nickerson, Kevin & Linda Siegfried, Scott & Lorri Henderichsen, Dale Roof, Deb Holden, Madison Holden, Al Holden.

I remember waking up after the storm insisting; "Aunty Em, It wasn't a dream, it was real! It was a beautiful place! You were there . . and you, and you, you were all there! Most of it was beautiful. But just the same, all I kept saying to everybody was, I want to go home. And they sent me home. Oh, Doesn't anybody believe me ?"

All kidding aside, we had some right good fixins at the picnic! Chuck's grandson manned the grill like a true Pro! I think he had direct orders to keep me away!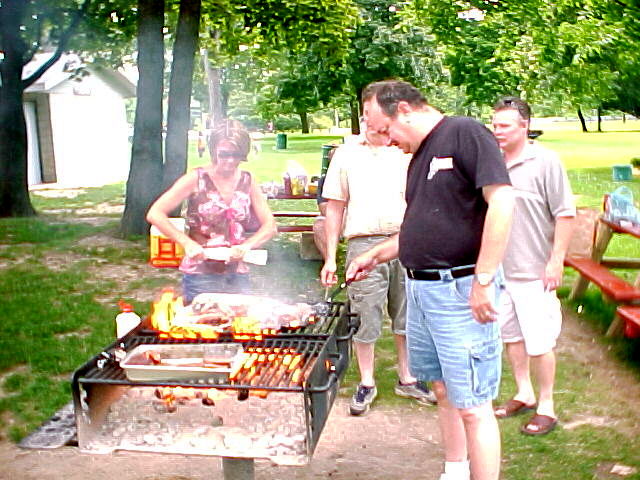 Several years back we had a club picnic at Milan Park. When I arrived the coals where already down to grey ash, and really not warm enough to raise a sweat on a tomato worm crawling across the grate.

I ran over to the party- store at Cork Lane, and picked up a bag of charcoal and a can of lighter fluid. I had been grilling with propane for a very long time and I had never heard of the new invention, 'match light' charcoal . . I was about to learn! I dumped the bag of charcoal unto the already smoldering embers, then I soaked it with lighter fluid and tossed a match at it! In a matter of seconds, we had a three alarm fire!

But, let me tell you. . . we were now in the business of cooking! Once that cast-iron park-grill reached a cherry-red glow, that thing was 50 times faster than a microwave! We had hot dogs that were popping like corn, and the burgers had the same texture as corn chips! But look man, it was memorable!



CLICK HERE FOR MILHAM SUMMER 2004 CLUB PICNIC PHOTO ALBUM


At this 2019 picnic, we had some wonderful burgers, dogs and brats! I think Chuck picked up the burger patties at Gordon Foods and they are always very good. We enjoyed some great summer salad dishes like potato salad, macaroni salad. I made a simple cucumber salad that my mother passed down from my grandfather. . . I really love it!

I know you didn't ask, but here is the secret recipe:
You need a one pound carton of sour cream
2 large cukes,
1 medium size white onion,
1/4 cup vinegar
1 teaspoon salt
2 teaspoon sugar
a couple dashes black pepper.

First you place the entire 16oz carton of sour cream in a mixing bowl, pour in the vinegar, salt and sugar and black pepper. Whisk the mixture into a creamy blend.
At this point I taste test the mixture. If it is too tart add some sugar or maybe more salt as needed. I like a slightly tart taste which will call for a little more vinegar BUT! creep up on it, a small amount of vinegar can change the taste real quick!

Finally, peel the cucumbers and the onion. We are blessed at this time of year because my mother picks fresh cucumbers right from her garden!
Slice the onion into thin strips, and the cuke into 1/4 inch slices. Place the onion and cucumber slices into the mixture and toss until well coated.
I like to eat it right away, it is best fresh. My mother likes it as a left-over, but me. . . not so much.

My wife was raving about everything at the picnic and let me tell you, she is not easy to impress. Until she found me, she had given up all hope of the perfect man.
Four or five years back; I was a little put off when I went into see my regular doctor for a routine checkup. They handed me this three page questionnaire as if they have never seen me in my entire life. These people have my medical records going back to childhood, so just what's going on with this?

I knew that this idiotic rubbish was related to America's new intrusive UN-affordable Healthcare debacle.
Not willing to play along with this pot-smoking Kenyon misfit, I was rather flippant with my answers. . . wherever I felt it was appropriate.

Speed ahead to today, I was at phase-two of my physical, and just starting my lab work.
The nurse is looking through my file then I see her smile and look up. "Al, I am just curious, do you suffer allergic reactions to anything else . . . other than Kryptonite?"
I had forgotten about that.

My Grandfather was always a great believer in the phrase, "Laughter is the best medicine."

Last Month

We certainly had a good turn out, especially when you consider some of our faithful members were absent! We met in the back side of the Van Deusen room.
I understand this October meeting we will be back in the Conference Room where we usually meet. If we are not there, walk down the hall and look for a sign from Heaven.

At the Picnic we saw some very cool bottles!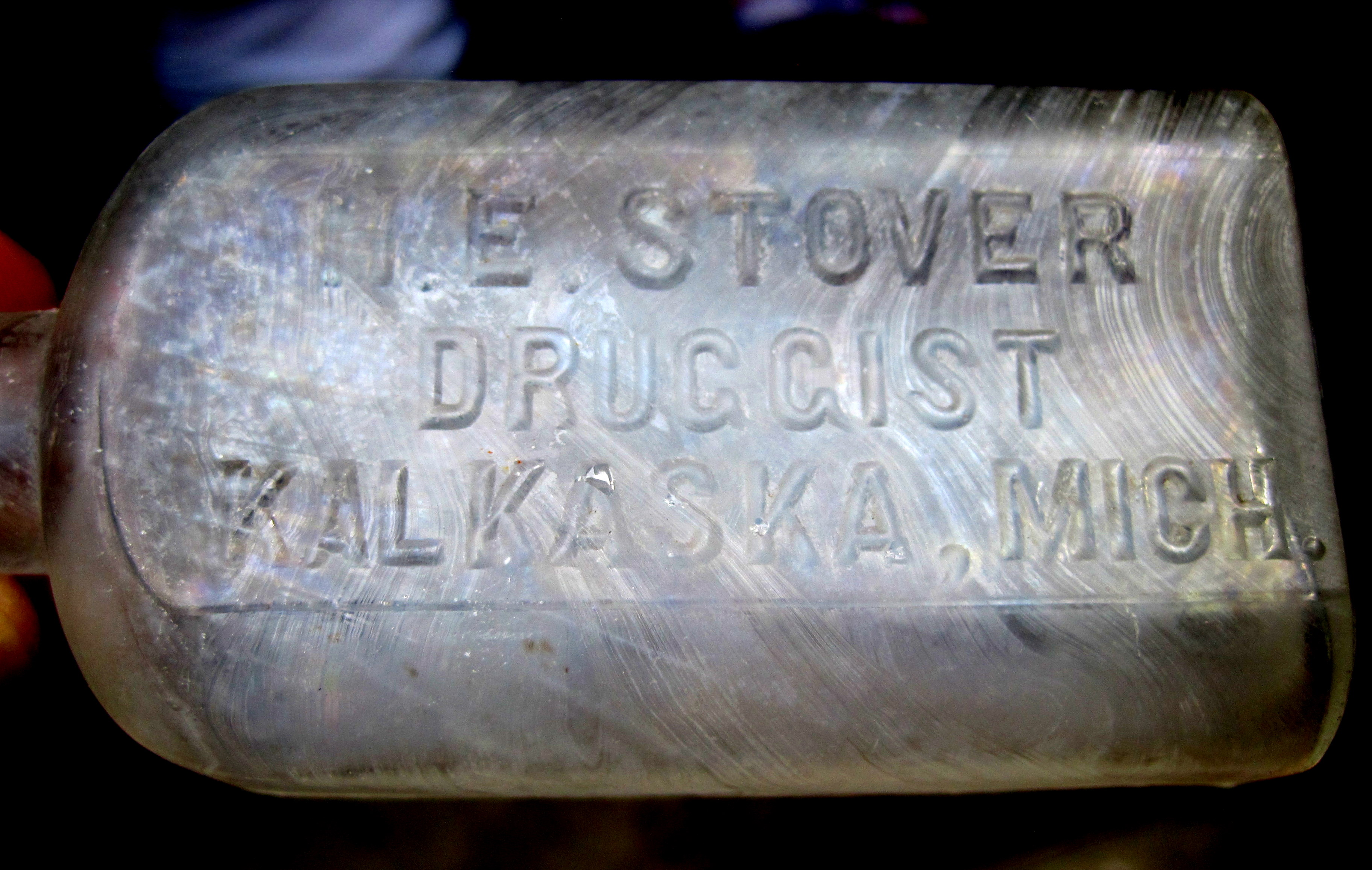 Kevin Siegfried showed us a small Druggist bottle,
H.E. STOVER DRUGGIST, Kalkaska, Mich.
Also a, GEO. G. MATTHEWS & CO. DRUGGIST AND JEWELERS, WICHITA, KANSAS. (Cool western druggist) maybe Ole Doc Adams new "Matthews."

Another cool bottle was a large amber medicine shaped like a Warners Safe Cure but called; PANOPEPTON BREAD & BEEF PEPTONE, FAIRCHILD.


I pulled up some information from a book, " Fairchild's Hand-book of the Digestive Ferments." printed in 1894.
On the section "PANOPEPTON," (Bread and Beef Peptone) it reads;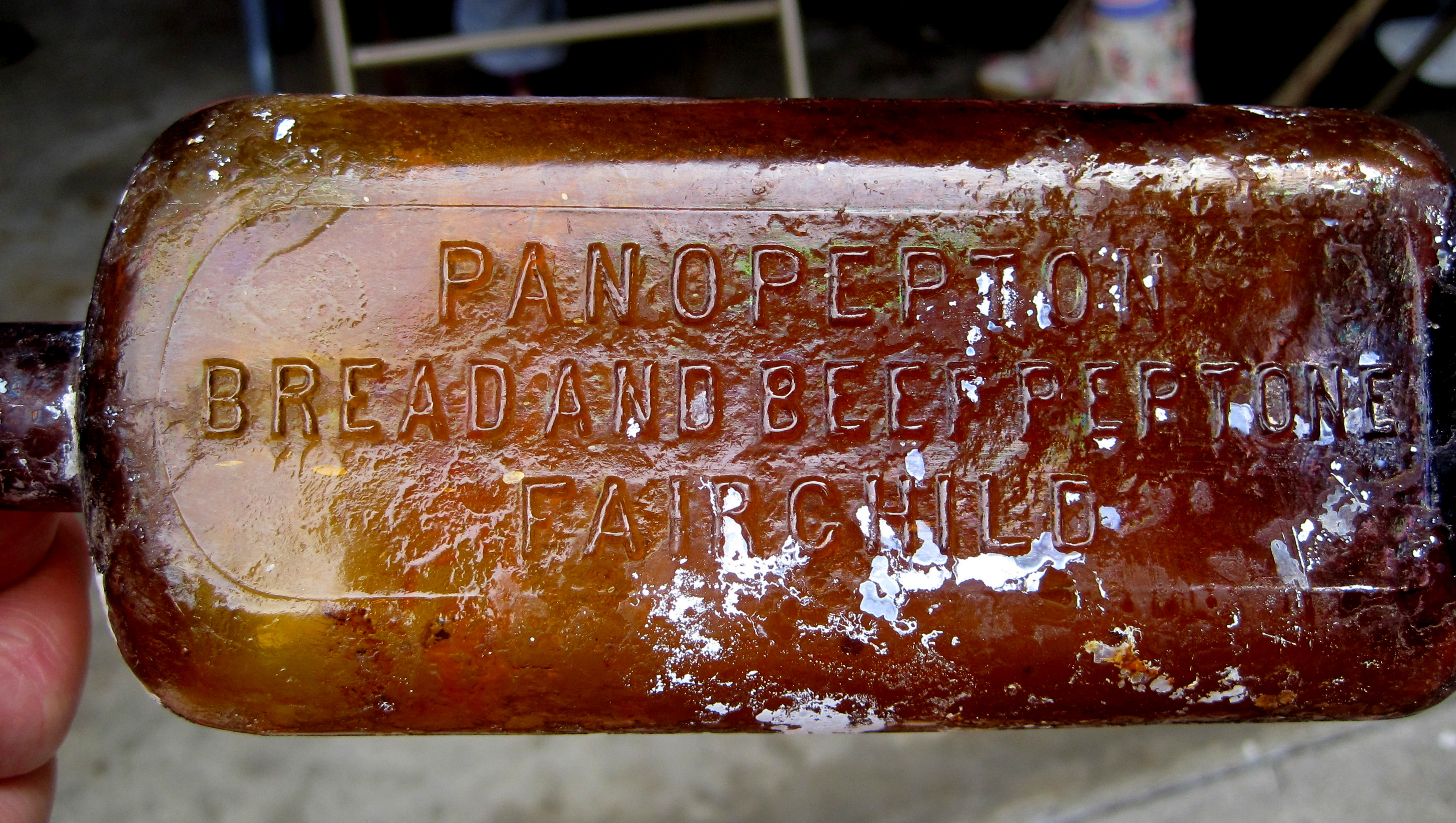 "Having been the first to realize the value and scope of digestive ferments as artificial agents of digestion, and the originators of the Fairchild process, which has become familiar in every household for the peptonisation of food for the sick, we have not failed to perceive the great need for a true peptonised food. The Fairchild process has long been recognized as superior to all others available.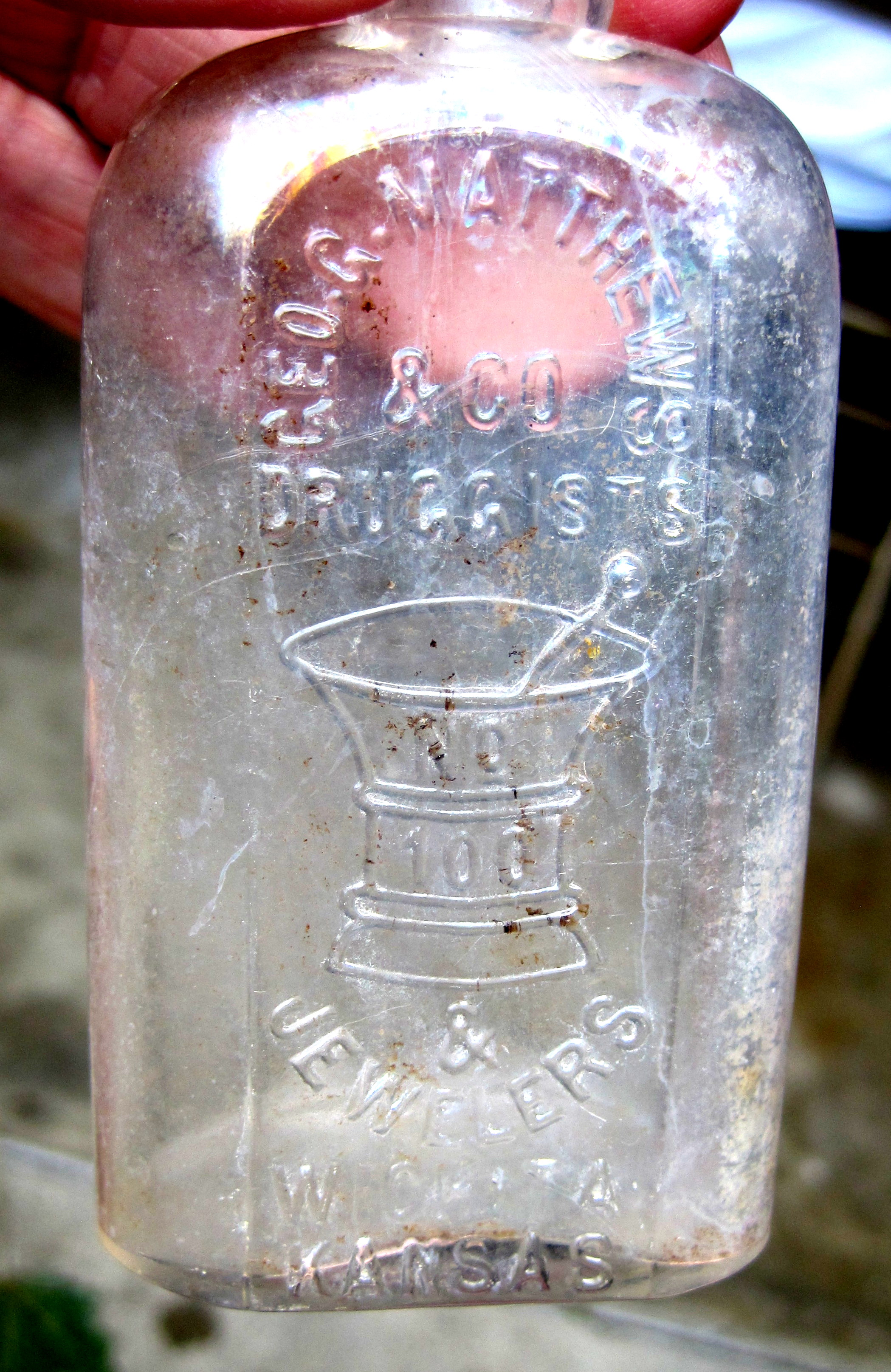 In our Panopepton we present a new complete and perfect peptone. Panopepton is the entire edible substance of prime, lean beef and the the finest wheat flour."

They go on to explain that the beef is cooked and with their exclusive process, "pre-digested." Every element was pre-digested to a point where the food value is complete and quickly utilized by the body.

Pre-Digested food can be of vital importance to some with issues requiring removal of parts of the digestive system. This would include mouth, throat, stomach and intestinal track.

We had a perfectly lovely visit to Mackinac Island last July
For the first time we skipped the bike ride, and shopping for rubber simulated vomit and whoopie cushions, and we focused on the educational aspect and dedicated ourselves to the study of fudge.

We spent the money that we had saved on bike rental, and took an island carriage tour. It was money well spent. We opted to end the carriage tour at the upper entrance of the old fort. From there, you can take a walking tour of the fort and tour the grounds and beautiful colonial buildings . . . at your own pace.
We saw the residence of Physiologist William Beaumont, an army doctor. Dr.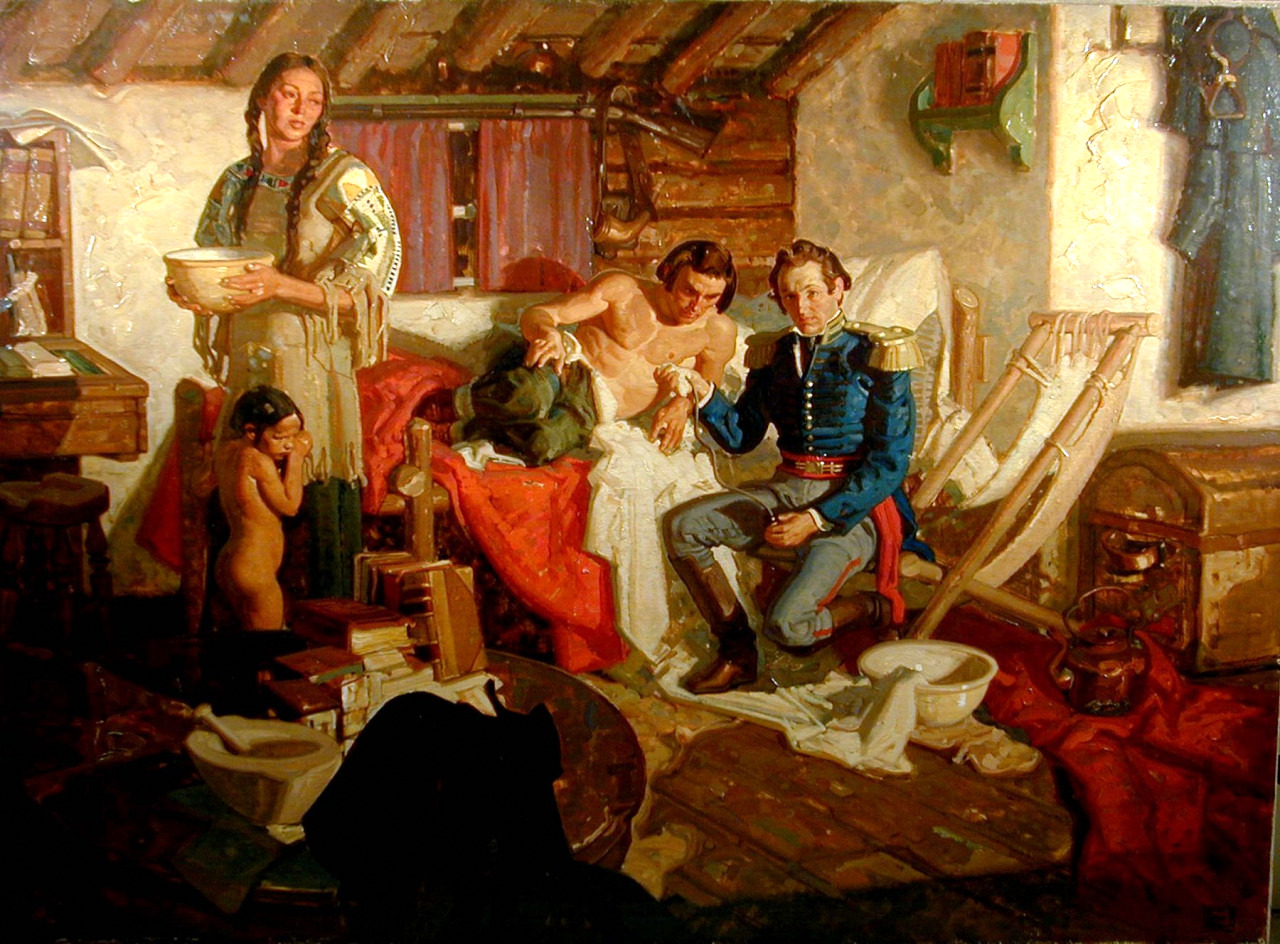 Beaumont was stationed in Fort Mackinac in Mackinac Island, Mich., On June 6, 1822, A fur trapper's gun discharged and accidentally shot 19-year-old Alexis St. Martin in the stomach.

The wound was gory and St. Martin wasn't expected to live out the night. Amazingly, Beaumont performed several antiseptic- and anesthesia-free surgeries on St. Martin over several months, and St. Martin eventually recovered.

Before he was fully healed St. Martin became fed up with surgery and was left with a fistula, a hole in his stomach through the abdominal wall, leaving it open to view. The strong stomach acid disinfected the wound from the inside out, making it safe to not sew it up.

Because St. Martin couldn't work as a fur trapper any longer, Dr. Beaumont hired him as handyman. The daily task of cleaning the fistula gave Beaumont an idea: perhaps he could watch the process of digestion at work.

So for the next several years, Beaumont recorded everything that went into St. Martin's stomach, then painstakingly described what went on inside. He also took samples of gastric secretions and sent them to chemists of the day for analysis — an unheard of task at the time.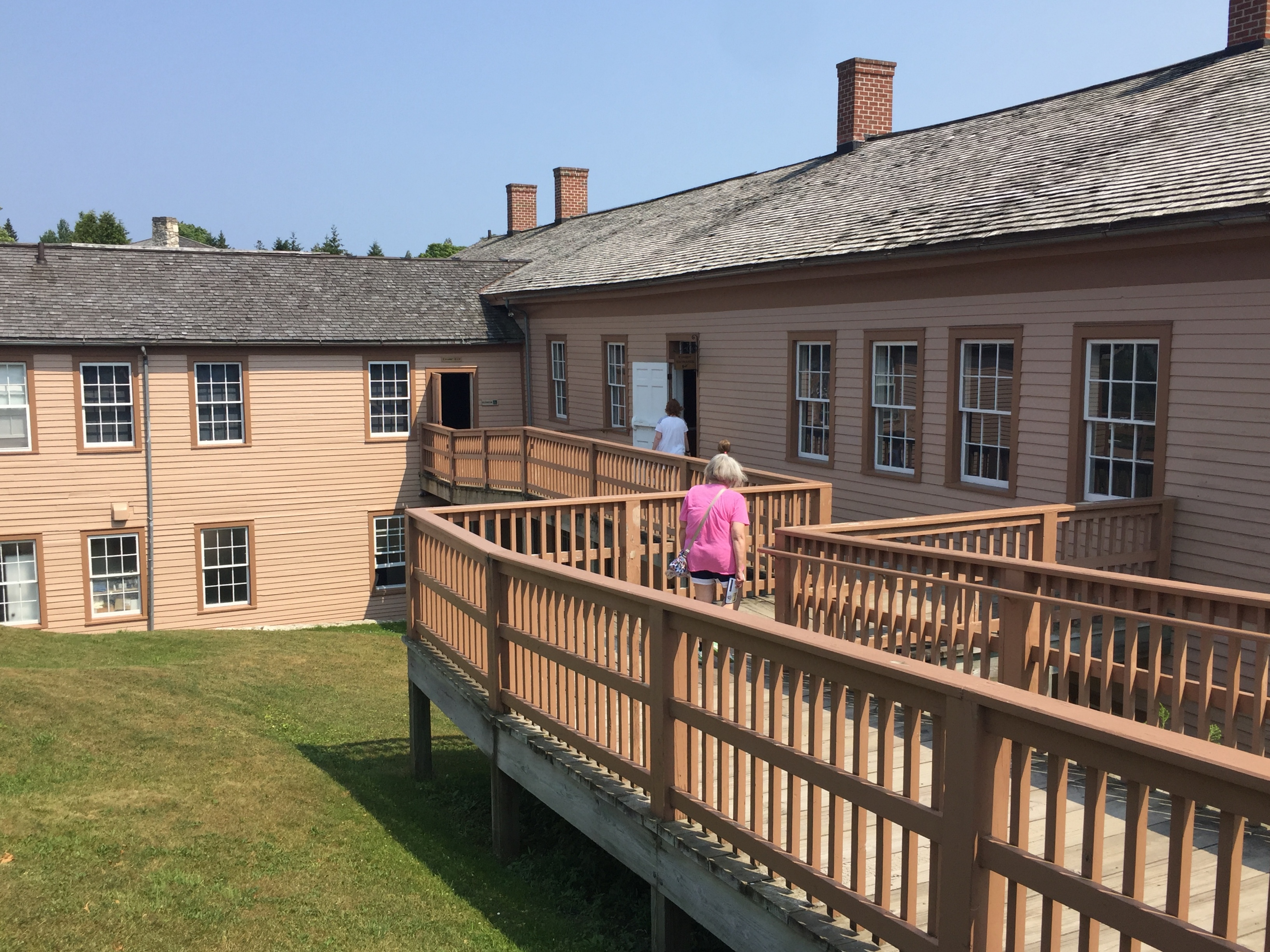 If you go to the island, take the carriage tour, and also walk through the historic fort. Most of the living quarters are furnished with period correct furnishings and the Michigan Park service has it well maintained.
My wife knew that I would enjoy seeing the displays of antique bottles, and I did, but, may I say, they sure could use a bottle expert and some closer to period correct bottles. But it truly was a wonderful day.

I always enjoy visiting the Island's cemeteries. The Fort's Post Cemetery is one of only four National Cemeteries in all of America, where they are permitted the honor of permanently flying the American flag at half mast. The cemetery is the final resting place for Fort Mackinac soldiers, their families, and local officials. Of the approximate 108 burials in Fort Mackinac Post Cemetery, 69 are unknown.

Local lore suggests that both American and British, War of 1812, soldiers are buried here. Many early burials were originally marked with simple wooden crosses that have long since decayed and disappeared. As a result many of the burials are unknown.

The oldest marked grave in the Saint Ann's Catholic Cemetery belongs to 8-year-old Mary Biddle, who died after falling through the ice in December 1833. Her parents, Edward and Agatha Biddle, paid for a stone carved by W. E. Peters in Detroit to mark her grave. Her father, Edward, who served as the village president, was buried in the Post Cemetery across the street.

Mary's epitaph sums up the brevity of many children's lives at the time:

"As the sweet flower that scents the morn, but withers in the rising day,
Thus lovely was this infant's dawn, Thus swiftly fled her life away."


At the picnic Kevin displayed an early Lea & Perrins Worcestershire Sauce bottle. The story behind this product, is similar to that of Vernor's Ginger Ale. Both were discovered after the recipe was thought to be terrible, then accidently left to age!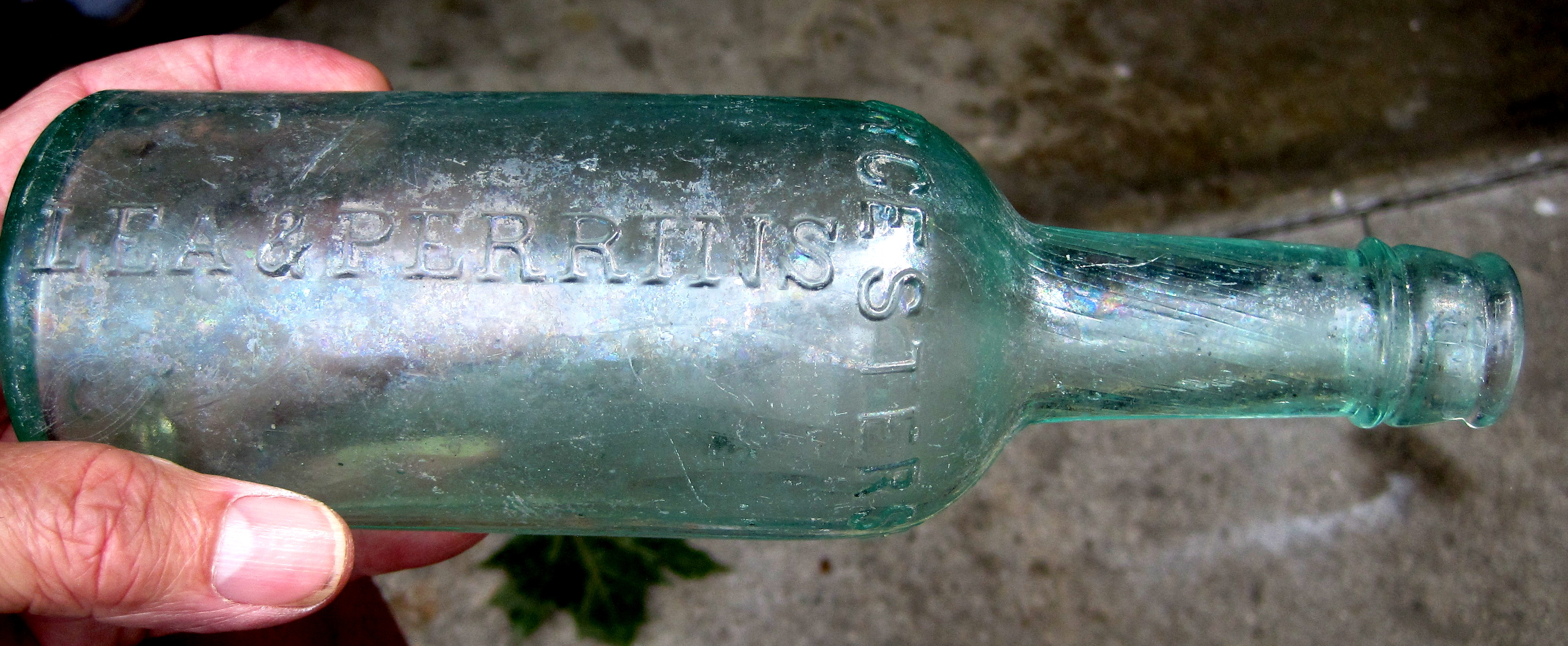 First created by the Worcester chemists John Wheeley Lea, and William Henry Perrins. They devised the recipe in the 1830's, when Lord Sandys a nobleman of the area, was eager to recreate an exciting taste he had acquired on his travels to Bengal.

When Lea & Perrins sauce was first created, it wasn't to their liking and was set aside and forgotten about. It wasn't until the barrels were rediscovered many months later that the taste had mellowed into what we know and love as Worcestershire Sauce. To this day, the ingredients are allowed to 'mature' for 18 months before being blended and bottled in Worcester.
I love the stuff!

Vincent Grossi, had some neat bottles at the Picnic! I really didn't know what to expect at the picnic, thinking back, it is surprising that I remembered my camera. For some reason I wasn't expecting to see so many antique bottles and sadly I didn't bring my little name tags for the bottle photos.
So, if I credit someone else for your bottle, I am not being mean, I'm just being stupid.


One of Vince's bottles was a beautiful aqua, early applied-top with slug-plate, Hutchinson soda/beer,
F.F. APGAR, CHESTER, N.J.
I tried to run down information on old F.F. APGAR from Chester, NJ. And I found him listed as a Grand Army of the Republic member, meaning, a Civil War Veteran. He is also on a list as a highly respected German resident of Chester N.J.

On one of the antique bottle forums, I found a post from 2018 about this F.F. APGAR bottle, were the New Jersey collectors agreed this is a very hard bottle to fine. There was no mention of value.

Another of Vincent's bottles was a sweet, aqua, attic-mint Hutchinson 1890's beer bottle


Wm Markley, Easton PA.
I looked up Wm Markley, where I found him in court in 1907. He was a licensed bottler who was looking to become a licensed wholesaler. I suspect up till 1907 his product was sold retail from his brewery.

In the court case just before they considered his, the court was taking up a petition presented by a, Samual Delp. The Judge's ruling sided with the residences who signed Samual's petition, and successfully blocked a licence from being issued to another tavern moving into their community. The Judge made his ruling based upon "The petition was made in good faith by the residence who are trying to protect themselves from annoyance, and the court recognizes there are already 6 other licenced establishments in the neighborhood."
In 1917 Wm. Markley was listed in "List of Motor Vehicle Registrations and Licenses
By Pennsylvania. Highway Dept" as a licensed owner of an automobile. And he made another list in 1948 when he was listed as "deceased."

Another of vincent's bottles was a druggist bottle. JULIUS FEHR, MD. CITRATE OF MAGNESA.
The good Doctor Fehr was into just about everything for that healthy lifestyle! From baby powder to foot powder and in this case Citrate of Magnesia which of course is to clear the bowels. Dr Fehr promoted himself and his products as an "Ancient Pharmacist" today that is called Homeopathic. Homeopathic remedies are developed from natural substances. It is hard to think of a 1896 doctor as ancient.

---

I am skipping ahead to our September 10th Meeting. The following members were present: Rob Knolle, Tim Hayes, Charles Parker, Vincent Grossi, Susan Ampaugh (Chuck's lovely daughter) Lynn Winkler, John Winkler, Mary Hamilton, Eddie Nickerson and Al Holden.
We had a wonderful meeting! On the other side of the curtain was the Acoustic Guitar Club. The only tension felt, within our group, and it was substantial! They are feared that I may start singing at any moment!

Tim Hayes displayed an assortment of eight G.W. MERCHANT GARGLING OIL bottles in 8 different shades! Dr George W. Merchant started making his Celebrated Gargling Oil in 1833 in Lockport NY. The product had a long continuous sales history up until 1928 when the factory finally burned down.
Of course every red blooded American knows that G.W. Merchant's was a liniment good for both man and beast!


Burns and scalds, Chilbains, Frost Bite, Scratches or Grease, Chapped Hands, Flesh Wounds, External Poisons, Sand Cracks, Galls of all kind, Sitfast, Ringbone, Poll Evil, Swellings, Tumors, Garget in Cows, Cracked Teats, Gallous, Lameness, Horn Distemper, Crownscab, Quittor, Foul Ulcers, Farcey, Abscess of the Udder, Swelled Legs, Thrush, Sprains, Bruises, Stringhalt, Foot Rot in Sheep, Foundered Feet, Roup in Poultry, Cracked Heels, Epizootic, Lame Back, Hemorrhoids, Piles, Toothache, Rheumatism, Spavins, Sweeny, Fistula, Mange, Caked Breasts, Sore Nipples, Curb, Old Sores, Corns, Whitlows, Cramps, Boils, Weakness of Joints, Contraction of Muscles . . . .

And just think, Large bottle $1.00, Medium 50¢ and Small only 25¢

If it wasn't for all the ailments listed here I would be dead! I need a bottle!
If America has any tiny chance of becoming great again, we need to bring back this product!
It would solve 90% of America's Health Care Issues, and be affordable at the same time!
Clearly, Obama never heard of this product growing up in Kenya.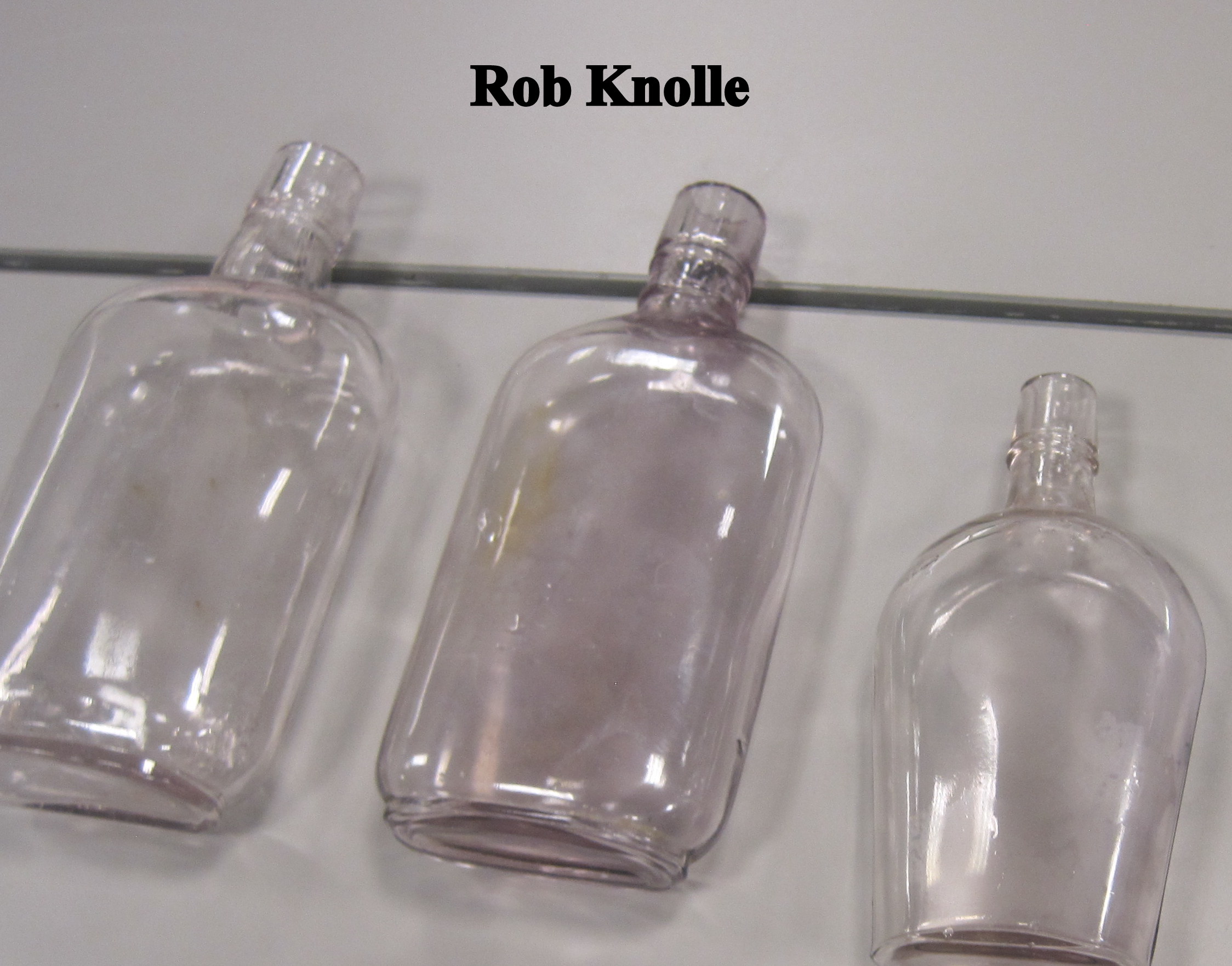 Rob Knolle Brought in some neat bottles that he found out river diving! Three were turn-of-the-century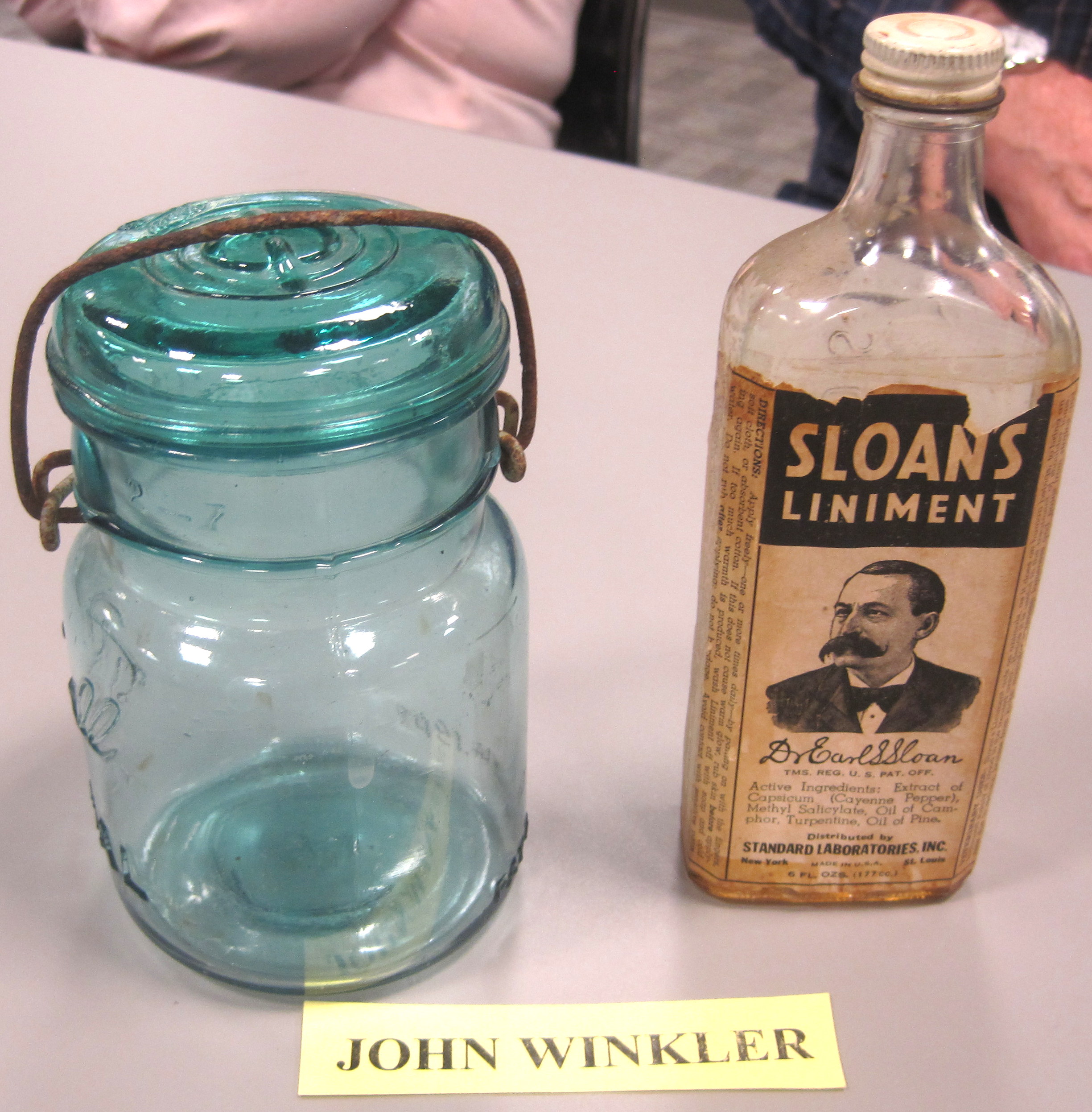 whiskey bottles, with that "Sun-Turned" color. Manganese was widely used in the very early 1900's to de-colorize glass. Other methods are used today. The manganese neutralized the effect from iron in the sand used in making the batch of glass.
It was the trace amounts of iron which caused the glass to have that aqua color. That worked just fine for the job at hand, but under the right conditions the glass would go from light pink and in some cases purple.

Iron minerals raise havoc with metal detectors as well. Most soils have some degree of iron present. To a metal detector this element causes a reflection of the radio signal. Next time you go to Lake Michigan, pick up a handful of sand and examine it close. The little grains that are black are usually iron. South Florida sand is white because it is made up of iron free limestone. Our beach sand, has that tan color because of iron mineral rusting and staining the sand it is mixed with.



Rob had a nice WHITE CROSS DAIRY, PITTSFIELD, MASS.
How did this 1930 era dairy bottle end up in Michigan from Massachusetts? My guess is travelers by boat or train? I see the the bottle is an embossed 10 ounce, which means it is not a half-pint 8oz or a pint 16 oz.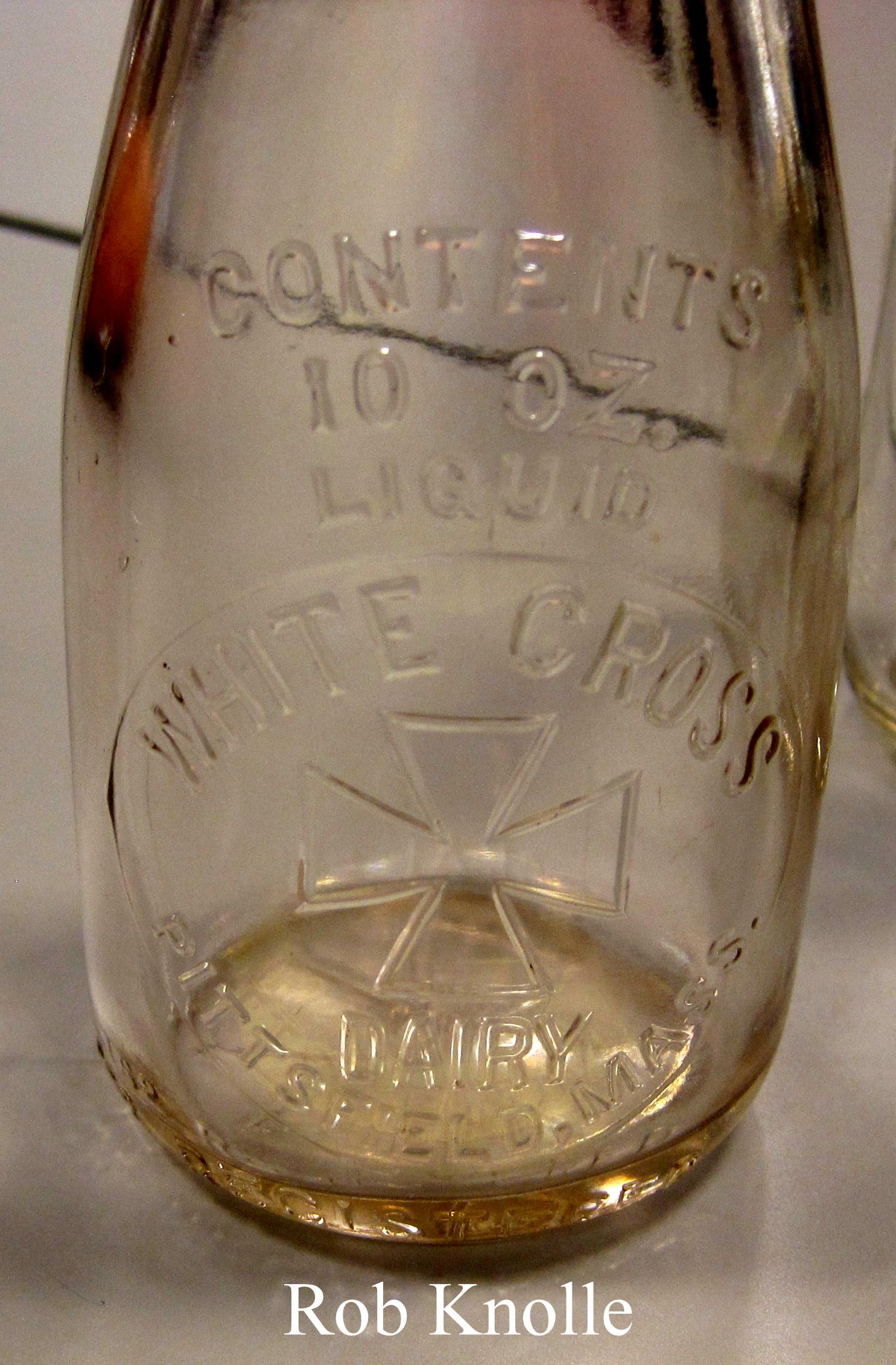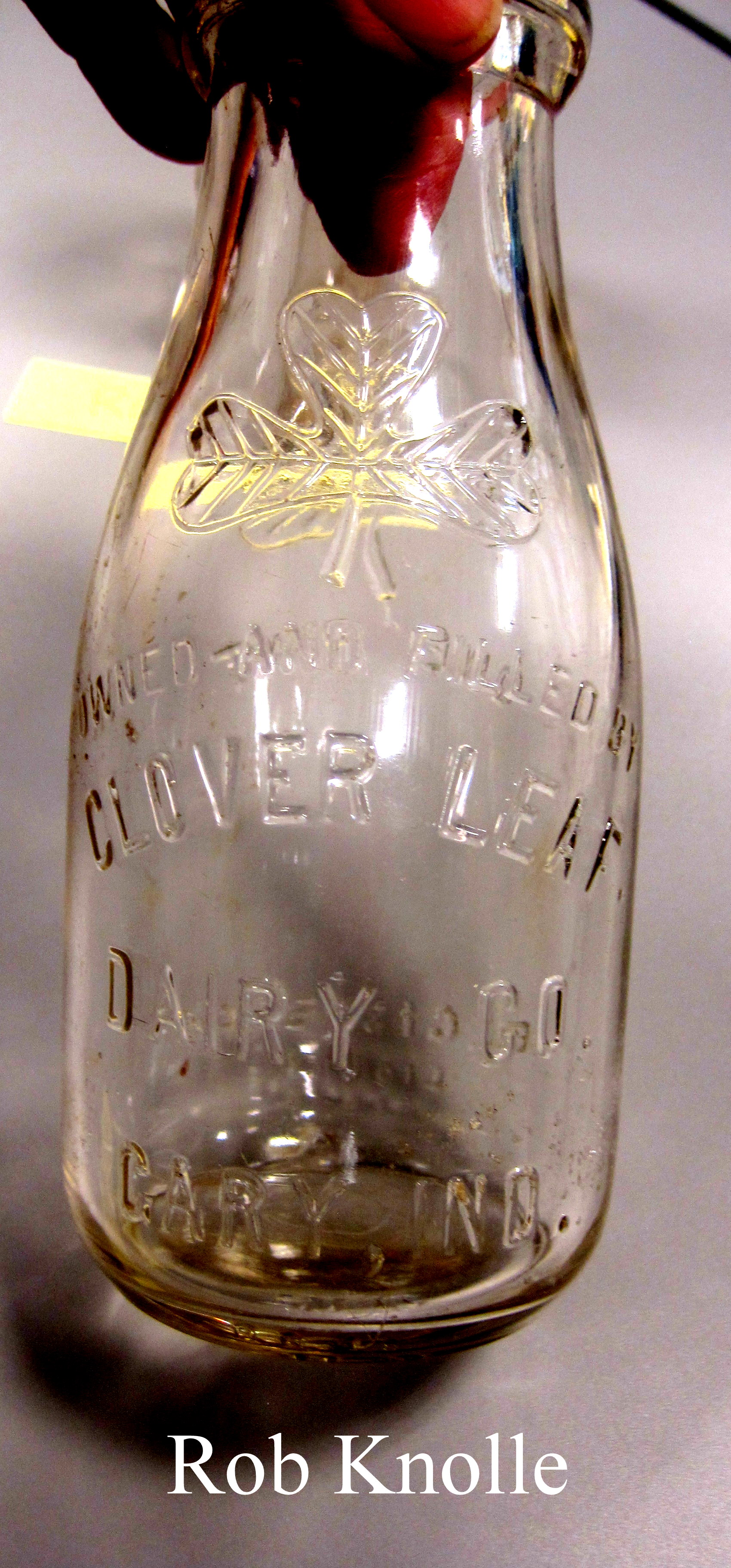 Another half pint dairy bottle was CLOVER LEAF DAIRY CO. GARY IN.

VINCENT GROSSI displayed a selection of beautiful deep amber pharmacy bottles and advertising.

JOHN WINKLER Displayed a small 1-pint Ball canning jar with original matching top and perfect wire bail! Also, he brought in a full label SLOANS LINIMENT bottle. I tried growing my mustache out like Dr. Sloan, and it was too much work lifting it to eat! Ice cream cone? Forget it!

EDDIE NICKERSON brought in two beautiful bottles. It was like putting a lively, juicy, nightcrawler on the hook and tossing it out into the pond, then watching the bobber to see what bites. And here I sit firmly against buying any more bottles . . . I dashed for the bait!!!

The bottle that I snapped up is deep green with the inside thread with threaded cap. If this glass was any thicker it would be bullet proof! It is a very heavy bottle! It is strongly embossed:
THIS BOTTLE IS PROPERTY OF SOUTH AFRICAN BREWERIES. No question about it, they intended to refill this baby a thousand times . . . and may have!

Eddie also had another beautiful bottle that I should have also purchased. We saw something unusual about this bottle that sent up a few red flags. This one-pint amber coffin shaped amber bottle is:
DR. M.M. FENNERS, PEOPLE'S REMEDIES, FREDONIA NY. KIDNEY AND BACKACHE CURE.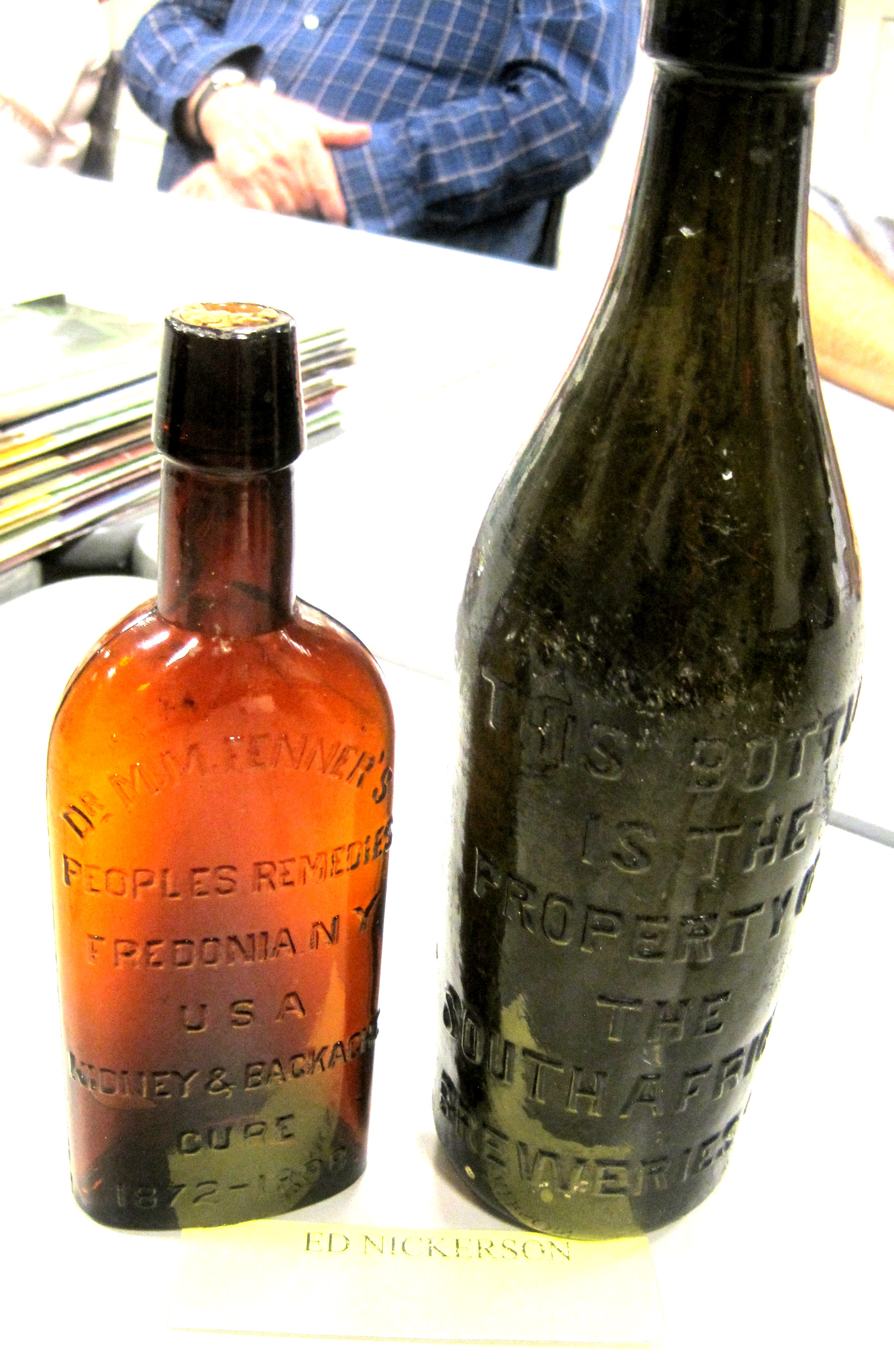 Near the base it is dated 1872 - 1898.
I don't recall ever seeing the date part, is it a fantasy reproduction made for the decorator market? That does happen you know!
Online I am finding that this bottle is the real deal! I suspect this was to commemorate their "Over 1/4 Century in business." Back in those days having a sales history was meaningful! People were selling anything that would fit in a bottle and make amazing claims. . . but here one day and gone the next.

I think of the Seven Sisters Hair Grower. The father, Fletcher Sutherland, had seven daughters who combined had 37 feet of flowing hair. In the day it was tough for a woman to have healthy hair mainly because the fraudulent chemical products they were buying to make their hair beautiful!
This product was made up of 56 percent witch-hazel water, 44 percent bay rum, and a little bit of salt, magnesia, and hydrochloric acid, (which removed the yellow color the chemical would naturally produce.) Fletcher Sutherland was very successful at pitching his hair grower. One night after a sell out show, I was told, he was caught filling up bottles with pure water for the next night's show!

This month we will meet in our Conference Room and after club business we will call in an order and head for Bimbos!

---
KALAMAZOO ANTIQUE BOTTLE CLUB;
Meets at the main Kalamazoo Library, 315 South Rose Street,
We meet on the third floor in the Conference Room.
This Meeting is
October 8th.
Meeting starts at 7:00
prostock@net-link.net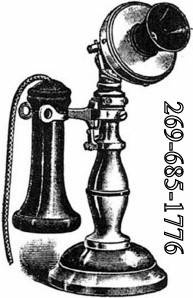 PHONE 269-685-1776

RETURN TO KALAMAZOO ANTIQUE BOTTLE CLUB
HOME PAGE