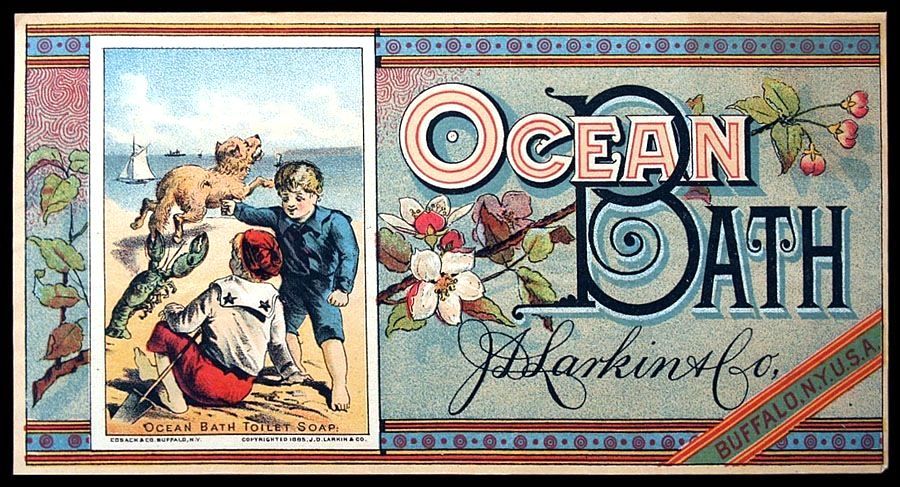 HI FRIENDS
If for some reason you missed the last meeting . . . well, perhaps you had a very good reason, but, you missed a good one!

Yep, it really happened! Instead of meeting at the Otsego Historical Socity Museum, in September, we decided on pizza! Finally, taking advantage of Bimbo's Pizza lifting their Covid dine-in restrictions, we could finally have that long overdue Heart Stopper Parker Memorial Pizza Party. This event was in memory of our beloved leader, Chuck Parker. Just a little light-hearted fun, Chuck's favorite pizza was the meat-lovers which he called the (((Heart Stopper!)))

Just 3 days before our last meeting, Chuck's daughters and family of Charles H. Parker Jr., held a lovely Grave Side Service for Chuck. The service was Saturday, September 11th at Mount Ever Rest Memorial Park off Westnedge and just south of downtown Kalamazoo.

The Pastor, Dave Zomer, had a family connection to Chuck, which was neat because he shared many good memories of Chuck. It was a very emotional time for me, but in just minutes you could tell this fellow really knew my friend Chuck, which indeed brought a smile to my face.

I have been to so many funerals where the clergy didn't know the deceased from Adam.
After passing from this life into eternity, even the devil himself is seen by family members as "Being in a better place" or "He is looking down on us from above," when in truth the hard-hearted prideful bullhead just split Hell wide open!

Thanks be to God, this man, Pastor Zomer, had placed a value on this man's soul and confronted him with the Truth of the Gospel. He affirmed what I had also believed about Chuck, he had placed his faith in the atoning blood of Jesus shed on his behalf.

Toward the end they opened the grave side service to friends, anyone who cared to share memories, which was pretty neat . . . Everyone talked about the Chuck we all knew, he was real-and- genuine! Chuck was Chuck! One of a kind! With each speaker you simply had to smile thinking, "That's Chuck all right!"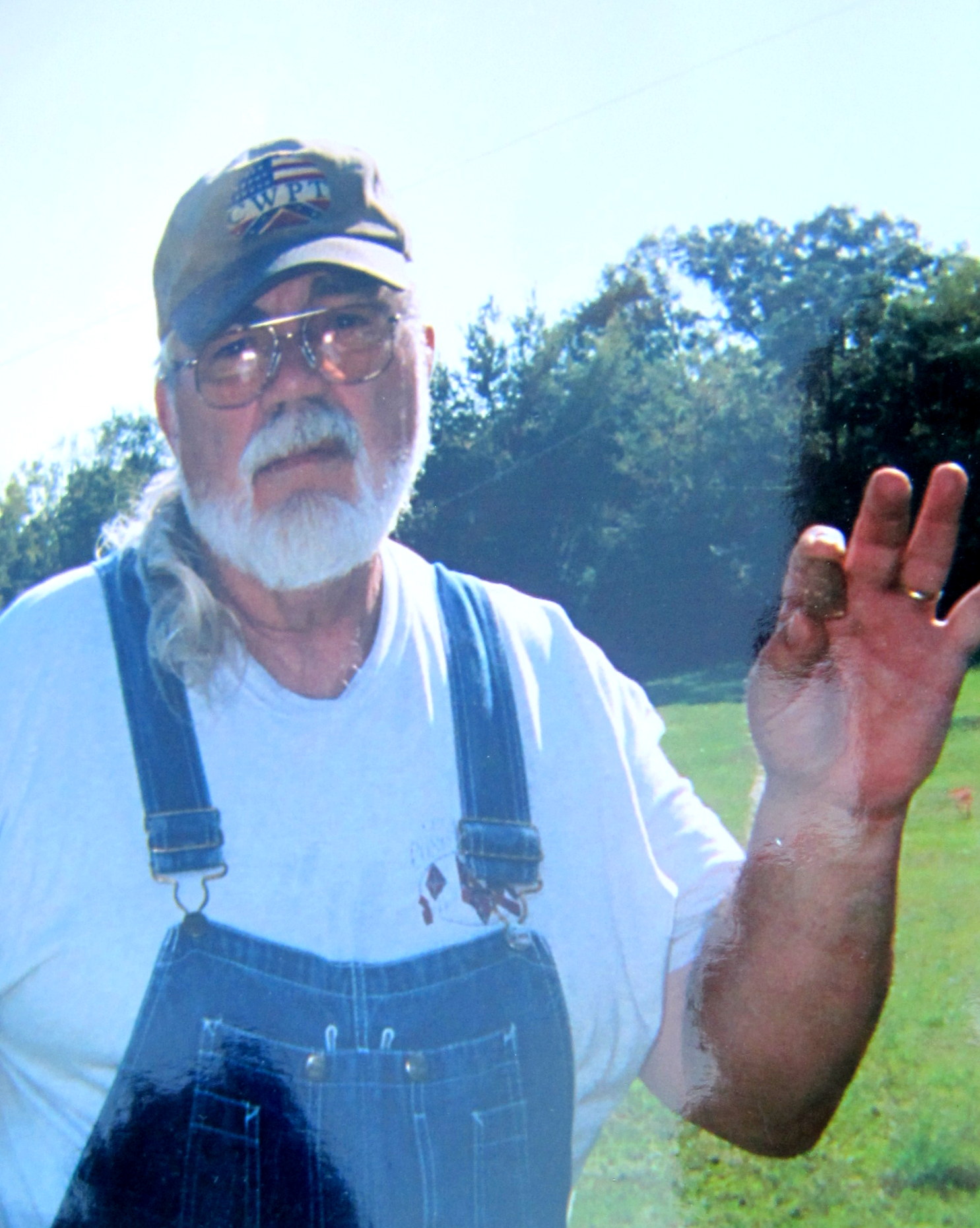 I shared with the group where one of the club members (one person we never see at a meeting) approached me at the bottle show several years back, as angry as anyone could be, you could see the fire in his eyes!
He was upset because I had used the club newsletter to mention my faith and offer an opinion as a Christian on some topic.

He made it clear that my personal faith should be kept to myself, and the bottle club newsletter should be only about bottles! He demanded that I remove him from the newsletter list and he accused me of betraying the club's trust!

Honestly, I felt like a puppy run over at rush hour and completely flattened.

At first opportunity I went to Chuck to apologize. I took that scolding to heart and felt I had clearly overstepped my authority as newsletter writer.

I wasn't looking for Chuck to console me, or to bind my hurt feelings, I was sincerely sorry.

Chuck asked, "Who was it?"

Before I could say he asked, "Did he offer to do the newsletter?"
When I did mention the name Chuck said, "No surprise."
Then Chuck said, "I deeply enjoy everything you put in the newsletter, and I read each one over and over. A lot of what you say, needs to be heard before it is all forgotten. Just look at the direction this country is headed! We have departed from the faith of our founding fathers. No sir, you keep doing exactly what you are doing."

Well, I shared that story at the service but I was a little nervous. I speak to large groups often, but I was trembling at this one. I wanted to shed some light on the Chuck that I felt everyone should know.

He would call me often at home, and he reminded me so much of my father who rarely ever called me "Al." I would pick up the phone, say "Hello" and the voice on the other end, (you could hear his smile) would say "Albert."

Gosh I miss him.

The day for the service was perfect! It truly was a lovely service and very well attended. I had hoped Mary Hamilton could make it, but it is so hard for her to get around. I picked up Mary's daughter Linda, who rode with my wife Deb and I.

Ed Nickerson, Rob Knoll and Mark McNee was there, and I thought I saw Ron Smith. As I said, it was a great turnout.

Surprising enough I had never been at a service where a loved ones ashes were placed into the grave. Some family and friends gave some small mementos to add to the grave, and thank goodness, Mark McNee thought enough to add an antique inkwell which I thought was so neat!

We went from the cemetery over to Bethany Reformed Church for a time of Visitation and a luncheon. The family had put together a nice scrolling slide show of Chuck as a young boy and step by step through his life with Connie and their daughters, Lori and Susan, and all the grandchildren Chuck loved so much.

I saw a sign that read, "Each second the number of people older than you is getting smaller."

When I worked for my father I took advantage of the owner's son situation and was late occasionally. Dad would remind me, "Death is an appointment nobody will be late for."

After his passing I found that my efforts to revive him may not have been ideal because of the nature of his injury. Also, I leaned in my effort I broke his breast bone.

I did manage to revive him, but he died a few hours later and I blamed myself for his death . . . everything pointed to me. He fell from a ladder doing something I should have been doing.
We had a leaking air compressor mounted on a high platform and I was going to tighten the fitting. Dad said, "I'll get that you go help your mother bring in those boxes."

I should have known he would die helping me because he was always helping me! Boy-oh-boy I beat myself up over it to the point where I went to my pastor a licensed counselor. I remember at some point he said. "Death is an appointment nobody will be late for."
Where had I heard that before?

Kevin Siegfried brought along a couple antique bottles to the Pizza Party! One was a little beauty with a full label.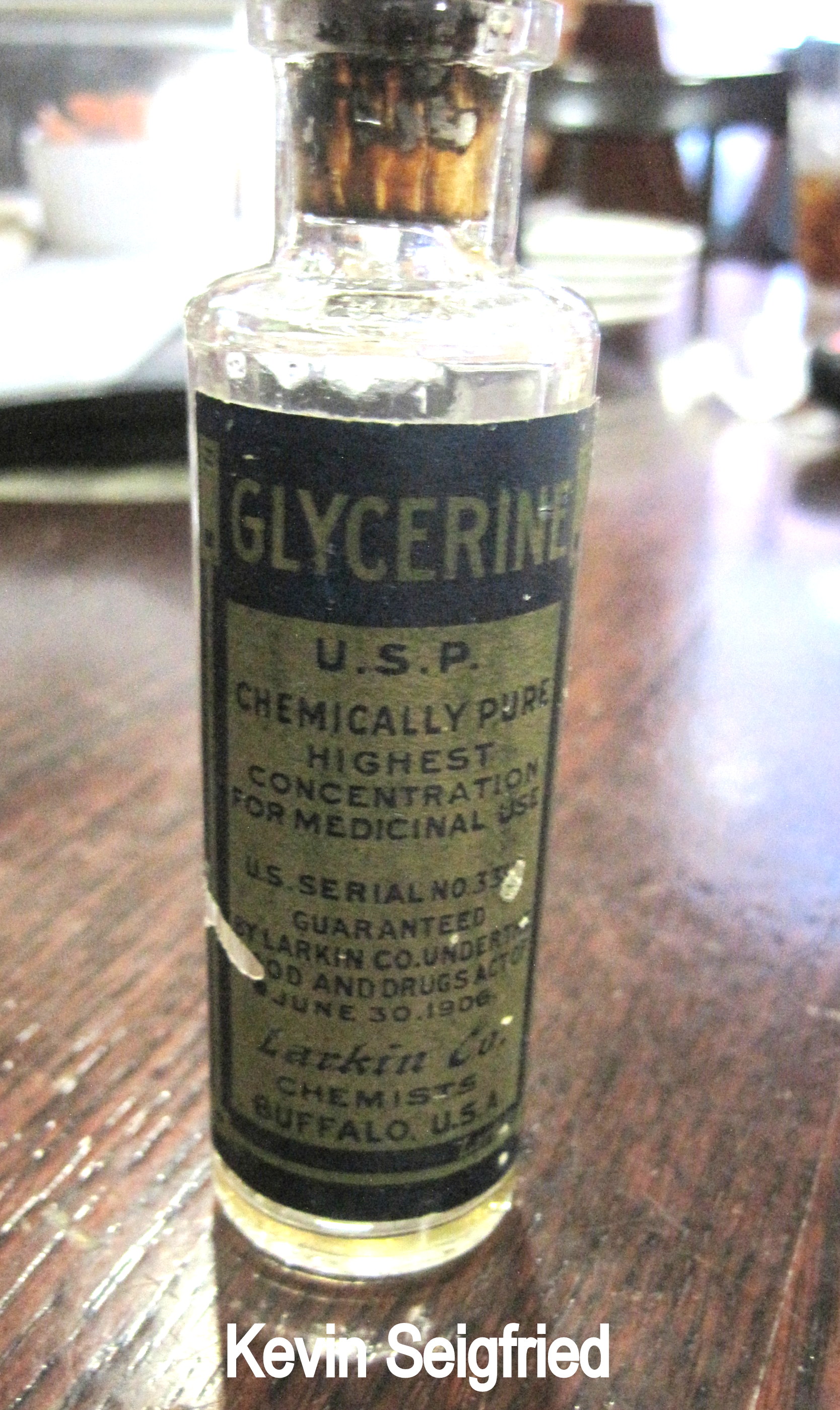 "GLYCERINE"
U.S.P.
Chemically Pure
Highest Concentration
For Medical Use
U.S. Serial Number 35
Guaranteed By
The Larkin Company
Under the Food & Drug Act
June, 30th 1906
Larkin Co. Buffalo U.S.A.

The Larkin Company was founded in Buffalo in 1875 by John D. Larkin as a small soap manufacturing company. By the early years of the twentieth century, the Company had reached the most prosperous era of Its existence, and was manufacturing soap, household goods, furniture, food, drugs, paint; in short, almost everything. Serving as a mail-order supplier to the entire United States, and operating numerous retail stores in the Buffalo area, it is reported that money poured into the Larkin Company offices at such a tremendous rate that it was removed from the envelopes and deposited into baskets and barrels, filling them rapidly.


There are a number of great Larkin Bottles and they are an affordable and attractive addition to any beginning collection! One of my favorite emerald green soap bottles is this beauty.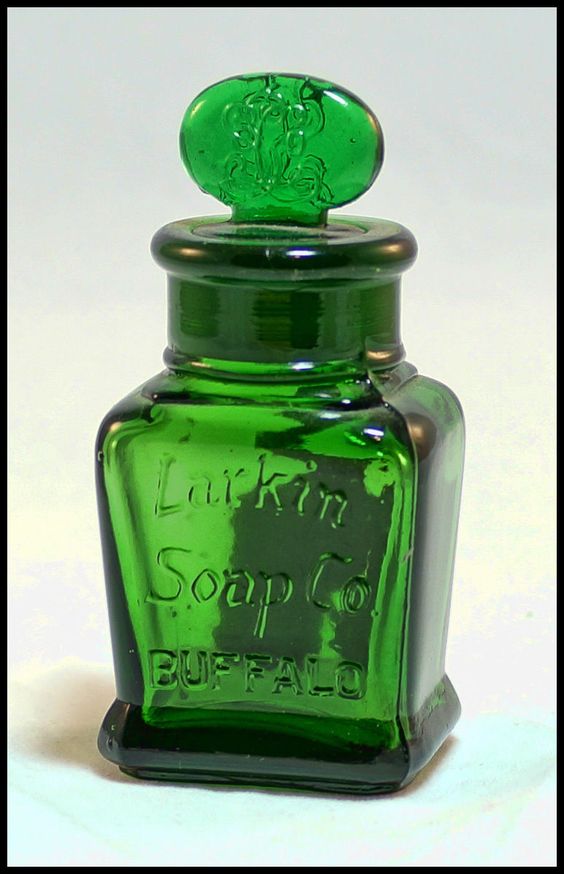 I dug a very early 1830's farm dump, on the Kalamazoo River behind my store. At some point the farmer was dumping field stones on top of the old dump. The weight and the way the rubble was dumped, had broke nearly every bottle, but this little gem survived!
Another bottle Kevin found was a little amber bottle with a ground stopper. I was unable to read the lettering applied with an ink pen.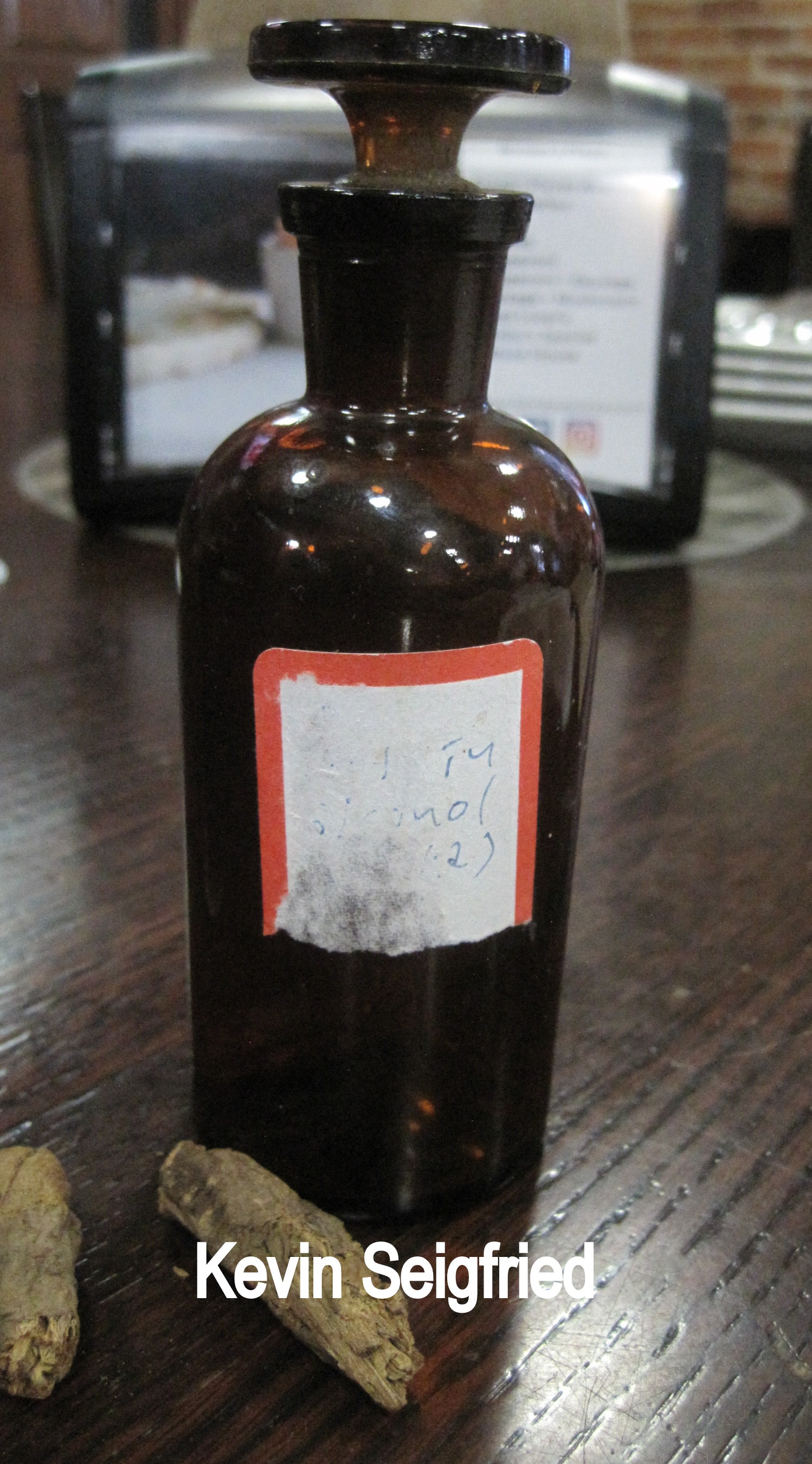 BILL DRAKE

A few years back, we had a couple guys come to visit our metal detecting club. They joined the club and were at almost every meeting.
At the detecting club meetings, the subject of antique bottles comes up very often. Several in that group are also members of the bottle club, so, the topic is often discussed.

As a result some folks have come over to check out the bottle club meetings, and they have decided to join us!
Two of these guys were quite memorable, Wayne Marvin and Bill Drake. Wayne Marvin is the one who sticks out in a crowd. He likes to dress in the brightest of colors actually a mix-mash of colors that are borderline hard to look at.

The flamboyant Wayne didn't stick with either club long but Bill Drake was fairly regular at the bottle club meetings. Bill had graying hair and a scruffy beard. He dressed like a biker usually wearing a leather vest.

I would think of them from time-to-time but I had not seen either one in a couple years. Bill was living in an apartment complex in Kalamazoo, where he had trouble storing stuff, so Kevin let him leave stuff at his place.

After a year or so Kevin asked me to get a hold of Bill to move his things. I sent Bill a message on Face Book but received no reply. Again Kevin asked if I heard back from Bill? So I sent another message.

At the last Metal Detecting Club meeting, in September, low-and-behold in walks Wayne Marvin! True to form he is wearing a florescent green poncho decorated with bright pink roses wearing bright red cowboy boots and glasses with a bold bright baby-blue frames!

I greeted him, and we just started visiting. After a spell I asked him if he had seen Bill Drake lately? That is when he told me Bill had died over two years ago.

I was sad to hear that, because, other than Wayne, I didn't think Bill had many other friends. Then, I was surprised to learn that Wayne only knew him in passing but not well at all. I think they met over hot meals at the Gospel Mission.

That night I searched the Internet for anything I could find about Bill . . .but nothing nothing whatsoever! Then I remembered he was on my Face Book friend's list, so I went to his Face Book page. There I found one little message from someone who said,
"I will keep your page going in your memory."

I reached out to that person for information on Bill. He didn't seem to know him well at all, other then to see him come and go in the apartment hallway and to say "Hi."

A few days had passed without seeing Bill so he requested someone do a wellness check. Bill had passed away sitting in his chair. I asked him if he thought it was Covid? He said, no, it had happened before that. I do know Bill struggled with many serious health issues.

Sometimes we take people for granted. I never found anything more about him. I think he had family that he stayed with in the winter, somewhere up north. But I no longer have that address. I used to send him the newsletter during the winter months.
So I just wanted to share that with you. I do know Bill liked to ride his motorcycle and he was a member of a Christian Biker Club.

---

My sister saved this out of my grandparent's, Max Loebel, estate. My grandmother, the noteworthy note-taker, wrote on the back of this sign, (She wrote important notes on everything!) suggesting it was on a fence post on the property when they purchased it on River Road in 1936.

They had been living in a house on Hammon Street in Otsego, where my grandfather started the Michigan Cottage Cheese Company. The cheese plant grew around their house. The cheese plant still stands today, and if you go by, look up on the roof, and you will see a house sticking out!

They purchased a house west of town, along the Kalamazoo River, on River Road. The house belonged to a family named Rex, and it was over 100 years old when they purchased it! After fixing-up the place up, they moved into their house in 1940. I am fairly certain this porcelain sign predated the automobile traffic down River Road. The location was exactly two miles to town.

---
IMPORTANT UPDATE. . . LAST MINUTE NEWS!!!


Well folks; The wife and I have been going through some real struggles lately, I can see the potential of these battles changing much of our lifestyle dramatically to say the least.

It all has to do with a adult daughter with 5 kids, who, because of tragic decisions, are currently homeless and piling on more and more bad decisions, and she is digging the hole even deeper.

Lately, a total of 4 grandchildren are staying with us. (The oldest grandchild, Madison has always stayed with us.)
The one grandchild, who is not staying with us, is the second oldest. She has been staying with her mother sometimes sleeping in the car and sometimes at the Gospel Mission. She is 15 and has a 1 year old baby. She is afraid if she stays with us, someone will take custody of her child. They are all facing this coming winter. We are all praying for God's guidance in this . . .
That is one excuse I have for tossing together this haphazard newsletter. (sorry)

In my haste to get something in the mail, I forgot to mention some very important
2022 Kalamazoo Antique Bottle Show News!!!!

John Pastor sent me the following letter (VERY IMPORTANT!)

"Hi, Al,

I hope all is going well. What crazy times we're in. I just got an email from the Rochester, NY Show, that they are planning their show for the weekend of April 9-10.
So..... I've contacted the fairgrounds to change the date of our show to Saturday, April 23rd. (Easter weekend is 16th - 17th).

Thanks, Al, please let me know that you got this, and if you have any questions....

Take care,
John "

---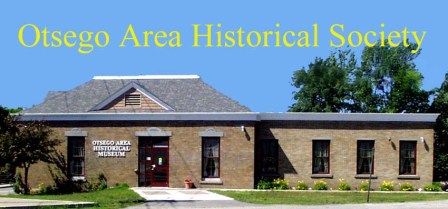 The Kalamazoo Antique Bottle Club
Will be meeting October, 12th
at the Otsego Historical Society Museum
Located at 218 N. Farmer St. Otsego, MI 49078
meeting starts at 7:00
For questions
e-mail: prostock@net-link.net

☎ 269-685-1776