Written By Allan C. Holden
Welcome Back Bottle Club Members!
I am certainly looking forward to seeing each of your smiling faces again!
It seems to me that the summers get shorter and shorter with each passing year. Don't you agree?
There isn't another state in America where I would rather live. I like the season changes, I love the Great Lakes, I love Michigan history, but Michigan winters seem like a very steep price to pay.
For me, having the Kalamazoo Antique Bottle Club's meetings do make the fall and winter months a little bit more bearable.
This summer, of 2018, started out with very sad news. Two people, both very dear to the Kalamazoo Antique Bottle Club, passed from this life into eternity.
I received a phone call from our club president, Chuck Parker, on Sunday, July 1st with the news. Chuck started out the conversation by saying, "I've got sad news to share with you, and it is a real double whammy."
I've never known Chuck to be a complainer, and the Lord knows he has been through the wringer lately. Like most of us, our bodies are aging at a much faster rate than that inner-desire to leap tall buildings in a single bound.
Chuck has been dreaming about getting back into what he loves doing most, which is digging antique bottles. However, with his two knee surgeries, healing has been very slow. Not being able to just jump to his feet and move swiftly along has been a real set-back for him. I know full-well just how frustrated he is!
Chuck shocked me when he said, "I just learned that Ernie Lawson passed away; I just read it in the Sunday paper."
Not even one hour before Chuck's call we drove by Friendship Village when I had actually talked to my wife about going in to visit Ernie, but I didn't stop.
You know, Ernie's passing was not unexpected. The last time I went to see him, he and I had prayed for it.
The second shocker came when Chuck said, "Last night, Connie also passed away."
Suddenly, I am dumbfounded. I feel like a schooner with her canvas out and no wind to fill it . . . dead in the water. Oh, my . . . what do I say?
For those of you who don't know, Connie "Constance" Parker, was Chuck's wife and soul mate for over 58 years. Actually, that relationship of love started way before that. Think of it my friends, in November, 1960, Chuck and Connie Parker were united as one in God's eyes.
I really liked Connie, as many of you did. Connie was a solid supporter of the Kalamazoo Antique Bottle Club since the very early days of the club. I will always remember her smile and the times she went out of her way to make room in her life, and in her home, for this club.
Recently Connie also suffered with some physical difficulties. With both Chuck and Connie having their individual struggles, caring for each other had made each and every day very challenging.
Chuck is still far from being independent, so please, all my friends who are spiritual, please pray for strength and continued independence for Chuck. May God meet Chuck's each and every need.
I know if Ernie were still here that that would also be his prayer.
Ernie knew that he was a stranger in a strange land and he longed to be with his Lord. Ernie Lawson passed from the here and now only. Ernie's life did not end; it just got started.
During one of my visits with Ernie, as his health was fading, it was extremely hard for him to talk, so I did the talking as he listened and smiled. How can you visit with someone you love, as I loved Ernie, without reminiscing?
Oh we had so much to reminisce about. We spent many blessed hours in this life together, and I thank God he let me share my time on Earth with a friend like Ernie.
And how can you think about Ernie without thinking about Jack Short? It just isn't possible! Those two were nearly inseparable!
Jack and Ernie were deep into the bottle digging hobby when I met them. They were not into bottles only, but also the stories behind each product they represented! They certainly took antique bottle collecting to a much higher plane for me.
After a short time of rubbing elbows with fellow bottle enthusiasts, they laid the groundwork for the Kalamazoo Antique Bottle Club back in 1979.
Not only did they start the club by bringing together fellow antique bottle diggers, their excitement created many of these enthusiasts! Indeed Jack and Ernie's love for bottle hunting and collecting was contagious!
It wasn't long before the local media picked up on the excitement these crazy guys were generating! And who won't notice when two well educated, highly respected professional guys seemed happiest when they were down in the dumps . . . digging!
Ernie Lawson was an excellent writer with many of his great stories published!
Ernie was a WWII Marine Corp Veteran. After serving his country, Ernie went to work for Upjohn for 32 years, retiring in 1990.
Ernie and Jack loved metal detecting as well. Both men were treasured members of the Southwest Michigan Seek & Search Club, in Plainwell, MI.
Ernie was not only a great story writer, he was also a great reader! Ernie loved to work as a volunteer story reader, song leader and visitor for many shut-ins.
But most of all, Ernie Lawson loved his precious Lord Jesus, and he was not one to hide his love.
Back in the late 80's Ernie suffered a very serious stroke. Jack shared the story with me when we were out working a recovery effort at the scene of a homicide. That day was a scorcher, and we had been split up into two groups. At one point Jack and I had stopped to rest in the shade. I recall how Jack was concerned for Ernie in the 90 degree heat.
"Ernie was a brilliant man before his stroke. He was a mathematical genius! He was like a human calculator, only faster!" Jack shared.
"Wow, I didn't know that! He seems pretty normal to me. How did the stroke actually affect him, Jack?"
"Well, Al, let's just say Ernie's stroke was devastating. From an intelligence standpoint, it lowered him all the way down to my level."
Sounds like a joke, but Jack was very serious. And, you had to know Jack to appreciate that. Jack was no dummy!
During my last visit with Ernie, I tried to do all the talking, and he was delighted to just listen. During that chat I mentioned our old friend Jack.
Most people would have said that Ernie was mentally slipping when he said, "Yes, my son, Jack."
Did Ernie have a son named Jack? Ernie and Irene had two daughters, Pat and Janet and they did lose an infant son. However, Ernie and I were on the same page. Jack his spiritual son.
Listen to the Apostle Paul as he speaks about Timothy: I Timothy 1:2 "Unto Timothy, my own son in the faith: Grace, mercy, and peace, from God our Father and Jesus Christ our Lord."
It was on Paul's second missionary journey to Lycaonian city of Lystra when Timothy and Paul met. Paul was a spiritual mentor to Timothy. These two men were a perfect example of Ernie and Jack.
For people of the faith, the Bible speaks of a reunion and recognition in Heaven.
I Cor 13:12 "For now we see through a glass, darkly; but then face to face: now I know in part; but then shall I know even as also I am known."
Can you imagine the reunion for Jack and Ernie in the glory of Heaven? Wow!
We will find sorrow in the separation brought about by death, but for believers, this is only temporary.
---
Last Meeting
It was way back there in the Land of Cotton; back where old times were not forgotten . . .
But that was then and this is now! This old Yankee plumb forgot some stuff!
I forgot to put name cards into all my photographs as usual. Of course at the time, figuring that seeing the photos would jog my memory . . . didn't work.
Let's start out with a roll call! We had a good turnout for the May meeting. Here is what my sign-in sheet says: Vincent Grossi, John Winkler, Kelly Bobbit, Kevin Siegfried, Bill Drake, Mary Hamilton, Jean Bogard, Rob Knolle, Chuck Parker, Eddie Nickerson, Ron Smith, Jeremy Winkworth, Tim Hayes and Al Holden.
May was our last meeting before summer break and the first time we got together to discuss the 2018 bottle show.
Everyone was very upbeat about the spring show. The tables all sold well and the overall show traffic seemed to be pretty good to me. I am hoping Chuck can fill us in on some final numbers at this month's meeting.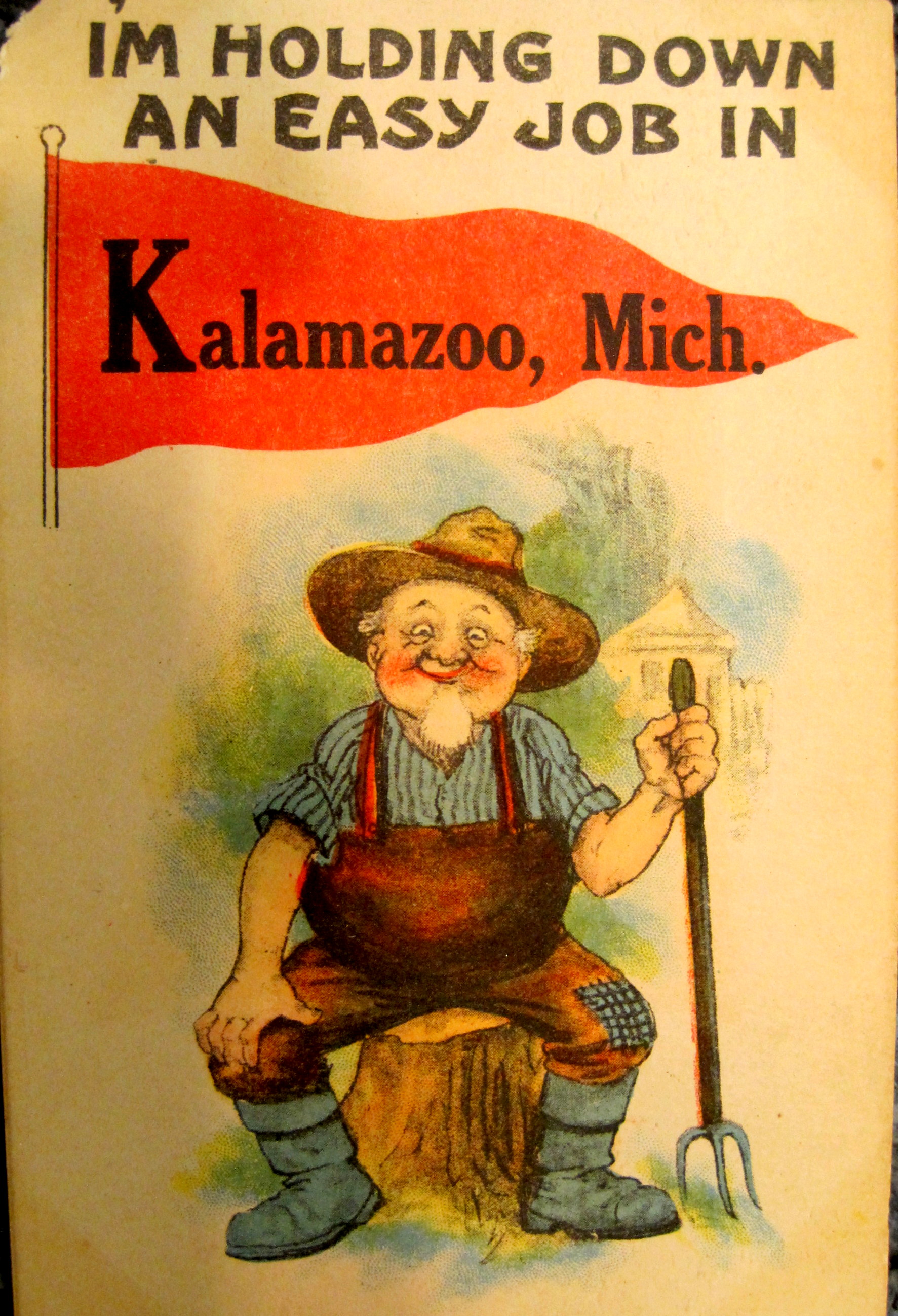 Vincent Grossi: had some neat items to display as usual! One was a sparkling ivy green, one gallon jug with a wire-bail type handle. This interesting jug had dual mouse-ear glass loops on both sides of the neck. These small loops were handle mounts where, on both sides of the neck, a wire handle was fastened with a wood pail- style handle grip.
I tried to research this bottle with very little luck. I did find some amber examples, but there was no mention of the product they once contained. When I first spotted them, it jogged my memory a smidgen. I recall some cleaning products like ammonia or bleach in handled jugs in my grandma's laundry room.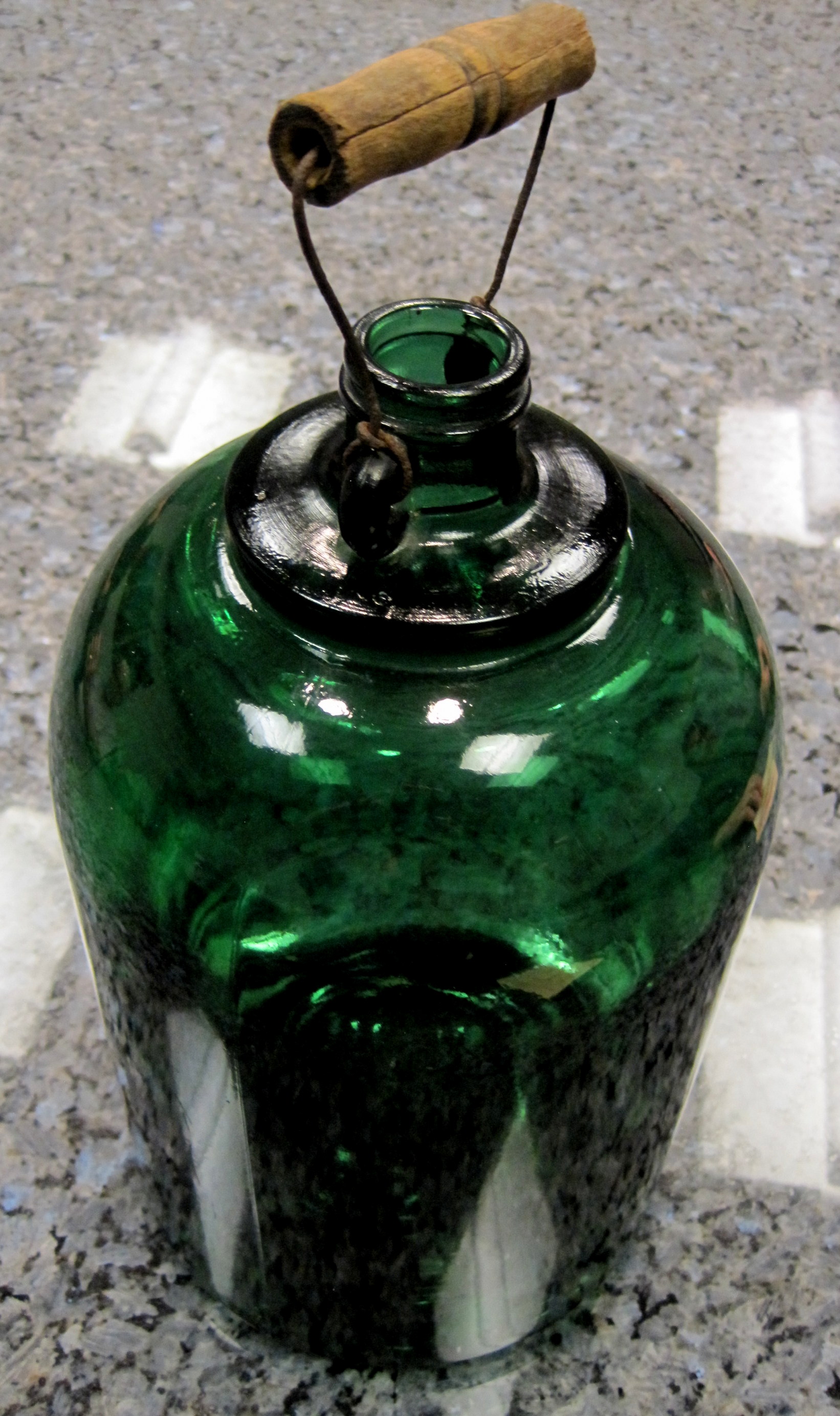 Vince also displayed a few neat trade cards. One was advertising Stafford's Ink. The image on the card was of a sleeping girl. The card said, "Look at this sleeping child, then hold to the light and it will awaken."
And it works! I am certain at the time this was cutting- edge technology!
Another neat card was a colorful card with a little old farmer wearing bib overalls and wearing a straw hat. He was sitting on a tree stump with a big smile on his face as he held a pitchfork in his hand. The card read, "I'm holding down an easy job in Kalamazoo!"
I love old postcards! The message side showed a U.S. 1¢ stamp, canceled in Kalamazoo October 1, 1915. Let's eavesdrop . . .
"Dear Cousin, I am right in clover! I like the family that I am with and also the schoolwork. I am pretty busy, but I will write soon. Your loving cousin, E. Cole.
The card was addressed to Miss Hattie Hall, Augusta, Mich. Route #3. She put a side-note, "What is your right address?"
I am sure someone at the Post Office saw to it that this little postcard found Hattie, and she was happy to get it. I can remember when mailing a postcard cost was 3¢.
I remember when I was a kid, my German grandfather received a letter from his family in Germany. It was simply addressed, "Max Loebel, Michigan U.S.A."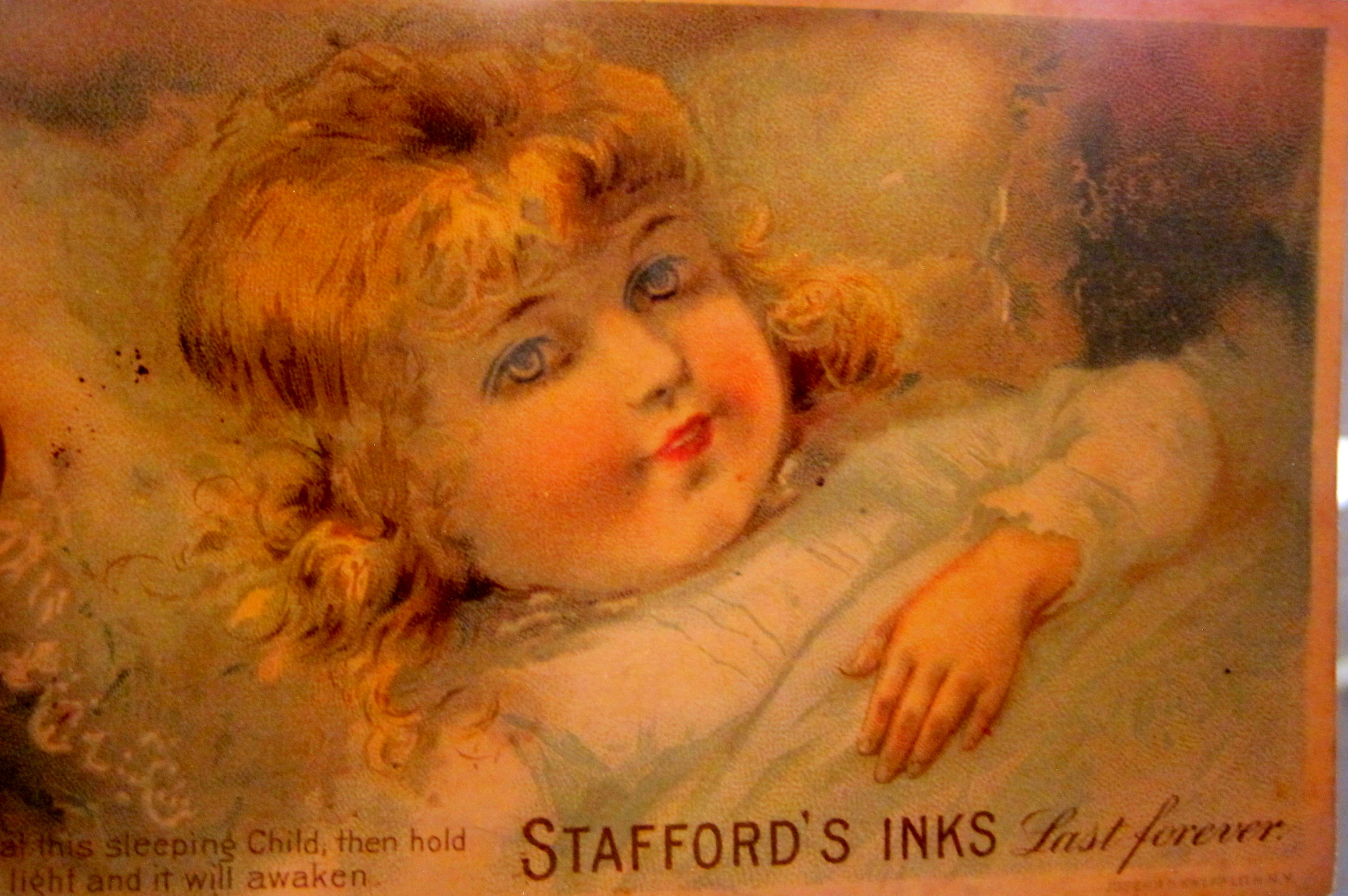 Kevin Siegfried, wowed the group with a super cool Upjohn sampler!
Fastened to a little lapel pin was a tiny bottle containing sample pills from the Upjohn Pill and Granule Co.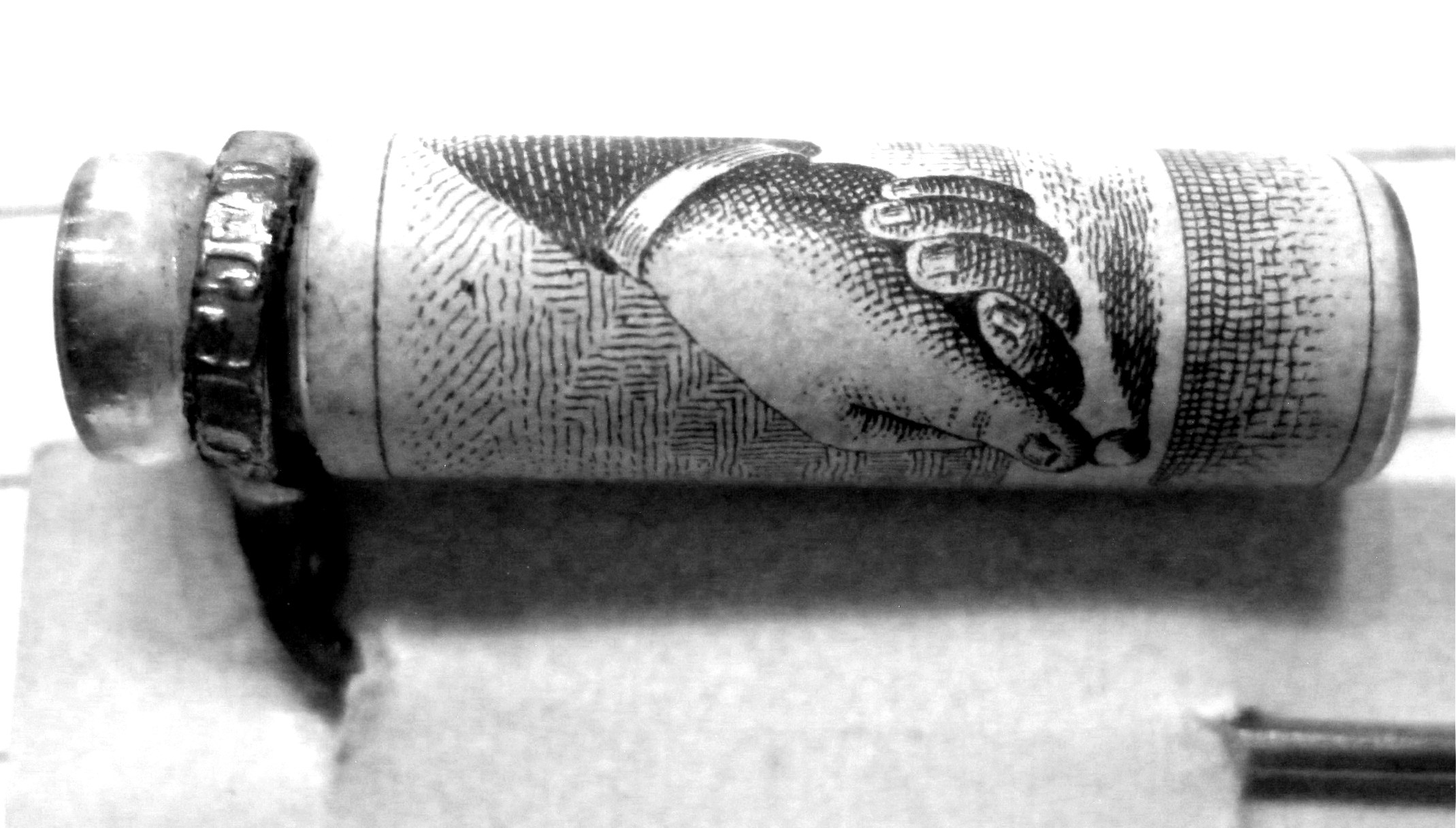 The pin had "Upjohn" embossed on the collar! The tiny bottle's top was sealed with a cork, and inside were tiny pink, black and white pills. My thought is the pill's color may have changed with age. If so, the pills may have been originally red, white & blue. This little bottle had a tiny paper label depicting a thumb about to crush a Upjohn 'friable' pill, which was specifically designed to be easily digested. The trademark image was to show that the Upjohn pill could easily be reduced to a powder under the thumb.
At the time, and still today, many pills were passed through the system and showed up in the toilet, In which case they were doing the patient very little good. I just hate it when that happens!
When I was real little, Dad and I were leaving the barbershop in Plainwell, when somehow I swallowed a coin. My panic stricken mother rushed me over to see Doctor Topp. Doc Topp said, "Don't worry, this too shall pass; just keep a sharp eye out for it."
Please don't try this at home - - leave it to us professionals.
I don't remember how long they searched for the coin, but it did show up again!
It was so meaningful to me, I never washed it, and I saved it to this day! At this meeting we can all pass it around. It is a 1954 Philadelphia mint, but it is in crappy condition.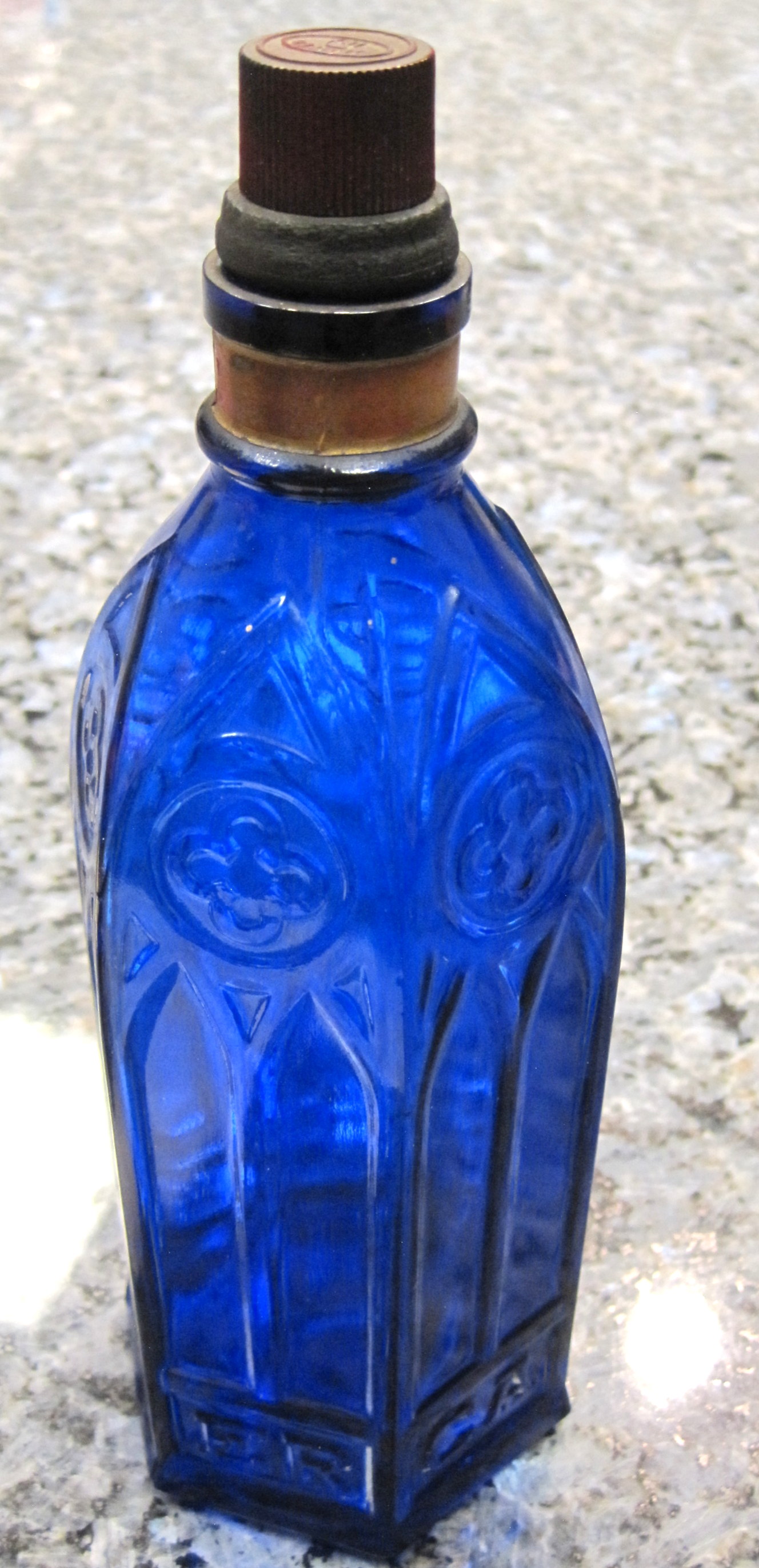 Jeremy Winkworth also brought in another amazing Upjohn bottle!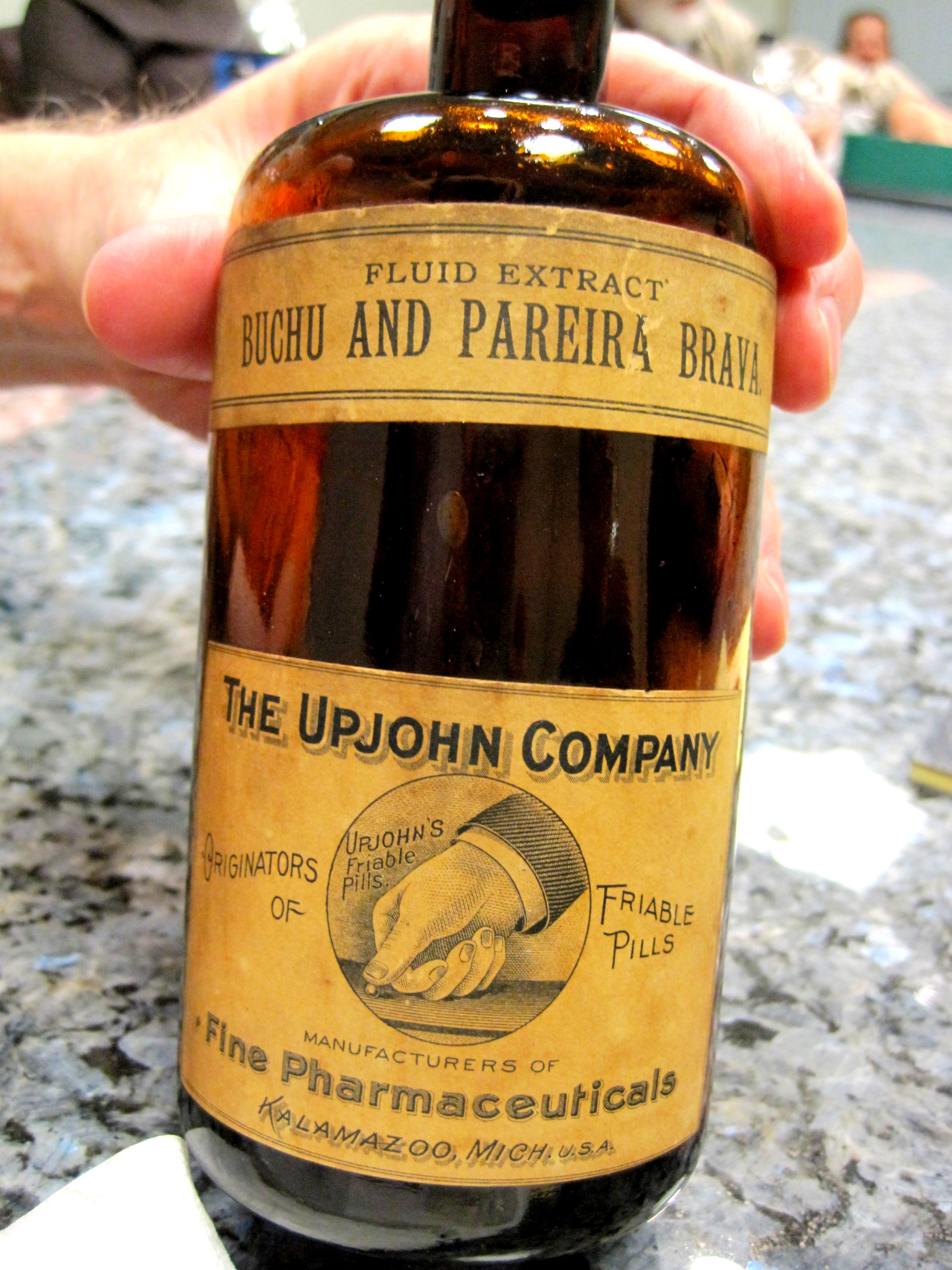 This beauty was a deep chocolate amber with beautiful, near mint, two-piece label. The product was "FLUID EXTRACT BUCHU and PAREIRA BRAVA."
Of course, it is very common knowledge what this was used for . . right? Amazingly, this stuff is still available in health food stores. It is an 'aperient, tonic, diuretic, stimulant!' Hey, who couldn't use some of that?
Aperient (gently moving the bowels) Tonic (give a feeling of vigor) Diuretic (increase urine flow) Stimulant (raising levels of physiological or nervous activity in the body.)
I can see a value in each one of these, but all three at one dose . . . I would be a train wreck!
Tim Hayes displayed some awesome finds! One of my favorite small pill tube-shaped bottles is George Steketee's Haarlem Oil. George Steketee was listed in the 1880 directory at '89 Monroe Street,' Grand Rapids, Mich.
Other Steketees products included: Steketee's Neuralgia Liniment, Kimm's, Anti Bilious Root & Plant Pills, Kimm's Premium Aromatic Bitters, and Steketee's Worm Destroyer.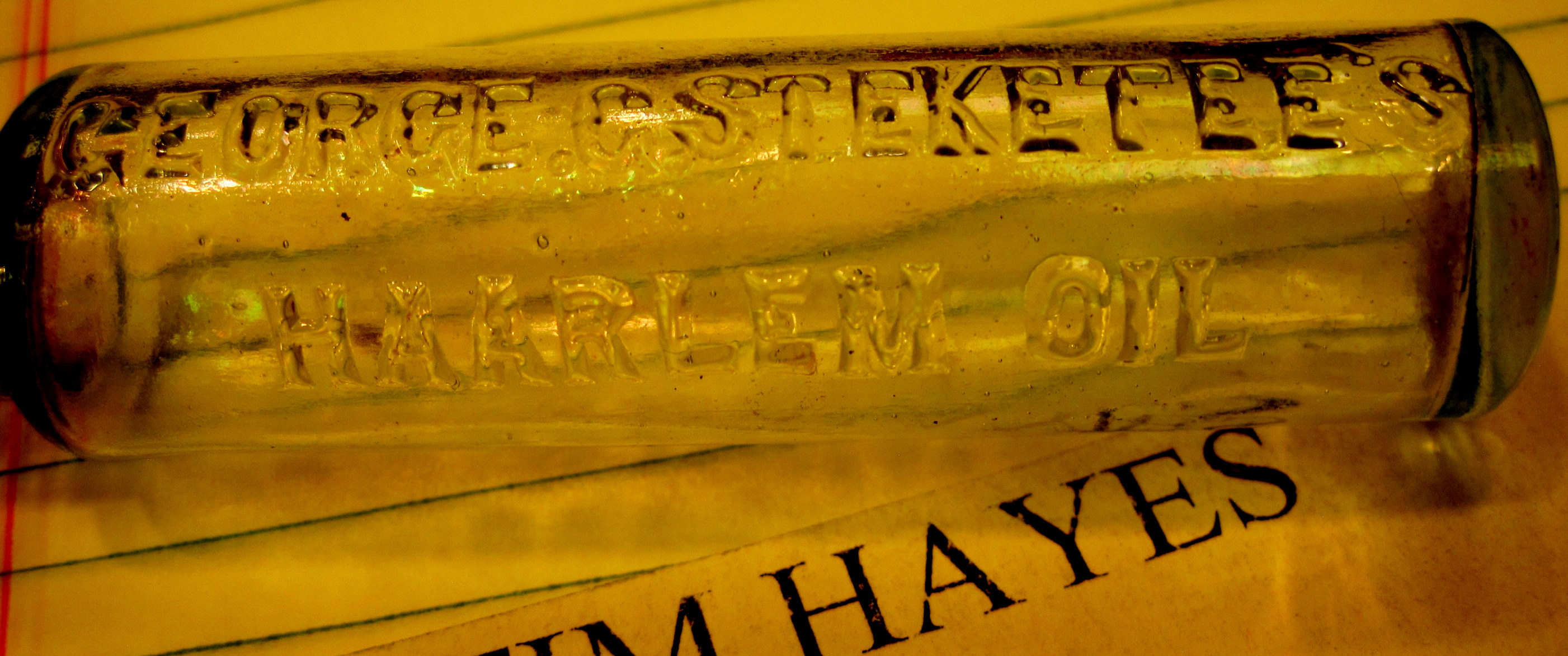 So, what do we know about this product, Haarlem Oil? It was a major source of sulphur. Sulfur is a regulator of bile secretions, offers a stimulation of the respiratory system, neutralizes toxins, helps as an anti-allergic.
Yes, it too is still available in the health food store! And, the dosage is still; take one for a man, two for a horse!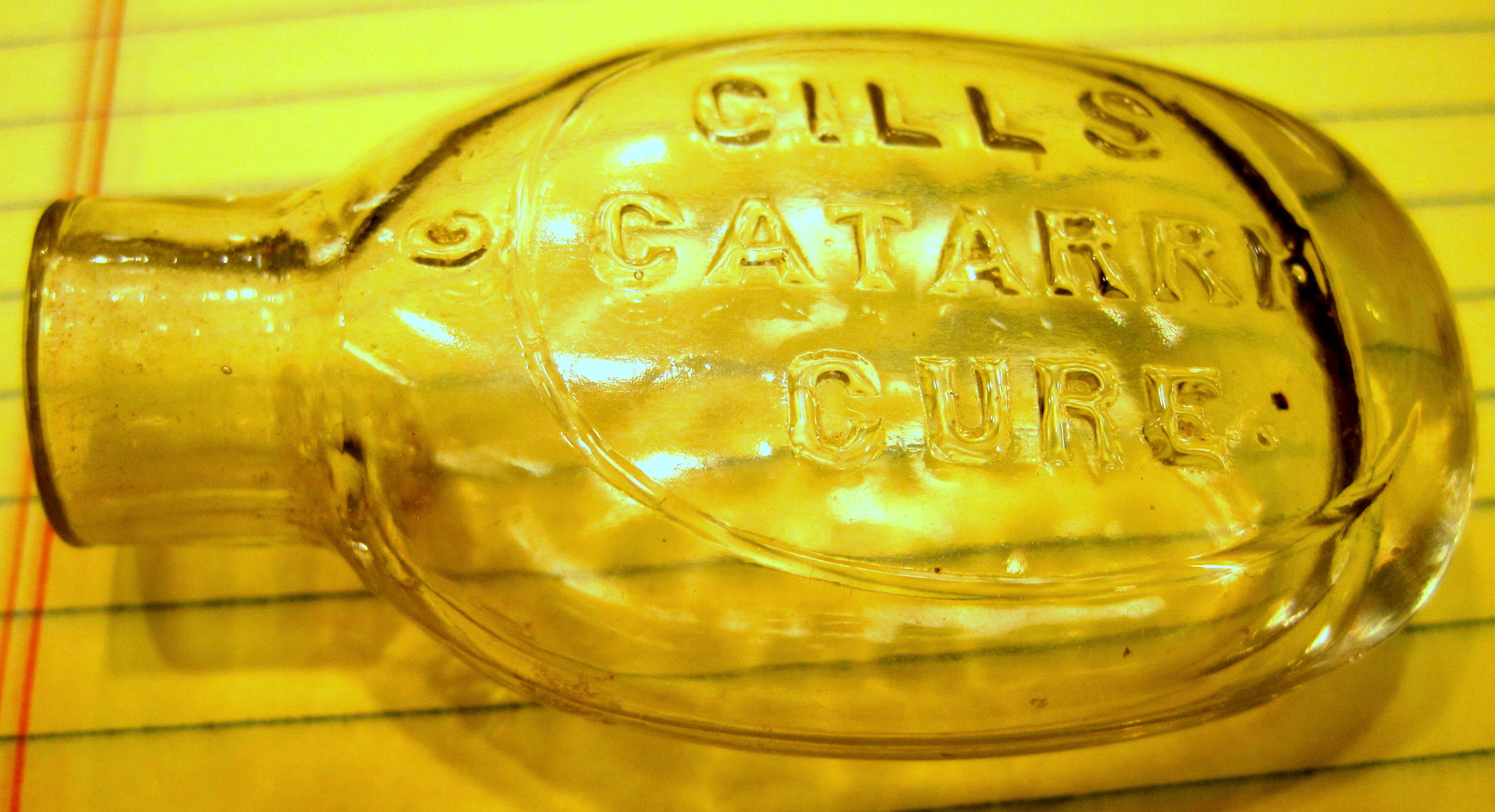 When I was a kid, we received two TV channels. The station out of Grand Rapids promoted Wurzburg's department store, and Stekette's for Christmas shopping! Both stores were located on Monroe Street! Steketee's Department Store started in 1862! In fact, the location was "89 Monroe!"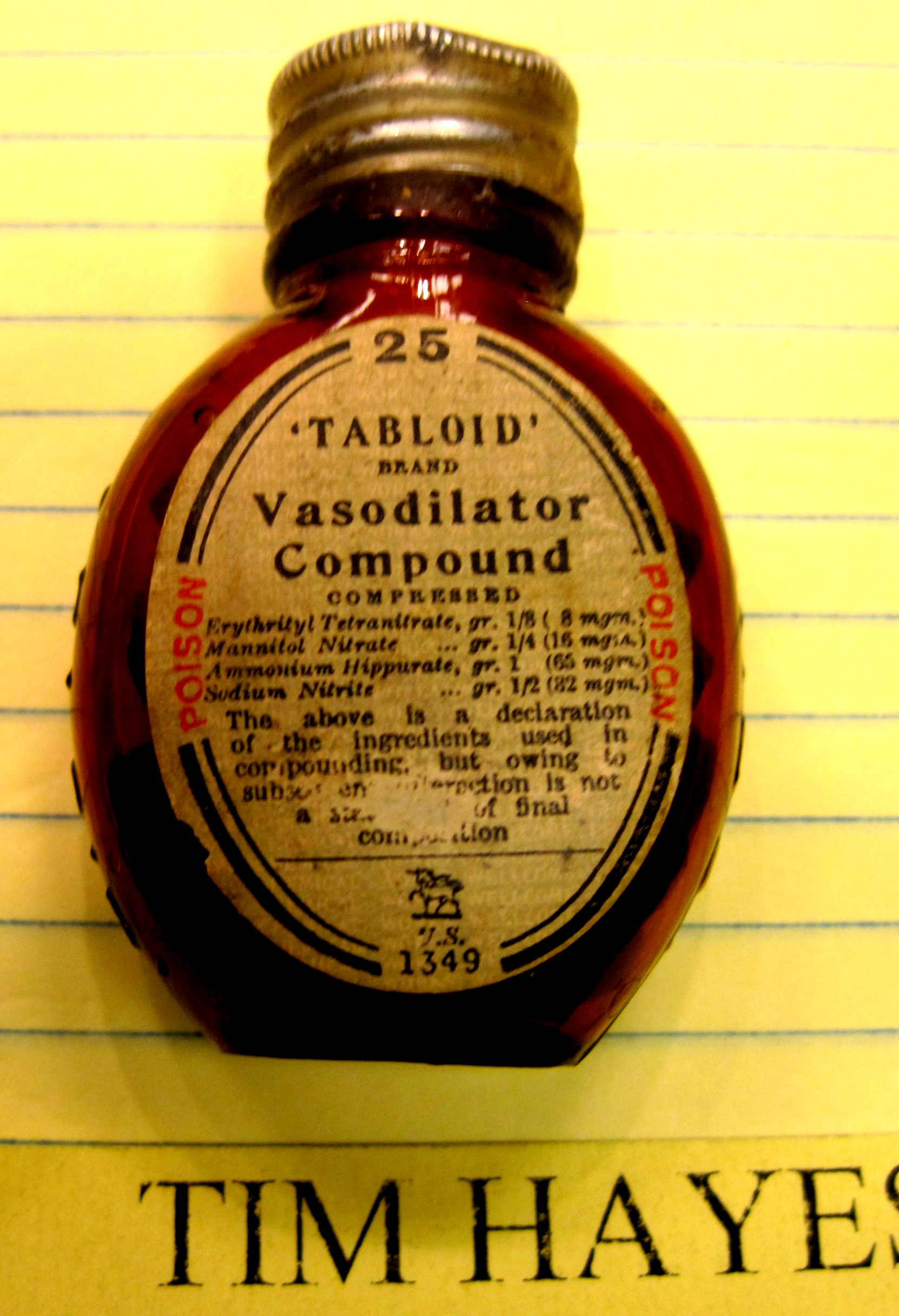 Tim also displayed the following: A.S. HIND'S "Honey & Almond Cream" bottle, a druggist bottle "Sultar Drug Co. Saint Louis," and an amber purse bottle, Tabloid Brand, Vasodilator Compound" Marked POISON!
I suspect it was used as a heart medication. This little bottle had a full label and a zinc screw-cap.
Another of Tim's bottles was a pontiled, round-bottom purse bottle with a sheared top "Cill's Catarrh Cure." What does a catarrh cure do? It is supposed to stop a runny nose!
Also, I had Tim down for an "Albert Wood's Cold Process Flower Extract, Detroit." This bottle was a small square cornered, tooled top, clear pill bottle. The Henry Ford Museum has a 1903 Albert Wood's Satin Skin Powder poster that they prize.
Bill Drake found a Boston, "Whittemore FRENCH GLOSS."
That of course is shoe polish. That reminds me, I need a spit shine before Sunday.
Rob Knoll found a very cool bottle if you ask me. It was a drug store bottle from, A.B. Weakley, Prescription Druggist, Comanche Indian Ter." I found that A.B. Weakley was listed in the Oklahoma Board of Pharmacy as a druggist in 1906, serving about 500 people.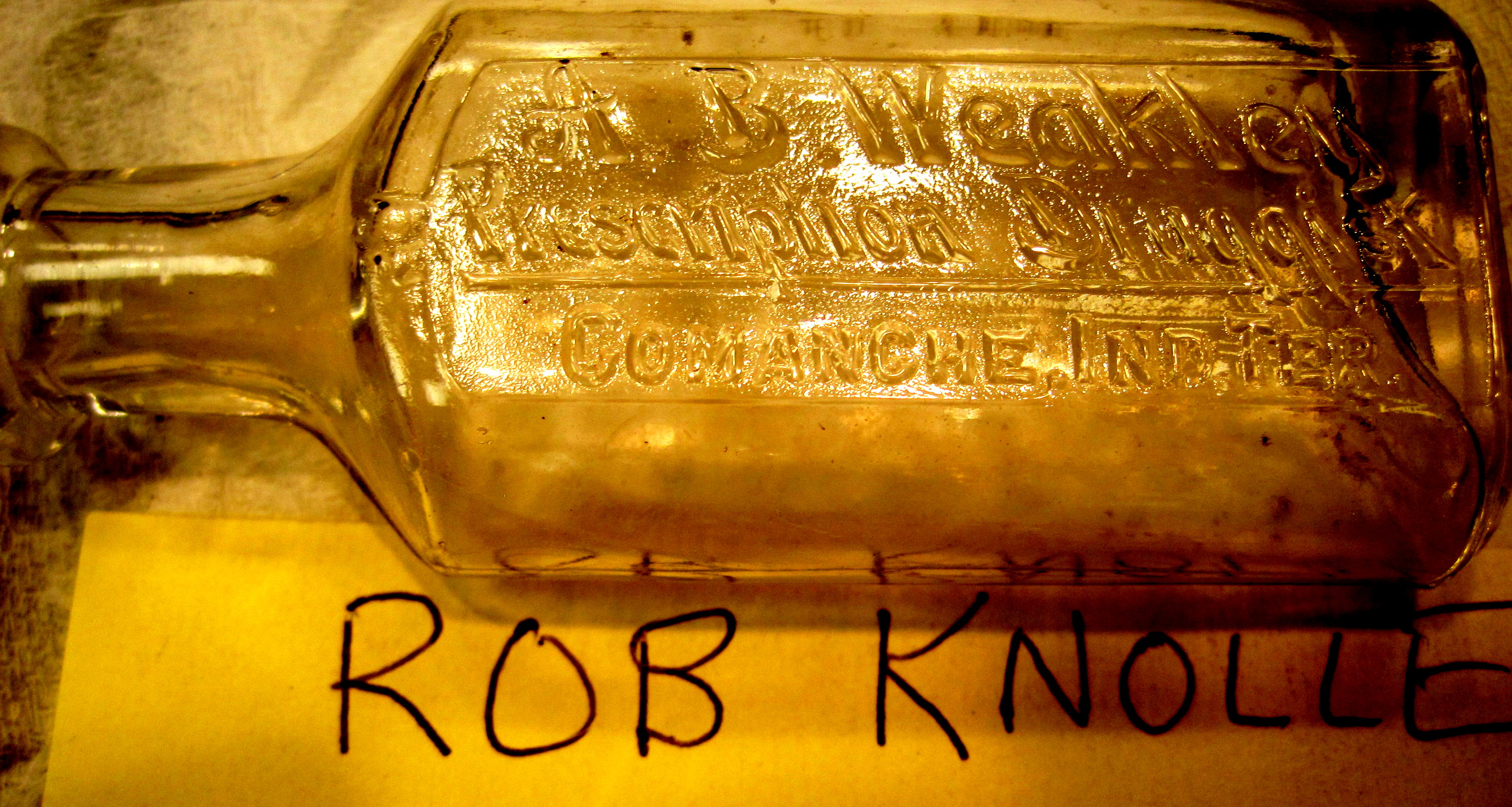 OK, here are the two bottles that I messed up on. One was a cobalt blue Cathedral Master Ink bottle, (pictured above) which was a real beauty! I think it also belonged to Tim Hayes???? There was also, a beautiful small Harrison's Columbian Ink, in aqua color with the flamed lip. I love those paneled early Harrison's ink bottles; they look so colonial!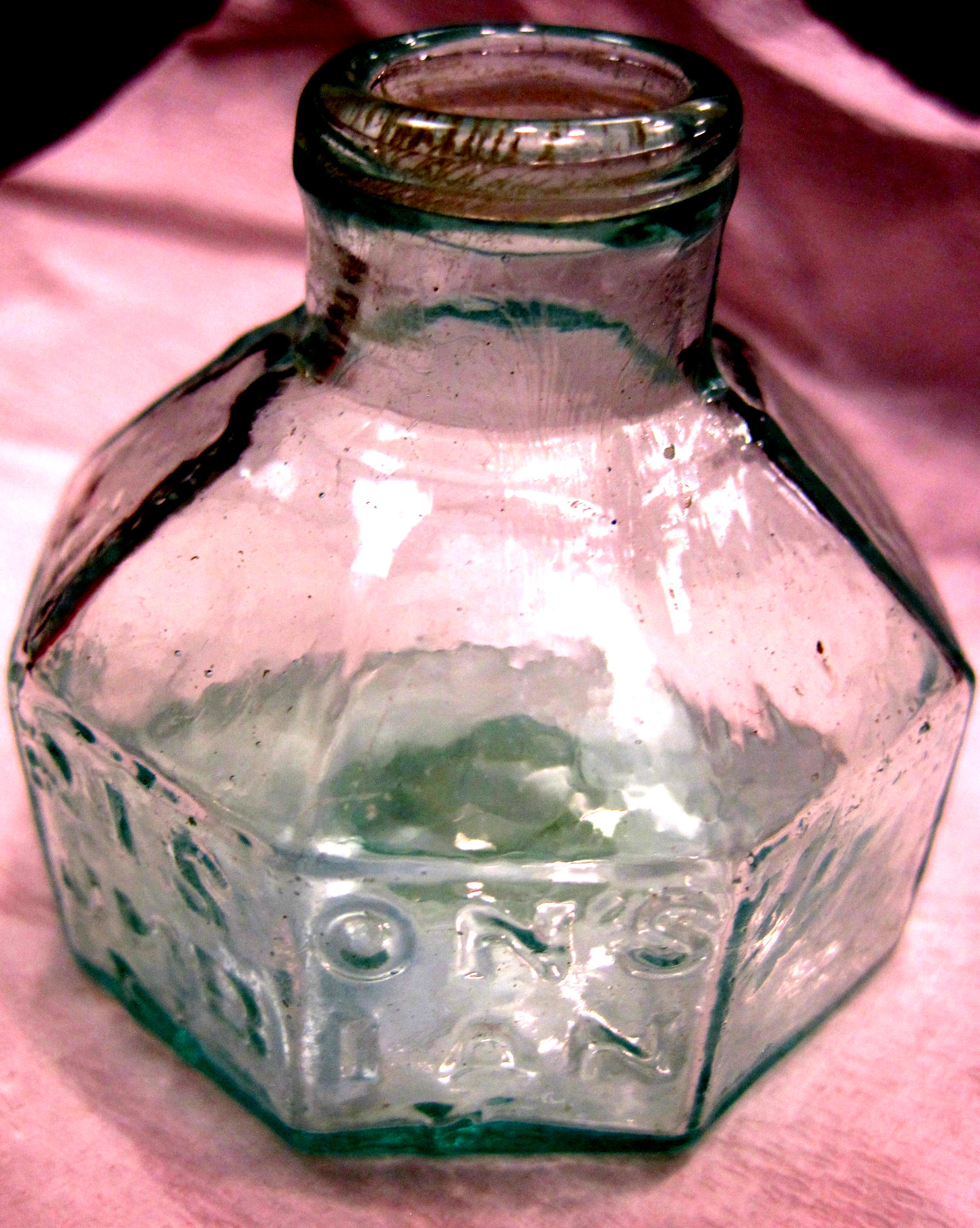 ---
This month's meeting falls on September 11th, the second Tuesday of the month.
Our meeting theme will be "Summer Acquisitions."
If you have been digging or buying old bottles, we are interested in seeing your treasure and hearing your story!
We will be meeting at our usual location, downtown at the main Kalamazoo Public Library. We meet on the 3rd floor in the conference room. The meeting starts at 7:00 pm.
NOTICE:
Chuck asked me to remind each of our bottle club members that the 2018-19 club dues are due now. I will be sending along a handy card that you can mail in if you can pay at the meeting. I also know how much you hate to cut up your treasured newsletter.
Some of you receive complementary newsletters, and you know who you are. Otherwise, if you are part of the club activities, or take part in the spring show, you are a card carrying member and we need your support.
Honestly, it boggles my mind when I think about it. We haven't raised the dues for the club since the beginning. (As far back as I remember) I am not suggesting that we should raise the club dues . . . but for $10.00, what a steal!
It really makes things easier for the club, and our club's treasurer, if we get our dues paid up on time.
Kalamazoo Antique Bottle Club 2018~2019 Club Dues:
Club Dues are still only $10.00, Make Check Payable to K.A.B.C. and mail to:
Kalamazoo Antique Bottle Club, 607 Crocket Ave. , Portage MI 49024
Member's Name
Mailing Address
City
State
Zip Code
Phone Number
Cell Number
E-Mail Address
Here is a great incentive for you this month!

After our regular meeting, we are heading down to Bimbo's Pizza.
BUT! PLEASE! You must be a paid-up member! Now, please don't you tell me you can't consume $10.00 worth of pizza in one sitting . . . seriously? And, we enjoy pizza nights more than once each year!
---
KALAMAZOO ANTIQUE BOTTLE CLUB
Meets at the main Kalamazoo Library,
315 South Rose Street.
We meet on the third floor in the conference room.
This Meeting is
SEPTEMBER 11th.

Meeting starts at 7:00

e-mail prostock@net-link.net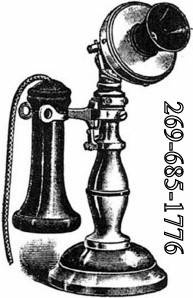 269-685-1776