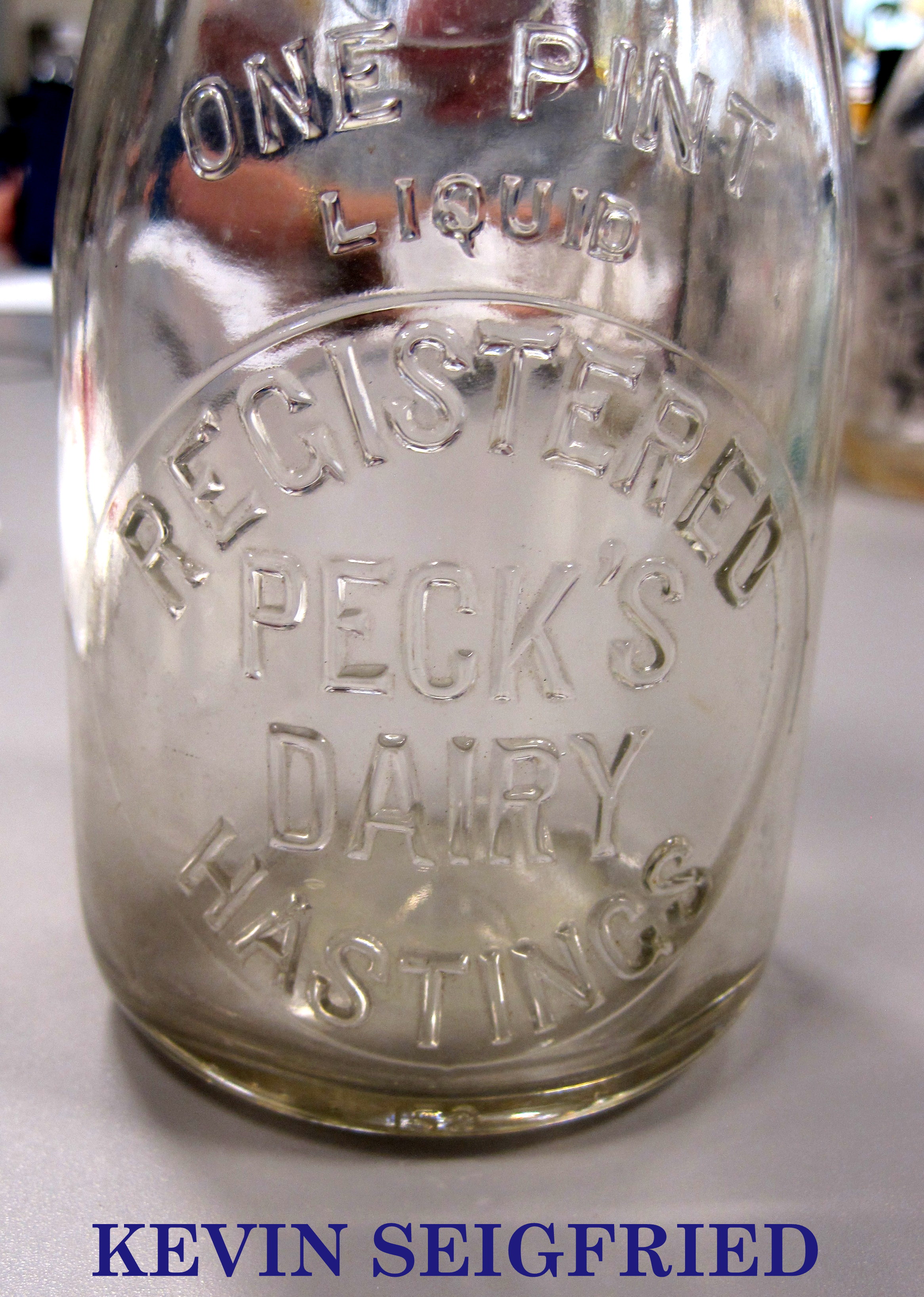 Next, Kevin displayed a 1- pint "Shaw & Cox, Blue Ribbon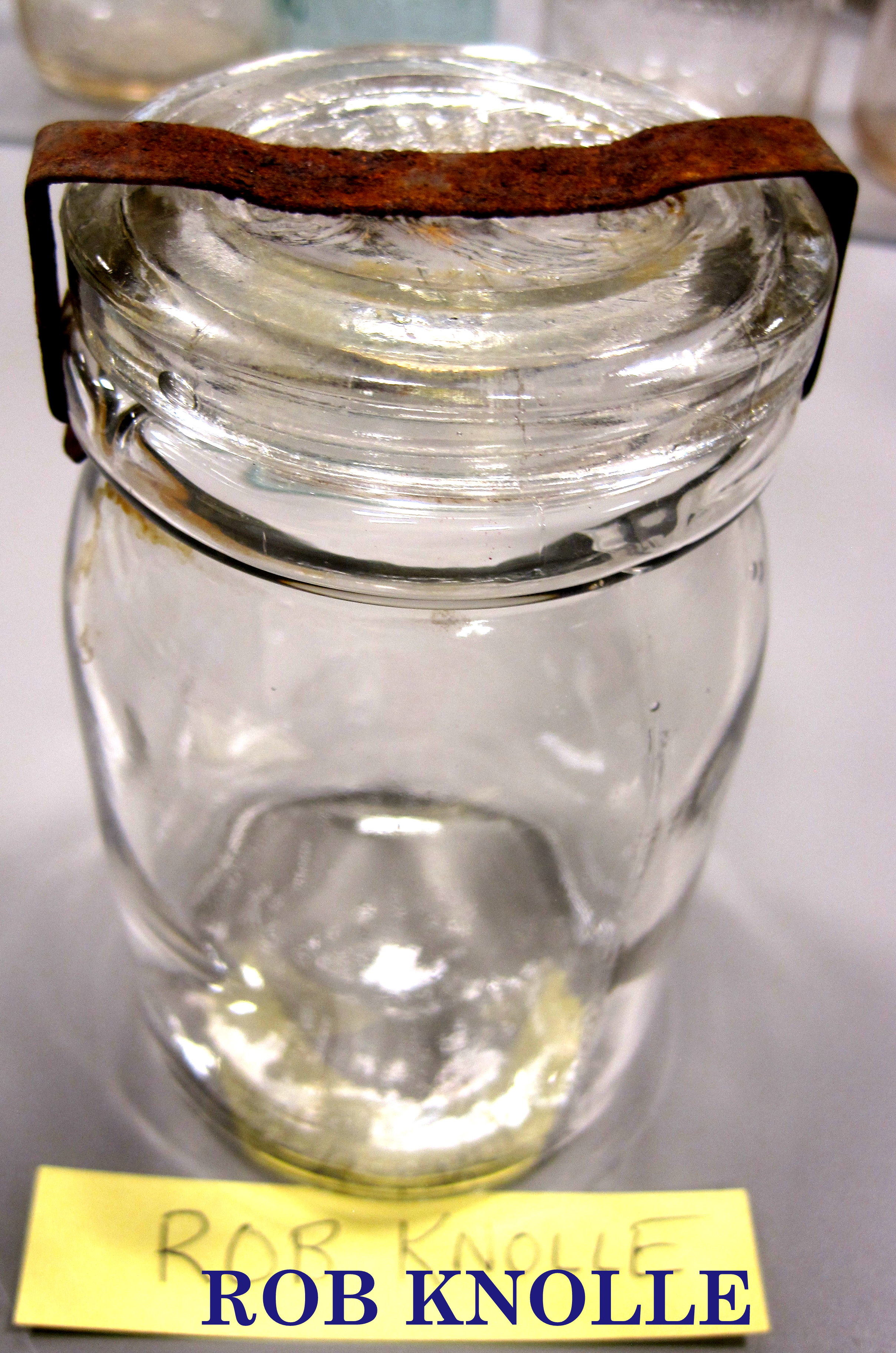 Dairy," Middleville, MI, also with a embossed slug-plate.
Another beauty that Kevin showed up with was a 1-pint, embossed slug-plate "Peck's Dairy" from Hastings, MI.
Next, we went from cow's milk right into mother's milk! Kevin brought in a nice assortment of early glass baby bottles. One example was a rounded bottom half-pint tear-drop shaped bottle with a raised neck. This little nurser is embossed with a star circled by the name "Babe's Companion"
Kevin had some interesting 'double ended' nursers embossed "Eagle Feeder." This style of 1800's nursers is sometimes referred to as

banana bottles.
When I first saw the double ended nursers I had no clue!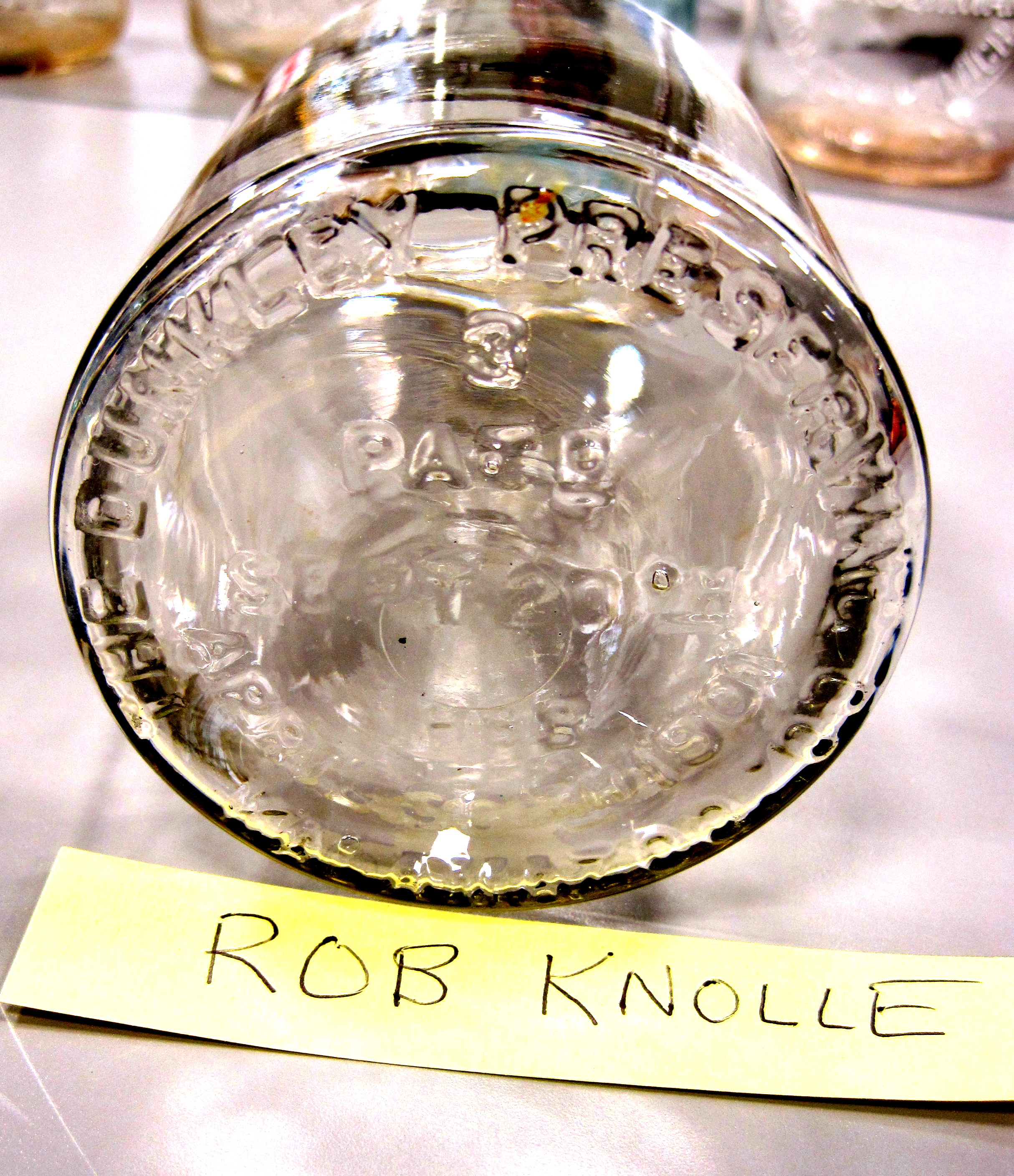 "Why would they accept a nipple at each end?"
I suggested it was for conjoined twins. I know that is not funny. But what could it be?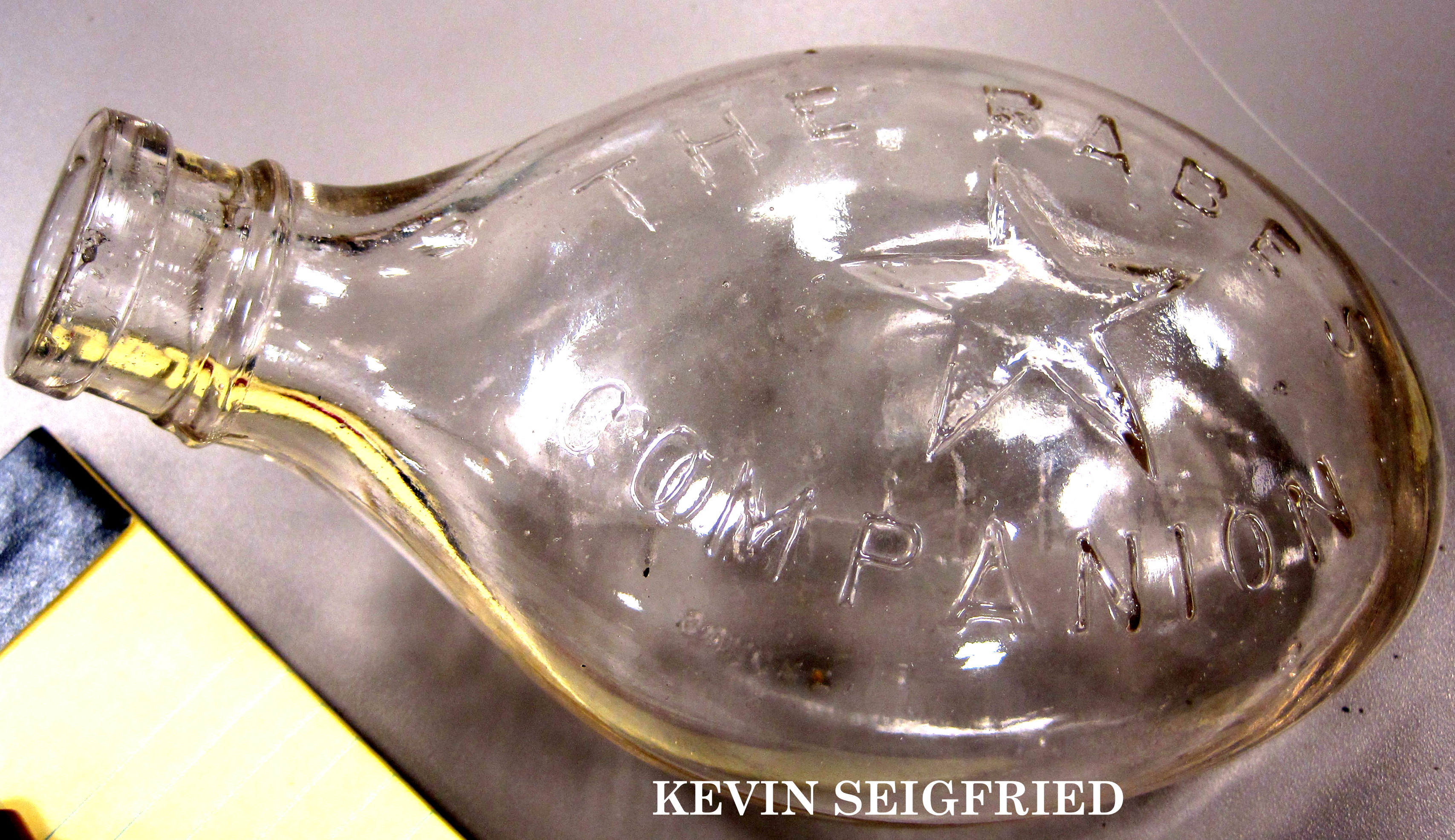 Early baby nursers have been found in ancient Egyptian tombs which were very similar to tiny clay cream pitchers like you may see in a child's tea set.
They were made from kiln baked clay and glazed for easy cleaning, no problems there. Of course the one doing the feeding was controlling the flow all during the feeding.
When the baby bottles became dangerous was when inventors saw $$ to be had, by building a better mousetrap!
This glass baby's bottle with the rubber hose and nipple was eventually referred to as a "Murder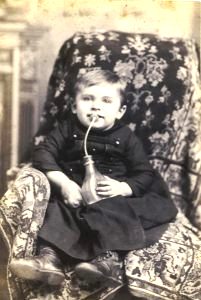 Bottle."
These bottles, which resembled the shape of a banjo, were most popular during the Victorian age. Mothers at the time thought that having a bottle which could help their young child virtually feed him or herself, was something to be proud of.
These "killer" bottles were made under the brand names 'Mummies Darling', 'The Princess', 'Little Cherub' or 'The Alexandria,' giving the bottles an air of quality & safety!
Not only were they were very difficult to clean, but a very popular figure of the time, a Victorian "lifestyle guru" called Mrs. Beeton (Mrs. Beeton's Household Management) was writing in her nationally published advice column that it was not necessary to wash the nipple for 2 to 3 weeks!
The bottle itself could be made from glass or even earthenware. Corked with a rubber stopper, threaded with a rubber feeding tube, running from the bottle to a nipple, it was a perfect device to breed bacteria. The stoneware bottles were nearly impossible to clean and totally impossible to inspect! They were bacterial breeding farms!
Today we have unthinkable abortion. For the most part, I believe our ancestors cherished their offspring. During the 19th century, even doing your best to love and care for the little ones was hazardous! If Mrs Winslow didn't kill them, their baby bottle might!
The double ended banana bottles were the solution to baby bottle problems!
Even though they were double ended, and able to accept two rubber nipples, one end was used to vent the bottle.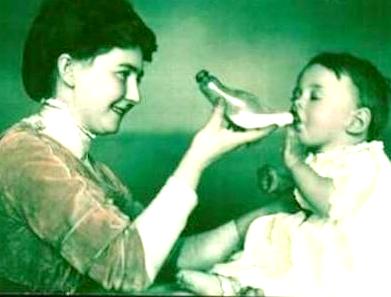 The beauty of the banana bottle was that it was open ended, so a good, firm bristled bottle brush could be passed right on through. Also, being open ended it could be rinsed completely, and being transparent, you could see and control everything for a good effective cleaning. With the bottle cleaned, then rinsed in boiling water, it was truly sanitized.
While banana bottles are rarely seen today, in the late 1800's and early 1900's they were very popular in the U.S. and Europe.

When I was growing up, my friend's family lived on Mitchell Street in Otsego. Their home was on the very end of the street. When you reached the end of the road, there was a foot path leading down to the river. On both sides of that path there was a swampy area that someone had been using for a dump.
We liked to play in that area. His folks had a little blue berry patch, and just past that, my friend had a crude little duck blind on the Kalamazoo River bank.

One day when the water table was low, we started exploring areas that had dried out more than usual. In a large group of thickets, we found 2 partially buried 1920's automobiles.
We decided that we would dig them out and build a couple of hot rods! Armed with a shovels, we went to work. The ground was soft and we had ample strength and great motivation. Under normal conditions, we were sure it would have all worked out. The surprising problem was getting the shovel in the ground . . . it was not good!
The digging conditions were horrible! It was so bad because it was like using a shovel to dig a hole in a sidewalk! We were running into thick buried glass, lots of it! The glass was huge piles of baby bottles!

Someone, perhaps a company, store or a hospital, dumped a huge load of the old style baby bottles!
I have wondered about this for many years. (This all took place before I had any clue about antique bottle collecting.)
As I recall, most of the baby bottles were the turtle style bottles. They may have been dumped during the "Murder Bottle" public scare?
I am sure they are still out in that swamp. Or maybe not. This was decades before the recent river clean-up so today they may all be gone.
I do know that they are planing to continue the Kalamazoo River walk project through that same area. Ironically, there was some heated controversy regarding this property in the newspaper very recently. After my friend's mother had passed away, the family put the property on the market.
The City of Otsego had made an offer, but before a counter offer could be considered by the local bureaucracy, a third party swooped-in and paid the asking price! And, as I recall that third party was someone on the Otsego City board! Needless to say, that didn't go over well! !


Moving on with our treasure display.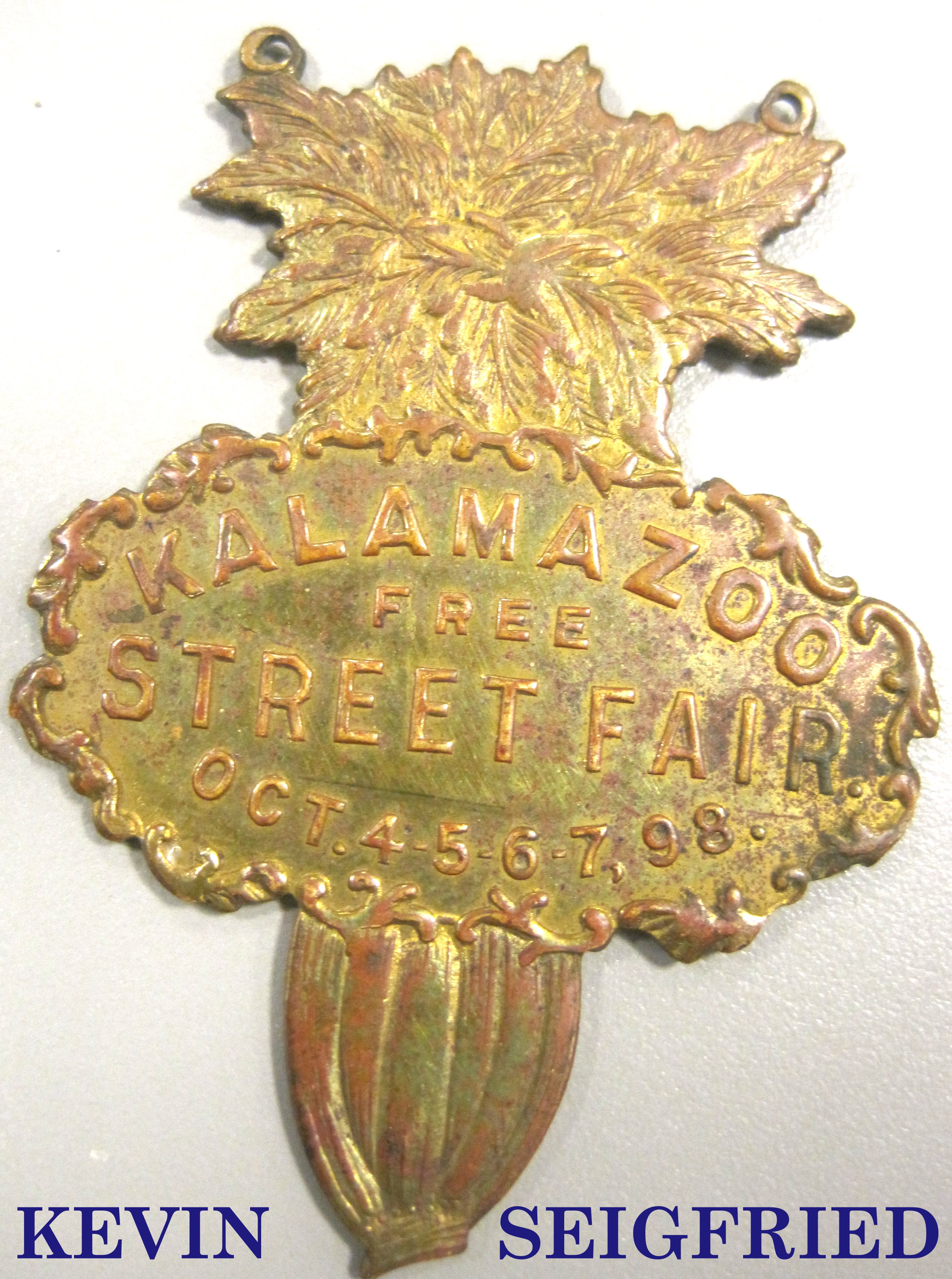 Kevin really had us going with more treasure! Kevin displayed a beautiful aqua MASON'S PATENT NOV 30th 1858-type jar marked with a "Maltese Cross" symbol.
The Maltese Cross indicates that the jar was blown at the Hero Glass Works / Hero Fruit Jar Company of Philadelphia, PA, either above or below the word MASON'S. On many examples, the letters "H", "F", "J" and "Co" can be faintly seen within each "arm" of the cross. On others, no letters are visible. Looking at my photos, I could not see any letters.
I should note: Most of the web sites I found while researching this bottle posted large colorful warnings about a never ending flow of fake- colored Mason Jars filling the decorator market. They point out that this trend started in the 1970's and many of these decorator bottles have worked their way into estate sales, antique malls, and auctions . . . buyer beware! Of course, we know and Kevin knows that his jar is the real deal.
Kevin found an attic-mint medal from the 1898 Kalamazoo Free Street Fair! I have seen a couple of these that were metal detecting finds, but clearly this beauty was never corroding in the dirt! As you can see, it was attached to a pin or ribbon and is in the shape of a celery bunch! Very cool!
Rob Knoll found a Kalamazoo Dunkley's Preserve Co. Canning jar with an original spring steel top band. We learned at the Kalamazoo bottle show that this one is a real keeper but the most valuable part isn't the glass, it is that original steel closure!
I didn't have as much time to spend researching this as I would have liked. We already learned about the bottle from one of the best - - my friend, Doug Leybourne!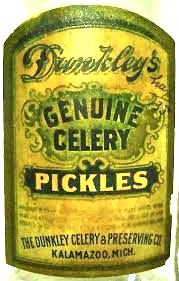 I wanted to learn about what sort of "Preserves" was put up in the Dunkley Preserve Co. jars. Most Kalamazoo collectors know that Dunkley was a big name in the Kalamazoo Celery industry. He was a grower, packer, shipper and promoter for all things celery-related. However, all around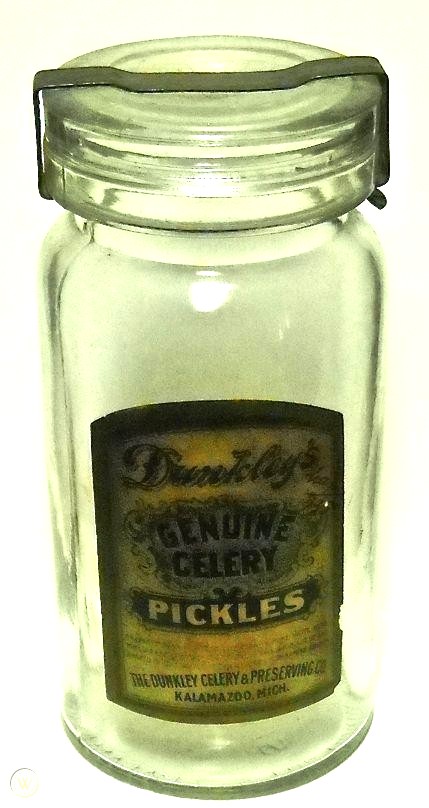 southwest Michigan near the Celery City, this area was known nationally as the "Fruit Belt."
As near as I was able to learn, Rob's preserve jar was a "PICKLE JAR" and not just any pickle! It was for Dunkley's Celery Pickles!
I found an ad for Dunkleys in an 1893 issue of the Anaconda Standard, a newspaper that was considered by journalists as the icon of Montana newspapers. Anaconda, Montana was a copper mining region.
This 1893 ad promoted:

Did You Ever Eat Creamed Celery On Toast?

**Dunkley Canned Celery**
**Dunkley Pickled Celery**
**Dunkley Celery Salads**

To any lady who buys or asks for our goods, and sends 3 ~ 2¢ stamps for postage, a package of our famous Celery Nervine- Pellets, and one of our beautiful embossed receipt books.
For 19¢ additional we will send a
two pound can of our famous celery.

When I worked for Charlie Andrews in his cider mill, he always had a wad of Red Man chewing tobacco in his cheek. Of course, being 13 and 14 year old kids, we didn't have access to chewing tobacco, but we thought it was cool nonetheless.
Part of our job was hauling out the huge racks of burlap apple pulp and adding it to the pile behind the barn. We would pack a plug of apple pulp in our mouth pretending it was tobacco! We thought it was pretty good!
We would grab an occasional apple from the bin to munch on and we would carefully inspect them for evidence of worms; in most cases there were! We weren't as fussy with the pulp tobacco. Charlie used to say, "Worms add character to good cider."

I say all this after seeing the promise of "for 3~2¢ stamps to cover postage, free Dunkley's Celery Nervine Pellets!" You just have to know these wonderful, proven, world-renowned Nervine Pellets were pelletized left-over pulp, a byproduct from squeezing out celery juice for Celery Tone!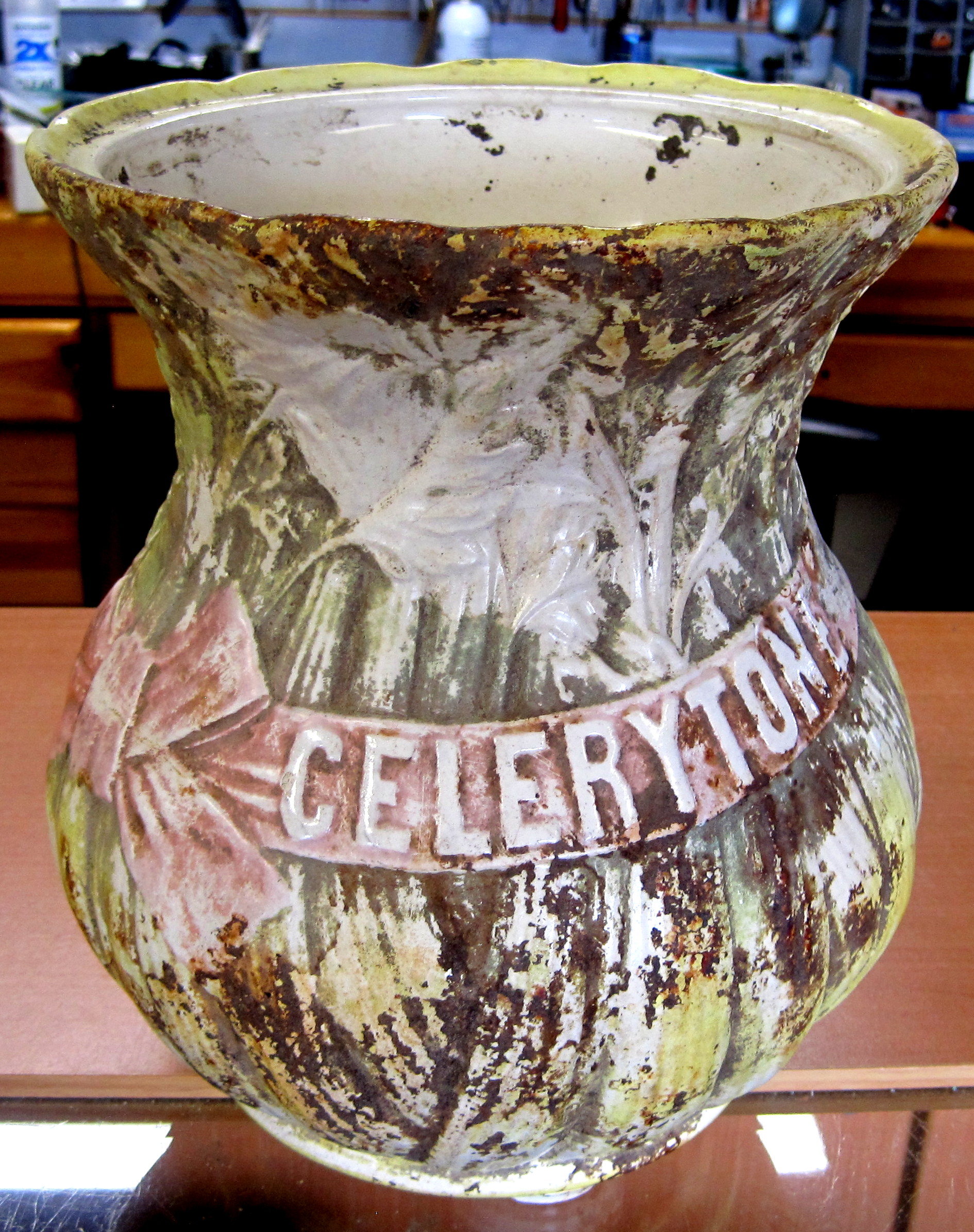 Speaking of Celery Tone, Dunkley made a drink that was sold through dispensers at drug-store soda fountains. Celery Tone concentrate was kept in a dispenser on the back-bar at the soda fountain. The "Kalamazoo Celery Tone Kola" ("Made Where the Celery Grows"), contained cocaine, caffeine, and celery juice, and was marketed as a tonic to make you feel better and relieve headache.

Here is the kicker - - my buddy Sonjit dug part of a Celery Tone Dispenser, and I managed to trade for it!
I found a photo of an 1890's druggist soda bar with a photo of a complete unit but information is very hard to find! I think it is a true treasure!
We enjoyed some Binbo's pizza at the last meeting. Some of the guys brought some items to Bimbo's but I will have to cover those items in the next newsletter.

Look to the far right corner of the bar!!!! Is that cool?