Second Annual Charles Parker Memorial
Bimbo's Pizza Party!
Back in the Saddle Again!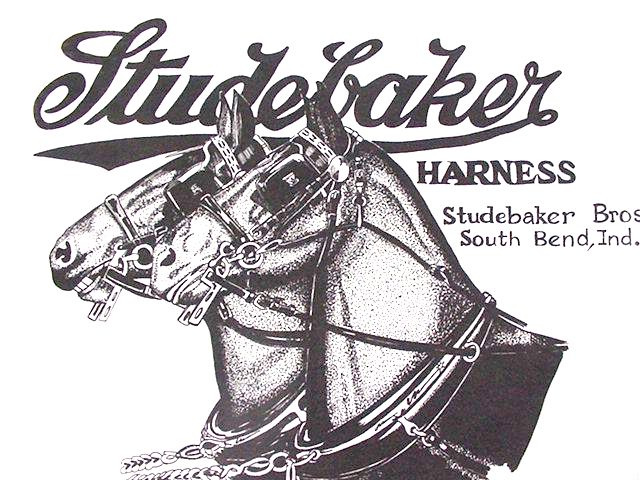 A New Start!
It sure will be good to get the whole gang back together again! I am hoping that everyone had a good summer!
We will be kicking off this new club season with a pizza party at Bimbo's Pizza. The big event will be September 13th at 6:30
I am waiting to hear back from Matt at Bimbo's, but, I am saying 6:30 because they have been closing a 8:00 on week days. That will give us some time without a big rush.
I heard back from Matt, he has us down for September, 13th and, he told he was fine with either time. Because it is hard to order ahead without knowing how many will make the event, and it takes time to make pizza, if we shoot for 6:30 that will work best . . . is my thinking.

LAST MEETING

At our last meeting, just before our summer break, May, 10, 2022, we saw the following smiling faces . . . . . each one glowing with joy unspeakable:
Kelly Bobbitt, Kevin Siegfried, Scott Hendrichsen, Len Scheaffer, Greg Stonerock, Ron Smith, Melissa Hayes, Tim Hayes, and Vincent Grossi, and Al Holden.
Our fearless leader, club president, Rob Knolle, was unable to make it, so vice-president, Vince Grossi, was on hand to lead the parade!

Vince did a great job! Both in leading and taking notes of the meeting for me! (A true multi-tasker!) Thank you, Vincent!
Let me tell you, he did so good, and not missing any tiny detail! After a three month break, that was purely wonderful because my memory is very bad!
Looking over his notes, I do wish someone had mentioned my hair was missing, or that my glasses were smudged at the meeting!
My father always said, "Only your friend will tell you that your tie is in the soup."
It was for my lack of friends, that I learn to tie a bow tie.
I figure if it is in the soup I am too far gone to care!

Vince reminds us that the meeting's main topic was the club newsletter. I had mentioned at the last meeting, that at 71, I would love to retire from my Metal Detector store. However, that would mean selling my store, or, closing it all together. But, recently I have been so busy with other family issues. . . nothing has changed.

I have been funding the club newsletter's printing and mailing at about $50.00 per month. Also, I have been spending the time to build and maintain the web page month-by-month. Also, the Go~ Daddy web hosting platform renews every 3 years for about $300.00.
I am not complaining, these are services I have freely volunteered to donate. And I am pleased to do so. However, I was also handed the treasure's job after Chuck's passing and I am most certainly not good at that job!
With prices going up everywhere, and for everything, $10.00 dues are falling far short if someone else steps in to pay these costs . . . it will be hard for them out of pocket.
So, I am not in a panic mode! Vince put together a short survey which will be included in this newsletter at his request.
We would prefer you returned the survey at the next meeting if possible, or, mail the completed survey to me . .
Kalamazoo Antique Bottle Club
2132 Chaparral Street
Kalamazoo, MI 49006

After the survey results are in, and tabulated, we will discuss the issues with a little better understanding at our October meeting . . . over a glass of apple cider.
LAST MEETING'S BOTTLES
Kelly Bobbit had some beauties on display! The first one was a
"Blount's New Two Star Treatment."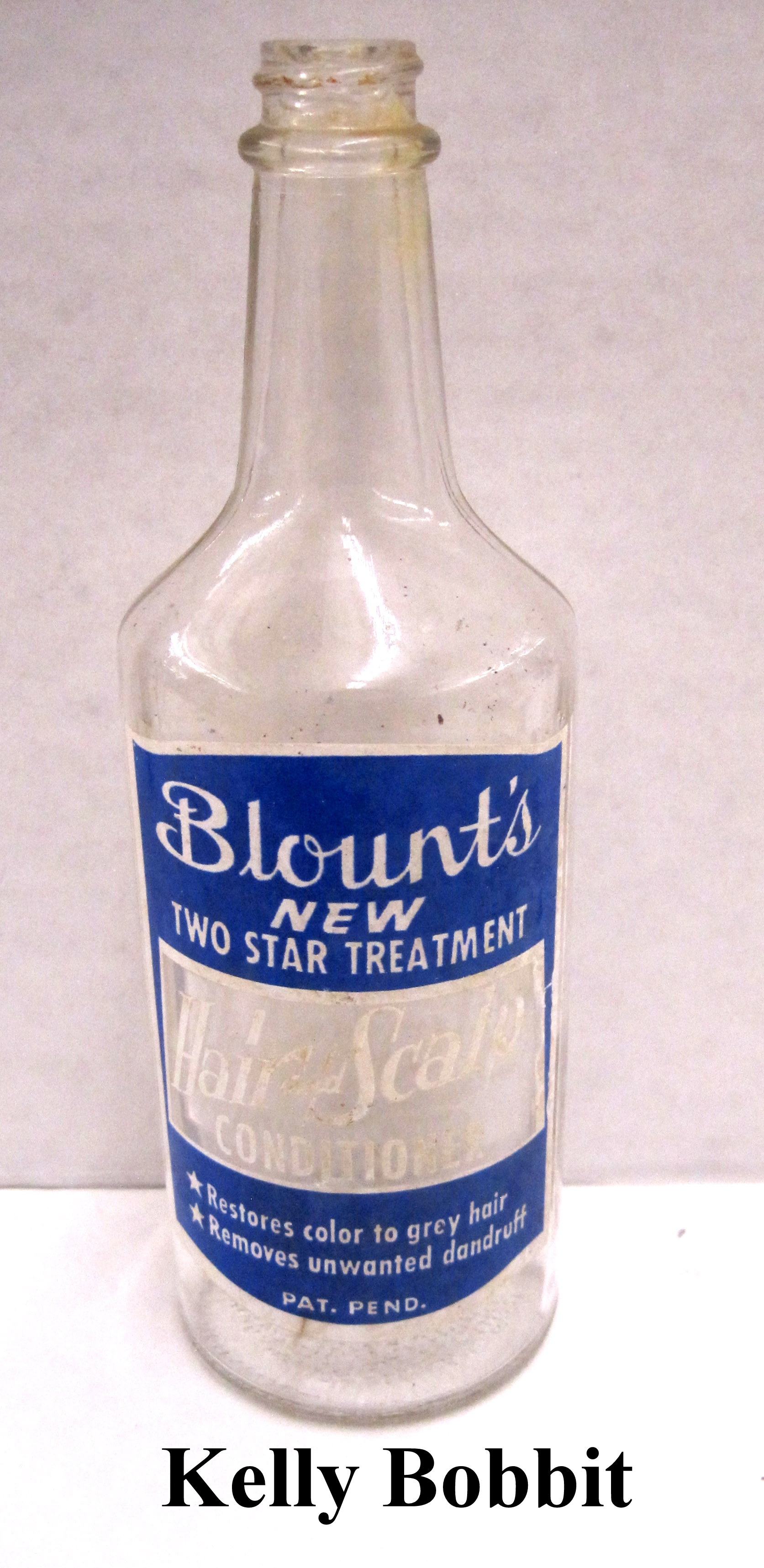 It is Barber's hair-care bottle. It is in clear glass, a machine- made bottle, with a bright blue and white applied color label (A.C.L.) . The product claimed to "restore color to grey hair and removes unwanted dandruff."
The wonder of the early technology! It only removed the unwanted dandruff!
I did a Google search on this product using some different key words and titles . . . and at first I came up empty! Finally, I plugged in a search on E-Bay, and there I scored a hit! Here is what this seller had to say about his $45.00 bottle.
"Original Vintage or Antique ACL Applied Color Label, or Pyro Paint Glass Advertising Hair and Scalp Conditioner Bottle, with Lid, from Farmington, Michigan in Good Original Condition. This bottle is Not a repro and is from a Very Long-Time Collection. I have seen the Blount's Bottles like this from Decatur, Mississippi and Memphis, Tennessee, But have Not seen this Farmington, Michigan Example before now."
Well, my photo of Kelly's was not very clear, and because of the white lettering, it was hard to read, but, I could see where Kelly's bottle says Decatur, Mississippi. Also, the asking price on this e-Bay bottle was $45.00.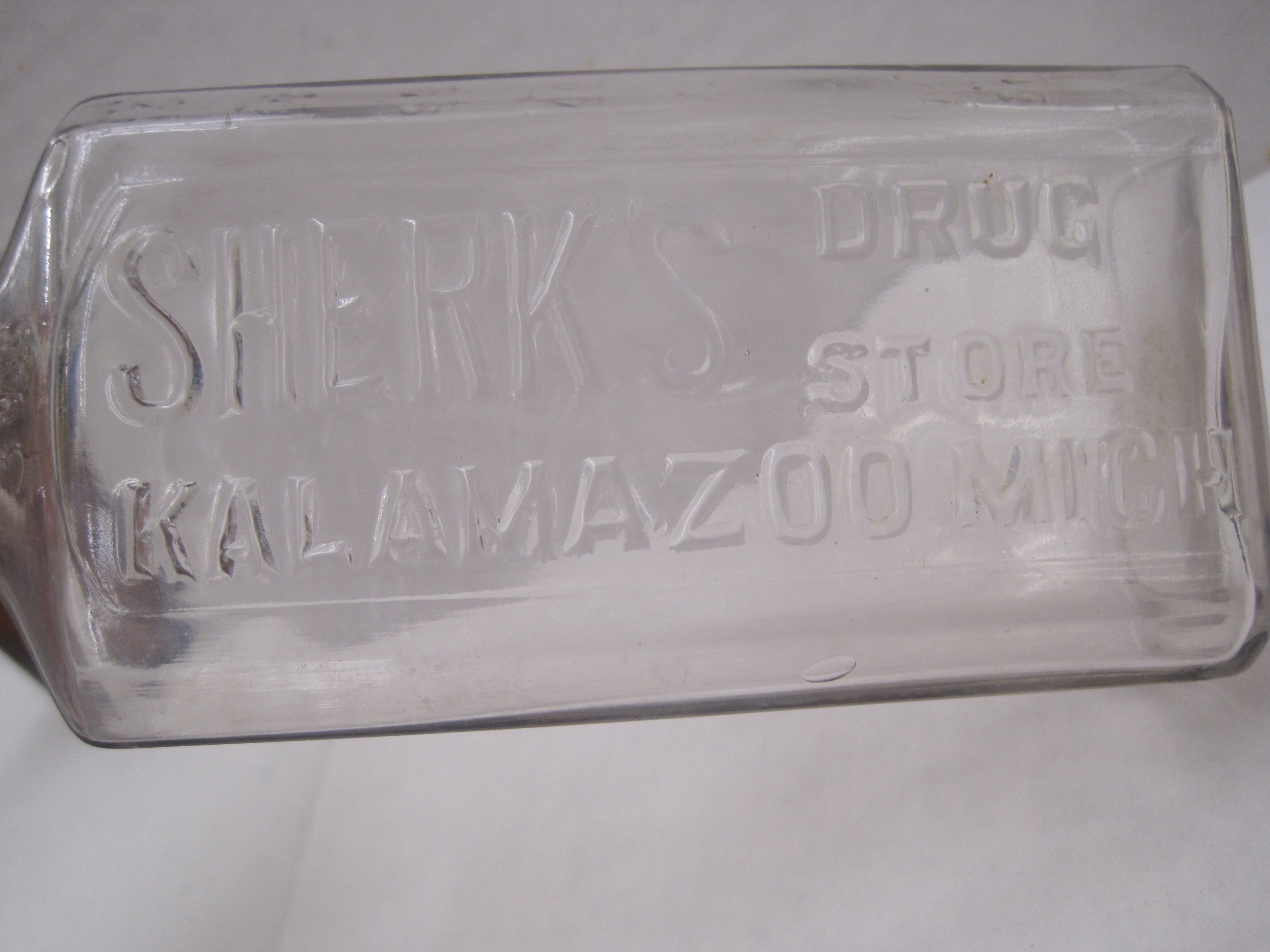 Kelly also has a rare "Sherk's Drug Store," Kalamazoo, MI bottle. It is an early prescription bottle with an applied- tooled-top. In one of my photo's it looks like it is a pale amethyst color.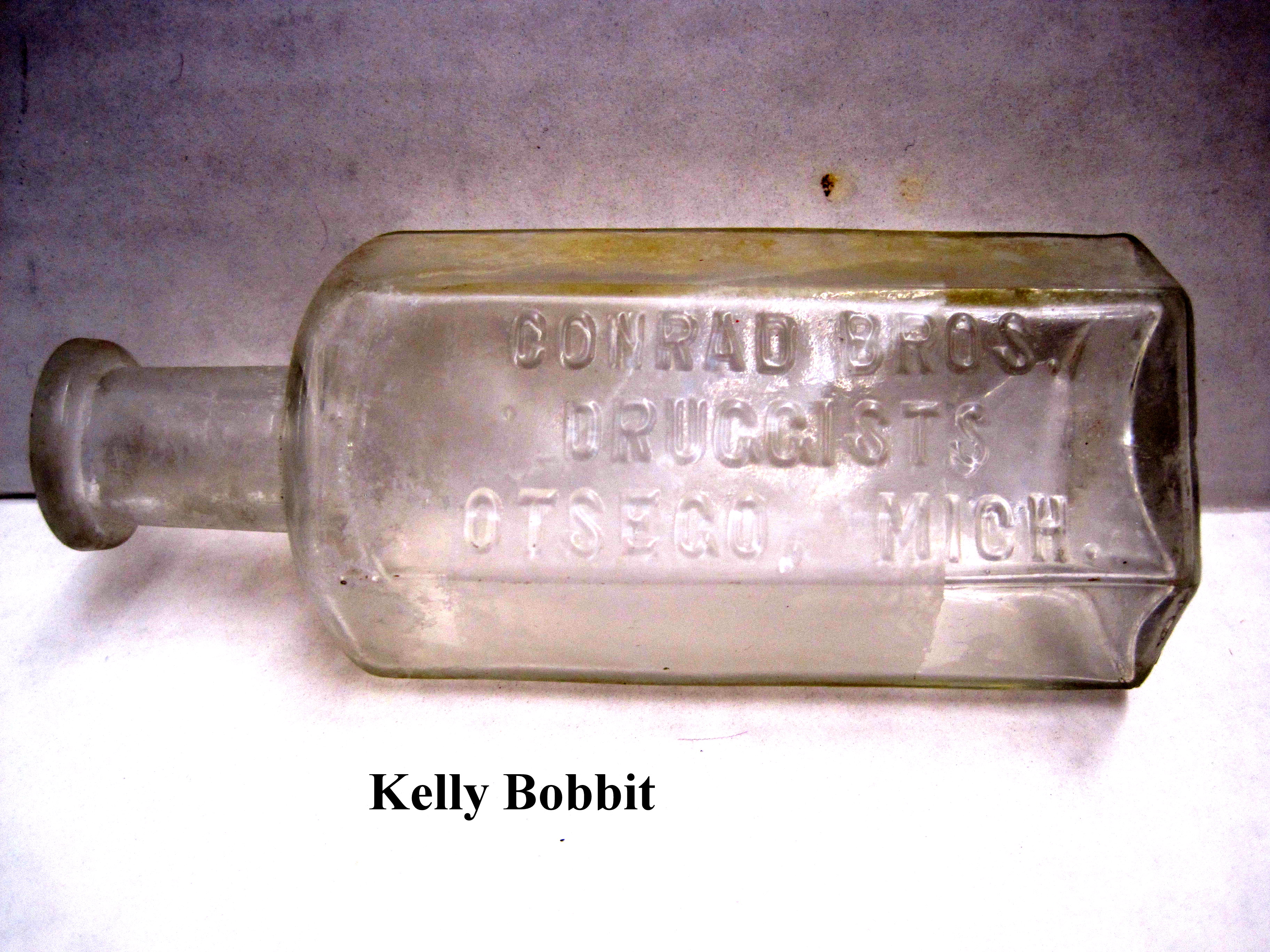 I did a search for this one with ZERO results! Even searching the Vanished Kalamazoo Facebook page . . . nothing! I am thinking a very RARE, short lived store!
Another Druggist bottle Kelly displayed was a Conrad Bros Druggist from Otesgo, MI. It is a small hand-finished, clear prescription bottle with flared top. There were a number of different druggist in Otsego, and I see these pop up from time to time.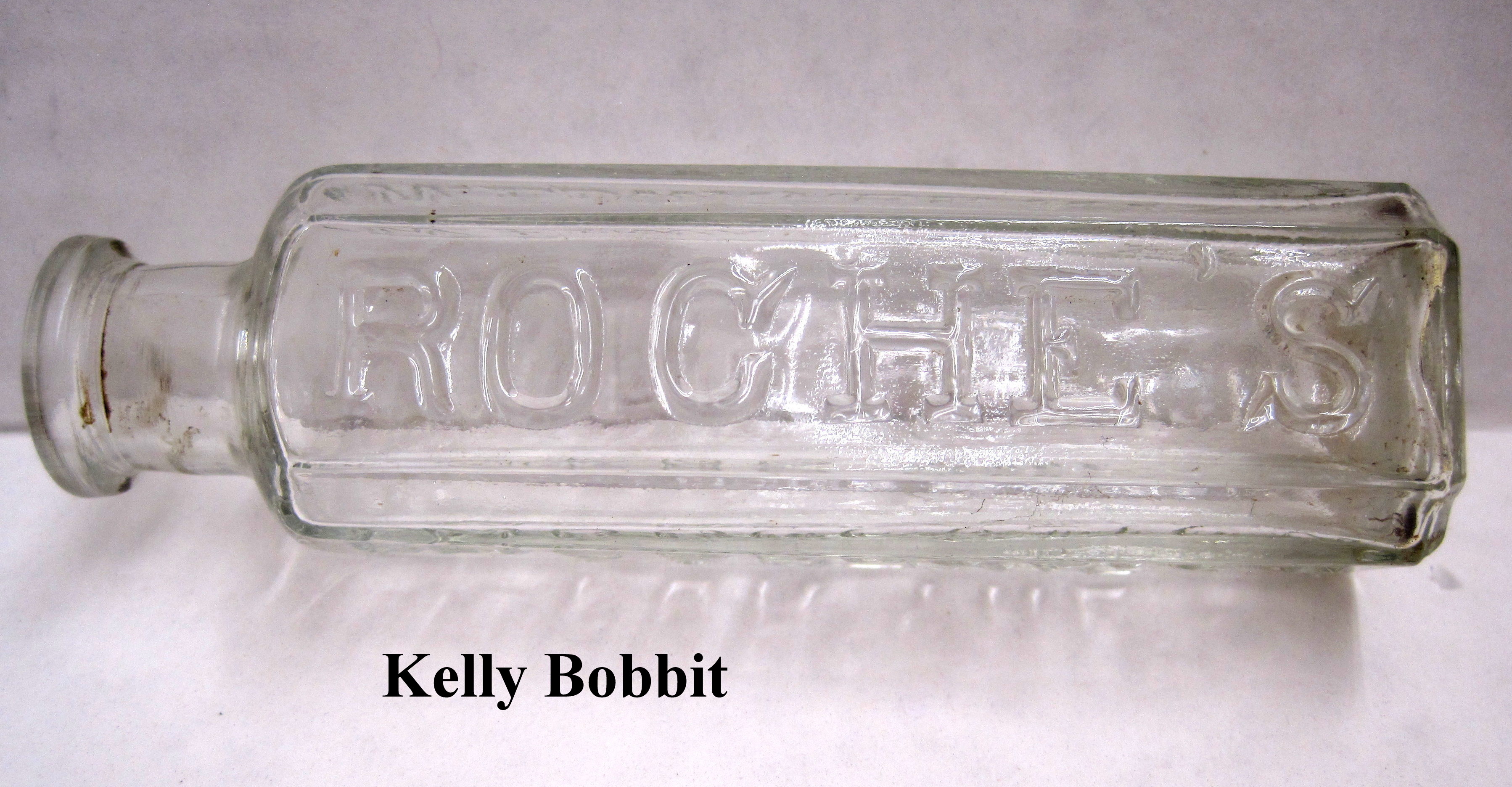 I was hoping to find a time-frame for the Conrad Bros doing business in Otsego.
What I found is somewhat disheartening. Google currently shows two locations for drug testing and one for alcohol addiction treatment in Otsego! Oh the times we are living in.
My favorite of Kelly's bottles, was a small clear applied lip:
"ROCHE"S EMBROCATION for the CURE of HOOPING COUGH"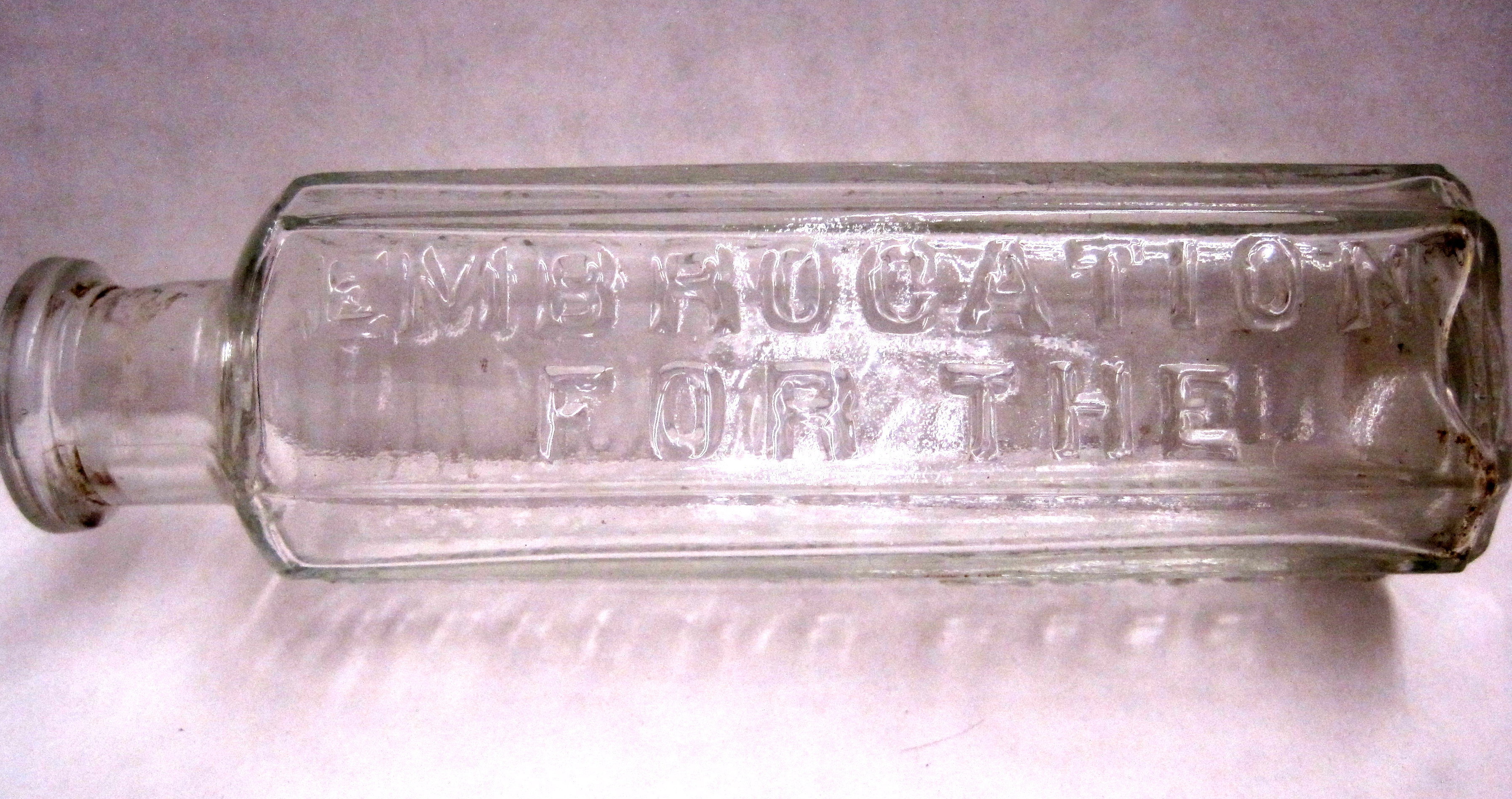 (Sometimes spelled Whooping Cough) This is the sort of thing which draws me into antique bottle collecting. My research tells me, in the UK, the earliest mention of this product that I found was in a gazetteer, listed as part of a local druggist product offerings:
"J. Roche's Embrocation for the Hooping Cough."
Yep! It was included in a store inventory list of patent medicines available on the store shelf, for sale on February 26, "1799!" in The Edinburgh (Scotland) Advertiser!!!
This information turned up within a research article I had located when I entered "Embrocation."
This word had been traced back to Dr. J Roche who, like many early patient medicine hustlers, was quite the word smith!
None the less, the word "Embrocation" has been accepted today describing medications that are topically applied like Vicks, Ben Gay, and other externally applied ointments and creams.
Here is an early pitch from the 1880's for the product in the U.S. .
This is the only discovery affording a perfect CURE, without administering internal medicine, the difficulty and inconvenience of which in all disorders particularly incident to children, are too well known to need any comment. The Inventor and Proprietor of this EMBROCATION can with pleasure and satisfaction declare that, its salutary effects have been so universally experienced, and so generally acknowledged, that many of the most eminent of the Faculty now constantly recommend it as the only known safe and perfect cure, without restriction of diet or use of medicine. . . . Many thousands of children are cured annually by this remedy; on the first attack, an immediate application of the EMBROCATION will prevent the complaint taking any hold of the constitution, and a few times using often completely cures. The Proprietor therefore earnestly and conscientiously recommends it to parents, guardians, and all those who have the care of children.
Well, at some point, the drug importing firm of E. Fougera and Co. began serving as the United States agent for Roche's Embrocation as early as 1849. The product was advertised up until 1938, at which time the government found issue with the product or the advertising claims. . . or both.
All this gleaned by an old collectable bottle! Cool, heh?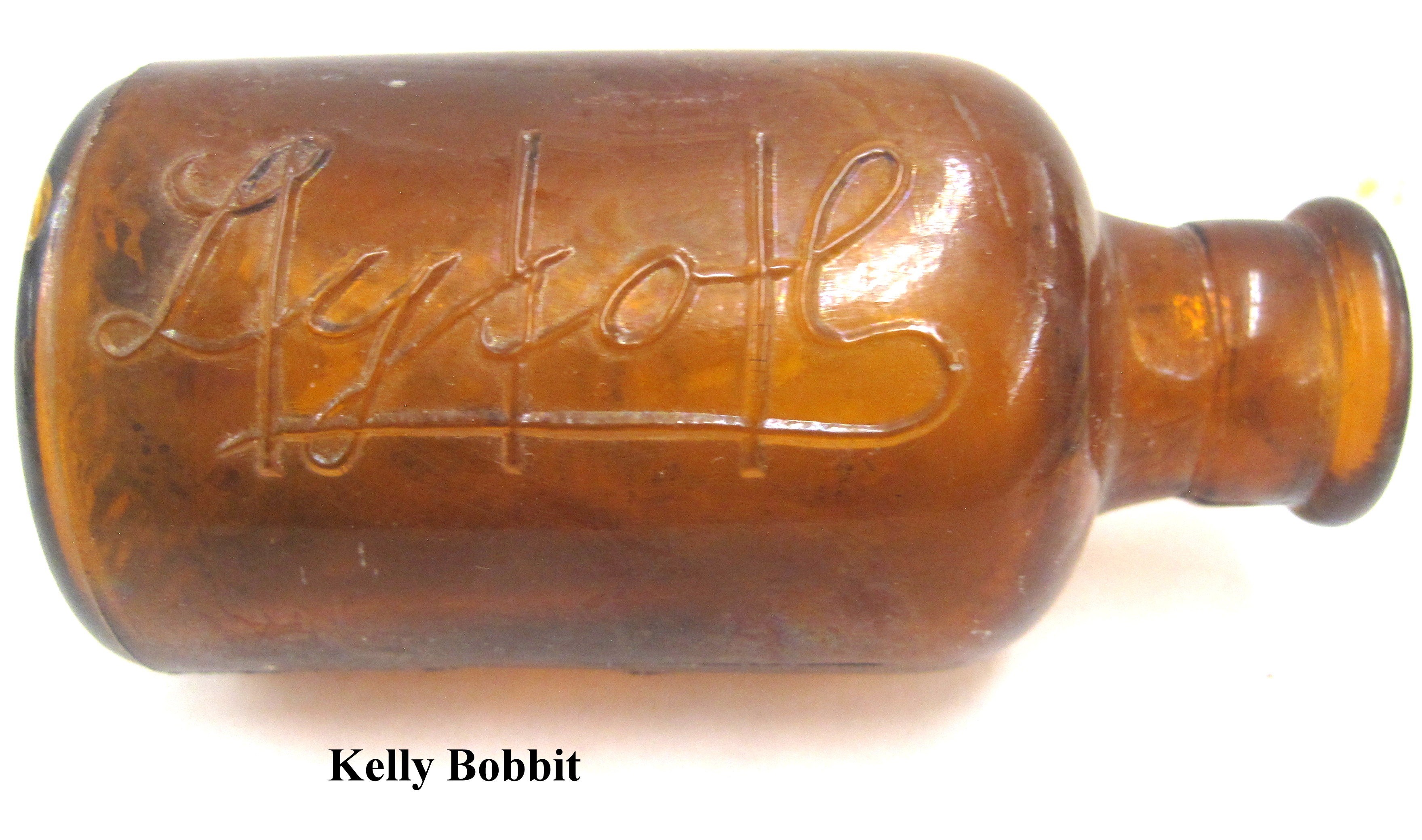 Moving along now . . . . Kelly has a heavy amber Lysol bottle with beautiful and heavy embossing in flowing script, done up in the art-deco style.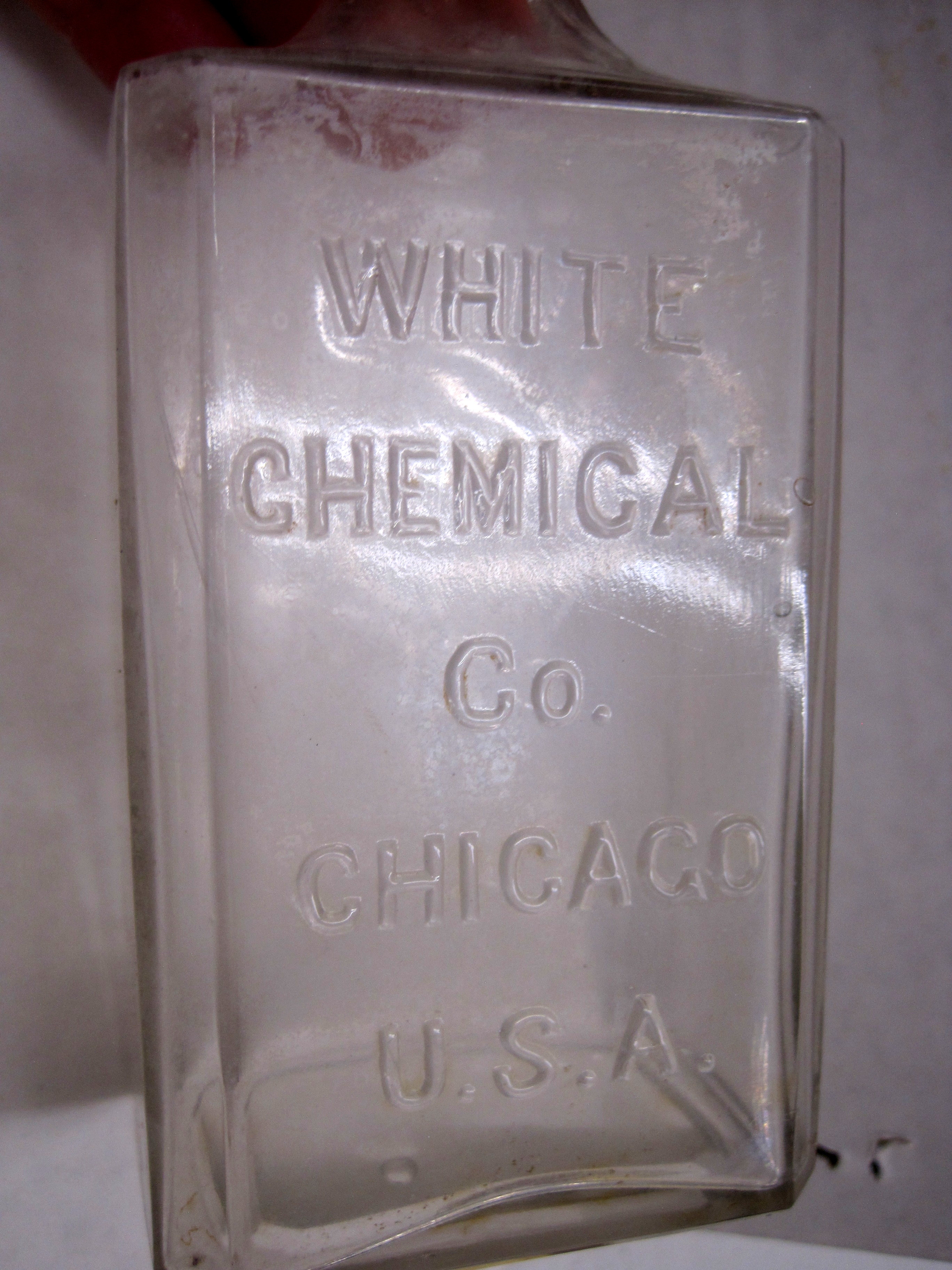 Many of the old bottles from that era are going to be machine made. But they are becoming very popular with younger collectors. I have always loved that style!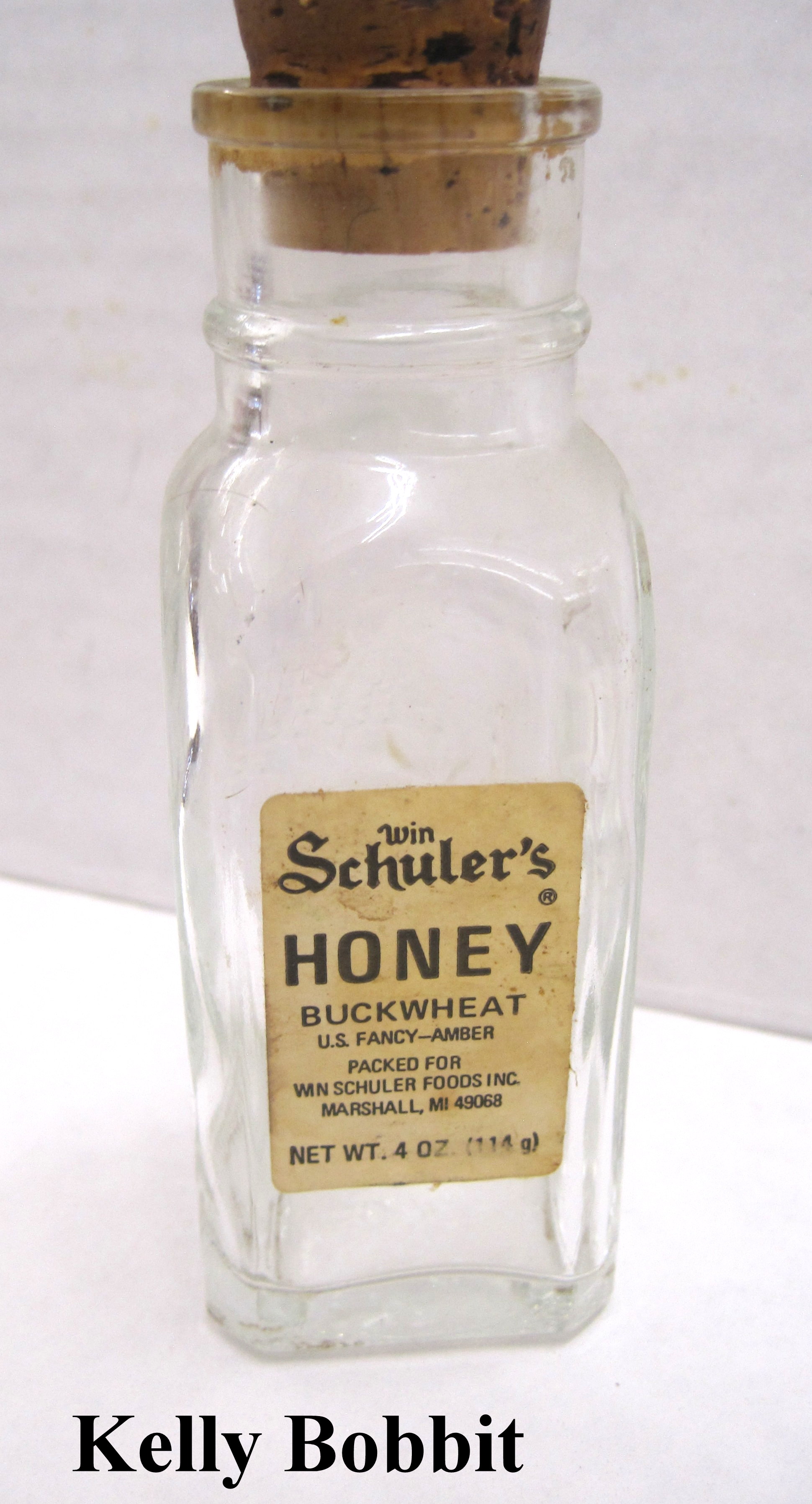 Another machine made bottle, with a perfect label, was from Marshall, MI. It is a
"Buckwheat Honey" bottle from "Win Schulers."

My mother's only sibling was an older sister, my Aunt Gee, (Gertrude) who lived near Dearborn, MI. At least once a year they would meet half way for a nice dinner at Win Schulers.
I understand the restaurant is still in business, but now has a different owner. From the reviews it went from 'gourmet German' to an upscale burger pub.

Greg Stonerock, brought in a interesting bottle,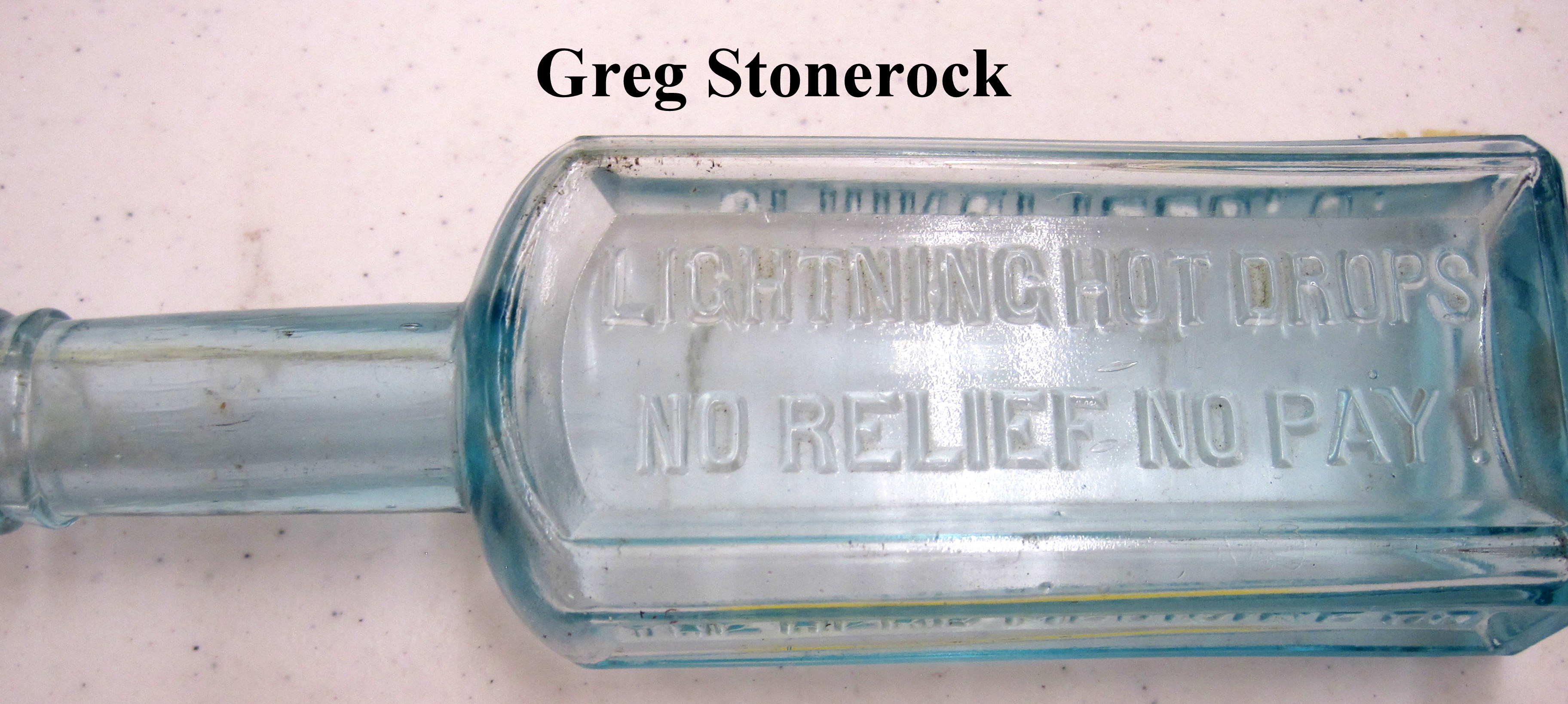 "Lightning Hot Drops"
(NO RELIEF NO PAY!)
"Herb Medicine Company" Springfield, Ohio."
This product had been around well before the 1890's, yet, the original Herb Medicine Company officially applied for trademark protection on this product in 1926.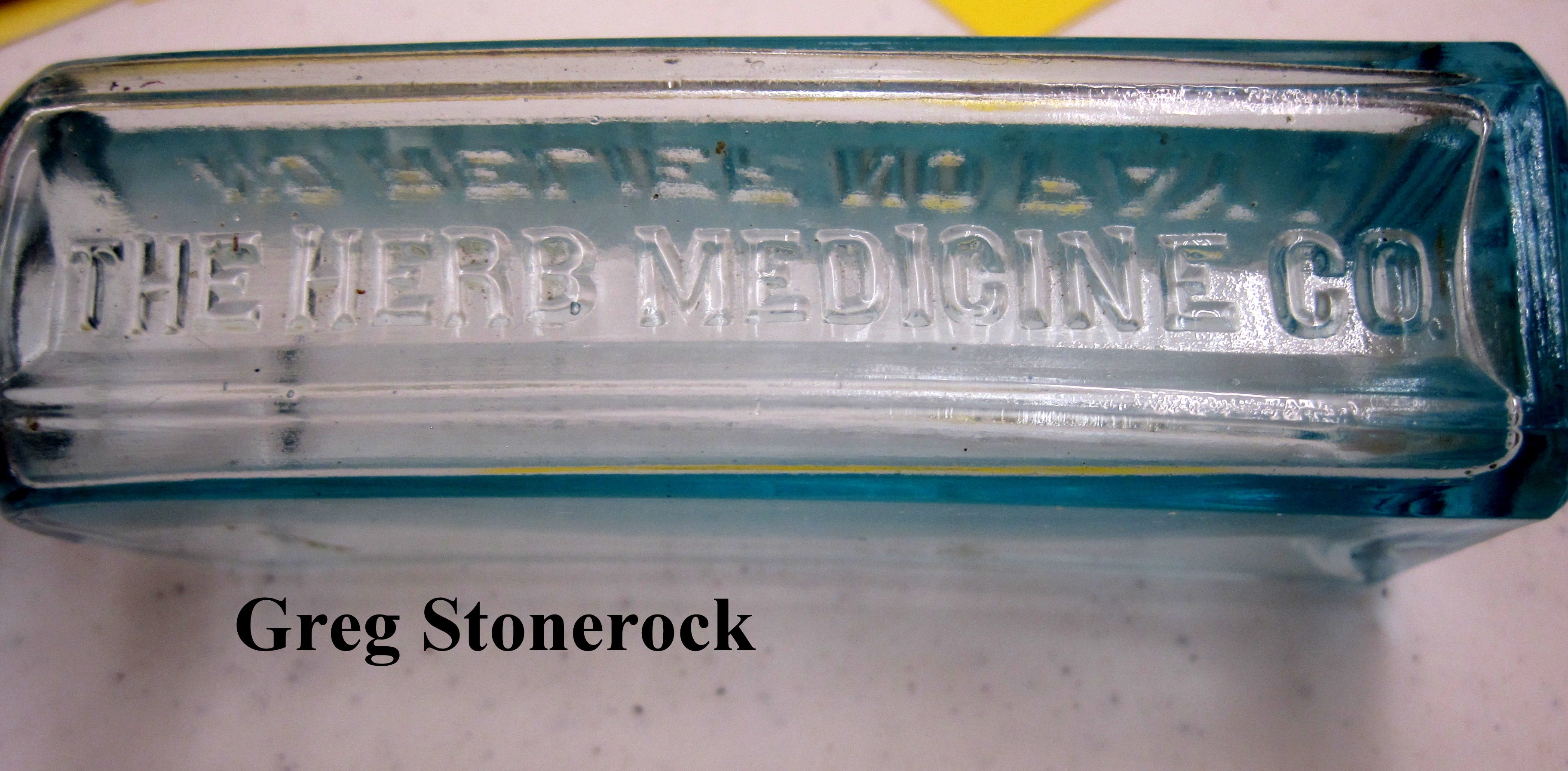 The trademark, "Lightning Hot Drops" was awarded again (To someone) in 1966, and was again requested in 1992, and last requested in 1999.
Sometimes trademark names are applied for, simply keep others from using them for whatever reason.

I did find some information about "Lightning Hot Drops" because I had to know!
Each fluid ounce contained 48 Minims of Chloroform, 48 Minims of Ether in a base of
60% Alcohol!
So, a single Minim is a measurement equal to about one drop!
This means this snake oil had some venom!
The claim? "NO RELIEF NO PAY?" . . .
The label says; "Produces a warming, comforting feeling in the stomach!"
I bet it did! They suggest a tablespoon every half hour!
60% alcohol? Do you remember that line from the movie Tombstone, where Doc Holiday is
holding a bad-guy at gunpoint. The bad guy recognized Doc as being the drunk piano player from the bar. He says, "You're the piano player, you are too drunk to hit anything!"
Doc replied, "I have two guns . . . one for each of you."
The Lightning Hot Drops box that I saw also claimed, "for external bruises, burns, scratches, cuts, abrasions, muscular soreness, strains, frostbite, insect bites & stings!"
Hey! All this goodness for only .30¢ a bottle!
Step right up folks, life is too short, why continue to suffer-so? Put some spring in your step, some joy in your heart, a smile on your face . . . all this goodness as you warm your soul from the inside out!
We have a old Baptist children's song "Heavenly Son Shine" well this is the Devil's version!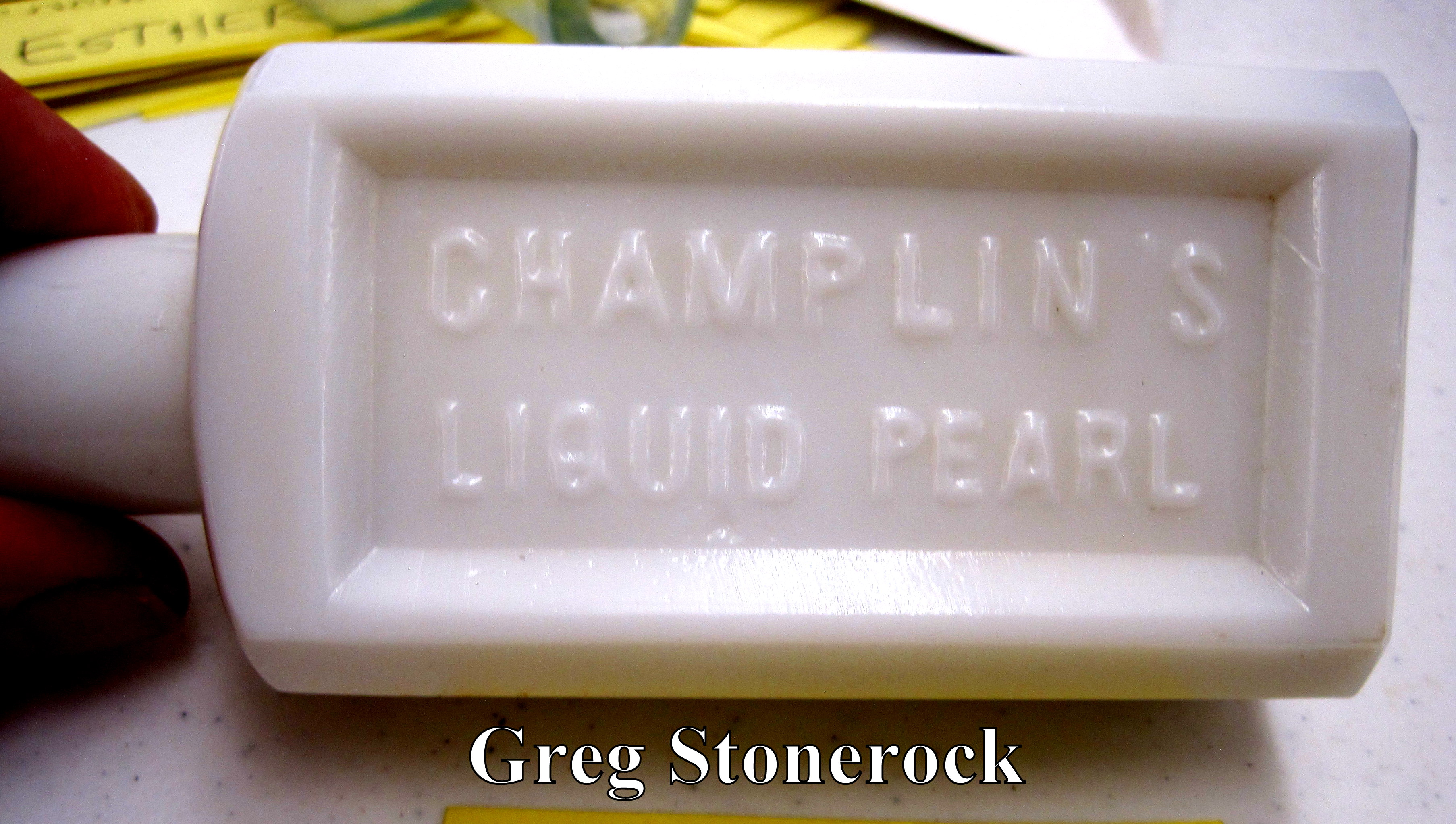 Greg Stonerock, also displayed a beautiful little milk glass "Champlin's Liquid Pearl" bottle.
I was digging, back in a 70's, a river-bank-dump on our property, there I dug my first milk glass cold cream jar! Yes, it was that memorable for me. . I love milk glass!
I hope you can read this little ad, in it, it speaks of Mdm Patti using Liquid Pearl.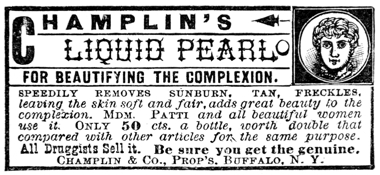 Notice the endorsement picture. That is, THE-ONE-AND-ONLY, MADAM PATTI, the female superstar of the 1890's!
Adelina Patti, was an Italian, 19th-century opera singer, earning huge fees at the height of her career in the music capitals of Europe and America. She remained in the top spot up until John, Paul, George and Ringo!
She first sang in public as a child in 1851, and gave her last performance before an audience in 1914. She not only sang like an angel, she was considered to have a special heavenly beauty! She began singing on stage when she was seven, and was the undisputed diva soprano of the world for fifty years! It was said; "Her voice stayed strong and beautiful because she never forced a tone."

Kevin Siegfried brought in is a full assortment of Kerr & Ball canning jars complete with Zinc jar lids. I have said this before, if I were single, I would have a set of these for a canister set! My wife and I see beauty very differently.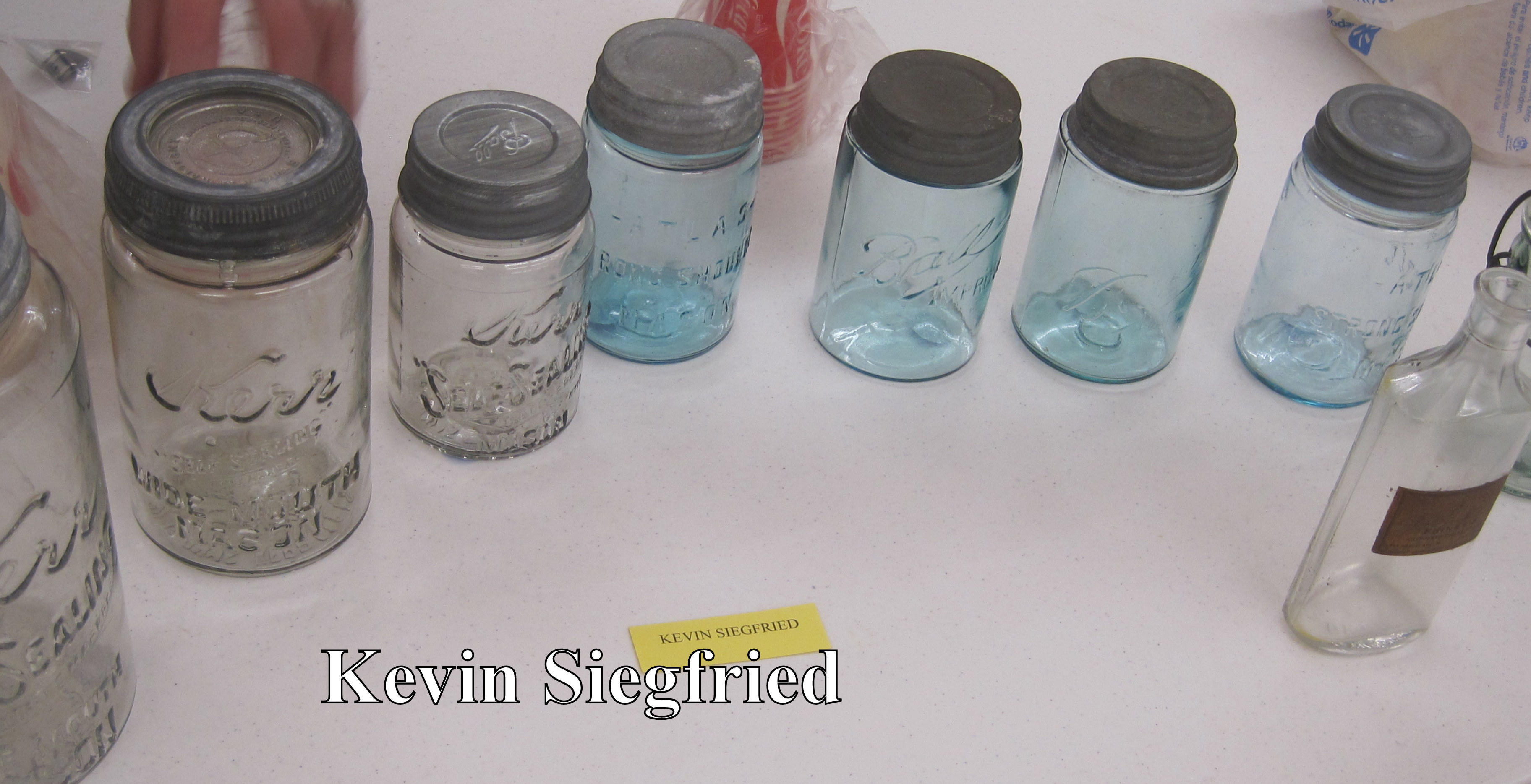 Kevin also has a gold-mine in waxed cups! He has an assortment of waxed Coke Cups in two variants . . red & white, and several Borden Ice Cream Cups.
I think the world was well served with waxed cartons! I still have some of my Grandfather's Michigan Cottage Cheese cartons that are fully serviceable after 70 years! Yet, they are made from 100% renewable resources with little to no fossil fuel, and they readily break down in a landfill.
Yes sir, glass and paper over plastic any old day!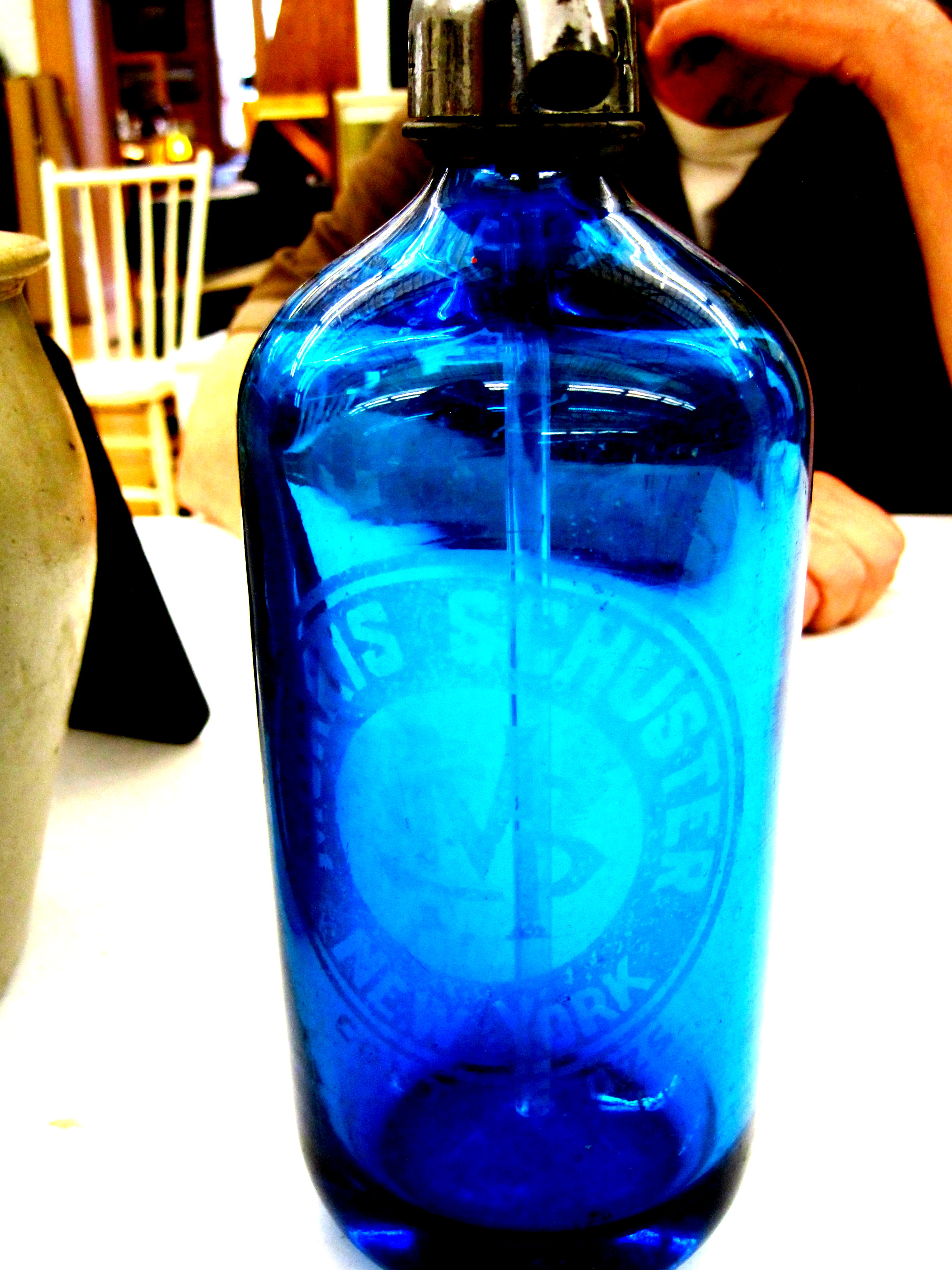 Scott Hendrichsen was on hand with some neat stuff as usual! We are always excited to see what he has unearthed! No pun intended! He showed off a beautiful, "Morris Schuster, New York" 26oz. seltzer bottle. This bottle is a beautiful shade of cobalt blue, that, with the light hitting it, well, it looks almost electric!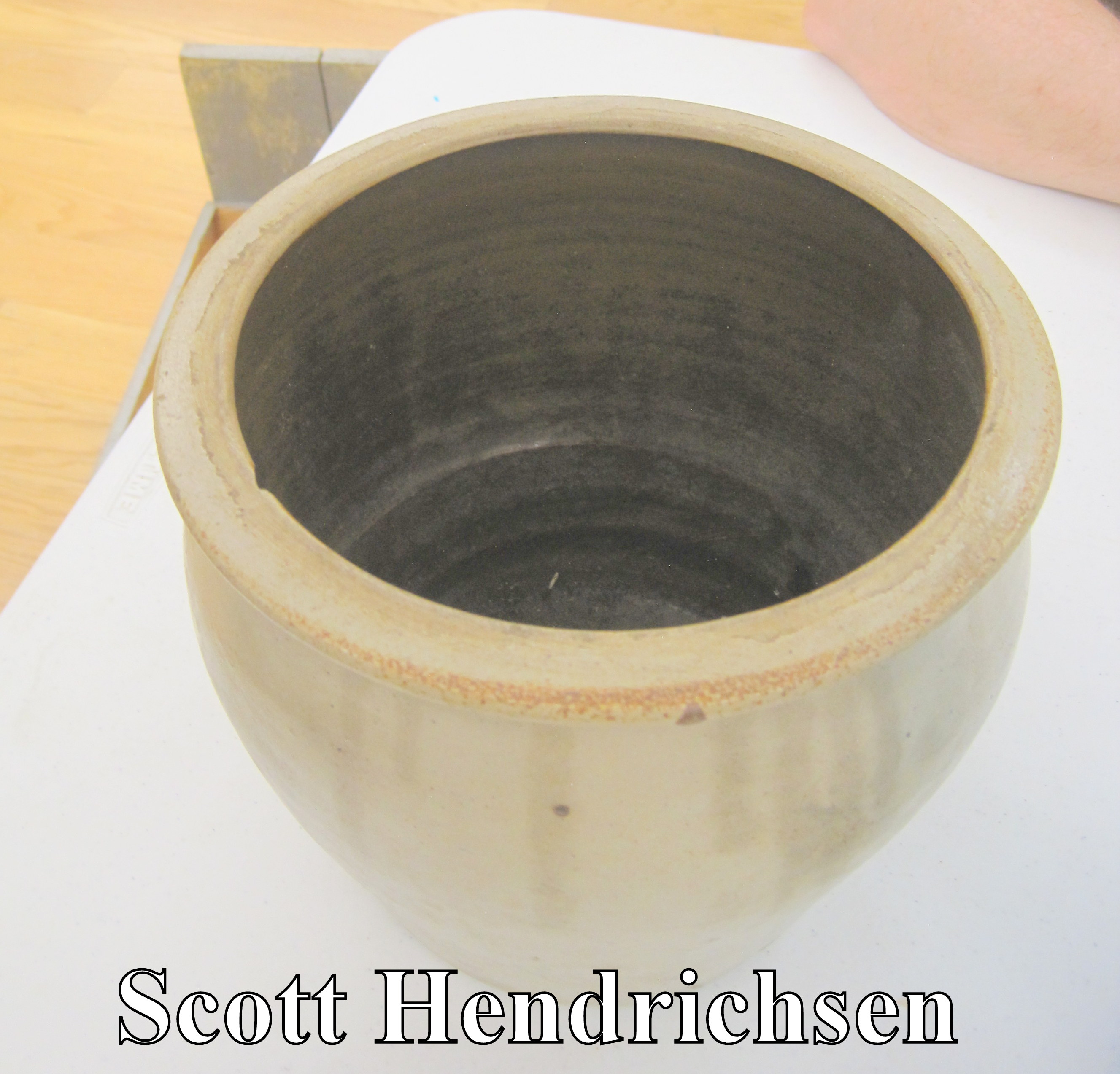 Scott also displayed a near perfect stoneware clay crockery pot. Since before the American Revolutionary War, American potters have fired up their kilns making key storage and cooking utensils. Scott's is a style which I like to call a "baked bean" pot. I have some that I have always wanted to make some sticky sweet baked beans in!
We had a lady in our metal detecting club who made baked beans for our club pot-lucks, and they were flat out the best! I wish I knew her secret. They were so thick and rich, and frankly they were hard to get off the spoon! They had a rich, sweet taste that was beyond my ability to describe. I am fairy sure she incorporated, molasses, sorghum, brown sugar and she may have melted down some Slow-Poke suckers somehow! Man were they good!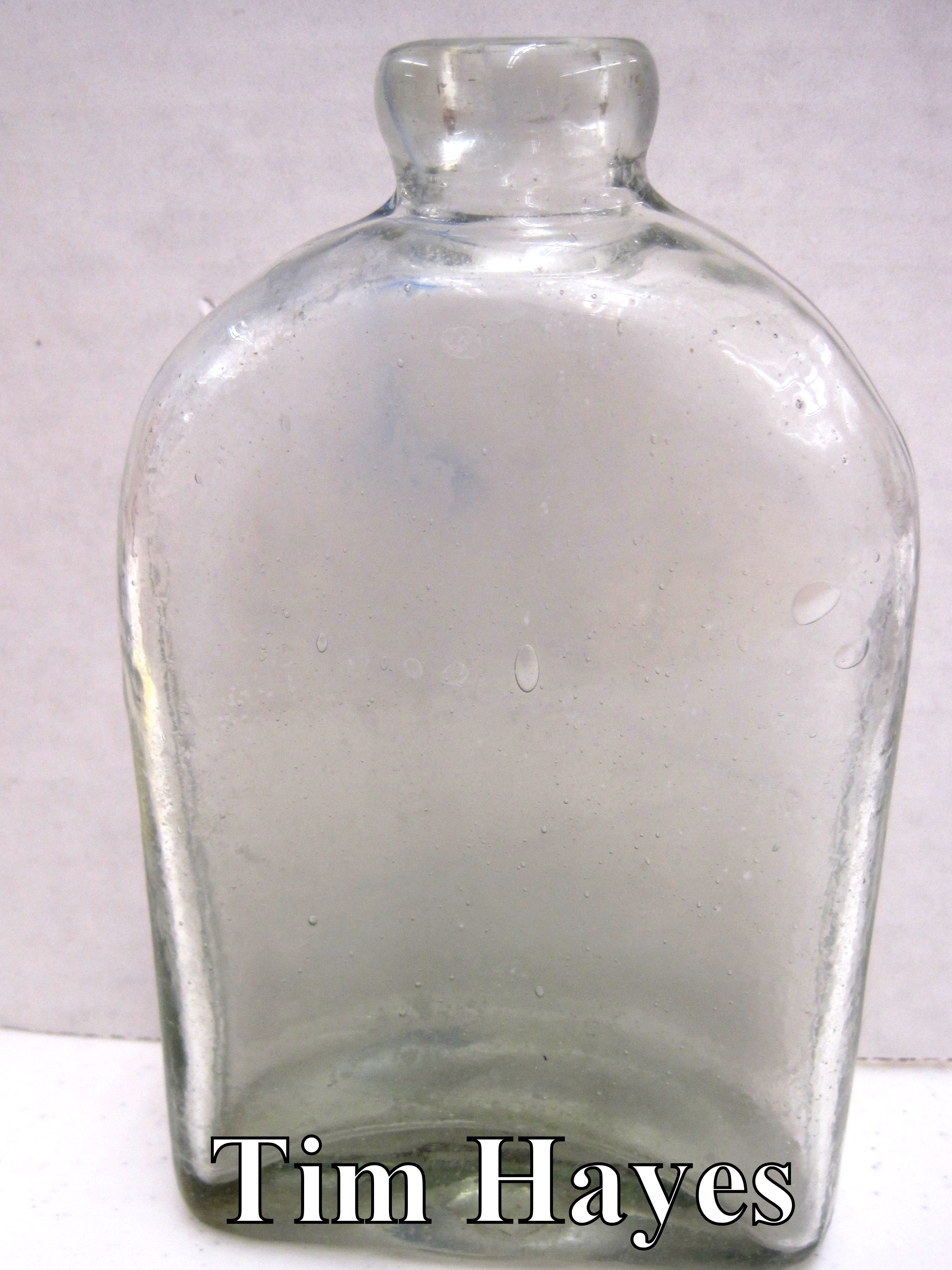 Tim Hayes, our resident flask collector, displayed the mother of all pontiled flasks! It is a pint size flask in clear glass . . . and that puppy is made from thick glass!
I have watched those stunt man videos, where someone in an old western saloon fight would smash a featherweight prop-bottle over someone's skull. Don't let Alec Baldwin get his hands on this one!

After a long summer break I am always concerned if I got this list of items credited to the rightful owners. Let me know if I forgot someone or some thing and I will make it right next time around!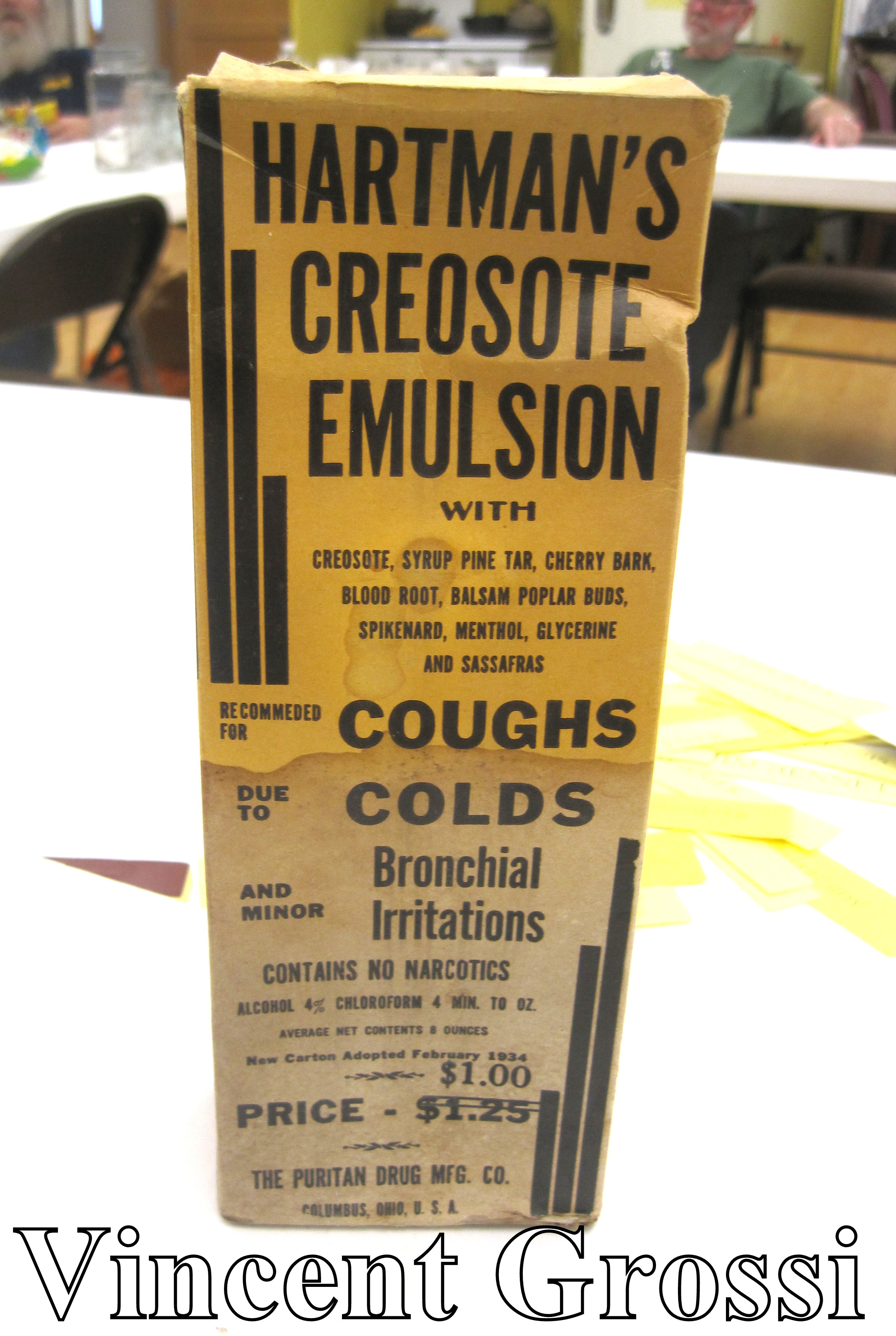 Good Ole' Mr. Vincent, diligently put together a show pass- out flyer, inviting folks to join the club. I have no idea the number of flyers that were cast out on the bottle show's flowing sea of people, but I happen to see at least one bobber sink below the fray! Yep, we certainly landed a new member! His name is Brian Wages from Burlington, Mich. Welcome Brian Wages! Brian, that hour drive to Kalamazoo for Bimbo's pizza is well worth it, and you are a member in good standing!

My dear friend's, in this era of disease and poverty, if you are bringing recent outhouse digs to Bimbo's, please wash them off before they are passed around the table. ICK!
I was digging with some friends at two houses in Decatur, MI. The grocery store had purchased the two 1860's homes to allow for store expansion. We dug about 6 pits! We decided to duck into the store for pop and snacks. My buddy, Chip unwrapped a chocolate bar, when suddenly he fumbled it. It fell into the pile of earth that had been freshly removed from an outhouse. He picked it up and brushed it off saying, as he took a bite, "It's only dirt."

---
Kalamazoo Antique Bottle Club's First Survey

Enclosed below, The Kalamazoo Antique Bottle Club's First Survey for September, 2022- May, 2023 meeting calendar. First, the bottle club would like everyone to file out new Kalamazoo Antique Bottle Club Membership Form 2022-2023 to update our records. The membership form will be accompanying the survey.
Second, the bottle club's survey will hopefully help the club better recruit new members, organize meetings, planning more bottle shows, quest speakers, and other special events.
Survey Question Number One: Would you support the proposal of changing the current meeting schedule of the Second Tuesday of the months ( September, 2022 - May, 2023 ) to a different day of the month ? If, this change would allow more outside members to join our club. The bottle club was asked original to change our meeting schedule to the First Tuesday of the months by two members of the coin club, Tim and Dianne Janssen back at February' meeting. Please, give us your opinions and comments below: ( Check Box if possible )
________: Yes, I would support the proposal of changing the current meeting schedule if it benefited the club overall. Please, list 2-3 different meeting days of the month that would work for your schedule. Other Comments:

________: No, Please keep the current meeting schedule. Other Comments:


Survey Question Number Two: Would you support the proposal of changing the current meeting schedule of nine months( September, 2022-May, 2023 ) to meetings year round ? If, this change would allow the club to hold more planned summer events like club picnic, club digs, mini bottle shows or tailgates, etc. Could help the club recruit new members? The stamp and coin clubs in our area meet year round. Please, give us your opinions and comments below: ( Check Box if possible)

________: Yes, I would support the proposal of club meeting year round if it benefitted the club overall. Other Comments:


________: No, Please keep the current meeting schedule. Other Comments:


Survey Question Number Three: Would you support the proposal of the bottle club's newsletter going paperless ? If, this change would allow the club to reduce overall monthly costs ( $ 50 ) of producing the newsletters. Many club members are receiving both email and hard copy of the newsletters. The club will still provide hard copy of the newsletters to any members who request that form. Everyone otherwise will receive their newsletter by email or by visiting the club's web site: www.kalamazoobottleclub.org . Please, give us your opinions and comments below: ( Check Box if possible )

________: Paperless, the bottle club's newsletters. Other Comments:


________: Hard copy, the bottle club's newsletters. Other Comments:


Survey Question Number Four: What bottle collecting or related topics would you like to see a quest speaker or in house speaker talk about at the bottle club meetings ? The bottle club would like to have more educational programs or events at the monthly meetings during the year. Please, give us your opinions and comments below. ( example-Kalamazoo Milk Bottles )


Survey Question Number Five: What other activities or events of bottle collecting or related fields would you like to see the bottle club hold inside ( example- monthly show & tell ) or outside ( example- April 2023 Bottle Show ) the meetings ?
The bottle club would like to have more activities or events overall during the year. Hopefully, the club activities or events will help in recruiting new members. Please, give us your opinions and comments below.



Please, return your survey and new membership form to the Kalamazoo Antique Bottle Club.
Thank you !
Reminder Bottle Club Dues $10.00 are due in September 2022 !

---
Kalamazoo Antique Bottle Club 2022~2023 Club Dues
Dues are still only $10.00
Mail check or money order, payable to "K.A.B.C." to:

Allan C. Holden
2132 Chaparral
Kalamazoo, MI 49006

Name__________________________________________________
Address________________________________________________
City___________________________________________________
State___________Zip_____________________________________
Phone_____________________Cell_________________________
E-Mail ________________________________________________
Category of interest ______________________________________
______________________________________________________
_______________________________________________________
_______________________________________________________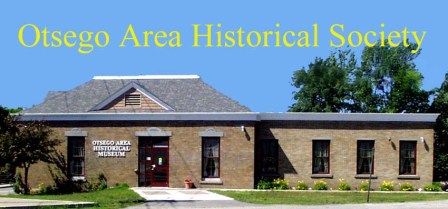 The Club has been meeting at the Otsego Area Historical Society
October, November, December, January, February, March, April, May, June
218 N. Farmer St.,
Otsego, Michigan 49078

oahs@otsegohistory.org


The Theme This Month is SUMMER FINDS!
AND WE MEET AT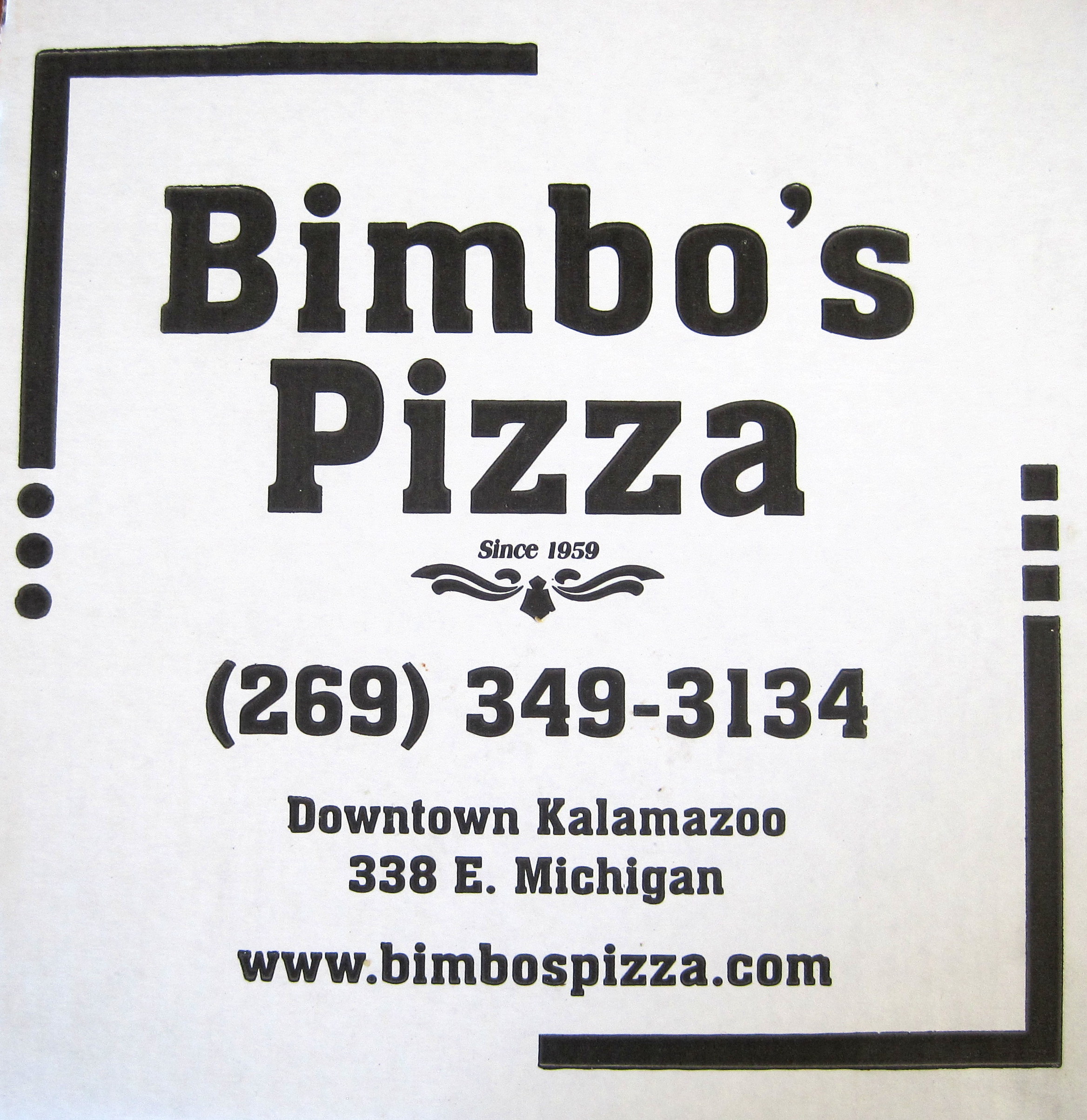 The KALAMAZOO ANTIQUE BOTTLE CLUB WILL MEET THIS MONTH AT BIMBO'S PIZZA!
The September 13th Meeting will be at Bimbo's Pizza located at 338 East Michigan Ave. Kalamazoo, MI
Bimbo's closes at 8:00 so we would like folks to start showing up just after 6:30 so we can get our orders placed.
prostock@net-link.net
269-685-1776