Indian Joe
Written by Allan Holden

Someone started a Facebook page called Vanished Otsego, and that subject is right up my alley! I think it is actually a Facebook promotional idea, seeing how many American cities now have similar pages. Now that Facebook has shareholders to answer to, frankly, I think it was a brilliant idea.
I have been very interested in local history and local characters. There was someone remembering a man about town known as Indian Joe. Here was my post on the subject.
"It sounds like two different people mentioned in the post about "Indian Joe," and I really don't know either of them, but I do have an Indian Joe story.
Our lives crossed paths one time about 1967 or 68. I grew up on (now vanished) 115 Cedar Street, "phone number MU-55184," right behind Jim Higgs grandmother's house in Plainwell.
Our old Cedar Street house is now out on 12th Street, just a couple houses south of Christian Neighbors. That was a big event when they towed that house over the U.S. 131 overpass!
After we moved out to M-89, the family who did live across from us on Cedar Street, Jim and Shirley VanLent, put in a swimming pool.
I was over enjoying the pool with my friends Jim and Dan VanLent. At the time, their parents were gone somewhere, so it was a lawless, unsupervised situation. Someone got the idea of diving into the pool from the garage roof. After all, that was actually the deep-end, and not one of us was over 90 pounds soaking wet!
So, it was my turn to dive when Dan decided it would be fun to toss an inner tube into the pool for me to land on. Which, looking back, was not really a brilliant move. I saw his plan unfold just in time to correct my dive! But, I did a belly-flop right onto the tire tube! It knocked the wind out of me, but within minutes we were back to having fun.
The next day I had sharp abdominal pain which I could not find relief from. My mother was gone, and Dad was out working, and me? I am doubled over in pain! Finally, I couldn't take it anymore, so I drove myself to Pipp Hospital. I went into the ER and told the desk clerk, "I need to have my appendix taken out!"
She responded, "We will see about that, just take a seat."
After several minutes a nurse walked by, and in greater pain I said, "I need to have my appendix out!"
She said, "The doctor will be in to see you, please have a seat."
Several more minutes passed by and I flagged down the unit clerk and told her, "I really need some help here, I think my appendix is about to burst!"
She said, "Probably not, but I will see if the doctor is coming."
Finally Doctor Topp showed up to check me out. His conclusion, "Nurse we need to take this appendix out right away!"
"Doctor, We will need his parent to sign for the procedure, he is under 18."
So, my mother wasn't home, and my father was busy with a RV customer, so he sent over our company driver, Henry Rupert! OK, that worked!
Doc Topp gave me some sort of a local anesthetic and they had a curtain up so that I couldn't see what was happening. As Doc started the operation, he held up an oily looking scalpel and said to me, "I found an ovary!"
I fainted, passed-out cold! (I am certain they found that to be pretty funny!) Doc told me later that the appendix was about to burst in minutes!
When I came around, they had me in a 4-bed ward near a window. There was another young boy in that room who had suffered a head injury when he had fell out of the back of a moving pick-up. I don't recall their names, but they were Hispanic, and the boy's mother was a very nice lady.
They kept me on pain killers and I slept a good deal of the time. That night there was quite a commotion that woke me. They had brought another patient into the room and put him in the bed next to me, and I was to soon learn people referred to him as, "Indian Joe."
My nurse explained that he had passed out drunk in a farm field and a farm worker accidentally ran over him with a tractor! I don't remember the extent of his injuries, but he had problems controlling his bowels.
The nurses would keep his bed rails up and when he had to go, he didn't know how to work the rail. So, by the time he slid himself to the end of the bed, he was all-done going, leaving a trail even a white man could follow!
All they would give me to eat was broth and Jell-O, and with all that streaking going on, they also had my vomit to deal with! The poor man's situation with alcohol was so serious that they would bring him a beer almost every hour.
What really got to me most was, as a young drag racer, I was going to miss a Saturday at the Martin Dragway. To make matters even worse, the feature event at the track that Saturday was to be the wild Nitro-Burning Fuel Altered cars! The main attraction was, Wild Willie Borsch and his out-of-control race car, the "Winged Express." I guess that I let-it-be-known that I was totally bummed about missing the show, and I must have told anyone who would listen about Wild Willie!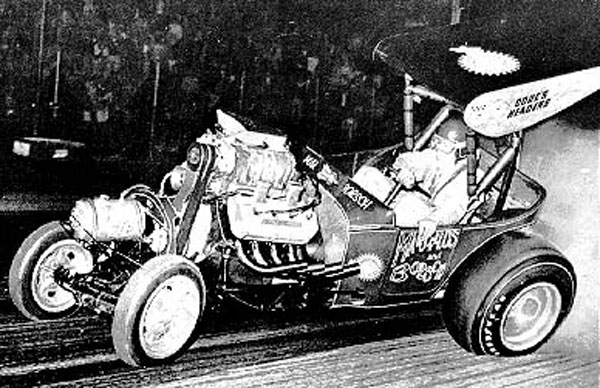 So, that Saturday night, when Wild Willie was trying to control his 1000-horsepower fuel-altered it got a little sideways coming off the starting line! The car flipped over the guardrail and it busted up pretty bad! My buddies drove the ambulance back then, and often during a show, they let me sit right at the starting line in the ambulance! That night they rushed Wild Willie to Pipp Hospital where they also knew I was!
The next day, before releasing him, one of the nurses said, "There is a young man here, who is one of your big fans, and I know he would love to meet you!" I DID! Talk about being at the right place at the right time!
As for Indian Joe, he was able to make it to the bathroom on his own before I was released, but when he got into the bathroom he had trouble figuring out which 'switch-to-flip' for the light, so he would flip both switches. By the time he was on the toilet, half of the nursing staff would rush into the bathroom in response to the emergency-light! He never seemed to take well to the nurses, and I think that occasional trip to the bathroom was like an escape for him . . . until they all came rushing in."